CDP-S360 Review
We rated the CDP-S360 a solid 8/10. This beginner-to-intermediate portable piano has a high-quality scaled hammer action that really impressed me. While the piano doesn't beat out pro-grade stages like the Nord Stage 3, we still really like it. We knocked off 2 points, because of some of the tones in the sound bank and since it only has one stereo output.
We rated the CDP-S360 a solid 8/10. This beginner-to-intermediate portable piano has a high-quality scaled hammer action that really impressed me. While the piano doesn't beat out pro-grade stages like the Nord Stage 3, we still really like it. We knocked off 2 points, because of some of the tones in the sound bank and since it only has one stereo output.
Casio CDP-S360 Overview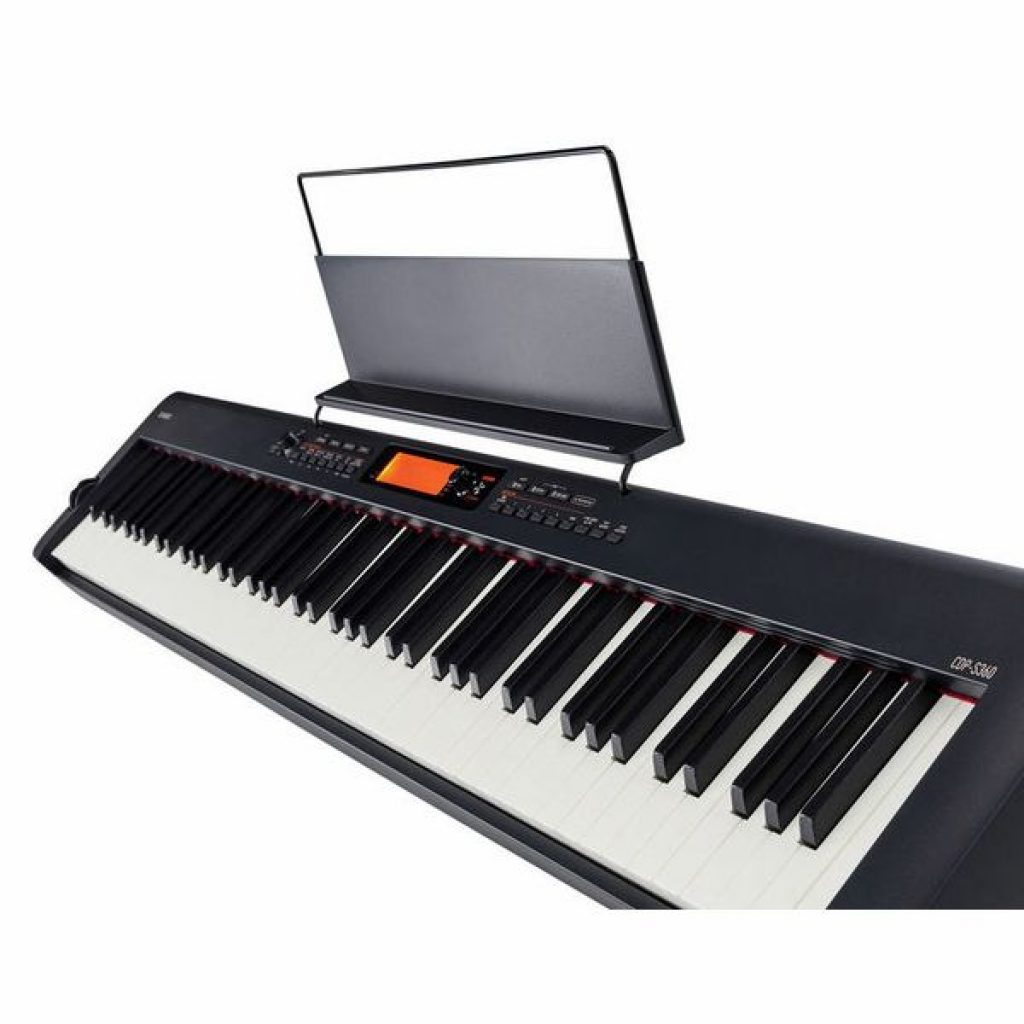 The Casio CDP-S360 is Casio's current flagship model. This slimline digital piano was first released in October of 2021. This makes this new model just one year old as of this month (Happy Birthday, S360!). 
In all seriousness, the S360 is a stunner when it comes to its price, and number of features. The model includes a brand-new 700-voice soundbank. What's even more impressive (to me) is that this 25-pound compact instrument is 88-full-sized keys, and scaled hammer action. 
Features
A 700-Voice Soundbank
The first thing I have to say about this piano is that it is wonderfully versatile. The 700-voice AIX soundbank includes tones such as: 
Vibraphones

Electric Pianos

Acoustic/grand pianos

Organs

Guitars

Basses

Brass Instruments 

Synths

FX and Drums
I'd be lying if I said some sounds weren't better than others. That being said, this CDP's keyboard tones really shine, especially the electric pianos and acoustic voices. Versatility is a feature that beginners oftentimes value. While the organ sounds and bass/guitar sounds may not be top-tier, the variety in the new AIX sound engine allows for exploration and experimentation without breaking the bank.
200 Rhythms
The 200 built-in rhythms include modern backing tracks like rock, as well as an exotic section. 
In my opinion, these rhythms are decent. They serve as great learning tools, but probably aren't good enough to perform out with. 
5 Levels of Touch Sensitivity
While most keyboards offer 3 levels of touch sensitivity, this one offers 5, making it two notches more adjustable than your average keyboard. 
A Lightweight Full-Sized Keyboard
This keybed has scaled, weighted hammer action, and synthetic ebony and ivory keys. You'll be pressed to find another 25-pound keyboard with hammer action, especially one that is as solid as this one.
Slim Design with Optional Battery Power
This super-portable instrument can also run on batteries, making it even more convenient to take your music on the road.
Casio: Music Space App
This app is a Casio-exclusive program that can connect to your Casio device. The app has a piano roll, score viewer, music player, live concert simulator, piano remote controller, and more. You can learn more about it here.
Built-In MIDI recorder
The on-board MIDI control has 6-tracks and 5 songs. This feature also has muting and copying functions.
Other Features: 
Other features included on the piano include:
 Easy connectivity

Tranpose
As far as connections go, the CDP-S360 is compatible with a wireless MIDI and audio adapter, so you can connect your devices to the piano without a cord. 
The transpose feature on this piano is super simple to navigate. While many transpose functions are limited to an octave, the transpose feature on this instrument allows you to go up or down by 25 steps. 
Amazon Bundle
It is also worth mentioning that there is an Amazon bundle that includes the wooden stand, a bench, a book of sheet music, polishing cloth and an instructional DVD for $649.99 (about $150 more than the basic CDP-S360 package). 
The DVD is by Austin Bazaar, and is a quick-start guide that can be helpful to those just getting started. 
On the other hand, advanced beginners and intermediate students may want to consider purchasing their accessories separately. There have been a handful of complaints about the sturdiness of the stand in this bundle, and, more skilled musicians won't be in need to the quick-start materials. 
Specifications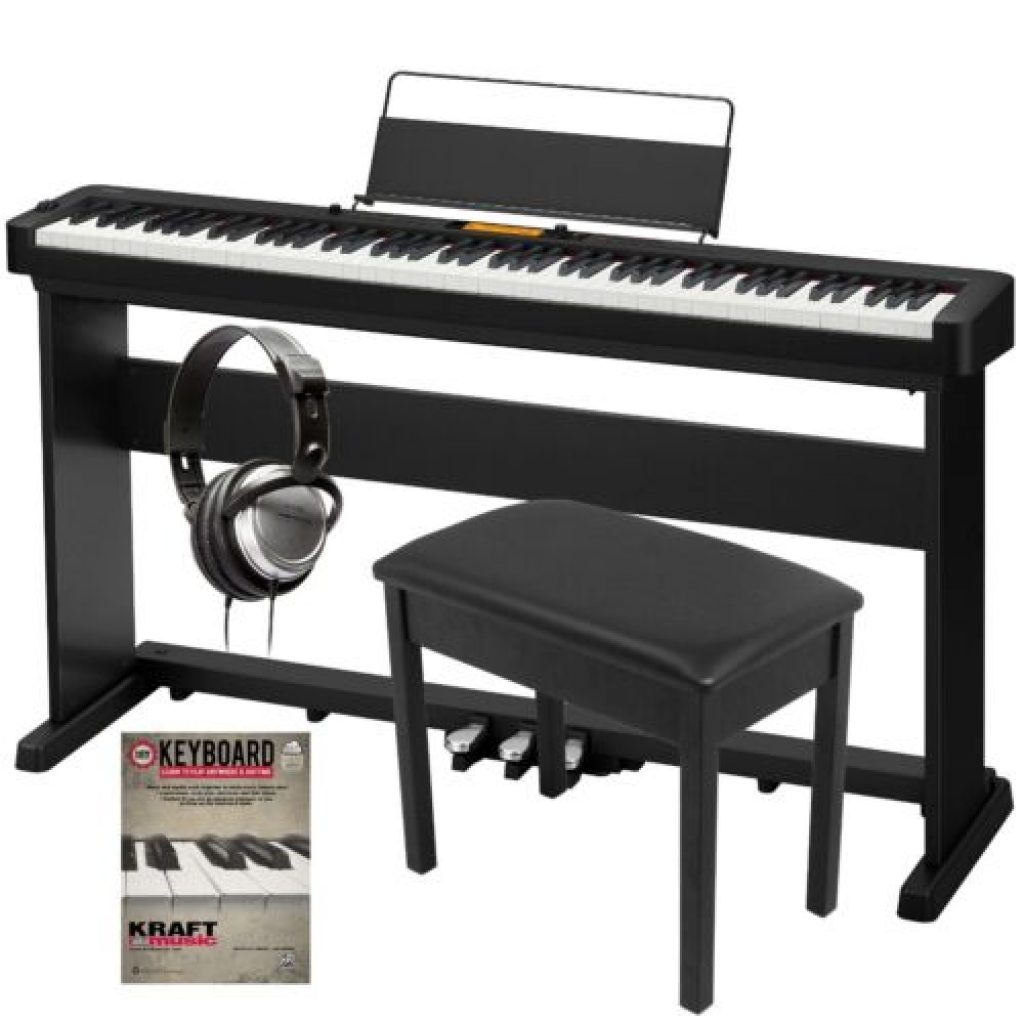 Weight:

24 pounds

Dimensions:

52.05 x 9.13 x 3.9

Recorder:

5 songs, 6 tracks

Keyboard modes:

Layer, split

Digital FX:

10 reverbs, 4 choruses

Arpeggiator:

100 kinds

Built-in songs:

150

Piano exercises:

50

USB/MIDI:

type B

Transpose:

25 steps
For more details, including specs on the speakers, please see the quick view chart later in the article. 
Who Is This Piano Suitable For?
Some review sites have dubbed the Casio CDP-S360 'The best beginner digital piano'. In my opinion, this instrument will suit the needs of almost all beginners, all the way up through advanced intermediate players. 
The only big cons to upper intermediates to professionals playing this keyboard would be the instrument having a lower polyphony and only one output. 
The CDP-S360 in Action
While I'm sure you don't have time to take a listen to all 700 of the sounds in the sound bank, I can show you a few samples of the voices. 
If you scroll down to the bottom of this page on Casio's website, you can take a listen to the following sounds: 
Grand piano

Electric piano

Jazz organ (2) 
To me, the grand piano sounds lovely and sonorous, the electric piano sounds groovy and soundscape and the jazz organ sounded a bit canned but decent. 
Amazon Reviews
What did other musicians who tried out the CDP-S360 have to say? Let's check it out!
This keyboard was rated 4.5/5 stars. 
Positive customer reviews of the S360:
The sounds are incredible and the portability is convenient 

It is a great price for what you get

The string sounds are amazing

It feels like you are playing a real (acoustic) piano
One customer even said that they 'Dream about playing the piano' when they are away at work. Talk about a rave review! The S360 is clearly well-liked. There were no glaringly negative reviews on the site. There was one 3-star review, but it didn't have any text to go along with it. 
Pros and Cons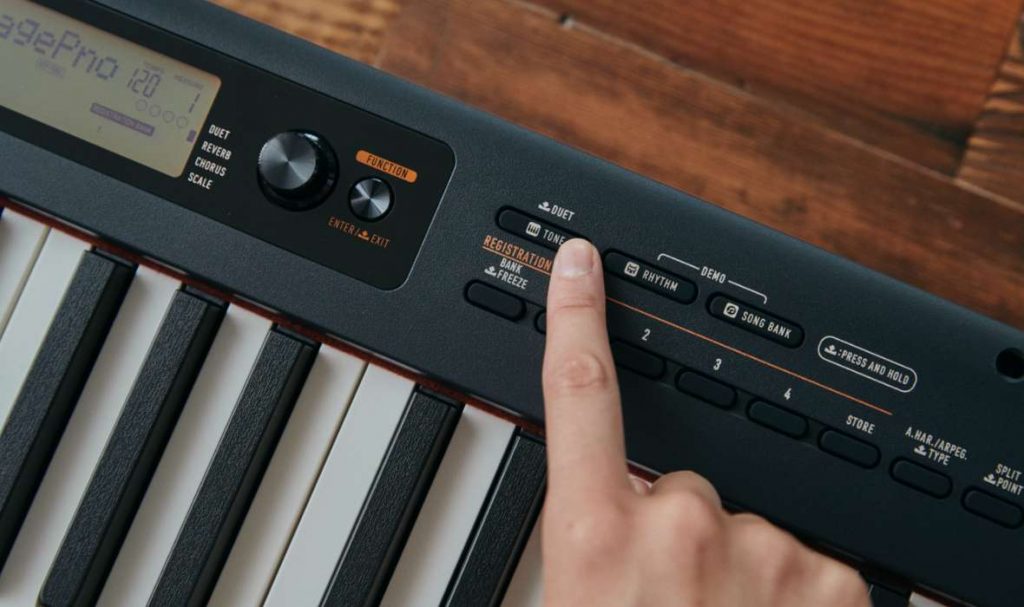 Pros
This is a portable piano WITH hammer action, which is difficult to find

(It is very lightweight)

There are 5 touch sensitivity options

It has hundreds of versatile sounds

It has a new sound engine

The CDP-S360 has smoother, noiseless action

(especially when compared to the older Casio models) 

It has good dynamic range

It has Bluetooth compatibility 

It has internal speakers and a stereo output so you can bolster your sound externally if need be

It is available in two different colors: black, and red
Both the S360 and the S350 are impressive because they have both weighted hammer action and great portability. Plus, there are loads of sounds in many different instruments.
One of the biggest selling points for me is the action. The S360 has much, much better action than previous (portable) Casio instruments, since the technology has been overhauled. 
In addition to this, it has a solid dynamic range, good expression, Bluetooth compatibility, and decent internal speakers. 
Cons
The CDP-S360 may not have enough polyphony for upper intermediate to pro players
The wooden stand is not included, which means you save a little less than you think you do

Those looking to regularly gig with this instrument may desire more outputs than the one 3.5mm stereo plug. Gigging pros often need at least 2 outputs 

The sound engine is different than the sound engine inside of the Casio Privia

Some of the non-piano sounds, such as the bass, guitar, brass, and organ sounds are unconvincing

The rhythms backing tracks aren't polished enough to gig out with

The battery life on the instrument is only 4 hours
Intermediate players need at least 128 notes of polyphony, and ideally, a bit more. While this model has many features, unfortunately, it won't make a good piano for pros, unless it's a simple backup instrument. 
Another aspect that should be considered budget-wise is that the wooden stand with the built-in 3-pedal unit is not included. If you want the extra accessories and stand, you'll need to get the bundle (which is $150 more) or, purchase the stand separately. 
A technical issue hobbyist musicians who play out on the town may run into is the single output. Don't let this steer you away from the keyboard as a whole, though. Extra equipment can be purchase so that you can do a daisychain of sorts, and end up with more than one input. You'll just have to put in a bit of time and effort. 
Some musicians have found that they prefer the older AIR sound engine over the newer AIX sound engine. The two soundbanks do feel quite different. Additionally, the organ sounds truly didn't impress. The last con I have is also sound-related. The built-in rhythms are great for learners, but they won't please a pro's ears.
Lastly, while the battery powered function is convenient, the instrument can only be powered for about 4 hours on batteries. This is likely because it takes smaller, AA batteries, rather than batteries with more gusto (such as 9 volts). 
Comparable Instruments 
The Casio CDP-S350 is the most similar instrument on the market to the CDP-S360. The full bundle (stand, bench, and more) is roughly $200 less than the current Amazon bundle for the S360. That being said, the S350 is one model behind. There have been a handful of updates since the S350, but the basics are all there: A 24lb slimline piano with 700 tones and 200 rhythms. 
The Casio CDP-S160 is a solid beginner model with easy-to-use buttons. It only has 10 tones though, so if it's quantity you're looking for, this one might not take the cake. Albeit, impressive tones (check them out here on this Casio page )This simple keyboard is ideal for students.
The Yamaha P-45 is another ideal model for serious beginners. If you don't like the feel of the Casio keybed, try this one. The P-45 is also portable. It sells for around $599.99 and has a fully-weighted keybed as well. This is an older release, but still a good option. 
Lastly, the Korg B-2 is another good option to consider if you want something outside the Casio brand. I'd recommend the B-2 for serious hobbyists who are looking for a high-quality home piano. 
Quick View 
Keys

88-key keyboard with scaled weighted hammer action and synthetic ebony and ivory keys

Touch sensitivity 

5 levels of sensitivity, and off 

Sounds

700 total sounds

Recording capabilities 

Song recorder/6-track MIDI recorder, USB type B port (for MIDI out or USB to MIDI into your DAW )

Metronome

Yes

Polyphony 

128-note polyphony 

Speakers

Two oval speakers (13 x 7 cm)

Headphones

⅛ inch headphone jack (1): headphones not included 

Accessories

AC adapter, Standard sustain pedal, Music rest

(Wooden stand and 3-pedal unit available for purchase separately)

Price point 

$599.99
S360: Conclusion
I hope you've enjoyed this Casio CDP-S360 review. In conclusion, this instrument is a solid one! While I can't say it takes my breath away like the new Rhodes Mark 8 or Nord Stages do, it's great for what it is. This solid space-saver has plenty of tones to keep you busy and get 5-stars from us when it comes to portability. Many folks will be happy with this keyboard, and I wouldn't hesitate to recommend it to serious intermediate players who are on a budget. 
Next time, we will be checking out a Kurzweil, so be sure to head back here to BestPianoKeyboards for more soon! 
Music quote of the week: 
"Music can change the world because it can change people."  -Bono

We rated the CDP-S360 a solid 8/10. This beginner-to-intermediate portable piano has a high-quality scaled hammer action that really impressed me. While the piano doesn't beat out pro-grade stages like the Nord Stage 3, we still really like it. We knocked off 2 points, because of some of the tones in the sound bank and since it only has one stereo output.
PROS
This is a portable piano WITH hammer action, which is difficult to find (It is very lightweight)
There are 5 touch sensitivity options
It has hundreds of versatile sounds
It has a new sound engine
The CDP-S360 has smoother, noiseless action (especially when compared to the older Casio models)
It has good dynamic range
It has Bluetooth compatibility
It has internal speakers and a stereo output so you can bolster your sound externally if need be
It is available in two different colors: black, and red
CONS
The CDP-S360 may not have enough polyphony for upper intermediate to pro players
The wooden stand is not included, which means you save a little less than you think you do
Those looking to regularly gig with this instrument may desire more outputs than the one 3.5mm stereo plug. Gigging pros often need at least 2 outputs
The sound engine is different than the sound engine inside of the Casio Privia
Some of the non-piano sounds, such as the bass, guitar, brass, and organ sounds are unconvincing
The rhythms backing tracks aren't polished enough to gig out with
The battery life on the instrument is only 4 hours