Best Digital Pianos Under 500
For many pianists, it just isn't practical to own a grand piano. If having your own traditional piano isn't an option due to space requirements or budget constraints, a digital piano under 500 is the next best thing.
 Whether you're looking for a quieter, more portable option for your practice sessions or a keyboardist on tour, the electric piano can be a powerful tool to have in your musical arsenal. There are tons of different options out there and trying to pick out the right instrument can seem like a dizzying task. To help you find the right instrument, we've tested out different models to find the best digital piano under 500. 
So, how do you determine the best electric piano under 500 for you? Start by reading the below guide!
For many pianists, it just isn't practical to own a grand piano. If having your own traditional piano isn't an option due to space requirements or budget constraints, a digital piano under 500 is the next best thing.
Whether you're looking for a quieter, more portable option for your practice sessions or a keyboardist on tour, the electric piano can be a powerful tool to have in your musical arsenal. There are tons of different options out there and trying to pick out the right instrument can seem like a dizzying task. To help you find the right instrument, we've tested out different models to find the best digital piano under 500. 
So, how do you determine the best electric piano under 500 for you? Start by reading the below guide!
Best Digital Pianos Under 500; Features to Consider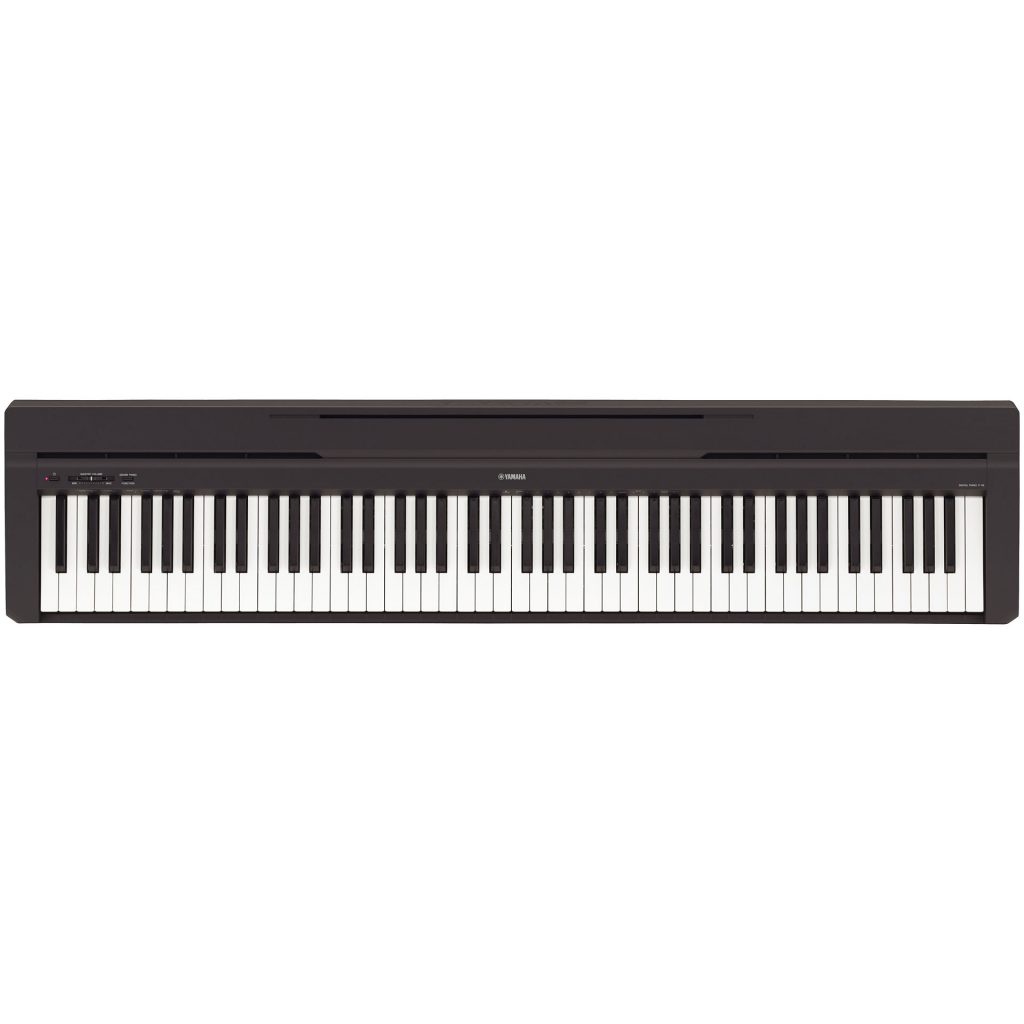 Here are 11 essential features that you need to consider when perusing an under-500 instrument:
Soundbank size and quality 
Keyboard size (How many keys are there?) 
The genre you will be playing/ the piano's application 
Portability versus Build Quality 
Effects
Accessories/ Learning tools
In just these 11 features, there is a lot to be fleshed out. Feel free to skip around if you know a lot about these categories. Later, I will compare and contrast some of our favorite under-500 models. Keep in mind that this is all through the lens of the under-500 category- If you want to learn more about the other pianos we offer, then read the guide here.
Polyphony 
Polyphony denotes how many notes can ring out on an instrument at once. Here are some common limits you will see in digital piano specs: 
32 notes 

48 notes 

64 notes

120 notes

256 notes

Unlimited 
The issue with getting a low-polyphony keyboard to start is that it may slow you down later down the line. I would recommend starting with at least 64-120 notes, that way you won't have to worry about upgrading for a while. Anything 64 notes and below is considered a very low polyphony. 
One thing that we are seeing more recently is unlimited polyphony, meaning that you can play an unlimited amount of notes at one time. Unlimited polyphony can be seen in brands like Dexibell, and Roland, and typically falls into the over-$1000 price range. 
So what can you expect and aim for when it comes to polyphony in an under-500 keyboard? At least 64 notes. The Yamaha PSR-EW425 is a great example of a beginner-to-intermediate keyboard with 64 notes of polyphony, and a nice combination of features. You can read more about it here. 
Soundbanks 
When I look at under-500 pianos, one of the first things I begin weighing is the amount versus the quantity of the voices. Some under-500 keyboards only have 10 really solid sounds, whereas others might have a thousand tones that are 'just ok'. Be sure to ask yourself what instrument you would play more, and go from there. There are certainly some outlier instruments that cost under-500 that have loads of high-quality sounds. 
Alesis offers several under-500 pianos that have small but mighty sound engines. We recommend Alesis to classical beginners especially. 
 One example of a piano that has an authentic and interesting sound engine is the Yamaha PSR-52. This keyboard is about $110, and has voices from traditional Indian, Indonesian, and Chinese music. It has 144 tones total and also includes several solid keyboard voices, including synths, organs, and pianos. 
Another thing to keep in mind is that a sound bank is only as good as its speakers. Unfortunately, the PSR-52 only has 2.5-watt speakers, which simply don't have the capability to do the low end of the sounds justice. 
Keyfeel and Touch Sensitivity
Weighted 

Graded hammer 

Touch-sensitive 

Aftertouch 

Escapement
Getting a digital piano under-500 with weighted keys is one of the easiest ways to start off on the right foot. Weighted keys replicate the heft of an acoustic piano. When keys are weighted but not graded, then all of the keys have the same weight. Graded hammer keys gradually increase in heft as you go lower on the instrument. You also may hear the term scaled hammer, which is a similar concept. 
It is worth noting that the main difference between graded hammer and scaled hammer is the brand- Yamaha calls it graded hammer action, while Casio calls theirs scaled hammer action. 
One example of a Casio with scaled hammer action that is priced around $500 (it is just over) is the CDP-150. 
Both non-weighted and weighted keyboards can be touch-sensitive. Touch sensitivity often comes with 3-4 different options, varying from light to heavy. You should be able to get touch sensitivity in an under-500 instrument. 
On the other hand, aftertouch is a feature that you may not find in a digital piano under 500. If you do, you likely won't get weighted keys, as the instrument would be considered a MIDI controller. Aftertouch has to do with the MIDI signal that is sent from your piano to your computer. Aftertouch can be divided into the categories of mono and poly, meaning that there can either be a signal for the whole keybed or a signal for each individual key. 
Escapement is the term for the release of the hammer in an acoustic piano. In a digital instrument, the escapement is a simulation of the feeling of the hammer falling away from the string. There are some under-500 instruments with escapement, such as the Roland FP-10. In fact, the Roland FP-10 is a wonderful example of an under-500 piano with a nice key feel. The white keys have a nonslip ivory finish, which can be difficult to find in this price range. It also has fully-weighted keys, and 5 touch sensitivity settings. The keyboard only has 14 tones though, so it is relatively minimalist. 
Dynamic Range / Responsiveness
A subsequent factor to consider is how well the keys lend to dynamics. For example, a keyboard that lacks weight, touch sensitivity, and aftertouch will have no dynamic contrast- Well, not unless you turn the volume knob. We don't recommend a piano that lacks all 3 (weight, touch sensitivity, aftertouch) because you won't learn to play with expression, and your articulations likely won't come through well (if at all). 
One example of an under-500 piano with a lack of responsiveness and dynamics is the Hamzer 61. While it does have touch sensitivity, the overall dynamic range and responsiveness of the instrument are lacking, and definitely doesn't suit intermediate players. Another example is the Rockjam. This piano has no touch sensitivity and feels stiff.
Keyboard Size 
61-key

73-key

76-key

88-key
61-key digital pianos almost always cost less than full-sized 88-key ones. Why? Because they are smaller, and take fewer materials to build, for one. But once again (like the polyphony), if you get a keyboard that is too small for you, you will hinder your progress. That being said, if you are a traveling musician, keyboard size will matter a lot. You will need to weigh the benefits of having the extra octaves with the size of the space you have to carry around the instrument in the back of your car.
Those who are planning on becoming professional jazz or classical pianists will likely need a full 88-key instrument. In this case, you should be asking yourself 'What is the best 88-key digital piano under 500?' But there's nothing wrong with starting with a 73 or 76 key! The instruments can be quite economical, and easy to carry. 
Most producers will find that 61-key keyboards will be just fine, especially since they can pop notes up or down the octave with a few clicks on their laptop. As a general rule, it is reasonable to expect to get a 73-key instrument for under-500. Most tunes that are being written nowadays can be played on a 73-key piano, especially pop tunes. 6 ½ octaves is a lot of notes!
You may be able to find an 88-key piano that meets all of your requirements in this price range as well. The Roland FP-10 we mentioned earlier has 88 keys and a lovely key feel. The Korg B2, Casio CDPS-100, and Yamaha P45 are all full-sized instruments within the price range. 
Side Note: While they do make pianos with more than 88 keys, these are usually custom-made acoustic pianos. 
Genre/ Application
I'm going to go ahead and separate  those who need a piano into 5 main categories: 
Songwriters and composers will value onboard recording more than performers because they need to have a place to jot down their musical ideas. And producers will certainly find value in a MIDI output. Some economical pianos that have onboard recording include the Alesis Recital Pro and the Yamaha PSR-EW425. Though I think it is worth mentioning that songwriters and composers will do best with pianos in the $1,000+ range if it is within your budget. The Rhodes RD 2000 (which you can read about here is a stellar example of a keyboard that is optimized for recording, as it has a built-in DAW. That being said, the Roland: Go Keys is a really nice instrument for the budding producer/composer/songwriter because of its onboard recording features and loops.
Performers- If you are a performer in a jam band and go out every Friday night, you're probably wondering what the best portable keyboard under 500 is. 61 to 76 key instruments will be the most convenient since they are easier to carry. You also want to be on the lookout for something that has a heavy build. If the instrument is going to be in the back of a car with a bunch of other equipment, it'll need some gusto. Under-500 pianos are often built with all-plastic shells, with varying degrees of sturdiness. The Yamaha P45/ the Amazon exclusive P71 is a good contender. 
Performers who are doing small shows may also want something that can run on batteries, for convenience. Casio's CDP-S350 can run on battery power for up to 13 hours at a time and has loads of presets. 
Piano teachers often value having duo/duet mode that way they can play with their students in the same octave. Apart from finding an instrument in the studio, private piano teachers are often asked by their students which piano they should choose. Those who are teaching choir and or directing musicals will likely need something with more speaker power behind it than private teachers or songwriters. Some under-500 pianos we think would suit teachers include the Korg B2 (for its weighted keys, sound quality, and full-size) and the Yamaha P115 (for its key feel and powerful speakers). 
Another general demographic that I should probably mention is hobbyists. Hobbyists may want to use their piano while it is connected to apps, so they can learn as they go. In this case, they will really value having Bluetooth. For this reason, we think that hobbyists will enjoy the FP-10. If you don't mind if it doesn't have Bluetooth, the newer Yamaha PSR-EW310 is a great instrument for hobbyists. 
Bluetooth 
It is worth noting that not all Bluetooth is made the same. There is Bluetooth Audio and Bluetooth MIDI. It's imperative to know the difference, so you don't end up disappointed! 
Bluetooth MIDI and Bluetooth audio are two separate things, that have two very different functions. Bluetooth MIDI lets different devices communicate cordlessly. On the other hand, Bluetooth audio, only sends audio information. You can send audio info from Spotify on your phone to a wireless speaker, for example. The vast majority of under-500 pianos don't have Bluetooth, but the Roland FP-10 is an exception. 
Recording
Typically, under-500 pianos have a minimalist onboard recording setup, if they have one at all. You can expect to find 1-track to 3-track recordings onboard, but most instruments won't have the option to layer tracks. It is more common to see a MIDI output which you can use to connect your instrument to your computer. If you are interested in recording your instrument and are sticking to this price range, make sure that the pianos you are eyeballing have a MIDI output. 
Some instruments that you can record with MIDI out include the Roland FP-10 and the Yamaha P-45. Some of Casio's keyboards, like the CDP-S350, have onboard MIDI recordings. The CDP-S350 actually has a 6-track MIDI recorder. 6-track recorders are pretty difficult to find in this price range! 
Portability Vs. Build Quality 
Portability Vs. Build Quality is one of the biggest debates among gigging musicians. The sturdiest built instruments often have metal in the frame, and hybrid wooden-plastic keys- But under-500 instruments don't typically have either of these qualities.
That being said, the quality of the plastic shell can vary widely.  Most keyboards within this category weigh between 7 and 30 pounds. If you plan to travel with your keyboard, you'll want something that is light enough to be able to carry from a parking lot to a restaurant downtown, but sturdy enough to be able to say, ride with a drumset. As we mentioned earlier, an easy way to get a portable instrument is by choosing a model with fewer than 88 keys. Another way is to choose a non-weighted non-graded touch-sensitive instrument. Touch-sensitive instruments tend to be much lighter than weighted models- But this will come at a price. 
The Alesis Concert is a good example of a portable instrument with optional battery power, 88 keys, and semi-weighted keys. The Alesis Concert only weighs 16 pounds and is a great middle-of-the-road option. Semi-weighted keys allow the instrument to be lighter, while still having a bit of resistance. 
If you aren't going to travel with the instrument, the build quality isn't as much of a concern, unless you are purchasing the piano for a household with young learners. Digital home pianos are going to have a heftier build quality. One such instrument is the Alesis Virtue. The Alesis Virtue has a wooden frame and bench, and over 360 voices. Unfortunately, this one does not have weighted keys. Alternatively, there is the Korg B-2 with hammer action, which, at 25 pounds, would work for both groups' needs. 
Effects 
When it comes to effects, you can expect to find a few reverbs and choruses in an under-500 piano. The economical and fun Casio LK-265 has 10 types of reverb, such as a hall, and a virtual room. Other instruments in this category have more fleshed-out FX, like the Yamaha PSR-EW435 and its articulation effects, Eqing, and DSP capabilities. The EW435 can process two effects at the same time, which is a hard-to-find feature in under-$500 keyboards. If you don't mind the lack of weight, The Yamaha PSR-EW435 is one of the best digital pianos under 500. 
Other Accessories and Learning Tools 
It's always valuable and convenient to have included accessories such as music rests, or downloadable songbooks. And internal learning tools can be a godsend if you don't have a teacher and are just getting started. But if you're an intermediate instrumentalist on a budget, you're probably better off using your money towards an instrument with more powerful speakers or recording and sampling capabilities. 
Some of the best digital pianos under 500 that have great learning tools include the Yamaha P-115 (because of its auto-accompaniment feature), and Casio's LK-265 (because of its built-in songs and step-up lessons features). Intermediate players will likely get more mileage out of the flagship PSR-E473, or the PSR-EW425. 
Be sure to also keep your eyes out for connectivity- Some under-500 instruments don't have very many inputs and outputs. I would recommend something with a pedal jack, and a USB out. 
Piano Pedals: What Do You Really Need? 
Another factor outside of my 11 main features/ categories to consider in finding the best digital pianos under 500 are pedals. I think that most aspiring musicians should start with a sustain pedal, at the very least. Be sure to do your research on the quality of the pedal– If something lacks build quality in an under-500 instrument, it is usually the sustain pedal. 
I remember when I was a kid, and I got my first keyboard. It had engaging built-in songs, touch-sensitive keys, and loads of entertaining sounds. There was only one problem- My sustain pedal broke after just one week. Said sustain pedal was so light and flimsy that it moved all around the floor after just a few foot taps. 
Sustain pedals in under-500 instruments often give out quickly as mine did. Choosing a big name-brand like Yamaha, Roland, or Casio will lower the likelihood of this happening, but the quality of the build of different sustain pedals between models varies widely. Some makers have done away with including the pedal, like the LK 265, which simply has a jack. Similarly, the Alesis Recital Pro and Roland FP-120 both have a jack that you can connect one pedal to. While it will cost a bit extra to get an external accessory, it's better to have to buy one than be disappointed with one that breaks within the week. 
Most under-500 pianos only come with 1 pedal or one jack. That being said, quite a few pianos that are between the $500-$1,000 range are compatible with a full 3-pedal unit, such as the $800 Roland FP-30. 
The two pedals you will need to decide between using are the damper pedal and the sustain pedal. The sustain pedal is a commonly-used effect that makes notes carry over and ring out more. The damper pedal, on the other hand, does the opposite, and stops notes from ringing. One other facet you need to consider when looking into pianos with damper pedal jacks or included pedals is the type of dampening action. The best kind of dampening action you can get in a pedal is called progressive dampening action. Progressive dampening action is a gradient and dampens the notes more or less depending on how far you press down the pedal. Under-500 pianos don't come with pedals that have progressive dampening action- The best thing to do is get a piano that fits your needs that also has a jack and buy your own later. 
Top Digital Pianos Under 500; Comparing

Some of our favorite under-$500 keyboards so far are:
The Yamaha PSR-E473 (10/10) 
The Yamaha PSR-EW425 (10/10)
The Casio LK-265 (9.5/10)
The Alesis Recital Pro (7/10) 
Yamaha's Under $500
I'm going to use these 3 models as examples, and compare and contrast them in order to show you how I look at budget keyboards. Let's take what we just learned and put it into action, starting with the Yamaha PSR-E473. The PSR-E473 is one of the maker's newer models. It has 61 keys, onboard sampling, and an overall versatile setup that lends well to many players. It has a touch-sensitive keyboard that feels like an organ. The model has over 800 sounds packed into the sound bank. But how does it stack up against the other models? 
The Yamaha PSR-EW425, by comparison, has 76 keys, and a price difference of over $200. The E473 is much more compact and light, making it a breeze for traveling musicians. But the EW425 boasts wireless connectivity, and a bigger, and better speaker system. While both instruments are flagships in their own right, there are significant differences between the two. The main similarities, on the other hand, include very similar style banks and effects. 
The Yamaha P-115 is a totally different piece of equipment when we stack it up against our two favorite new and economical PSRs. The 115 comes from Yamaha's P (portable) line. The instrument feels much more traditional and doesn't have a ton of complicated features. This means that it's more minimalist that the above two, but also that it is more beginner-friendly.  At some retailers, it is closer to $600 than $500. The crowning gem in this keyboard is the graded hammer action, which gets heavier as you play lower. 
Casio LK-265
The Casio LK-265 is a touch-sensitive keyboard that is just over $200. It excels at being lighthearted and full-featured. The instrument has 600 tones, and built-in songs and rhythm modes to play along to. The light-up keys and dance-party features make it suitable for kids, but the adult hobbyist could get some enjoyment out of it as well. According to Amazon.com, you can use the instrument to create electronic music. You can: 
"Select from different variations of drum beats, bass lines, and synth parts; add a filter, flanger, gate, roll, low-fi, and other effects"  (Amazon.com).
It's difficult to compare the Casio LK-265 to the Yamaha flagship instruments above, or the P-115 and Recital Pro because its function and features are so different. 
Alesis Recital Pro
Even though we only rated this instrument a 7/10, we think that it is a great model for certain players. The Alesis Recital Pro is a full-sized keyboard with 88 hammer-action keys. It has 12 voices, 20-watt speakers, and an adjustable touch response. The Alesis Recital Pro is a solid beginner instrument. And at 26 pounds, it is nice and portable. 
We wish that the soundbank was more polished, but this won't be a dealbreaker for a beginner. 
Now, let's compare the Recital Pro to an instrument we haven't mentioned yet- The Yamaha YPG-235. The YGP-235 is a portable grand piano. You may have noticed, we snuck over 500 pianos in here- But fear not! It is only $529.99, so we figured we'd let it slide. The YPG-235 is considered a digital grand and has 73 full-sized keys with a soft touch keyboard. When compared to the Alesis, this one is chock full of features. 
Where the YPG falls short is in the polyphony department. The YPG-235 only has 32 notes of polyphony. The YPG-235 was just replaced by the newer PSR-EW310, which we just reviewed here: Updated features in the PSR include over 100 new voices, increased polyphony, more styles,  and the addition of duo mode and the melody suppressor. During its time on the market,  YPG-235 only cost $269.99. The Yamaha YPG-325 (which is now being replaced by the Yamaha PSE-EW310) is a solid instrument that you may be able to find used at Sweetwater, Amazon, or other retailers. 
One other instrument we'd like to mention in this section is the Alesis Cadenza. This digital piano's price point is right at $500, and has minimalist onboard features. While it might not be the most aesthetically pleasing option in this guide, this piano is one that will really last. Side note: We still prefer the Alesis recital more, though, because of the tone quality, and look of the instrument itself. 
Just Over $500
The Casio CDP S-360 also gets an honorable mention, but it is just outside of the under-500 category, at $599.99. If you have the means to get this one, we highly recommend it. For an extra $100, you can get a full-scale 88-key keyboard with stunning piano sounds, and a slim design. It has 128 notes of polyphony, which, as we mentioned before, can be difficult to find in this price group. The Casio CDP-S360 also has rhythms and accompaniment, and a non-slip simulated ebony and ivory key texture. 
On the Low End of the Spectrum: Hamzer and Rockjam 
The Rockjam 61 and Hamzer are probably our least favorite under-500 instruments, but one could make a case for getting them, especially for exposing curious young minds to the instrument with a low price tag. We feel that the action on these brands is lacking, but try it for yourself before you let us sway you. 
Donner and Williams
Just because the above models are our favorites here at BestPianoKeyboards doesn't mean they have to be yours! Two other brands you will see that have models under $500 are Donner and Williams.
Donner brand is admittedly not our first choice, and here's why: 
The instruments don't come with a music rest or a stand

The brand isn't well known 

The designs are strange, and not the most aesthetic 

Many musicians dislike the piano's action 

The company isn't known to use high-quality materials in their keyboards or guitars
Donner's models under $500 include the DEP-10, DEP-20, and SE-1. Other models that are just above $500 include the DDP-100 and the DDP-80. What we do like about this economical piano maker is:
Most of their pianos come with 88 full-sized weighted or semi-weight keys

The pianos usually have dual mode, reverb, and other basic features

They make digital uprights accessible to those on a budget
Williams pianos aren't our top choice either, mainly because they are lacking in features. Some of the Williams pianos that you will see under $500 include the Williams Rhapsody 2, and Williams Legato III. They also have models in between the $500 range, including the Williams Overture 2 (which is about $750), and the Williams Rhapsody III. 
Many of Williams's instruments are weighted, but not graded, which makes a large difference in the feel of the instrument. Though each key has weight, the keys will not feel heavier as you play lower. Despite the action feeling realistic, the lack of graded keys makes the instruments less convincing to those who have just switched from acoustic to digital. 
 Williams instruments in the under-500 category are basic, meaning that you won't be finding any bells or whistles here. The exception to the rule here is the Williams Digital Grand line. The Williams Symphony Digital Grands are much better instruments than their lower-tier models, and cost $1,000 and up.  But by our standards, they still don't make the cut. We think you'd be better off putting your money towards a more reputable brand, whether you are eyeing digital grands or economical digital pianos. If you really like the idea of Williams, we'd recommend the Rhapsody, because it has 2-track recording and layering. 
Types of Pianos You Can Find For Under-500
Digital pianos

Portable pianos

Portable arrangers
It's pretty easy to find a digital piano, or portable digital piano for under $500. But you can also get some pianos controllers within this range as well, such as the Alesis V161, as well as some of Akai and Artiurias instruments. You probably won't be able to find a professional digital stage piano, though. That being said,  the Yamaha PSR-E473 is a great intermediate stage for the price. There aren't many stage pianos to be found in this section- The PSR-E473 is a bit of an outlier and a gem!
Portable arrangers are another subsection of digital pianos that you will be able to find in this price group. For example, pianos like the Casio Casiotone CT-S200, or the Yamaha Piaggero NP-12 are two reputable 61-key arranger keyboards. 
What is the Best Keyboard Piano Under 500?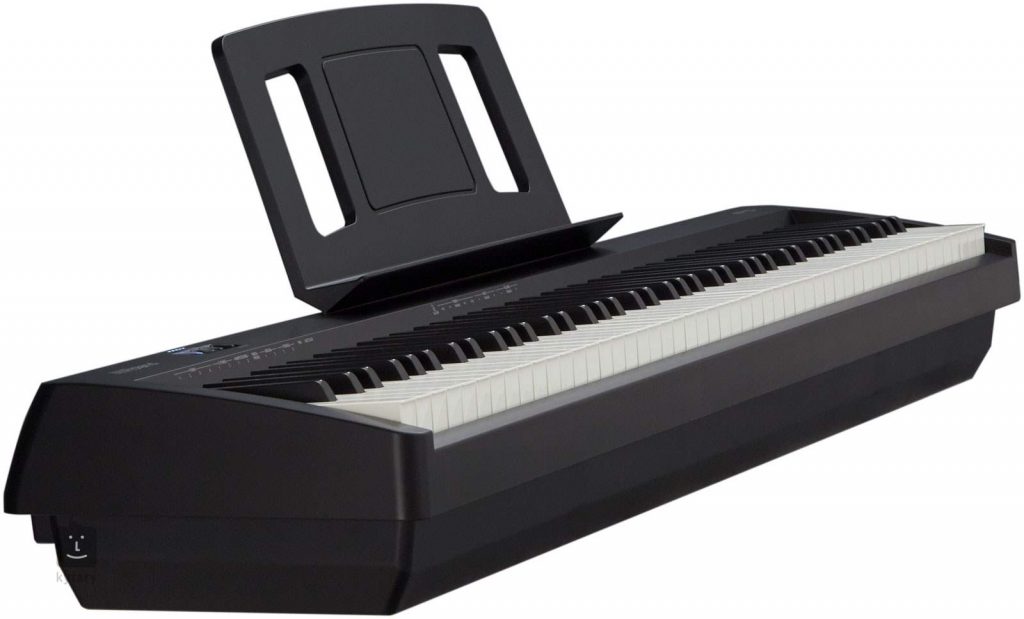 What is the best keyboard piano for under $500? The long answer is; it depends on who you are. If it were me, I would say that two of the best keyboard pianos under 500 that you can get are the Roland FP-10, and the Yamaha EW425. But (here we go again) it depends! If you are a maximalist, you certainly won't be satisfied with the parred-down but high-quality FP-10. But if you are a classical pianist or are picky about your action, you'll likely favor the more simple keyboard over the lightweight organ-style keys of the Yamaha EW425. To find the best piano keyboard under 500 for you, take a look at our comparison carousel, and reviews. 
Conclusion: What to Expect (in a $500 keyboard) 
Don't expect to get a Steinway for $500- It is a recipe for disappointment! That being said, you can get more than you think in a $500 keyboard. 
Expect to get…
Weighted action OR a huge soundbank 

A decent-quality LCD screen

A music rest

A pedal jack

App compatibility 

Basic sound effects like reverb, or chorus

At least 10 decent sounds in a soundbank, OR lots and lots of ok tones

Essential features such as split and duo

A few built-in songs or accompaniment 

A metronome 
Don't expect to get…
Aftertouch 

A stage piano 

A pitch bend wheel

Quality AND quantity (hundred of professional-grade sound samples)

Included Pedals (some instruments may come with a plastic sustain)

A bench 

Uber-powerful speakers 

Loads of effects 

A plethora of ins and outs
Again, with an under-500 instrument, you won't be able to "have it all". Write down the key features you need, consider the things you just want, and go from there. Some under-500 pianos will include limited onboard recording, transpose/tune, and extra accessories like a bench or included songbook. In this price range, I consider these features to be extra. Consider the 11 points we talked about earlier. I'd say that the two most important things are 1. How it sounds and 2. How it feels. If you like how it feels and sounds, then you have a piano that will get you playing. Remember, an instrument with a giant soundbank is worth nothing if you don't actually like the touch. 
How to Make the Final Decision
To make the final decision, narrow it down to the top 3 digital pianos, and then make a pros and cons list. After making your list, visit a local music store, and try out the 3 instruments. After spending a few minutes at each, you'll know which one is the winner. 
Thanks for visiting our landing page on how to pick out the best digital piano under 500 for you. If you have any questions, send us an email or write us in the comments below! Happy shopping! 
"Musical training is a more potent instrument than any other because rhythm and harmony find their way into the inward places of the soul" -Plato