Roland Go: Keys Review
We rated the Roland Go: Keys a 9.7/10. The Go: Keys is a digital piano designed to be lightweight, and is made for beginners. It has excellent connectivity and some really interesting features. One of these features is ScratchX, a program that allows you to put soundtracks to animations. This model also has technology for overdubbing and looping. While this is obviously not meant to be a pro keyboard, this instrument has everything a beginner (or even intermediate) player needs, and then some.
We rated the Roland Go: Keys a 9.7/10. The Go: Keys is a digital piano designed to be lightweight, and is made for beginners. It has excellent connectivity and some really interesting features. One of these features is ScratchX, a program that allows you to put soundtracks to animations. This model also has technology for overdubbing and looping. While this is obviously not meant to be a pro keyboard, this instrument has everything a beginner (or even intermediate) player needs, and then some.
Overview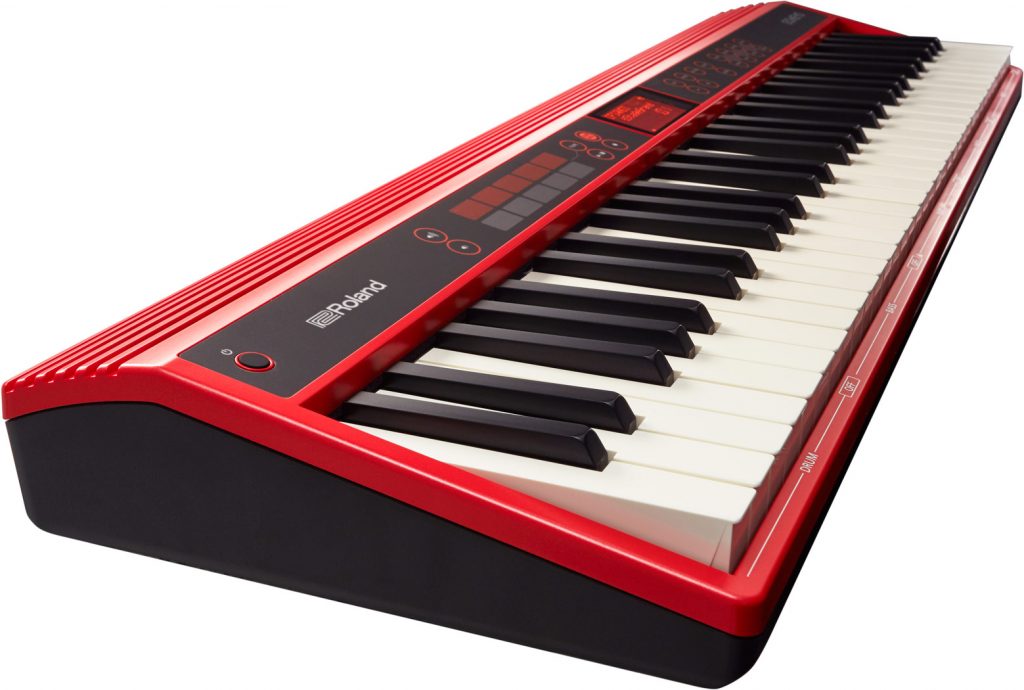 Hey there! Welcome back to Best Piano Keyboards. Today, we are diving into an inexpensive yet high-quality instrument in this Roland Go: Keys review. 
The Roland Go: Keys electronic piano was first made available in April 2017. Its aim was to provide a lightweight, affordable instrument to beginners. This is how Amazon self-describes the Roland Go: Keys 
"GO: KEYS is a fun, easy-to-use keyboard that lets you play along with your favorite music—streamed wirelessly through its powerful onboard speakers. Just connect your smartphone via Bluetooth, pick a song, and play along! Choose from over 500 onboard pro-quality sounds, like pianos, synths, strings, bass, brass, and more. With sound quality that beats most standalone speakers, GO: KEYS is great for just listening to music too. It uses your smartphone to access free online music, so you'll never run out of songs to play along with. Compact, portable, and battery-powered, GO: KEYS can be played wherever you get the urge. A world of music is waiting for you—start the journey with GO: KEYS."
That sounds promising enough to me! I did some research so that we could take a deeper look at the features of this Roland model. 
Roland Go: Keys Features
Loop Mix Function 
The first thing that stood out to me on the Roland Go: Keys was the loop mix function. While it excels at being a regular portable keyboard, it provides us with a little more *spice* than many of its competitors. Here's why: 
The loop mix function lets you add drum and bass loops with the press of a single button. The memory the looper on this instrument has is quite impressive as well- Roland Go: Keys can hold up to 99 songs in its internal cue. Not too shabby for an under-$400 instrument! 
In this video, you can watch a performer use loop mix.
It shows you how to select and use the looper. The performer adds drums, bass, and synth parts. They make something really groovy- Honestly, it was even better than what I expected! 
Adjustable Master Tuning and Semitone Transposition
The Roland Go: Keys has the master same tuning and semitone transposition capabilities as the more expensive Roland model. I always appreciate electronic instruments that have a wide variety of tuning options, because it opens up musical opportunities so that you can play pieces the way they were intended to be played. 
Box-Shape Keys and Ivory Feel
Though the Roland Go: Keys is small, it is mighty. Many portable 61-key pianos have more narrow keys, but this model doesn't. It's compact, without compromising the space of the keys- so if you've played before, you won't have to adjust your muscle memory. While the type of key shape is more of a personal preference, you can never go wrong with ivory feel keys. The texture of these keys helps players keep their grip when playing technical passages. 
Great Connectivity 
While some musicians (accurately) describe the Roland Go: Keys as being bare-bones, there is another area in which this minimalist instrument excels: Connectivity. The available connections include: 
USB Micro-B type (MIDI)

Stereo miniature phone type

Stereo 1/4-inch phone type
Bluetooth 4.2
The connections don't stop there. Roland Go: Keys supports Bluetooth 4.2.  Bluetooth 4.2 is over two times faster than Bluetooth 4 and can reach a range of up to 20 meters in distance. Bluetooth 4.2 and 5 are the two fastest, highest-quality types of Bluetooth systems currently available on the market. 
With Bluetooth 4.2, you can stream clear audio through your instrument. This function is really great, especially if you don't have any other speakers to stream your music through. Roland: Go can be connected to both tablets and smartphones. 
Go: Keys and ScratchX 
According to the ScratchX website:
With the Scratch programming language, you can create your own interactive stories, games, and animations — and share your creations with others in an online community."
Now you are probably wondering "What does a programming language have to do with a budget keyboard?" Excellent question! Roland and ScratchX have teamed up to make the Roland Go: Keys compatible with the more experimental program Scratch makes (ScratchX). Now that the two companies have combined, musicians can put soundtracks to animations, stories, and other creations on the Scratch platform. I actually hadn't heard of any other piano brand doing something like this. While the Roland: Go keys might be economical, it's still extremely innovative. If you are daydreaming about becoming a soundtrack composer, this instrument will get you off on the right foot. 
You can learn more about ScratchX on their website here.
Roland and Pianote Created Online Lessons
Speaking of brands working together, Roland and the company Pianote created a set of online lessons to help customers get started. Pianote is renowned for its video lesson, and, particularly, its teaching methods.
Here's a little background on Pianote: 
Creators at Pianote believe that the so-called 'video-game-learning' makes music hard to retain. It's great for some visual learners, but it takes a really long time to memorize each song. That's why they created their company- So that they could make video-based piano lessons that were made to a different pedagogy. They give different ways of learning the same thing so that their videos apply to a more broad audience. 
Each purchase of a Roland Go: Keys piano comes with video lessons made by Roland and Pianote. These are much better than many of the piano how-to's you'll find on Youtube and free learning apps. Talk about extra bang for your buck!
You can learn more about Pianote here.
Portable and Lightweight 
Needless to say, the biggest feature of the Roland Go: Keys is that it is portable and lightweight. Since this instrument is only 61 full-keys wide, it is much easier to fit into compact vehicles and to carry. It weighs just about 8 pounds (So, even I can carry it!). 
Battery Powered
Love it or hate it, the Roland Go: Keys is known for being battery-powered. This feature is great for musicians who are always playing short, intimate gigs outside and don't want the hassle of cables, power strips, and extension cords. This aspect has caused some debate among performing musicians, though. Luckily, there is a direct power option as well.  
Internal Speakers 
Having internal speakers can be a huge advantage if you are a music newbie. While many performing professionals prefer to have their pianos plugged into monitors, this is a facet that many beginners don't want to have to navigate at first. The internal speakers on the Roland Go: Keys are modestly sized. That being said, everything you need to get started is already set up for you. 
Overdub Option
The record mode on this instrument allows you to layer tracks from any instrument category. While some keyboards only allow you to layer certain soundbanks together, with this one, there is no limit. 
Typically, this would be the space where I would write about the pianos split mode option. Surprisingly, the Roland Go: Keys does not have a split mode option. So, when you are working with a voice, that voice will always take up all of the keys. There is no way to designate one voice to the upper register, and one to the lower. For some musicians. This is a dealbreaker. Since I usually play classical pieces, I don't personally use split mode that often. However, more experimental players (and composers) often do. 
A Gorgeous Modern Red
Was Roland taking a clue from Nord here? The Roland Go: Keys is in a beautiful yet loud bright red. It seems that this Roland is only available in red, so, if you wanted an option, your choices are…red, and red! It kind of reminds me of how Ford used to say that his cars were "Available in any color you like..as long as it was black." I seem to be getting off-topic here, I digress…
Roland Go: Keys Sounds
The Roland Go: Keys Sounds are plentiful! There are 554 sounds in the bank. Roland is known for their sound samples quality, and this piano seems to be in the same vein: impressive.  You can hear the sounds here in this sound demo video.
Please note that the creator of the video used a direct input here to better represent the sounds. The sounds are a fair bit thinner when played through the Roland Go: Keys smaller internal speakers. 
Here are some of the kinds of sounds that are available on this instrument: 
Organs

Pianos 

String Ensembles

Vox like Oohs and Ahs

Hits

Synths and Synth Strings

World instruments (Shakuhachi, Bagpipes, Pan Flute, Ocarina, Shanai, World Drums)

Brass

Drum Kits (Hip Hop, Reverse Cymbals, Dance Kits)
You can find the full tone list here at this nifty site called Manualslib.
10 Performance Pads 
These 10 performance pads allow you to adjustable aspects of your sound like the pitch. You can also add filters if you are using performance pads. 
You can see a little kid practicing using the Roland Go: Keys performance pads in the video here! (This was just for fun. I stumbled across this video when I was doing some research). 
Specifications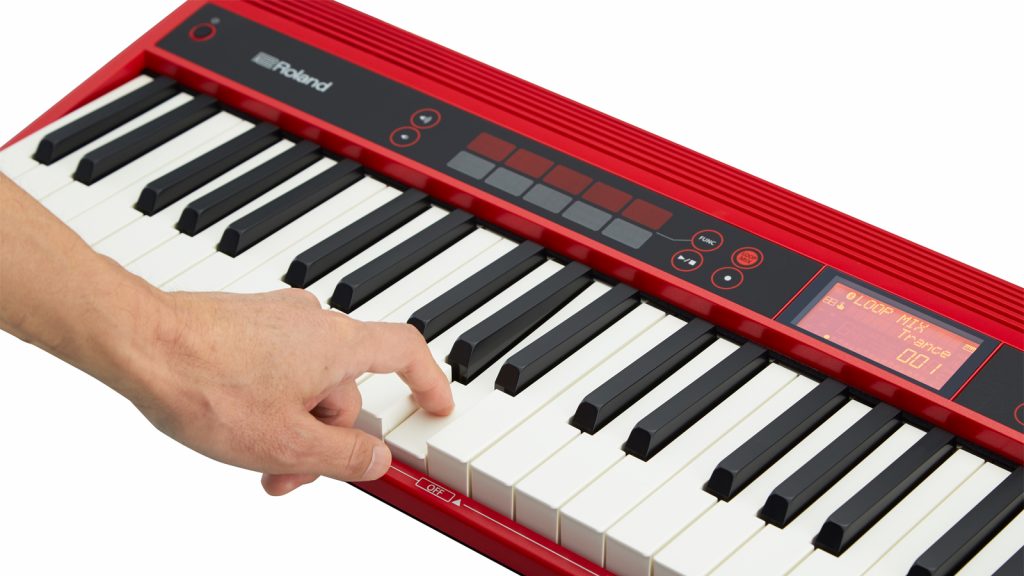 Weight:

8.6 pounds

Bluetooth Type:

4.2

Dimensions:

34.6 x 10.7 x 3.3 inches

Number of Speakers:

2

Internal Speaker Output:

2.5 W x 2

Effects:

Chorus, reverb, and more

Loop Mixes:

12

Performance Pads:

10

Patterns:

600+

Power Supply:

Inclusion depends on the seller
Who Is It Suitable For?
The Roland Go: Keys is best suited for beginners and pianists who are just getting into the intermediate level playing. This keyboard is also great for producers looking for an inexpensive instrument to connect to Bluetooth. Sometimes, if you are on the go a lot, you don't want to be traveling with something as expensive as a Nord. It all depends on if you are leaving your equipment unattended, and where. I can see a lot of uses for the Roland Go: Keys, given its connectivity and large soundbank. 
I would not recommend this keyboard to upper-intermediate classical or jazz students, because it only has 61 keys. There are only so many standards and pieces you can fit on the smaller keyboard. However, if you are a pop musician that doesn't use the extremes of ranges, this may suit an upper-intermediate player well. It all depends on the genre. 
If you are getting this piano to play out, be sure to consider how long you are going to be playing it, and if the speakers are loud enough to project over the audience. The Roland Go: Keys is perfect for performers in intimate settings. Otherwise, you may need monitors or a more expensive model.   
The only other facet to consider here is, as far as suitability goes is this: weight. Keep in mind that the Roland Go: Keys is velocity-sensitive, but not fully weighted.
The big takeaway: This keyboard is best suited to beginner to intermediate pianists who are looking for a velocity-sensitive keyboard that is small, portable, has a large sound bank, and is inexpensive. 
Roland Go: Keys In Action 
Here are two minutes of straight performing on a Roland Go: Keys. The sound sample the musician is using, in the beginning, is quite rich. The organ (the second sound in the example) is middle-of-the-road, in my opinion. But the jazz piano, however, is strikingly realistic. The classical tone used on the next piece, a minuet, is equally as high-quality. If you'd like to hear all of the sounds, you can listen to this video by Diogo here.
Overall, after listening to all of the soundbanks, I think that this piano is a steal when it comes to both quality and quantity of voices.
Amazon Reviews 
The Roland Go: Keys is rated 4.6 out of 5 stars on Amazon. Let's see what the customers had to say. 
What Customers Liked:
The voices are really great

The overdub option allowed the musicians more creativity than most other models in this price range

There is no overdub limit 

It is great for beginner and intermediate students

You get a ton of features for the price 

The sound comes through great through headphones

It is one of the lightest 61-key pianos on the market right now 
What Customers Didn't: 
The key action is unusual and rubbery and takes time to get used to

The acoustic piano sounds are not as realistic as the rest of the sound banks' voices

The USB outlets in the back can come loose with time

The speakers could be louder

Some musicians said the touch intensity option felt off, and that they did not like this feature

You need to buy external monitors to get the best sound

Some customers had trouble pairing the Roland Go: Keys to Android app and devices 
Pros and Cons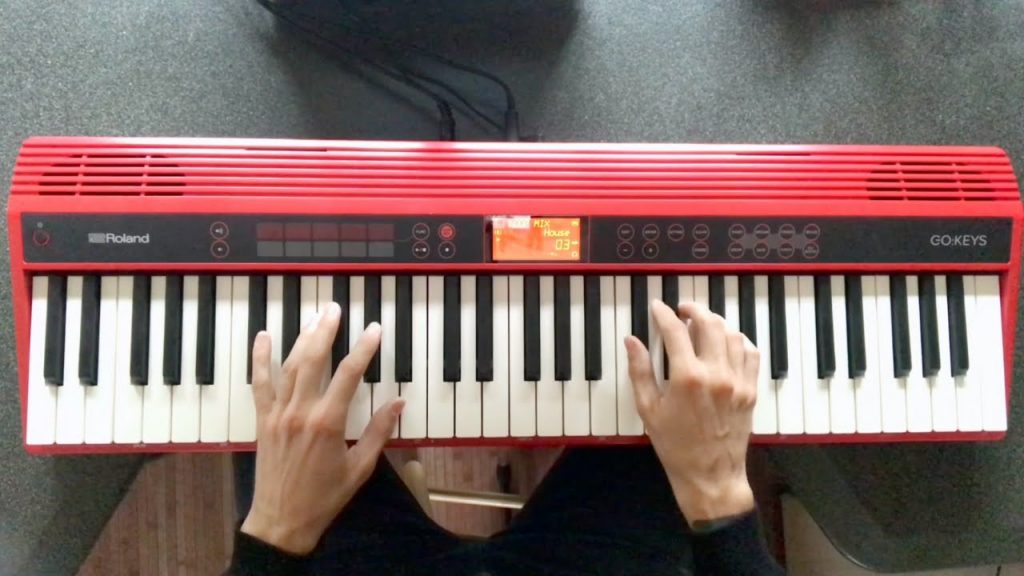 Pros
It has Bluetooth 4.2

It's really lightweight

It's low-cost

It comes with a sustain pedal

It is made of synthetic ivory, which helps with feel and grip

There are tons of voices

It's made by a major name brand

It is compact

It is portable

You can use your smartphone with it

It connects to free online songs

The loop mix function helps to fill out your sound when you're playing alone

It's compatible with something called ScratchX, which lets you add music to things like animations and stories 

This piano has sounds from Roland's renowned synthesizer sound engines 

Though this instrument is compact, the keys are a full width 
One of the things I love most about this model is the Bluetooth 4.2. Considering the fact that this comes out in 2017, it is quite impressive that it has such advanced Bluetooth technology. It's super easy to pack and carry and comes with an included sustain pedal, which is rare for budget keyboards. Another thing that you don't typically find in models in this price range is synthetic ivory keys. Last but not least, it was made by a large name brand, and there are a lot of online resources available for this particular model.
Cons
There are only 61 keys on this keyboard

It is velocity-sensitive, rather than graded hammer action It first came out in 2017 and is likely to be replaced with a newer, portable flagship model soon

It only has one screen display

There is no split mode
Having 61 keys seriously limits the rep that you will be able to play. Another limiting factor is that this is a velocity-sensitive keyboard, so, it is not nearly as sensitive to variations in touch as GHS models are. And if you are one of those people who wants to have the latest technology? The Roland Go: Keys probably misses the mark, yet again. 
Battery-powered keyboards are great! Until you run out of juice in the middle of an outdoor gig. If you are planning on playing for several hours at a time, out in public, I wouldn't recommend using this function. A lot of the time, low-quality pianos are marked by having a battery-powered option. While I wouldn't say that this model is low-quality, I wouldn't say it's extremely high-quality, either. 
Other cons that aren't quite as big of deal breakers are that there is only one LCD screen display, and there is no split mode. 
Quick View 
| | |
| --- | --- |
| Keys | 61 simulated-ivory, velocity-sensitive keys |
| Touch sensitivity  | Yes- Three types as well as the fixed touch option |
| Sounds | 554 voices |
| Recording capabilities  | USB to MIDI |
| Metronome | Yes |
| Polyphony  | 128 notes of polyphony |
| Speakers | Internal Bluetooth Speakers |
| Headphones | ¼ inch and miniature phone jacks available- This model does not come with headphones |
| Accessories | Sustain pedal included |
| Price point  | $339.99 |
| | |
Roland Go: Comparative Models
Roland Go: 61PC
Many people wonder what the difference between the Roland Go: Keys and the Roland Go-61PC is. Unfortunately, this other Roland Go piano doesn't make it up very high in my personal book of economical pianos. Unlike the Roland Go: Keys, the 61PC does not have a sustain pedal and only has a handful of tones. 
Casio CTS 300
The Casio Casiotone is an under-$200 keyboard intended for arrangers. If you are looking for a more economical option, consider this model. 
Yamaha NP 12 
This instrument is a barely-over-200 portable piano. It has less polyphony than the Roland Go: Keys, but boasts up to 5 hours of playtime on AA batteries alone. 
Yamaha PSR E 373
This PSR costs about $200 and has a whopping 622 voices. Like the Go Keys, it can connect to a DAW using a USB to MIDI cord. 
Korg EK 50 
This is the only instrument on the comparative list that costs more than the Roland Go: Keys. It is another arranging keyboard, with 700 sounds and almost 300 accompaniment patterns.
Roland Go: Keys Conclusion
All in all, the fact that the Roland Go: Keys is a piano that gives you a lot of bang for your buck is undeniable. However, the cons of it being velocity-sensitive, and solely battery-powered are big dealbreakers for intermediate players and up. 
The Roland Go: Keys is a great name-brand piano that will get many beginners started off on the right foot. 
In this case, be sure to come back for more electronic piano reviews next week!  Until then, here is a music quote for you: 
"A man should hear a little music, read a little poetry, and see a fine picture every day of his life, in order that worldly cares may not obliterate the sense of the beautiful which God has implanted in the human soul."
― Johann Wolfgang von Goethe

We rated the Roland Go: Keys a 9.7/10. The Go: Keys is a digital piano designed to be lightweight, and is made for beginners. It has excellent connectivity and some really interesting features. One of these features is ScratchX, a program that allows you to put soundtracks to animations. This model also has technology for overdubbing and looping. While this is obviously not meant to be a pro keyboard, this instrument has everything a beginner (or even intermediate) player needs, and then some.
PROS
It has Bluetooth 4.2
It's really lightweight
It's low-cost
It comes with a sustain pedal
It is made of synthetic ivory, which helps with feel and grip
There are tons of voices
It's made by a major name brand
It is compact
It is portable
You can use your smartphone with it
It connects to free online songs
The loop mix function helps to fill out your sound when you're playing alone
It's compatible with something called ScratchX, which lets you add music to things like animations and stories
This piano has sounds from Roland's renowned synthesizer sound engines
Though this instrument is compact, the keys are a full width
CONS
There are only 61 keys on this keyboard
It is velocity-sensitive, rather than graded hammer action It first came out in 2017 and is likely to be replaced with a newer, portable flagship model soon
It only has one screen display
There is no split mode