Roland FP 90 Review
We rated the Roland FP 90 a 9/10. This digital piano has a very high polyphony, and a relatively large soundbank (350 notes). The best part about the instrument in my personal opinion are the 4 speakers. The FP 90 has quite a powerful sound system. Its keybed is equally as impressive. It has 88 keys with escapement, as well as touch sensitivity from 1-100. Because some of the sounds could be more realistic, I took off just one point. Overall, the FP 90 is a steal given its features and high-quality build.
We rated the Roland FP 90 a 9/10. This digital piano has a very high polyphony, and a relatively large soundbank (350 notes). The best part about the instrument in my personal opinion are the 4 speakers. The FP 90 has quite a powerful sound system. Its keybed is equally as impressive. It has 88 keys with escapement, as well as touch sensitivity from 1-100. Because some of the sounds could be more realistic, I took off just one point. Overall, the FP 90 is a steal given its features and high-quality build.
Roland FP 90 Overview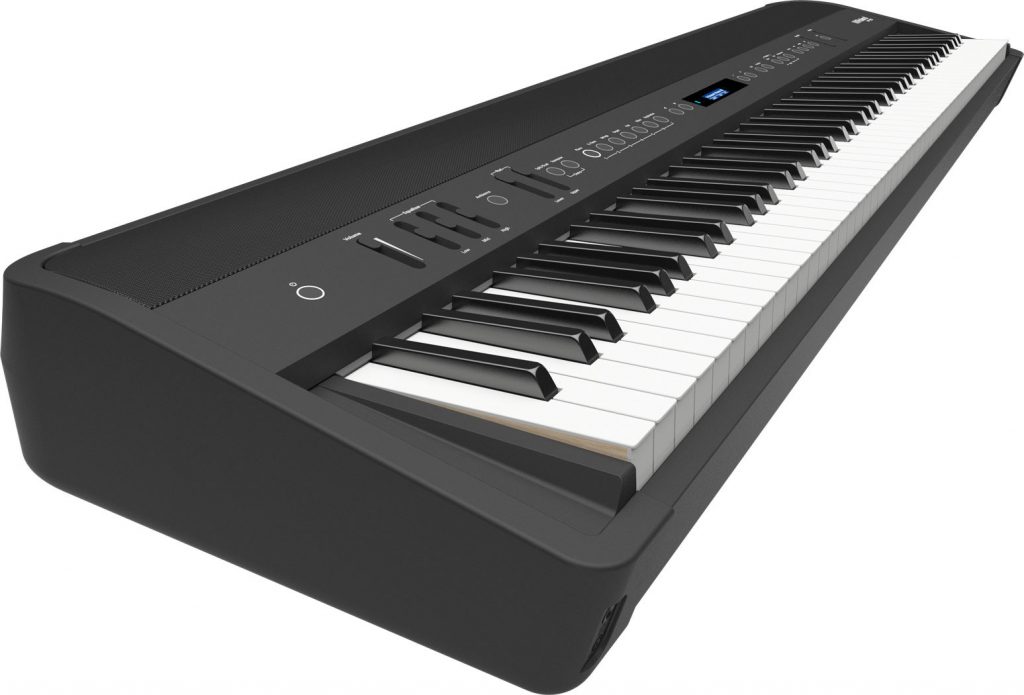 The Roland FP 90 is a 88-key portable piano which is designed to be durable and to have a large and powerful sound. According to Amazon.com, this product has a 'Superior piano sound' and a 'Go-Anywhere' format. 
"Superior piano sound and touch in a go-anywhere portable format
Why should a portable piano mean you have to compromise on sound quality and keyboard feel? With the FP-90, you don't have to settle for less, as it includes the sound engine and premium keyboard construction from our flagship pianos housed in a stylish, mobile body. Roland's SuperNATURAL Piano modeling technology is a unique modeling process that spans the entire sound creation process of an acoustic piano, including the combination of notes played, their resonance, and the way in which the piano's many elements interact with each other.
The result is a rich, complex sound—complete with overtones—that actually changes in response to the way you play. Then there's the PHA-50, a new type of keyboard that blends wood and molded materials for the best of both worlds. Beautiful wooden sides give each key a familiar, rigid mass that feels just right to play, while the durable inner frame means you can enjoy the FP-90 for years to come without worrying about reliability." (Credit: See product link above)
Now, let's cut to the chase and look at the in-depth details in this Roland FP review! 
Features
A Flagship Model
The Roland FP 90 is the newest of its kind. It came out in 2016, and continued to be one of the most popular instruments in the FP line. 
Here's a little history on the FP-X line. FP-X aims to provide portable keyboards to players of any level. This line focuses on Pure Acoustic Piano Modeling. In essence, these instruments specialize in realism. To learn more about this line of pianos, check out this page.
For now, we are going to focus on the features of the FP 90. But if you would like us to review any of the other FP-X pianos, let us know in the comments below! 
A Keyboard with Escapement 
The Roland FP 90 has a PHA-50 keyboard. PHA stands for 'Progressive Hammer Action'. This style can be found on other Roland's, like the Roland 2000. The action of a PHA-50 keyboard is really balanced. Now, what is escapement? 
Escapement is the little clicky noise that you feel when you press a key down so far (about half way) on an acoustic piano. To increase the realism of the FP 90, Roland added this clicking sensation into their digital keyboard. 
Other features of the FP 90's keyboard include that it is touch sensitive, and has simulated ivory keys. 
Hybrid Keys Built to Last 
Speaking of keys, the Roland FP 90 actually is made of hybrid materials: The keys are made of wood and plastic. Many players enjoy the feel of the wood-plastic combination, reporting that it feels more heavy and authentic than the models that use all plastic keys.
Transpose and Fine Tuning
The Roland FP 90's transpose and fine tune features make it easier to adjust your music to a certain person's voice type, or to a different tuning system. 
Over 350 Voices
Several of the instruments that we have looked at are in the $2000 price range, but do not have that many sounds. However, I rarely ever have that complaint about Roland instruments, and the Roland FP 90 is no different. With 384 sounds in this impressive bank, you'll be able to find a voice for just about any genre. Here are some of the voices that are available in this superNATURAL soundbank: 
Electric pianos

Strings

Synths

Organs

Pads

SFX

Drums
You can listen to all of the sounds in this bank here.
30 Registrations
This model includes 30 internal registrations. This means that you have 30 spots to save your favorite sounds and combinations. 
Four Speakers are Better than Two 
Not only are there four speakers built into the Roland FP 90's sound system- The system contains multiple amplifiers as well. The perk to having such a powerful built in sound system is that you can get away with performing the Roland FP 90 on stage without having to hook it up to anything else. 
A Modern Look 
This keyboard is modern, with a matte black keyboard base and a clear music holder. This style will look great just about anywhere. Through some retailers, you can also get this model in white. 
256 Notes of Polyphony 
On most of the voices in the soundbank, you can get 256 notes of polyphony. That being said, on the piano voices, there is unlimited polyphony. 
Before I stumbled upon the Roland FP 90, I had never heard of such a thing. Unlimited polyphony means that there is absolutely no limit to how many notes you can play. So, if you had, say, a limitless amount of fingers, you would be able to hit all 88 notes, (and then some) and have them sound at the same time. Now, why anyone would want such a chaotic sound-atrocity is beyond me, but, in all seriousness, unlimited polyphony is an extremely rare feature. 
3-Band EQ 
If you've been sticking around and reading our other reviews, then you probably already know what EQ is. But what is 3-band EQ?
3-Band EQ means that you have an equalizer with 3 strips of adjustment. Unlike 2-band EQ, this type of equalization allows you to edit the mids (or, mid-range) of your sound. In essence, 3-band EQ gives you more control over your sound than 2-band. On most basic, run-of-the-mill digital pianos, there is no option to equalize your sound at all.
It has a Piano Designer 
Speaking of customization, here is where the Roland FP 90 really gets interesting. Roland has come out with an app called Piano Designer. It allows you to personalize your sound. You can make the sounds by adjusting the graphics on your smart device's screen. Then, you can play any piece you like with the piano sound you just made! To learn more, visit this section of Roland's page.
Dual Headphone Jack and More 
Dual headphone jacks are making their way up in the music world, and Roland is right there with us. These headphones makes it easier to jam with a friend or teach a lesson without disturbing those around you.
Acoustic Projection 
Acoustic projection technology is a feature that is found in some FP, HP, and LX Roland Pianos. It gives more of a multi-dimensional sound due to the way the built-in speakers are set up. The headphones also have an acoustic projection option, that way, the realism of this piano transfers over to when you are playing just for yourself, as well! 
Adjustable Damper Resonance
While damper resonance is often more of an on-off switch, Roland really goes the extra mile here. Using the sustain pedal, you can adjust the damper resonance on the FP 90. 
Excellent Connections
Get your recording on with the internal audio track, or by MIDI via USB (A or B) or Bluetooth. In addition to this, this instrument also allows you to connect an external microphone.
Vocal Effects, Sliding Parameters
This model allows you to add vocal effects to sounds. In addition to this, it has on-board, sliding parameters, rather than buttons that are more or less on-off switches. Some of the sliding parameters that can be adjusted include mic volume, high, middle, and low (EQ), as well as overall piano volume.
Supporting Apps
The technology that the Roland FP 90 has to offer makes it really easy to plug-it-in and go. Here are a handful of app that we know will work with this model: 
Piano Partner 2 (Roland)

Piano Designer

GarageBand for IOS

Logic 

Flowkey

And more! 
A Seamless Setup
Let's take a minute to talk about the setup of this keyboard. Everything is really easy to see and access on this instrument. 
The Roland FP 90 has one LCD screen, and 25 main buttons. Some of these buttons have rings around them. When you are using a specific feature that correlates with a button, the ring will light up so that you know you are using it. Personally, I love this feature. Oftentimes, I will get so into mixing a sound that I can't remember what I have turned on and what I have turned off. This visual indicator makes adjusting your sound that much easier. 
Roland FP 90: Other Features 
Some other great features that the Roland FP 90 has include: an audio recorder, an ambience button, dual and split mode, as well as flash drive (USB-A) connectivity. 
Specifications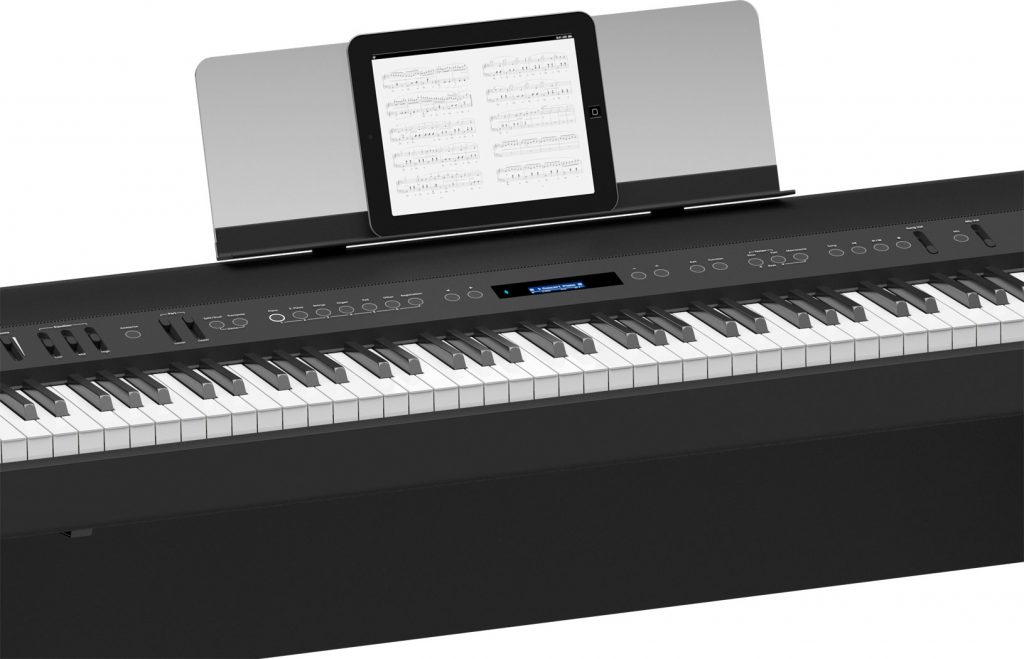 Weight:

52 inches

Dimensions:

52.8 by 5.3 by 15.3 inches 

Types of Resonance:

Damper, String, Cabinet
Who Is It Suitable For?
The Roland FP 90 is most suitable for intermediate to professional players. Firstly, this is because of the price point. However, the complexities that this model has to offer would likely prove too much for the beginner. 
Gigging instrumentalists will enjoy the large amount of on-board projection that this digital piano has to offer. In addition to this, it is built to be put on-the-go. It weighs just a little over 50 pounds, making it feasible for a one-man-band to move on their own. 
Classical pianists who don't have enough room to purchase a grand, but want the feel of one, will be happy with the Roland FP 90. Genre-blending, adventurous composers will be on the moon when it comes to the superNATURAL soundbank. I love how Roland included a handful of drums (and quite a few synths) into this bank. 
Roland FP 90 In Action
To get started, let's check out a video from Roland's Channel. This overview will help you get a better feel for what the Roland FP 90 sounds like when it is in use. Here are some of the thoughts that I had when I was listening to this instrument's sound bank: 
This instrument sounds

very

dynamic. Every legato and staccato is so very obvious

The next thought that I had was that the sampling technology sounds 'silky'

The bright pianos and dark pianos are done equally well, which is a rarity in the digital piano world
Pros and Cons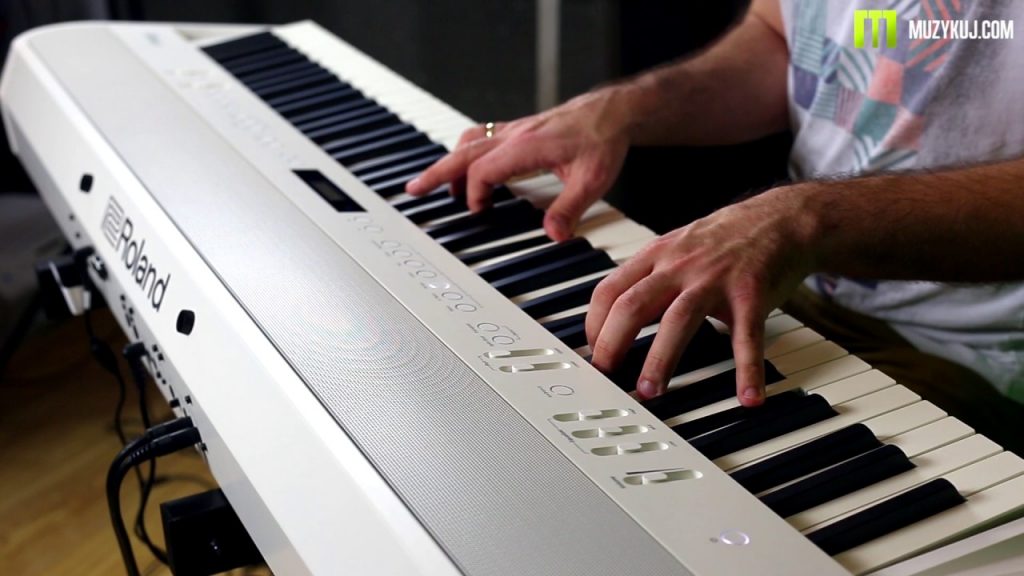 Pros
The Roland FP 90 is a flagship instrument, so you know that you are getting the newest technology that the company has to offer

The speakers and amplifiers are wonderful

It was made by an extremely reputable brand name

The polyphony on the piano sounds is unlimited

Has hundreds of quality voices to choose from

It has great connectivity options, including Bluetooth

Compatible with many apps

The dual headphone jack makes it ideal for late-night lessons or apartment jam sessions

It is portable

The LCD screen is high-quality and well-lit 
Overall, it is clear to see that there is a lot to like in this model. Personally, it has me considering getting a Roland keyboard with superNATURAL sounds in the future. It is really hard to find an instrument with powerful on-board speakers, which is part of the reason why so many higher-end companies opt to leave them out. This may be easier, but is not necessarily better. 
As far as brand names go, Roland has always been towards the top of my list. With the FP 90, you don't have to sacrifice quality to get a larger number of voices in your soundbank. It is downright impressive that the 90X has so much polyphony- more than any player could ever use in a performance. It's portable, jammable, fun, and high-quality. 
Cons
This instrument does not come with the 3-pedal unit

It does not come with a stand either. It is a little lacking in the accessory department for the price point

Quite expensive. So expensive, in fact, that Roland-lovers have turned away from this model in search of newer, more economical portable keyboards

Despite it being relatively portable,it could still stand to be more mobile. 52 pounds is quite a lot to haul around on a regular basis. If you are getting a piano for performances, consider a lighter one with fewer keys. 

 In addition to this, the measurements of this instrument are significantly more deep than that of its competitors, making it harder to fit it into apartments and other small spaces

The LCD is on the smaller side

Some of the sounds aren't suitable for everyone 
Every instrument has its downsides. While I've been loudly singing the praises of the Roland FP 90, there are a few obvious downfalls. As far as accessories go, prepare for minimalism. Most Roland FP 90 piano packages that you will find (in-stores, or on the web), are bare bones. If you want to connect your keyboard to a DAW, or if you want to play with all three pedals, then you will need to purchase them. This instrument does not come with a stand, either. 
While this model is advertised as portable, it is not nearly as portable as some of the other instruments that I have recently researched and reviewed. 
Lastly, sometimes, the superNATURAL sounds just aren't a player's cup of tea. Personally, I think that they sound very realistic. However, I have taken a peek at the reviews of other musicians who have played on this instruments. Ultimately, it all depends on your ears and preference. Remember, always listen and try before you buy! 
Roland FP 90 Amazon Reviews
What Buyers Liked: 
It has a rich sound

It makes it easy to learn 

Multiple customers were raving about the action, some even saying that it feels like an acoustic grand 

The piano designer feature is a fun addition 

The quality is great according to many pianists 

It is a step up from the other Roland FP's 
What Buyers Didn't Like: 
You have to use studio headphones that have the ¼ inch jack 

One customer said that the soundback was synthetic sounding 

The steep price 

The 3d ambience feature 
Quick View 
| | |
| --- | --- |
| Keys | 88 full-sized keys with escapement |
| Touch sensitivity  | This instrument is touch-sensitive from 1-100 |
| Sounds | There are over 350 voices in the soundbank |
| Recording capabilities  | 1-track MIDI, USB to host |
| Metronome | Yes |
| Polyphony  | 256 notes on most voices, unlimited polyphony on piano voices |
| Speakers | 4 speakers |
| Headphones | Yes, Dual Jack  |
| Accessories | Damper pedal included, stand and 3-pedal unit are sold separately (Sweetwater)  |
| Price point  | $2,299.99 |
| | |
Pianos Comparable to the Roland FP 90 
Roland FP 30
The Roland FP 30 is an older model in the FP line with fewer tones. With it being only $799.99, it is significantly more economical than the Roland FP 90. If you love that Roland sound and action but can't afford the FP 90X, consider the FP 30.
Yamaha P515
The Yamaha P515 is about $1599.99. Like the Roland FP 90, this keyboard also has escapement, with synthetic ivory keytops. Yamaha's VRM takes the realism of this  electronic piano to the next level. If you want a slightly more economical instrument but aren't sold on the Roland brand, consider the P515.
The Kawai ES series features light-weight, portable digital keyboards. The ES920 is priced at about the same point as the P515- $1599.00. It has 236 notes of polyphony across the board. That being said, it only has 38 instrument sounds. If you are looking for the connectivity of the Roland FP 90 with more dynamic responsiveness, consider the ES920. 
Kawai ES8
Though the Kawai ES920 has since replaced the Kawai ES8, you might be able to find one of these keyboards at a resale shop. If you want similar features to the ES920, but are looking for a used instrument, consider the ES8.
RD 2000
This Roland instrument has the same keyboard as the FP 90: The PHA-50. It is about $2699.99, so you won't be saving any cash if you get this model instead. If you are looking for a digital piano in a similar price range, but value having a MIDI controller over acoustic sounds, consider the RD 2000. 
RD 88
The RD 88 is a Roland piano designed to meet the needs of traveling performers. It is $1349.99 at Sweetwater. So, If you want more sounds (3000 sounds, to be exact) and a lower price, consider the RD 88.
HP 704
The HP 704 is a Roland instrument as well. That being said, they are quite difficult to find online- I didn't see this model on Amazon or on Sweetwater. The 704 is a digital console piano designed to live in the home. If you are looking for a stationary piano with lots of accessories, consider the Roland HP 704.
Conclusion
In conclusion, there are a lot of great Roland instruments to choose from, including the FP 90. In short, these instruments' strong points include: A large, high-quality sound bank, a fun piano sound designer, and a seriously powerful sound system. Also, I hope that this Roland FP review has helped you in your journey to finding a new piano. Finally, keep coming back to Best Piano Keyboards for more tips on tricks on buying, learning (and performing on the) piano! I'll leave you with a music quote: 
"Music embodies feeling without forcing it to contend and combine with thought, as it is forced in most arts and especially in the art of words." (Brainyquote.com)