Yamaha EZ-300 Review
We rated the Yamaha EZ-300 a 9/10. With over 300 voices, 100 built-in songs, and multiple package options, it's pretty easy to see that this keyboard is a great learning tool. This 61-key portable keyboard comes with multiple packages, such as those with a bench, headphones, and stand. While it's clearly not made for pro players, this light-up keyboard will provide countless hours of entertainment for young learners.
We rated the Yamaha EZ-300 a 9/10. With over 300 voices, 100 built-in songs, and multiple package options, it's pretty easy to see that this keyboard is a great learning tool. This 61-key portable keyboard comes with multiple packages, such as those with a bench, headphones, and stand. While it's clearly not made for pro players, this light-up keyboard will provide countless hours of entertainment for young learners.
Yamaha EZ 300 Overview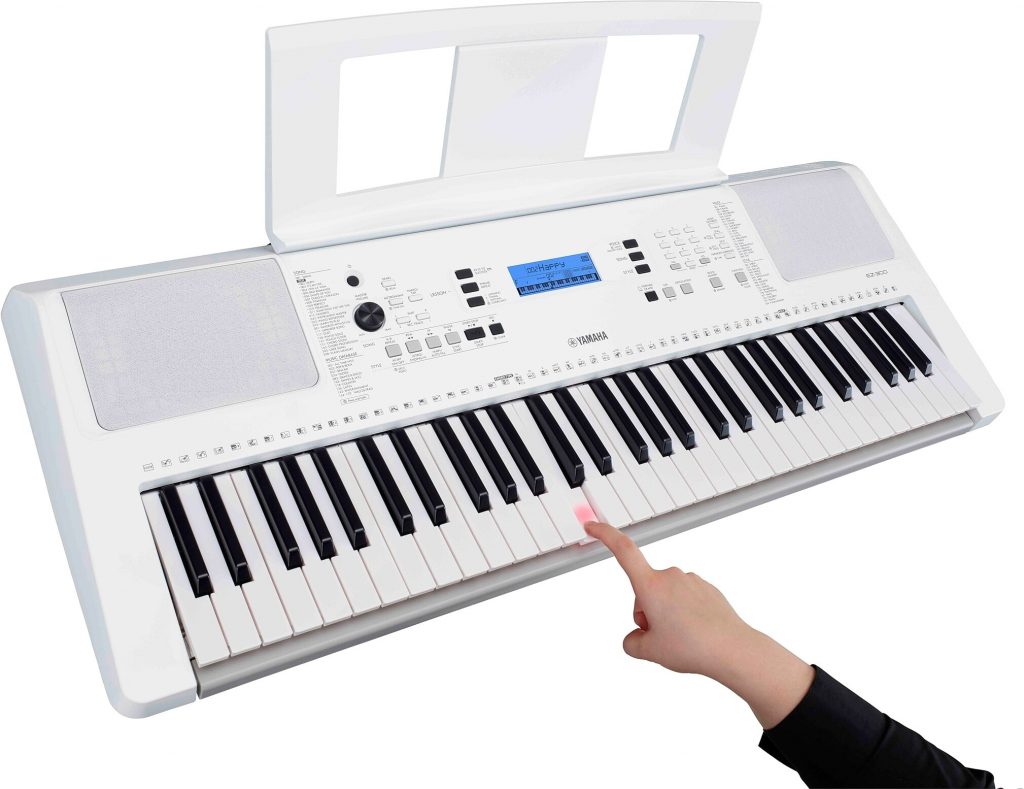 The Yamaha EZ 300 is a portable keyboard with a set of included accessories. In this Yamaha EZ 300 review, we will be taking a look at a beginner's keyboard that has many features. 
This instrument was first made available in 2012, and has remained a popular travel keyboard ever since. According to Amazon.com and the manufacturer, here's what this small but mighty instrument has to offer.
"The Yamaha EZ-220 is a 61 touch-sensitive keyboard with lighted keys, built-in wireless connectivity to the free Page Turner iPad app and 100 preset songs with digital score make it the perfect learn-to-play keyboard. A USB port lets you connect to your computer for use with a wide range of music programs. 392 Voices let you play all kinds of instruments. The built-in Education Suite provides even more ways to learn how to play. Finally, 100 Styles act as virtual bands always ready to jam." (Amazon.com)
Let's dive into the details! 
Features
Multiple Package Options
The Yamaha EZ-300 is sold as a keyboard alone, but it is also available in two bundles: The premium pack and the premium package with a bench.
The EZ-300's premium bundle (with the included bench) has the following:
Samson HP30 Closed-Cup Headphones

World Tour SXKS Standard Keyboard Stand (Keyboard rests on top)

World Tour PA130 Power Supply
Closed-cup headphones are really nice because they keep the sound in more than regular headphones do. While these headphones aren't the best of the best, they are the perfect first set for beginners. 
Another great addition to the premium package is the small keyboard stand. Many makers have you buy every item separately, but with this Yamaha / Amazon package, you don't have to. Premium packs help you save time and money. You won't have to worry about finding a compatible power supply or keyboard stand- Just get it all delivered in one fell swoop! 
Lighted Keyboard
There is an onboard option to turn on lighted keys. This feature helps you find the notes to play because they light up as you go! What a neat visual learning tool for beginners. 
100 Built-In Songs
The Yamaha EZ-300 includes many popular songs, such as: 
Perfect by Ed Sheeran

The Shape of You by Ed Sheeran

Viva La Vida by Coldplay 

Titanium by David Guetta

Bad Romance by Lady Gaga
And many more! I absolutely love how Yamaha is being so relevant with the song choices. I know that, if I had had more songs from the radio on my tiny (unweighted) keyboard when I was 10 or 12, I would've jumped to practice sheet music on the piano far more than I actually did. Sometimes even now (in my twenties) I get more practice in on the piano if I have a few exciting pop songs in my rotation than if I don't have any at all. 
In addition to popular songs, this instrument also has a lot of folks songs, like Scarborough Fair, and Frere Jacques. With this combination of modern songs and pop songs, students are set up for success. 
Over 300 Voices
This EZ model has a whopping 392 total voices. While a lot of starter keyboards and portable keyboards only have 5-100 basic tones, this one has so much more. The soundbank includes some of the following types of voices: 
Guitars, basses, and other strings

Saxophones and other woodwinds

Drums and percussion

Trumpets

Pianos

Organs
Live Voices
The "Live" voices from the Yamaha EZ-300's soundbank are voices made from samples of real instruments. Some of the live voices that you can find on the EZ-300 include pianos, brass instruments, and strings. 
Transpose Feature
The transpose feature allows musicians to move the key up or down by up to 12 semitones. 
It Comes With a Full Songbook
You can download the songbook that goes along with the Yamaha EZ-300 on the Yamaha website. Yamaha has always been great at providing young musicians with the tools they need to get started, whether they have a private instructor or not. 
The link to download the songbook can be found here.
EZ-220 Page Turner App and More
This instrument is compatible with the following apps: 
EZ-220 Page Turner

NoteStar

Visual Performer

Piano Diary
Let's take a deeper look at all of them. 
EZ-220 is a really convenient app that I wish I had on my digital piano. This app is a digital page-turner. No more fast-page-turn stunts needed! Just use this app.
NoteStar is an app made by Yamaha for the Ipad. The app allows you to read sheet music to backtracks. It also turns your pages for you as you play. 
*Unfortunately, the NoteStar app closed several years ago and is no longer available on the app store. 
Visual Performer is another Yamaha-made app. It allows you to visualize your performances. You can connect electronic drums, pianos, and other electronic instruments to it. To learn more about it, you can read about the app on the Yamaha site here.
Lastly, Piano Diary is an app that lets you record and track your daily practice. You can also use the app to share your performance from the cloud that it is saved to! 
Other Features
Other features on the Yamaha EZ-300 include: 
1 demo song for learning

An Easy-Learning fingering guide

Yamaha's Educator Suite 

Smart chord

The arpeggio (function) 

The Style button (for real-time accompaniment tracks) 
Yamaha EZ-300 Specifications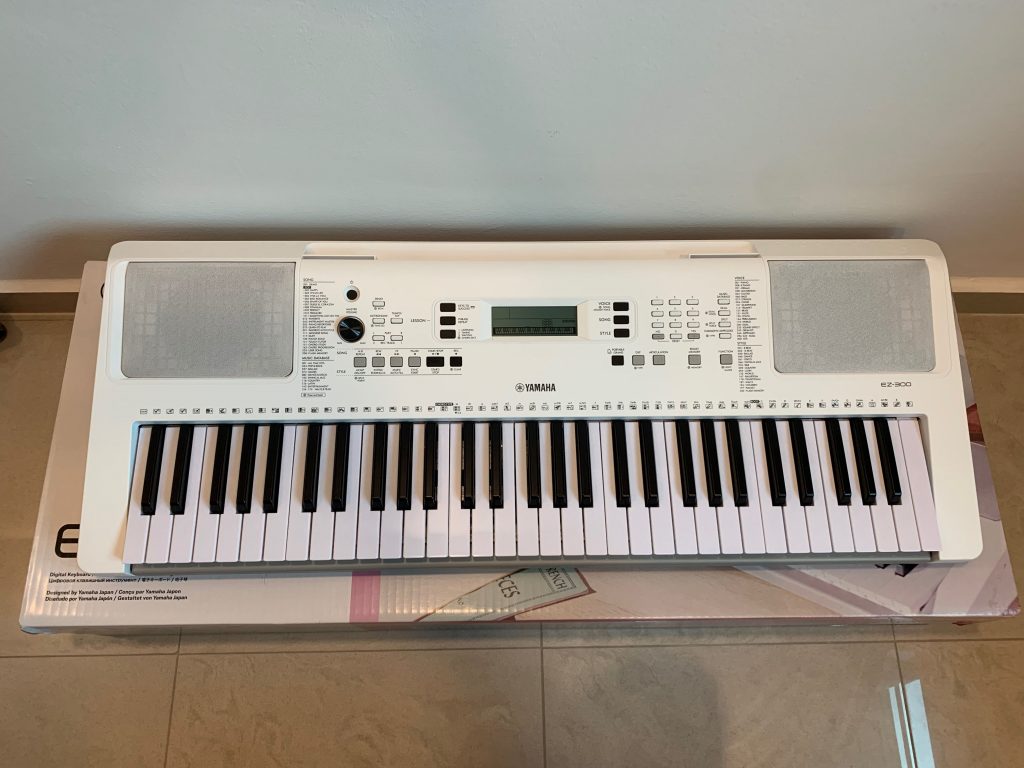 Dimensions:

51 x 8 x 20 inches

Weight:

10.5 pounds

Keyboard Type:

Portable Keyboard
Who Is The Yamaha EZ 300 Suitable For?
The Yamaha EZ 300 is suitable for beginners who are looking for a portable keyboard. It does what it was designed to do, extremely well!
Who this keyboard isn't for: 
The Yamaha EZ 300 simply isn't for professionals. It isn't marketed towards them, nor is it well-suited for them (but you probably could have told us that based on the lighted keys learning feature, now couldn't you?). The important thing is that the instrument maker reaches the target audience with flying colors. This travel keyboard is perfect for piano newbies, or folks who want an economical instrument that is sturdy, without having to worry too much about commitment. 
The Instrument in Action
You can hear pianist Jeremy See perform on the EZ-300 in this all-playing, no talking video here.
This instrument seems quite sensitive to dynamic differences. I was pretty impressed, given that this is a beginner instrument. While some of the sounds are a little cheesy and not as resonant as I'd like, it's a beginner instrument designed for learning, The saxophone sound and basic piano sounds were two voices that I was particularly impressed with. 
Amazon Customer Reviews
The Yamaha EZ-300 was rated 4.6 out of 5  stars on Amazon.
Here is what the customers liked about the instrument:
One particular customer got it for their 9-year-old who was just getting started with piano. They said that it was a great instrument for the price, and was exactly what they needed! 

The keyboard is full of features

You can adjust the learning styles so that players of different skill levels can learn

The instrument automatically adjusts tempos when it is in lesson mode

It was a great investment for their kids

The programs inside are awesome

The headphones sound clear 

You can see the key lights feature both in the daytime and at night

The keyboard easily connects with the Synesthesia app, which one customer really liked

 Synesthesia is a popular live music visualizer which many pianists like to use) 

It's a good product all-around
Here is what they didn't: 
The stand was not sturdy enough for several customers
Pros and Cons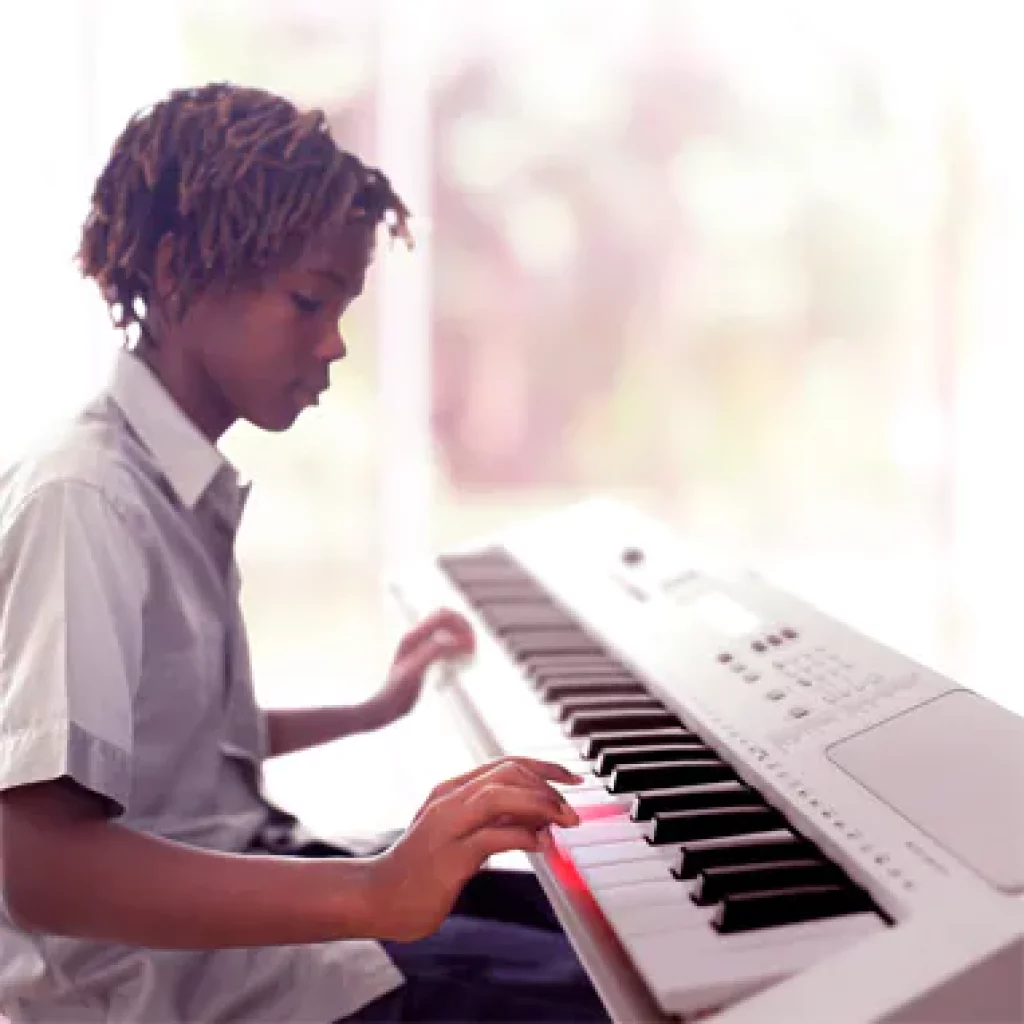 Pros
This lightweight instrument is super easy to carry around to gigs

There are a ton of available sounds 

The transpose feature allows you to play in different tunings than A=440

It is economical
As I say about many of the portable Yamaha keyboards, there's a lot to love! With the lightweight design, you can take it anywhere. And while many beginner keyboards only have a handful of sounds, the EX-300 offers a sound bank that many adults would enjoy/ 
In addition to this, the transpose feature allows you to play in A=442, and other older tunings that are outside of the realm of A=440. 
Cons
It only has 32 notes of polyphony
This is not fully weighted, only touch-sensitive
The stand isn't sturdy
The Yamaha-native app, NoteStar, is no longer available
32 notes of polyphony is pretty low for an instrument that comes in a $600 + package. However, since this instrument is geared towards beginners, I'm not going to be quite as critical of this con as I might've been had it been designed for intermediates. Beginners who advance quickly may find themselves outgrowing the polyphony of this instrument before anything else. 
The biggest con to this instrument is that it isn't fully weighted. I really wish it was, but, oftentimes manufacturers cut this feature in beginner instruments. 
Given the build and the fact that the stand is so thin, it's no surprise that the stand isn't very sturdy. It will get you by, but make sure it isn't in a high-traffic / high-activity area if little ones are going to be around. 
Technology sure does roll over fast. Another con of this model in particular is that one of the apps that users could pair with it is no longer available in the app store. If you were holding out for NoteStar and its features, then I have to be the bearer of bad news! 
Quick View 
Keys

61 keys

Touch sensitivity 

Yes: Touch-sensitive 

Sounds

392 total voices 

Recording capabilities 

Single track recording is available on the instrument itself 

You can also connect it to another device via a USB cable

Metronome

Yes

Polyphony 

32 notes max.

Speakers

Yes: 12 cm x 2 cm (two)

Headphones

Included inside of the premium accessory pack: Headphone jack inside of the instrument

Accessories

Two packages: The keyboard alone, and the premium pack

Premium package: includes headphones, stand, power cable

Price point 

$624.98 for the Amazon package (without bench) 

$279.99 on Sweetwater (Piano only) 
Comparable Instruments
If you are looking for a handful of different features or a different model, check out the following comparable instruments: 
Casio LK-S250

Yamaha PSR-E373 (See our review of this instrument here: 
You can find a link to the Casio LK-S250 here.
This Casio model is only about $170 on Sweetwater. It is also a lighted, portable arranger keyboard with 61 keys. It comes with 400 tones, 50 rhythms, and even has direct mic inputs. If you are more of an intermediate player, this portable arranger keyboard may just be for you. 
You can find a link to the Yamaha PSR-E373 here.
If you like the feel of the Yamaha EZ-300, you'll like the feel of the PSR instruments, too. The PSR was made with portability and price in mind. And, at $199.99, it has a pretty nice set of features. With 622 voices in the bank, it makes the ideal keyboard for those who are looking for a big soundbank. And, it is MIDI / DAW compatible. You also get the SA (super articulation) lite voices as you do in the Yamaha EZ-300. If you are looking for a Yamaha keyboard with learning tools, a bigger bank of voices, and something that is a little more updated, you might find that this is better bang-for-your-buck than the EZ-300 is. 
Conclusion
In conclusion, the Yamaha EZ-300 does what it was designed to do well: be a portable keyboard for beginners. While there are other portable beginner keyboards out there that do the trick (and are more updated), even in 2021, the Yamaha EZ-300 is still a respectable beginner instrument for your student. 
Music quote of the week: 
"The piano is able to communicate the subtlest universal truths by means of wood, metal, and vibrating air." -Kenneth Miller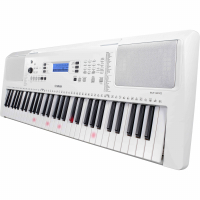 We rated the Yamaha EZ-300 a 9/10. With over 300 voices, 100 built-in songs, and multiple package options, it's pretty easy to see that this keyboard is a great learning tool. This 61-key portable keyboard comes with multiple packages, such as those with a bench, headphones, and stand. While it's clearly not made for pro players, this light-up keyboard will provide countless hours of entertainment for young learners.
PROS
This lightweight instrument is super easy to carry around to gigs
There are a ton of available sounds
The transpose feature allows you to play in different tunings than A=440
It is economical
CONS
It only has 32 notes of polyphony
This is not fully weighted, only touch-sensitive
The stand isn't sturdy
The Yamaha-native app, NoteStar, is no longer available