Nord Grand Review
We rated the Nord Grand a 9.5/10. The Nord Grand is a beautiful stage piano. Both the interface and keybed itself feel very natural to play. One of this instruments best selling points is the downloadable song library. This keyboard has triple sensors in the keybed, which makes it the first of its kind when it comes to Nord stages.  Overall, we'd give this precise pro instrument a 9.5/10: we took off half a point, because some classical pianists feel the action is too light and is slightly noisy.
We rated the Nord Grand a 9.5/10. The Nord Grand is a beautiful stage piano. Both the interface and keybed itself feel very natural to play. One of this instruments best selling points is the downloadable song library. This keyboard has triple sensors in the keybed, which makes it the first of its kind when it comes to Nord stages. Overall, we'd give this precise pro instrument a 9.5/10: we took off half a point, because some classical pianists feel the action is too light and is slightly noisy.
Overview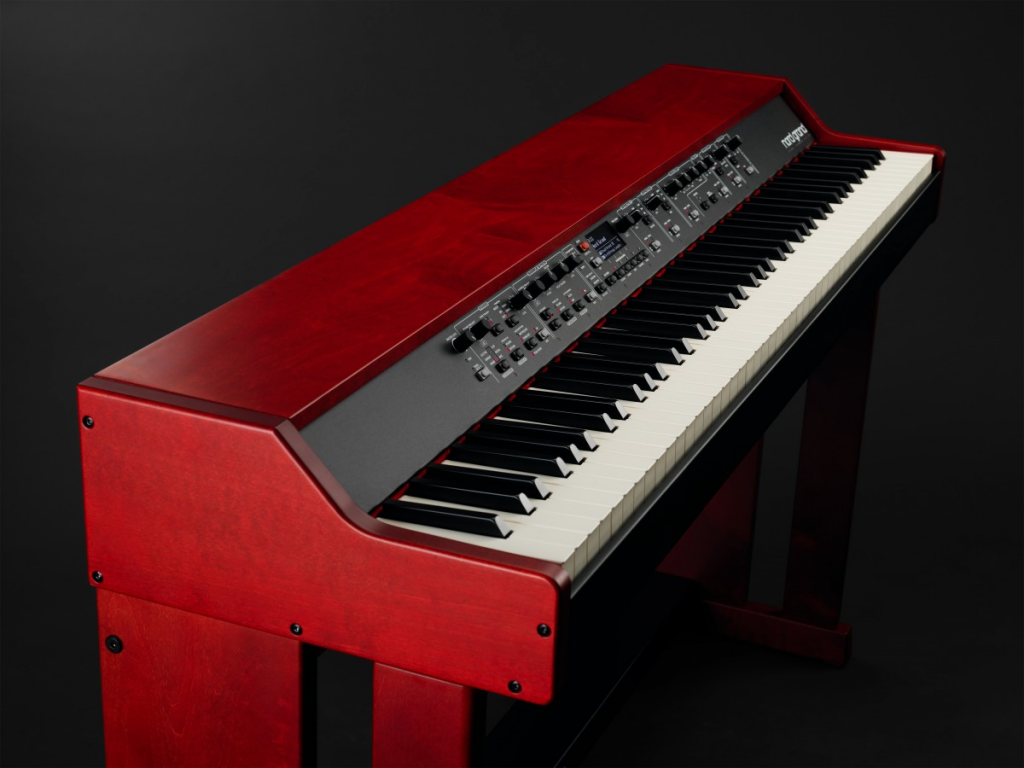 The Nord Grand is a full-sized piano keyboard with Kawai hammer action. It's built to be like a lightweight and portable grand piano. This makes it perfect for those who perform in musical theater. So without further ado, let's check out all of the Nord Grand Pianos features! 
Features
Kawai Hammer Action
The Nord Grand keyboard has Kawai hammer action. But wait! That's a term we've never heard here before….What does Kawai hammer action mean?
Kawai is a brand of piano. Nord and Kawai seem to have teamed up here in an effort to make a unique and high-quality playing experience. Kawai pianos are electronic keyboards from Japan, and they are known for lasting a really long time: At least 20 to 30 years with regular use. 
The Yamaha Vs. Kawai debate has been going on for quite some time, especially in regards to the action. Kawai is known for making the sound more warm and full. If you like warm-sounding pianos, the Kawai parts may sell you on the Nord Grand in particular.
That Old Ivory Feel
This keyboard's Ivory Touch keys simulates the feel and grip of the ivory keys of old.  This makes everything feel more authentic. 
It Has Included Pedals
It sounds basic, but it isn't: The Nord Grand Stage has included pedals! The further we get into piano technology, the fewer accessories we seem to get. Nord is notorious for not including, well, anything (speakers, pedals, etc). If you are looking at the Grand model, count yourself lucky. The Nord Grand has included pedals.
The First Stage to Have Triple Sensors 
This is the only Nord to have triple sensors. The reason why this is a big deal is because it helps classical pianists play repeated strokes on the keys more cleanly. 
OLED Display
This high-quality display makes it easy to read and navigate the different program menus.
Layer, Split, and Crossfading 
We wouldn't be able to call it a quality piano with lots of features if it didn't have layer or split! So here we are. But Nord adds one extra to the Grand when it comes to this section: Crossfading. 
Here's the low-down on crossfading. You might have heard of it before. 
Crossfading on the electric piano is pretty similar to crossfading on Spotify (don't laugh!). Crossfading is also used in movies, but with visuals instead of audio. Basically, on the Nord Grand, you can take two audios and put them together. When you use crossfade, it fades out the oldest audio and fades in the newest. This tool is great for transitions in live performances.
Excellent Precision
With the combination of the triple sensors, Nord built, and simulated ivory grip, you will find that the precision of this piano is absolutely drool-worthy. 
Plenty of Memory
The Nord Piano library can hold about 2 gigs, and the sample library holds a little over 500 Mb. 
High-Quality Piano Filters 
These piano filters are also called the 'creative piano filters', and for good reason. Of these filters, the Enhanced EP collection is probably the best in the set. Within the specific EP subset of the filters, you can adjust things such as the treble, mids, and brilliance of the sounds. You can read more about them on the Nord site here: 
Nord Sample Library 3.0  
The Nord Sample library 3.0 is a set of sounds made by Nord, with the intention for them to be able to be used in multiple genres. Their other instruments, like the Nord Stage 2, Nord Electro 6, and the Nord Piano 4 all contain this library. What's really cool about this library of sounds is that they continue to add to it, all the time! You can listen to the newest sound library samples on this page here.
My personal favorites are the glockenspiel and the thaigong. These newer sounds are so authentic you have to check them out, even just for fun! 
More Sounds: The Nord Grand Factory Bank
The Nord Grand Factory bank includes:
Grand piano sounds

Upright piano sounds

A Clavinet

Electric Piano sounds 

Digital Piano sounds
While these are the sort of 'default' sounds that will come programmed in the Nord Grand, it's really easy to switch them out with others inside of the Nord library we mentioned in the last section. 
Even More Sounds: The Sample Synth Section
Do you want to be able to dabble in synthesizer sound without having to buy (and find room for!) another electronic keyboard? Then the Nord Grand may be your calling. This model has a really high-quality sample synth section. 
3 Dynamic Curves
You can adjust something called velocity curves inside of this instrument. You can choose from light, medium, and heavy. In science and acoustics, the velocity of sound means how fast the sound travels through a certain medium. Think of it like this: your sound is a throwing star. You get to decide whether you want to throw it through water, air, or grape jelly, using the three velocity settings buttons. Feeling scientific? Check out more facts and equations on the topic of sound velocity here.
String Resonance
We've talked a lot about Yamaha's string resonance in previous articles, but Nord's string resonance has gone, well, untouched (Haha, get it, pianos keys, untouched?! Anyways…). Nord is another electronic keyboard maker that is also known for its string resonance. String resonance is activated in the settings, and then, when you press down the damper pedal. This feature works on medium, large, or extra-large acoustic piano samples sounds. 
Side note: You might be wondering: Why doesn't string resonance work on small piano sounds? Well, it all has to do with acoustics. Or, in this case, pseudo acoustics. The smaller the piano is, the less resonant, or ringy, it is. Nord is simply following the laws of acoustics, and applying them to their digital instruments. Clever! 
Soft Release
If you turn on soft release, you will get more of a legato sound to the notes. This means that the tail end of the note will be extended a bit longer (and, fittingly) will be released gently. Soft release simulates one of the ways a damper can be adjusted on an acoustic piano. 
Next, we will be peeking into the Nord Grand's effects:
StompBox Stereo Effects
In the most literal of senses, a stompbox is a box that you put under your foot and use as a percussion instrument. So what in the world would a stompbox (percussion instrument) have to do with a piano keyboard? 
Nord took the acoustical idea of the stompboxes of old and translated them into a piano sound. If you don't think that's awesome, well, then you must not be as into pianos (or the science of sound) as I am! 
If you'd like to learn more about the origin of stompboxes, check out the link here.
Three Reverb Modes 
The three reverbs this model has to offer are three standards: room, stage, and hall. There is also an option to add 'bright' to any of the reverbs. 
Even More Effects
Haven't heard enough about effects yet? Here is a list of more effects the Nord Grand has to offer us, for the effects section:
Effects 1 – Pan, Tremolo, Ring Mod, Wah-wah 

Effects 2 – Phaser, Chorus, Flanger, Vibe 

You can also select depth in the FX2 section

Delay – There is one stereo delay effect

Equalizer 

Compressor/Amp – There are several effects, including twin and overdrive

Master Effects
Easy Monitor Input
Nord has never added internal speakers to their pianos, and for good reason: this compromises the quality of sound. For instance It's really easy to add monitors to this piano. In short, It just requires a cord or two. 
For the best audio experience, it's best to stick with the same brand as the maker of the piano itself. You can learn more about Nord Piano Monitors and how to attach and connect them to Nord pianos, here.
Nord Support
An instrument's brand name is only as good as its customer support and technical support teams. Each purchase of a Nord piano, including the Nord Grand, comes with Nord support. 
Specifications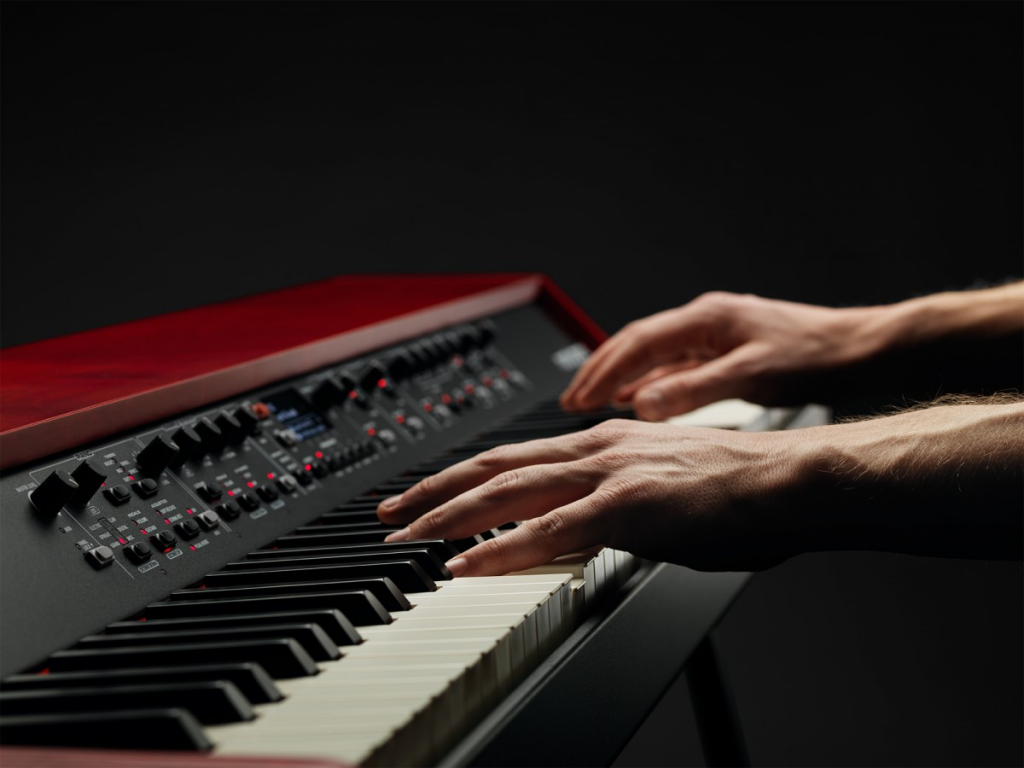 Dimensions:

52 x 16 x 8 

Weight:

About 46 pounds

Memory:

2 gigabytes

Number of banks

: 16

Number of programs

: 25

KBD Touch:

3 curves

OS Updates:

Yes

Transpose:

Plus or minus 6 semitones

Octave Transpose:

Plus or minus one octave

Fine-tune:

50 cent range

Piano Categories:

Hold up to 20 models
You can learn about even more Nord Grand specs here.
Who Is It suitable For?
The Nord Grand is suitable for the pro pianist who is looking for a grand piano on the go. Also, I would recommend it to those playing professionals who are interested in playing synths sometimes but aren't invested in the idea enough to go out and buy something like the Nord Lead A1. It has far too many bells and whistles for the beginner or for students younger than high school. If you are looking for a piano for that demographic, try some comparable Yamaha models. 
The Nord Grand in Action
The Nord Grand is such a beautiful instrument to see in action. If you don't have the chance to go to Sweetwater or Guitar center and try 'er out for yourself, check out these videos that I looked up for you. 
Here is a huge shout out to Kraft Music, for always making the best 'All playing, no talking' videos.
My first thought when watching this video is 'Wow, are those Nord speakers high-quality, and what a gorgeous shade of (matching) red!'. Googly-eyed speak-talk aside, these grand sounds are really crisp and resonant. I can almost feel the vibrations in my fingers, especially from the bass, but it isn't too muddly. Yet another Nord instrument whose sound bank is worthy of a chefs kiss.
On the more critical side of things, let's start getting into the reviews. First, we will check out a video review. Then? Onto Amaon and the pros and cons list! 
Josh at Keyboard Talks seemed to think that the Nord Grand is quite similar to the Nord Stage 4, (he called it a 'souped up' Nord 4) and I agree! But that is no diss, for sure. They are both lovely instruments. To get a second opinion from a second pro, click here! 
Amazon Reviews
To summarize, this instrument has a five-star rating on Amazon! That being said, there is only one customer who has review it so far. It looks like we will need to go a bit deeper. 
Pros and Cons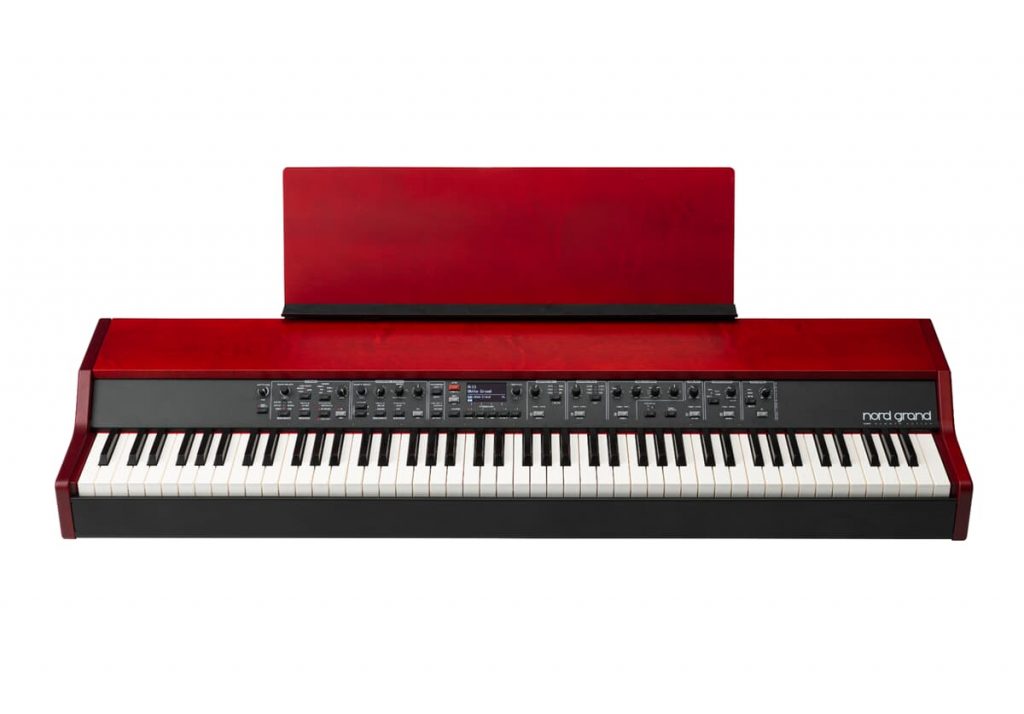 Pros
This is a full-size portable grand piano

Gives you elements from both the console and stage pianos

It feels like an acoustic

Easy to swap sounds around in the sound banks

The sounds are wonderful

Has a lot of great effects

It is easy to store music on it

Allows you to play with a small synth without having to buy a separate instrument

The build is great and will last for years

You get some perks

It has a different type of hammer action than other Nords

It has three sensors
For example, there are few cons and many pros when it comes to getting a lightweight, full-sized, portable piano. The Nord Grand in particular has elements of two kinds of pianos, which makes it really unique. Still, but the best perk of all is that it realy does feel like an acoustic.
For those of you who like to noodle with electronics, though, you are in luck. It is really easy to find and swap new voices from Nord's different sound banks, into the main sound bank. And speaking of, wow, are the sounds brilliant. It is hard to find another maker that has put so much time and effort into the quality and realism of sounds.
With all of this, you get Nords signature red, and a strong and sturdy built. While the action and software on many electronic instruments gets worn out and outdated after a couple of years, it is clear to see that the Nord Grand piano will be relevant for years.
Cons
It is really pricey

Given the synthesizer, it could stand to have a few more gigs of memory, if I was being really picky

There are no easy backing tracking/accompaniments 

The power switch is kind of hard to get to 

There aren't really any funny sounds to play with (Cough, Goblins sound, cough) 

It doesn't come with many accessories 
I'm not quite sure how many times I'm going to tell the readers that Nord instruments are uber pricey (probably at least one more time, maybe more!). And while it has great memory, I personally find myself wishing for a touch more (3 gigabytes, perhaps?) due to the fact that it has two sound engines and the synth sounds. 
One con that I have seen other musicians mention is this: There aren't any funny sounds. And I mean, they're right. For example, there are no giggling Goblins. But for me, this con is pretty, well, laughable. Therefore, the Nord is a very serious professional instrument.
Speaking of very serious things, the Nord Grand's accessories sure aren't very economical. If you want a piano that has more wallet-friendly options, consider some of our recommendations in the comparison section down below. 
Quick View 
| | |
| --- | --- |
| Keys | 88 Kawai-hammer action keys |
| Touch sensitivity  | Yes |
| Sounds | Nord Piano Library, Nord Sample Library 3.0 |
| Recording capabilities  | Recording using ¼ inch out, or a USB to MIDI cable |
| Metronome | Yes- Nord's Master Clock |
| Polyphony  | 120 voices |
| Speakers | No |
| Headphones | Yes-  |
| Accessories | This product does not come with accessories |
| Price point  | $3,699 |
| | |
Models that are Comparable to the Nord Grand
Here are a handful of electronic piano keyboards that you may like if you like the sounds of the Nord Grand:
The Dexibell S7 and S9

The Nord Stage 3

The Nord Piano 5 

The Korg Grandstage

The Kawai MP11SE 

The Yamaha CP88
If you are a regular reader here at Best Piano Keyboards, it will be no surprise to you that there are other Nords on this list. I'm going to go through them one by one (Well, that is, in a nutshell).
The Dexibell is a piano I have heard about, but am not too terribly familiar with. Yet, the brand isn't nearly as popular as some of the others on our list here. Dexibells are made in Italy and have some really high standards. I did a bit of research and found a comparison video of the sounds between the S7 and the Nord Grand. Decide for yourself, with a little help from Bonners! 
The Dexibell has a bit more resonance to me, especially in the first sound. Also, there is something about it that has a touch more realism. I have to say, after listening, I am shocked! The Dexibells are a really strong competitor, sound-wise. This piano costs about $2,499, and you can find it on Sweetwater here.
The Nord Stage 3 is more of a stage piano than a grand piano (obviously!). Also, here are a few other key differences: The Stage 3 does not have Kawai action (it has weighted hammer instead), it has a fewer effects, and a lot more in the organ department. 
The Nord Piano 5 is one of the couple of pianos that have different options when it comes to keys. If you are looking for a Nord in a similar price range with comparable sound engines, polyphony, and effects, but can be shortened for easy travel, consider this one.
The Korg Grandstage is another instrument that is more economical than the Nord Grand. It's your typical piano, except for the fact that it has a whopping seven sound engines. Want more sounds? Then definitely consider this Korg model. 
If you want something that feels like the Nord Grand but is more of a stationary living room piano, check out the Kawai MP11SE. Some musicians even say that the action is better than that on the Nord! But it would make sense that it is at least just as good, because the Nord Grand has a type of Kawai action inside of it. 
The Yamaha CP88 is a full-sized piano that we covered in a previous article. Still, I'd recommend the Yamaha for those who are looking to buy a piano as a gift to a younger student or a teenager. Yamaha's come with a lot of educational material and smart accompaniment, which makes it more friendly to a younger age range. However, the CP88 is also a great stage piano for adults, I just don't think it's quite as good as the Dexibells or Nords, as far as this model's sound quality goes. 
Conclusion
All in all, it's hard to resist the quality and features of a Nord instrument, and the Nord Grand is no different. Finally, be sure to check out the other Nord models to make sure you're getting exactly what you want. Be sure to come back soon, especially if you are on a budget. Lastly, next week, we will be looking at the top pianos for under $500! I hope you have enjoyed this Nord Grand review. See you back here soon!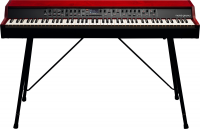 We rated the Nord Grand a 9.5/10. The Nord Grand is a beautiful stage piano. Both the interface and keybed itself feel very natural to play. One of this instruments best selling points is the downloadable song library. This keyboard has triple sensors in the keybed, which makes it the first of its kind when it comes to Nord stages. Overall, we'd give this precise pro instrument a 9.5/10: we took off half a point, because some classical pianists feel the action is too light and is slightly noisy.
PROS
This is a full-size portable grand piano
It gives you elements from both the console and stage pianos
It feels like an acoustic
It is easy to swap sounds around in the sound banks
The sounds are wonderful
It has a lot of great effects
It is easy to store music on it
It allows you to play with a small synth without having to buy a separate instrument
The build is great and will last for years
You get some perks
It has a different type of hammer action than other Nords
It has three sensors
CONS
It is really pricey
Given the synthesizer, it could stand to have a few more gigs of memory, if I was being really picky
There are no easy backing tracking/accompaniments
The power switch is kind of hard to get to
There aren't really any funny sounds to play with (Cough, Goblins sound, cough)
It doesn't come with many accessories