Search and compare
the best piano keyboards
Browse expert reviews, always up to date, and compare any model currently on the market
Find the best Keyboard for you
Our aim is to give you the most up to date, comprehensive guide of the best piano keyboards out there. Whether you are looking for a digital piano, a stage keyboard or a beginners keyboard, you are in the right place. Here is a selection of our keyboard reviews and categories:
Show all

Under $150

$150-300

$300-500

$500-1000

$1000+
How to Navigate Best Piano Keyboards
Our website is divided into two main sections: Keyboard reviews, and Blogs. Let us help you find the best music keyboard for you, and teach you a bit of music history, (and how to practice!) along the way. Welcome!
Learn how to play piano, curiosities and buying guides.
In this section, you can also find articles such as 'Top ten piano keyboards" "Top piano keyboards" and more. We'll teach you a little bit about everything here. Want to learn about famous players or the first piano that had more than 88 keys? Then you'll probably enjoy our blogs! We will also give you guidelines on how to purchase your first piano, how to teach yourself piano online, how to care for a new digital piano, and more.
The most comprehensive database of digital keyboards online, reviewed by experts.
This section is divided again into two main subsections: Piano Price, and Piano Type. If you're here, you're probably wondering what music keyboard to buy. The truth of the matter is the best keyboard to learn piano is going to differ greatly depending on your musical wants and needs. We're not afraid to tell you what the best digital pianos and the worst digital pianos are. We'll get more into how to pick out the best instrument for you later on this page.
The most comprehensive database of digital keyboards online, reviewed by experts.
The piano price section will be divided into 5 smaller sub-section. In the below guide, I will talk you through what is and is not possible in most of these price categories. That being said, we do believe that there is a piano out there for everyone and that BestPianoKeyboards can and will help you find it. So, if you're wondering "What is the best keyboard to buy?" The best keyboard to buy is the one that is within your budget! We have separated out the instruments into the following five price ranges:
Do you want to get a gift for a younger student (or even, for yourself)? Under-150 keyboards will suit the needs of many casual players who aren't ready to commit to studying formally. And who am I to judge? Any music practice is good music practice. Most instruments in this section are going to be unweighted, light keyboards. Oftentimes, they will not be full-sized. Smaller keyboards typically come in either 61 keys or 76 keys. You may find some fun effects in the 'Under $150' category, but don't expect too much realism. Another term for pianos like this would be 'practice keyboards'. Remember, it's better to have an instrument, rather than no instrument at all! It doesn't actually have to be one of the best piano keyboards in order for you to enjoy practicing on it. It's difficult to definitively say what is the best keyboard to buy for beginners, but the Casio CTK-3500 is one of the best piano keyboards that we'd highly recommend for this category. We have separated out the instruments into the following five price ranges:
If you want more voices (and maybe even a few better effects) consider upgrading to the $150 + tier. These pianos usually have a better build and are more reliable. The difference between the Under $150 and $150-$300 tier of pianos is astounding. However, keep in mind that the following keyboards will still likely be in the beginner / entry-level instrument category. They will also probably be portable keyboards, a lot of the time. You will be able to get semi-weighted keys pretty easily in this price tier.
While I have a hard time saying that you can always find a high-quality instrument in the other two tiers, you can definitely find a high-quality instrument in the $300-500 tier. Pianos in this range should suit many intermediates, as well casually gigging instrumentalists/singer-songwriters. Instruments in this range and up often are geared towards one of two crowds- Producers, or performers. The best keyboards are definitely here and up when it comes to price. In this range, you can get a small MIDI controller to attach to your DAW, or, a nice standard digital piano that is fully weighted and full-sized. The big difference between this tier and the last is that you can't usually find full-size plus full-weight for under $300 instruments.
Instruments in this price range will give you a decent intermediate (and in some cases, an advanced) digital piano. It is common to find graded hammer action and some progressive hammer actions in this tier. You can usually find an entry-level piano for serious classical students in this price bracket. You can also expect to start seeing more powerful speakers, including sustain pedals, and acoustic simulations such as cabinets. You can get a better sound, and oftentimes, a sound projection that mimics acoustic uprights and grands quite well. Pianos on the upper end of this range often have triple sensors rather than double sensors in the graded hammer action, which means that the keys are much more expressive and responsive to your subtle pressure differences as a player. The nicest keyboards out there will respond to minute touch and have cleverly placed speakers that mimic real acoustics. The best keyboard to learn piano classically will definitely be in this bracket and up. It's hard to go wrong with pianos like the Casio Privia PX-870.
The longest-lasting piano keyboards are usually the most costly! While pianos over $1000 are usually for serious players, you'd be surprised how pricey classical digitals can get! If you are looking for an entry-level classical piano to last you years, it very well may end up in the $1000+ category. These instruments are usually very realistic and have truly stellar sounds. In short, there are a lot of reasons why an instrument can and should cost over $1000. As the saying goes, you get what you pay for. These over $1000 instruments almost always have weighted keys (oftentimes with a high-end action, such as PHA-4 or PhA-5 ). If they aren't weighted, these instruments are likely top piano keyboards such as workstation keyboards designed for pro producers, performers, or composers. Professional synths with multiple sound engines are also usually in this category. (We'll get more into piano types in just bit). My personal favorite pianos from this over $1000 section are the Nord pianos. I think they are some the niecest digital keyboards that you can get, but don't just take my word for it- Read up on them, and then try one out for yourself! The best keyboard to learn piano classically will definitely be in this bracket and up. It's hard to go wrong with pianos like the Casio Privia PX-870.
We cover 5 main types of pianos: Digital Pianos, Portable Keyboards, Stage Keyboards, Synthesizers, MIDI Keyboards. The best music keyboard to buy is going to be one that fits your preferred genres, and lifestyle! Here are the differences between each of them, so you can better decide which one just might be for you.
Digital pianos are instruments that are designed to be lighter than traditional pianos but have a heavy keybed (usually, graded hammer, or at least semi-weighted). Because they are designed to imitate acoustic pianos, they also typically have 88 full-sized keys. Though, it is common to find makes that are considered 'slimline' which means that the piano itself is smaller, without compromising the width of the keys themselves. Slimline is usually in reference to the depth of the piano. Slimline digital pianos are highly sought-after, because they fit so well into small spaces like apartments, and sometimes, bigger dorms.
Side note: A lot of people think keyboards = digital pianos, but that's not exactly correct. While people often throw around the term 'keyboard' and use it for any piano-like instrument, a keyboard is technically a portable piano that you would take around gigging. (Now, even I call digital pianos keyboards sometimes, so don't come for me! Anyways…).
There are three main types of digital pianos: Upright, Digital, and Stage. Digital uprights, like regular upright pianos, are designed to lean again the wall. This type of piano would traditionally stay stationary in a living room, so you wouldn't take it with you for a coffee shop gig. We'd recommend the Yamaha YDP-144. Standard Digitals are (typically) economical pianos that have weighted keys and are designed to be more portable than acoustic pianos. We'd recommend Yamaha's P (portable) line or Casios PX Privia line.
The last large subsection of digital pianos are stage pianos. Stage pianos are digital pianos that are designed to be played on a stage (how fitting! ). We will cover more on-stage pianos later in this section.
As the name suggests, portable pianos are designed for musicians on the go. Oftentimes, portable pianos are smaller than standard digitals. They might have 61, 66, 72, and sometimes, 88 keys. Portable pianos are built with…You guessed it! Portability, in mind. Hence, the materials it will be made out of will be lighter (oftentimes, it is comprised of plastics). There are portable digital pianos, synthesizers, and other sub-types of keyboards that fall into this category. We'd recommend the Yamaha P-45 for starters.
Stage pianos are digital pianos designed for stage performances. These keyboards are usually used in jazz and pop music performances. They are built extremely sturdy, so they can handle the wear and tear from going on the road.  Most all stage pianos are full-sized, with 88 keys. We would recommend stage keyboards for gigging keyboards who are intermediate to pro.
Stage keyboards are mainly used live. They almost always have graded hammer action. If you need an instrument for live performances with a band, consider this type of keyboard.  While some people call these 'portable pianos' stage pianos are usually of a higher caliber than just regular portable keyboards. And, as we mentioned earlier, we'd highly recommend the Nord Stage 3!  Other great stage pianos include Yamaha CPs.
Keep in mind that stage pianos seldom have built-in speakers, which makes them pretty unideal for music newbies.
According to Britannica.com, a synthesizer is a "machine that electronically generates and modifies sounds, frequently with the use of a digital computer. Synthesizers are used for the composition of electronic music and in live performance." 
Synthesizers, or synths, for short, can be found in music from post-punk to new wave, and rock to electronic music (and of course, synth-pop!). They're versatile instruments that are frequently talked about in the world of music. There are many different types of synths, but of course, we will mostly be covering the ones that look (and feel) like pianos).  One unusual feature that you will often find in synths and not digital pianos are sound engines with different timbres. These instrumentals are called 'multi-timbral'. There are also two main types of synths: Analog, and digital
Analog
Analog technology means that there is a continuous (physical) signal. If something is analog, it is not digital. If you delve into synths, you'll also probably hear the term "Analog modeling". Musicians also use the term VA for this, (or rather, virtual analog). According to Wikipedia.org  "An analog modeling synthesizer is a synthesizer that generates the sounds of traditional analog synthesizers using DSP components and software algorithms. Analog modeling synthesizers simulate the behavior of the original electric and electronic circuitry in order to digitally replicate their tone." So, an analog modeling synth is not a true analog synthesizer, but rather, a simulation of one! Now, more about digital synths.
Digital
Digital is a type of signal that is binary. Largely, the synthesizers that you will find on the market today. That being said, some synths do have both digital and analog capabilities.  These ones are typically more expensive. I would personally recommend this synthesizer made by Korg, called the Nautilis. It is a digital synthesizer that has analog modeling, and a whopping 9 sound engines to keep you busy!

Camera:

-

Flight time (m):

-

Camera:

-

Flight time (m):

-
MIDI keyboards, by definition, are keyboards that have a MIDI output built inside of them. These are also known as controller keyboards, The biggest 'pro' to this type of keyboard is that it can quickly and accurately send (musical) information over to other (digital) music devices, or computers. While some regular digital pianos have a MIDI out, others do not. If the main feature you want is a MIDI output, consider getting a MIDI keyboard. Some MIDI keyboards are only an octave because their main purpose is to help composers, producers, and arrangers get the notes into their computers. Other MIDI keyboards/controllers are more hybrid instruments, that work well in love performances as well. You can connect MIDI keyboards to DAW's, or, digital audio workstations.  One of the most basic (free!) DAW's is Garageband. MIDI keyboards can be hooked up to pretty much any DAW, be it Logic, Reason, FL Studios, or Ableton!
Please note that many MIDI keyboards are only an octave or two, because their purpose is to help producers input music. While there are full-sized MIDI controller keyboards, the bigger they are, the morse expensive! I'd recommend full-sized MIDI keyboards for those who are both looking to learn how to perform, and produce, whereas I'd recommend little one-octave MIDI controllers for those looking for an easier way to input musical information. (There's not much repertoire you can teach yourself on a one-octave keyboard!).
A Sidenote on the Term 'Keyboards': The term 'keyboard' typically refers to an unweighted digital instrument. Whereas the term 'keyboard player' seems to refer to just about any pianist who plays outside of the classical genres (think pop, rock, blues, etc). The Rockjam models of keyboards are certainly keyboard keyboards- Small lightweight instruments with unweighted keyboards that are just enough to get you started.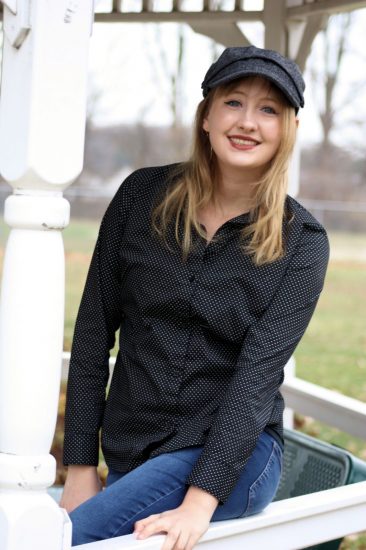 Hey there! I'm Aleah. I am a writer here at BPK. I keep you up to date on things like the newest and hottest top ten piano keyboards and teach you what music terms like escapement and PHA mean. I am a licensed music educator based in the midwest US. I hold PK-12 teaching licensed in the state of Ohio. I have experience teaching elementary school music, concert band, and jazz band. The main two instruments that I perform on are flute and piano. 
When I'm not writing about music, I often jotting down new sonic ideas in my home recording studio. You can also listen to my classical flute covers and songwriting on Spotify! 
You can listen to some of my projects here.
You can also find my other writing at Scanscore.com and Aleahfitzwater.com. When I'm not doing something music-related, I'm probably reading a fantasy novel, cooking, or gardening.


How to Select The Best Keyboard For You
The process of selecting the best piano for you can be a tricky one. But don't worry, we're here to help. But keep in mind that the way we go about selecting the best portable keyboard greatly depends on what type of keyboard we're looking at. Here's what to look for in a piano keyboard. 
Something that suits you or the player you'll be giving it to
Something has the capabilities required of the genres you're interested in
An instrument that is within your budget
Now, it's time to ask yourself some questions. Who, what, and where are good places to start. 
Who am I getting this instrument for?
What am I using this keyboard for?
Where am I (or the intended player) going to play the piano?
Other essential preliminary questions are: 
What type of genres am I interested in learning how to play? 
What is the best keyboard to buy for my current budget?
In the following section, I will go into greater detail regarding prices, deals, and how to decide what features you want in a piano, versus what you actually need. Get ready for some musical lingo, because I'm about to teach you the ABCs of purchasing pianos, from aftertouch to PHA! 
Price:
Speaking of price, be sure to live below your means. That is, buy the nicest you can afford, but not nicer than you afford.  The addition of things like graded hammer action, more sound banks, and better speakers are all common reasons why the price of an instrument goes up
Consider what type of keybed you will want. Do you want to have your student learn a few basic pop or folk melodies, and that's it? Or, are you sure you are going to play Rachmaninov as your end goal? This will make all the difference in where your price range will fall.  That being said, I do have a small tip that will help you save some of that hard-earned cash. You can strike a deal with one of our affiliates. 
Striking a Deal at Sweetwater
We have partnered with Sweetwater, Guitar Center, and Amazon. While all of the following are great instrument dealers, I want to let you in on a little secret. If you are a loyal Sweetwater customer, you can actually call your respective Sweetwater representative and ask if there are any deals going on. While this probably won't work if you haven't purchased from them before, it's certainly worth a try. The last time I talked with my Sweetwater representative, he said that he could give me 10% off any saxophone. Remember- It can never hurt to ask!
Decide on Your Accessories
One way to decide what keyboard is best for you is to consider which accessories are essential, and which ones you just want. If the piano is for a student, included learning tools are probably at the top of your list.
Ask yourself- Do you need a stand? (or are you just going to play it on the table). Do you want external speakers and headphones in the package? Or do you have all the extras, and you just want to get the best base keyboard or piano that you can possibly get. This 'accessories first' approach seems a little backward, but I find it very helpful.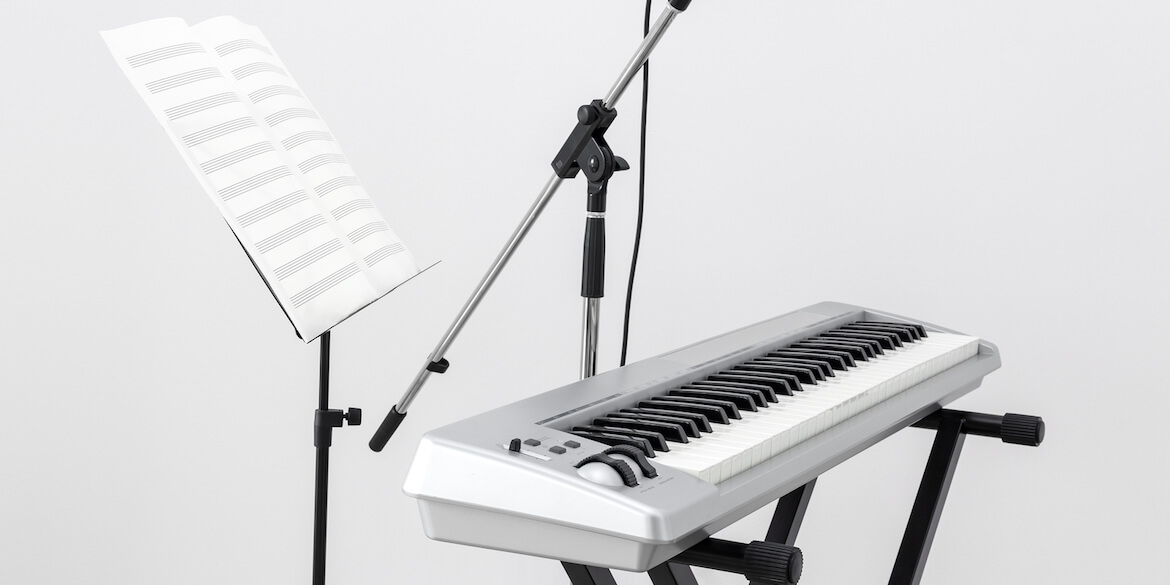 Consider Software and Built-in Extras
Also, be sure to consider software and built-in extras. Are you going to need a keyboard that you will be able to score movies on or overdub? Will light-up keys help you learn faster? All of the above are other great things to consider. Think about the bells and the whistles. Now, onto the technical stuff. 
Types of Keybeds
Unweighted
Semi-weighted 
Touch-sensitive
Graded hammer action (GHA)
Graded Hammer Standard (GHS)
Progressive Hammer Action (PHA)
Touch Sensitive
Unweighted keybeds have no heft to them. You simply press them down. All the keys will feel exactly the same. Unweighted keyboards aren't necessarily 'cheap' keyboards, but they can be. High-end MIDI keyboards and synths are usually also unweighted. 
One example of a high-end keyboard instrument without full weight is the Nord Wave 2. It is semi-weighted. 
According to Sweetwater.com, Semi-weighted was an action that was first developed by synth makers. Semi-weighted keyboards combine the spring-loaded mechanism of synth actions with the addition of light weights attached to each key, similar to those found in weighted action or hammer action keyboards. Now, onto hammer action! 
Touch sensitivity is a feature that adds to the realism of a piano. The harder you press the key, the louder the sound, and the softer you press the key, the quieter the sound. Better unweighted keyboards almost always have touch sensitivity, because it helps add expression like more clear articulations and dynamics. Please note that touch sensitivity and weighted keys are two different things. All weighted keys are touch-sensitive, but not vice versa. 
Touch-sensitive keyboards are responsive in a different way than weighted keyboards. Instruments can be unweighted but still have touch sensitivity. Adjustable touch sensitivity is ideal, especially if you are planning on sharing this piano with multiple people. 
Another notable point to touch on is the number of sensors. The more sensors a digital piano has, the more accurately it will respond to your touch.  By that I mean, with every note, you press down on the keys. Some keyboards are less responsive to the pressure that you put down, whereas others are more sensitive. The more sensors that are built into the keybed itself, the more accurately the technology can pick up on your slight dynamic difference. Thus, a three-senor keyboard is the most ideal. 
Graded hammer action or GHA means that the lower notes have more resistance to them than the higher notes. This is how acoustic pianos feel. You may start seeing hybrid keys or wooden keys in pianos with this type of action and above.  You can think of graded hammer action as the lowest common denominator when it comes to the hammer action. 
The best action simulates how it feels for a real wooden key to bounce off the string in acoustic pianos.  HA, or hammer action is what piano makers refer to when they are talking about the replication of the physical hammers hitting the strings. To me, the best music keyboard is one that has some weight to it.
According to Yamaha.com, Graded hammer standard is a great type of action for beginning players. It helps students get used to the weight, and build finger strength. Graded hammer standard is a type of hammer action that  GH, GHS, and GH3 are all types of graded hammer action that are Yamaha-specific. As you learn more about the different brands with us, you'll pick up on the different names, and learn about the subtle differences between the feel of a Yamaha with graded hammer action, versus a Roland with graded hammer action. 
PHA, or progressive hammer action, can be separated into the following subcategories: 
Progressive hammer action is a type of hammer action. The acronym PHA stands for progressive hammer action. If you see PHA with no number next to it, then that means that the piano has the most basic type of progressive hammer action. Please note that PHA and GHs are different. 
Many experienced players say that PHA-4 is a fair bit better than graded hammer action. There are also many sub-categories of PHA4 that you may see, depending on the company. Please note that not all are made equal. For example, PHA-4 Standard is not as good as the PHA-4 Concert in Roland series pianos. All PHA actions are not better than graded hammer actions, so, be sure to try before you buy.
PHA5 is the newest type of action out there. The company Roland has been using this action for several years now.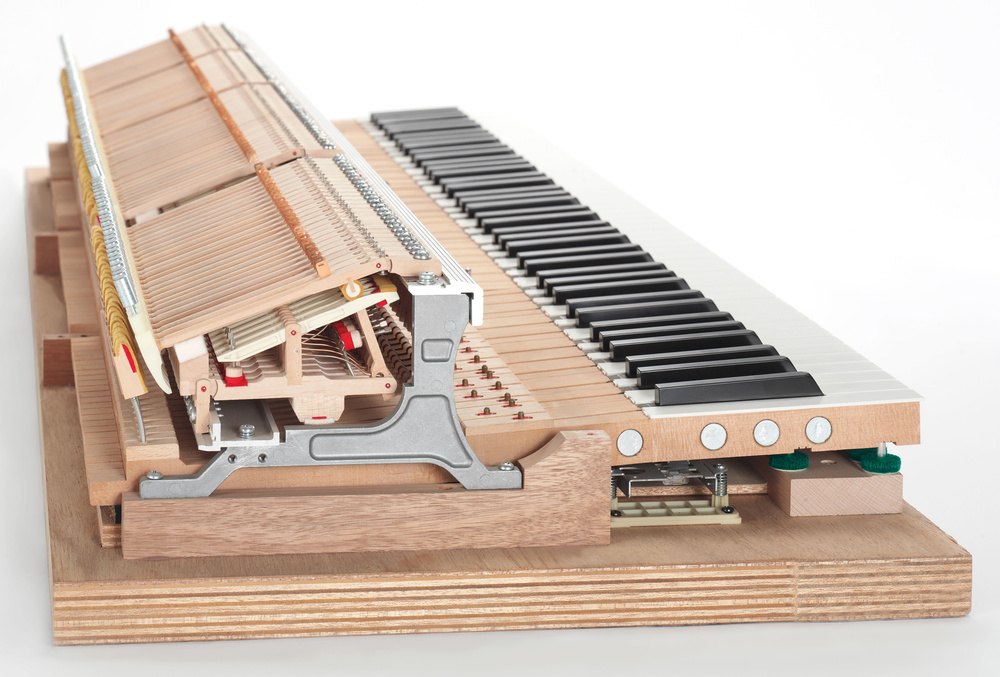 Key Textures and Materials
Synthetic ebony
Synthetic Ivory  (Ivory Feel)
Wood keys
Plastic keys
Hybrid keys
Synthetic ebony and synthetic ivory aim to replicate the feeling of vintage pianos, which were made of ivory (from the tusks of elephants), and ebony (from a dense type of wood.) While no one makes new pianos with ivory anymore (at least, legally), you can find some instruments made with real ebony keys. 
Some digital pianos have wooden keys which have been coated in plastic. Keys can also be double layered. It is common to find both double-layer wood and plastic, as well as double-layer plastic.
The feel of the instrument is also largely dependent on the materials it is made of. In my opinion, the best piano keyboards have wood built into the keys (but keep in mind that these types of instruments are not usually very portable!). Now that we've talked about what to look for in a piano keyboard, let's cover a few other piano terms you should know.
Other Terms You Should Know:
Aftertouch
Pivot Action
Escapement
Mechanical Noise Reduction
VST
Aftertouch is a highly sought-after feature in MIDI controller keyboards in particular. This is because aftertouch has to do with how MIDI information is sent, after a player presses down the keys. You can 'route' this to a particular effect. You will primarily find aftertouch on unweighted, or semi-weighted keyboards
Pivot action has to do with the length of the key. Many digital pianos have what they call 'short pivot lengths'. These instruments are going to be hard to learn on if you are accustomed to playing acoustic pianos, as the high range on pianos with short pivot lengths often feels bizarre. . The longer the pivot, the more balanced the key feels, and thus, the easier (and more natural feeling) it is to play. 
Escapement is the function that allows the hammer (which strikes the string) to come away from the string in a traditional piano. However, escapement in digital instruments is a little bit different. Escapement in digital pianos is the simulation of the feeling of that movement of what would be the hammer coming off the string. It might sound odd that players would want to feel that tiny little 'pink' or 'clunk' vibration, but many players find the simulation to be satisfying, especially if they have recently switched over from acoustic to digital. 
Mechanical Noise Reduction is a feature that helps reduce the noise that keys make. If you've ever played on a cheap keyboard, you know how irritating and distracting that clicking noise can be. Roland is really great about adding mechanical noise reduction to their pianos.
Which Keyboard Will Suit Me?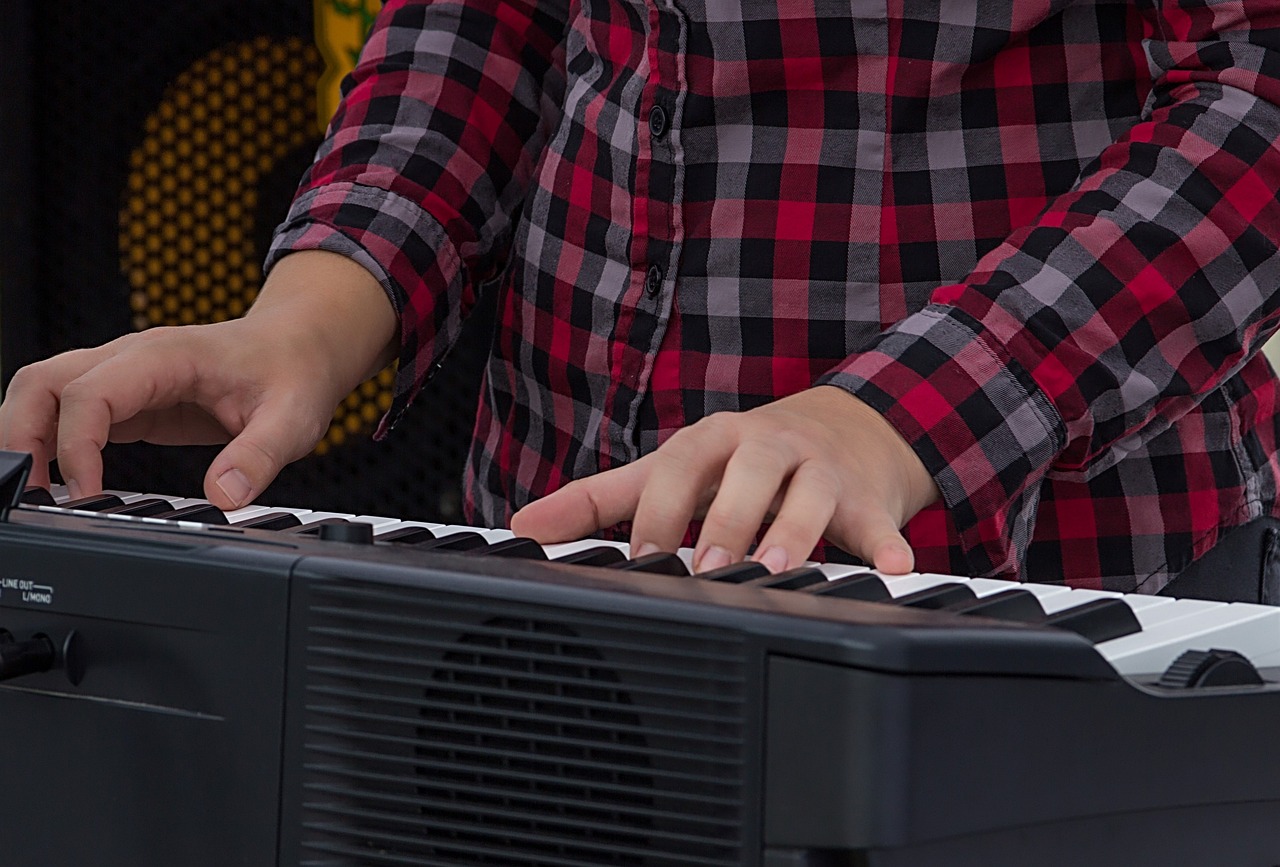 We have given you a lot of music terms. Now, if you're still not sure how the above features play into all of this, let me break it down a bit more. Here is a short guide on what keyboard generally suits what type of person, so that you can pick out some of the best piano keyboards for you. 
Portable Keyboards
While many classical pianists want a full set of keys, this feature will weigh gigging musicians down. If you know you'll be taking your music on the go, a portable keyboard is a great place to start. For these models, I most value connections, and larger soundbanks, and take into account the sturdiness of the build. More economical, 66-key unweighted portable keyboards will also suit kids. If you aren't sure if the student will follow through with learning to read music, a little portable keyboard is a good way to get someone started without breaking the bank.
Workstation Keyboards
Workstation keyboards are powerful instruments that serve producers, performers, and composers alike. These instruments are usually decked out in effects, voices, and recording space. They best serve serious hobbyists up to professional players and are great for scoring movies. 
Hybrid Keyboards
Hybrid keyboards seek to serve musicians who are looking for the best of both worlds. When I am looking at hybrid keyboards, I ask myself: Does it sound like an acoustic? Does it have the digital features I desire? Hybrid keyboards best serve classical musicians who are seeking the acoustics' keyfeel.
Why go digital or hybrid?
By now, you've probably noticed that almost all of the keyboards we review are digital / non-acoustic. You're probably asking yourself, 'Why not just get an acoustic?!' Acoustic  instruments can be expensive, and difficult to move, thus making them inaccessible to most people. Hybrid pianos ofter offer players the best of both worlds when it comes to moveability, and quality. Not to mention, conventional pianos need professionally tuned every year. Digital pianos never go out of tune! It's one of the many reasons why I love my own Yamaha DGX. 
Best Keyboard Brands
Some of the best keyboard brands that you will find out there are (in no particular order): 
Nord
Roland
Yamaha
Casio
Korg
Kawai
While there are other good brands out there, these household names are some of the cream of the crop. Our top-rated piano keyboards fall into most of these brands.
Brands to avoid
These brands didn't make it to our top-rated piano keyboards lists:
While Rockjam keyboards are fun and cheap and a good way to get started, this brand produces a lot of low-quality instruments that we feel won't list. Williams pianos are the best piano keyboard either if we're being honest. Although there is one that we do recommend to beginners in one of our reviews on this site. As a general rule, these two brands aren't our go-to's.
A Keyboard for Every Scenario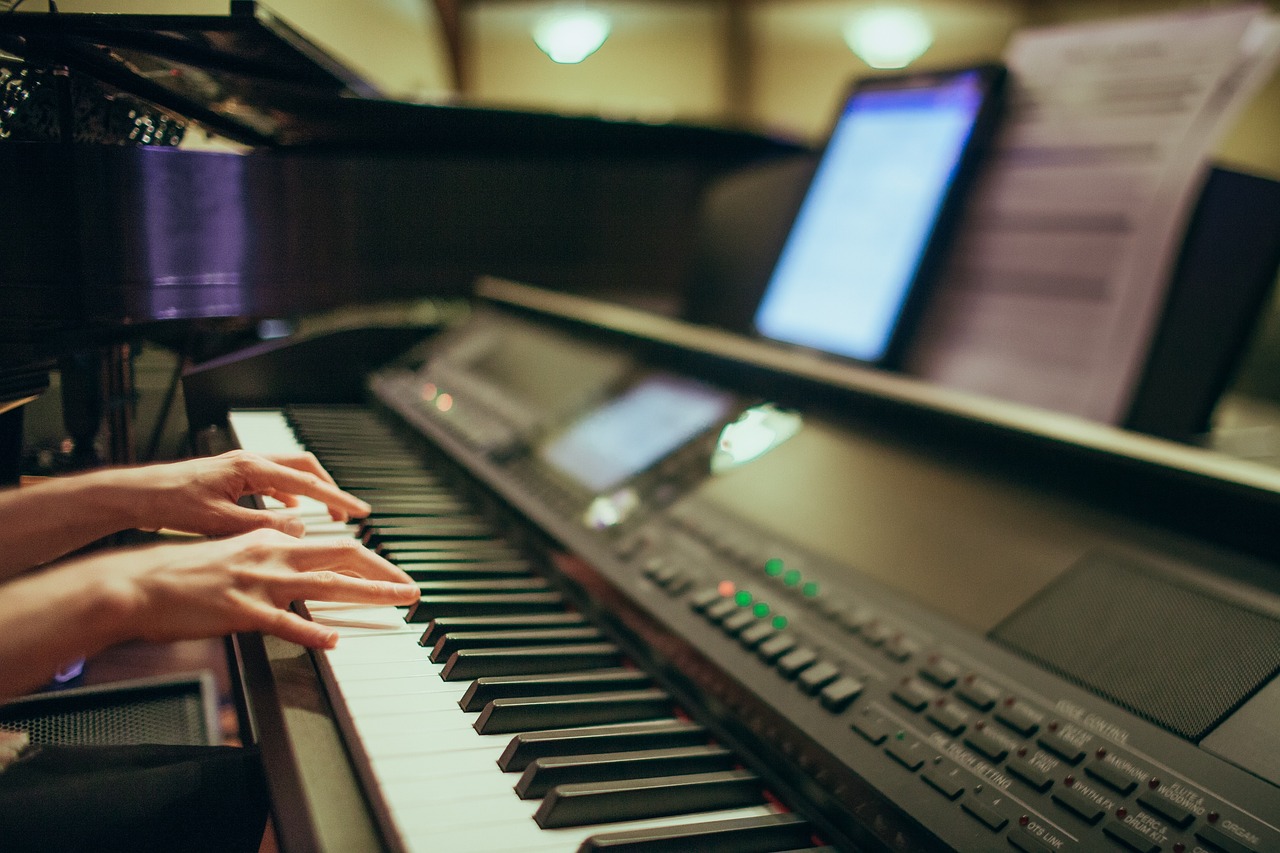 Here at Best Piano Keyboards, we believe we can find a keyboard for everyone, at every level, and, in every price range! I am going to walk you through the following scenarios, and how to pick out the best piano keyboards for each:
I am a parent looking for a piano for my child
I am an adult beginner looking for a piano 
I am a beginner to intermediate looking for a piano to just mess around on
I am an intermediate looking for a piano
I am a student going to school for music, looking for a piano
I am a producer looking for a MIDI keyboard or synth
I am a professional performer looking for a synth
I am a parent looking for a piano for my child
If you are a parent looking for a piano to purchase as a gift, your first task is to figure out how serious your student is going to be.  If you aren't sure, start out with a piano in our lower price tiers (either Under $150, or $150-300). 
If you know that you are going to be signing your student up for classical lessons, you need to be sure you get a full-sized, 88-key piano with fully weighted, GHS keys. 
I am an adult beginner looking for a piano
Are you an adult beginner, or an adult who is looking to come back to piano?  Then a full-sized digital piano with some weight of touch sensitivity, and many learning tools, is probably the best type of instrument for you. 
I am a beginner to intermediate looking for a piano to just mess around on
Do you want an instrument 'just to play around on?' Well, no judgment here! If you're looking for a keyboard to play around with, my best guess is that you are going to want a portable instrument wit all the fun bells and whistles (including a pitch-bend knob!).
I am an intermediate looking for a piano upgrade
If you are an intermediate in the market for a piano upgrade, consider getting a full-sized instrument with PHA-4 weight, and a bit stronger speakers. If you don't have a sustain pedal, now is a good time to consider one. You'll need less in the way of learning tools, and more in the way of high-quality sounds, action, and larger speakers. 
I am a student going to school for music, and I need a digital piano
Are you a student going to school for music education, conducting, music performance, or contemporary music? Then you'll probably want a piano to live in your home. Upright pianos or stage pianos are an excellent option. But if you're a freshman, you probably don't need all that. Consider something in our $300-$500 tier, that is slimline. 
I am a composer looking for a full-featured digital piano
If you are a composer looking for a piano, then you're going to want an instrument with a lot of storage space, and layers upon layers of tracks in the record function. 
With this keyboard, you can score films and overdub just about anything you like. Your DAW is built inside, which will save you a lot of time. The Kawaii CA-99 is one of my favorite instruments in this category.  It is one of the best piano keyboards on the market when it comes to scoring and overdubbing.
I am a producer looking for a MIDI keyboard or synth
If you have got your heart set on the production side of things, that is vastly going to change what type of keyboard you need. Unlike many of these other scenarios, you will need something with aftertouch and a MIDI out, rather than a traditional digital piano that was designed to mimic an acoustic. The best piano keyboards in this category have a lot of connections.
I am a professional performer looking for an instrument for electronic music,
Are you ready to get your EDM on? Just kidding, there's a lot that you can do with synths (EDM included, of course!). If you're a pro performing looking for a synth, you'll definitely need something with aftertouch, and touch sensitivity. Connectivity is going to be your best friend. And the more high-quality sound engines, the better. The Yamaha Genos (synth) is a great option, as well as some of the Casio CT (keyboards).
I'm going to break down this guide to finding the best piano keyboards for performance even further. 
I am a rock keyboardist looking for a keyboard instrument
A 76-key keyboard is a good balance between having enough keys and having a light enough instruments. A keyboard that is being used for rock isn't going to need to pass my so-called Rachmaninoff test (Or rather, ROCKmaninoff test, get it?! Anywho…) because you probably won't be using the full range of the keyboard most of the time- You'll more than likely be hovering closer to middle C. The best piano keyboards for you are also going to have a wide variety of sounds, such as strings, organs, and maybe even drum kits!
I am a jazz keyboardist looking for a keyboard instrument to take gigging
For both rock and jazz keyboards alike, the quality of sounds in an instrument is going to be integral. 
I would highly recommend the Nord Stage 3, specifically because of its organ sounds. It is one of the best piano keyboards for organ simulations.
GHS or PHA weight is going to be a big must-have for you as well. Expression, expression, expression in soloing! 
I am an experimental artist in need of a keyboard 
If you are an experimental artist you're going to be in need of a digital instrument with a really diverse and large soundbank. A recording function, pedals, and a pitch bend wheel are also at the top of the list. 
As for weight and size, that is a bit more up for debate. if you are performing out a lot, you'll probably want to go with something with aftertouch or touch sensitivity, rather than a fully-weighted, full-sized keyboard. 
The more sounds, the better. Korg PA4X has excellent eastern sounds and has over 1800 total voices, hands down it is one of the best piano keyboards for experimental artists.
I am a classical pianist looking for a digital instrument 
If you are a classical pianist looking for a digital instrument, you're probably looking for a space saver because you can't fit a full-sized instrument inside of your living space. Also, digital pianos are usually more economical, so this is a win-win! 
I would recommend a full-sized hybrid piano with GHA or PHA-4 (or 5), wooden keys, and as many acoustic simulations as possible (escapement,key-off, etc).
Best Piano Keyboards: Our Mission
Our mission with this project is to provide you with honest, down-to-earth piano reviews. If we don't care for a piano, we aren't afraid to tell you! Our goal is to teach you as much about pianos, and buying pianos, as we possibly can. We carefully check specs and formulate reviews on keyboards. Music is personalized, and so, be it your first piano, or third piano, we think your instrument should fit you! 
We're here to answer questions such as 'what is the best piano keyboard to buy for beginners?", What is the best keyboard to buy for my budget? 
We can't wait to help you decide what music keyboard to buy!