Yamaha YDP 164 Review
We rated the Yamaha YDP 164 an 8/10. This weighted, graded hammer-action instrument was built to suit advanced beginners and intermediate players. The instrument has a large amount of polyphony, a lot of learning software, and non-slip keys. It's a great instrument to begin classical lessons on.  But because the recording function and internal storage space is so limited, we had to take away a few points. However, this Yamaha YDP model would still suit many players, especially classical students who want to practice in their living room
We rated the Yamaha YDP 164 an 8/10. This weighted, graded hammer-action instrument was built to suit advanced beginners and intermediate players. The instrument has a large amount of polyphony, a lot of learning software, and non-slip keys. It's a great instrument to begin classical lessons on. 
But because the recording function and internal storage space is so limited, we had to take away a few points. However, this Yamaha YDP model would still suit many players, especially classical students who want to practice in their living room
Overview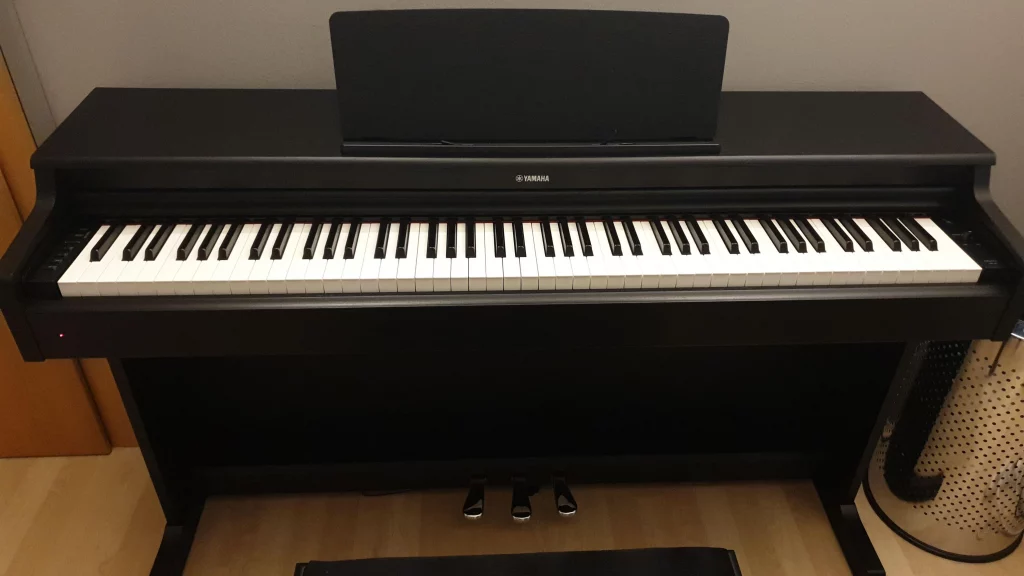 The Yamaha YDP 164 is a digital piano that is designed to be used inside of the home. This Arius piano first came out in 2019. Like many Yamaha's before it, the 164 has a great built and sound engine. According to Sweetwater.com:
"The Yamaha Arius YDP-164 brings together true piano sound and feel, for an outstanding playing experience. Yamaha incorporated their high-tech sampling system into the YDP-164, so you get the rich sound of Yamaha's flagship 9-foot CFX concert grand. Damper Resonance digitally re-creates the depth of tone of a real acoustic piano while pedaling, while high-quality reverbs replicate the sound of playing in a variety of rich environments.
The YDP-164's classic looks will fit perfectly into your home, church, or school — and students and teachers will appreciate the onboard song recorder. Sweetwater's advice: If you're looking for an excellent, affordable digital piano, you can't go wrong with the Yamaha Arius YDP-164." 
Yamaha even made an overview for us as well! You can check it out here:
As Sweetwater said, there are sound samples from a 9-foot grand inside of this instrument. But in the video, we get a chance to hear it. When the music started playing, I wasn't looking at the instrument. I thought that it was an acoustic piano in an ad! It seems that the Yamaha YDP 164 has surprised me already. On top of this, there is a newly designed speaker system in this model, as well as the GH3 hammer-action keyboard.
All that being said, let's look even deeper into the features of this instrument so that we can see what makes the Yamaha YDP 164 so great. 
Yamaha YDP 164 Features
If I were to recap the Yamaha YDP 164's features and specs, I'd say it is a high-quality piano with just a handful of sounds, but with many ways to adjust those sounds.
Learning Software and Preset Songs 
The Yamaha Arius YDP 164 comes with something called the Smart Pianist App. This comes on all of Yamaha's Clavinova's, as well as the YDP 164. The app can import songs from you own personal music library, and teach you how to play them. The video gives a great low-down on how it is used.
This model also has 50 preset songs inside the piano itself.
Synthetic Ebony and Ivory
Yamaha stopped using real ivory in the 1970s. Since then, they have come up with something called Ivorite. Ivorite is a synthetic material that replicates the feel and grip of real ivory.  It is made from something called ABS, which is actually a polymer. In addition to this, the keys are coated matte, which means even less slippage. 
Weighted, Graded Hammer Action
The Yamaha YDP 164 doesn't just have weighted, graded hammer action keys: It has a GHS 3 keyboard.  This is the same keyboard that the now-flagship Arius (YDP-184) has. 
Adjustable Touch Sensitivity 
Like other Arius's, the 164 has the following options for touch sensitivity: Hard, Medium, Soft, and Fixed.
Effects / Reverbs 
The 164 has a handful of really good effects, including reverbs, intelligent acoustic control, and a stereophonic optimizer. As far as reverbs go, there are a concert hall, recital hall, chamber, and club reverb. IAC (intelligent acoustic control) helps the player adjust highs and lows. The stereophonic optimizer can change the feeling of how big of a space you are in/ how large of a piano you are playing. When it is turned on, everything feels a bit bigger.
Internal Recording 
Don't want to run over and connect your piano to your recording setup? Well, then I have good news for you! On the Yamaha YDP 164, there is one internal track set up for recording. You can record two layers within this track. While admittedly, this amount of internal recording space is nothing to write home about, it does save composers time and can prevent you from losing your song ideas. 
Several Color Options
While looks aren't the most important thing when it comes to an instrument, if you're going to spend over a thousand, you might as well get what you want. The Yamaha YDP 164 comes with more color options than most keyboards. You can choose from black, white, white ash, and rosewood. Rumor has it that people are loving the white ash model, which looks really unique. I don't think I've ever seen this particular color in any other digital piano before. 
3 Pedal Units Available 
This model has a three-part unit that includes the soft, sostenuto, and sustain pedal. While some digital pianos geared towards beginners only have one, the Yamaha YDP 164 blow it out of the water here with the standard pedal unit. In addition to this, you can half-pedal on this instrument. 
A Large Amount of Polyphony
With the Yamaha YDP 164, you can play up to 192 notes at a time. While many beginner and intermediate pianos only have a bit of polyphony, this is all you'll need well through upper-intermediate. 
10 Voice Demos
This model has 10 preset voices. All of which are made using CFX stereo sampling. This sampling method is known for being resonant and accurate. This piano has the same sounds as the YDP 144, but that isn't necessarily a bad thing. These voices are great. Of the 10 sounds, three of the voices are piano samples.
Specifications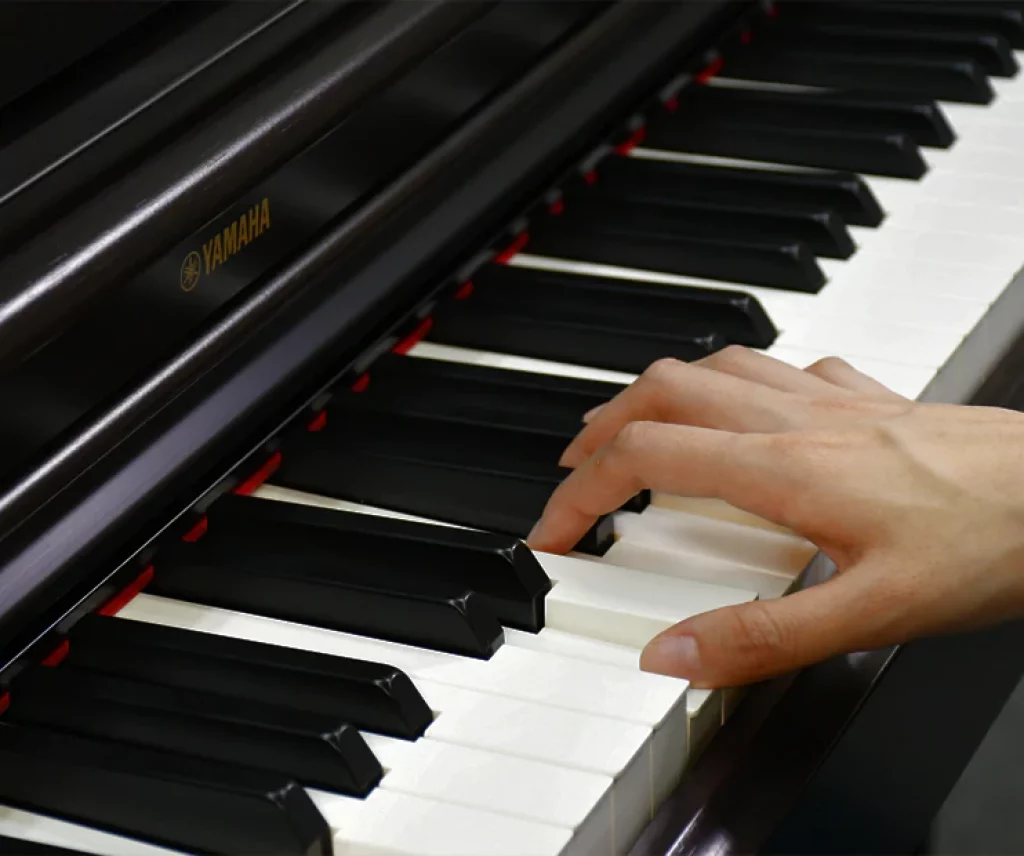 Pair-able apps:

Smart pianist app

Effects:

4

Types:

IAC, reverb, stereophonic optimizer

Internal recording:

Yes, two-track

Internal storage:

900KB

Preset songs:

Yes, 50

Pedals:

damper, sostenuto, soft

Speaker measurements:

2 x 4.7 inches

Amplifier measurements:

2 x 20W

Weight:

92.5 pounds

Dimensions:

16.6 x 53.4 x 33.4 inches

Number:

YDP164R
Who Is It Suitable For?
Photo Credit: Sweetwater
The Yamaha Arius YDP 164 is ideal for beginner or intermediate students. Because the YDP 164 doesn't have very many voices, effects or controls, it isn't ideal for performing professionals. This piano is best for those who are serious about playing, but aren't planning on taking their instrument on-the-go. Because the Yamaha YDP 164 is so heavy, it takes more than one person to move it around. 
The final verdict: This piano is great for beginning to intermediate students who are planning on keeping their instrument inside of their home or apartment. 
Yamaha YDP 164 In Action 
Kraft music's 'All Playing, No Talking' videos are some of my favorite references that I use to check out a piano if I can't play it in real life. 
The honky tonk / organ sounds were a bit cheesy, to be frank. The sound of this piano is authentic and rich. The strings sound was also high quality. All in all, I wouldn't get this one if I was planning on using a lot of the organ / brighter voice options. But don't just listen to my opinion! Let's check out one more professional's thoughts on the model. 
Another great piano review (Youtube) channel to reference is Bonner's.
In their review of the YDP-163, they said that the keyboards feels really nice, and that the speaker system is 'strong and vibrant'. This one I would describe as a 'next-level' keyboard!
Amazon Reviews
One of the best ways to figure out how high quality and instrument is, is to listen to the musicians who have bought them. The Yamaha YDP 164 has rate 4.5 out of 5 stars.
What people liked: 
One musician reported that their YDP 164 digital piano sounded the closest to a grand that they had ever heard

Other musicians said that the feel was very authentic when compared to a grand. When it comes to the positive reviews, tons of people compared it to acoustic grand pianos

The headphone sound was really great and clear

Sound engine is excellent

The piano takes two people to assemble, but the assembly is simple

It comes with free headphones, which work surprisingly well 

It comes with nice educational extras

Great value for the cost of the instrument

It looks sleek

Responsive and the weight is nice

The dynamic responsiveness and pedals are great

It was exactly what they expected

The bench is really sturdy
What people didn't like:
Some customers found that the action on this model was much too stiff

It doesn't have a Bluetooth option 

The pedal connection tends to be loose

A few customers ordered and got the wrong number of screws, and so they could not put it together

A few customers ordered online, and found that some of their keys in the high register were sounding softer than the other keys, or, worse, not at all 
Pros and Cons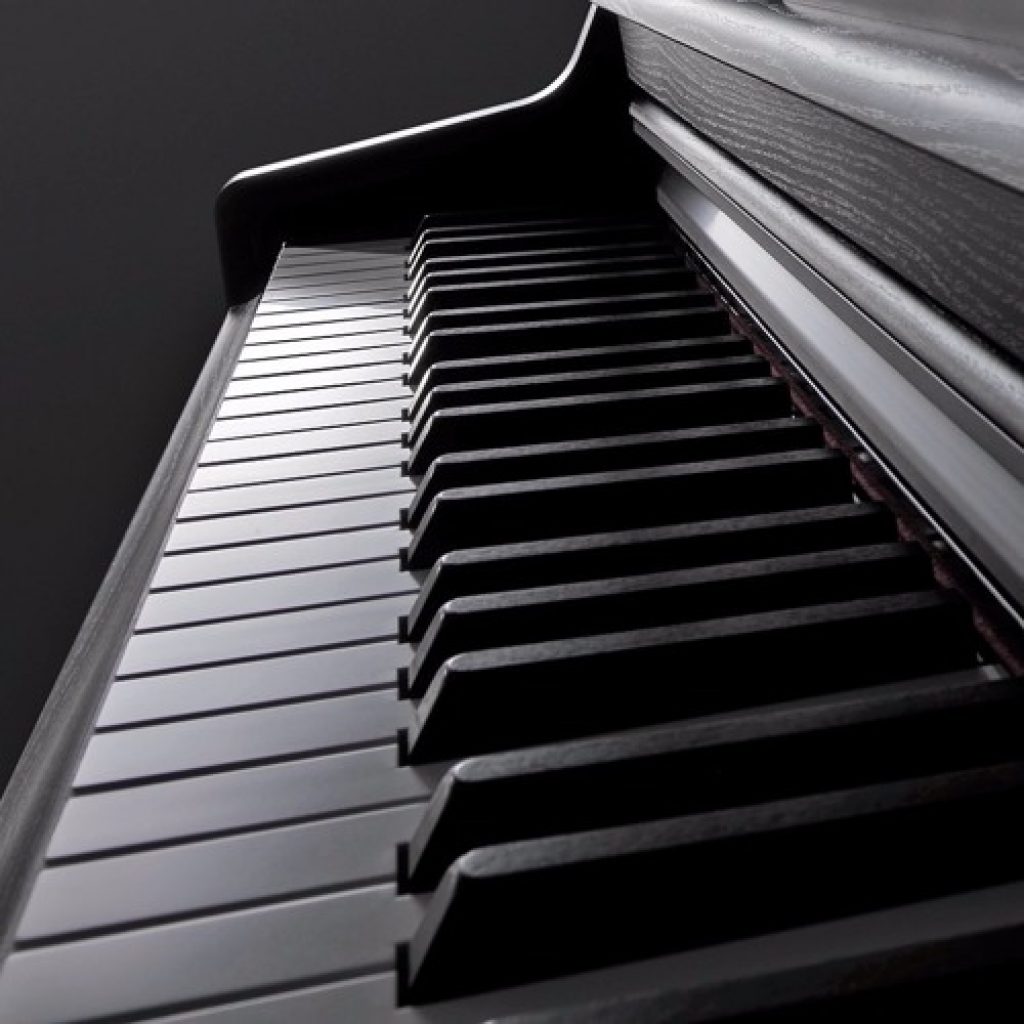 Pros
You can adjust your sound a lot on this instrument

It is full-sized, so you can play more expansive repertoire 

The synthetic ivory and ebony lead to a more authentic feel for players who are used to acoustic pianos

The touch sensitivity is adjustable 

It comes with a bench and a music stand

It comes with learning software

It's user friendly for almost any age of musician 

The sound samples in the sound engine come from real pianos
Because of IAC, the compressor, and the fx/reverbs, there is a lot that you can adjust when it comes to individual sounds. Because the instrument has fully-weighted keys and a full-sized keyboard, you can play any song, in the correct octave. The synthetic materials are really high quality, and are comparable to ivory, which isn't avaiable anymore (besides in vintage pianos). 
The fact that there are four touch sensitivity options makes playing this piano far more adjustable than palying an acoustic would be. Given the price point and quality, it is quite surprising that this instrument comes with a bench! Most models nowadays do not. 
The 50 preset songs and learning software make it easy to get started, even if you have never so much as touched a piano before.Because of how few controls/ buttons it has, it is accessible to just about any age. And last but not least, all 10 of the samples come from real instruments, using the phenomenal CFX sound sampling technology. 
Cons
The internal storage and recording is quite limited

The controls could be arranged better: pros will be wishing for more buttons

This is a digital home piano, so it isn't great for moving around to gigs

There are only 10 voices

Overall, there are not very many bells and whistles 

Some musicians have complained that the synthetic material Yamaha uses, Ivorite, wears out much faster than the ivory of old 

There are only two out of the four color options available in the US

The stereophonic optimizer can only be turned on and off: A lot of players wish for more control over the feeling of the size of the space. Though this can be adjusted by the reverb somewhat, it isn't quite the same as IAC 

It takes two people to put it together
Unfortunately, the internal storage and recording capabilities are super limited. The critic in me wonders: Why add internal storage if you can only record one song? With instruments like the Nord, and loop pedals that have over three hours of record time, it sure does leave me wanting more. Also, this one track is limited to two voices. So, unless you are really into duets, you're doing to have to plug in a DAW to do any sort of serious sketching.
The obvious con to the Yamaha YDP-164 is that this is a home piano that isn't meant to be moved. 
There are only 10 voices on this  model, which is surprising, given how many voices a lot of the Yamaha Clavinovas have (usually, hundreds). This could be a pro or a con, depending on how you look at it. If you are getting the Yamaha YDP-164 for a young student who may be easily distracted, a keyboard with 10 serious and respectable voices is ideal.
However, if you are an adult student that wants the bells and the whistles? You may be a bit disappointed in the breadth of the sound engine. Consider looking to the Clavinova line. (Side note: Later in this review, we will check out several comparable pianos).
Another small con is that the unqiue color options like ash white, are not available in the states. 
Lastly, the instrument's stereophonic optimizer is more of an on-off switch than an adjustable control, and this model will take two people to put together, because it is so large and heavy. 
Quick View 
| | |
| --- | --- |
| Keys | 88 weighted, graded hammer action keys with synthetic ivory and ebony keys |
| Touch sensitivity  | Yes, 4 options: Hard, Medium, Soft, and Fixed |
| Sounds | 10 preset voices  |
| Recording capabilities  | Yes-You can record one song with two tracks on internal storage. There is also a USB to host connection port  |
| Metronome | Yes |
| Polyphony  | 192 notes |
| Speakers | Yes- It has two  |
| Headphones | This model has two ¼ inch headphone jacks |
| Accessories | A Music Stand and bench |
| Price point  | $1,499.99 |
| | |
Comparable Models
The Yamaha YDP 164 has been put up against other digital pianos, like the YDP 144 countless times. But which ones are better? We'll let you decide. After all, not everyone gets along with the same model and brand of instrument. 
Yamaha YDP 164 VS. YDP 144
First things first, the 164 is much more expensive than the 144. You can think of the Yamaha YDP 164 as an upgrade to the Yamaha YDP 144. 
Casio PX 870
The Casio Privia 870 runs about $900, so, it is a bit more economical than the YDP 164. Like the 164, it is a flagship model. It feels and sounds like an acoustic grand piano, which makes it comparable to the 164. Personally, I think that this seems to be more of a debate when it comes to brand.
They are both really nice instruments. So, find out if you are more of a Casio person, or more of a Yamaha person, by trying them out in a store like Guitar Center or Sweetwater. 
Pros to this model: It has more polyphony (much, much more!) at 256 notes. It also has four speakers versus the Yamaha YDP 164's two-speaker system.
Cons to this model: It has one fewer option when it comes to touch sensitivity 
Consider the PX 870 if you are looking for more polyphony and power in a home digital piano.
CLP 725
The CLP 725 is an instrument from Yamaha's Clavinova line. This is yet another really great first piano. As far as the price range, it is approximately $1,999-$2,299. This is significantly more than the Yamaha YDP 164. So what makes it comparable, or even, better? 
Pros: Since the CLP 725 also has grand expression modeling, this piano is more sensitive than the 164. 
Cons: This model is significantly more expensive than the Yamaha YDP 164, especially if you purchase it directly from Yamaha. 
Roland F140R
The Roland F140R is a compact console piano. The price is comparatively and has a full-sized weighted keyboard. 
Pros: This model has Roland's renowned SuperNatural sound engine, which is excellent. It has many more sounds than the Yamaha YDP 164 (This instrument has over 305 voices, whereas the 164 only has 10.) It also has a feature called 3D Headphone Ambience. 
Cons: If you choose this model instead of the YDP 164, you will have to purchase your own bench.
S54
Back to Yamaha again! The S54 is a digital piano from the Arius line and is priced anywhere from $1,100-$1,369. Like the Yamaha YDP 164, this instrument has samples from Yamaha's 9-foot grand piano, as well as has a GH3 action keyboard.
Pros: It is a little less pricey when compared to the Yamaha YDP 164. These instruments are both from the same line, though, so if you can't find one, you'll most likely be happy with the other! 
Cons: It doesn't have the extra polyphony like the Clavinova we just looked at does. 
Kawai KDP 110
If you've been keeping up on our reviews, you know that Kawai is renowned for its action. Nord even took the action of a Kawai and popped it into one of their flagship models. 
Pros: With 192 notes of polyphony, the note capability is a bit better than the Yamaha YDP 164.
Cons: It doesn't come with a bench, and the action feels pretty different than the Yamaha brands'. 
If you know you are a Yamaha person, but aren't sure which model to choose, do I have a solution for you! Popular piano Youtuber Jeremy See debates which line of Yamaha pianos is best in the video here.
Conclusion
In conclusion, the Yamaha YDP 164 is a great instrument for serious students. The small yet no-nonsense sound engine is perfect for classical piano repertoire and has samples from one of Yamaha's best acoustic pianos to have ever been made. Yamaha has always been great at providing accessories and educational material to supplement their instruments, and the 164 is no different.
This model comes with a bench and music learning app, which is everything you need to get started. If you are looking for an instrument that has internal speakers, a quality build, and learning materials, then this one just might be 'the one'!
Finally, I hope you've enjoyed this Yamaha YDP 164 review. This instrument, like so many of Yamaha's digital pianos, is absolutely gorgeous!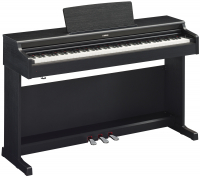 We rated the Yamaha YDP 164 an 8/10. This weighted, graded hammer-action instrument was built to suit advanced beginners and intermediate players. The instrument has a large amount of polyphony, a lot of learning software, and non-slip keys. It's a great instrument to begin classical lessons on. But because the recording function and internal storage space is so limited, we had to take away a few points. However, this Yamaha YDP model would still suit many players, especially classical students who want to practice in their living room
PROS
You can adjust your sound a lot on this instrument
It is full-sized, so you can play more expansive repertoire
The synthetic ivory and ebony lead to a more authentic feel for players who are used to acoustic pianos
The touch sensitivity is adjustable
It comes with a bench and a music stand
It comes with learning software
It's user friendly for almost any age of musician
The sound samples in the sound engine come from real pianos
CONS
The internal storage and recording is quite limited
The controls could be arranged better: pros will be wishing for more buttons
This is a digital home piano, so it isn't great for moving around to gigs
There are only 10 voices
Overall, there are not very many bells and whistles
Some musicians have complained that the synthetic material Yamaha uses, Ivorite, wears out much faster than the ivory of old
There are only two out of the four color options available in the US
The stereophonic optimizer can only be turned on and off: A lot of players wish for more control over the feeling of the size of the space. Though this can be adjusted by the reverb somewhat, it isn't quite the same as IAC
It takes two people to put it together