Rhodes MK8 Review
We rated the Rhodes MK8 a full 10/10. While this instrument is extremely expensive, we believe it to be worth every penny. From true analog signals to the gorgeous and solid spruce, oak, and beech wood keyboard, what's not to love? 
The MK8 is hand-built, highly-sought after, and hard to find. Without further ado, let's get to the review! (Hey, that rhymes!)
We rated the Rhodes MK8 a full 10/10. While this instrument is extremely expensive, we believe it to be worth every penny. From true analog signals to the gorgeous and solid spruce, oak, and beech wood keyboard, what's not to love? 
The MK8 is hand-built, highly-sought after, and hard to find. Without further ado, let's get to the review! (Hey, that rhymes!)
Rhodes MK8: Overview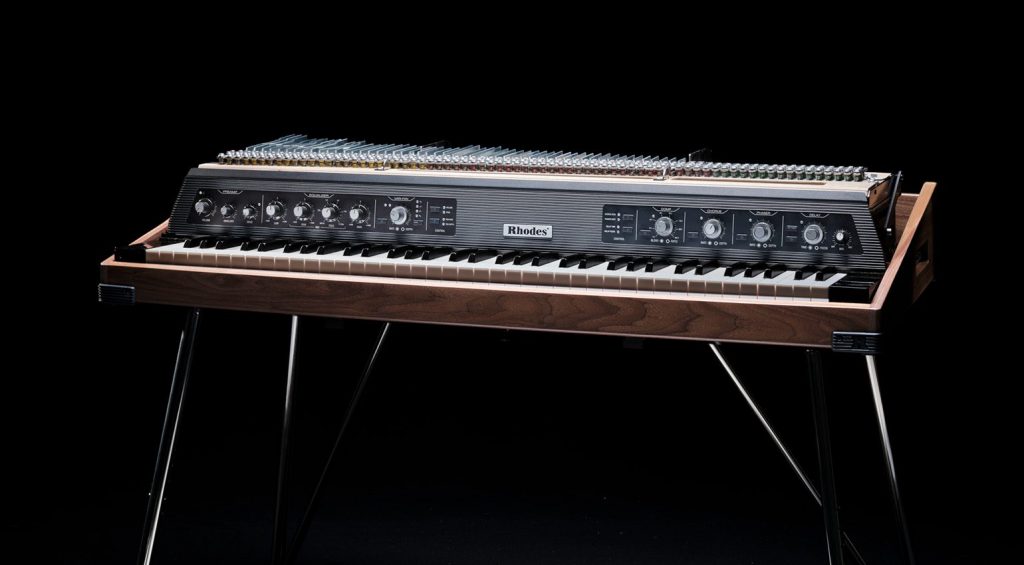 In this Rhodes MK8 review, we will be taking a look at the newest Rhodes on the road. But prepare yourself for some serious sticker shock- Prices start at $9.500. That is, if you can even find one for sale! 
The Rhodes MK8 was first launched in December of 2021. That being said, the limited edition MK8s (also known as Mark 8) weren't released until this past month, on the 22nd of September. Because of the handmade nature of the instrument, the market isn't seeing very many of them yet. MK8 pianos with effects didn't begin shipping until the second quarter of this year. 
This instrument is hand-built, and features high-quality analog technology, along with a hearty wooden build. Before we get into the specs and features, let's learn a little bit more about Rhodes pianos as a whole. 
Rhodes: A Piece of History
Rhodes pianos hold a special place in the heart of piano keyboard  history. Anyone who is into pianos has heard the name Rhodes, at least a time or two…But when did the Rhodes pianos first begin, and what do they sound like?
Instrument maker Harold Rhodes (fittingly!) created the first Rhodes piano.
Harold Rhodes was a piano teacher who originally ran a school of popular piano, but then ended up in the army (rhodesmusic.com). When Rhodes decided to give lessons to wounded soldiers as a form of music therapy, he quickly realized how unrealistic it was to try and move the full-sized heavy instruments he had available from bed to bed for each lesson. That's when he created his own small piano. 
The first iterations of these pianos were actually made with leftover parts from bomber planes that had crashed. Rhodes repurposed aluminum tubing and turned them into keyboard instruments that were just short of 3 octaves. These lap pianos were known as Xylettes, and were surprisingly similar to xylophones (go figure!).
One thing lead to another, and eventually, Rhodes met Leo Fender. Then, the first Fender Rhodes pianos were born. While these pianos went through many changes throughout the years, every musician remembers them as iconic. 
Rhodes pianos have a distinct sound because of their unique combination of overtones that are created when the hammer hits metal tines. Bands such as The Doors, as well as heavy-hitting jazz musicians like Miles Davis are known for using Rhodes. You can listen to an original one that has been restored here.
Rhodes MK8 Features
Handmade, One at a Time
The MK8 isn't your run-of-the-mill factory-made keyboard. In fact, Rhodes makers can only producer roughly 50 of the instruments a month (Now that steep price is starting to make a little bit more sense!). It is said that the instrument's creators are Rhodes experts who took a painstaking amount of time to study the ins and outs of the original Rhodes, in order to create the Mark 8.
Analog Preamp
It can be difficult to find instruments with a true analog signal. If you're an analog enthusiast, this may be the keyboard for you. Dan Goldman, the maker of the MK8's analog preamp,shows us how it sound in action in this video here.
Analog FX
Analog FX can be added to the instrument at an extra cost. These analog FX will include a VCA compressor, as well as BBD chorus and delay effects. A BBD is a bucket brigade device (Don't worry, I imagined a brigade of folks with buckets on their heads when I first heard about it, too!). A bucket brigade device is an analog circuit with a chip that will all for a delay. So, think of it as analog delay. 
Onboard FX
The standard onboard FX that come with the MK8 include the Rhodes custom stereo effect processor with:
Analogue compressor

 Phaser

Chorus
The instrument also includes an expression pedal, which can control
phaser speed, chorus speed, delay time, and delay feedback.
One-Of-A-Kind Action
Each Rhodes piano comes with custom high-impact ABS hammers and comb. When it comes to Rhodes, damper quality is also of the uptmost importance (because of how ringy the instrument is). This model has natural wool damper felts. 
Heavy-Duty Keybed
This instrument has a Rhodes spruce keybed with an oak and beech wood frame. Each keybed is made Kluge Klaviaturen, owned by Steinway, so vast expressiveness and the ultimate sensitivity is guaranteed.
A Gorgeous Package, Customizable Looks
Am I dreaming, or can I customize the colors of this piano like I can Converse? Musicians can now customize the color of the piano hood, as well as the piano case. Not only does it sound amazing, but it's fun, and you can make it exactly how you want it. 
Other Features:
The MK8 also has:
Envelope controls

Drive

Tri-band EQ

Panning with many adjustments including audio rate mod. And four different wave shape options
Two Models to Choose From 
The Mk8 is divide into two different sub-models: The MK8S and MK8 FX.
The MK8S is the standard model, whereas the MK8 FX includes special stereo effects.The MK8FX takes longer to build and ship out, 
MK8 Specifications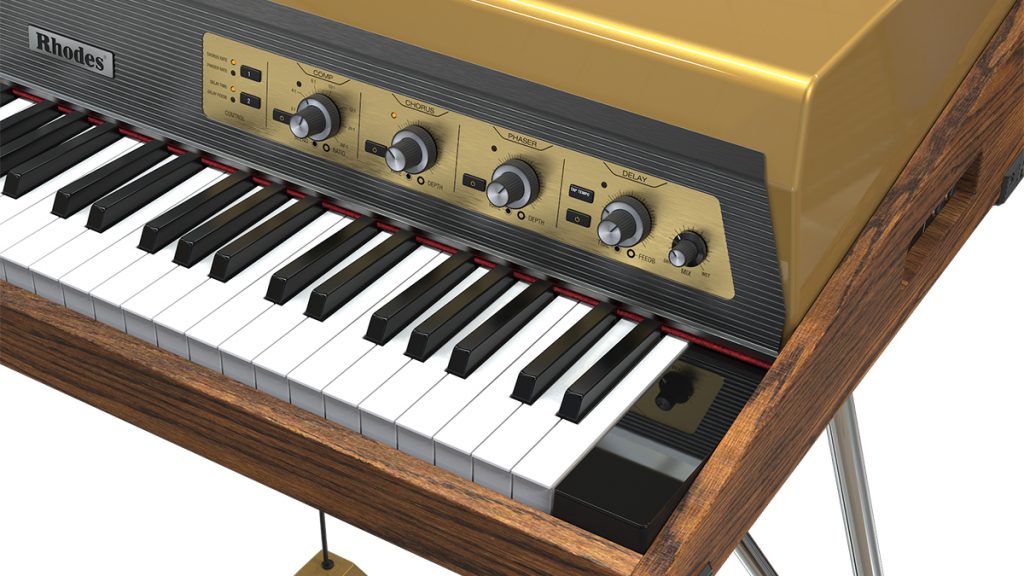 Specifications were derived from Rhodesmusic.com.
Weight:

75 lbs 

Dimensions:  

1153 width  x 563 depth x 225 height

Headphone Jacks:

1

Pedals:

Sustain pedal
Who Is The MK8 Suitable For?
This model and make is best suited for professional musicians. While many hobbyists would love to have a Rhodes, oftentimes, it's not within amateurs budgets. Additionally, the MK8 includes high-quality audio tools that hobbyists don't need to have fun. So, it's safe to say that the MK8 is strictly for upper intermediates to pros. People who will love the MK8 will definitely identify as vintage-music fanatics. 
A Note On the Rhodes Mark 7
Have you heard of the Rhodes Mark 7? According to many on the topic of the release,  it was a  bit of a flop…but why? 
The "Rhodes Mark 7" was not actually made by this same Rhodes. So, if you've had a bad experience with one of these pianos, know that it's made by a different company than the Rhodes Music Group, which is a new company. 
Rhodes MK8 In Action
Several audio demos have been created by Rhodes, and are available on Soundcloud. You can listen to a few of them here. My personal favorite is the onboard pedal wah
 Rhodes with external reverb.
Onboard Pedal wah.
For more check out: https://rhodesmusic.com/ 
Pros and Cons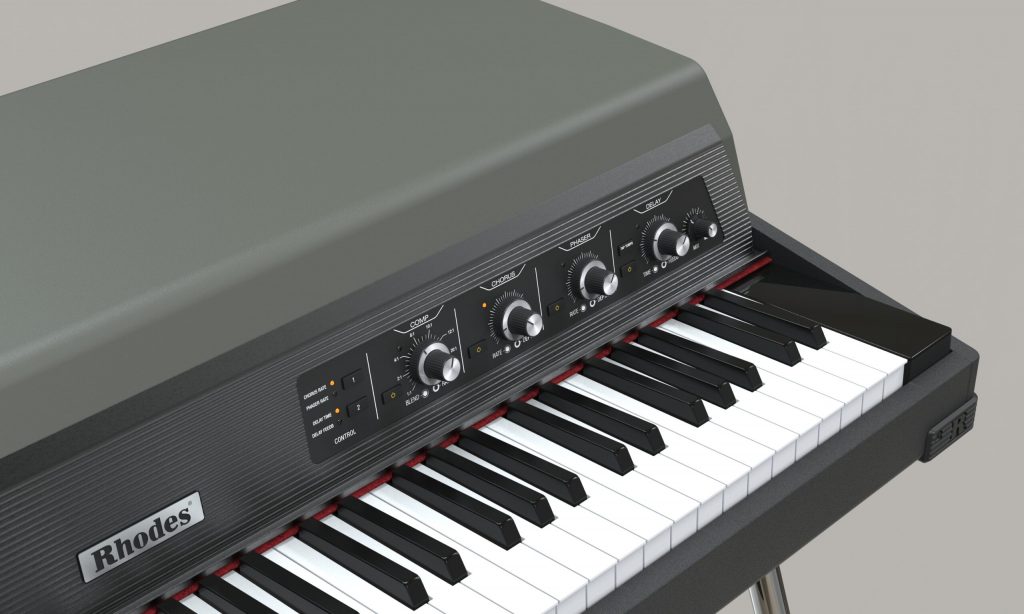 The Rhodes MK8 price is steep…Some may say that it is the biggest con. I say it's the only true con! 
Pros
The touch of the Rhodes piano has improved with this model
The keybed was made by a subsidiary of Steinway, and feels like an acoustic insturment when it comes to touch
This is the best new-vintage keyboard instrument on the market right now
You can make your instrument look exactly how you like

You can tweak the Rhodes sound to your hearts content 
The built is even sturdier than the original insturments 

If you pay in full at the time of checkout, you get a free case

This electric piano requires less care than acoustic pianos or original Rhodes

The touch sensitivity is not a push-button setting, but rather, a knob
Since the Mark 7 wasn't made by the same company as this Mark 8, there are a lot of differences between the two instruments. In my opinion, that is a good thing! Now, the touch and feel of the piano is closer to a Steinway, because it was made by a offshoot of their company. 
I believe that this is the best vintage-sounding modern instrument on the market today. SO much detail has gone into the MK8, and it shows, in feel, sound, touch, and sturdiness. This instrument was built to impress, AND built to last. 
Cons
The steep price of $9,500 is only for the basic model of the MK8 (sans customization)

The instruments take some time to make, and they are scarce. Just of 500 or so will be made a year 
If you'd like to customize your instrument, you'll need to shell out some more cash. Customizations such as custom color lids and cases, or FX will up the price. That being said, I haven't seen or heard any other cons at all- And I guess that's a big 'pro'!
This instrument does not have internal speakers, but that isn't going to be a dealbreak for this intended audience, as music pros typrically have external speakers and PA heads to plug into. The only other potential con that I can think of is that there are some people out there who simply don't like that 'metal tine' sound. If you are one of those people- Why are you here reading this review?! I kid, I kid, thanks for stopping by. But hey, not everyone likes the iconic sounds of the 70s. 
A Buyers Conundrum: Real Rhodes Vs The MK8
Many people have begged the question "Why should I pay $10,000 for the MK8 when I can get a real Rhodes if I look around long enough? 
Fine question! 
The real Rhodes pianos need tuned. So, the MK8 will require much less maintenance and care. If you are handy with keyboard instruments, you can always find a cheaper (real) Rhodes that needs some love. Ultimately, the real thing will always be more ringy and vibrant, and the overtone of the original can never be replicated. It just depends on how many days (weeks?!) you are willing to put into instrument repair to make it happen.
Comparable Instruments
If you want a sound that is similar to the Rhodes, try the Korg SV-1. You can gig out on the town with this one, it is much lighter! 
While it isn't exactly *comparable* digital stage pianos are a great option for those who want similar functions to the MK8, but who aren't ready for the price tag. Check out of digital stage piano section  on our homepage for more! 
Quick View 
Keys

73 full-sized keys 

Touch sensitivity 

Yes: Touch sensitivity wheel

Sounds

Customizable

Recording capabilities 

MIDI to host

IM

Metronome

Yes

Polyphony 

Unknown

Speakers

External speakers required

Headphones

Headphones not included, One ¼ inch headphone jack/input

Accessories

Case, power supply

Price point 

$9,500-$12,500
Rhodes MK8: Conclusion
In conclusion, the Rhodes MK8 is a true piece of musical craftsmanship. If you can afford it, go out and get one while you can! And come back to Bestpianokeyboards for more curioisities, music history tidbits, and reviews!
Music quote of the week: 
"To play a wrong note is insignificant. To play without passion is inexcusable" 
-Beethoven 
Sources: 
Rhodes history sourced from.
Photo Credit: https://rhodesmusic.com/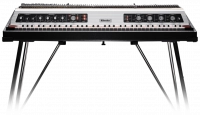 We rated the Rhodes MK8 a full 10/10. While this instrument is extremely expensive, we believe it to be worth every penny. From true analog signals to the gorgeous and solid spruce, oak, and beech wood keyboard, what's not to love? The MK8 is hand-built, highly-sought after, and hard to find. Without further ado, let's get to the review! (Hey, that rhymes!)
PROS
The touch of the Rhodes piano has improved with this model
The keybed was made by a subsidiary of Steinway, and feels like an acoustic insturment when it comes to touch
This is the best new-vintage keyboard instrument on the market right now
You can make your instrument look exactly how you like
You can tweak the Rhodes sound to your hearts content
The built is even sturdier than the original insturments
If you pay in full at the time of checkout, you get a free case
This electric piano requires less care than acoustic pianos or original Rhodes
The touch sensitivity is not a push-button setting, but rather, a knob
CONS
The steep price of $9,500 is only for the basic model of the MK8 (sans customization)
The instruments take some time to make, and they are scarce. Just of 500 or so will be made a year