Kawai CA79 Review
We rated the Kawai CA79 a 10/10. This model is high up in the CA (Concert Artist) line by Kawai. This line of pianos was designed with professionals in mind. Unlike the CA49, the CA79 includes both Blueooth audio and MIDI. Other improvements in this higher-up model include a larger sound bank, and more power in the speaker system. The CA49 is great…But the CA79 is excellent.
.We rated the Kawai CA79 a 10/10. This model is high up in the CA (Concert Artist) line by Kawai. This line of pianos was designed with professionals in mind. Unlike the CA49, the CA79 includes both Blueooth audio and MIDI. Other improvements in this higher-up model include a larger sound bank, and more power in the speaker system. The CA49 is great…But the CA79 is excellent.
Overview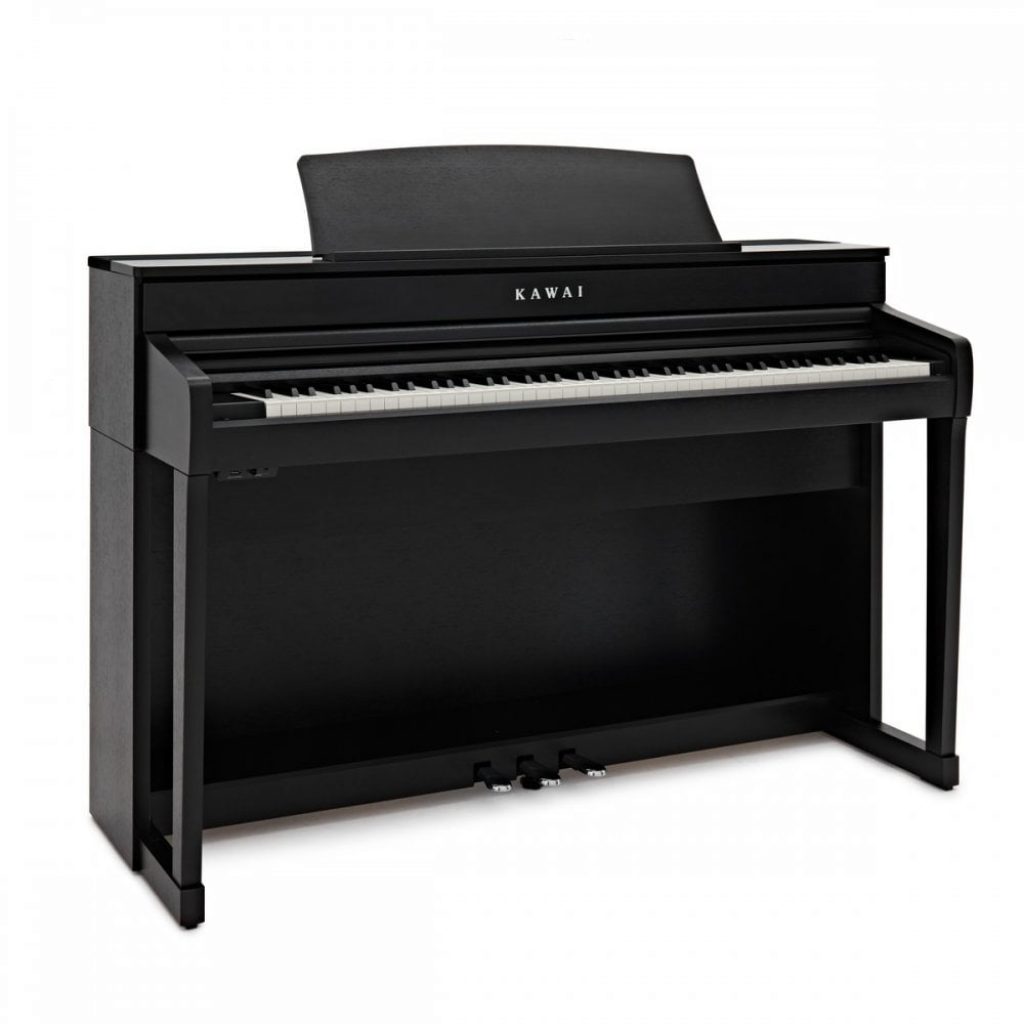 Kawai's CA79 is the next step up from the CA59. The main difference between the CA59 and the CA79 is the speaker system which jumps to 100W on the CA79 giving a bigger, richer sound. In addition, the number of internal instrument sound jumps from 44 to 66.  
The cabinet comes in a choice of four finishes – Rosewood, White, Satin Black and Ebony Polish. The piano looks very streamlined and convincingly upright piano-like, while having a very small footprint. It has a sliding lid to cover the keys when not in use. 
Like the CA59, the CA79 has a built in "Virtual Technician" function that allows you to customize the sound with 22 different characteristics. More about that later. It also has Bluetooth Audio (as well as Bluetooth MIDI) so you can play music through the piano's speaker system from a device. (The CA49 doesn't have this audio capability, only MIDI).  
The display panel is a 5 inch LCD full color touchscreen (480 X 800 pixels). Getting around on this display panel is intuitive and easy as it has been very well designed. It has a collapsable music rest which is adjustable to 6 different angles. 
Keyboard 
The keys are "Grand Feel III", meaning that they mimic the feel of a real grand piano, even though the key length is short – hence the word "compact". These keys are made of long wood and balanced with counterweights. These keys are all grade-weighted. That means that you need less pressure to play the higher notes than the lower ones. Just like on a real grand piano. There is also a "let-off" action which adds to the realism of each note.  
The keys have metal counterweights beneath each key. The weight is graded across the whole keyboard to give you more control over dynamics when you're playing. 
The white key tops are "Ivory Touch" finish which means they are more non-slip than the smooth shiny type, and a subtle "Ebony" texture on the black keys. The texture makes for more confident playing and doesn't get so slippery if a player has sweaty fingers. 
Sound 
The main piano sound on the CA79 comes from the Shigeru Kawai SK-EX concert grand and comes in two different patches. The 88-key multi-channel piano sampling resonance modelling samples each note as different velocities. The other patch is the Progressive Harmonic Imaging XL.  Both patches give a faithful reproduction of the original piano but the first patch gives an enormous scope for dynamics and sensitivity, especially when you experiment with the customizable settings. 
The piano sound is produced from a total of 6 speakers – 2 woofers placed under the keyboard, 2 mids and 2 tweeters produce the mid and high range sounds which are placed across the top of the piano giving a total of 100W output which is more than enough for any home. 
There are 66 internal instrument sounds on the CA79. The main piano sounds are Kawai's two most loved concert grands, the SK Concert Grand and the EX Concert Grand. The SK is more mellow than the EX and has a particularly rich bass which suits classical and romantic music really well. The EX has a much brighter, less nuanced tone, more suited to pop or contemporary jazz.   
In all you have 12 acoustic pianos to select from, 3 electric pianos, 6 types of organ, harpsichords, mallets, strings, choirs, pads, bass and guitars.    
There is a Spacial Headphone Sound setting which reproduces the best surround-sound for the player using headphones. This means that you get the fullest, richest sound even though you're not using the speakers. Make sure you invest in good quality, comfortable headphones if you plan to use them a lot. There are two sockets to plug in headphones so that two people can listen at once. When you plug in headphones, the piano speakers automatically turn off. 
Pianos in the Kawai CA series have a "Low Volume Balance" function. When you want to play with a low volume rather than use headphones, you can select your preferred balanced between loud and soft notes so that you still have well proportioned dynamics. 
Features 
Virtual Technician 
The Virtual Technician feature allows you to customize your piano. Also, to suit your preference, or a certain project you're working on. These are based on adjustments a piano technician can make on a real acoustic piano – for instance, softening the hammers or adjusting the touch sensitivity of the keys giving you control over how loud and soft you can play.  
Touch Curve 
One of the settings you can adjust in Virtual Technician mode includes "Touch Curve" which is the touch sensitivity – meaning, how much resistance you get from the keys when you play. The settings areLight 1/2/3/4, Normal, which is the default and based on the sensitivity of the Kawai acoustic concert grand, Off (constant) – this is designed to work well when playing non-sensitive instruments such as organs, and Heavy 1/2/3/4.  
A neat addition to the Touch Curve setting is that the player can program in his own personal touch. There are two setting reserved for this, meaning that you could set yourself two different touch sensitivities or, if there are two pianists in the family, they could each have their own personalized setting.  
Voicing 
Another Virtual Technician feature is "Voicing". Piano technicians can produce pianos with different characters by changing the texture of all the hammers inside the piano. They often use needles, files or brushes to achieve different sounds. While it would be very expensive to have your acoustic piano Voiced – the Kawai CA59 has a selection of different voicings built in as well as four settings left empty for personal voicings.  
Resonance, Noise and Effects 
Noises and resonance are natural components of a piano's character and these are also adjustable. This is something you can never do on an acoustic piano! Settings include damper resonance, damper noise, string resonance, undamped string resonance, cabinet resonance, key-off effect, fall-back noise and hammer noise, topboard simulation, decay time and release time. Finally, this is a lot of tweaking available to the most discerning pianist. 
Temperament and tuning 
The Kawai CA59 gives you an array of different tunings which include Equal, Pure Major, Pure Minor, Pythagorean, Meantone, Werckmeister, Kirnberger, User Temperament, Temperament Key, Stretch Tuning and User Tuning.  
Demo songs 
There are 37 demo songs on the CA79. Like the other pianos in this series, each instrument has a demo song to demonstrate the sound at its best. A lot of these songs are originals written for Kawai, but there are some pieces by Chopin, Liszt and Debussy.  
Reverb and effects 
There are 6 types of reverb to select from which include Room, Lounge, Small Hall, Concert Hall, Live Hall, Cathedral and the depth and timing of the reverb is adjustable. 
There are 24 other effects include various type of delay, chorus, tremolo, auto pan, phaser rotary and a combination, all of which can be combined and tweaked. 
Lesson function 
Like the other pianos in the Kawai CA series, the CA79 comes with lessons built into the piano so you can access them immediately without having to connect a device and sign in to an app. The lessons are the Alfred's Basic Piano Lesson Library Book Level 1A and Level 1B series which takes you right from the beginning, 25 pieces by Burgmuller, 30 etudes by Czerny, 106 lessons by Beyer and Bach lesson books. 
If you worked your way through all these lessons, you could start from learning middle C. After that, potentially go to a really high level, playing Bach. Whether you could do all this without any lessons with a teacher is debatable. However, if you have ever had lessons and got to an intermediate level, you could be successful just using this system. 
The tempo of the lesson songs is adjustable, so you can learn to play along at a slow speed and increase your tempo as you progress.  
Note that the sheet music doesn't come with the piano, so the books have to be bought separately through the publisher. 
Metronome
The built in metronome can be set between 10 and 400bpm and 20 – 800bpm for eighth note rhythms.  A metronome is essential when you're learning the piano for practicing with a steady beat. The default setting is a quarter beat set at 120bpm. However, it's possible to select and save a different value so that it becomes the startup default. So. the time signature can be set at 1/4, 2/4, 3/4, 4/4, 5/4, 3/8, and 6/8, 7/8, 9/8, and 12/8. The volume of the metronome can be adjusted and your preferred setting saved to become the default.  
Like the CA49 and the CA59, the CA79 comes with 100 drum tracks as an alternative to the metronome click which makes practicing with a beat far more fun! 
Transpose function 
The CA59 is able to transpose the keyboard by +12 to -12 semitones. Any transpose setting you have made can be saved as default upon start-up, so if you are working on a particular song that you are always going to want transposed up or down a certain amount, you can save yourself some time by having this set as the default. (Remember to reset to 0 when you've finished practicing that particular song though, otherwise everything you play will be in the wrong key!)
Having a good transpose function can be valuable to intermediate players particularly. If you've learned a song in a certain key and then start to accompany a singer would would prefer the song in a higher or lower key, you only need to dial in the change in your transpose setting and you can continue to play in the key you've practiced but the song will sound in a different key.  
Fine-tune
This allows you to tune the piano by micro-amounts of 0.5Hz. The setting spans 427 – 453Hz. This is not a function that gets a lot of use, but most keyboards seem to have this function now. So, it can be useful if you're playing with other players whose instruments aren't quite in tune.
Record function 
The record function allows for up to 10 songs, 2 tracks each, to be recorded internally with approximately 90,000 notes maximum memory capacity. The songs are automatically named "Song 1", "Song 2" etc. You cannot name them yourself.  If you do a lot of recording, it might be a good idea to have a notebook (paper or digital) and keep a note of which song you've recorded under which song number.  
On the CA59, you can record and playback in three formats: MP3, WAV or SMF (Standard MIDI File, which takes a tiny amount of hard drive space). 
Duet 
"Four hands" mode splits the keyboard into two sections (from note F4, which cannot be altered). This is useful for teaching purposes. This way the teacher can demonstrate on one half of the keyboard and the student can copy on their half of the keyboard. The right pedal works as a sustain for the higher half of the piano. While the left pedal (the soft pedal) will operate as a sustain pedal for the lower half. This recording function is disabled during use of "Four hands" mode. Whatever instrument you have selected will sound across the piano – rather sadly, it's not possible to have two different instruments in this mode. 
Dual mode
The dual mode allows you to layer two instruments together. Selecting the two instruments you require is easy and  you can change the balance between the instruments. For instance you might want just a hint of strings rather than 50/50. If you find a sound you particularly like you can save it as the default.  
Split mode 
This feature allows you to select two different instruments. Then, assign one of them to the treble keys and the other to the bass keys. So, you can change the volume of each of the instruments, raise or lower the bass notes by an octave, change the split point where one instrument ends and the other begins, and enable or disable the sustain pedal so that it does or doesn't affect the lower half of the keyboard.  
Headphone settings 
This is an unusual feature to have on a digital piano, in my experience. In short you can select what type of headphones you're using and the piano will adjust for the best listening experience for you.  The choices are: Normal, Open, Semi-open, Closed, Inner Ear and Canal. 
Bluetooth
The Kawai CA59 has Bluetooth MIDI and Bluetooth Audio (unlike the CA49 which only have Bluetooth MIDI). This means that you can send and receive MIDI data between the CA59 and a computer or device plus you can stream music from your device into the piano so it comes out of the piano's speakers. 
Pedals 
The CA series of pianos all come equipped with a pedal set which is built right into the cabinet and connected. This gives you the three pedals standard on any modern piano. In addition this one on the right is the most often used – the Sustain pedal. This sustains any notes you play as long as you keep the pedal down. As soon as you release the pedal, the sound will stop. The middle pedal is the Sostenuto pedal. This will sustain any notes you play as you press the pedal, but any notes you add after will not be sustained.
There isn't a lot of call for this pedal unless you're quite an advanced pianist. Romantic music by composers such as Debussy sometimes calls for it, and some contemporary music, but classical music doesn't. The pedal on the left is the Soft pedal. The technical name for it is the "Una Corda" (one string). This dampens the sound so that it's quiet and gentle. There is also not a huge call for this pedal, but it can be useful to have. 
As stated earlier, when this piano is in duet mode, the left pedal operates as a sustain pedal for the lower half of the piano.  
Connectivity 
The CA79 comes with a LINE IN (1/8" STEREO), LINE IN Level, LINE OUT (1/4" L/MONO, R), Headphones x 2 (1/4", 1/8"), MIDI / USB MIDI (IN/OUT), USB to Host, USB to Device, USB for UPDATE
Specifications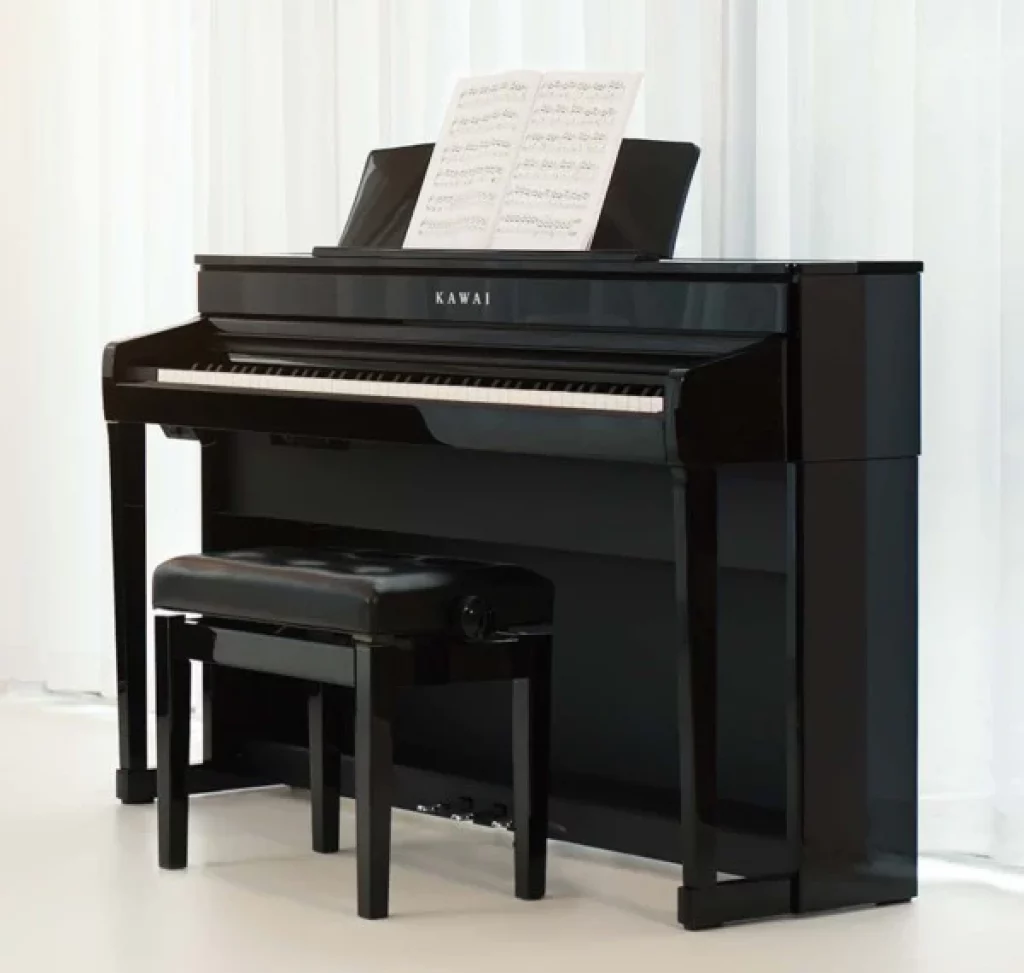 88 weighted wooden keys.  Grand Feel Compact with Let-Off, Triple Sensor and counterweights.  

Harmonic Imaging XL (HI-XL) 88-key piano sampling 

66 instrument sounds

256 polyphony

10 X 2-track recording 90,000 note capacity 

Connectivity: LINE IN (1/8" STEREO), LINE IN Level, LINE OUT (1/4" L/MONO, R), Headphones x 2 (1/4", 1/8"), MIDI / USB MIDI (IN/OUT), USB to Host, USB to Device, USB for UPDATE

Speaker output 100W (50W X 50W)
Who Is It Suitable For?
Beginner 
Any beginner who begins their piano journey on this piano will be lucky indeed. Although it can be argued that starting on an acoustic is the best thing, this piano comes so very close to feeling like the real thing, and has so many benefits for the beginner, that I can't find any serious argument against doing so.  
One of the biggest benefits of course if that a piano student (of any level) can happily play wearing headphones. The piano is designed to make the piano sound amazing through headphones, and if you invest in good, lightweight ones, you'll hardly know you're wearing them.  
Experienced and serious pianists 
Almost any advanced pianist is likely to enjoy playing the Kawai CA79. Even if they're dedicated lovers of the acoustic (and who isn't?), being able to tweak the feel of the keyboard and the sound as you play is something you can never experience on an acoustic. Plus of course, you can switch to playing the harpsichord when you play baroque music or use the organ sound to play Bach's Toccata and Fugue in D minor.
Composers looking for a piano that will double as a MIDI controller might find this is a good model to go for. Also, It's very simple to connect to a computer and will feel lovely to play into your DAW (Digital Audio Workstation) no matter what VST instruments you're using.
Pros and Cons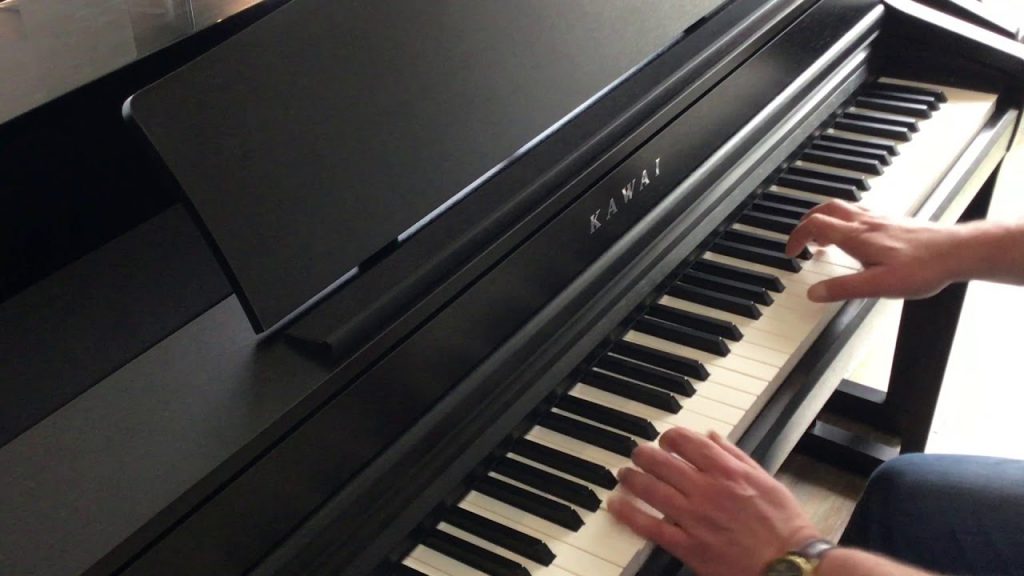 Pros 
This keyboard is one of the best with its weighted hammer action.

The piano sounds are very realistic and beautiful.

The small footprint means you can have a high-end piano without needing heaps of space.

It's easy to move with two people.
Cons 
None
Quick View 
Keys

Grand Feel III with Let-Off, Triple Sensor, and Counterweights 88 wooden keys with Ivory and Ebony Touch key surfaces

Touch sensitivity 

Touch sensitive – 5 levels – Light 1, Light 2, Normal, Heavy 1, Heavy 2

Sounds

66 instrument sounds, including 12 acoustics piano,  electric pianos,  organs, harpsichords, mallets, strings, vocals, pads, basses and  guitars.  

Recording capabilities 

10 song recorder – approximately 90,000 note memory capacity

Metronome

Built-in metronome, settings from 10 -400BPM (20 – 800 for eight note rhythms) 

Polyphony 

256 notes can be played/sustained at once 

Speakers

100W total (50W X 2) 

Headphones

2 headphone jacks 

Accessories

Power cable, owners manual,  3 pedal set and music rest are integrated into the piano. 

Price point 

$5,200 – $5,900 depending on finish 

Weight and Dimensions 

Standard finish – 167lbs

Ebony Polish finish – 174lbs

57 X 18 X 37 inches 
Conclusion
As the penultimate Kawai CA model, the CA79 is a very advanced piece of technology and does an excellent job at convincing the player they are playing an acoustic piano. Except perhaps that the sound is too good and the keys too even! Some may prefer the idiosyncrasies of an old acoustic. But for developing good technique and having the luxury of switching the sound of the piano at a moment's notice, this piano series is difficult to beat.
Add to that the fact that it never goes out of tune and you can move it very easily, practice with headphones or lower volume, and it leaves you scratching your head wondering why anyone would buy a 500lb acoustic they have to have tuned every six months. There is only one other piano in the CA series – the CA99 – which takes this excellent piano technology one step further. For this reason, If you're an advanced piano and wondering if you should get the CA79 or pay the extra for the CA99. At the same time i highly advise you go and play both models as the difference is really a personal choice.
We rated the Kawai CA79 a 10/10. This model is high up in the CA (Concert Artist) line by Kawai. This line of pianos was designed with professionals in mind. Unlike the CA49, the CA79 includes both Blueooth audio and MIDI. Other improvements in this higher-up model include a larger sound bank, and more power in the speaker system. The CA49 is great…But the CA79 is excellent.
PROS
This keyboard is one of the best with its weighted hammer action.
The piano sounds are very realistic and beautiful.
The small footprint means you can have a high-end piano without needing heaps of space.
It's easy to move with two people.