Casio CDP S100 Review
We rated the Casio CDP S100 a 7.5/10. The S100 is a compact digital piano with aftertouch, and touch sensitivity. The simulated ebony and ivory keys make for a really nice key feel. This model was designed to be light and portable, while still keeping Casio's brilliant sounds. We think they did an amazing job at achieving that goal! While we do really wish it had more sounds, the CDP S100 is still a lovely basic portable instrument.
We rated the Casio CDP S100 a 7.5/10. The S100 is a compact digital piano with aftertouch, and touch sensitivity. The simulated ebony and ivory keys make for a really nice key feel. This model was designed to be light and portable, while still keeping Casio's brilliant sounds. We think they did an amazing job at achieving that goal! While we do really wish it had more sounds, the CDP S100 is still a lovely basic portable instrument.
Overview
The Casio CDP S100 is a full-sized, hammer-action piano. First made available in 2019, this digital piano is an affordable piano that comes with everything you need to get started. 
This demo video does a great job at showing what this little instrument is capable of.
With a new sound engine and easy-to-use buttons, at first glance, it appears to be a piano fit for just about anyone! And, rumor has it that the grand piano samples are nothing less than brilliant. 
According to Guitarcenter.com, this entry-level CDP offers the following: 
"Casio announces the next step in the CDP-S Series pianos. Introducing the CDP-S100, the perfect entry piano for anyone looking for the best portable keyboard experience. The CDP-S100 is smaller and lighter than most other competing keyboards, making transportation a breeze.
The proprietary Casio scaled hammer action keybed and beautiful grand piano sounds will keep you playing for hours. With a free iOS application for extended control and features, the CDP-S100 is ready for practice and performance that's on par with every other piano in its class." 
-GuitarCenter.com 
Casio's CDP line as a whole is known for its weighted keys, portability, and realistic sound banks. In the next section, we will check out some of this keyboards features in depth. 
Features
Designed to Move
This under-25 pound instrument is designed to move with you. With its extremely narrow design and long-lasting battery-life (up to 15 hours of continuous play), the Casio CDP S100 offers a lot more mobility than many other 88-key digital pianos do. 
Scaled Hammer Action Weight 
This instrument's hammer action is designed to recreate the feel of the hammers in an acoustic piano. On top of this, scaled hammer action is actually one notch above graded hammer action. This is because it adds one more sensor inside of the keybed, giving you a more accurate sound based on the input you are giving the instrument
3 Types of Touch Sensitivity
Every player is different. That's why I really value touch sensitivity on a piano. I tend to have more of a soft touch when I play piano- But those who visit my home studio all have a different preference. That is why I love having a digital piano with multiple sensitivity options in my home. 
Aftertouch
Aftertouch is a feature that musicians often seek out in keyboards. According to Sweetwater.com, it is a type of MIDI data that is sent through the keyboard after you hit a key. According to the musicians at KRV audio, it is a must-have for all keyboard and synth players. Here's why: It makes all the difference in expression, and can be attached to extra effects such as vibrato.
Simulated Ebony and Ivory Keys
Simulated ebony and ivory keys give this instrument that extra special feel. I find that the texture of simulated ebony and ivory makes a lot of difference, and helps me more seamlessly switch from acoustic (grands) to digital keyboards.
8 Digital Effects
This instrument has 4 reverbs, and 4 chorus effects. These 8 digital effects are also adjustable. 
AHL II Sound Engine
AHL is short for acoustic and highly compressed large waveform. According to PianoDreamers, this Casio sound engine is not the newest, and is used in some of their more economical piano keyboards. So, is this sound engine still worth it in 2021, or not? Let's unpack the AHL II a little more deeply. 
The AHL II sound engine is an updated version of the older Casio AHL engine. According to Casio, this type of sound production technology reproduces acoustic instrument sounds such as piano, extremely well. 
All in all, while the AHL technology might not be quite as shiny and new as the Air sound engine, that doesn't make it any less realistic or powerful. 
Control Your Piano with a Smart Device
The Casio CDP S100 can be controlled using a smart device thanks to the Piano Remote Controller function. You can use this to select voices, or to adjust the instruments settings. 
Auto-Harmonize
The harmonize function allows players to turn on automatic harmonies for the right hand. If you are new to piano and are having trouble filling out your sound (or, even if you just want some harmony ideas for your newest song you're writing) I would recommend checking out this feature.
A Sleek Space Saver 
The CDP S100's slim design makes it easy to fit in small spaces. And, with it only being 232 centimeters in-depth, it is one of the smallest digital pianos that the brand offers. 
Optional Battery Power
The CDP S100 can be run on six AA batteries or through a regular power cord. The big advantage to having battery power is that you can play the instrument for up to 10 hours at a time, cord-free. 
 Chordana Play Software Included 
It's free to use the Chordana Play app with this device. Chordana Play can act as a learning tool, and can also control the instrument. 
You can learn more about Chordana and see it in action here.
USB Connectivity
USB connectivity allows you to connect your phone, computer, or tablet to the CDP S100. You can record music with USB to MIDI, or plug in your device to play music through the piano's speakers. 
MIDI Compatible
The CDP S100's MIDI compatibility is stellar. It offers 16-channels worth of multi-timbral receive (Casio-Intl.com). 
Other Features: 
The Casio CDP S100 also has the following: 
Transposition

PDF score viewer

A Metronome

An audio player

A MIDI player

An on-board MIDI recorder 
This instrument's audio player can be used to loop music, change keys, and more. The MIDI player feature is really handy as well, allowing you to play along to your favorite songs. 
Casio CDP S100 Specifications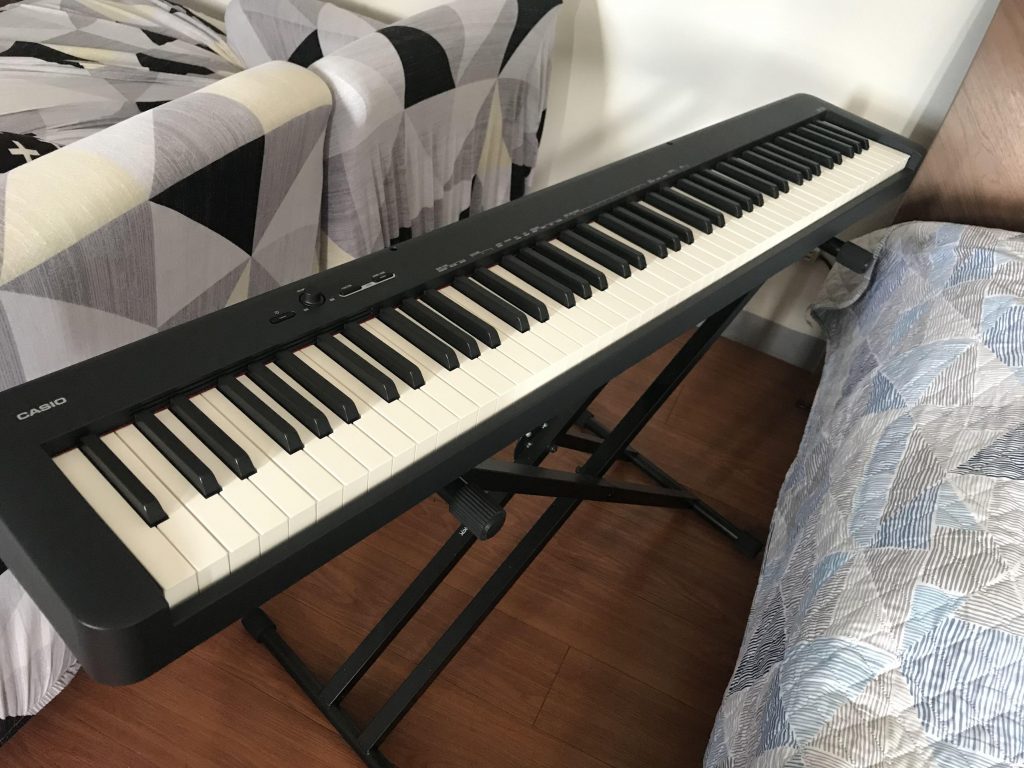 Dimensions: 58 x 15 x 9.75 inches
Weight:

32.6 pounds

Number of Effects:

8

Type of Piano:

Digital piano 
Who Is It Suitable For?
The Casio CDP S100 is suitable for beginner pianists, intermediate pianists, and hobbyists. This instrument will get you by in most situations where you would be performing for small audiences: In a coffee shop, and for friends. If you are learning piano and also want an instrument that will hook up to your computer for easy input into DAW's (digital audio workstations) and notation programs like Sibelius, this one is a good bet. When it comes to connectivity, the S100 excels. 
Casio CDP S100 In Action
This demo and review from PMTVUK will give you a taste of what the instrument sounds like: https://www.youtube.com/watch?v=SvCukC5fKXc 
The high range of the sample used in the beginning is ringy and crisp, and the low range sounds lush and resonant. I'd describe the sound engine in this instrument as small but mighty. 
Amazon Reviews
The Casio CDP S100 was only rated out 3.2 out of 5 stars on Amazon. What happened here?! First things first, let's see what the musicians who bought this instrument liked. 
Here's what customers said they liked:
Great investment for someone who wants to learn piano without breaking the bank

It was a great tool for those taking piano at the University 

Made a great gift for one customer's child

It's a good non-professional practice piano 

It is economical

It doesn't take up much room, making it perfect for college students
Here's what customers didn't like: 
The speakers were not what one customer expected, and so they had to wear headphones whenever they played 

There wasn't enough variation in the sound bank

There are only a few tones 

The instrument slides a bit on the stand
Overall, it seems that the customers who were dissatisfied were looking for more sounds, and bigger speakers. 
Pros and Cons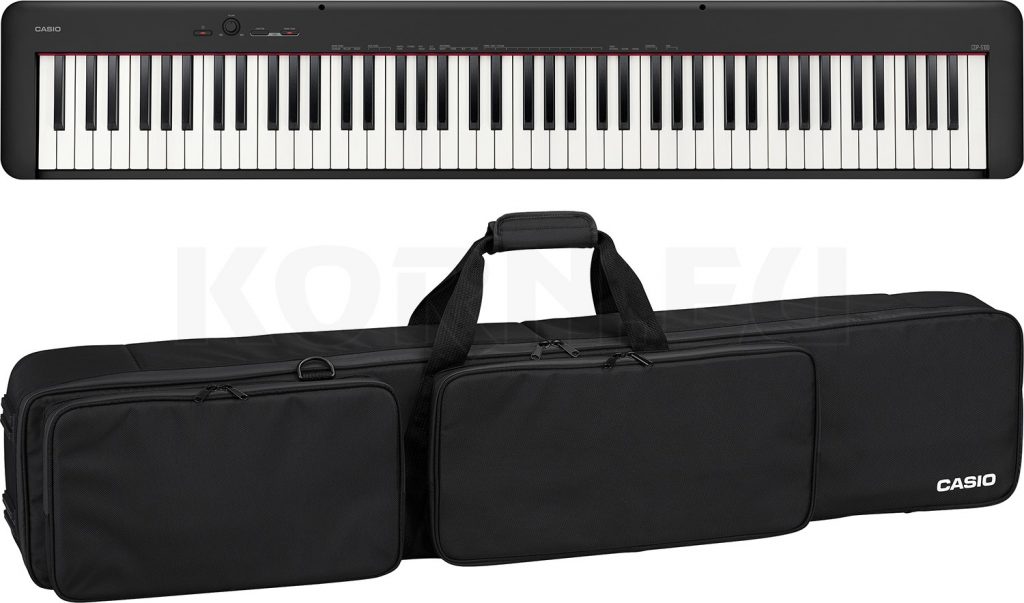 Pros
The scaled hammer action weight feels more true to a piano than other, velocity-sensitive models

The full-sized keyboard allows the doors to more complex repertoire to open up

The sustain pedal is included

The speakers are really good given their small size
Customers and other piano reviewers have said that there is little to no distortion with these tiny speakers! 
It is one of the slimmest Casio pianos out there 

It can run on batteries for a very long time

The small sound bank will help keep younger students on task with their piano studies

The MIDI player, MIDI compatibility, and USB to host connections make the portable piano ideal for producers and performers alike
Cons
There are only 10 tones! 

There aren't very many physical buttons on the device itself 

It doesn't have very many bells and whistles 

It only has 32 notes of polyphony 

The stand and bench are sold separately 

There is only one pedal input available 

There is no internal recorder on the instrument 

Ultimately, this is the lowest entry-level piano within Casio's CDP line
As you can see, the 10-tone sound bank can either be a big 'pro' or a big con, depending on your situation. Adults will likely enjoy a larger sound bank, even as a beginner to intermediate player. There just aren't that many bells or whistles or sounds- This keyboard is great for keeping a young classical student on track. But if you are looking to play with more sounds, consider finding a more advanced model in the Casio line.
Another con is the polyphony- With about 32 notes of max polyphony in most voices on the keyboard, you are fairly limited. This piano doesn't pass the Rachmaninoff test- You won't be able to play big classical pieces on here. The polyphony is going to max out on your, and important notes will stop sounding. The above reasons lead me to believe that the CDP S100 is really geared towards a younger audience. Thus, there are a lot of cons for adult players. 
The fact that there is only one pedal input is a big con for me. If you are going to go through the trouble of making a full-sized piano with hammer action and simulated ivory keys, there should be a three-pedal input to go with it! 
Another complaint of mine is that, with most online retailers that carry this instrument, the stand and bench are being sold separately. While this isn't uncommon, that doesn't mean we have to like it! 
All of my cons can be summed up into this one fact: The Casio CDP S100 is ultimately, the lowest entry-level piano in this line. The CDP line offers less features than the Privia line overall. While I applaud the quality of the build and the updated AHL sound engine, there above cons make me say "This is a good Casio instrument, but by far, it isn't the best economical Casio instrument". 
Casio CDP S100 Quick View 
| | |
| --- | --- |
| Keys | 88 full-sized, scaled hammer action keys |
| Touch sensitivity  | Yes: Velocity sensitive, aftertouch |
| Sounds | 10 tones |
| Recording capabilities  | USB to MIDI, |
| Metronome | Yes |
| Polyphony  | 32 notes (up to 64 notes in some scenarios) |
| Speakers | Internal speakers:  |
| Headphones | Yes: 1 headphone jack available |
| Accessories | Adapter, Sustain pedal |
| Price point  | $449.99 |
| | |
Comparable Instruments
Casio CDP S150
The CDP S150 is almost exactly the same as the Casio CDP S100. That being said, it has a few key features that make me favor it over the S100. First of all, it has an onboard MIDI recorder. Secondly, there are three pedal inputs instead of just one. 
Pianos from the Privia line are excellent comparable instruments if you can't find the Casio S100. In addition to this, I would actually argue that the Casio Privias are better- but only if you are willing to pay the extra. 
As for other Privias, the Casio PX-S1000, and the Casio PX-160 are both good places to start. 
Roland FP-10
The Roland FP-10 is a bit heavier than the S100.
Lastly, if you don't like the sounds of any of the above options, you can check out the following:
Alesis Recital Pro

CDP-S110

CDP-135

CDP-S160

The Korg B pianos

Yamaha P45 
Conclusion
In conclusion, the Casio CDP S100 is a great practice piano for beginner to intermediate musicians. While it doesn't have many tones, and it's not my personal favorite, it's hard to deny that this is a quality portable piano all-around. An entry-level model instrument will always be an entry-level model instrument. But the brand and build make all the difference. 
We hope you've enjoyed this Casio CDP A100 review! Come back next week for a review on the ever-popular synthesizer: The Korg Kronos. 
"Music in the soul can be heard by the universe"
We rated the Casio CDP S100 a 7.5/10. The S100 is a compact digital piano with aftertouch, and touch sensitivity. The simulated ebony and ivory keys make for a really nice key feel. This model was designed to be light and portable, while still keeping Casio's brilliant sounds. We think they did an amazing job at achieving that goal! While we do really wish it had more sounds, the CDP S100 is still a lovely basic portable instrument.
PROS
The scaled hammer action weight feels more true to a piano than other, velocity-sensitive models
The full-sized keyboard allows the doors to more complex repertoire to open up
The sustain pedal is included
The speakers are really good given their small size
Customers and other piano reviewers have said that there is little to no distortion with these tiny speakers!
It is one of the slimmest Casio pianos out there
It can run on batteries for a very long time
The small sound bank will help keep younger students on task with their piano studies
The MIDI player, MIDI compatibility, and USB to host connections make the portable piano ideal for producers and performers alike
CONS
There are only 10 tones!
There aren't very many physical buttons on the device itself
It doesn't have very many bells and whistles
It only has 32 notes of polyphony
The stand and bench are sold separately
There is only one pedal input available
There is no internal recorder on the instrument
Ultimately, this is the lowest entry-level piano within Casio's CDP line