Yamaha Clavinova CVP 809 Review
We rated this model a full 10/10 because of the instrument's attention to detail and versatility. While the flagship CVP model might not be as showy as the grand piano version, we ended up loving the CVP 809! From the instrument's huge sound bank to its crisp speakers and plethora of buttons, this model is a true pleasure to have in your home.
We rated this model a full 10/10 because of the instrument's attention to detail and versatility. While the flagship CVP model might not be as showy as the grand piano version, we ended up loving the CVP 809! From the instrument's huge sound bank to its crisp speakers and plethora of buttons, this model is a true pleasure to have in your home.
Yamaha Clavinova CVP 809 Overview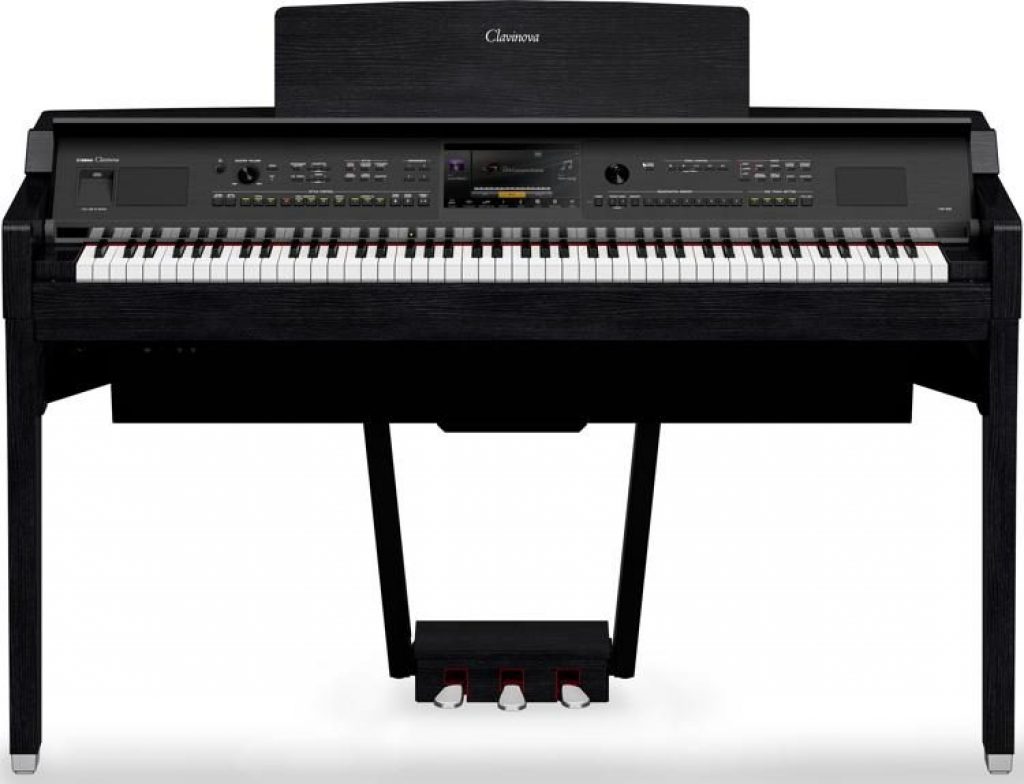 The Yamaha Clavinova CVP 809 is a digital upright geared towards the most discerning of players. With over 1600 tones at your fingertips inside the Genos sound engine (including two stunning grand piano samples) as well as an impressive touch and dynamic range, this instrument was clearly built to impress. 
Are you a karaoke fan? Because this instrument allows you to download tracks to sing and play over. Are you a composer? Then there's a 16-track sequence with loads of sounds (and a mic input!) at your fingertips. It seems that this model was built for nearly every musician- ever. 
The release of the Yamaha CVP 809 was first announced in 2019 and became widely available that next October. This new "800" CVP line released the following three models: The CVP-809, the CVP 809-GP, and the CVP 805. According to Europe.Yamaha.com these models "took technical and musical heights". While the model we are reviewing today is the least expensive of the three, it still offers many of the same updates, as well as two of the same rich grand piano samples. 
More About the CVP'S
CVP is short for "Clavinova Versatile Piano". CVPs are Yamaha's top hybrid digital piano line- in short, it doesn't get any better than this. The CVP-909 is this line's flagship model, but this instrument (the 809) is right behind it in both price and quality.
You may have also noticed that the 809 and 809 GP are both worth a small fortune- so let's find out why by taking a look at the most notable features. 
Features
Textured Wooden Keys
The CVP 809 has the best of both worlds: The power of the Genos sound engine, and the touch of a real acoustic instrument. Each CVP from the 800 line has wooden keys. This model has all wood keys, and texture on every key. The GrandTouch weight is a dream and also has escapement, for the more expressive result. 
Dynamics Control
One new relatively feature I appreciated about the Clavinovas is the dynamics control. When you are inside session mode, the virtual accompaniment musicians (affectionately called the 'cats' on Sweetwater) respond to any dynamic changes you might make. 
Get Creative With Recording
Like the other models in the CVP 800 series, The CVP 809 has a mic input and vocal harmony chip so that you can get a big sound with just one instrument. Speaking of recording, this instrument has a 16-track sequencer, as well as USB to MIDI compatibility, so it's easier than ever to jot down your ideas. 
Binaural CFX Sampling
The sound while playing through headphones on these 800 CVPS is amazing. Yamaha paid very close attention to detail on the plugged-in sound and managed to create a 3-dimensional audio experience – Even while plugged in. The technical carefully measured where the players were getting sound while playing out loud, and adjusted their technology accordingly. 
A Large, Pleasant LCD Display (9")
In my last review (which was of the CVP-805) one of the cons I listed was that the display isn't very big for the price. In the upper 800 CVPS, you get an LCD screen that is larger- by 2 inches. My farsighted eyes certainly appreciated the upgrade!  
Loads of Voices, Unmatched Grand Piano Samples
This model has over 1600 tones, including drums and FX. It also boasts 2 samples of esteemed concert grands inside, including Yamaha's flagship CFX and the Bösendorfer Imperial. Yamaha is renowned for the realism of their digital piano technology, and the CVP-809GP is no different… The piano delivers a level of authenticity that is beyond impressive. 
A huge part of this authenticity is thanks to the maker's VRM technology. which recreates the sound of an acoustic piano, including the clinks and clunks and resonances of strings, the soundboard pedals, and more. Overall, the rich tones of the instruments are recreated in a dynamic, responsive interface. To say that the Yamaha CVP 809 responds well in the softest of softs and loudest of louds would be an understatement. Of the dynamic responsiveness, the grand piano samples are the most expressive (in my opinion).
2 Grand Pianos
The CFX and Bösendorfer Imperial samples were created with state-of-the-art sampling technology which recorded every key, multiple times. The Yamaha CFX sounds rich and has an amazing dynamic/expressive response when played. The Bösendorfer Imperial is equally as good of a sample but with a different timbre. 
Other Notable Features:
Touch panel

Split and layer

Bluetooth compatible

Audio-to-score technology

Interactive accompaniment

HDMI display

Smart-device compatible 

Guide Lamps

Other educational features like pairing Smart Pianist

A music rest with built-in music clips

Chord Looper
The instrument has many options for interactive accompaniment, as well as the features you might expect, such as being smart-device compatible and having all the basics (like split and layer). I appreciated the touch panel in this instrument, which allows users to navigate the on-the-screen score. Coming from a person who usually plays on a bare-bones Yamaha digital, the CVP 809 is a real luxury. The guide lamps are helpful for beginners, as they wait for players to get the notes right. My favorite 'fun' feature on the instrument is the chord looper, which will record your chord prog into your sound engine, and then loop it so that you can riff/ play new melodies. 
Specifications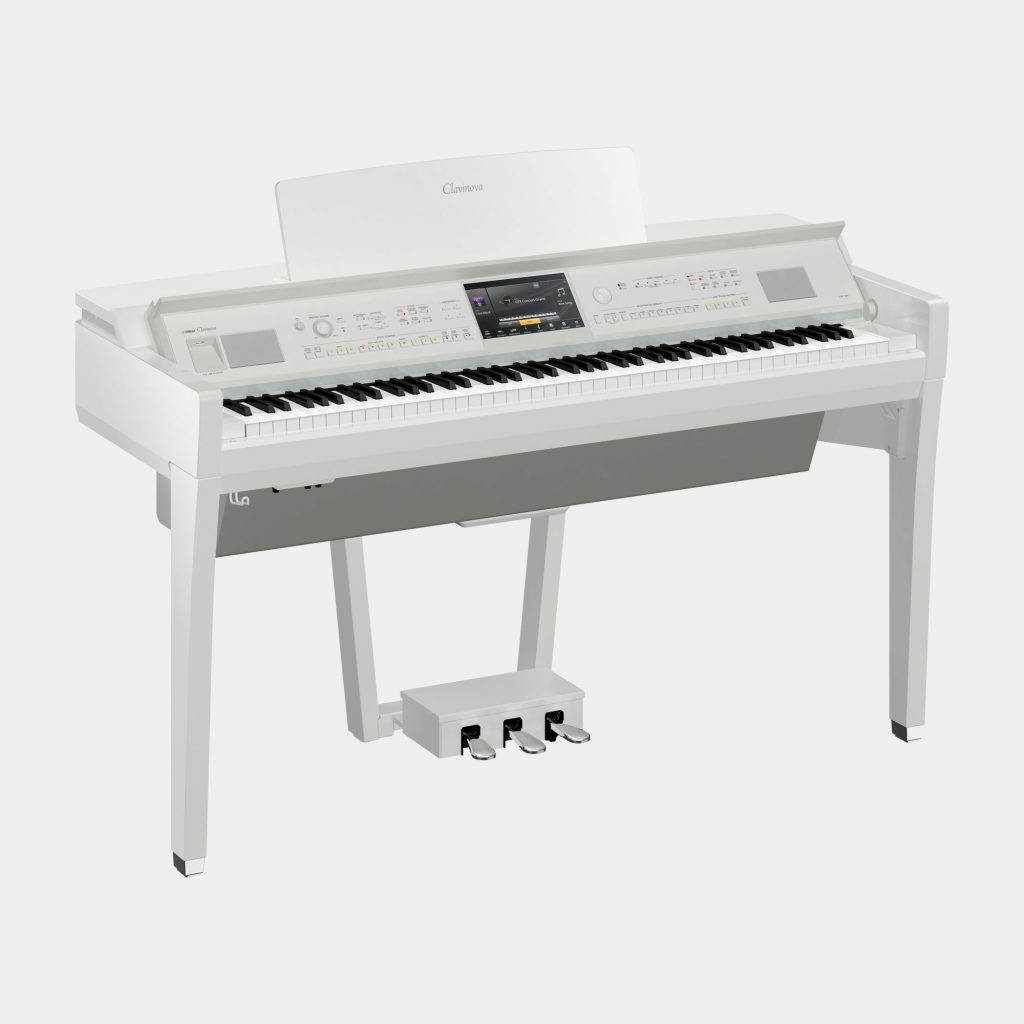 Specs sourced from Sweetwater.com and the maker, Yamaha. 
Weight:

180 pounds

Dimensions: 

Height:

34.1″

Width:

56.1″

Depth:

24.1″ 

Piano Type:

Digital Console
Who is it Suitable for?
The Yamaha CVP 809 is best suited for those looking for a home piano that is of the highest quality possible. Admittedly, this is a relatively small demographic, but the instrument does what it was meant to do, and passed all our most rigid playing tests with flying colors.  Luckily, this model costs several thousand less than the GP version, so it is a bit more accessible to serious hobbyists. 
The 809 in Action
Don't just take my word for it! To get a better feel for the CVP-809, check out this video by Breve Music.
Spoiler alert- These music pros tout the instrument as being 'Yamaha's best piano!' … While I am slightly partial to the grand piano version of the CVP 809s, I would have to agree with them!
Customer Reviews
There aren't many customer reviews of the Yamaha Clavinova CVP 809 to look through, but from what I could see, the instrument was well received. One PianoGuys shopper remarked that the instrument is impressive, and has a 'rich, powerful sound' with music 'production potential'. Another buyer described the piano as a 'big music carnival' which is one of the most fun yet apt descriptions of the instrument I've yet to hear! 
I was only able to find two semi-critical reviews- but they were both still 4 stars. Besides having a high price, there wasn't much for folks to complain about.
Pros and Cons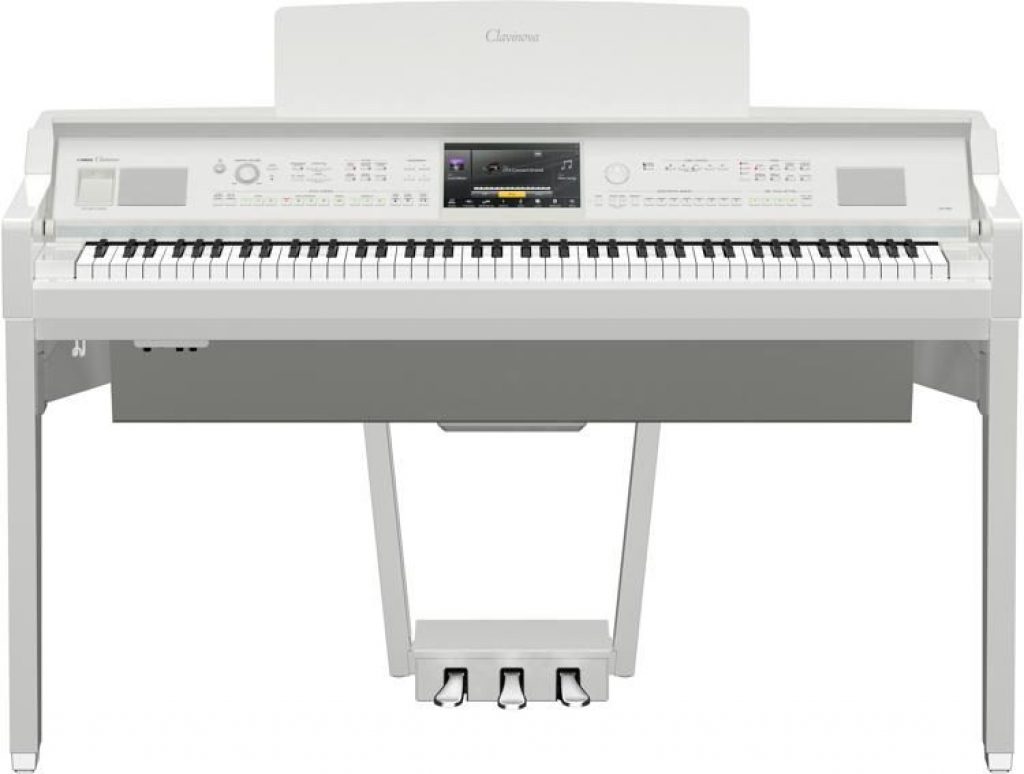 Pros
It makes an ideal instrument for those inclined toward music production 

The styles section and mic input make the CVP-809 karaoke-friendly

The reproduction of tones is impressive given how many there are in the sound engine

The instrument combines the best of the Yamaha Genos arranger with new technology, all in a more visually pleasing chassis

It has a sturdy build meant to last years and years

The headphone technology makes playing plugged in just as good as playing out loud

The texture is available on both the black and white keys- Which is not as common of a feature as one might think!

When using the education features like guide mode, t

he instrument will wait for you if you are playing a wrong note
It's easy to make an accompanied song your own with intros, outros, and more inside the style mode

There are loads of opportunities to get 'just the right sound'

It comes with two very rich grand piano samples
As a whole, there is a lot to like and a lot to do on the Yamaha CVP-908…More than we have time to write about. You have to check this one out in stores. 
Cons
No ⅛ inch input for earbuds

The price range is quite high

– and varies widely depending on the retailer

At almost 200 pounds, this beast of an instrument is difficult to move around, even within one's living space

Lacks the sleek and convincing design of the GP version
As I mentioned in the CVP-805 model I reviewed last, I wish that there was an earbud input in the CVP 800 instruments simply for convenience's sake. Other cons that I expected are that it is very heavy and that the price varies pretty widely depending on the retailer. Overall, the only real 'con' I felt was that the instrument didn't have as much of an impressive physical presence when I stacked it up against the GP version of the model. But this model is meant to model an upright, and it does that extremely well.
Comparable Instruments 
Yamaha CVP 809GP

Yamaha CVP 909

Yamaha CVP 805

For a grand piano hybrid to get you started: try the GP-510
As I mentioned earlier, I am slightly partial to the feeling the sleek Yamaha CVP 809GP version has on a room. It just feels more like an acoustic piano to me. You can check it out on our site here: https://bestpianokeyboards.com/reviews/yamaha-cvp-809gp-review/ 
At around $15,500  the Yamaha CVP 909 is another upgraded version to consider. 909GP has 10 extra songs, an updated cabinet design, and a different style of music rest. 
If you are looking for something similar, but a bit more basic, consider trying out the CVP-805. This model has the same keyboard, but it has slightly fewer sounds and styles. For the price of $8,000, it's much more accessible to hobbyists and intermediates. One small con with this instrument is that the black keys are not all wood like this instrument- just the white keys are solid wood. 
Here at BestPianoKeyboads, we understand that not everyone can get something in this upper-tier CVP line. For a more economical grand piano hybrid, try something along the lines of this Casio Celviano GP-510. 
CVP 809: Quick View 
Keys

88 GrandTouch weighted/graded hammer action keys

Textured black and white keys

Touch sensitivity 

Yes:

Soft 1/2, Medium, Hard 1/2

Sounds

1605 regular Voices, plus 58 Drum and SFX 

 480 XG Voices

Recording capabilities 

16-note sequencer, USB to MIDI compatibility

Metronome

Yes

Polyphony 

256 notes

Speakers

2 x 6.3″ speakers:

Two amplifiers 40W + 30W + 20W + 80W

Headphones

2 x ¼ inch inputs

Accessories

Power supply, Bench

Price point 

$12,799.99+
Yamaha Clavinova CVP 809: Conclusion
In conclusion, there's a good reason why Yamaha made the CVP 809 the flagship instrument of this line. From the versatile sound bank to the touch and built-in recording tools, the creative opportunities are near-endless. 
Music quote of the week: 
"Making music has always made me happy. When I go through a situation, the best way for me to get over it is to bundle up all of my emotions about it, put it in a little shell, create something, and then let it go." -Clario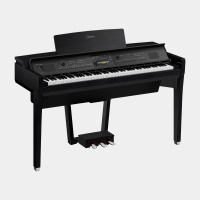 We rated this model a full 10/10 because of the instrument's attention to detail and versatility. While the flagship CVP model might not be as showy as the grand piano version, we ended up loving the CVP 809! From the instrument's huge sound bank to its crisp speakers and plethora of buttons, this model is a true pleasure to have in your home.
PROS
It makes an ideal instrument for those inclined toward music production
The styles section and mic input make the CVP-809 karaoke-friendly
The reproduction of tones is impressive given how many there are in the sound engine
The instrument combines the best of the Yamaha Genos arranger with new technology, all in a more visually pleasing chassis
It has a sturdy build meant to last years and years
The headphone technology makes playing plugged in just as good as playing out loud
The texture is available on both the black and white keys- Which is not as common of a feature as one might think!
When using the education features like guide mode, the instrument will wait for you if you are playing a wrong note
It's easy to make an accompanied song your own with intros, outros, and more inside the style mode
There are loads of opportunities to get 'just the right sound'
It comes with two very rich grand piano samples
CONS
No ⅛ inch input for earbuds
The price range is quite high- and varies widely depending on the retailer
At almost 200 pounds, this beast of an instrument is difficult to move around, even within one's living space
Lacks the sleek and convincing design of the GP version