Nord Lead A1 Review
We rated the Nord Lead A1 a 10/10. The Nord Lead A1 is a high-quality analog modeling synthesizer. It also has a multi-timbral synth inside, meaning that you get two Nord instruments for the price of one. From the redesigned analog modeling engine to a plethora of filters and an excellent oscillator, it's hard to go wrong with the A1. If you are a professional musician who is in the market for a synth, consider this model.
We rated the Nord Lead A1 a 10/10. The Nord Lead A1 is a high-quality analog modeling synthesizer. It also has a multi-timbral synth inside, meaning that you get two Nord instruments for the price of one. From the redesigned analog modeling engine to a plethora of filters and an excellent oscillator, it's hard to go wrong with the A1. If you are a professional musician who is in the market for a synth, consider this model.
Overview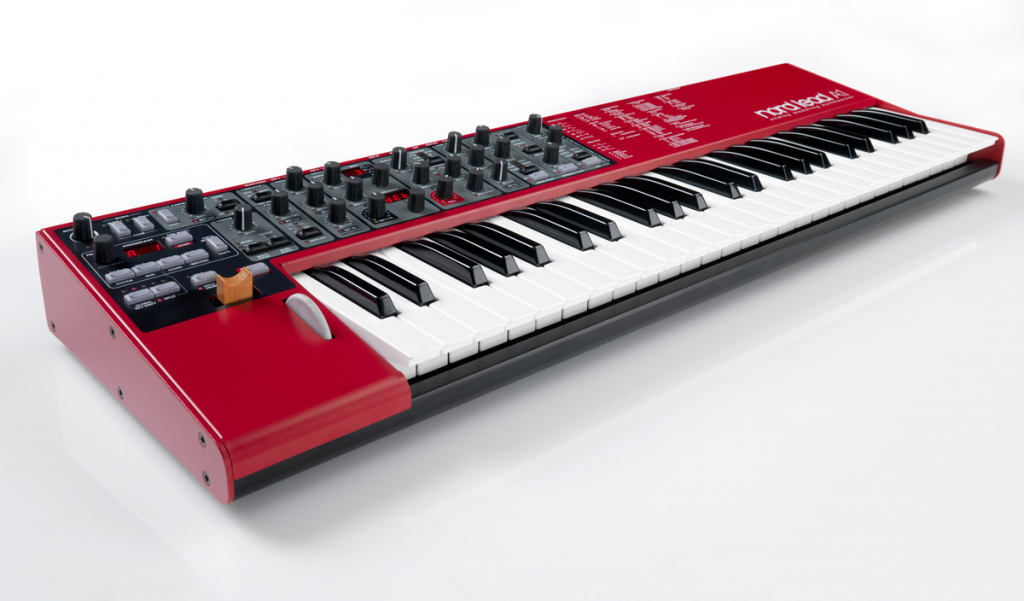 Some of my favorite model pianos and synths come from the Swedish manufacturer and brand, Nord. The Nord Lead A1 is no different! 
The Nord Lead A1 is considered an analog modeling synthesizer. Well…That's the model I found first. Actually, the Nord Lead has two types of A1 models available; the analog modeling model, and the 4-part multi-timbral model. 
Nord Lead A1 Packages
Before I get into the features, I wanted to take a moment to discuss the different instrument packages that are available for the A1. 
Virtual Analog Modeling
Most of our reviews up until this point have been on electronic keyboards. In this review, I'll give you a low-down on synthesizers, in case you aren't familiar with them. An analog modeling synthesizer is basically a synth that models (replicates) the sounds of old analog synthesizers. So, it is, in itself, not actually analog. It's a synthetic analog instrument. See what I did there?! 
All jokes aside…This instrument uses algorithms and other fancy electronics (that I have yet to understand) to replicate how the currents of old synths gave instruments that unique sound. The perk to getting an analog modeling synth rather than an actual analog synth is that this keyboard offers more polyphony, as well as internal audio storage. Some examples of other VA (virtual analog) keyboards include M-Audio's Venom model, as well as the ever-popular Virus line of synths. 
4-Part Multi-Timbral 
(Side note: If you are in the market for a Nord Lead A1 synth, please keep in mind that there is a price difference between these two A1 options.)
To understand what the 4-part multi-timbral synth is, we first need to know the root of the word: Timbre. 
Timbre is a term we use all of the time in the classical world. Timbre is the quality or color of a musical instrument. For example, a trumpet timbre is very different from that of a flute timbre, because of the shape of the sound wave that it makes. Some people prefer to speak in colors, whereas other people use adjectives to describe timbre. It is more of a personal preference. So now, how does this apply to the Nord synths?
The Nord Lead A1 Analog Modeling Synthesizer offers one timbre; that is, one musical tone color. The more expensive A1, however, offers multiple tones. It's like having a flute choir at your fingertips (analog modeling) versus a band (multi-timbral). If I were you, I'd go with this multi-timbral option.
Two Different Accessory Packages
Another thing to note besides the Analog Modeling vs Multi-timbral option is that there are two different accessory packages to choose from. The one pictured above is the most expensive. It includes the stand, soft case, and expression and sustains pedal. This comes out to about $2,498 if you get the Analog version of the Nord Lead A1. The other, more economical synth package is $2,029, and comes with just the case and stand. You might save some money here by buying the pedals separately, but, if you can't wait to play, I don't blame you. It sure can be a lot of hassle to buy onesie-twosies when it comes to accessories. 
The great thing about the Nord Lead A1 is all of the options. It is pretty rare to see multiple package options combined with multiple sound options, under the same brand with the same exact model number. 
I have always been a huge fan of Nord instruments when it comes to variety, as well as their high-quality sound engines.
 Next, let's dive into the (many) features of this beauty! 
Nord Lead A1 Features
The Nord Lead A 1 is a synthesizer of many features. Here's a relatively quick snapshot of its best aspects! 
Easy-To-Use
The interface on this one is f-r-i-e-n-d-l-y, friendly! This one will be easy for synth newbies to navigate. There are 3 LED displays, 3 encoders, 23 knobs, and more than 20 buttons. While this sounds like a lot, it really is pretty accessible to everyone. In addition to this, the front panel is touted to be super powerful. 
The Like Function 
You can like things on this instrument! But not, it's not like that little heart on Instrument. The like function on the Nord Lead A1 has to do with making patches. This allows you to save your patch as you go, letting you to built upon what you've already made, as well as save it into a temporary spot. After you get it just how you like it, you can save it into the main memory. 
This function makes it easier for live artists to build and correct as they go. No more having to wipe the slate clean in the middle of a gig, no more having to deal with that awkward silence from the audience *Wipes sweat from my brow* Shew. Good thing. 
A New Engine (Modeling Model)
The analog modeling version of the Nord Lead A1 has a brand new sound engine, with up-to-date technology. So, if you nab the more economical subtype of the A1, you are still getting state-of-the-art technology. 
Low Pass Filter High Pass, Band Pass, and More 
Welcome to filters galore! The Nord Lead A1 has your basic high and low pass filters, but it also has bandpass and other features. For example, you can change the frequency cutoff, as well as change the resonance and drive. 
Take a look at this video by Nord to get a better feel for how the filters work in action.
In case you are a pianist that isn't too familiar with filters, let me give you a few quick definitions.
High Pass Filter- A high pass filter reduces the force of low frequencies that are set at a certain point. It lets the high frequencies 'pass'.
That certain point where the frequencies are reduced is referred to as 
the cutoff frequency. The slope of the cutoff is how strongly those frequencies are reduced at the point of that pitch.(These parameters go for all filters.)
Low Pass Filter- A low pass filter reduces the force of high frequencies that are set at a certain point. It lets the low frequencies 'pass'.
Band Pass Filter- Now, this one is a little different. A bandpass filter is a second-order filter that is shaped like a circuit. You change the shape of the bandwidth to alter the frequencies that you allow in. This one has a pretty drastic difference when we compare it to the low and high pass filters we just talked about. 
Arpeggiator
No synth would be complete without an arpeggiator. (An arpeggiator is an electronic tool that cycles through a sequence of notes based on the speed of the click track that you choose. ) This arpeggiator in particular has a range of four octaves. There are actually four separate arpeggiators themselves, built into this model. And you can sync it all with something called the Master Clock. 
Morph Master Clock 
This function helps you to sync items from the arpeggiator, LFO, and more. You save your items to the clock. It also has a playback on it, as well as a tempo tap. 
A Great Range 
With only 49 keys, I have to admit, I was a little concerned at first…I am partial to the 61 key synths. But, it isn't unlike synth makers to have a smaller keyboard with an octaver. 4 octaves is a wonderful range for an instrument, and that is exactly what you get with the Nord Lead A1. 
Fatar Keybed 
Instruments made by Nord, and Korg have something called a Fatar keybed. Fatar is an Italian keybed and electronic instrument maker. If you are a pianist first and synth producer second, you very well may hate the feel of a Fatar keybed. Fatar is sort of one of those ' love it or hate it' things again. I would recommend that you try out some keyboards from Casio and see which you like better. If you like the feel of Casio, you probably won't like the Fatar, and vice versa. 
Wonderful Response 
Speaking of preferences…This keyboard doesn't take much to make her sing. For those of you who are light-fingered, this synth is perfect. The Nord Lead A1 responds superbly well to those who are the opposite of musically heavy-handed. 
Mutator
Everyone loves the mutator on this instrument. What it allows you to do is to make different types of the same patch, by editing the parameters by percentage. OR you can hit a wild card of a button, called "Randomize mode". This gives you a random set of parameters, so you can get an entirely new sound. I think that the randomizer mode is one of the best things about this mutator because it puts producers out of their comfort zone. And that is where creativity actually happens: When you're just a little bit uncomfortable.  
Unison Mode 
The Nord Lead A1's unison mode is known for being extra thick-sounding. It really does sound like a true, old-fashioned analog. Musicians seem to be especially raving about the Nord's unison, and mutator here. 
A Malleable Oscillator
While there is only one oscillator to be had here, it is a high-quality one. Here are the configurations that are available:
Sync

Pitch

DeTune

Sub Mix

Noise

Shape

AM

FM
Easy Patch Creation 
Making patches has never been easier for beginners. It's super easy to create, move, and save patches. And while I don't usually recommend Nord instruments for beginners, in this case, I do. 
Split and Layer Functions 
Split and layer functions are absolute standards on modern electronic keyboards, and the Nord Lead A1 rises up to them! You can split your sounds, and layer them so that you have multiple tones at your fingertips.
Smart LED Lights 
Many of the knobs on the A1 have LED indicators on them. So, it is really easy to see what is connected to what, and where. 
Multi-Genre Capabilities 
A lot of synths rabbit-hole themselves into specific genres, but this one doesn't. Because of the wide range of sounds and parameters available, the Nord Lead A1 can be used for a bevy of genres. Here are a few artists that use the Nord Lead:
December Avenue

Richard Barbieri

Steve Basil (With Machine Gun Kelly) 

DOMi
LFO, Mod Envelopes 
LFO stands for low-frequency oscillation. An LFO can make either a sweep or a pulse. It's more of an effect than a voice. Despite the name, an LFO is not actually an oscillator itself, but rather, it modifies the oscillator. The LFO mod envelopes control the amplitude, or height, of those waves. 
Analog Feel 
Many Nord Lead A1 users report that the keyboards, in combination with Nord's craftsmanship, make the synth feel like a true analog one, when it comes to action. 
Real-Time Effects 
This model makes it really easy to add real-time effects, such as reverb. 
The next step is to take a peek at the Nord Lead A1 Specs!
Specifications

Dimensions

: About 31.5 x 10 x 3.5 

Weight:

10.7 pounds 

Pitch bend:

Up or down one octave

LED Displays:

3

Knobs:

23

Oscillator Configurations:

8

Outputs:

4
Who Is It Suitable For?
This instrument is for everyone! From beginning synth players to gigging professionals. Hands down, one of the most versatile synths out there when it comes to the question "Who is it for?". 
Now, I am going to make one exception to the general rule here. 
If you are a classical pianist, the Nord Lead A1 may not be in your best interests. Consider the Nord Stage 2 or Nord Stage 3. These are better suited for classical players, both action-wise, and sound-wise (Obviously!).
Nord Lead A1 In Action
This all-playing, no-talking video by Synthway gives us a taste of what the A1 can do. They start off with a mild, buzzy sound, and then begin tweaking it from there. You can hear alterations in the oscillator, vibrato, tone, and much more. 
This review by Geosynths taught me quite a lot about the instrument! It's pretty long (28 minutes) so, here is what I took away from the video: 
The analog model has both digital and traditional waveforms

It has a plethora of parameters to play with

A 2:30 you can watch him use the 8 oscillator modes

At 15' in you can watch him use the arpeggiator. All I have to say about this one is wow. The first sound is nothing short of magical, and it continues to surprise me from there. 
There is a ton more to be gleaned from this video, but those are the key takeaways and sections to watch out for.
Pros and Cons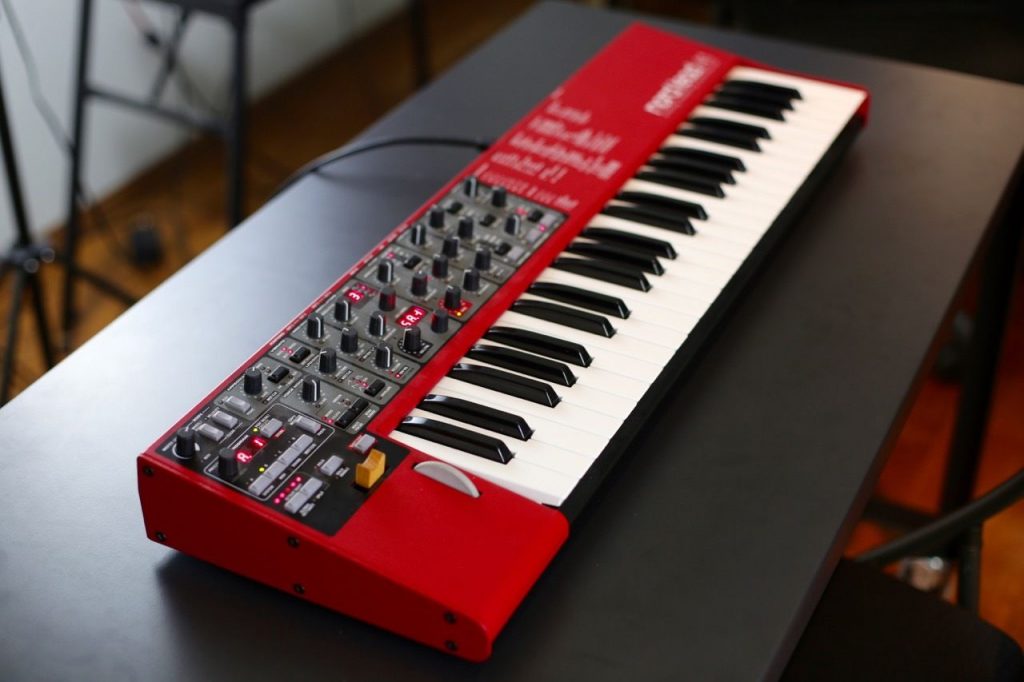 Pros
Mapping is really accessible on this instrument 

There are plenty of filter options 

The vintage synthesizer sounds are wonderful

It is easy to get good sounds on this synth

When it comes to building, it has heavy wood siding

It has both USB and MIDI connectivity

The keys are light and the action is great 

It is super portable, which makes it ideal for electronic gigs
Whether you are a newbie or a pro, this is a synth that is super easy to tote around. Because of its heavy build, you won't have to worry too much about it getting damaged. It looks, sounds, and feels excellent. Now, no instrument is without cons…
Cons
There is only one oscillator 

There is only one LFO 

The LED part of the panel can be difficult for users to navigate 

Vibrato modulation is limited when it comes to speed

You can't name your patches inside the Nord Lead A1 storage 

There are no drum kits on this model 

There are no internal speakers
One large downfall is that there is only one oscillator. It can do a lot, admittedly. But for the over two thousand dollar price tag? I honestly expected at least two oscillators. At least. Another complaint that I have that is in a similar vein is that there is just one LFO.
As far as user-friendliness goes, most of the interface deserves six out of five stars. But the LED display section of the interface is significantly more difficult to navigate when compared to the knobs and buttons. It may take some getting used to.
Nord is known for its state-of-the-art electronic technology. So it comes as a surprise that you can't even name your patches inside the internal storage. What?! If it were me that owned this instrument, the internal storage would get M E S S Y. 
Other cons, like that there are no drum kits or speakers, are dealbreakers for some producers, but not for others. 
When it comes to action and interfaces, those who like Moog and Prophet probably won't bite on the Nord Lead A1. So, know your brand preferences before buying, folks. 
Amazon Rating
This synth comes in at about 3.5 stars. Not bad, but let's see where the customers said Nord went wrong. 
Some say it takes some time to warm up to it before they really like it

It is difficult to control the output with the velocity 

Others report that the key beds are not as high quality as they would have liked 
As far as the good ratings went, here is what I found:
The fat sounds are wonderful

The action is sensitive

The built is sturdy

The bright red design is beautiful and eye-catching

It is easy for newbies to make patches and to get good sounds on, fast
Quick View 
Keys

49 keys

Touch sensitivity 

Velocity-sensitive

Sounds

Many options

You can run 4 simultaneous synthesizers 

Recording capabilities 

Both MIDI and USB

Metronome

Master Clock, Tempo Tap

Polyphony 

24 notes

Speakers

No – You will need external speakers

Headphones

Yes- One headphone jack

Accessories

Accessories vary depending on the package- See above

Price point 

Analog model: $1,799

Multi-timbral: $2,299
The Lead A1 Vs. The Stage Vs Brand Competitors
The biggest difference between the Nord Lead A1 and the Nord Stage models is that it is a matter of synthesizer versus piano. Another key difference is that the Nord Stage pianos have a full-sized keyboard (88 keys) whereas the A1 synth has just 49. While the Lead and Stage are both amazing instruments, they both serve very different purposes. Before we wrap up, let's talk about other instruments that compare to the Nord Lead A1.
The following synths are frequently put up against the A1. Let's see how they compare and contrast. 
Prophet Rev 2

Virus Ti2

Korg Prologue

Deepmind 12

Nord Wave 2
Prophet Rev 2
In my opinion, both the Nord Lead A1 and the Prophet Rev 2 are great synths. If you want more options when it comes to the oscillator, go with the Nord. If you want more in the modulation department, check out the Prophet Rev 2! 
The Prophet is actually more economical than the Nord Lead. It runs about $1600.
Virus Ti2
If you are looking for calculating power, then the brand Virus is the way to go. It is super compatible with Apple products, though it does work with Windows as well. When plugged in, it acts more like a plug-in than an external synth. This model runs for about $2000.
Korg Prologue
Korg also has Fatar keybeds, so if you are a fan of the feel of the Nord Lead A1, you'll probably like this. It has 61 keys, and 3 oscillators per voice. At $1500, this one probably won't break the bank. 
Deepmind 12
The Behringer Deepmind 12 has more oscillators and tons of algorithms. It is quite a bit cheaper, running about $800.
Wave 2
Lastly, another great one to check out is the Nord Wave 2. It has a few more keys and has 48 voices of polyphony (versus the lead's 24). This one runs about $2,700. 
Conclusion
I hope you have enjoyed this Nord Lead A1 Review! All in all, this is an amazing synthesizer, with a ton of features. And remember, always try it before you buy it! See ya next time in another Best Piano Keyboards review!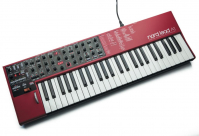 We rated the Nord Lead A1 a 10/10. The Nord Lead A1 is a high-quality analog modeling synthesizer. It also has a multi-timbral synth inside, meaning that you get two Nord instruments for the price of one. From the redesigned analog modeling engine to a plethora of filters and an excellent oscillator, it's hard to go wrong with the A1. If you are a professional musician who is in the market for a synth, consider this model.
PROS
Mapping is really accessible on this instrument
There are plenty of filter options
The vintage synthesizer sounds are wonderful
It is easy to get good sounds on this synth
When it comes to building, it has heavy wood siding
It has both USB and MIDI connectivity
The keys are light and the action is great
It is super portable, which makes it ideal for electronic gigs
CONS
There is only one oscillator
There is only one LFO
The LED part of the panel can be difficult for users to navigate
Vibrato modulation is limited when it comes to speed
You can't name your patches inside the Nord Lead A1 storage
There are no drum kits on this model
There are no internal speakers