Yamaha P125 Keyboard Review
We rated the Yamaha P125 9.5/10. This minimalist piano serves intermediate players best. The four surround-sound style speakers are nice and powerful. This model also comes with song practice mode, which includes a lot of staple classical repertoire (50 pieces). For the price, we do wish that there was a bit more recording capability. However, this instrument is still a wonderful choice. The keybed is realistic, and the touch sensitivity is adjustable. We definitely recommend this P125 model!
We rated the Yamaha P125 9.5/10. This minimalist piano serves intermediate players best. The four surround-sound style speakers are nice and powerful. This model also comes with song practice mode, which includes a lot of staple classical repertoire (50 pieces). For the price, we do wish that there was a bit more recording capability. However, this instrument is still a wonderful choice. The keybed is realistic, and the touch sensitivity is adjustable. We definitely recommend this P125 model!
Overview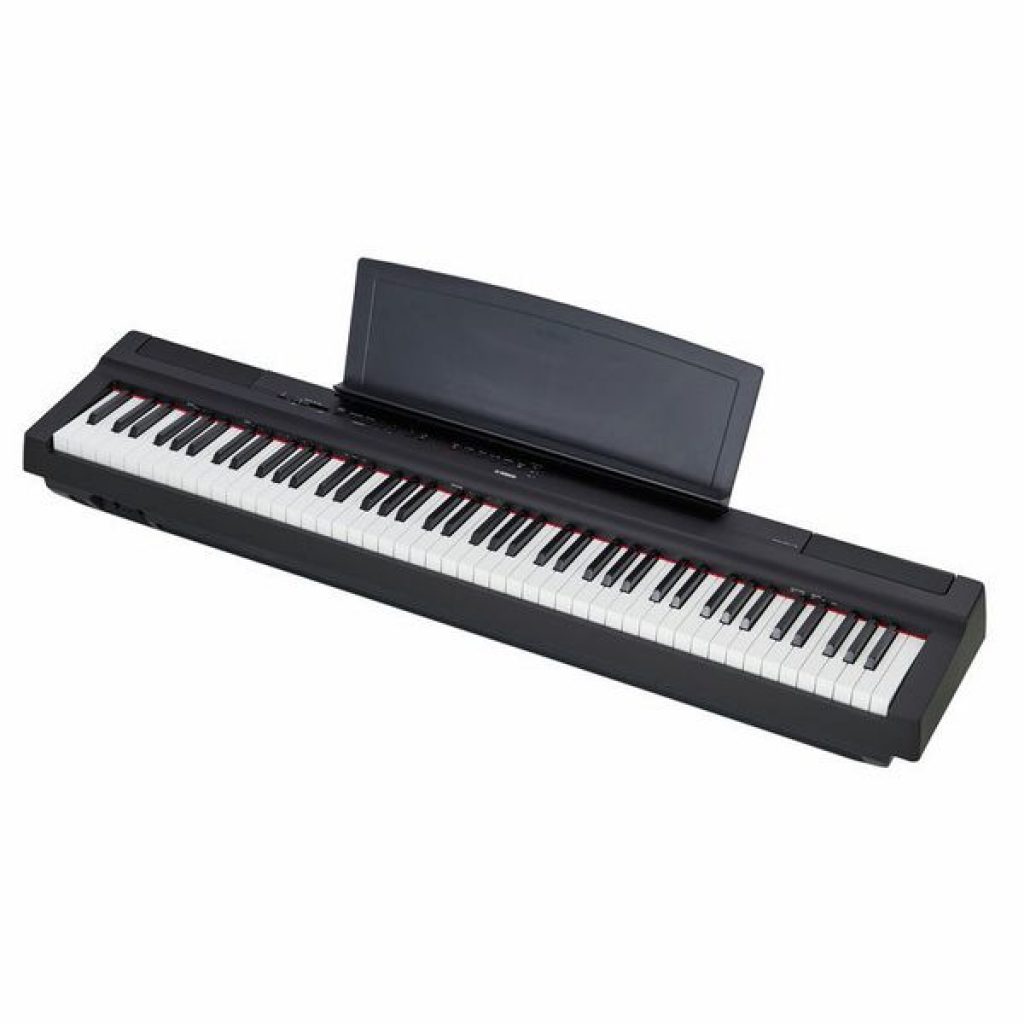 The Yamaha P125 digital piano is hugely popular – and for good reason.  Its sleek design looks good in any room – welcoming without being too imposing. The keyboard doesn't come with a stand, so you might opt to purchase the H stand designed to hold it in a living room setting. It looks just like a minimalistic upright piano and looks very inviting on the stand. This keyboard comes in black or white with the case available in either color. If you're considering using it as a gigging keyboard, you'll need to get a portable X stand, if you haven't already got one.  (Invest in a good one. Cheap ones are not always stable). 
This keyboard also has a special setting to select if you're going to use it on a table top. The setting improves the sound that the flat surface of a table would produce. But be advised that tables are not usually the correct height for playing the piano. They are usually too high, so only do this if you have an adjustable chair of some kind or it's just for a short time. It's not a good idea to start a child learning the piano at a table as posture and height at the piano is particularly important for children. 
If you opt to get the H stand that you can buy separately for this keyboard, you can also buy a pedal set designed to fit with the keyboard on the stand. This is the LP-1 and gives you the three pedals. If you use an X stand you can use the foot switch that comes with this keyboard. Advanced pianists have more need of the three pedal option. Children, beginners, and pianists who play pop/rock or contemporary piano can work with the single pedal very well. 
There is no LCD screen on the Yamaha P125. Functions are selected using the front panel buttons and a combo of button and key. However the keyboard can hook up to the free Yamaha "Smart Pianist" app from which all functions can be selected in a more intuitive way. 
Yamaha is offering a three-month membership to the "Flowkey" app until March 31 2022. After signing up, connect your device to the P125, load Flowkey and you'll get lessons and a large range of songs that you can learn. It shows you the music notes as well as a video of a teacher playing the song. 
Keyboard 
The keyboard has 88 fully weighted, graded hammer actions keys. The black notes have micro-textured finish which reduces risk of slipping and feels more comfortable. The feel of the keyboard is quite realistic when comparing it to an acoustic piano, although you do still know that you're playing a digital piano. The after touch and dynamic capability is good, but not maybe not the best in the price range (see comparison keyboards below for more info).
The keyboard weighs in at 26lbs which is easy enough to move or take travelling, but heavy enough to stay put really well on an X stand. A good weight makes it easier to get more volume out of a piano as you can hammer the keys with confidence. If you do intend to travel with this, or any other keyboard, do invest in a good travel bag to protect it – even if it's just going in the back of a car. 
Sound 
There are four piano sounds on the P125. The main grand piano sound is created with Yamaha's Pure CF sound engine, which is the sampled sound from Yamaha's best nine-foot concert grand. The sound is excellent and a pleasure to listen to. The sampled sounds are layered for more realistic dynamic sound, attack and decay.  
If you play the Yamaha P125 with headphones, you'll experience the effects of the "Stereophonic Optimizer" which imitates space, giving you an unusually good sound from the headphones. If you expect to be using the headphones a lot – for instance, practicing late at night or shutting out noise in your home –  invest in a good pair of headphones to get the full effect of the Stereophonic Optimizer. There are many on the market that are excellent quality without having to splash out a ton of money. 
Features 
Voices
The Yamaha P125 keyboard features 24 instruments to select from. These include four types of acoustic piano, four types of electric piano, four different organs, two harpsichords, one clavichord and one vibraphone. There are also four types of strings and four different basses. 
Four speaker system 
The 7W X 7W speaker system is divided between four speakers – two direct the sound upwards from the keyboard and the other two direct the sound downwards. This gives more of a "surround sound" effect and it's plenty of volume for an average size living room. However, there is a "sound boost" option if you want a bit more volume.
Alternatively, you can connect external speakers if you want a very noticeable boost. If you put the keyboard on a table or other flat surface, you can turn on the "Table EQ" which will direct more sound up and less down into the flat surface, giving you the best possible sound for the setup.  
Reverb 
There are four types of reverb to choose from including Recital Hall, Concert Hall, Chamber and Club. Within each type of reverb, you can set the depth from 0 – 20 depending on the style of music and the type of effect you want. This can add more depth to the sound and make it sound as if you're playing in a bigger room. 
Transpose
The Transpose function on the Yamaha P125 is just -6 to +6, meaning it can be set lower by one semitone increments through to six semitones either up or down. This a strange range to give it given that a lot of lower-end keyboards transpose from -12 to +12. If you want plus or minus seven semitones it's just too bad. I would guess that transposing more than a fifth is needed less often than smaller intervals, but there could be times you'd like to have that.
However, any children, beginners or intermediate players would have very little use for this.  It's mostly useful if you will be accompanying a singer who wants a song you're playing in a different key. Rather than transpose the music with your fingers, you can transpose the keyboard and keep playing in the key you're already familiar with. 
Fine tuning 
There is a fine tuning function which can be useful if you're playing with an instrumentalist who isn't quite in tune, or for playing along with recordings which can often sound at a slightly different pitch. There is a quick way to restore the tuning to the normal setting which is a nice touch. 
Duo mode 
Duo mode allows you to layer two different sounds across the keyboard and play them together. For instance, you may want to layer the grand piano with the main (full-sounding) strings patch. You might want to adjust the balance between the two instruments so that the strings are more subtle and the piano more upfront and the P125 will let you do that. Or you may want to combine an organ and a piano, setting the organ sound very low so that it doesn't overpower the piano. Note that you cannot layer two different pianos or two different string patches. Only instruments of different types can be layered.  
You probably wouldn't want to layer a piano and a bass as the bass sounds would sound unnatural on the higher keys. For that, you'd want to use split mode. 
Split mode 
Split mode allows you to divide the keyboard into two halves and apply one instrument to the lower half and a different one to the upper keys. This is where you could apply a bass to the lower half and piano to the upper and play some cool jazz piano with walking bass, for instance.
Metronome 
Pushing the lowest key on the keyboard while holding down the "metronome" button will result in the keyboard giving you voice confirmation of the current metronome setting.  It can be changed by increments of 10 at a time, or 1 at a time. This makes it slightly faster to select a number than having to scroll through all the numbers.
Setting the time signature gives you a strong downbeat. It can be set by pushing specific keys while holding down the metronome button. Again, a combination of holding the metronome button and pushing a specific key will allow you to alter the volume of the metronome. 
Song playback practice mode 
You can select one of the preset songs and mute either left or right hand which allows you to play along. Some of the 50 songs that come preset on the Yamaha P125 include Pachelbel's Canon in D, Air on the G String by Bach, Beethoven's Fur Elise and Moonlight Sonata (1st movement), Lieberstraume by Liszt (much more advanced), The Entertainer by Scott Joplin, and many more well known pieces. 
Rhythms
You can select one of the rhythms (drums and bass) to play along with. Some of the styles you can select include pop and rock, jazz, Latin, kids and holiday.  
Speakers off function 
Not many keyboards at this price point have a dedicated button to disable the speakers. Usually the speakers turn off automatically when you plug in the headphones. It's true for the P125 too. But the additional option to turn the speakers off without plugging in headphones is a nice little bonus.
Connectivity 
Connecting additional speakers
The two AUX jacks can be used to connect speakers if you want a more powerful sound. You can control how loud the external speakers are with the master volume, although you can turn the function off so the master volume doesn't affect it.  
Connecting a device and computer 
You can use the USB to connect a smart device. "Smart Pianist" is an app that you can download to your device. Connect the device to your keyboard and you can control your settings from your device rather than using the "button + key" way of selecting voices and functions. While all Apple products work with this app, the android devices that will work with Smart Pianist is limited to Google and Samsung devices. The USB to host will also connect your keyboard to your computer via a USB cable. 
Pedals 
As I said at the start, this keyboard can be set up with a single pedal or with the pedal set of three with the H stand. In case you're wondering how many pedals you'll be needing, here is an explanation. 
The "sustain" (also known as the "damper") pedal allows the sound of the notes to continue to ring out. Additional notes played after the pedal is pressed will also be sustained. When you release the pedals, all the notes stop. This pedal is used a great deal when playing the piano and it's difficult for intermediate and above players to play without one. Children and beginners have no need of it until they have learned to play the basics at least. 
On a pedal set there are three pedals. The one on the right is the "Sustain". The one in the middle is the "Sostenuto". This one sustains notes that are played as it's pressed, any subsequent notes played will not be sustained, but sound detached – just like any note played with no pedal.
There is very little call for this pedal and very few pianists would miss it. The left pedal is the "Quiet" pedal (actually called the "Una Corda", meaning "one string").  This makes the piano play quieter than normal. How much quieter depends on the piano. This pedal also gets very little use. Some advanced music requires it, but it's possible to get a similar effect by playing very quietly on the keys anyway.  
Specifications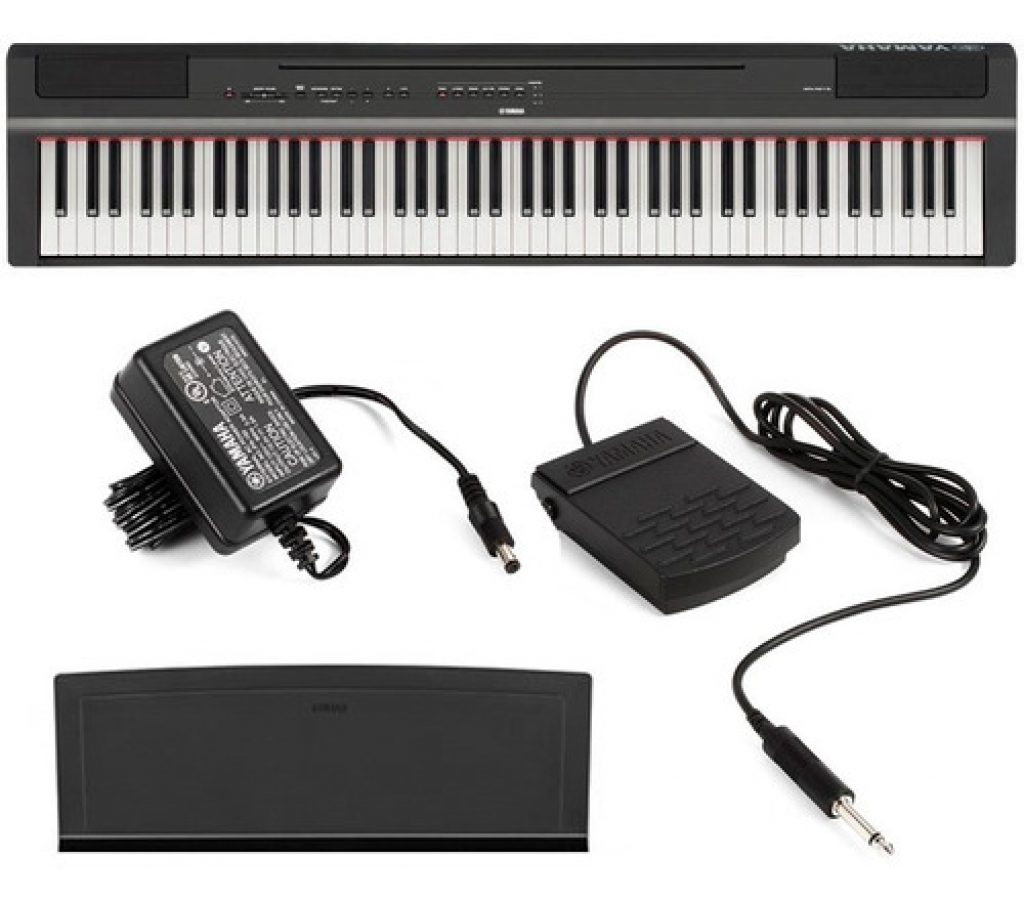 88 fully weighted graded hammer action keys

Matte black notes (anti-slip)

7W X 7W speakers (4 speakers total)

Yamaha's Pure CF Sound Engine 

24 instrument selection

192 polyphony 

4 types of reverb 

2 headphone jacks for duetting or teacher/student 

2 AUX OUT jacks

Sustain pedal/pedal unit jack 

USB to Host (with built-in MIDI interface)

IAC (Intelligent Acoustic Control) adjusts the balance between the high and low registers so it sounds good even at low volume levels. 
Who Is It Suitable For?
Beginner, intermediate or re-starter pianists 
Certainly, this would be an excellent keyboard for any beginner, intermediate or re-starter. The weighted keys are good for experiencing the feel of an acoustic piano. This means that if a beginner graduated to an acoustic piano after a year or so, they wouldn't struggle to adapt to the feel of the keys.  
An intermediate player would get a lot of satisfaction out of this keyboard. Because they can express the music by way of dynamics and using the sustain pedal, it would likely be a long time before they felt they wanted to upgrade to a better keyboard. The only drawback on this keyboard, in my estimation, is that there isn't a great deal of room for creativity or experimentation. The limited recording facility might limit free-flowing improvisation that could be captured directly to the keyboard. However, it's easy enough to connect a device that could be used to record. 
Experienced and serious pianists 
Many advanced pianists would be quite happy with this keyboard, particularly for playing pop and rock. As it has the weighted keys serious pianists demand, as well as a sustain pedal, it would be perfectly acceptable as a practice piano for playing late at night with headphones, or even just the ability to turn the volume down (very easy with the slider knob). Although a really high level classical pianist might want to look for a keyboard that offers a higher quality feeling keyboard with a heavier action and more control over dynamics.  
The main grand piano sound would be good for experienced pianists in particular. The other three piano sounds might be too bright or too dull for classical pianists. 
The ability to pack up the keyboard into a travel bag and take it on a plane or in the trunk of a car would make it very suitable for gigging.  
For anybody using a DAW (Digital Audio Workstation) such as Pro Tools, Ableton Live or Cubase, to name a few examples, this keyboard would make a very good MIDI controller. The USB has a built-in MIDI interface which is very handy. Without this, you'd need to buy an external MIDI interface and hook it up to your computer. This way is a lot easier. 
Similar Keyboard Comparison 
If you want to compare the Yamaha P125 keyboard with similar keyboards in the same price range, it's worth looking at the Kawai ES110 and the Roland FP30. These three keyboards are very similar in functions, quality of keyboard feel and piano sound. Also, one thing the Roland FP30 offers that the Yamaha P125 doesn't is Bluetooth connectivity. This allows you to transmit MIDI data and turn music score pages using a foot switch.
Like the Yamaha P125, the Kawai has 7W X 7W speakers but they are placed at the bottom of the keyboard while the P125 has four speakers – two at the top and two underneath. One isn't necessarily better, but they are different. Also, the Kawai has less voices – but more different pianos to choose from. The difference in sound is subjective, so if you want to find the best of the three for your needs, it's best to take a trip to your local music store and try them out. Certainly, it's best to phone ahead to make sure all three keyboards are set up in the store. 
Pros and Cons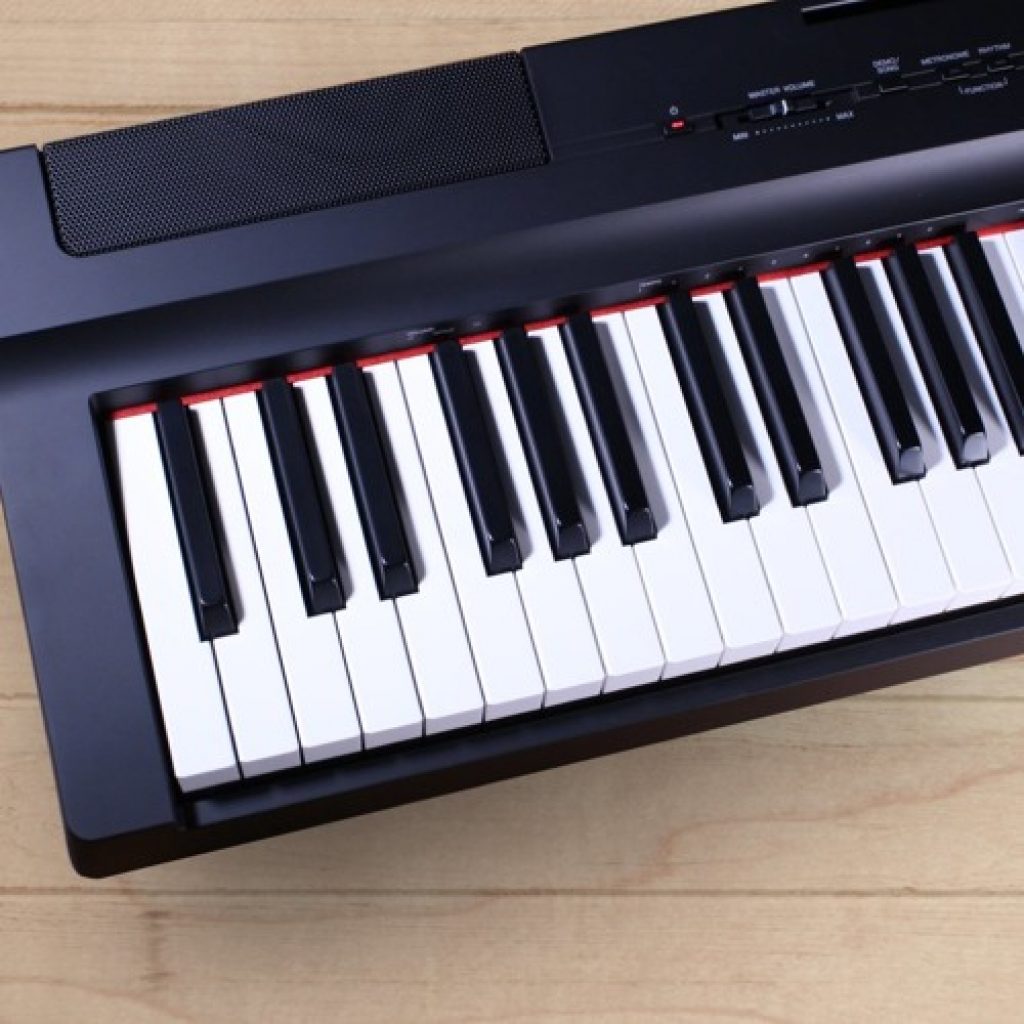 Pros 
88 fully weighted graded hammer action keys

Fairly good weight for portability, considering it has weighted keys 

192 polyphony is very good for the price range 

High-quality piano sound and feel 
Cons 
Limited recording capacity at one song, 2 tracks

Limited transpose of -6 to +6 (-12 to +12 would be better) 
Quick View 
Keys

88 weighted, graded hammer action

Touch sensitivity 

Touch sensitivity, (adjustable to hard, medium, soft, fixed)

Sounds

24 preset instruments, 20 preset rhythms, 21 onboard songs as well as 50 classic songs 

Recording capabilities 

1 user song with 2 tracks, maximum of 11,000 notes 

Metronome

Built-in metronome with 5 – 280 settings

Polyphony 

192 notes can be played/sustained at once 

Speakers

Built-in speakers 7W X 7W

Headphones

2 headphone jacks 

Accessories

Music rest, footswitch and power cable, (although power cable may not come along in a few areas – check with your supplier)

Price point 

$1000

Weight and Dimensions 

26lbs

52 X 11 X 6 inches 
Conclusion
Certainly, the Yamaha P125 is a well-built piano with a high quality main piano sound that would work really well for beginners, intermediates and even some more advanced contemporary music players. Also, you get quite a lot for the price in terms of quality and functions. If you want to have a greater range of musical instrument sounds to play with, there are plenty of other keyboards that offer more sounds, but often less quality keys.  
It's a shame that the Yamaha P125 keyboard doesn't have a bit more recording capacity and that it only transposes to -6 or +6.  But for the vast majority of people, these things certainly wouldn't be an issue. But in reality, a beginner or intermediate player wouldn't want these functions anyway for quite a while.  
The Yamaha P125 keyboard would be a very good option in particular for beginners, restarters and intermediate students. In fact, it could even be used as a gigging keyboard for the right piano player. The only person who might not be fully satisfied with this keyboard is a more advanced pianist. The fact that it only 24 instrument sounds indicates that the manufacturer built this keyboard with piano players in mind. So, if you are looking for something more creative – with more selection of sounds and more recording capability you can find a whole range of keyboards that will offer that.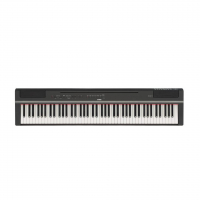 We rated the Yamaha P125 9.5/10. This minimalist piano serves intermediate players best. The four surround-sound style speakers are nice and powerful. This model also comes with song practice mode, which includes a lot of staple classical repertoire (50 pieces). For the price, we do wish that there was a bit more recording capability. However, this instrument is still a wonderful choice. The keybed is realistic, and the touch sensitivity is adjustable. We definitely recommend this P125 model!
PROS
88 fully weighted graded hammer action keys
Fairly good weight for portability, considering it has weighted keys
192 polyphony is very good for the price range
High-quality piano sound and feel
CONS
Limited recording capacity at one song, 2 tracks
Limited transpose of -6 to +6 (-12 to +12 would be better)