Yamaha NU1X Review
We rated the Yamaha NU1X a 9.5/10. This model has a great blend of features that will please many types of students. The polyphony on this instrument is really high, and the keyboard feels amazingly realistic. While there aren't a ton of sounds, the sounds on this instrument are excellent. We think this is a piano that many classical musicians will enjoy.
We rated the Yamaha NU1X a 9.5/10. This model has a great blend of features that will please many types of students. The polyphony on this instrument is really high, and the keyboard feels amazingly realistic. While there aren't a ton of sounds, the sounds on this instrument are excellent. We think this is a piano that many classical musicians will enjoy.
Overview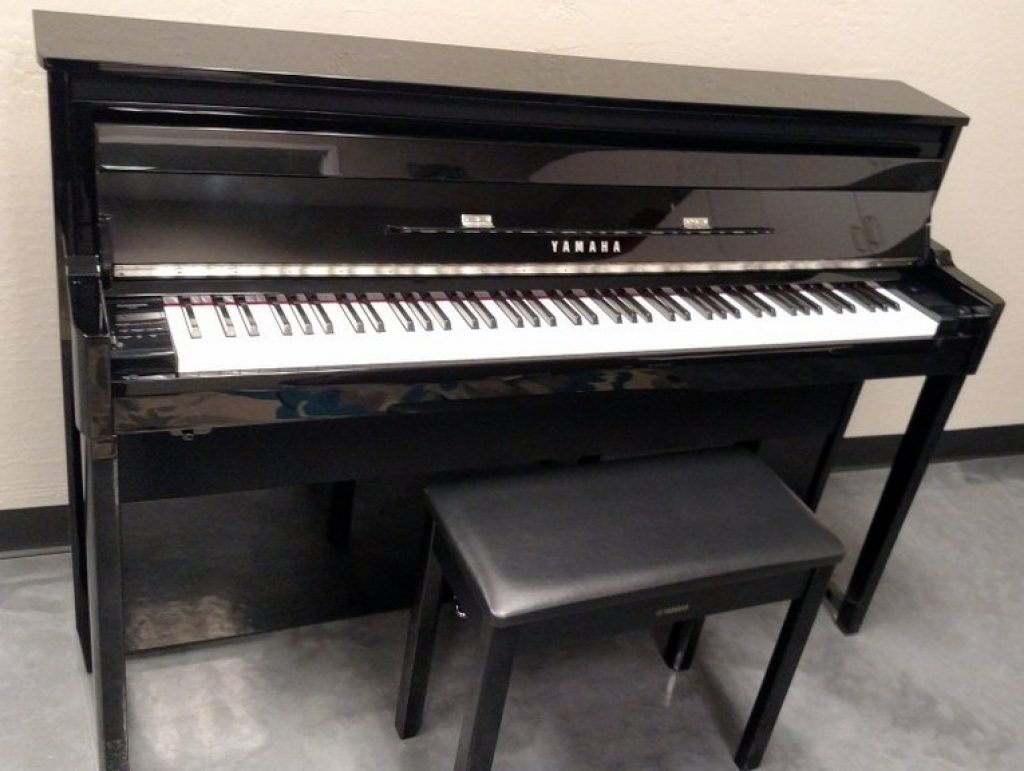 The full name of this beauty is the AvantGrand NU1X Hybrid Acoustic-Digital piano and it's one of a line of hybrid pianos from Yamaha. 
Yamaha have been making acoustic pianos since around 1900. The designer, Torakusu Yamaha even sent a piano to the 1904 St Louis World's Fair in the USA and won an Honorary Grand Prize for his exhibition. Western classical music was gaining interest in Japan at the time and Yamaha started to work with European piano makers to improve their knowledge and piano building skills. They quickly gained a good reputation and some world-class classical pianists, including Arthur Rubinstein, gave their pianos the nod.  
With such a long history of evolving and improving their products, it's hardly a surprise that Yamaha is one of the major players in the world of pianos – both acoustic and digital. What they've done with the NU1X is an artful blend of an acoustic action with the benefits of a digital piano.  
Yamaha NU1X comes with 15 different keyboard voices and they all sound top notch. With a range of sounds and features that will make you yearn, be warned – this piano falls into the higher price range for digital pianos.  
There are other models in the AvantGrand series. Yamaha NU1X is the "upright action" model. The N1, N2, N3 and N3X have "grand piano action" inside while the NU1X has an actual upright piano action. Being digital, none of them have strings, but the hammer action is real. The other big difference is in the size, power and location of the speakers for each piano. There is a comparison chart at the end of this review so you can quickly see the main differences between these three pianos. 
One thing I was thrilled to see if that this piano has a "soft close" lid. This is a real plus if you have children. As a piano teacher working with very small children, the lid falling on little exploring hands is always a threat and I've spent many a lesson with one hand pressed against the lid – or "fallboard" as it's called. Knowing that if it falls it's going to fall softly is a real plus. 
Keyboard 
This keyboard has a specialized action with acrylic-topped white keys and resin-topped black keys for comfortable playing and less likelihood of slipping. The feel is almost exactly like an acoustic piano because the resistance from the keys is literally the same action as the real thing.  
The sensitivity can be set to your preference – hard, medium or soft. Every pianist has their preference, so it's great to be able to set it differently for each player – or even the same player who wants a difference level of sensitivity for certain types of music. 
Sound 
The main sound of Yamaha NU1X is a sampled Yamaha CFX acoustic grand. The sound of each note has been recorded in depth, including decay using VRM – Virtual Resonance Modelling. This records the pitch as authentically as possible, including the effects of the strings and the soundboard.  
Microphones on both sides of the piano record perfect stereo so that when you play the piano it sounds exactly as it would if you were sitting in front of the original acoustic piano.  
When you connect your headphones, the binaural surround sound immerses you in the sound and you are likely to completely forget that you're wearing headphones (assuming you have comfortable headphones!)  
The second piano sound is the Bosendorfer Imperial. The Bosendorfer is one of the oldest makes of piano, dating back to 1828 and having the prestige of supplying instruments to the Emperor of Austria. Even the famous composer and pianist Franz Liszt was impressed with their instruments. The Besendorfer brand is now a subsidiary of Yamaha, which is why you find this piano sound on their pianos. 
Features 
Voices 
Yamaha NU1X comes with 15 keyboard sounds. All of them are lovely. First you have the two main piano sounds – The Yamaha CFX and the Bosendorfer Imperial. Then you have the Sudio Grand, Ballad Grand, Upright, Stage Electric, DX electric piano, vintage electric piano, harpsichord, a second harpsichord with a brighter sound, celesta, organ solo, organ tutti, jazz organ and finally a piano and strings mix.  
Adjusting the level of VRM (Virtual Resonance Modelling) 
The instruments on the NU1X have a default setting of VRM on so you get the full impact of the deep sampling of the original. However, you can change elements of it:
Damper Resonance Depth: 0 – 10 (default setting is 5). This affects the sound when you use the damper pedal.  
String Resonance Depth: 0 -10 (default setting is 5). This relates to the effect heard when playing the keyboard.  
Aliquot Resonance Depth: 0 – 10 (default setting is 5). This affects the amount of sympathetic resonance from the very top notes of the piano which are never damped (even on an acoustic piano) and therefore vibrate freely with every note played. 
Body Resonance Depth: 0 – 10 (default setting is 5). This changes the amount of resonance from the actual case of the piano.  
Demo songs 
There are 15 demo songs – one to demonstrate each of the different instruments. Some of the songs are famous ones by Bach and Chopin and some are originals created for Yamaha. You can change the speed of the demo songs which allows you to play along at a slower tempo if you're learning them.  
Aside from this, there are 50 onboard classical masterpieces that you can enjoy listening to and even play along with. Pieces include La Campanella by Liszt, Air on the G String by Bach, Clare de Lune by Debussy as well as many more very well known and loved pieces. 
Recording 
You can record up to 10 MIDI songs (1 track each) on the Yamaha NU1X. You can then copy and store the songs using the USB flash drive jack. Also, you can record audio (WAV) files but they have to be recorded directly onto the USB flash drive.  
Speakers 
The NU1X has a whopping 90W speaker system (45W X 45W) which gives the piano a really great scope for contrast between soft and loud playing. The speakers are excellent quality too, and don't distort. 
Reverb and effects 
The reverb can be turned on and off very easily. It can also be altered from 0 – 20 depth. Holding the Reverb button down will make the setting show up on the LCD screen. The default setting depends on the selected voice and any changes will be lost when the power is turned off. 
Transpose 
Yamaha NU1X can transpose from – 6 to +6 in semitone increments. This can be very useful if you're accompanying a singer and they want to try different keys. You can still play all the notes you have learned, or read on the sheet music, but it will sound in a different key. For instance, if you're playing a song in the key of F and it feels too high for the singer, you can transpose down two semitones, play the exact same notes, but it will play in the key of Eb.  
You could use this function to play "Happy Birthday" or well known holiday songs from sheet music that is often not written in a good key for the average person to sing. 
The transposition function is reset once the power is turned off.  
Fine Tuning 
Fine tuning can be used to detune the piano by tiny increments. This can be useful if you're playing with a recording that isn't quite in tune with your piano, or playing with another performer who is playing an instrument that doesn't quite get in tune. The setting range is 414.8–466.8Hz (=A3) Default setting: 440.0Hz (=A3). The fine tuning selection stays in place after the power is turned off. 
Scale tuning 
The Yamaha NU1X piano has seven different tunings to choose from. These are: Equal, Pure Major, Pure Minor, Pythagorean, Mean-tone, Werckmeister and Kimberger. The Equal tuning is what we hear every day and the default. The Werckmeister and Kimberger tunings were used mostly in the baroque era and gives a true sound of the music of Bach when using the harpsichord particularly. If you play in these additional tunings, you need to select the key that you'll be playing in. 
Metronome 
There is a metronome button to quickly start and stop. You can choose which beat you want an accent on (accented with a bell sound) by holding down the metronome button and pressing a specific key on the keyboard. This corresponds to your time signature. You can also have no accent, which can be useful for playing repeated sections that aren't necessarily starting on the down-beat. No accent is the default setting. The default is reset whenever the power is turned off.  
The volume can be adjusted in the same way – holding down the metronome button and pressing a certain key on the keyboard. The setting can be from 1 to 20 with the default being 15. 
The speed or "tempo" can be changed by pressing the plus or minus key. The tempo settings go from 5 to 500 bpm. I'm not sure 5 or 400 to 500 would ever be useful. Usually when you want to play at high speeds you would play multiple notes per tick rather than have a superfast metronome. However, maybe some people like this. The default setting is 120 which is an average speed. 
Connectivity 
You can use the speakers from the NU1X to play music from a portable audio player using the portable audio player's headphone jack connected to the AUX IN jack on the piano.  
Using Bluetooth, you can connect an audio device and play music through the piano speakers. 
You can use the L/L+R, R jacks to connect alternative speakers. 
The MIDI IN and OUT jacks require MIDI cables which are widely available. You can use these to connect other MIDI devices to the piano, such as another keyboard or synthesizer. 
Connect the piano to a computer using the USB to HOST connection. This will allow you use the piano to record into a DAW (Digital Audio Workstation) and use recording software such as Pro Tools, Cubase or Garageband. 
Pedals 
The Yamaha NU1X comes with a 3-pedal set built into it. The pedals are high quality and feel just like the pedals you would find on an acoustic piano.  
The far right pedal is the "Damper" or "Sustain" pedal and is the most used. Experienced piano players will place their right foot over this pedal without even thinking. 
This NU1X has a specially designed pedal so that you can interact with the amount of sustain even more exactly to how the pedal on a grand piano would feel. It offers "half-pedal" action, which means you have control over how much sustain there is on any given notes you play. (On many keyboards you have a separate sustain pedal that you plug into the "damper" jack but they rarely give such a realistic pedal feel.) 
The middle pedal's name the "Sostenuto". This is similar to the damper (or sustain) pedal except that it only sustains the notes you play at the time you activate the pedal. And, notes played subsequently are not sustained. There isn't a great deal of call for this pedal. It's generally used in advanced classical or contemporary piano music.  
The far left pedal is known as the "Una Corda" (meaning "one string"). On an acoustic grand the entire hammer mechanism shifts (and usually the keyboard too) so that the hammers only strike one string for each note. (Normally notes in the center of the piano have three strings each, the top notes have two, and the lowest notes, one). This gives a subdued, muted effect which can create atmospheric music. This is another pedal that isn't used a great deal except for fairly contemporary piano music. It could be used as a quiet practice device – and often is on an acoustic piano – but a digital piano has the benefit of a volume control and headphone jacks so it's not needed for that use. 
Specifications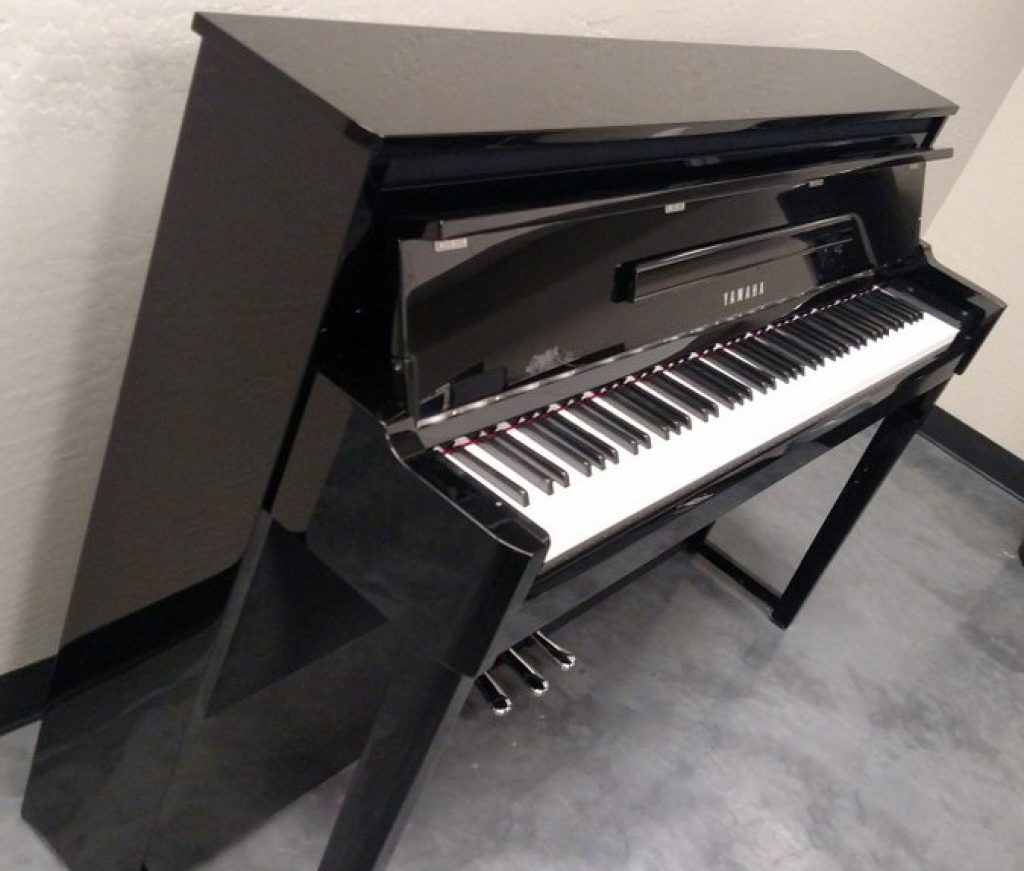 88- note specialized piano action with acrylic and resin keys
4 types of touch sensitivity
VRM sound reproduction for deep sampling
15 keyboard sounds, each with demo song
50 onboard classical masterpieces to listen to or play along with
Recording capability
256 note polyphony
USB TO DEVICE, USB TO HOST and MIDI IN/OUT/ headphone jack
Bluetooth
Who Is It Suitable For?
Beginner 
Anyone who first took their fingers for a walk on a piano using the Yamaha NU1X digital piano would have every advantage, short of having a beautiful acoustic piano. With the sensitivity set at the right level for them, perfectly even keys and several fantastic piano sounds, there's every chance they would fall in love with the piano and become committed to learning to play. With metronome and recording capability at the touch of a button, it's hard to imagine a more encouraging way to start. As noted, it's a plus that it has a "soft close" lid if children are playing.  
If you're looking for a piano for your child to begin learning on, this might seem like too much too soon. But actually, if they start out on a piano as good as this it increases the chances of them taking to it and continuing with it for the long-term. It can be soul-destroying for a musical child to want to play and have cheap rattling keys and electronic sounds. So if your budget can stretch and you want a beautiful instrument in the house, it's a great investment. Remember that such a good instrument has resale value as long as you look after it correctly.  
Although some much less expensive keyboards offer more creative features such as over 100 sounds to play with, children soon tire of too many sounds. Meanwhile, the carefully chosen quality sounds on this piano would inspire any musically inclined person.  
Experienced and serious pianists 
I believe most experienced pianists would be impressed with this piano and have no difficulty spending some time on it. Some serious pianists might be reluctant to admit that this is a quality instrument worthy of the best masterpieces written for the piano, but I believe they would come round.  
Classical pianists would appreciate the evenness of the keys and the very realistic feel of the action. The two main piano sounds are completely convincing and the celesta is particularly beautiful. A classical pianist might really enjoy the harpsichord sound on this instrument too especially for playing Bach or Scarlatti.  
Pros and Cons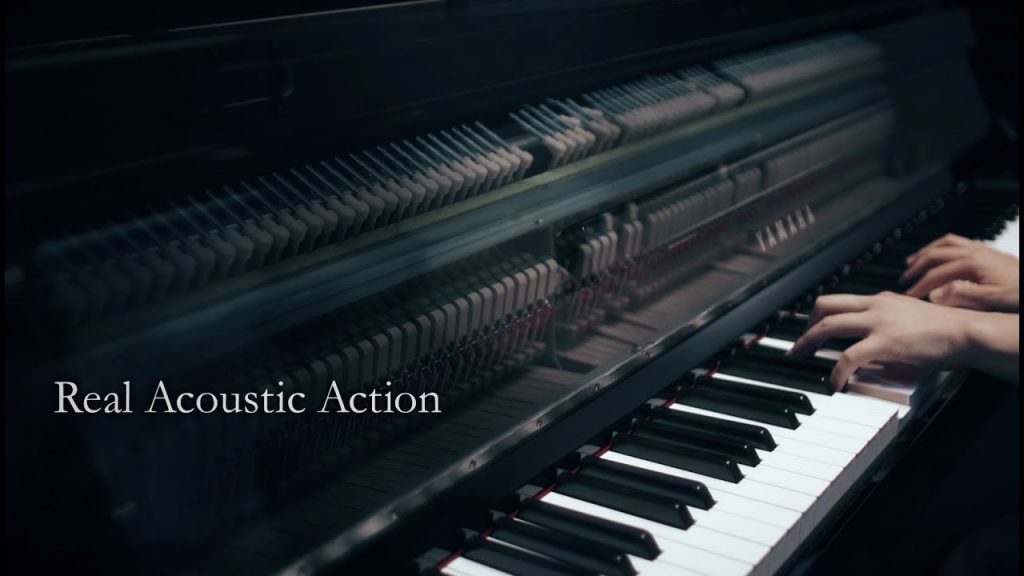 Pros 
Beautiful realistic weighted hammer action keys 

Top quality piano sounds, and secondary sounds that are also top notch 

Real piano feel and sound but never needs tuning and has volume control and headphones. 

Good connectivity 

Soft close lid 
Cons 
Quick View 
Keys

Specialized Piano Action for NU1X with Acrylic white keys and Phoenolic resin black keys 

Touch sensitivity 

4 settings: Hard, Medium, Soft or Fixed 

Sounds

15 keyboard instrument sounds, each with a demo song, plus  50 classical masterpieces.

Recording capabilities 

Onboard MIDI recording for up to 10 songs, 1 track each, plus USB Audio Recording (WAV file) to USB Flash Drive 

Metronome

Built-in metronome with 5 – 500 range 

Polyphony 

256 notes can be played/sustained at once 

Speakers

Built-in speakers 45W X 45W = 90W total 

Headphones & Connection

1 headphone jack 

USB TO DEVICE, USB TO HOST and MIDI IN/OUT

Bluetooth 

Accessories

Music rest and full pedal set built into piano. 

Price point 

$6,600

Weight and Dimensions 

245lbs
Conclusion
The Yamaha NU1X is a beautiful piano and lovely piece of furniture. The technology is tops in the field of digital pianos. The action would satisfy the vast majority of pianists and be one of the best choices for anyone beginning to play. The only possible better choice would be a really good acoustic piano. At this price point, you would have the choice of buying a really good new piano. The reason that you might choose this one over another is mainly the noise factor. If you like to play late at night it's fantastic to be able to lower the volume or use headphones but still have the feel of a real piano rather than a keyboard. Added bonus is it will never need tuning. 
Being able to play late at night, or privately without disturbing anybody around you might lead to increased practice time and this could be a very valuable, even life-changing plus. It takes away the all to often said, "Shhhh, you can't play now, you'll disturb the neighbors" giving the piano student a life-long fear of disturbing people when they play. At 245lbs this is a fairly heavy digital piano, but considering an acoustic piano can weigh from 350lbs up to about 500lbs, this isn't so bad. Two people can move this around in a room at least without too much trouble. To move an acoustic from one end to another often involves calling out a professional mover. 
The bottom line is that if you have the budget and the space for this instrument, you couldn't go wrong with the purchase. 
Finally, here is a quick overview of the models in the Avant Grand series and their main differences. They all have a "soft close" lid, 256 polyphony, approximately the same connectivity and recording capability. The N2 is the most different as it has a "soundboard resonator". In fact, here's more about that in the review of the N2.  
NU1X
N1
N2
N3
Speakers

45W X 45W

25W +

30W X 5

22W X 10 +

80W X2

22W X 10 +

30W X 4 +

80W X 2

No. of voices

15

5

5

5

Action 

Upright

Grand

Grand

Grand 

Weight 

245lbs

265lbs

313lbs

438lbs
We rated the Yamaha NU1X a 9.5/10. This model has a great blend of features that will please many types of students. The polyphony on this instrument is really high, and the keyboard feels amazingly realistic. While there aren't a ton of sounds, the sounds on this instrument are excellent. We think this is a piano that many classical musicians will enjoy.
PROS
Beautiful realistic weighted hammer action keys
Top quality piano sounds, and secondary sounds that are also top notch
Real piano feel and sound but never needs tuning and has volume control and headphones.
Good connectivity
Soft close lid