Nord Piano 3 Review
We rated the Nord Piano 3 a 9.8/10. This pro instrument has a lot going for it. From its sturdy hybrid build to a plethora of high-quality effects and sounds, the Nord Piano 3 is a huge crowd-pleaser. The only big con we noticed was the large learning curve when it comes to figuring out the features of this piano itself. It does what it was designed to do, superbly: Serve pro musicians.
We rated the Nord Piano 3 a 9.8/10. This pro instrument has a lot going for it. From its sturdy hybrid build to a plethora of high-quality effects and sounds, the Nord Piano 3 is a huge crowd-pleaser. The only big con we noticed was the large learning curve when it comes to figuring out the features of this piano itself. It does what it was designed to do, superbly: Serve pro musicians.
Hey there, how are you? It's Aleah, I'm back here again with BestPianoKeyboards. Today we are going to be doing a Nord Piano 3 review.
It's funny, just this afternoon I was recalling how I used to bring this little, unweighted, battery-powered keyboard over to my grandmothers when I was a kid. We would play terrible versions of Chopsticks with this keyboard, on her bed. I've come a long way. From Chopsticks on that keyboard to licensed music educator, then to…Piano keyboard snob! Anyways. Thanks for joining me here again. Let's delve into this gem of a piano, the Nord 3.
Nord History and Instrument Overview

The Nord piano 3, 88-key piano is an instrument that I am so thrilled to be teaching you about. The brand Nord (Clavia) is actually based in Sweden. More specifically, they are located in Stockholm. 
Before 'Nord'  was really well known, there was the brand Clavia. (Clavia owns Nord and its instruments). According to Wikipedia, Clavia became really well known for its Nord Lead. This instrument was released in 2005. The Nord Lead was a synthesizer. It simulated an analog synthesizer (Analog synths use analog signals and circuits to make sound). It's clear to see that this maker has been delving into vintage sounds on keys for quite some time. 
Nord exclusively produces electric (also known as stage) pianos. As far as instruments go, there have been 5 lines of pianos produced by this company. (Before the Nord stage line there were other instruments produced by Clavia, like the Nord Electro 2 and the Nord Lead, as well as other electronic synths and pianos. But for today, we are going to focus on the Nord Stage..). They were produced in the following order:
Nord Stage

Nord Stage EX

Nord Stage 2

Nord Stage 2 EX

Nord Stage 3
The Nord Stage 3 is the newest iteration of their electronic piano. This one came out in 2017. But, regardless of which particular model you are looking at, the truth is this: Their instruments are so high-quality. Here's the run-down on this particular instrument :
The Nord Piano 3 is a full-sized, professional keyboard with grade-weighted action. It is known for holding a lot of memory and its triple-dynamic pedal, as well as for its realism.  It has a huge library of sound and a lot of unique voices. I think that this one could win over just about anyone. Here's what the makers have to say about this instrument in the description: 
"With outstanding new keyboard technology, improved grand weighted action, and expanded memory for the exclusive Nord Piano Library – The Nord Piano 3 takes piano feel and realism to a new level. The Nord exclusive Virtual Hammer Action Technology simulates the hammer movements in a Grand Piano delivering outstanding authenticity and dynamic response. It features 1 GB of memory dedicated to the exclusive sounds from the Nord Piano Library carefully selected for their specific and individual character.
The ever-expanding Nord Piano Library is filled with uniquely sampled acoustic and electric instruments, with an outstanding range of velocity levels allowing for exceptional dynamic control. The Sample Synth section in the Nord Piano 3 has 256 MB memory dedicated to the Nord Sample Library 2.0 – a selection of high-quality sampled sounds from a wide range of genres including the exclusively licensed sounds of the Mellotron and Chamberlin.
The Effect section features great, tweakable effects for instantly adding dirt, glimmer, or atmosphere to your sound. It has dedicated knobs and buttons for all vital functions required in a live performance situation. Transposing, setting up a split point, or creating a layered sound can be accomplished in seconds. The crystal clear OLED display provides an excellent overview when selecting or editing Sounds, Effects, and Programs on stage.
A new Organize function allows you to effortlessly rearrange the order of Programs, Pianos, and Samples. The Nord Piano 3 has two sound sections that can be combined in a layer or split over the keyboard. Each of the sound sections can have specific effects, Volume Pedal and/or Sustain Pedal assigned to them – for example, chorus and Sustain Pedal on the Piano and some Delay and a Control Pedal on the Sample Synth. The split function includes 6 split points, indicated with LED lights".
Nords' trademark is their bright red keyboard. Some say it's too loud, and others love it. No matter what side you're on, it is clear to see that the Nord has a lot to say. Now, let's take that block of features and text and put it into context (haha..puns are great guys…).  Here are the best features of the Nord 3:
Nord 3 Features
Virtual hammer action:
One of the best features of this instrument is the Nord Virtual Hammer Technology. This simulates the hammer motions in a Grand Piano with excellent dynamics and an authentic response. This Nord Hammer Technology creates a lively and impressive sound. The Nord 3 is also capable of the layer and split modes. This makes it really easy to create complexity in your music. In addition, it's all easy to operate, especially in the context of live performances.
Authentic-Feeling Keys:
The keys are weighted, which enhances dynamic control. This piano feels really authentic when compared to an acoustic. It's a reliable, responsive, and sensitive instrument. At the Nord factory, the individual fatal keypads are calibrated. This makes all the difference. 
Quality Voices:
The Nord Piano comes with plenty of pre-loaded voices. But if you want to change them, you will be able to! You can alter the voices with the included DVD. Simply use the DVD with your computer. From there, drag and drop the sound files inside of the sound manager. Some of the sounds that this piano has includes: 
Electric pianos

Clavinets

Hammond organs

Upright pianos

Brass instruments

Mallet instruments

Synths

And many more digital pianos and simulations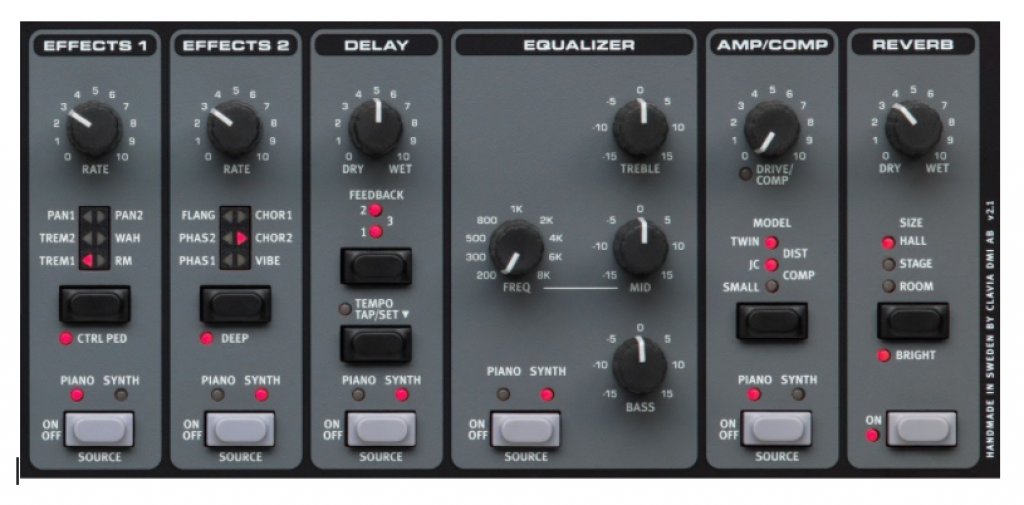 Dynamic release and powerful effects:
Take a look at those gorgeous effects above. Yep, that's the Nord 3 for you. The Hammer Action Technology also comes with a velocity-sensitive release, which dynamically dampens the sound based on how rapidly you can release the key. Also, it is really easy to use the effects, which are located on the top side panel of the instrument. The control panel that allows you to pan, or use chorus, tremolo, EQ, and reverb.
Other Mentionable Features:
It has a 88-note Triple Sensor keypad with improved grand weighted action

Its OLED display 

Has dedicated knobs as well buttons for every function

It has 1 GB worth of  memory for the Nord Piano Library

The FX engine includes Phaser, Chorus, Reverb, Delay, Wah, Flanger, Compressor, 3-band EQ, and AMP Simulations

It has 256 MB worth of space for the Nord Sample Library

Comes with Nord's Triple Pedal

It has that classic Nord Piano sound

It has separate Reverb or Delay effects

The remolo, Pan, Ring-Mod, and Wa-wa features can be navigated with the Control Pedal
Specifications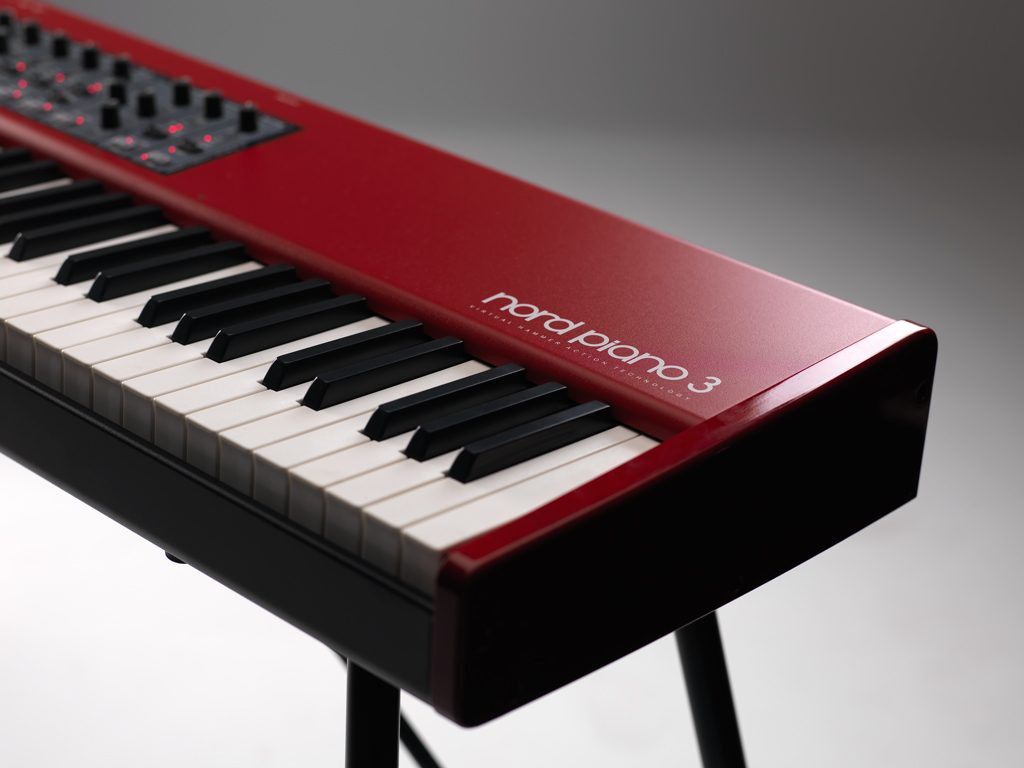 Weight:

40 lbs

Dimensions:

51 x 4.8 x 13.4 inches

Pedal outputs

: 1

Audio outputs:

2

Volume Pedal Input:

1

EQ:

3 band EQ with sweepable Mid

Effects:

Effect 1 includes pan, tremolo, wah, ring modulator

Effect 2 includes phasers 1 and 2, flanger, chorus 1 and 2, and vibe

Depths:

Each effect has two selections for depth

Amp simulations:

3 types

Memory:

1 GB

Sound Library Memory:

256 MB
Who Is It Suitable For?
This piano is suitable for serious pianists, who are looking for the ultimate control over the sound of their electronic keyboard. This instrument is more than excellent for the gigging pianist. In fact, the Nord 3 piano is an instrument that no professional would be disappointed in. 
If you want a keyboard that can be moved around for live playing, definitely get a Nord. Its bright red will attract attention from every audience member in attendance. But that isn't the main perk:
Even though it has a lot of wood and metal in its composition, it's really surprising how light and portable it is. Not to mention, with it being built from more wood and metal than the average keyboard, it is more likely to withstand moves and heavy use. 
Are you a hobbyist with a home recording studio? Once again, this piano is wonderful. As long as it is within your means, I think that anyone will find themselves completely overjoyed with the Nord 3.  Before we move on to the next section, I'd like to take a moment to mention some official Nord Artists. Perhaps you've heard of some of them!
Nord Artists You May Know
David Archuleta

Steve Basil (Machine Gun Kelly)

Brandon Bush (John Mayer, Train) 

Kenny Carkeet (AWOLNation)

Jon Cobert

Brandon Coleman

David Cook

Mia Fitz (Hozier)

Kit French (Parachute)
Chances are, you have listened to someone on the radio who is a Nord artist. Even I was surprised at some of these names! Undoubtedly, Nord is a big deal in the world of popular music. 
Pros and Cons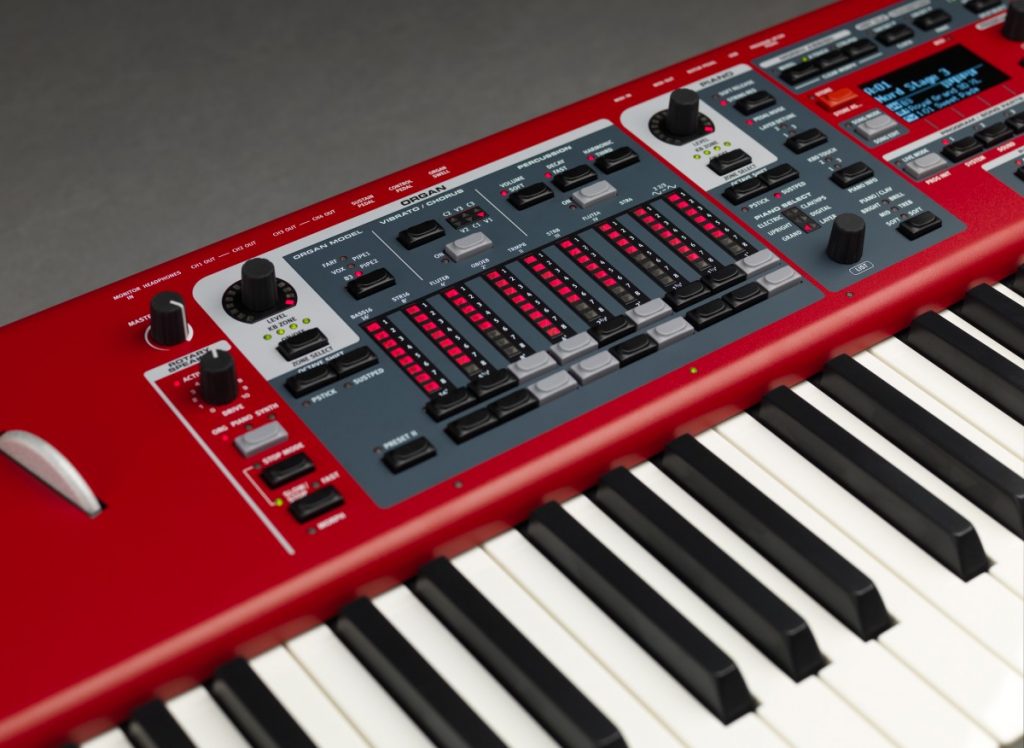 Pros:
Its action is absolutely delightful

The acoustic piano sounds are excellent

It has customizable sound sets

Includes EPs and a sample library

It's surprisingly portable!

It has sigh-quality on-board impressions, which really add icing to this pianos cake 
Overall, there is so much controlling power at your fingertips with this instrument. The Nord Piano 3 feels wonderful to play, and the acoustic piano sounds are the closest thing I've ever heard to an electronic piano sounding, really. Its on-board options only add more icing on top of this delicious piano-cake. Now, no instrument is without its cons, so let's take a peek of the downfalls to the Nord 3: 
Cons:
Voice stealing with the synth selection can sometimes be an issue

The user interface can have a bit of a learning curve to it.

The instrument does not come with speakers

This piano is really pricy
Really, price is the only main con of the Nord 3. Honestly, if you can afford it, this piano is 1000% worth it. It is also worth noting that voice stealing while using the synth selection can prove a bit tricky. The same goes for learning how to use the interface. That being said, this piano is clearly made for someone who is a professional. Certainly, with a little bit of practice, any piano pro will be able to navigate the user interface. 
Lastly, the piano does not have built-in speakers. Depending on who you ask, this is a con. Built-in speakers are really convenient. You can just plug-er-in and go! That being said, external speakers are almost always better. It looks like what Nord did here is only creating the best of the best. They excel at keys and effects and grade-hammer action, so that's what they gave us. Like I mentioned earlier, no Nord Stage piano comes with built-in speakers. If you are looking for a high-quality, professional piano with speakers, I suggest looking to Yamaha.
But getting a piano that required extra speakers shouldn't be a deal breaker for the gigging professional- Gigging professional will already the speakers to plug it into! And if you don't, there's still hope: Nord goes the extra mile here and actually sells external speakers. They are red (of course), and high-quality. They run approximately $799. If you're willing to pay the price for the Nord piano, you might as well pay the extra $799 to get them to match. (It's the equivalent of getting a Martin case to match your Martin guitar, really. Or perhaps I've gone too far off into my music snobbery again..) Anyways, onto the Quick View!
Quick View 
Keys

88 full-sized, weighted, graded keys

Touch sensitivity 

Sensitive touch

Sounds

This piano includes a huge library of sounds, as well as a DVD with extra sounds which you can drag and drop from

Recording capabilities 

Multi-track-Yes

USB to MIDI/ MIDI in and MIDI out

Metronome

Yes

Polyphony 

40-60 voice polyphony

Speakers

No

None of the Nords models have built-in speakers. They recommend purchasing the red, Nord (external) speakers separately

Headphones

1 headphone output, 1 monitor output, 2 audio outputs (L and R)

Accessories

Comes with: a Nord triple pedal, User manual, power cord, Nord Piano Library, Nord Sample Library 

Optional: Dust cover, music stand, soft case, keyboard stand

Price point 

$2,999
The Nord Piano 3 in Action
While everything has looked excellent so far, this is the final test. Let's listen to the Nord in action with James with ThePianoForever. The first thing he said was that Nords are hard to find, and I agree. In fact, I wish I had the chance to own one (Eyes instrument feverishly). Starting at 5 minutes in he shows us the owner's manuals as well as the sample library CDs that the instrument comes with. It's really nice to be able to see someone unpack a piece of equipment before you get it. 
Once he gets it open he notices that the side panels are made of wood, and the knobs are all made of metal or wood as well. This is pretty unusual to find an electronic piano built with so little plastic. I'm impressed! 
At ten minutes in, he treats us to a sample of Clare de Lune. So, if you want to go ahead and skip to the part where you can hear the Nord 3 in action, I can't say I blame you! My first reaction was this: "Is he actually playing on an acoustic piano? Where are the strings? Ugh, my heartstrings." What excellent sound samples and craftsmanship. And that's just the default setting. James coins this as 'sympathetic resonance'. Some people think it is a little much, but I think it is perfect.
The Nord 3 also has sound samples of the Imperial Bosendorfer (remember that article we did that talked about how many keys?) as well as Steinway, and Italian Grand. This is breathtaking, especially considering the fact that most pianos just have general sample names like "Honkytonk" or "Grand piano".
But wait, there's more to learn about! I know, I know, you're probably thinking, "Are you serious Aleah?" Yes, I'm serious. Lucky for us, James with The Piano Forever had the time to do two reviews. Click here to watch it. But be warned, it is almost an hour-long.
Nord 3 Piano Conclusion
I could go on and on all day about the Nord 3 piano. This is an amazing instrument, that has more features than most professionals would know what to do with. If you get the chance, grab a Nord piano for yourself. Certainly, you won't regret it.  
Be sure to come back to BestPianoKeyboards for all your piano reviews, tips, and tricks. Bye for now!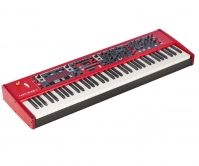 We rated the Nord Piano 3 a 9.8/10. This pro instrument has a lot going for it. From its sturdy hybrid build to a plethora of high-quality effects and sounds, the Nord Piano 3 is a huge crowd-pleaser. The only big con we noticed was the large learning curve when it comes to figuring out the features of this piano itself. It does what it was designed to do, superbly: Serve pro musicians.
PROS
Its action is absolutely delightful
The acoustic piano sounds are excellent
It has customizable sound sets
It includes EPs and a sample library
It's surprisingly portable!
It has sigh-quality on-board impressions, which really add icing to this pianos cake
CONS
Voice stealing with the synth selection can sometimes be an issue
The user interface can have a bit of a learning curve to it.
The instrument does not come with speakers
This piano is really pricy