Yamaha YDP-S55 Review
We rated the Yamaha YDP-S55 an 8.5/10. This is a solid instrument with a beautiful sounds, and is a very handy spacesaver. We wish it had Bluetooth compatiblity and a larger bank of sounds, but believe that it makes an excellent piano for a wide range of audiences. This one is great if you are a no-nonsense (aka, no bells and whistles) style performer, or if you are just getting started in the music world.
We rated the Yamaha YDP-S55 an 8.5/10. This is a solid instrument with a beautiful sounds, and is a very handy spacesaver. We wish it had Bluetooth compatiblity and a larger bank of sounds, but believe that it makes an excellent piano for a wide range of audiences. This one is great if you are a no-nonsense (aka, no bells and whistles) style performer, or if you are just getting started in the music world.
Overview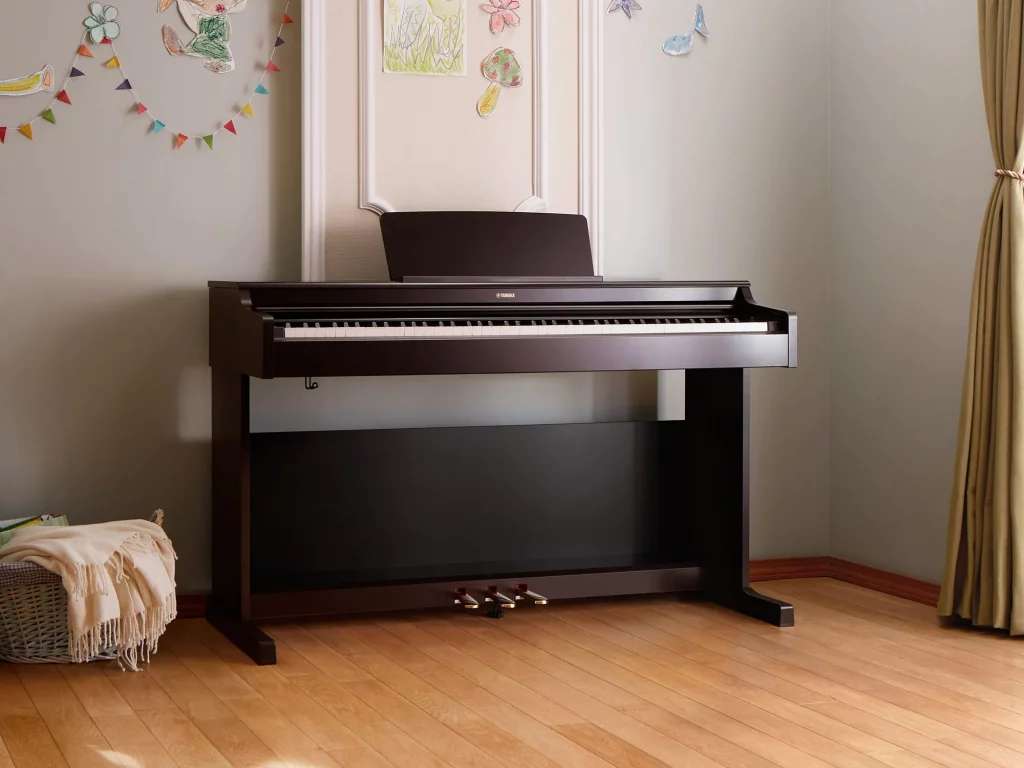 The Yamaha YDP-S55 is a digital console piano with GH3 weighed keys and the CFX concert grand sound. The S55 is a member of the Arius family. Yamaha Arius are known for being solid instruments that are accessible to a wide range of ages and players. 
This particular model is a member of the slim series, meaning that it is a double space saver, especially after we consider the fact that the instrument can double as a tabletop when not in use. It is basically a slim version of the Yamaha YDP-165.The YDP S55 was just released this past June, making it one of Yamaha's newest releases, alongside the S-35, YDP-105, YDP-145, and YDP-165. 
This overview video from the manufacturer gives us a good idea of what to expect.
It is advertised as having "sparkeling highs" and "resonant bass" sounds. But does it live up to all of the hype? In this Yamaha YDP-S55 review, we will delve more deeply into this expressive pianos features, including its new sound technology, and more. 
Features
VRM Lite Technology 
Yamaha's VRM (or, virtual resonance modeling) has a lite version, which means that, even if a clavinova is out of the budget right now, you can still get more than a taste of really realistic samples. Tgis technology seeks to replicate sympathetic resonance (See video here ). This is what virtual resonance modeling is, according to the manufacturer:
"The VRM (Virtual Resonance Modeling) technology recreates the distinctive sound of a grand piano by faithfully simulating the complicated interaction of both string and soundboard resonance.
Depending on the timing of keys being played and the timing/depth of damper pedals when pressed, VRM produces various resonant sound, and allows for richly-varied playing expressions."
Key-Off Samples
Key-off samples replicate the sound and feeling of the key coming away from the instrument. This adds a subtle 'je-ne-sais-quoi' to the sound, and makes the digital piano feel more authentic. 
New Ear-Friendly Functions
The Yamaha YDP-S55 has had a lot of time put into it, and it shows. This model has special technology that automatically adjusts the balance of sound depending on which volume you have it set to. According to the manufacturer, the YDP-S55 creates an experience that is easy on the ears, even if you are playing for hours and hours like some of us music aficionados do. 
Yamaha Smart Pianist App
Smart Pianist is an app that connects with your piano, and can analyze the chords in the songs within your own personal music library. This fun tool can get you or your student playing along with tunes you listen to on an everyday basis.
10 Solid sounds
The sound bank is small yet might (as is with most Arius models). It features the following types of voices: 
Pianos 

Organ 

Strings 

Vibraphone 
I would like to take a moment and acknowledge how high-quality the piano is as a whole. The high-ends are indeed shimmering, and the lows are as rich as chocolate cake. 
Slim Cabinet Design
This extremely thin space saver looks modern and flat, making any room you put it in appear more contemporary. 
Stereophonic/Acoustic Optimizer
Yamaha's stereophonic optimizer is a tool that makes listening through headphones a convincing (near-acoustic!) experience. The company created the stereophonic optimizer when they recognized that playing piano through headphones just isn't the same as playing out loud. Now, you can listen to yourself play with some of the newest headphone technology on the market today, making every note more spacious and resonant. 
Another new sound-related feature on this piano is that it allows you to set a maximum volume on the instrument itself, so those with sensitive ears won't become overstimulated. 
Countless Songs and Accompaniments
This model has 353 on-board songs, along with 303 practice exercises. These practice exercises are excerpts of pieces written by classical composers like Bach to Beyer to Hanon and more. 
Flat tabletop lid
This model doubles as a table! The S55 has a flat tabletop lid, so you can make the best use of the space that you have.
Other Features Include: 
4 reverbs

Intelligent Acoustic Control (IAC) 

Stereophonic Optimizer

Dual/Layers

Duo

Synthetic ebony and ivory keytops 
Specifications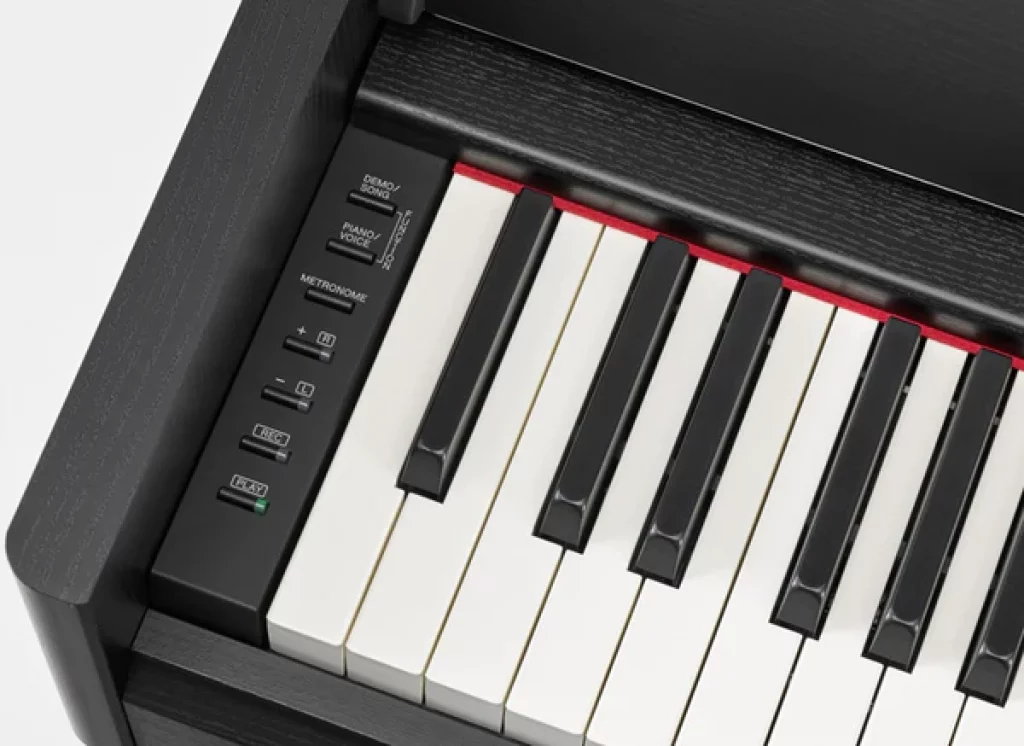 Weight: 83 pounds

Dimensions:

Power :16V DC,power supply included

Height:31.18″, 38.24″ (when the key cover is open)

Width: 53.25″

Depth:12.18″, 12.46″ (when the key cover is open)

On-board songs: 353

(10 demo songs, 50 classic songs, 303 lesson songs)

Reverbs: 4'

Pedals: 3-pedal unit, 1 input

USB Connection: Yes, 1 type B

Stereo Speaker System: 12 cm x 2

Stereo Amplifier: Yes, 20 W x 2
Who Is The Yamaha YDP-S55 Suitable For?
The YDP-S55 is best suited for beginners to advanced players who are more interested in piano performance than they are production or composition. 
The reason why I believe it is best suited for performance over the other categories is because of the combination of a few (high-quality) sounds and the GH3 action. There are plenty of learning tools onboard, and the instrument has 353 built in songs to keep you playing. 
Several music experts have even stated that the YDP-S55 is an undercover Clavinova! You get a lot of bang for your buck for this one- but only if you are going to be using it for performances, particularly in the realms of classical and jazz. If you are interested in music production and movie scoring, there are much better options out there. 
Customer Reviews 
The Yamaha Arius YDP-S35 only has one review on Sweetwater.com, which is a (surprisingly low) 3.5/5. The customer said that it was a great digital piano that was responsive, and feels good. They were disappointed that there was no place to hang headphones on the back, and also wished that the instrument was Bluetooth compatible. 
Pros and Cons
Pros
This is a nice step-up model that has more features than some of the other Arius, like the YDP-S35

YDPs, as a whole, are excellent mid-level cabinet pianos for the home, and are very high-quality 

It has a relatively high amount of polyphony 

It comes with a full pedal unit that supports half-pedaling

It has the same features as the YDP-165, so you can get the same piano that fits into a smaller space

You can get more features and sounds if you use the Smart Pianist App with the instrument (free of charge)

It has a split feature
It is hard to go wrong with the Arius line, from a key-feel perspective. The detail that has gone into this line of instruments is impressive. This instrument has the little details that will wow you, like the key-off sampling and automatic sound adjustments. 
This model has a full three-pedal unit that supports half-pedaling, so you can be expressive in your music. It also has a split feature, which most Arius's do not have. Teachers and students can have more seamless one-on-one lessons when they are able to play side-by-side in the same octave. 
Overall, you get the Yamaha YDP-165 that takes up a fraction of the space. Collegiate music students will really enjoy this one, especially in a dorm or apartment setting, since the top is flat and doubles as a table.
Cons
This instrument only has 10 sounds, which is a small number given the price tag

These furniture-style pianos are heavy, and aren't great gigging instruments

Unlike the YDP-165, it does not come as a bundle, this is just the stand-alone instrument

The Smart Pianist app does require a cable connection

It isn't Bluetooth compatible 
If you've been reading our reviews regularly, you know not to expect a massive soundbank from the Arius line. I didn't include the lack of headphone hangers in the cons list because honestly, they aren't that common, nor are they necessary. Usually, when I play on my DGX, I put the headphones on my music stand or speaker when not in use. 
The biggest con for me is that it isn't Bluetooth compatible. Because there isn't Bluetooth on this model, features like the Smart Pianist app have to be connecting via a cable. Many over-one-thousand-dollar pianos have this feature, but unfortunately, this one doesn't. 
Comparable Instruments
The Yamaha YDP-S55 can be compared to the following instruments: 
The Yamaha Arius YDP-184

The Yamaha Arius YDP-165

The Yamaha Arius YDP-145

The Yamaha Arius YDP-S35

The Yamaha Arius YDP-S54 and S52

The Yamaha CLP-725, CLP-735
The Yamaha Arius YDP-184 is considerably more expensive than the S55, at about $2,399.99.  That being said, it does have a total of 24 sounds, which most Arius's do not (many only have 10, which is one of my small but chief complaints about this high-quality line. 
It also has a music library with a whopping 250 songs, and much more polyphony than the others on this list (256 notes).
The Yamaha Arius YDP-145 is a graded-hammer standard keyboard with CFX sound and the same number of polyphony as the 164, and the S55.  This one is as new as S55. It is hard to find online since it sells out so quickly, but be sure to keep checking online retailers such asGuitarcenter and Sweetwater. 
The YDP-S55 is most comparable to the YDP-S35 and the YDP-165. The Yamaha Arius YDP-165 is non-slimline version of this piano. It has the same GH3 action, CFX sound, etc.
That being said, the S35 doesn't have some of the features such as key-off samples, but it does have the high-quality GH3 keyboard, and comes in at a lower price since it isn't quite as new. 
If you are looking for an older model slimline Arius that you can find used in stores, try the S54 or S53 models. Lastly, the CLP line is also a great choice, if you are looking to spend more, and get more. Both of these models have the sought-after Imperial Bosendorfer sound, along with a host of impressive features and shimmering tone colors. 
Quick View 
| | |
| --- | --- |
| Keys | 88 full-sized GH3 keys  |
| Touch sensitivity  | Yes: Hard/medium/soft/fixed |
| Sounds | 10 total sounds |
| Recording capabilities  | 2-track MIDI recorder, USB to host, device  |
| Metronome | Yes |
| Polyphony  | 192 notes of polyphony |
| Speakers | Yes, 2 built-in speakers  |
| Headphones | Headphones not included, 2 standard stereo headphone jacks onbaord |
| Accessories | Owner's Manual, 50 Classical Music Masterpieces Music Book, Online Member Product Registration, Warranty*, Power cord*/AC adaptor* PA-150 or an equivalent recommended by Yamaha *varies by area |
| Price point  | $1,599.99-$1999.99 |
| | |
YDP-S55: Conclusion
I hope you've enjoyed this Yamaha YDP-S55 review. In conclusion, the S55 is a high-quality digital furniture-type piano with a no-nonsense soundbank, and many excellent features to get your piano playing off on the right foot. 
" I wish you music to help with the burdens of life, and to help you release your happiness to others" -Ludwig Van Beethoven
Sources: 
Specs from Yamaha.com and Sweetwater.com.
Sympathetic resonance video: (Michael McPeck )