Yamaha YDP-144 Review
We gave the Yamaha YDP-144 a 7.8/10. This particular model is a member of the Arius line of pianos, which means it is geared towards beginners. It has an authentic feel and built-in effects. The included learning tools such as the songbook and demos will help new pianists out, and the YDP-144 package includes everything you need to get started. Despite a handful of cons, including a small sound bank, this instrument is still a great purchase for a wide range of students. 
We gave the Yamaha YDP-144 a 7.8/10. This particular model is a member of the Arius line of pianos, which means it is geared towards beginners. It has an authentic feel and built-in effects. The included learning tools such as the songbook and demos will help new pianists out, and the YDP-144 package includes everything you need to get started. Despite a handful of cons, including a small sound bank, this instrument is still a great purchase for a wide range of students. 
Overview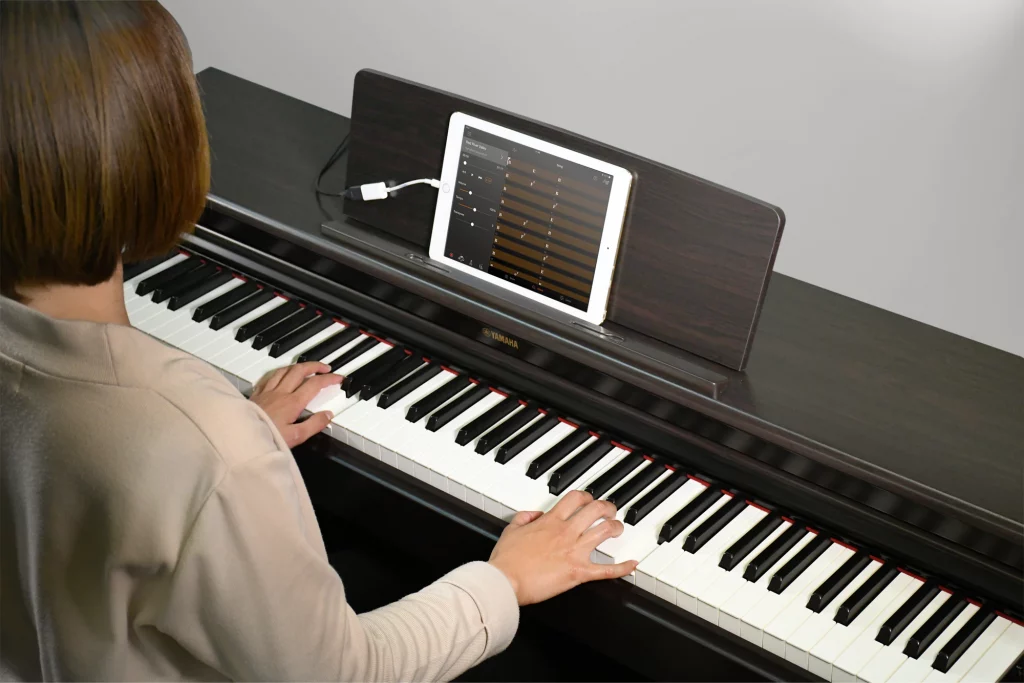 Hey there! Today we are taking an in-depth look into another Arius piano in this Yamaha YDP-144 review. 
The Yamaha YDP-144 was first released in 2019, along with the YDP 164. It was created to replace the older model from the Arius line, called the YDP 143. This particular model has a better sound engine than the YDP 103, as well as a few other updates. So let's take a look at what the 144 has to offer us! 
Features
Yamaha's Authentic Feel
GHS weighted keys are a must-have for serious students. Every piano in the Yamaha Arius line has Yamaha's authentic feel. This brand originally started by out making acoustic pianos, and later expanded to electronic. Because they are experts in both acoustic instruments as well as electronics, this leads to a combination of stellar quality, and a realistic feel.
Put the Pedal to the Metal…Or Classical 
The Yamaha YDP-144 has three built-in pedals. It also has a half-pedal option, which means that you can have a softer, more acoustic-sounding effect like what you would get on a pedaled piano that has strings. It is great that the pedals are connected to the instrument. Some keyboards come with them included, but they are simply wired in. I have had keyboards like this. But when you play, the pedal can 'run away from you. Since this model has them built-in, you'll have perfect foot placement every time. 
A Sleek Sliding Key Cover
Many electronic pianos come with the keys open, exposing them to dust (and even worst, spills and crumbs!). The Yamaha YDP-144 comes with a sliding key cover. I love this inclusion, as it protects the piano much better than other comparable (beginning) models in this price range. 
Intelligent Acoustic Control 
Intelligent acoustic control, or IAC, is a button that improves the clarity of the high and low ends of the range on the piano. It especially improves the sound quality when you are playing at a low volume. To learn more about this feature works, check out this Youtube video by Yamaha! It is only 30 seconds, and it shows how it works with low-volume sound, on a moving chart. 
Stereophonic Optimizer
Stereophonic optimizer is Yamaha's fancy word for "Our system that improves headphone sound". The stereophonic optimizer is a feature that is present in all of the current Yamaha Arius pianos. Yamaha dubs it "A new kind of headphone experience". Basically, it adjusts the headphone sound so that it feels more natural. Oftentimes, when we musicians use headphones, the binaural sound is a little flat. The stereophonic optimizer adds that dimension we crave back in. 
Damper Resonance 
Like many other instruments in the Yamaha line, this model has damper resonance. According to Yamaha, this is a 'parameter that is controlled by the sustain pedal'. In acoustic instruments, there is something called sympathetic vibrations. Essentially, when one string is hit, the others vibrate, too. You can see sympathetic vibrations in action here. In the examples, Bobby uses both a pendulum and a guitar. 
When damper resonance is activated on an electronic Yamaha instrument, it works to recreate the natural vibrations one would find in an acoustic piano. 
Unfortunately, the acoustic piano voices are the only voices that have damper resonance programmed. That being said, I love the fact that, inside the settings, you can adjust this effect further, with the Dry / Wet selection. If you would like to learn more about how this effect, as well the 'key off' effect is used, check out this page by Yamaha.
Two-Track Internal Recording
The internal recording feature allows you to layer up to two tracks, and save them on the instrument itself. This is really helpful for composers and songwriters if they want to get their ideas down fast. I wish there was an option for three or four internal tracks, but this is a beginner model.
Demos 
With this instrument, you get 10 voice demo songs and 50 classic demo songs. The classics match up with the songbook that is included in the Amazon Yamaha YDP-144 package. Demos are expected in models in this price range, and Yamaha delivers! 
Yamaha's New CFX Sound Engine 
Like I mentioned earlier, the YDP-144 has Yamaha's new CFX Sound Engine. The model that is one notch lower than this (The Yamaha YDP 103) has an older sound engine. The difference between the CFX and the earlier engine is tremendous. We will hear it in action later in this article.
String Resonance
String resonance is yet another feature many Yamaha pianos have. This one, once again, is no different! 
In acoustic pianos, the middle and lower keys have dampers, but high keys don't. This video shows the actual sound waves and audio of the digital string resonance on and off. 
Key-Off Samples 
I made a nod to the key-off sounds earlier. You can turn on sound samples that replicate the noise a key makes when you lift your finger from the keyboard. Yamaha has gone so very far when it comes to making their digital pianos feel and sound acoustic. Much to my surprise, the beginning Arius line has many of the same features that the more expensive digital models have as well. 
You can listen to key-off samples in the video here.
Virtual Resonance Modeling
VRM is another one of the many digital effects that simulate acoustics. It is very much related to the string resonance and sympathetic vibrations that we mentioned earlier. It is simply another layer on top of Yamaha's digital sound cake, that adds that extra tasty icing. 
10 Quality Voices
Here are the 10 voices you get with this model:
CFX Grand Piano

Mellow Grand Piano

Pop Grand Piano

Stage Electric Piano

DX Electric Piano

Harpsichord

Vibraphone

Pipe organ

Strings

Jazz organ
A little bit later in this review, we will check out what they all sound like.
Included Songbook
The "Fifty Classical Masterpieces" songbook is included with the Yamaha YDP-144. These songs are also built into the demos, as I mentioned earlier. Having both the sheet music and track to reference is a great set of tools for the beginning pianist.
Tuning
This keyboard can be tuned from 414.8 – 440.0 – 466.8 Hz. This allows you to play period pieces the way they were intended. 
A Wide Metronome Range
This model (along with others from the Arius line) offers up a huge range, metronomically speaking. The metronome has a wide option of 5 to 280 beats per minute. That is way more than you will ever need! I believe that the average musician can play accurately (slowly) at is 40 bpm. I'm not quite sure what you would do with 5 beats per minute given that statistic, 
Four Reverbs
It is common for pianos of this caliber to have multiple reverb options, and this one certainly doesn't disappoint. Here are the four reverbs available on the Yamaha YDP-144:
Recital hall

Chamber

Concert hall

Club
I don't recall seeing the 'club' reverb on the other models, but I could stand corrected. Club recreates the sound and feel of the space of a jazz bar. 
Other Effects
Yamaha's brilliance boosts the higher frequencies of a given piano sound. Think of it as 'brightening' the timbre. To learn more about brilliance, check out the brilliance settings in action here.
Master effects are effects that are added to the sound right before it gett put out through the speakers. Within master effects, there is:
– VCM Compressor 376/Multi-Band Comp 
And 
– Dynamic Filter/ Ring Modulator
You can learn more about those elements on the Yamaha page here.
Other Features
Layering

Duo

Split

Digital control 
The Yamaha YDP-144 offers standard electronic piano keyboard features, like layering, split, and duo mode (so that you can play with a friend!). It also has an option to control your keyboard with your phone, using the "Digital Piano Controller" app, just like on the last Arius model we reviewed. 
Specifications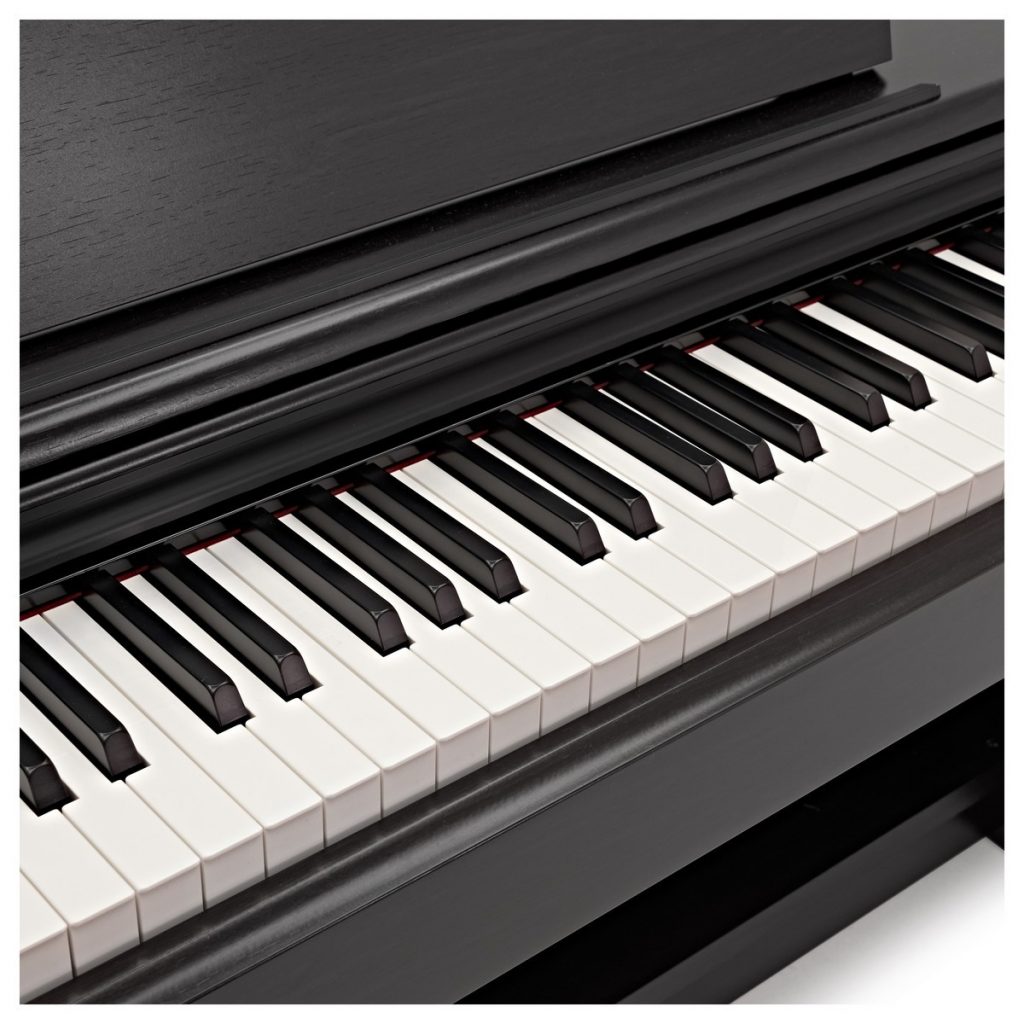 Weight:

79 pounds

Dimensions:

About 53.5 x 32 x 16.5 inches

Number of Pedals:

3

Half Pedal Function:

Yes

Types of reverb:

4
Who Is It Suitable For?
Every piano in the Yamaha Arius line is suitable for beginning to intermediate players. The Yamaha YDP-144 is no different. While it is clearly suited for a living room and not the traveling musician, this model is one that most all students will find themselves thrilled with. 
Yamaha YDP-144 In Action
Let's take a listen and see what the Yamaha YDP-144 actually sounds like in action. Over to Youtube we go! 
One of my favorite kinds of videos for figuring out if I like how an instrument sounds or not are the 'all playing, no talking' videos. This way, there isn't another musician trying to convince me with their words. So, see for yourself!
Here are my two cents after watching the video: 
Wow. The CFX Grand Piano really is worth all of the hype it has been given. The low range is gorgeous and natural, with just the right amount of growl. 

Mellow Grand would be perfect for the singer-songwriter ballad sort of sound

The Pop Grand is similar to the Mellow Grand, but (obviously) is a little bit brighter

Next up is the stage electric piano. It is a little tinny for my tastes, but that being said, if you have read a lot of my piano reviews, you know that this is a common complaint. 

The DX Electric Piano is a much high-quality sound than the last sample, in my opinion

The harpsichord is better than I expected! Many harpsichord sounds are far too grating, but this one is pleasantly realistic and bright.

Vibraphone and glock sounds are some of the hardest samples for piano companies to replicate. The CFX sound engine sure does the vibraphone justice here! 

Once again, organs are notoriously hard to sample. While this Pipe Organ sound isn't

real

, real, it sounds pretty dang good. 

The jazz organ is pretty nice, but a tad flat when it comes to dimension

The strings are pretty good too, but I would recommend this sound moreso for pop songs than for orchestral compositions
Before we head over to the pros and cons of the Yamaha YDP-144, let us check out one more video of this instrument! Merriam music always has helpful reviews of new instruments- Back over to Youtube we go! 
This review is quite a bit longer (22 minutes), so I will list the key takeaways and helpful things I learned down in the bullet points below. 
The YDP-144 is an extremely popular instrument, one of the most popular instruments they have ever made

There is a lot of variety in the Arius series

The CFX sound engine is a really clear sound engine. It is actually based on the CFX (acoustic) grand pianos that Yamaha makes.

At 6:30' he shows how the wired in Yamaha software works with his phone. I actually learned that the advantage over the Roland here is that there is no lag because the connection is wired in. Inside the software, you can choose different 'piano rooms' and reverbs (see features section above)

Like some of the Yamaha's from our other reviews, this one also has the Leslie effect as well
My favorite thing about this review is that he shows how the software works with the piano. If you end up purchasing this one, definitely head back to this review to help you figure out how to better use it!
Pros and Cons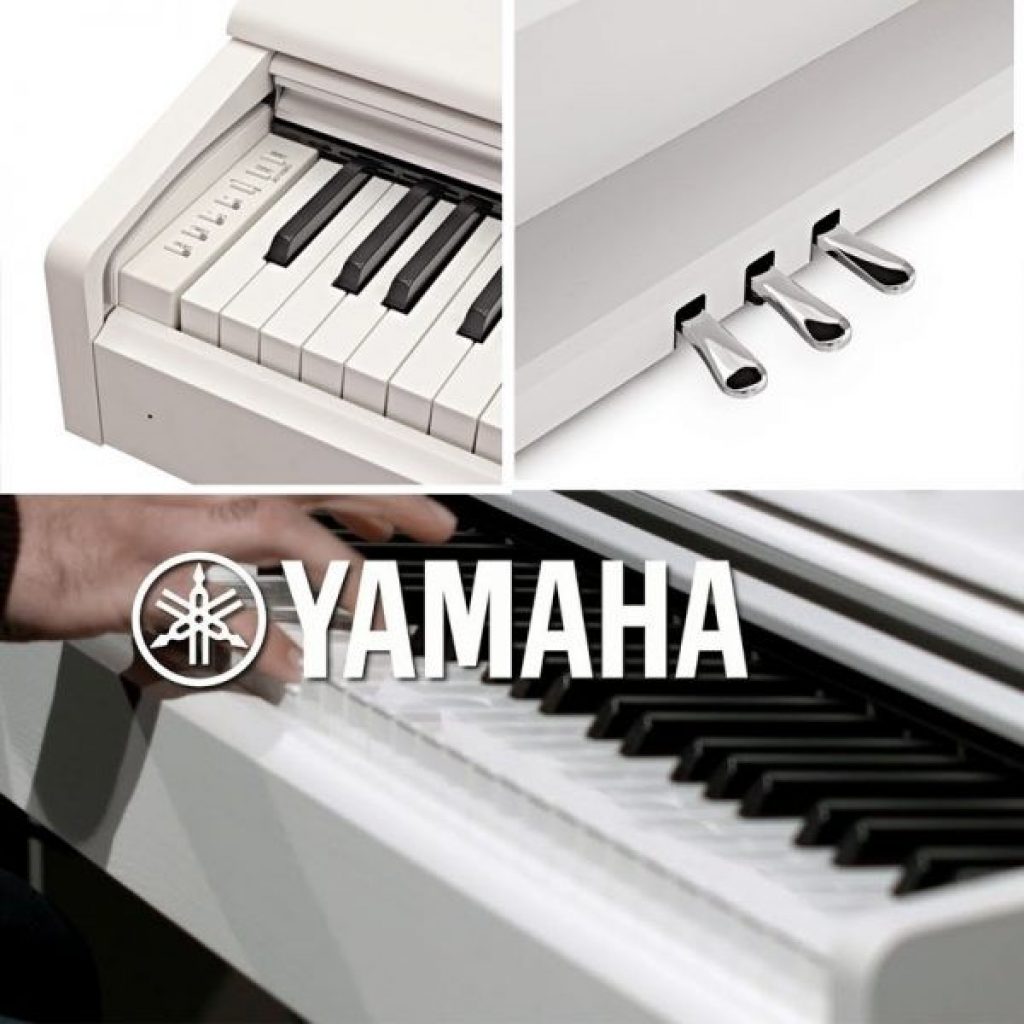 Pros
The headphone jack placement is really accessible

The touch is heavy and authentic

The black keys are matte-textured, so it will help to reduce slipping

It comes with all three pedals

The pedal action is natural

It has a hefty, sturdy built

It is pretty portable for 'around the house' moves

The stereophonic optimizer improves your headphone experience

It comes with a bench, songbook, and demos, so you can get started right away

It also comes with a matching cabinet 

Economical for all of the features it has to offer

You can turn the local speaker on and off

The sound samples are phenomenal on this model

It has 192 notes of polyphony 
Overall, there is a lot to like about the Yamaha YDP-144! Its polyphony has improved since the last model, and the sound engine is much better. 
Cons
The seat is not a storage seat

It isn't easy to run into external speakers- you will need to buy an extra cord to make this work

It is pretty hard to assemble

There isn't much 'give' to the keys

The white keys are not textured, so they can be slippery

The maximum sound is not very powerful

There are only 10 sounds (I know, I know, I had the same complaint about the Yamaha YDP 103!)

You can only layer two tracks inside the piano itself 
The maximum sound that you will get out of this instrument is about that of a small Bluetooth speaker. Some folks really enjoy the fact that this instrument is cord-in when it comes to the software, and others don't. If you'd rather have Bluetooth and more cordless accessibility, consider looking to Roland.
Depending on the player, you may want to look for a keyboard with more slick and gentle action. This one doesn't have much give. If you are a rock player, this one may not be for you. If you are a gentle classical pianist, you'll likely be satisfied. 
The biggest cons on this one for me personally are that the sound is not very powerful, there are only ten voices, and only two internal tracks available. I also have noticed that there is a ton of crossover between this instrument and the Yamaha YDP 103. Since this one is a bit more money than the 103, I had hoped for more voices and features. Really, this model is much more similar to the 103 than many musicians realize. 
Amazon Reviews
The Yamaha YDP-144 is rated at 4.6 stars on average. I read some of the reviews, so you don't have to! Let's see where the instrument succeeds, and where it falls short. 
One customer reported that the high range sounded muffled like there was paper stuck somewhere under the keys, muting overtones and sound. Others have said the sound is just 'decent' or 'okay'. While I haven't personally played this piano, if you are considering purchasing this model, be sure to try it out in stores first before ordering it off of Amazon (as always!). 
On the positive end, there is a lot to read up on as well! Other musicians said that their piano was:
Beautiful

Well-built and sturdy

Has authentic-feeling keys

Is stunning overall.
The phrase 'beauty is in the eye of the beholder' is no different with instruments. 
Quick View 
Keys

88 GHS weighted keys (matte)

Touch sensitivity 

Hard / Medium / Soft / Fixed

Sounds

10

Recording capabilities 

C

Yes- USB to Hosts / MIDI

Metronome

Yes- Built-in

Polyphony 

192 notes

Speakers

Yes- Two built-in speakers

8W x 2 amplifiers

Headphones

Two headphone jacks

Accessories

Piano bench, songbook, and manuals

Price point 

$1099
The Yamaha YDP 103 Vs. YDP-144
Other Comparable Models
Let's take a peek at some other models outside of the Yamaha brand that are comparable to the YDP-144. 
Casio PX-870 

Kawai KDP 110

Roland F-140R
As you probably already know, Casio, Kawai, and Roland are some of the biggest competitors Yamaha has. 
The Casio PX-870 is another heavy, home piano. It has a more powerful speaker system and much more polyphony. If you are a Casio fan, consider checking this one out. (Though please note that it is a fair bit more expensive…).
The Kawai KDP 110 is another comparable model to the Yamaha YDP-144. The perk to this one is that it has much better connectivity. This piano offers Bluetooth, MIDI, and USB connections. Like the 144, it comes with three built-in pedals, damper resonance, and high-quality piano sound samples.
The Roland F-140R is just a little bit more expensive than the Yamaha 144. It has Roland's renowned "Supernatural" sounds, which are equally (if not more) impressive than the Yamaha CFX sound engine. 
An Arius Upgrade: The YDP 164
If you can afford it, I highly recommend the YDP 164 over the 144. This is because the 164 has 20Wx2 speakers, whereas the YDP-144 has 8Wx2. Sound quality and power improve greatly with this model. For about $400 more? I think it's worth it.
Yamaha YDP-144 Conclusion
In conclusion, the Yamaha Arius YDP-144 is a great starter piano. So, if you are looking for more features and power, consider the 164. If you are looking for 10 voices and an economical quality instrument? This just might be it. So head on over to your local music store and try her out! Let her know what you think in the comments. Thanks for sticking around, and we hope to see you back here soon!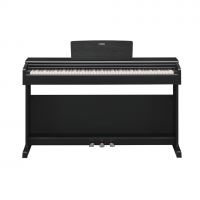 We gave the Yamaha YDP-144 a 7.8/10. This particular model is a member of the Arius line of pianos, which means it is geared towards beginners. It has an authentic feel and built-in effects. The included learning tools such as the songbook and demos will help new pianists out, and the YDP-144 package includes everything you need to get started. Despite a handful of cons, including a small sound bank, this instrument is still a great purchase for a wide range of students.
PROS
The headphone jack placement is really accessible
The touch is heavy and authentic
The black keys are matte-textured, so it will help to reduce slipping
It comes with all three pedals
The pedal action is natural
It has a hefty, sturdy built
It is pretty portable for 'around the house' moves
The stereophonic optimizer improves your headphone experience
It comes with a bench, songbook, and demos, so you can get started right away
It also comes with a matching cabinet
It is economical for all of the features it has to offer
You can turn the local speaker on and off
The sound samples are phenomenal on this model
It has 192 notes of polyphony
CONS
The seat is not a storage seat
It isn't easy to run into external speakers- you will need to buy an extra cord to make this work
It is pretty hard to assemble
There isn't much 'give' to the keys
The white keys are not textured, so they can be slippery
The maximum sound is not very powerful
There are only 10 sounds (I know, I know, I had the same complaint about the Yamaha YDP 103!)
You can only layer two tracks inside the piano itself