Yamaha DGX 670 Review
We rated the Yamaha DGX 670 a 10/10 because it suits so many players so well. The DGX 670 is a portable digital keyboard. There's a lot to love about this instrument. The 16-track sequencer/internal recorder allows for a lot of layering, which will suit the needs of songwriters and classical composers alike. The weight and action on this keyboard feels lovely and will serve classical players well. Another huge selling point of this model is that there are over 600 voices on it. While we don't often give a full 10/10, it's hard to go wrong with the DGX 670!
We rated the Yamaha DGX 670 a 10/10 because it suits so many players so well. The DGX 670 is a portable digital keyboard. There's a lot to love about this instrument. The 16-track sequencer/internal recorder allows for a lot of layering, which will suit the needs of songwriters and classical composers alike. The weight and action on this keyboard feels lovely and will serve classical players well. Another huge selling point of this model is that there are over 600 voices on it. While we don't often give a full 10/10, it's hard to go wrong with the DGX 670!
Overview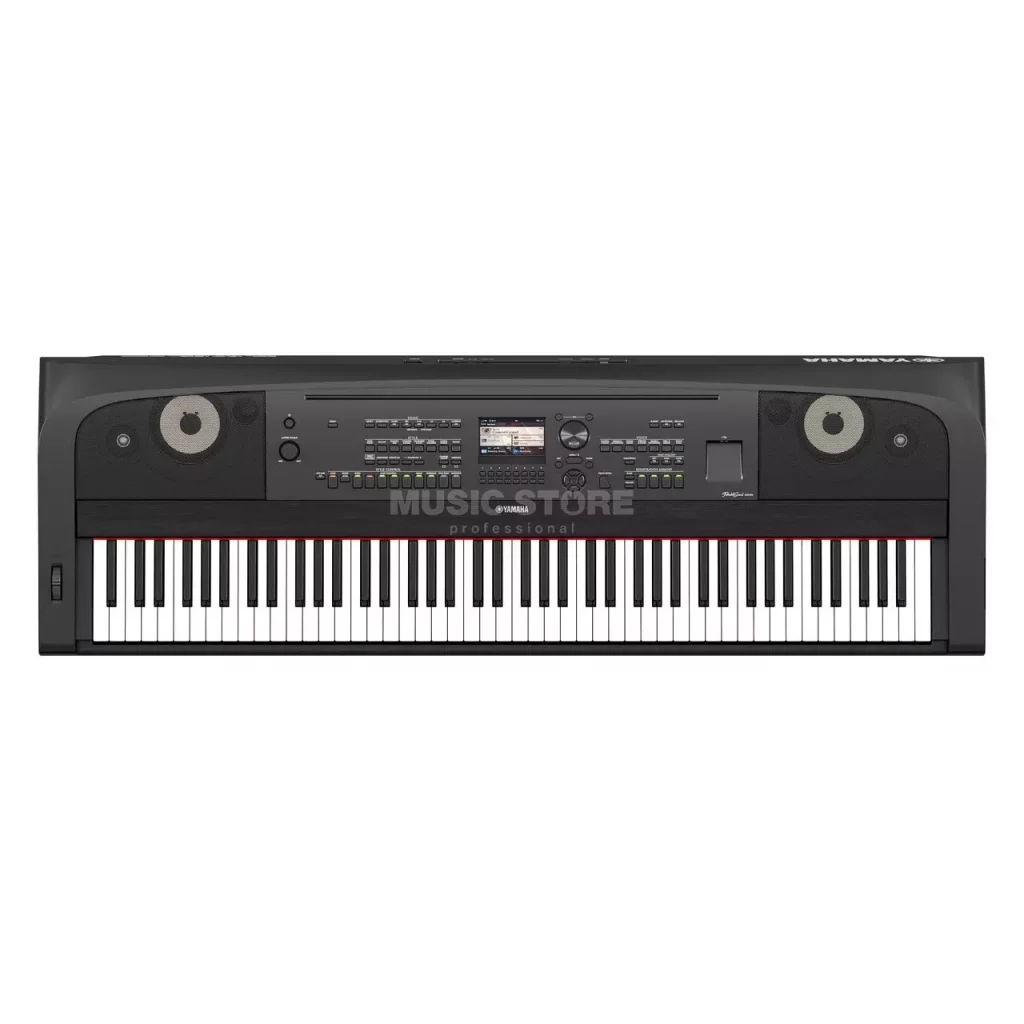 Hello! It's Aleah, back with yet another digital Yamaha keyboard. There sure are a lot of electronic instruments out there. But don't worry- I did all the research for you, so you don't have to. 
The DGX 670 is a portable piano from the DGX line. The Yamaha DGX 670 release date was in January of this year (2021). So, without further ado, let's get into the nitty-gritty of the instrument, with this Yamaha DGX 670 review.
Yamaha DGX Line
The goal of the DGX line is to make grand pianos accessible to everyone. Each piano from DGX is a full-sized, electronic portable grand. There is no specific level that this line targets. Or, rather, Yamaha makes a piano for everyone within this subsection. All pianists, from beginners to professionals, will be able to find an instrument that suits their needs. Personally, I really enjoy the DGX piano line- I have the Yamaha DGX 650 in my home. This instrument was released back in 2013 and has since been replaced with the DGX 660. That being said, I don't mind at all that my model is technically outdated. It continues to serve me well, in teaching, performing and recording situations. 
I can tell you from experience that these instruments age really well. If you get a DGX now, and they come out with a new model next year, it won't be a big deal. DGX grand pianos are a big investment, but I am a strong believer that they are worth it. Let's take a look deeper into the 670 specifically. 
Features 
Full-Color LCD 
This new DGX model comes with a large, full-color LCD screen. This is the newest iteration of the LCD screen that Yamaha has to offer. It makes it much easier to read scrolling scores on and has improved quality in comparison to the other, older DGX models.  If you like to read sheet music on a screen, this model will serve you well. 
16 Tracks Available
Lately, I have been complaining about how few tracks the Yamaha Arius pianos have. (Most of them only allow you two multi-track two layers). Even though this instrument is under one thousand, it has a 16-track sequencer. With this feature, composers can layer orchestral ideas to their heart's content. Keep in mind that this is all on internal storage. The Yamaha DGX 670 is leaps and bounds from most of the Arius line if you ask me. 
A Flagship Sound Engine
This keyboard has real samples from their acoustic CFX piano, which measures nine feet in length. CFX is the newest sound engine, and can also be found in most of the Arius line. Not to hate on the Arius line again, but…. Most of those pianos only have about 10 sounds. The Yamaha DGX 670 has over 600 sounds and effects from the CFX sound engine. You get more bang for your buck with this model than you do with any of the Arius! (Arius lovers, don't come after me after we publish this, please!)
 A Realistic, Full-Sized Setup 
An 88-key, full-sized, GHS weighted keyboard gives you everything you need to get started with traditional classical or jazz music. I am a firm believer that, if you are going to buy an electronic instrument, you should buy the one with the most realistic, acoustic-feeling features (within your price range, of course). 
Adaptive Style 
Adaptive style is a feature that you can turn on, in order to add a little bit of spice to your instrument. It is controlled by the dynamics you play at. So, if you play softly, the style of ornamentation and extras that are added will be simpler. The same goes for the reverse. If you play louder, the style is more firm, harsh, and complex. It is a gradient, just like dynamics are. 
As a musician myself, I have to wonder if there is another way to create an instrument with adaptive style, without it being controlled by dynamics. Perhaps one controlled by dissonance? 
Adaptive Style is an excellent innovation, but personally, I don't think I'd want it on all of the time. Say you are wailing a loud ballad- I'm not sure that you would want the musical additions to get more complex- At least all of the time. That all being said, adaptive style is a really cool tool to use on occasion. And, you can always turn it on and off.
Here is a video demo of Yamaha's adaptive style in action.
Smart Chord  
Smart chord lets you perform complex chords with just one or two fingers. This feature is found on many Yamaha models, and this one is no exception! Yamaha dubs this feature 'the new standard for portable keyboards'.
The 'pro' to this feature is most apparent for new pianists. When I was first learning piano in high school, I quickly grew frustrated with one thing in particular: I couldn't fill out the sound yet. I was just growing used to reading both bass and treble clef at the same time. At maximum playing capacity, I was only plucking one note in each hand. And that was on a good day. With Smart Chord, beginners can fill out their sound while still learning their staple lesson repertoire. 
Just use the function button along with the numbers menu to scroll through the options, and select Smart Chord. From there, you can choose the key. Now, the instrument knows how to fill in the notes. There is also a style select option, so you can pick a smart backing track that best matches your song. 
From a now-professional standpoint, I'd be curious to see how Smart Chord holds up. I can see it is relatively simple for an electronic instrument to fill in notes in major and minor modalities- But what happens when we are in whole tone, or Phrygian?! Piano pros- try it out and let me know in the comments! 
To learn more about how to access and use Smart Chord, check out this video by Yamaha.
Bluetooth Connection 
Today, everything, I mean everything has Bluetooth. If it doesn't, it seems to be the tendency that it is either an economical model or an older model. Yet again, the Yamaha DGX 670 beats out the Arius models in my book. The new DGX has great Bluetooth capabilities, with little to no lag. No cables are needed to play music from your phone with these speakers! 
Bluetooth connection allows you to connect this model to either your computer or IOS device. 
Not Your Ordinary USB
Speaking of cords…You can use the 670 to play back music on a USB drive. The bluetooth connection is great as well. That being said, this model has some really fabulous (extra) perks when it comes to playing back USB sound.
You can speed up the sound

You can slow down the sound

Also, you can edit the pitch

You can read the title on the screen
While this list might sound pretty basic, keep in mind that this is an under-$1000 keyboard here. With most USB sticks, when you plug them in, you get what you get. The sound plays, exactly as it is. No pitch changes, no titles, nothing. It reminds me of back in the day when I used to play music from a USB flash drive in my car. It's like musical roulette- you never know which song is about to come up next. 
It is relatively rare to find USB compatibility that is so polished, that you have some editing capabilities once you plug it into the device. 
Compatible with the Yamaha App
Pair the 670 with the Yamaha App, so that you can connect it with the chord tracker. Here's what Apple has to say about the app:
"Chord Tracker analyzes the audio songs stored in your iOS device's music library and then displays the song's chords on the screen, allowing you to play your favorite songs. And now, with both graphical piano keyboard and guitar tab display options, Chord Tracker is even more powerful." 
So this is quite cool. With this technology, you can get the basic chords of any song.  Although I have a Yamaha piano, I have yet to try out the Chord Tracker. I just might have to! From the sound of it, whether you want to learn Katy Perry or Rise Against, Yamaha has got you covered.
601 Voices 
Here I go again…Move over, Yamaha Arius line! It has not ten, not twenty, but six hundred and one voices. These sounds are all from the CFX line, which includes the samples from a real Yamaha grand piano. 
This "all-playing, no talking" Kraft Music video is over twenty minutes long, and I'm not even sure it includes all the voices…But it's an idea of what it sounds like!
Let me recap some of my favorites and the sounds that could stand to improve: 
The first song demo-ed is a pleasant, realistic bright piano. Perfect for jazz or older, retro ballads. The upper range is pleasantly light, and the lower range is resonant, but not too growly.

Next up was a slightly darker piano sound, along with some automated accompaniment. 

Around 6 minutes in, I heard some organ sounds. They were quite good
I wish they had included the names of the samples and sound banks in this video, but alas. It still gives you a nice idea of what the instrument sounds like in action. The piano sample section is the star of the show if you ask me. Although…
The sound sample that probably surprised me the most was the electric guitar sample

. Most times, this is the WORST sound sample on a piano. Yes, I know. Usually, it is

even

worse than the flute and organ sounds. But the one I heard at 7 or so minutes in could almost pass for a guitar. This is truly wild! I would not hesitate to use this sound live (if we were short one guitarist), or in recordings. It is stellar. Color me impressed!
You Can Bang on the Drums All Day
On top of the 601 CFX voices, the Yamaha DGX 670 also has 29 drum and CFX effects. 
You Are the Artist Library
"You Are the Artist" is a series of releases of popular songs. It includes backing tracks that sound like the original, so you can play along, and have it sound real. The Yamaha  Clavinova line has this library as well. But, like I said earlier (multiple times) I am quite partial to the DGX. To check it out more in-depth, watch this video! 
Score Display 
The LCD screen has a score display, so you can read your music on the screen, or on the stand.
A Great Metronome
The internal metronome on the DGX 670 ranges from 5 to 500 BMP. In addition to this wide range, it allows you to pick a tempo by either tapping or clicking. 
Mic Input for Easy Recording
You don't actually need a preamp or anything else besides a cord and a computer. Just "plug 'er in and go!" Another really cool thing you can do with this model, in particular, cancels out the vox in a pre-existing song so that you can add your own with a mic. 
Many Accompaniment Styles
The Yamaha DGX 670 has 263 accompaniment styles. This model went big when it comes to numbers. So if you don't have an entire band, you can make one yourself! There are so many styles and genres that I'm not even going to begin to list them.
Unison and Accent 
These features are controlled with the pedal. Unison lets you add extras to a phrase when your foot is down on the pedal. Accent lets you add hits to just a singular note, to give it a little extra 'umph'. You can check it out more here.
Included Sustain Pedal
I can count the number of times I've found a great piano with no included bench or pedal on more than my two hands. While we don't get a bench here, there is a sustain pedal that comes with this model. Sustain is probably the most commonly used pedal when it comes to piano. I'm glad to see that they included it, especially since the nifty unison and accent features rely on it so heavily. 
Matte Keys 
The matte black keys help reduce slipping and can improve technique. Most electronic pianos that are high caliber have matte keys nowadays- Yamaha succeeds here, yet again! Some musicians prefer that all the keys are matte, but I think this is more of a preference than a necessity. 
Other  Features
Virtual Resonance Modeling (VRM)

Stereophonic optimizer 

Automatic power off

The lesson feature

The ability to expand the room digitally, or raise the piano lid

VRM (Virtual Resonance Modeling)

Dual mode, tuning, and transpose features

Effects like EQ, reverb, chorus, and compressors (there are lots and lots of these!
The Yamaha DGX 670 has almost all of Yamaha's most-loved features. This one is the best seller, and nobody wonders why.
Yamaha DGX 670 Specifications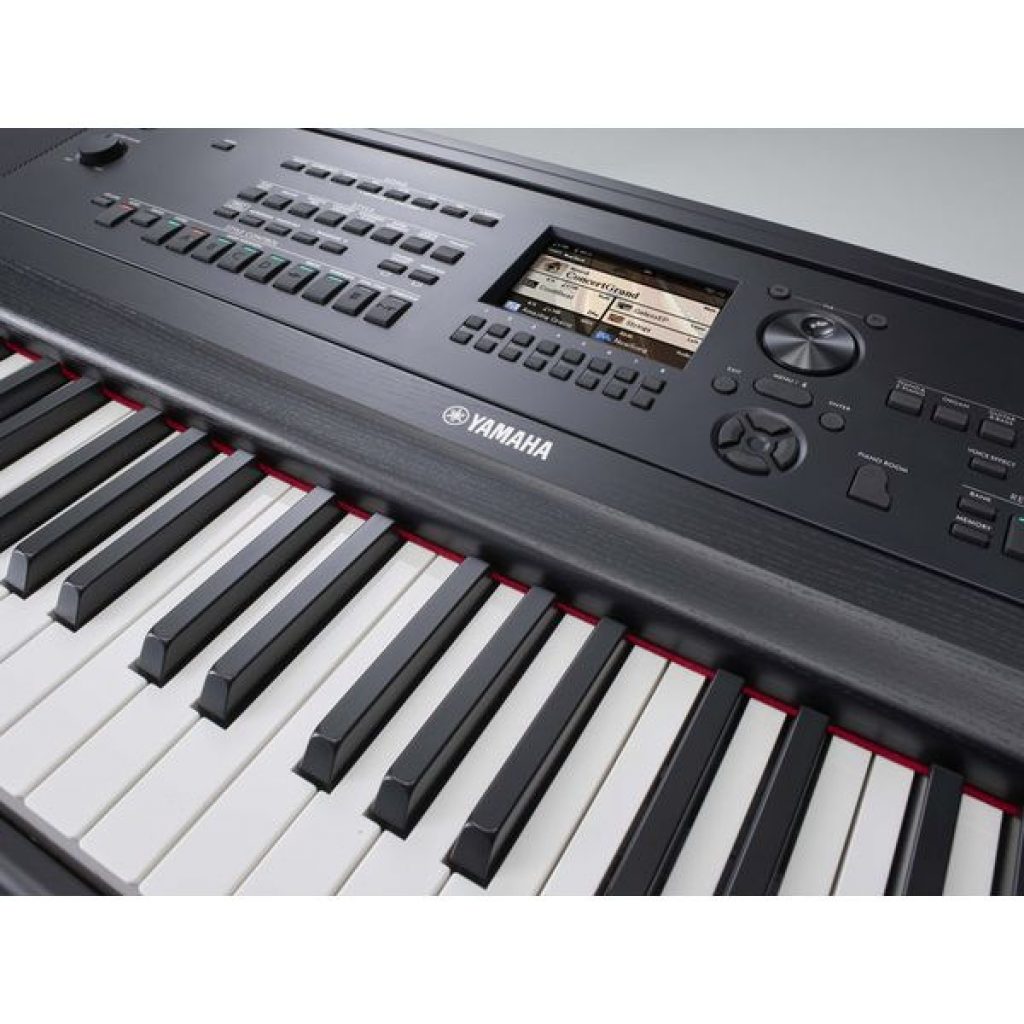 Weight:

43 pounds

Dimensions:

Approximately 18.5 x 38.5 x 3 inches

Touch Sensitivity:

5 options

Voices:

601

Preset Accompaniment Styles:

263

Drums:

29

Preset Songs:

100

Storage (Internal):

20 MB

Max Recording Length:

80 minutes

LED Displa

y: 4.3 inches 
Who Is It Suitable For? 
I don't say this often, but this piano is for everyone. The classical musician, the gigging pop or indie artist, the serious beginner, or children. It is economical enough, professional enough, and portable enough to make it so versatile, that any musician would love to have it. I cannot say enough good things about the DGX line. They just keep getting better and better. 
Protip: Save With Amazon
On Amazon, this instrument is only $799. If you buy it directly from Yamaha, or from other big retailers, you'll pay $1,299. Always make sure that you price-check your instruments before you get them. Trying them out before you buy them is a great idea- but don't let the salesman/ saleswomen sell you on an item that's in stores before you check online. I've saved a lot of money with the 'try-now-buy-online' method.
The 670: Features In Action
While this isn't technically a review video, this video is a great one to watch to get a better sense of the features of this instrument. Back to Youtube, with Jeremy!
Here's what I learned:
How to layer sounds, change sounds, and adjust each layer of voice

How to add accompaniment

In what way to use the mixer

How to use the tempo wheel on the console

How to add rhythms

In what way to use sync start to begin the rhythms with your chord
From what I can see, the setup looks really accessible. The buttons are big and easy to see (That's a big thing for me, as I am far-sighted!). 
Amazon Reviews
This is unheard of, but, the Yamaha DGX 670 is rated 5 out of 5 stars on Amazon! Some of the customers said it was "High quality at a low price" and "Exactly what they needed". 
Pros and Cons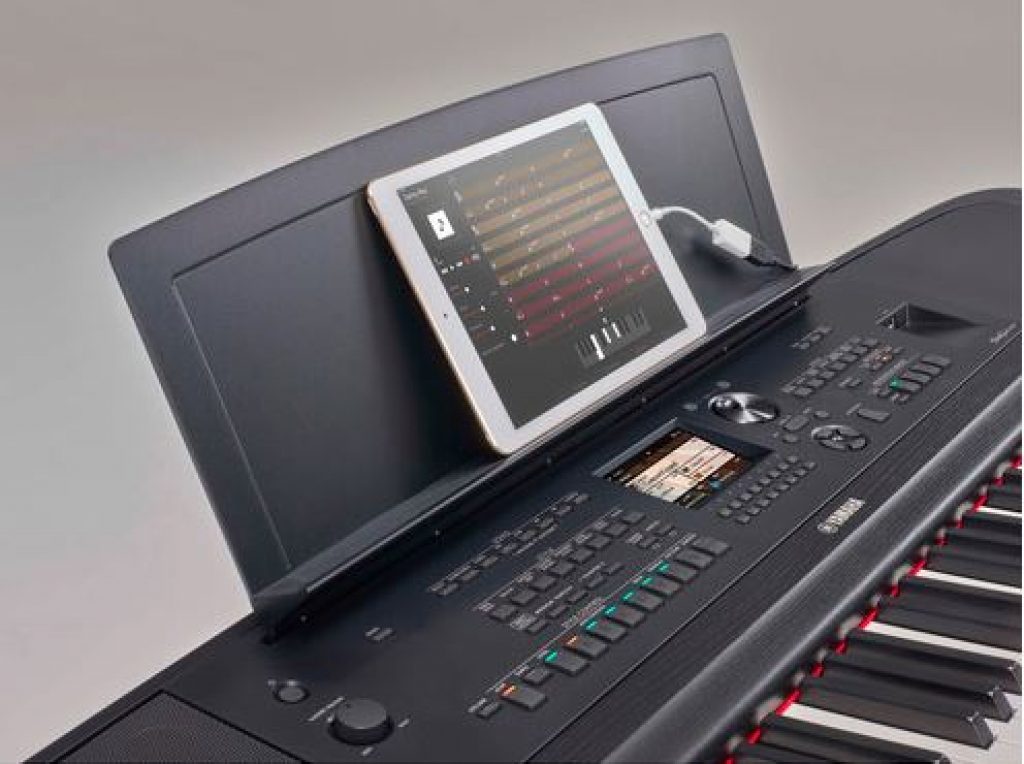 Pros
The sustain pedal is included

It has Yamaha's flagship (CFX) sound engine

It has GHS weighted keys

Smart chord lets you fill out your sound without having to be a music theory pro

It has tons of sounds

It has many FX and editing options as well

Links to Bluetooth, as well as can be corded

It can edit audio from USBs

It has a whopping 236 accompaniment styles

The max (internal) record time is 80 minutes

It is only 43 pounds, so it is super easy to move around
There is SO much to like about this instrument. From a full-sized GHS weighted keyboard to matte keys, to a giant sound library, a plethora of effects, and wonderful connectivity, what else could you ask for? In addition to all of these pros, the speakers are very powerful. A lot of the time, when you get an "under-a-thousand' keyboard, it lacks volume. But I can tell you for a fact that this one doesn't. Bravo, Yamaha.
Cons
The furniture stand is sold separately

It only comes with one pedal
Other than it not having a bench and the other two pedals, I truly believe that there is nothing to complain about. If you know my reviewing style, you know I usually go heavy on the cons. But I believe that there is none other to be had! How wonderful.
Quick View 
Keys

88 GHS weighted keys

Touch sensitivity 

Yes- Soft 1 / Soft 2/ Medium / Hard 1 / Hard 2 

Sounds

601 sounds plus FX and 29 drums

Recording capabilities 

USB to host/ MIDI

USB to device

16 internal tracks available

Metronome

Yes- 5 to 500

Polyphony 

256 notes

Speakers

Internal

12 x 2 cm, 5 x 2 cm

6 W x 2 amplifier

Headphones

Yes- One stereo phone jack

Accessories

Owners manual, cord, and adapter, music stand

Footswitch is available in the package from some sellers

Price point 

$799.99
Comparable Models
Many musicians compare the Yamaha DGX 670 to the following pianos:
The Yamaha Arius YDP 164

Yamaha P125 and P515

The Yamaha DGX660WH
Honestly, I don't really think there is much of a comparison between the first few Yamaha's. The Yamaha DGX 660WH, however, is a valid competitor! It just depends on which features you are looking to nab. 
If we take a look at other competitors, the following instruments are comparable:
The Roland FP30X

The Korg XE20
I'm a huge fan of Roland's SuperNATURAL sounds, so naturally, this one is a good competitor. If you are more of a Korg person? Check out the Korg XE20.
Yamaha DGX 670 Conclusion
In conclusion, it is clear to see that there is a whole lot to like about the Yamaha DGX 670. If you are looking for a relatively inexpensive, professional piano with an enormous amount of features, this DGX 670  model may very well be the way to go. I always recommend the DGX line, to those who can afford the space and cost! 
See ya next time on another Best Piano Keyboards review!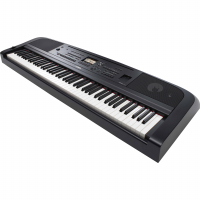 We rated the Yamaha DGX 670 a 10/10 because it suits so many players so well. The DGX 670 is a portable digital keyboard. There's a lot to love about this instrument. The 16-track sequencer/internal recorder allows for a lot of layering, which will suit the needs of songwriters and classical composers alike. The weight and action on this keyboard feels lovely and will serve classical players well. Another huge selling point of this model is that there are over 600 voices on it. While we don't often give a full 10/10, it's hard to go wrong with the DGX 670!
PROS
The sustain pedal is included
It has Yamaha's flagship (CFX) sound engine
It has GHS weighted keys
Smart chord lets you fill out your sound without having to be a music theory pro
It has tons of sounds
It has many FX and editing options as well
It links to Bluetooth, as well as can be corded
It can edit audio from USBs
It has a whopping 236 accompaniment styles
The max (internal) record time is 80 minutes
It is only 43 pounds, so it is super easy to move around
CONS
The furniture stand is sold separately
It only comes with one pedal