Rockjam 61-key Keyboard Review

If you are looking for an affordable keyboard that can hook up to your modern devices, this may just be the piano keyboard for you! If you're new to piano and love options, then the RockJam 61-Key Electronic Keyboard is definitely a good choice. It is simple, easy to use, and the setup is effortless. What more can you look for in an electric piano for starters?

Rockjam 61-key Keyboard Review
Description
If you are involved in the music industry, then you know how important it is to do your research before buying. And that's why we're here!  We want you to feel inspired to play, compose, record, and even upload your own piano songs and share them with the world. BestPianoKeyboards will help you learn about all things piano, like how to find the best piano keyboard for you.  Today, we are giving you another electronic keyboard review; the Rockjam RJ561.
The fact that the kit we are reviewing comes with a padded piano stool, stand, and power supply only sweetens the deal for you. Let's take a peek at some more details.
Overview
If you are thinking about purchasing the RockJam 61-Key, then you should know the following things about the instrument package:
This is a portable electric piano that can be taken anywhere
The Rock Jam piano is an affordable instrument
It fits well in small places like an apartment

The headphone jack allows you to practice privately with a headset

The instrument features a large selection of tones and accompaniment
It has modern pairing options
Every accessory you need to get started with playing comes in this kit
Now, let's look at some more of the Rockjam 61 key electronic keyboard's features.
Features
This keyboard has a lot of features. It can be paired with modern devices and has many different tones and backing tracks. Let's delve in a little deeper:
Recording and Playback You can record and playback music using a certain section of the keyboard.  It is even possible to layer your music using the multitrack feature!
The Digital keyboard – It has 61 full-sized keys and neatly arranged digital buttons.  You can navigate recording, layering, and switching sounds with ease. The keys are non-textured and non-weighted.
Pairing Your Keyboard – We wouldn't have a complete review if we didn't mention all the modern pairing options on this instrument.  While this keyboard is far from high-end, it does have a lot of options. The RockJam 61-Key Electronic Keyboard can be connected to Alexa, your iPad, or to your computer through a midi-out.  This midi-out feature will allow you to be able to record what you play onto your computer.
LCD Screen -The LCD is very bright so you won't have any trouble reading anything on it in the dark. In addition, the display can help you track your progress.  When you use the demo songs option, the screen will show you where you make mistakes, helping you to correct and improve your playing over time.  The demo songs are a great way to get started if you're a beginner.
Sleek Look – The piano is shiny and it is very modern. It comes with a stand, which also has a contemporary look.  Later, in the pros and cons section, we will see if it sounds just as beautiful as it looks!
Multiple Power Options– The keyboard can be powered by either D batteries, or with an outlet and a power cord. This allows players to perform in the comfort of their own homes, and on the go!
Different Tones and Percussion Backing Tracks-This 61 key electronic keyboard has 100 built-in sounds, and 50 tones to choose from. In addition to this, you can add percussion backing tracks.  There are 100 preset rhythms that can be accessed at the touch of a button. The user's manual is very helpful in guiding you through how to use these features. This instrument has easy-to-use buttons that add interest to your drum tracks, like the 'add drum fill' button!
Full library of songs -This keyboard comes with a collection of 50 songs.  And, if you connect it to your iPad, you can add 30 more songs to that list.  The iPad extension is called Piano Maestro, where you can also work on sight-reading, rhythm, etc. You can use Maestro with RockJam by downloading the app and connecting the piano to your iPad. After you do this, go to settings, and then select the dropdown, In the drop-down, you will find RockJam. Select this, and you can start learning!
Full Set of Accessories – This piano comes with a Rockjam keyboard stand, guide stickers,  headphones, a  padded seat, and a power cord.
Dual Tone and Split Tone This keyboard has a Dual Tone option, which means that you can take two of the keyboard's 50 tones and play them at the same time. Simply press the dual-tone button. You can also do Split Keyboard.
Transposition Button -It has a Transpose button, which is really great if you are changing the key of a song or reading a score written for another instrument
Specifications
It is an electronic keyboard
As far as materials go, this piano is made from plastic keys and a plastic stand.
It is compact, with dimensions of 90 X 25 X 15 Centimeters
It has 61 Keys
LCD display panel
Powered by 6 x 1.5 Volt D batteries or an outlet
Who is the Rockjam 61-Key Keyboard suitable for?
The RockJam 61 Key Keyboard is suitable for beginners, intermediate players, and hobbyists. It is also great for musicians on the go because it can be powered by either batteries or an outlet.  That being said, if this keyboard is going to be used for long periods of time, it should be plugged in. This RockJam is also a keyboard for amateurs looking to do low-pressure gigs around town.
Pros and Cons
Pros
It comes with everything you need to start playing today
It is easy to use and comes with a large library of songs
It has modern pairing technology
It is very affordable
It is portable
It's an ideal gift for children or novices looking to dabble in music
It has a great finish on the keys
It has a clear button layout
It has a Registration memory that saves sounds. It is not usual to find this feature in a keyboard that is so economical!
The piano decay is realistic and pleasant
The accompaniment track volume is easily adjustable
Cons
The user manual isn't all-inclusive, but there are a lot of online tutorials
The speaks are 24 watts. For reference, 20 Watts is ok for practice.  You may want to consider investing in a piano with more powerful speakers if you want something crystal clean (think 50 watts)
The headphones aren't crisp
It is not touch-sensitive; All the notes will be the same volume
There are no weighted or semi-weighted keys
The stand doesn't have many points of contact, making it more likely to move around while you're playing
The keys tend to be a little stiff
The speakers have some audio buzz
The LCD is a very bright blue, which some pianists find distracting
The music stand doesn't hold up to heavy books and music
The seat is not adjustable and tends to run small
It is not recommended for stage performances
The polyphony is limited
The xylophone, flute, and other non-keyboard sounds aren't realistic
So Is the ROCKJAM 61-Key Electronic Keyboard Kit Worth the Money?
I'd say, it depends on what you are using it for!  If you are looking for an exciting and inexpensive way to get you started, the RockJam 61-Key Keyboard is for you. If you are serious about the classical piano, then this keyboard is probably not for you. In order to really learn to play classically, you need touch-sensitive, weighted keys. This RockJam Keyboard is great for beginners or even more experienced users looking for an affordable kit that comes ready to play. It comes with the seat, headphones, and the stand all at a super affordable price.
In my opinion, it's one of the best complete beginner kits available. And since it is geared towards beginners, it can be connected to the app 'Piano Teacher Skill', which will help you learn. You even get a free 30-day trial of the app after you purchase the keyboard.
Here's a quick view of this instrument:
Quick View
Keys
61 full-size keys, not weighted
Touch sensitivity
Not touch-sensitive

It is volume-controlled

Sounds
100 sounds

It has organ sounds, piano sounds, and other various instrument sounds (flute, xylophone, etc)

Recording capabilities
Multi-track-yes

Midi-out

Metronome
Built-in
Polyphony
Polyphony limit of approximately 8 notes

There is a delay when more than one note is used

No simultaneous chords are possible

Speakers
A built-in speaker system that can be connected to an external amplifier

24 watts of sound

Headphones
1 headphone jack, 1 sustain pedal socket, 1 midi output, 1 aux-in socket
Accessories
Comes with headphones, a stand, and a padded bench. Pedal not included

Power cable included

Price point
129.99 for the full kit. Other options include the piano with a pitch bend function (not the full kit) for 116.37 and the touch screen piano keyboard for 153.09
Conclusion
If you are looking for an affordable keyboard that can hook up to your modern devices, this may just be the piano keyboard for you! If you're new to piano and love options, then the RockJam 61-Key Electronic Keyboard is definitely a good choice. It is simple, easy to use, and the setup is effortless. What more can you look for in an electric piano for starters?
https://www.youtube.com/watch?v=JrkAZL93DHc If you want to hear the Rockjam in action, check out this unboxing with Stu Harrison!  Stu is a jazz pianist by trade.  It is interesting to watch his take on this inexpensive instrument! Overall, he seemed rather impressed and said that, within a few minutes, this keyboard ' Put a smile on his face. At 3:10 you can hear him play using the organ sound! I agree with what this pianist has to say- For under 200 it has a lot of features, and it is super inexpensive. This is a starter tool to help someone get excited. You can also hear him play with the sustain button.  If you are considering investing in this piano, I would say that it is best to buy an external sustain pedal, rather than to use the one on the keyboard itself.
As a final takeaway, here are our thoughts: While the Rockjam isn't high-end, its models do beat out some of Yamaha's beginning models when it comes to features.  There are many bells and whistles in this package, and many of them are surprisingly good for the price point. We recommend the Rockjam 61 key keyboard for children and musicians looking to start learning, but who are on a budget.
Be sure to come back to BestPianoKeyboards for more reviews, as well as tips on how to play the piano! Until next time!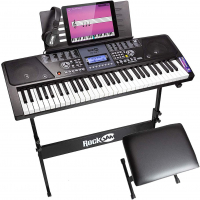 If you are looking for an affordable keyboard that can hook up to your modern devices, this may just be the piano keyboard for you!
If you're new to piano and love options, then the
RockJam 61-Key
Electronic Keyboard is definitely a good choice.
It is simple, easy to use, and the setup is effortless. What more can you look for in an electric piano for starters?
PROS
It comes with everything you need to start playing today
It is easy to use and comes with a large library of songs
It has modern pairing technology
It is very affordable
It is portable
It's an ideal gift for children or novices looking to dabble in music
It has a great finish on the keys
It has a clear button layout
It has a Registration memory that saves sounds. It is not usual to find this feature in a keyboard that is so economical!
The piano decay is realistic and pleasant
The accompaniment track volume is easily adjustable
CONS
The user manual isn't all-inclusive, but there are a lot of online tutorials
The speaks are 24 watts. For reference, 20 Watts is ok for practice.  You may want to consider investing in a piano with more powerful speakers if you want something crystal clean (think 50 watts)
The headphones aren't crisp
It is not touch-sensitive; All the notes will be the same volume
There are no weighted or semi-weighted keys
The stand doesn't have many points of contact, making it more likely to move around while you're playing
The keys tend to be a little stiff
The speakers have some audio buzz
The LCD is a very bright blue, which some pianists find distracting
The music stand doesn't hold up to heavy books and music
The seat is not adjustable and tends to run small
It is not recommended for stage performances
The polyphony is limited
The xylophone, flute, and other non-keyboard sounds aren't realistic
Rockjam 61-key Keyboard Review Videos