Korg Nautilus Review
We rated the Korg Nautilus a 10/10. This synthesizer line is geared towards pro players- And it a real crowd-pleaser! This instrument has nine sound engines, all of which have extremely high-quality voices, from oboes to orchestral strings and of course, piano sounds. The interface is user friendly. Since this instrument is so well-rounded, we gave it a 10/10.
We rated the Korg Nautilus a 10/10. This synthesizer line is geared towards pro players- And it a real crowd-pleaser! This instrument has nine sound engines, all of which have extremely high-quality voices, from oboes to orchestral strings and of course, piano sounds. The interface is user friendly. Since this instrument is so well-rounded, we gave it a 10/10.
Overview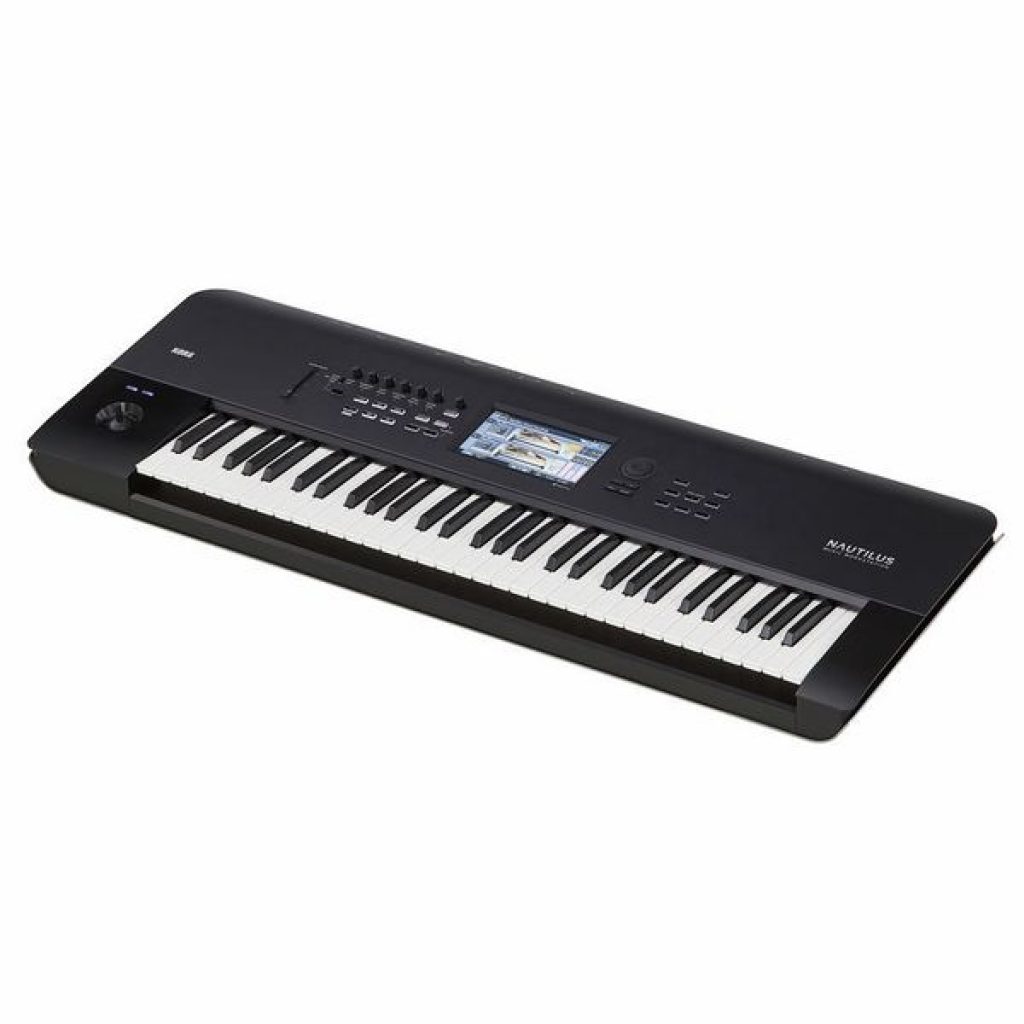 I have a soft spot for Korg keyboards. In fact, my first experience with a synthesizer was the Korg M1 and it's not too much of a stretch to say that it changed my life as a musician. I later got the Korg Triton which took me on another journey.  
Now we have the Korg Nautilus line which is a range of high-level synthesizers that comes with a choice of three versions – 61 key, 73 key and 88 key piano keyboards. The 61 and 73 key versions have Natural Touch semi-weighted keys while the 88 key version has fully weighted, graded keys. 
Also, one of the things I love about Korg's keyboards is that they always keep their front panels fairly minimalistic and the deeper elements of sound tweaking are selected on the LCD screen. 
Another thing Korg Nautilus does really well is a User Manual that is written in real English with very clear instructions and an element of a human being behind the writing, making it much more likely that you'll actually read it.  However, with the Nautilus they have also made a video user manual available on YouTube, so rather than try to work things out from words and little diagrams, you can actually see a person perform various functions on the keyboard itself. The other benefit is, of course, that you can watch those before you buy to see if you like the way it works and the sounds. 
Keyboard 
The Korg Nautilus 8 music workstation has fully weighted, graded keys which, for a synthesizer, is as close to feeling like an acoustic piano as you're likely to get. It's supremely well designed and built, with stylish rounded edges. The panel feels solid and the knobs are controllable and accurate. 
An unusual features about the Nautilus is that some of the raised buttons on the front panel can be pushed down into a locked position so that no settings get changed and no buttons get broken during transport.  
The color LCD screen is 7 inches and very user-intuitive. If you tap the "Mode" button on the panel, the screen comes up with your main modes which takes you into the sounds, or into the sequencer, etc.   
This keyboard could be used as a MIDI controller once connected to a computer. If you use a DAW (Digital Audio Workstation), you could use the keyboard to play in virtual instrument parts to a recording and combine them with the internal sounds from the Nautilus. You could also import WAV files from your DAW into the Nautilus and add internal sounds in the sequencer.
Sound 
I've always been impressed with Korg's sounds, but I have to say that they've surpassed themselves with the Nautilus. Starting with a very convincing grand piano sound. The "Dynamics" button on the front panel can change this piano sound from a mellow concert piano fit for playing Chopin and Beethoven to an edgier, brighter and very contemporary sound suitable for pop, rock and jazz. Not only that, but the LCD screen brings up a picture of a grand piano and you can swipe elements to change the sound further, for instance, you can open and close the lid of the piano, giving you extra control over the volume. 
The Nautilus has no less than nine synthesizer engines at its core. Each engine does a particular job, meaning nothing is compromised. 
Note that the Korg Nautilus has no on-board speakers. You need a set of high-quality speakers if you decide to invest in this instrument. You can plug in headphones though.  It's worth investing in a really good set of headphones to get the full effect of the sounds. 
Each of the factory sounds ("programs") comes with a preset drum track which you can start by hitting one button. This can be great for practicing in time as well as performance. The drum tracks can be tweaked and changed as much as you want, including swapping out the actual drum kit for another. An onscreen mixer with finger-tip drawbar controls can further manipulate the sounds on the fly and can be saved to memory right onto the keyboard. The whole process is incredibly easy and intuitive.  
There are over 200 drum kits to choose from with names like Hard Dance, Electronic Beats to the more unusual Human Beatbox, Chill/Ambient and Psycho/chill kits.  
The program voices are stored in "banks" containing 127 sounds each. There are 15 banks giving a total of over 1,900 individual sounds. Just the selection of pianos alone is enough to blow your mind. The main piano sound was sampled with 12-velocity depth. Then there are the combination voices, divided into two banks of 127 selections each. I recognize some of the program names from the Korg M1 which makes me very nostalgic. They were fantastic sounds so I'm happy to see they have not retired them.  
Each individual program voice and combination sound can be tweaked endlessly to make them into something completely different and then store them for future use. You can also sample your own sounds, add effects and store these too. 
There's a huge selection of orchestral instruments in many styles, such as bassoon, English horn, pizzicato strings and oboe. These are likely not going to be sufficient for a serious composer who works with VST instruments, but they'd be great for pop/rock and dance music. For the more mainstream creator there's "Club brass", "Jazzy Hiphop" and a variety of different sax sounds. Also you'll find a huge selection of "world" instruments from shamisan flute to kalimba. 
Strings are always a tricky thing on a keyboard. Because I use VST strings, I'm used to being able to customize exactly how fast I want the attack and decay, how smooth a transition between low and high, and drawing in the exact volume I want as well as having some control over the vibrato. You won't have such control over these instruments so they won't sound "real" in the true sense, but there are so many to choose from. I have to say that considering these orchestral strings are on a keyboard, they're really very impressive – especially the low strings which are warm and very rich. You can also play analog strings which can be increasingly synth sounding, as you prefer, with the turn of a knob.  
The brass sounds are slightly less convincing to my ear, but they are certainly usable in the right context, especially for dance music where they aren't out front too much. The drum sounds are top notch.   
Features 
Program Mode – individual sounds

Combination Mode (up to 16 sounds can be layered at once). Some of the presets in this are excellent and playable right out of the box.  

Sequencer with 16 internal and 16 audio tracks. 200 song capacity. 

Vocoder Mode – sing into a microphone and it applies your voice across the keyboard

Wave synth 

Arpeggiator 

Joystick – to bend the sound 

Seamless Sound Switching technology gives you the power to switch from one program voice to another without any delay or break in the music.  

Sampling function – import as WAV files or record your own 
Setlist mode 
Let's say you're playing for a wedding and you've got a list of every song you'll be playing. Instead of having to go looking in various modes for the sounds you will need for the gig, you can store them all in one place as a "setlist" and they will all come up on the one screen. Then you just tap the sound you want and start playing. You can store 128 sounds in each setlist and there are 128 setlists, so you're not likely to run out of space. 
Recording
In the heart of the Korg Nautilus is a 16-track recording studio dedicated to recording the internal sounds – but it also comes with another 16 tracks that record audio, meaning that you can record your guitar right into the keyboard. So you can lay down drums, piano, bass using internal sounds and then play live guitar over the top. Plug in a microphone and record live vocals or electric violin. You can record up to 32 tracks total this way which is an amazing amount of creativity. You can record up to 200 songs. If you run out of space, I want to meet you. 
Templates 
Korg Nautilus have already loaded the keyboard with song templates in many different styles so that you can get started really quickly. Also, you can record as much as you feel inspired to before you go back and decide if you want to change any of the sounds. Great for quick mock-ups of songwriting in the moment. Quantize is available to keep your playing in strict time. 
Layer
Layering is easy and intuitive using the LCD screen. With a few taps you can select the layers you want and balance the volume of each one with drawbars. Once you find the sounds and balance you require, you can store your sound as a Combination using the name of your choice. For instance, if you have ever named a file on a keyboard – or for that matter, on a TV or other device, you know that it can be painstaking to put in the letters using arrow keys and the enter button –  on the Nautilus you can plug a standard computer keyboard into the USB on the back and just type as you normally would.  (If you hunt and peck, you'll still find it a pain and even Korg can't help you!) 
Split keyboard 
Splitting is easy too, using one button. In particular, the graphic shows you where the keyboard is split by default, but if you want to change it, that's really simple too. From there, if one or both of your sounds are too low or too high, you can hit a button and transpose by the octave. You can also choose volume levels for each instrument on a split keyboard. 
Specifications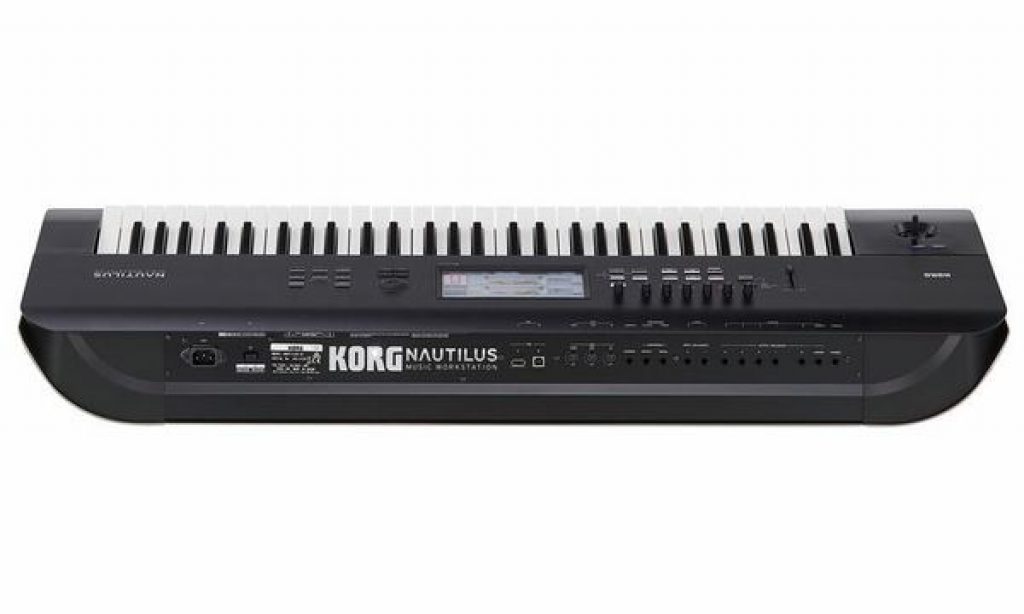 Natural Touch fully weighted 88 keys 

Nine individual synthesizer engines – each has its own polyphony 

1272 preset drums patterns 

32-track Sequencer – 16 internal tracks, plus 16 hard disk recorder plus master track records up to 200 songs. 

Input: Audio input 1 & 2 

Output: L/MONO R, Headphone jack, USB-B 

MIDI IN/OUT THRU

USB (TYPE A)

USB (TYPE B)
Who Is It Suitable For?
Beginner 
It would be perfectly ok for a beginner to start learning on this keyboard as it has the fully weighted keyboard and a really authentic sounding piano (actually, several of them to choose from). But a beginner might feel slightly overwhelmed with everything this keyboard has to offer. However, if it's for a beginner who is eager to begin creating their own music, they may well dive into this with great enthusiasm and learn to create at the same time they learn to play.  
Experienced and serious pianists 
Really serious concert pianists probably wouldn't go for this keyboard simply because they wouldn't have any need or perhaps any interest in the type of music they could create on this. However, any pianist who is also a composer would get a lot of mileage out of the Nautilus. 
Pros and Cons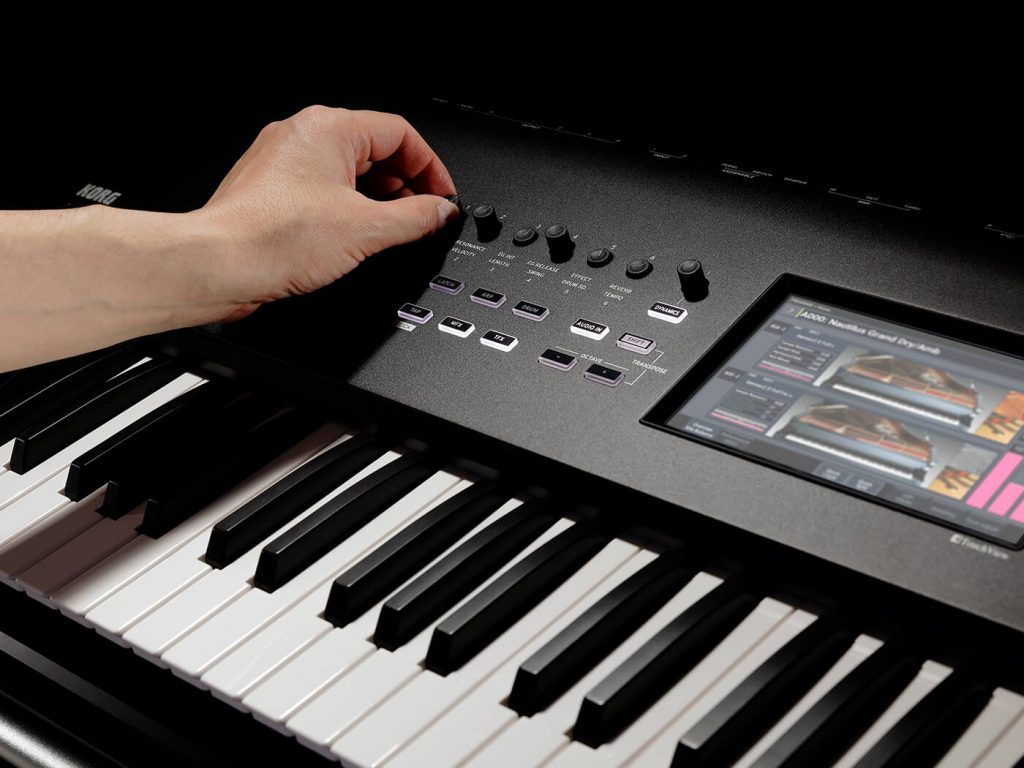 Pros 
Fully weighted 88 fully weighted, graded hammer action keys 

Incredible number of top-quality sounds to work with, including many piano sounds

Very inspiring for music creators 
Cons 
No built in speakers 

Heavy at 51llbs 
Quick View 
Keys

88 graded real hammer action keys 

Touch sensitivity 

Touch sensitive 

Sounds

1900 + 

Recording capabilities 

On-board 32-track sequencer. 16 internal tracks and 16 hard-disk tracks for audio recording. Vocoder with optional mic. 

Metronome

Built-in metronome 

Polyphony 

notes can be played/sustained at once 

Speakers

Built-in speakers

Headphones

1 headphone jack 

Accessories

Power cable and Quick Start guide. Required accessories, speakers and pedal.  

Price point 

$2,500

Weight and Dimensions 

51lbs

56 X 15 X 5 
Conclusion
For the price point, this is a great deal of kit for your money. In fact, the quality is evident throughout the whole keyboard from design and build, to sounds and effects. Also, for anybody who is already creating music tracks, this would be a fantastic addition to the studio. For anyone who is just starting out creating music, this keyboard is particularly user friendly and intuitive for a beginner.  
Although recording up to 16 tracks (and even a possible 16 more audio tracks) can be a huge task, Korg Nautilus have made it as simple as it can get. 
For a serious pianist or even a beginner, this may be too much to use. As a matter of fact, there is a learning curve that comes with such a machine, so if you are a beginner, you might want to hold off investing in such a pricey keyboard and get a dedicated digital piano.  
However, if you have a bit of experience playing the piano and have thought about getting into making your own tracks, you really can't go wrong with the Korg Nautilus.  

We rated the Korg Nautilus a 10/10. This synthesizer line is geared towards pro players- And it a real crowd-pleaser! This instrument has nine sound engines, all of which have extremely high-quality voices, from oboes to orchestral strings and of course, piano sounds. The interface is user friendly. Since this instrument is so well-rounded, we gave it a 10/10.
PROS
Fully weighted 88 fully weighted, graded hammer action keys
Incredible number of top-quality sounds to work with, including many piano sounds
Very inspiring for music creators
CONS
No built in speakers
Heavy at 51llbs