Casio PX-S1000 Review
We rated the Casio PX-S1000 a 9/10. The S100 is a member of the Casio Privia line of pianos. It comes with Smart-Scaled hammer action, 18 AIR-engine sounds, and very high-quality speakers. If you are looking for a slim and portable full-sized piano with high-quality keyboard sounds, this one is a good choice.
We rated the Casio PX-S1000 a 9/10. The S100 is a member of the Casio Privia line of pianos. It comes with Smart-Scaled hammer action, 18 AIR-engine sounds, and very high-quality speakers. If you are looking for a slim and portable full-sized piano with high-quality keyboard sounds, this one is a good choice.
Casio PX-S1000 Overview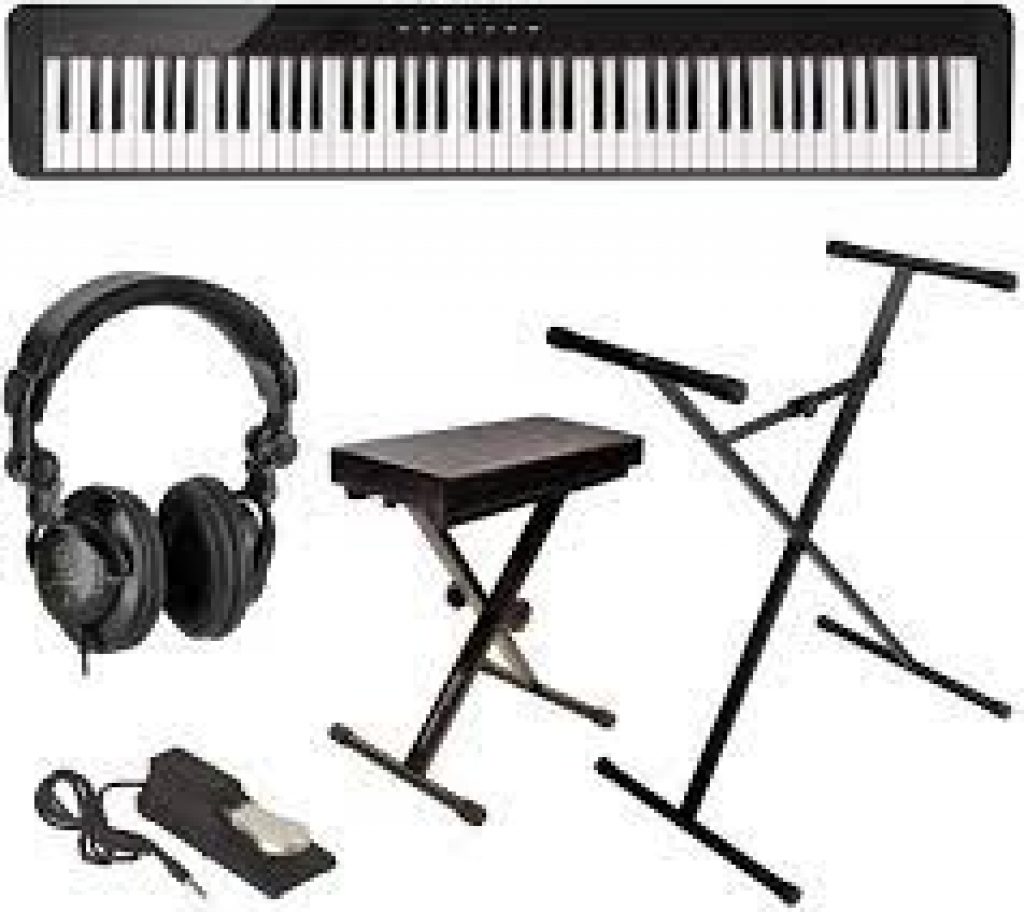 Hey there! Today we are checking out a new Casio design in this Casio PX-S1000 review.
This model is advertised as 'the slimmest digital piano in the world'.
According to the manufacturer:
"Casio's Privia digital pianos are renowned for their authentic playability and lifelike sound. Now, the PX-S1000 brings a fresh new design to the Privia series, bringing smart technology into your musical life. With its sleek glossy panel and unibody chassis, the PX-S1000 evokes a high-end acoustic grand, in a svelte modern design that's not much larger than the keys themselves. The touch sensor controls are revealed only after the power button is pressed and are easy to see in any light. They fade away when powered off, leaving only a clean, seamless top panel. And thanks to Casio's newly designed fully weighted Smart Scaled Hammer Action keyboard, the PX-S1000 provides uncompromising piano touch with a proprietary key scaling system that reproduces the characteristics of each of the 88 notes, while ebony and ivory key textures ensure confident, comfortable playing in any climate." (Casio, Amazon.com/Casio-Privia)
Features
Stunning Color Options and Design
This model is available in striking bright red, as well as, black, and white. Overall, it has a slim and sleek design. I really enjoy the look of the setup as a whole- It has a shiny panel, which you don't typically see. Most on-board designs are matte these days. On top of the fresh new looks, it's sturdy, too. It was made with a unibody build, which makes it much more stable than instruments that were built into multiple pieces.
Smart Scaled Hammer Action Keyboard
I simply can't get enough of this keyboard. It has textured (synthetic) ivory and ebony keys, and is full-sized, with 88 hammer action keys. Casio went the extra mile on the PX-S1000. The keyboard is smart-scaled. The new smart-scaled keyboards are modeled after grands. 
18 Excellent Tones / AIR Sound Source
One of the favorite tones among Casio players is the stereo grand piano. Other voices that the Casio PX-S1000 has to offer are:
Tine pianos

Reed pianos

Electric pianos

Strings

Vibraphone

Harpsichord 
The enhanced AIR sound engine provides an extremely realistic playing and listening experience. While the Casio PX-S1000 doesn't have hundreds of tones like some of its competitors, the sounds it does have to offer are great.
Touch Sensor Controls
Touch sensor controls are onboard controls that you press with your fingers. One really cool feature within the touch sensor controls is that they only appear when you turn the piano on. This makes the piano look modern and minimalist. A lot of musicians prefer the touch sensor controls as opposed to traditional buttons. 
Designed to Pair with Chordana and Piano IOS
Chordana and Piano are pairable with the Casio PX-S1000. Other apps can pair with the S1000, too! Chordana, however, is a Casio-creative app that many beginners prefer. Learn more about Chordana Play here.
Bluetooth 
Don't have speakers so that you can jam in your home? Casio pianos like the PX-S1000 include Bluetooth so that you can play songs from your phone or tablet, and connect it to the speakers in the piano. Now, you can add piano to your favorite songs. 
But not only does this work super well for play-alongs- It saves you space so that you don't have to buy separate speakers or a soundbar when you are jamming, too! 
Driverless Connections
Because the USB is class compliant, you don't have to worry about driver downloads anymore. Connect your computer or smart device, hassle-free! 
Carefully Placed Speakers
This is one of my favorite parts of the Casio PX-S1000: It was designed to project well in any setting. The sound comes out on the back side of the keyboard so that audiences can hear you. Sound also comes out above the keys as well. 
Lightweight with Optional Battery Power
The Casio PX-S1000 is under 25 pounds, with optional battery power. This is excellent because it allows you to gig, cordless! The speakers in this model are directed towards the audience, so they are more powerful to the audience than they are to you. All in all, this model is ideal for on-the-go performances! 
5 Amazon Packages
Amazon offers 5 different varieties of packages and accessories. Here are the options:
Keyboard alone

This Keyboard and stand

This one Keyboard and double-x stand

Keyboard and sustain pedal

Keyboard and x-style bench
Acoustic Simulator 
While a lot of Casio keyboards don't have an acoustic simulator…this one does! It's clear to see that this brand is beginning to get into intermediate piano territory here. Some of the options in the acoustic simulator include string resonance, damper resonance, key-on, and key-off sounds, and hammer response. All of these little 'extra noises' help provide a more authentic experience for those who are used to playing on an acoustic grand
Equal Temperament and More 
While the Casio PX-S1000 is set in equal temperament, there are also 16 other temperament options. It's surprising that so many models have these different tunings, as it isn't something a beginner would typically need or understand. Once again, I'm starting to see Casio aim their arrow a little high, up to the intermediate market. 
Other Features Include:
Two headphone jacks so that you can play quietly with a friend

Two-track internal MIDI recorder

Dual Layer

Split mode

Duet mode

Transpose

5 touch sensitivity options

DSP effects
Casio Privia PX-S1000 Specifications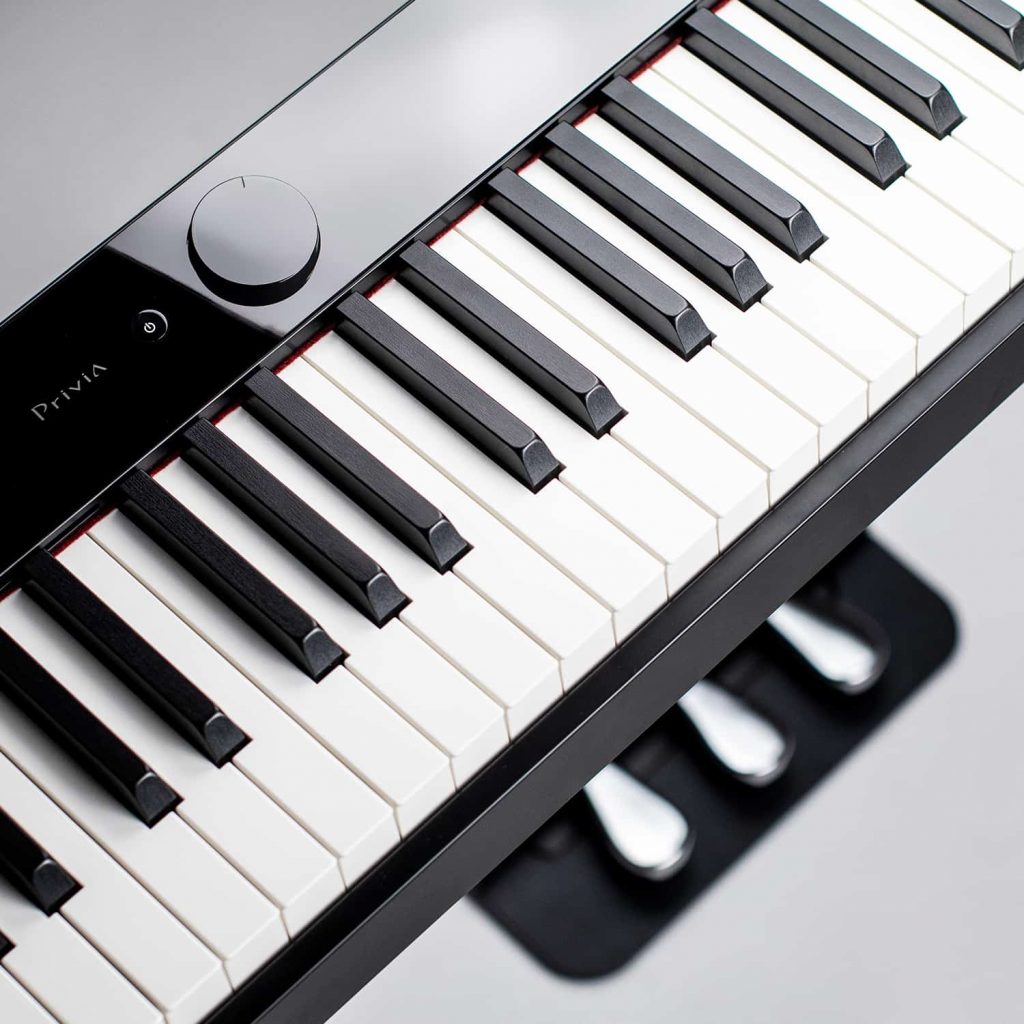 Weight:

24.7 pounds

Dimensions:

52 x 9.1 x 4 inches

Keyboard Type:

Digital grand

Speaker Output:

16 x 8 

Amplifiers:

8 x 8 

Battery Type:

6 x AA

Metronome range:

55-255 BMP

Digital Effects:

Reverbs and choruses 

Acoustic Simulator:

String resonance, damper, and key action noise

Music Library:

60 songs
Who Is It Suitable For?
The Casio Privia PX-S1000  is suitable for advanced beginners, intermediates, and those who want a gigging keyboard with a realistic feel, and great effects. The small but mighty sound bank will keep classical students on track. However, given the new AIR technology and sensitive dynamics, it is good enough for professionals to perform on. 
Here we go with 'Aleah's classical litmus test' again. Can you perform Rachmaninoff on it? Yes. A resounding yes at that. 
Casio PX-S1000 In Action 
In this review, Merriam music guides us through more details of the piano. You can also hear Steve play a sample of a jazzy tone about a minute in.
This is what I learned about this digital piano:
The Casio PX-S1000 was a double release alongside with another piano 

This model is one of the first models that Casio has made for mid-range / intermediate pianos 

The updated AIR sampling has a great sampling set, that Steve described as complex, rich, and meaningful 
At 3' in you can hear another sample of a piano voice. Wow. Are those low ends rich!
The user navigation is a little odd. A lot of users have found that they need to watch the instruction videos by Casio a couple of times before it becomes natural feeling
If you are interested in hearing all playing, no talking, check out this video by Woody's Piano shack:  (There you can hear mosts all of the 18 sounds in action: grand piano concert, grand piano mellow, rock piano, electric piano, digital e. piano 1, digital e. piano 2, 60's e. piano, harpsichord, vibraphone, strings 2, jazzy organ, and pipe organ)
Amazon Customer Reviews
The Casio PX-S1000 was rated 4.8 Amazon.com. Most of the customers had raving reviews of this model.
What They Liked:
It looks attractive 

Has a good price and a nice feel

Has a very different texture and feel than Yamaha 

It's light

The ambient hall setting makes the tones sound really nice

It improved a lot since the last PX model

It was their favorite piano they'd ever had

You can't beat it given the portability and price
What They Didn't: 
After a lot of playing, the keys can get a bit loose and clacky

The users manual is hard to follow

The internal speakers weren't as loud as they would have liked

They didn't like the design of the music stand
Casio PX-S1000 Pros and Cons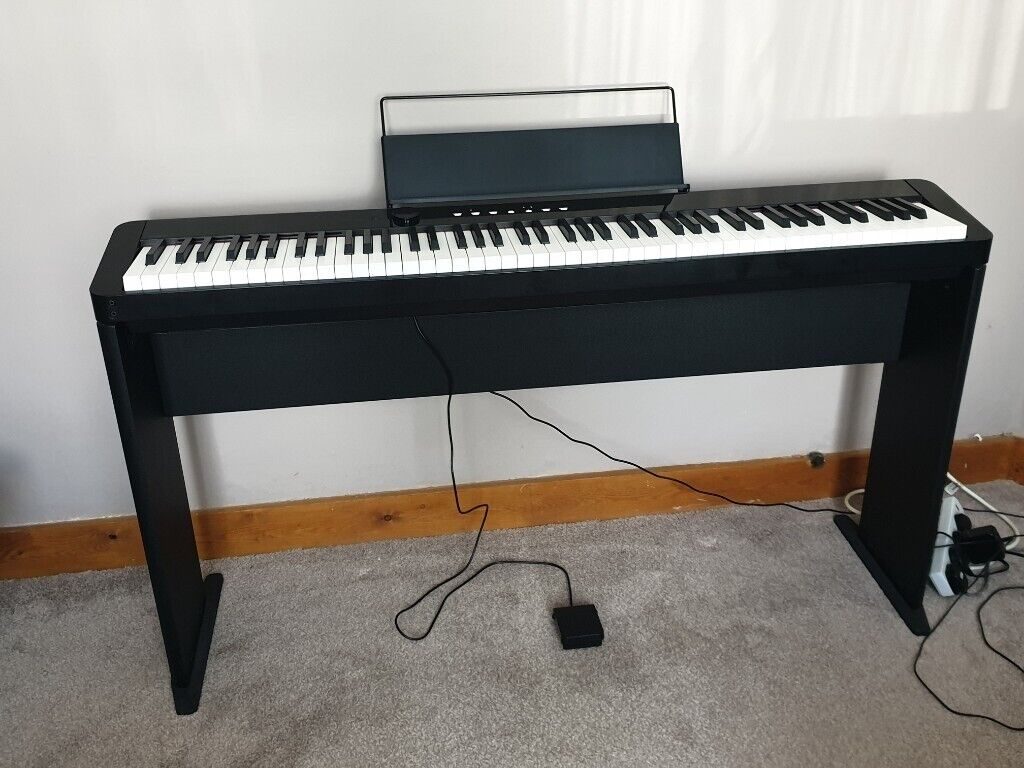 Pros
This model replicates grand pianos very well 

It is easy to take on-the-go

Has Bluetooth and app capabilities

Has synthetic ivory and ebony keys, as well as textured keys

The key feel is excellent

It has 5 touch sensitivity settings 

The polyphony is really high

It's under 1k and has a full-sized keyboard

It has unique speaker placement for better audience projection 

The soundbank is high-quality

Casio provides tons of great learning tools with every package 
Cons
There aren't a lot of tones

Some people prefer the Casio's 160 feel

It only has a double sensor rather than the triple sensor the 160 used to have

The X stand isn't designed as well as it could be 

The internal speakers primarily face away from the player, which can be problematic for home practice

There aren't many tones

This keyboard doesn't have a ton of synth pad sounds, and it isn't ideal for those looking for a piano for producing

There is a learning curve when it comes to learning how to navigate the keyboard
Casio PX-S1000 Quick View 
Keys

88 full-sized hammer action keys 

Touch sensitivity 

Yes: 5 options

Sounds

18 total voices

Recording capabilities 

USB/ MIDI recorder

Metronome

Yes

Polyphony 

192 notes 

Speakers

Yes: Two 

Headphones

Two jacks available

Accessories

Some sellers include the following:

AC Adaptor, Battery Drive, Music stand

Price point 

$649.99
Instruments Comparable to Casio's PX-S1000
The Casio PX-160 is quite similar to the Casio PX-S1000, except that it is not quite as portable, has a slightly lower polyphony, and does not connect to Bluetooth. Anything in the PX line is going to be fairly similar. That being said, I prefer the PX-S1000 over most all of the PX line, comparatively. The Casio PX-870 is excellent, but it is significantly pricier. 
As an Amazon customer mentioned earlier, the Yamaha 'P' keyboards have a very different key feel than the Casio PX's. If you are wanting similar features but a different key feel, try the P-125. 
For other reputable digital piano brands, as always, check out Kawai and Roland. 
Conclusion
Overall, the Casio PX-S1000 is a great advanced beginner to intermediate piano. It can be used for performances, home practice, lessons, and more. 
We hope you've enjoyed our Casio Privia PX-S1000 review. Come back for more keyboard reviews soon!
Music quote of the week: 
"Sometimes I can only groan, and suffer, and pour out my despair at the piano." 
-Frederic Chopin
We rated the Casio PX-S1000 a 9/10. The S100 is a member of the Casio Privia line of pianos. It comes with Smart-Scaled hammer action, 18 AIR-engine sounds, and very high-quality speakers. If you are looking for a slim and portable full-sized piano with high-quality keyboard sounds, this one is a good choice.
PROS
This model replicates grand pianos very well
It is easy to take on-the-go
It has Bluetooth and app capabilities
It has synthetic ivory and ebony keys, as well as textured keys
The key feel is excellent
It has 5 touch sensitivity settings
The polyphony is really high
It's under 1k and has a full-sized keyboard
It has unique speaker placement for better audience projection
The soundbank is high-quality
Casio provides tons of great learning tools with every package
CONS
There aren't a lot of tones
Some people prefer the Casio's 160 feel
It only has a double sensor rather than the triple sensor the 160 used to have
The X stand isn't designed as well as it could be
The internal speakers primarily face away from the player, which can be problematic for home practice
There aren't many tones
This keyboard doesn't have a ton of synth pad sounds, and it isn't ideal for those looking for a piano for producing
There is a learning curve when it comes to learning how to navigate the keyboard