Casio CT-S300 Review
We rated the Casio CT-S300 a 7/10. The CT-S300 is a portable arranger keyboard with a lot of tones. This keyboard is geared towards non-professionals, and does a pretty good job considering the price! But because the speakers are a bit low quality, and some of the voices aren't very realistic, we had to take off a few points.
We rated the Casio CT-S300 a 7/10. The CT-S300 is a portable arranger keyboard with a lot of tones. This keyboard is geared towards non-professionals, and does a pretty good job considering the price! But because the speakers are a bit low quality, and some of the voices aren't very realistic, we had to take off a few points.
Overview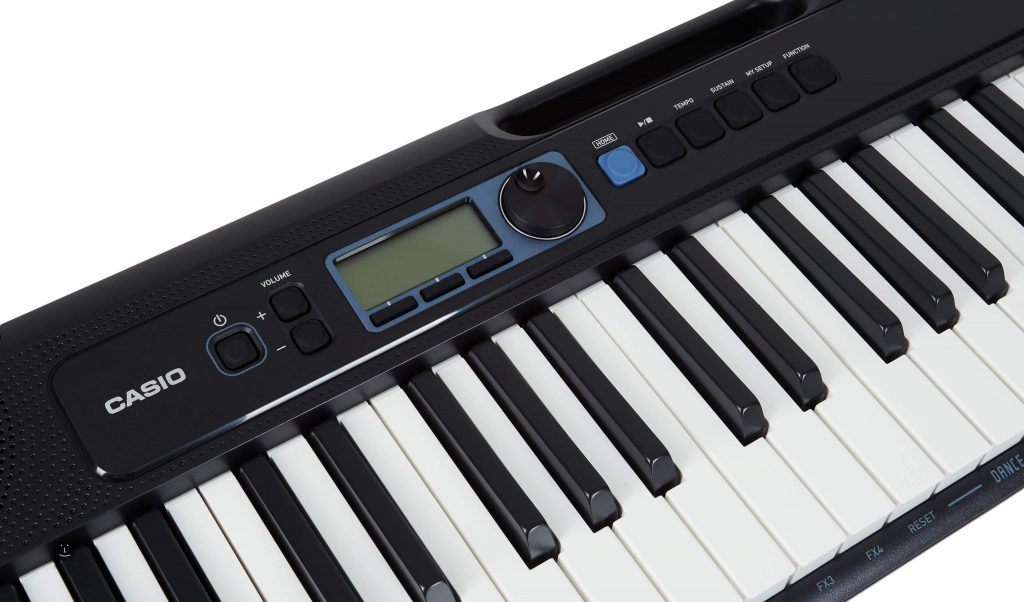 Hello there! Welcome back to BestPianoKeyboards. Today, we are looking at an under-$200 keyboard. Yep, you read that right. Under $200. The Casio CT-S300 is technically considered a portable arranger keyboard…But at such a show-stoppingly low price, is it actually worth buying? We'll let you decide after getting a few more details from us in this Casio CT-S30 review. 
The Casio CT-S300 first came out in August 2019. Ever since then, it has been impressing buyers around the world. According to Amazon.com:
"The ultra-compact CT-S300 lets you make music wherever and whenever you want. Just pop in six AA batteries, grab the built-in carrying handle and take your inspiration to go." (Amazon / Casio) 
Features
Three Different Packages to Choose From 
You can choose from the following when it comes to a CT-S300:
The regular package

The premium package

The educational package
The regular (Amazon) package just comes with the keyboard, music stand, and power supply. While the other two packages do cost around $20+ more, I think that they are worth it. If you purchase one of these packages, you won't have to hunt around for a place to find a matching Casio stand. 
The premium package comes with a piano stand and headphones. You can find it here.
The educational pack comes with headphones, a stand, a 6-foot USB cable for recording, and eMedia software. You can find it here.
It's Easy to Carry 
The round edges of this instrument make it really easy to move it around. Ever tried to carry a piano with sharp corners and have it dig into your leg on your half-mile track from a downtown parking garage to your gig? Yeah, exactly. In addition to this, the Casio CT-S300 has a carrying handle, which makes it even easier to transport.
A Ton of Tones
While some other brands will have you paying $400 for 10 tones, you get 400 tones for $149. If you're thinking that it sounds like a steal, well, it is! The only real drawback is that the soundbank is a little older, and so it doesn't have the newest Casio sound chip. 
Pitch Bender 
Pitch benders are quite difficult to find on under-$500 keyboards, but Casio gives us what we all want. This Pitch benders allow pianists to replicate the string-bending technique that guitarists often use. A pitch bender is a fun tool that every pop and rock pianist should have on their keyboard. 
App Connectivity
It's really easy to connect the Casio CT-S300 to the Chordana app. Chordana helps you learn popular songs with a visual aid called piano roll notation. It's kind of similar to those piano synesthesia Youtube videos. Check out more about it here! 
Easy for Everyone to Use 
While some people might be dreaming about a panel with loads of buttons, there is a clear perk to a simple keyboard like this: Everyone can navigate it. 
Optional Battery-Power
While I typically complain about battery-powered options on pianos because they don't usually hold up to the test of time (long gigs), the Casio CT-S300 is the exception. It can run off of batteries for up to 19 hours. 
10 Reverbs 
Having 10 different reverbs makes it really easy to add that little something extra to your sound without changing tones. 
Dance Music Mode 
There are 50 patterns and 12 voices in the Dance Music Mode. Dance Music Mode is truly a special feature when it comes to Casio instruments. While the CT-S300 might be a beginner to intermediate instrument, it truly encourages creativity. Using the Dance Music Mode, you can make your own EDM and House music from scratch.
As you can see, the black keys control the pitch, filters, FX, and more, whereas the white keys help you later the different instruments into the song. If you want to find out more, check out the link here.
Auto Accompaniments 
Auto accompaniment is a feature on Casio's that is more advanced than most. A lot of accompaniments are canned-sounding and can't be adjusted according to types of chords or different genres. The accompaniment mode on this model, however, has a lot of options. There are 6 different types of chord input modes in auto-accompaniment, as well as several other choices. To use the feature, you simply go to Accompaniment Mode > Function and then select which type of accompaniment you'd like. 
Song Bank with Part-Off Function
The part-off function of the soundbank is great for beginners. It allows you to turn off the left or right-hand part so you can focus on practicing just one at a time. 
Other Features
Other features that the Casio CT-S300 has include:
Transpose

A sustain button

Multiple ways to connect (Aux in, line out, MIDI-B, MIDI, 
Specifications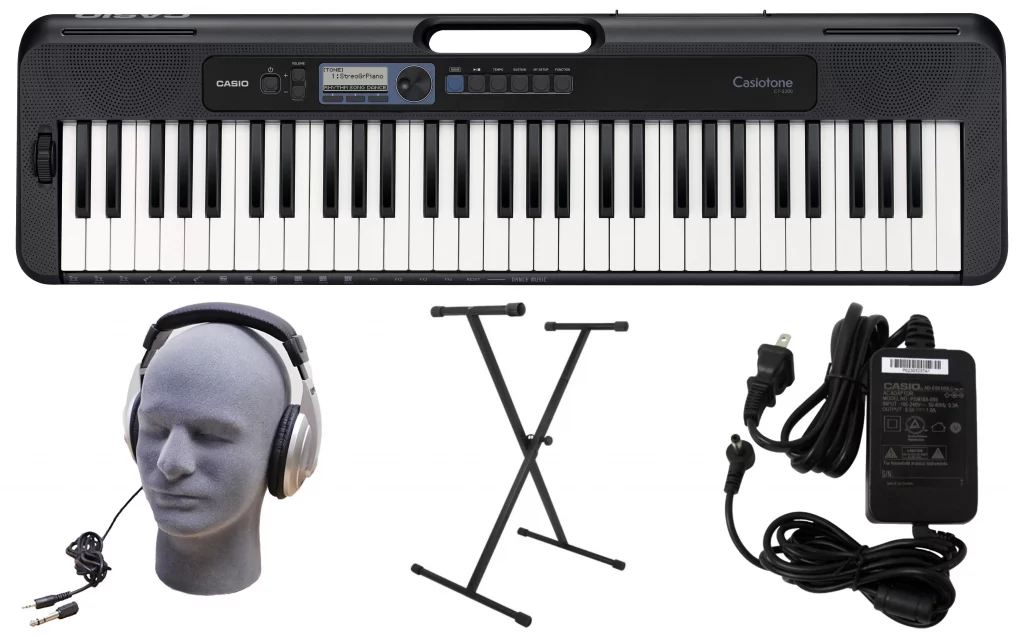 Weight:

10.9 pounds

Dimensions:

10 x 36.6 x 2.8 inches

Keyboard Type:

Portable arranger keyboard

Speaker Power:

2.5W + 2.5W output
Who Is It Suitable For?
The Casio CT-S300  is suitable for arrangers,  traveling hobbyists, and serious beginners who plan to stay within the genres of popular music. Arrangers will enjoy taking this instrument on composition-heavy vacations. Because it is so easy to move around and has a ton of tones, the Casio CT-S300 is ideal for the traveling arranger. Hobbyists and serious beginners will appreciate the large number of features this keyboard has to offer, as well as the simplicity of the interface. 
Casio CT-S300 in Action / Review
This Casio review by Jeremy See is a great place to learn more about the CT-S300. In his video, he candidly mentions both the pros and cons of the instrument. He says it's really suitable for people who like to carry their instruments to parties and around the town. It's professional looking when compared to other keyboards in this price range. He says it has a good layout and great engineering. He even goes so far as to say they sound beefier than the CTK series. What he didn't like is that the sounds are 'a little outdated' and don't have the newer sound chip. 
https://www.youtube.com/watch?v=IjvDjJspDZY You can also hear this model in the Casio introduction and feature tour video.
Amazon and Sweetwater Reviews
The Casio CT-S300 was rated 4.8 out of 5 stars on Amazon. We checked out the Sweetwater reviews as well. So, let's see what customers from both sites had to say about their new instrument!
What They Liked:
Lightweight and fun

It makes a great gift

Comes with its own AC adaptor

The dance music is really cool
What They Didn't: 
The speakers are low quality

The piano voices could be better 

The headphones that come with the bigger package aren't exactly top-of-the-line

It's hard to find a case to fit this keyboard

It does not have weighted keys
Pros and Cons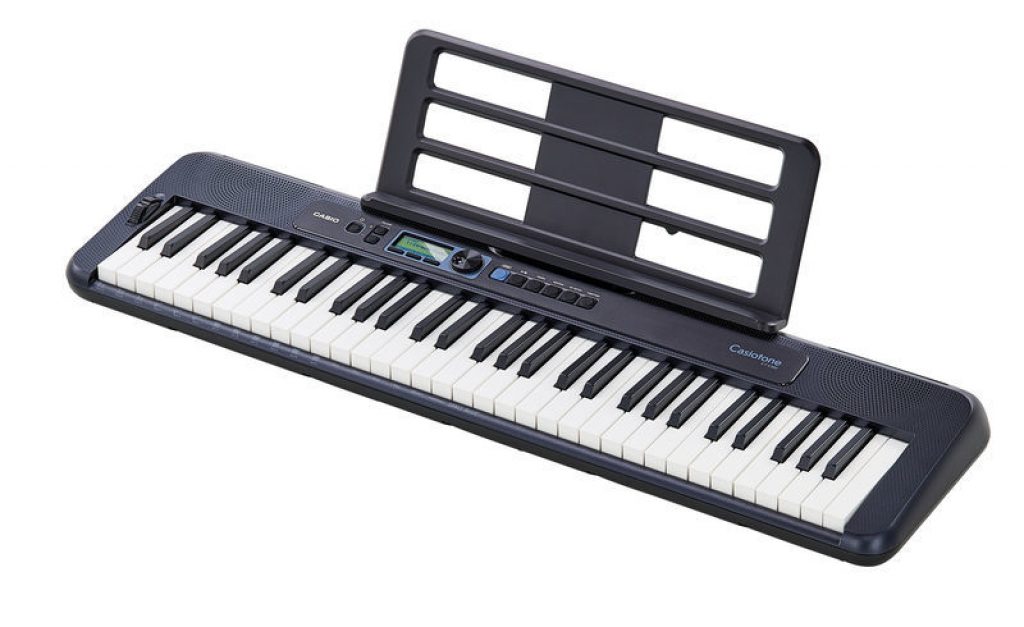 Pros
It's really cheap

It has many tones

It has rhythms and songs, too

It's easy to carry

It is great for arrangers who are always on the go

It's simple to navigate: anyone can use this instrument
Cons
This is not a full-sized keyboard

It isn't GHS, or even weighted

It doesn't have a lot of polyphony
Quick View 
Keys

61 touch-sensitivity keys (non-weighted) 

Touch sensitivity 

Yes: two touch sensitivity options 

Sounds

400 tones, 77 rhythms

Recording capabilities 

USB to MIDI

Metronome

Yes

Polyphony 

48 notes of polyphony

Speakers

Two 13 x 6 cm oval speakers 

Headphones

Input: Yes

Accessories

The power cord and music rest are available with the keyboard, for more information on other packs, see the feature section

Price point 

$149.99 keyboard only

$189.99 educational pack

$179.95 premium pack
Comparable Instruments
Instruments that have been compared to the Casio CT-S300 include the: 
The Yamaha PSR E0363 is going to be hard to find in stock online, so try your favorite music resale shop if you are looking for this one. 
Conclusion
All in all, the Casio CT-S300 is a really good buy for what it has to offer. I hope you enjoyed this Casio CT-S300 review. Thanks for stopping back. Be sure t come back for more reviews and informative piano articles soon! 
Music quote of the week: 
"Life is like a piano. What you get out of it depends on how you play it." -Tom Lehrer