Yamaha Arius YDP-103 Review
We rated the Yamaha Arius YDP-103 a 6/10. While it does serve beginners very well, it is a little expensive for those just starting out! The realistic touch and variable touch sensitivity make this keyboard feel very high-quality- And it is. But we were a little disappointed with the soundbank. Unfortunately, there are only 10 sounds in this soundbank, and the polyphony is very low (64). While this is indeed a high-quality instrument, we think beginners can get more sounds or bang for their buck in a different model.
We rated the Yamaha Arius YDP-103 a 6/10. While it does serve beginners very well, it is a little expensive for those just starting out! The realistic touch and variable touch sensitivity make this keyboard feel very high-quality- And it is. But we were a little disappointed with the soundbank. Unfortunately, there are only 10 sounds in this soundbank, and the polyphony is very low (64). While this is indeed a high-quality instrument, we think beginners can get more sounds or bang for their buck in a different model.
Welcome back to BestPianoKeyboards! Today, we are checking out a high-quality Rosewood piano in this Yamaha Arius YDP-103 review. Yamaha Arius is a well-known name amongst musicians. But does this 103 model live up to our standards? Let us see! 
Overview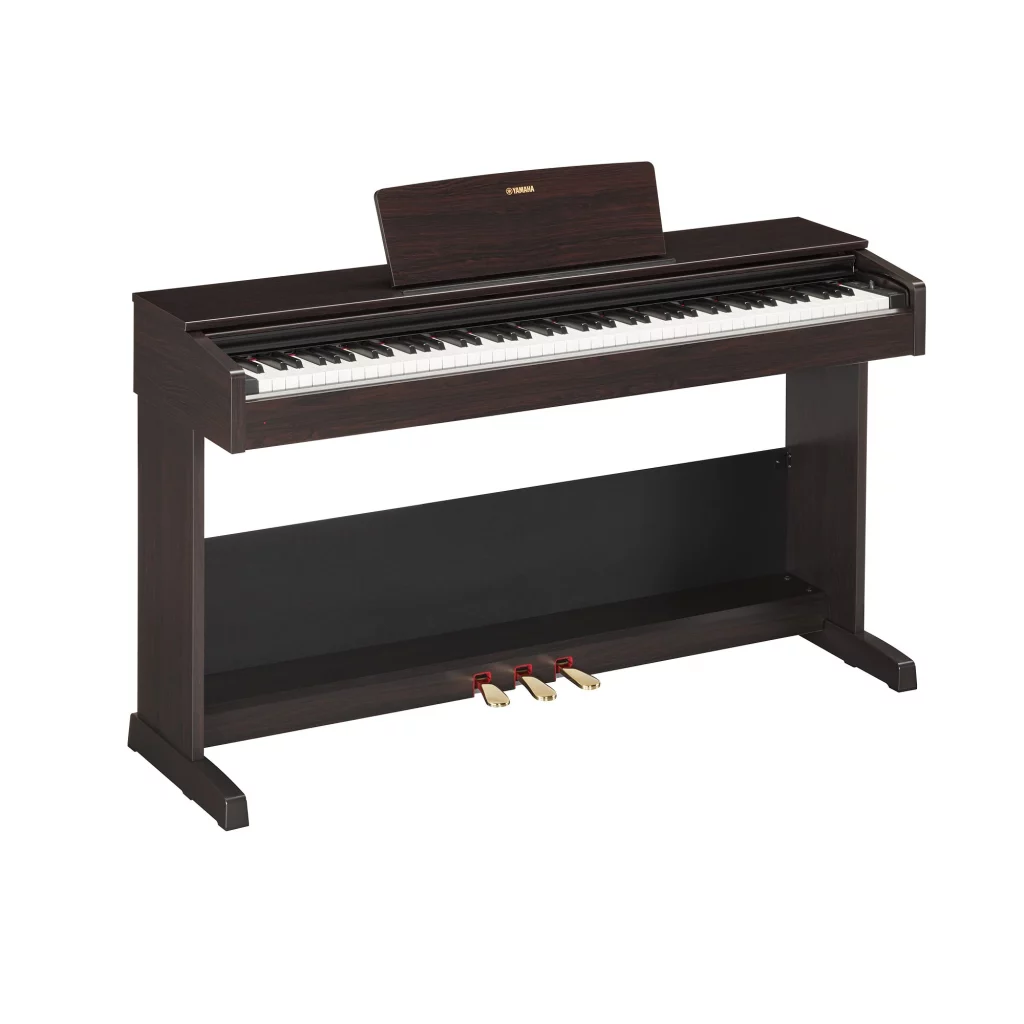 The Yamaha Arius YDP 103 digital piano is an instrument that runs just under one thousand dollars. While it is technically a beginner model piano, it still has managed to make quite the name for itself in the music world. So, here is how Yamaha self-describes this instrument:
"ARIUS – The little piano that could.
For over a century, Yamaha has crafted pianos fit for the world's most prestigious concert halls. Now ARIUS recreates the touch of a Yamaha acoustic piano and our flagship CFX concert grand sound to fit your home and your life. All with the sleek design, intuitive features and advanced technology you've come to expect from a Yamaha." (Credit: Amazon, Yamaha) 
Yamaha Arius Line
The Yamaha Arius YDP-103 is the youngest sibling of the Yamaha Arius line. Yamaha Arius is a line of Console pianos. The 103 model is the most economical of the group. Other electronic pianos in the Arius line include:
Yamaha YDP-144

Yamaha YDP-164

Yamaha YDP-184
Many musicians have also made comparisons between the Yamaha Arius YDP-103, and the Yamaha P-45. For reference, the Yamaha P-45 is the cheapest piano keyboard that Yamaha has to offer. 
If, during this review, you find yourself thinking 'Wow, this sounds like a high-quality instrument, but honestly, I'm just looking for a little bit more" Try checking out the YDP 144 and the YDP 164. These more expensive instruments in the same line have many more features, such as additional voices, expanded effects, and more polyphony. Once you know a little bit more about the YDP-103, we'll circle back to these other models and compare them for you. 
Features
The Yamaha Arius YDP-103 has several quality features, including touch sensitivity, GHS keys, stereo sampling, and more. Here is a deeper look into the features.
Variable Touch Sensitivity
This Arius offers four different types of touch sensitivity: hard, medium, soft, and fixed. I always love it when piano models are designed to give players touch sensitivity options.When it comes to touch sensitivity, two or three options is what I have come to expect at this price point. However, all the Arius line pianos actually have four (or five!) touch sensitivity options.
Realistic Keys
This model has realistic-feeling matte keys. The fact that the keys are matte instead of glossy is quite helpful, because it leads to reduced finger slipping. The keyboard is full-sized (it has 88 full-width keys), and is GHS weighted. The Yamaha GHS weight helps improve how natural it feels to play the instrument. Personally, I have a GHS (Yamaha) weighted piano (One of the DGX models). With a combination of GHS weight and variable touch sensitivity, I have complete control of the dynamics of my sound, both in recordings, and live. 
AWM Stereo Sampling  
AWM stands for advanced wave memory. The Yamaha Arius YDP-103 is the only model to have advanced wave memory in the Arius line. According to Yamaha, this method of sampling makes the digital instrument sound more realistic. What it does is take real audio samples, and put a filter over them. 
Imagine music samples being kind of like a photograph (Uh oh, my photography analogies are leaking out!). No photograph is actually one hundred percent accurate to what we see. The same thing goes for the audio samples that are recorded. So, much like how photographers put their photos into photoshop to enhance and adjust the saturation and lighting (to better capture what a place actually looks like) an audio engineer put this Yamaha filter onto the sound. 
Optimized Headphone Playback
With two headphone jacks and stereophonic capability, who wouldn't be satisfied? It is clear to see that this piano was designed for those who are planning to play with headphones on. Because there are two jacks, those who are looking to play duets, or teach, will find themselves thrilled! I can also see this piano being used inside a piano class that has a low budget. You could put two students per one piano, and they could practice with headphones in the piano practice lab.
Students who welcome a traveling private piano teacher into their home (it's more common than you think!) will be able to practice via headphones with their teacher, without disturbing their work-from-home parents, who might be on Zoom calls all day. This is one of many scenarios where the Yamaha Arius YDP-103 shines. 
Let's talk a little bit more about stereophonic capability. The 103 model was designed to sound good with headphones. When you plug in to the jack, something called stereophonic switches on. The word stereophonic technically means that either a recording or reproduction is using two more channels for the sound. This makes it feel like you are being entirely surrounded by the music, rather than it feeling more like a flat binaural. (Paraphrased definition from Dictionary.com)
Virtual Vibrations Add Even More Realism 
This is actually the first time I have seen or heard of virtual vibrations being added onto an electronic instrument. Perhaps it is more common than I realized. That being said, it is completely shocking that an instrument in this price range was able to add this feature. 
Yamaha's custom style of this is VRM, or virtual resonance modeling. It recreates how the sound waves feel to your body, when you play an acoustic piano such as a baby grand. I love this addition to the model. One of my favorite things about acoustic instruments is that you can feel them. It reminds me of when I was going to school for music, and every practice room had an acoustic piano. The bass would vibrate against my skin in the low register. During those days, the only times when you could experience that were when you had a real acoustic on your hands. Nothing beats the feeling of vibrations of bass sounds in your hands, feet, or heart. I have got to try out this YDP-103 model again! 
 Good Device Connectivity 
This piano has the capability to connect to IOS devices. You can also plug in a USB to host cord (which you will need to purchase separately…) and connect it to your computer. There are many benefits to having these two types of connectivity. With the IOS device, you can remotely control your piano with an app. (For reference, the app is called Digital Piano Controller).  The only thing you'll  need is a USB to lightning camera cable. You might already have one, and, this cable is actually used a surprisingly large amount in music (For example, I use one to plug my Ipad into my Simmons drum kit. Yet again, I digress…) And with the USB to host? As long as you have a DAW, you can record to your heart's content. 
Transpose and Fine Tune Features 
Want to be able to transpose a song without having to relearn everything in a new key signature? The Yamaha Arius has your back. While I always do encourage learning transposition, sometime, right before the performance, there just isn't time! This model also offers fine tuning, which can help you make small adjustments to the pitch.
Quality Sounds 
There are 10 quality sounds on this keyboard. Let's look at the types of sounds offered here! 
Piano (2)

Strings

Bass

Guitar

French horn

Cello
I am really partial to the piano sounds from this sound engine.
10 Preset Songs 
This model included ten built-in songs, so, whether you have a teacher or not, you can get started right away.
An Included Bench
While adding a bench to a package sounds pretty basic, think again. Many manufacturers have done away with including benches with their pianos. The same goes for pedals as well. I was relieved to see that the Yamaha Arius YDP-103 included the bench in this one, for not a penny more. They provide beginners with everything they need to get started: bench, preset songs, built-in speakers, and all. 
Specifications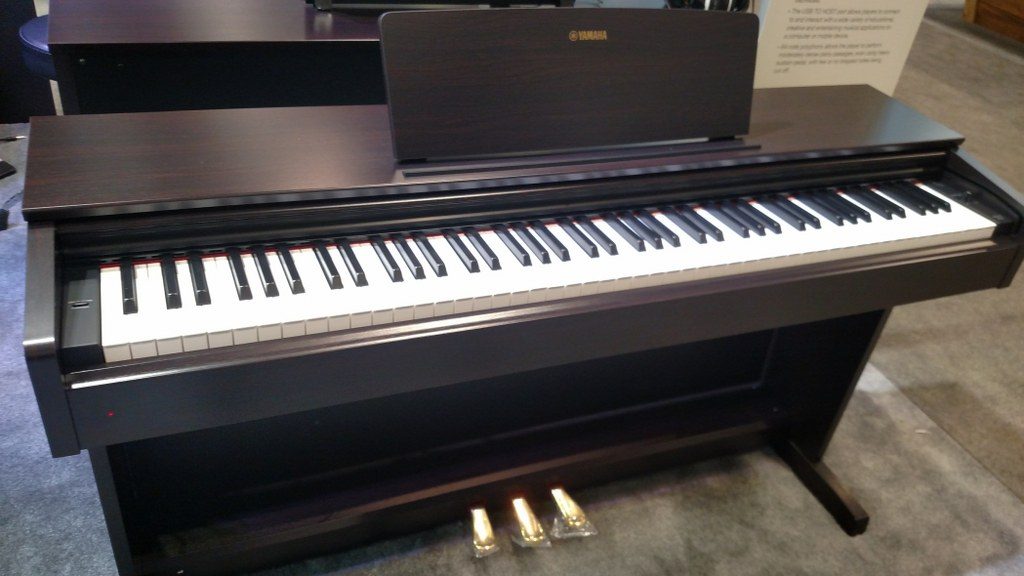 Weight:

Approximately 83 pounds

Dimensions:

About 53 x 16 x 32 inches

Speakers:

Two W6 speakers
Who Is It Suitable For?
The Yamaha Arius YDP-103 is best suited for serious beginners who are looking to learn either jazz standards, or classical music. I would not recommend this piano for those who want to play around the town, due to the fact that this instrument is over 80 pounds. 
Older players who are looking to start taking lessons again later in life will also find themselves satisfied with this product. But honestly, there simply aren't enough features on it for the recording artist, intermediate, or professional musician. 
That all being said, piano teachers may benefit from having a YDP-103 in their lesson studio. I say this because, the fewer voices a piano has, the less likely very young, distractible students are to get off track with odd sounds like "Goblin" sound that you may find in other beginning models. In addition to this, the double headphone jack allows quiet practice for not just one, but two people. 
Yamaha Arius YDP-103 Overview/ In Action 
Yet again, I watched a bunch of YDP-103 reviews so you don't have to. Popplers Music did an overview that taught me quite a bit!
In the overview, I learned that the Yamaha Arius line aims to recreate the acoustic grand pianos that Yamaha has been producing for 100 plus years. Let's hit on some other points that Josh made in the video. 
The virtual resonance modeling actually still works when you are playing with headphones in

The keys feel really comfortable

Recording is made easy with this piano, in his experience
At about 2:50' Josh starts playing the piano with one of the grand piano sample sounds. What struck me first was the purity and resonance of the high range. Gorgeous. 
Next he switched to Grand Piano 2, which has a much richer, darker tone color. This sample would be perfect for playing Beethoven…I'm thinking Moonlight Sonata, but don't call me stereotypical! 
After that, he switches to the Electric piano sound. If I'm being honest, this one is a little cheesy and clunky. Pad Synth is up next, which has a similar texture, but is much more pleasant to the ears. 
He continues to go through some of the more unique sounds, and then wraps up the video. So, if you want to hear about the French horn sound, you'll have to watch it yourself!
Pros and Cons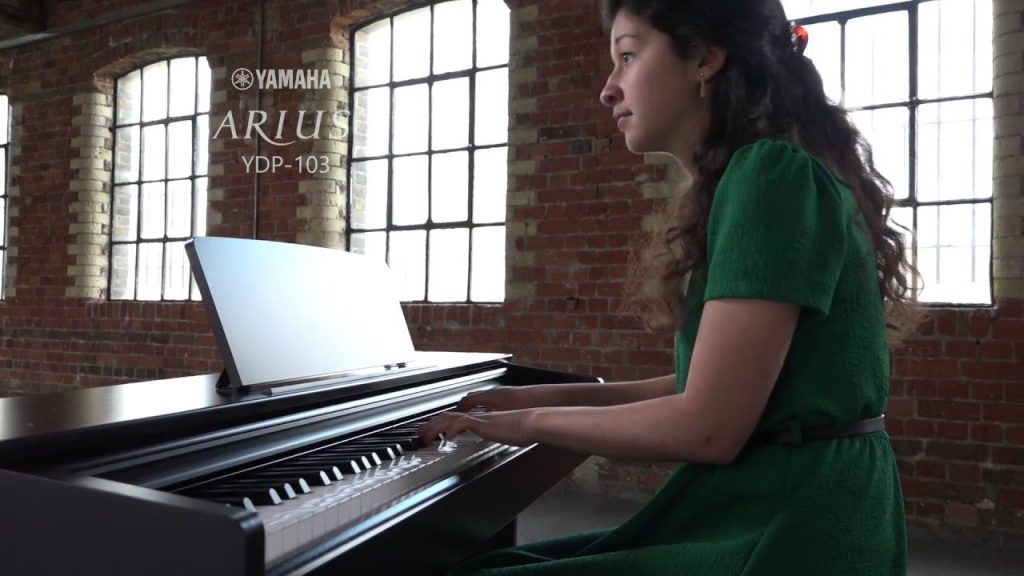 Pros
Set-up is really easy, and most customers report that they were able to follow along with a video, and get it set up in less than a half an hour

Because of the USB to Host option, you have more access to connectivity. Some musicians use the YDP-103 to plug it into their computer, and then, learn piano lessons through Garageband. What a great idea! 

Full-sized instrument with slim design

It was 88, non-slip, GHS weighted keys

It is sturdy

Has a great sound engine with state of the art sampling technology

It has Yamaha's CFX sound

There are a handful of really great effects

It has two, 6W speakers

Virtual resonance modeling (VRM) leads to a truly unique digital experience 

The touch and sounds are authentic as a whole

It has all three pedals just like an acoustic piano

The pedals have a half-damper function, which allows for a softer pedal effect

It works with other devices and has good connectivity

It looks beautiful, and will match the modern home

Dual mode and double headphone connectivity make this instrument ideal for teaching, and for playing with friends

You can control the instrument with an IOS controller, or connect it to your computer
While most of this is pretty basic, there is a lot to like. I value quality over quantity in most cases. Well, I guess there are a few things that leave me wanting more…Let's talk about them.
Cons
There are no playback capability

The polyphony is quite low

There are only 10 voices

There really aren't that many effects and features

Some assembly is required

It is the only Arius model to not include CF sampling

It is not portable
To be entirely candid, I really dislike the fact that there is no record or playback capability. Many pianos that are marketed as a beginner level instrument have a lot more than you might think at first glance. But with the Yamaha Arius YDP-103, it really is a piano with beginner features. The polyphony is pretty low for the price- It only has 64 notes. In addition to this, the sound bank of just ten voices leaves us all wanting a little bit more. So, unless you are purchasing this for learning rather than recording and playing….*Shrug*. This Arius really is not my favorite. 
One other light con is that there is some assembly required. This, however, is to be expected with such a heavy instrument.
I really wish that they had put CF sampling in this Arius model. Pure CF sampling is more high-quality than the advanced wave memory. While they are both sound engines, we all know that not all sound engines are made equally. CF is self-described by Yamaha as having 'state-of-the-art sampling technology'.
Yamaha Arius YDP-103: Amazon Reviews
The YDP-103 is rated 4.7 stars out of 5 on Amazon. This is quite good! In fact, I did some research and found out what other musicians had to say about the keyboard. 
Also, I learned that it can connect with Bluetooth headphones as well as regular headphones. I applaud Yamaha for keeping up with the times! In either case, this piano is reported to sound very good through headphones, due to the stereophonic feature. 
In particular, this model gets points for realism, as customers say that the sustain pedal feels just like that on a real acoustic. 
Several musicians remarked that there really were not very many options when it comes to voice, and honestly, I have to agree with them.
Overall, the customers were satisfied. In fact, I found a plethora of positive descriptions, including the phrase 'simple yet elegant'.
Quick View 
Keys

88 full-sized GHS keys

Touch sensitivity 

Yes (Hard/ Medium / Soft / Fixed)

Sounds

10 voices

Recording capabilities 

I

USB to host

Metronome

Yes- Built-in

Polyphony 

64

Speakers

Yes- Two, W6 speakers

Headphones

Yes- 2 jacks

Accessories

Bench, owners manual, quick operation guide

Price point 

$899.99
Other Models You May Like
Like I mentioned earlier, if you are looking for more polyphony and effects, consider going a little higher up in the Yamaha Arius line. So, let's compare and contrast with some of the more advanced models.
Yamaha Arius YDP-144
This model is one level up from the 103. Instead of AWM stereo sampling, it has the Yamaha CFX sound engine. It also has 192 notes of polyphony instead of the YDP-103's 64. Other than that, the YDP-144 is pretty much the same thing as the YDP-103. This isn't a ton more bang for your buck, so let's go up a little bit higher. This one is $1099.
Yamaha Arius YDP-164
The YDP-164 has an updated Graded hammer keys system that has not just one, but three kinds of sensors. Hence, this model will feel even more natural than the 103. At this point, the upgrade begins to be worth it! Another addition that it has is simulated ivory and ebony materials. It's polyphony and voice counts are still the same as the last model, though. This one is about $1500.
Yamaha Arius YDP-184
Next up is YDP-184. Here, Yamaha added six types of touch sensitivity instead of the typical four that we find in the other models in the line. I was glad to see that this instrument has 24 voices instead of 10, and a whopping 256 notes of polyphony. The price of this one is $2200.
Roland RP-109
Although this is not the same brand as others, the Roland RP-109 is a great alternative if you can't find the Yamaha Arius YDP-103. The Roland RP-109 is a tad bit more expensive than the YDP-103 (It runs about $950). What I like about this one is that there are wireless connectivity options, which the YDP-103 lacks. It also contains 200 practice songs instead of this Arius's 10 presets. They both include all three sustain pedals, as well as weighted keys with split and dual, a metronome, and a full-sized keyboard.
Yamaha Arius YDP-103 Conclusion
In conclusion, the Yamaha Arius YDP-103 is a great model if you are just starting out! The limited number of voices will ensure that the younger students focus more on reading and technique than they do on the bells and whistles. And if you are a more advanced player who doesn't want to spend a lot of cash and is okay with more minimalist features? Go ahead and check it out! All of the Yamaha pianos are perfectly respectable. While this one isn't my personal favorite, it might end up being yours. The new VRM authenticity is hard to deny. So head over to Guitar Center or your favorite local music store, and check it out! Undoubtedly, you'll likely save some money if you get it here, though.
Hence, if you are a professional piano player, remember that the YDP-103 has several older, more mature siblings out there! Certainly, Yamaha has been and always will be a great brand, for beginners to professionals.
Be sure to come back for more piano content soon!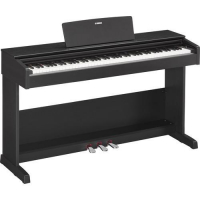 We rated the Yamaha Arius YDP-103 a 6/10. While it does serve beginners very well, it is a little expensive for those just starting out! The realistic touch and variable touch sensitivity make this keyboard feel very high-quality- And it is. But we were a little disappointed with the soundbank. Unfortunately, there are only 10 sounds in this soundbank, and the polyphony is very low (64). While this is indeed a high-quality instrument, we think beginners can get more sounds or bang for their buck in a different model.
PROS
Set-up is really easy, and most customers report that they were able to follow along with a video, and get it set up in less than a half an hour
Because of the USB to Host option, you have more access to connectivity. Some musicians use the YDP-103 to plug it into their computer, and then, learn piano lessons through Garageband. What a great idea!
It is a full-sized instrument with slim design
It was 88, non-slip, GHS weighted keys
It is sturdy
It has a great sound engine with state of the art sampling technology
It has Yamaha's CFX sound
There are a handful of really great effects
It has two, 6W speakers
Virtual resonance modeling (VRM) leads to a truly unique digital experience
The touch and sounds are authentic as a whole
It has all three pedals just like an acoustic piano
The pedals have a half-damper function, which allows for a softer pedal effect
It works with other devices and has good connectivity
It looks beautiful, and will match the modern home
Dual mode and double headphone connectivity make this instrument ideal for teaching, and for playing with friends
You can control the instrument with an IOS controller, or connect it to your computer
CONS
There are no playback capability
The polyphony is quite low
There are only 10 voices
There really aren't that many effects and features
Some assembly is required
It is the only Arius model to not include CF sampling
It is not portable