Hamzer 61 Keyboard Review
We rated the Hamzar 61 a 4/10. The Hamzar is marketed as an intermediate piano, rather than a beginner piano. There simple isn't enough resistance, or complexity for this to be a starter piano suitable for adults, let alone an intermediate instrument. The interface is simple, and the piano is quite economical. But while the Hamzar is a good piano for kids, it just doesn't hit the target audience it intended to.
We rated the Hamzer 61 keyboard a 4/10. The Hamzer is marketed as an intermediate piano, rather than a beginner piano. There simple isn't enough resistance, or complexity for this to be a starter piano suitable for adults, let alone an intermediate instrument. The interface is simple, and the piano is quite economical. But while the Hamzer is a good piano for kids, it just doesn't hit the target audience it intended to. 
Overview
The Hamzer 61-key electronic music keyboard is a fairly good basic keyboard for a beginner. The keys are lightweight and easy to press, yet touch sensitive, making them particularly good for very young children just starting out on their piano journey. An adult beginner might find this keyboard doesn't offer them enough resistance when they press the keys, and the functions and capabilities of this keyboard are very limited for anyone above a lower-intermediate level. The lack of a damper pedal connection is also a problem for high level players. 
For the price (under $200), you get a lot – including lots of built-in songs, some basic lessons and a recording function. It has MIDI capability so you can connect it to a computer. The output is 4 Watts total, delivered between two on-board speakers. For a keyboard this size, this is plenty. If you did want a bigger output, it's possible to connect it to an auxiliary amplifier. It has a headphone socket for silent practice. 
This is such a small, light keyboard – weighing in at 10.8lbs – that it's incredibly easy to move it around within the home. It can sit on a keyboard stand (bought separately) or even on a table. If you do put it on a table, make sure you're sitting at the right height to play it.  Tables are usually too high. An adjustable stool is a good investment, or else sit on a cushion or two. An adjustable table could also work. If you invest in a keyboard stand (most stands can be used with many different keyboards, so this is something you might only buy oncel), get a solidly built one that can't be pushed over easily. 
Features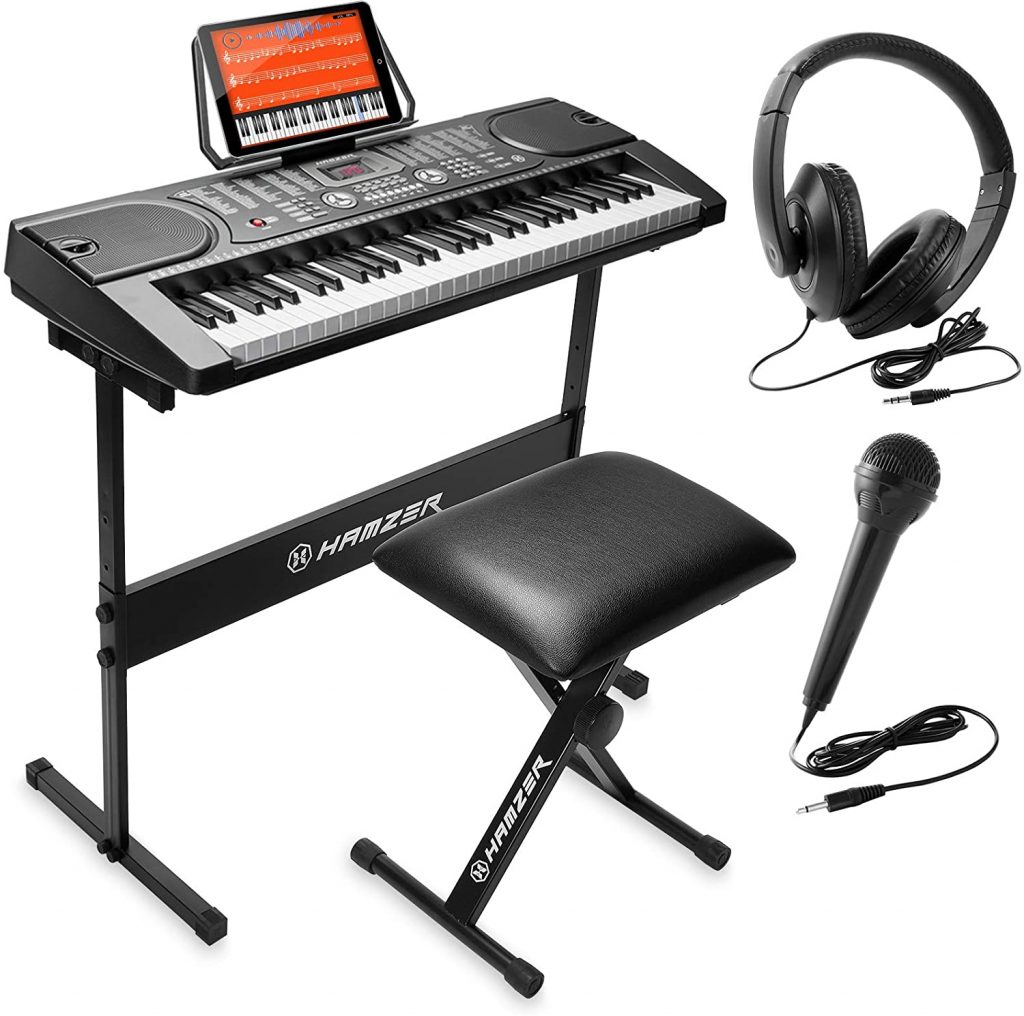 First of all, the Hamzer is a 61 note keyboard with lightweight, touch sensitive keys. However, the keys are fractionally smaller than a standard piano key size which can be an issue when you transfer to full size keys. It comes with  a selection of 128 different sounds to play with, 100 auto-accompaniment, fully orchestrated backing tracks which can be set at one of 16 volume levels. It has 100 songs. The available connectivity includes MIDI OUT and AUX OUT. There is one headphone jack and a MIC jack so you can plug in a microphone and sing along.  
Lesson mode 
The Lesson mode on the Hamzer 61 keyboard is divided into 3 levels. You access the lessons within the Songs Mode to pick the song you want to learn.  In all lessons, the music notes appear on the LCD screen.  (Just the right hand melody). On Level 1, whatever note you press on the keyboard, the piano will sound the correct note, so you can't actually play a wrong note. This will obviously sound right and be satisfying to a beginner, but the danger here is that you won't actually learn how to play the song correctly.  
The second level lessons start the same way, but this time the song won't move on until you play the correct note. This is a better strategy for learning a song!  
When you get to the third level you don't get any support from the keyboard. The music appears on the LCD screen and you have to play the correct notes. If you miss a note or play a wrong note, the song will continue without you. You can obviously stop and start again as many times as you like. 
When you finish a lesson, the LCD screen will display a score to let you know how you did. There are four achievement levels to aim for. If you get Level 4, you have scored 30 or less. Level 3, you scored between 30 and 59 which is considered "good". Level 2 means you scored between 60 and 79 which is very good. If you get Level 1 you scored between 80 and 100, which is excellent.  
Good Selection of On-board Songs 
The available songs the Hamzer 61 keyboard comes with are divided into sections. There are 14 Classical songs, including Cannon and Habanera from Carmen, 25 Favorites which include Old Folks at Home, Turkey in the Straw, Camptown Races and Battle Hymn of the Republic. The Piano song section contains 14 famous piano songs which include Pizzicato Polka, Impromptu and Musical Moments. The Folk section contains 40 songs – among them: Michael Row the Boat Ashore, Twinkle Twinkle and Yankee Doodle. Finally, there is a Ballroom section with 5 types of dance including the Tango and the Samba. 
Metronome, Transpose button, Chords and Effects 
On the Hamzar 61 Keyboard you can use the built-in metronome while you practice, the transpose feature to change the key of the song and add effects. Other settings include Sustain, Volume and Touch. Once you have the settings you like for a certain song, you can save all your settings to one of the 5 memory spaces so next time you want to play that song, you just press the memory button to retrieve all your settings. 
An additional useful feature is single note chord playing. The Hamzer 61 keyboard enables you to play chords with one finger and the Auto Bass function will fill in the harmonies for you. With this function, you can quickly learn to play your favorite songs.
Specifications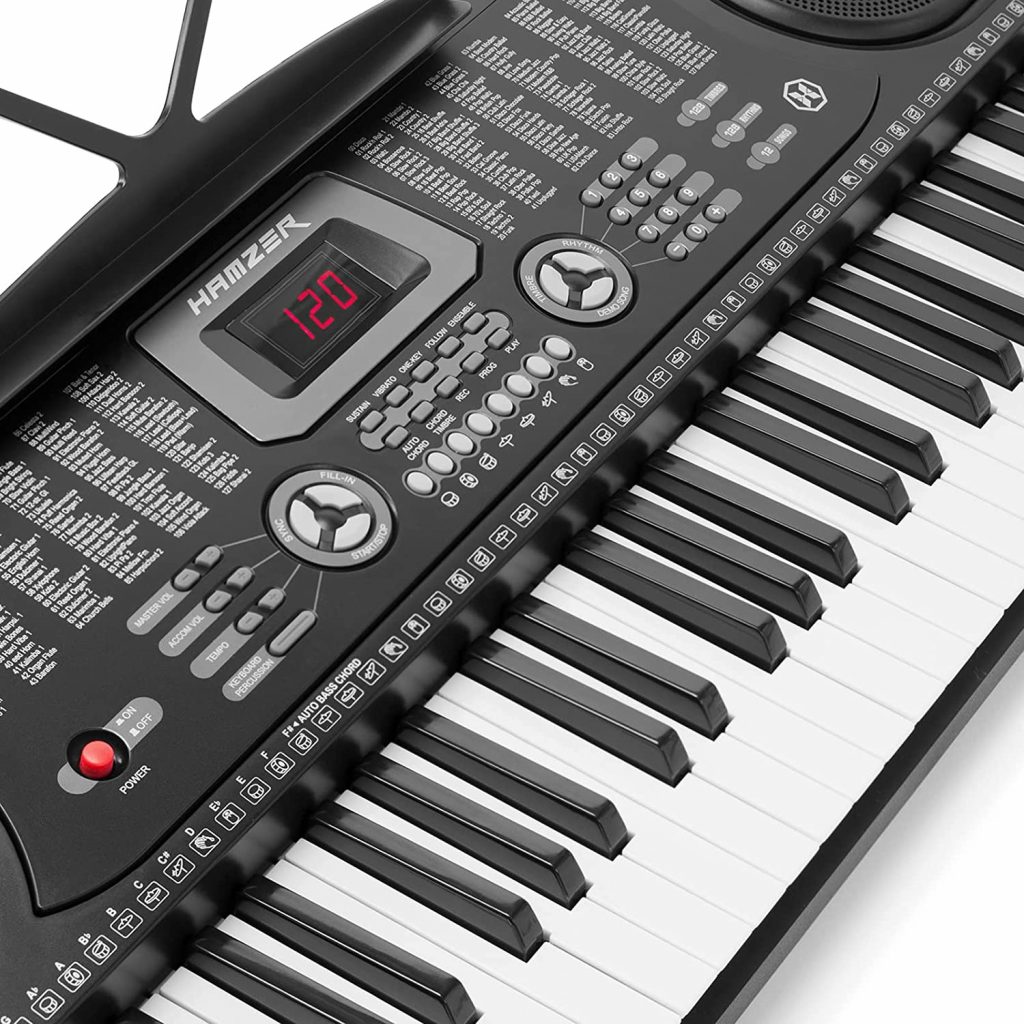 61 lightweight keys with touch sensitivity (with the option to turn it off) and an output of 4 Watts (2 speakers each with 2 Watts). LCD screen shows current voices/songs and settings. Auto-chord bass setting which allows you to play chords using one finger in the left hand while you play a melody in the right hand, and five memory spaces to save presets. Metronome, Transpose and MIDI channel settings. Effects can be turned on or off. This keyboard weighs 10.8lbs (without the batteries). It has MIDI OUT, AUX OUT, MIC and headphone jacks. There is a pitch-bend function and a chord dictionary built in to the keyboard. It has 100 accompanying styles plus 100 songs, plus three types of on-board lessons. 
Who is it Suitable for?
A great choice for kids
With 61 keys that are unweighted, this keyboard is particularly suitable for young children. There are plenty of buttons that produce a huge array of different sounds and beats that children will love. 
If you have a child who is very little (say 3 or 4 years old) chomping at the bit to play the piano and sing along, this would be a very good choice. It's certainly not a toy, but will deliver a load of fun. There are enough songs and rhythms on the Hamzer keyboard to engage a child instantly, with lots of different rhythms and backing tracks which are easily started by pressing a button. It would give a child the impression that they are already playing! A keyboard of this size will last a small child at least a year before they'd need a more serious instrument. Private piano lesson should begin when a child is about six years old, at which point the teacher would be likely to recommend a keyboard with a more realistic touch and sound and possibly more keys.  
A Good Alternative 
Keyboards that are similar 
If you're not convinced the Hamzer 61 is the keyboard for you, you may want to explore some similar options in the same price range.  Consider the Casio CTK-1500AD. The big difference with this keyboard is that it features a "Dance Music Mode" which allows you to combine different components to create your own dance music. This could be your first step to becoming a DJ. This is also a 61 key piano. It comes with 120 different tones, 70 rhythms and 100 songs. Like the Hamzar 61 keyboard, it has 32 polyphony and on board lessons. 
Or you might have a look at the Yamaha PSR-F51. Also 61 keys, 120 tones and 114 backing styles. It has 30 songs. This is also very similar to the Hamzer 61 and sits in the same price range. Yamaha is a better known brand and it's a good thing to consider when choosing a keyboard.  
Each of these keyboards has their own merits and any of them would be good for a beginner, particularly children who will love the creative beats and being able to explore different sounds. Exploration and experimentation on the keyboard should be encouraged for children and adults alike as much can be learned intuitively by doing this. Also, creating your own music is a really fun things to do! 
Not for advanced players 
The Hamzer keyboard would frustrate any player who has a fundamental ability to play the piano. The restricted number of keys, the lack of hammer-action and the fact that there is no damper pedal input would make it very frustrating and limited for most players. An advanced player is unlikely to be satisfied with the piano sound of any keyboard in this price range.  
Better options for advanced players 
If you are an early intermediate or above player, the Hamzer 61 probably wouldn't meet your requirements. Presumably at a level where you're playing fluently with both hands you'd want to be able to use the sustain pedal and you're likely to want a higher quality piano sound.  
One of most recommended and most positively reviewed keyboards for intermediate players is the Yamaha P45 digital piano as it has 88 weighted keys and a really good quality piano sound. If you're committed to your piano playing journey, you're likely to get some really good use for quite a long time out of this one. It's fairly basic, with just a few different sounds on it. It's focused on being a piano, and that's what it does best. 
If you want to go a bit lower in price, consider the Roland GO:piano 88. This won't give you weighted keys, but it has touch sensitivity which is going to let you express yourself.   
If your budget is really small, consider these piano keyboards, and other similar ones in this price range, then look for second hand keyboards in this category. People are always finding keyboards in their cupboards and don't know what to do with them. Also many people upgrade regularly and sell off keyboards they haven't used very much. Have a look online where your local marketplace is and don't forget to ask friends and family.   
Pros and Cons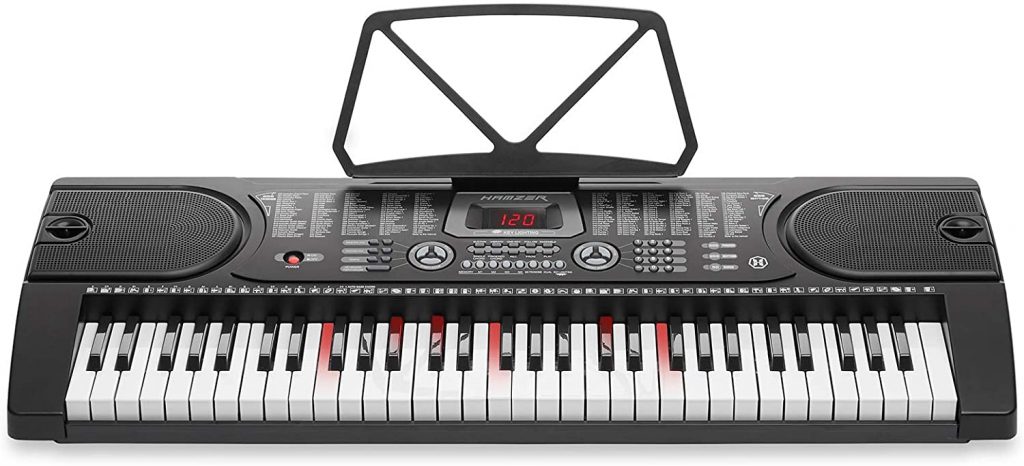 Pros 
A lot of functions for the price 

Good selection different sounds and on-board songs 

Good choice for children and early beginners 

Works with batteries 

Very lightweight
Cons
Only 61 keys

Unweighted keys 

No damper pedal connection

Low polyphony 
Quick View 
Keys

61 lightweight slim keys

Touch sensitivity 

Touch sensitive

Sounds

128 sounds, 100 styles of accompanying backing tracks, 100 songs. 6 demo songs.   

Recording capabilities 

Singe track record and play back.

Metronome

Built in metronome 

Polyphony 

32 notes can be played/sustained at once 

Speakers

2 X 2 Watts 

Headphones

1 headphone socket 

Accessories

Power cable

Price point 

Under $200 

Weight and Dimensions 

10.8lbs

36 X 13 X 5 inches 
Conclusion
This is a good starter keyboard for children. It has more than they need to begin learning with its on-board lessons and built-in songs.  The ability to connect a microphone so you can sing along will be a big hit with many children. The 4 Watt output is plenty for a young age yet won't be so loud it will drive parents crazy! The size, weight and style of this keyboard is also going to appeal more to children than adults.  For the price, you get quite a lot of functions and fun. 
However, if you are later-beginner to early intermediate, this keyboard is unlikely to meet your needs due to the limited number of keys and lack of a damper pedal. Look at pianos in a higher price range. You'll need 88 keys that are weighted keys to develop a good technique on the piano, whatever style of music you're playing. For children and absolute beginners, this isn't such an important requirement at the start.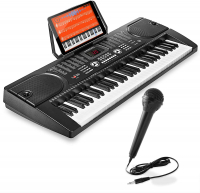 We rated the Hamzar 61 a 4/10. The Hamzar is marketed as an intermediate piano, rather than a beginner piano. There simple isn't enough resistance, or complexity for this to be a starter piano suitable for adults, let alone an intermediate instrument. The interface is simple, and the piano is quite economical. But while the Hamzar is a good piano for kids, it just doesn't hit the target audience it intended to.
PROS
A lot of functions for the price
Good selection different sounds and on-board songs
Good choice for children and early beginners
Works with batteries
Very lightweight
CONS
Only 61 keys
Unweighted keys
No damper pedal connection
Low polyphony