Kawai CN 39 Review
We rated the Kawai CN 39 a 9/10, because this is a beautiful digital/console piano with loads of features. The harmonic imaging and sound bank will blow you away, and so will the powerful speakers! That being said, we did have to take one point away, because we prefer the CA line's wooden keys and action just a bit over the CN line's.
We rated the Kawai CN 39 a 9/10, because this is a beautiful digital/console piano with loads of features. The harmonic imaging and sound bank will blow you away, and so will the powerful speakers! That being said, we did have to take one point away, because we prefer the CA line's wooden keys and action just a bit over the CN line's.
Overview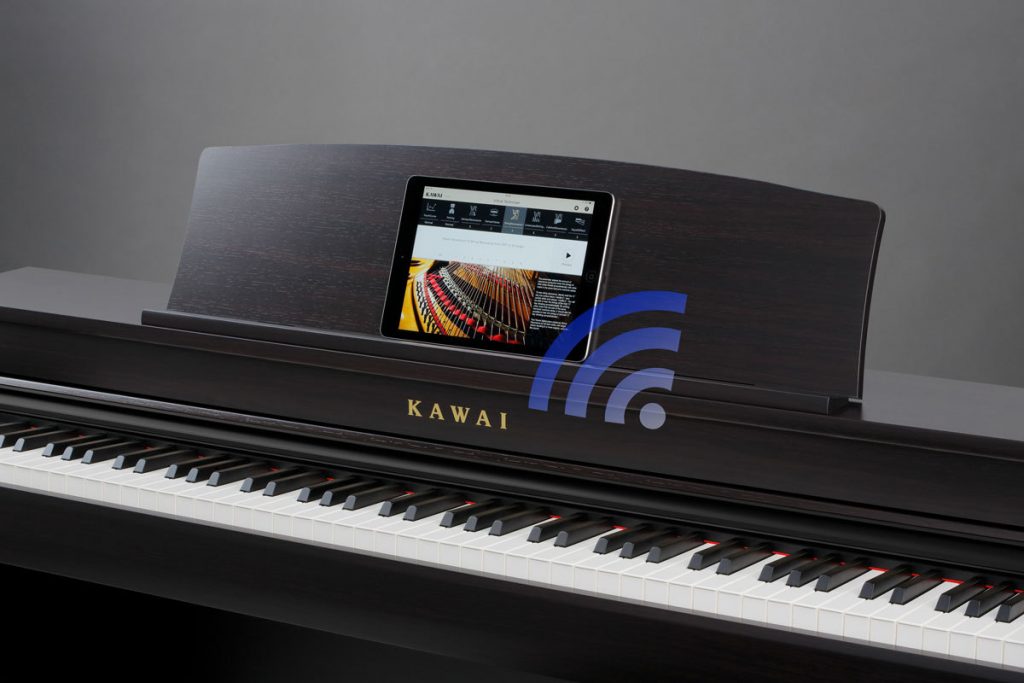 The Kawai CN 39 is a digital console piano known for its high-quality action and powerful speaker system.  
Let's see what the company Kawai has to say about this model: 
"A new standard in digital piano value and performance
Combining the class-leading Responsive Hammer III keyboard action and stunning SK-EX, SK-5, and EX grand piano sounds, with a powerful 4 speaker delivery system, convenient USB audio features, Bluetooth® connectivity, and a broad selection of sounds, the CN39 delivers impressive specifications at an unbeatable price. " 
In this Kawai CN39 digital piano review, we will be delving into this pro-grade model, which has beautiful samples, and built-in etudes and books. Let's get going!
Features
4-Speaker System
This 4-speaker system is pretty sought-after! The Kawai CN 39 boasts a powerful delivery system.  Each speaker has 40 watts of amplification, so you can fill your room with beautiful sound. 
A Gorgeous Keyboard with Hammer III Keyboard Action
I'm glad I finally get to delve more into the Kawai action in the article. The Kawai CN39's Responsive Hammer III keyboard action is class-leading, according to Kawai. Let's learn a little bit more about Kawai CN39 action with the information from this page.
According to the site, both RH II and RH III are the newest keyboard actions in regard to their plastic-key models. These actions offer a let-off. Let-off is a feature in acoustic pianos and has to do with how the hammer readjusts and moves forwards after it is released. The subtle let-off in the Hammer III Keyboard Action seeks to replicate the feeling of this movement. 
Other features of this keyboard include:
Ivory touch keys

Triple sensors for more expression

Harmonic imaging

Counterbalanced touch
Ivory touch keys are always great, because they prevent slippage on warm days, or when your hands get a little clammy. I always recommend musicians get triple sensor keyboards if they are within budget because they bring so much more subtle expression to the table.
Kawai's harmonic imaging alone is stellar. It is a blend of techniques and technology that seeks to replicate the feeling and sound of their 9-foot concert grand. 
Lastly, counterbalanced touch is another feature that was originally only in acoustic pianos. Counterbalances are little weights that sit inside of the key and are designed to balance the weight of the hammers. Pianos with counterbalanced touch, be they acoustic or digital, feature a more accurate playing in soft, quick passages. This feature makes the keys very responsive, and simply put, feel nice. 
Built-In Alfred Books and More
Hey there, parents and music teachers. Are you tired of your piano student misplacing their book? Then I have excellent news for you. The renowned Alfred books, as well as Alfred song lessons, are built into the Kawai CN39. 
The piano also has classical etudes as well as Chopin pieces, so you'll never grow bored of the built-in songs!
Get Connected
This Kawai CN39 can play back audio from your phone via Bluetooth, so you can jam out with your favorite song. This is one feature that regular acoustic grands sure don't have!
A Beautiful Control Panel
Many musicians have remarked that the control panel is really intuitive and easy to use. The control panel has beautiful clarity and a high-quality OLED display. Real-time adjustments can be made to your sound quickly and smoothly. The control panel is on the left, which is a bit unusual, but many people like that!
A Stunning Soundbank
The Shigeru Kawai SK-EX Concert Grand Piano is the real showman of this soundbank. Using their harmonic imaging technology, Kawai does an excellent job at recreating one of the most gorgeous acoustic pianos to have ever been created. Before we go on, let's learn a bit about the Shigeru, and see how this tone sounds in the CN39:
According to Shingrukawai.com, this is a concert grand without rivals:
"The Shigeru Kawai SK-EX Concert Grand Piano is the pinnacle of the Shigeru Kawai range. Fewer than 20 are handcrafted each year, making the SK-EX as remarkable in its rarity as its sound. Tremendous tone, incredible range, and stunning response are hallmarks of the SK-EX – a concert grand piano without rival." 
Here is an introduction to the (acoustic) Shigeru.
And here is the tone of the instrument that has been recreated in the Kawai CN 39.
Other impressive piano sounds in this soundbank include: 
K-EX Grand

SK-5 Grand

EX Grand

Electric Grand

Classic EP (organ)

Harpsichord
If you watch the last link to the end, you'll get a sampling of all the above sounds, as well as a taste-tester of some of the backing tracks you can use on the CN 39. 
Acoustic Rendering 
The acoustic rendering includes the following simulated: 
Damper Resonance

String Resonance

Undamped String Resonance

Cabinet Resonance
Two Ways to Record
Kawai digital grands allow you to record in two ways: 
With a direct line out

With the built-in USB recorder / USB out
The USB out is the easiest to maneuver for those who are new to recording. 
According to Kawai, 
'Most Kawai digital/hybrid pianos that feature a "USB to Device" port, are also capable of recording audio produced by the instrument directly to a USB memory device as a WAV or MP3 audio file. This process is very convenient and produces high-quality recordings without the need for additional cables or equipment.
Once a recording has been saved to USB memory, the resulting WAV or MP3 audio file can be copied to a computer and further manipulated using editing software, then shared with friends and family or posted on social media, etc.' 
The CN 39 can record, playback, and overdub in MP3/WAV/SMF formats using its USB technology as well.
For more information on recording with Kawai instruments, check out this page.
Other Features
There are so many features in the instruments in the CN line. The CN line also has: 
App compatibility

A unique 'spatial headphone sound' for more realism and depth while playing 

A gorgeous cabinet

Touch curve and voicing options in the virtual technician

Supports half pedal

GM2 compatible voices

24 types of effects, including brilliance and reverb
Another favorite feature of mine when it comes to this model is the spatial headphone sound. A lot of the time, when I play pianos, when I put on my headphones for silent practice, the richness of the sound dissipates. The spatial headphone sound leads to a more immersive playing experience. 
Specifications
Weight:

119 pounds

Depth:

17 1/3″ (43.5 cm)

Width

: 57″ (144.5 cm)

Height

: 33 2/3″ (88 cm)

Colors:

Satin Black, Satin White, Premium Rosewood

Reverb:

6 types

Brilliance:

Yes

Number of other effects:

24

Speaker measurements:

13 cm x 2, 8 x 12 cm x 2

The output power of speakers:

40 W / 20 W x 2

Headphones:

Spatial headphone sound
Who Is It Suitable For?
The brand Kawai is well-known and is considered one of the best when it comes to high-quality home pianos.  The CN 39 is best suited for advanced intermediate to early pro pianists. Many stores define this keyboard as mid-range, but I think it is a touch above that level. 
Kawai CN39: Pros and Cons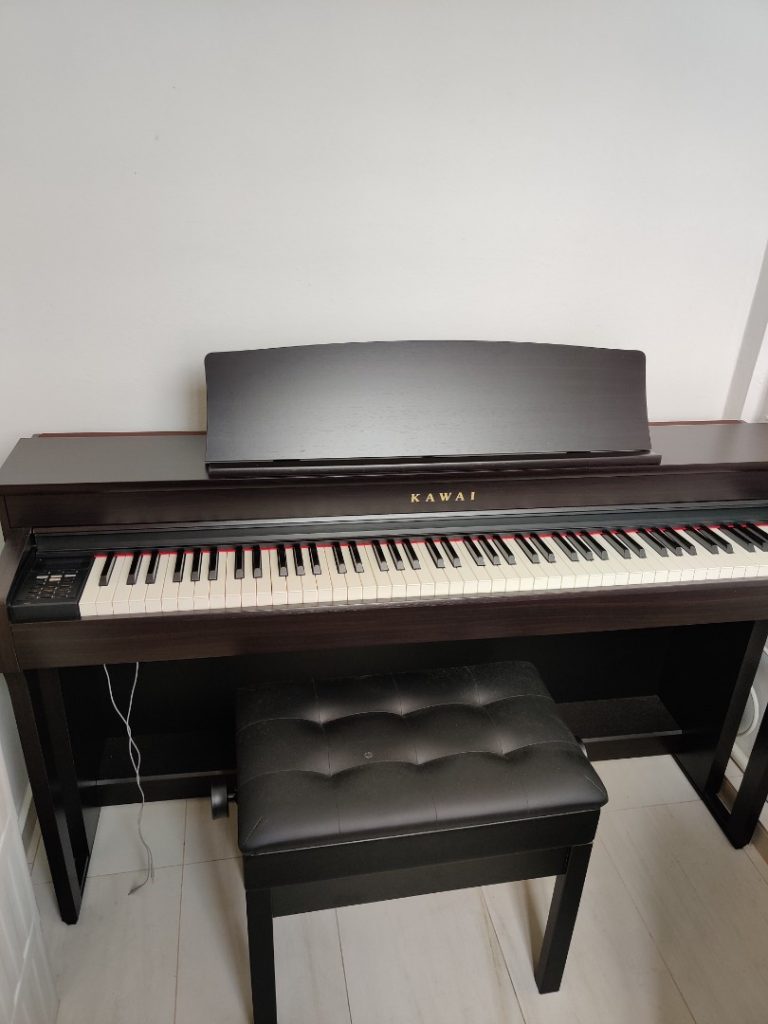 Pros
The sound samples are high quality and have a warm brilliance to them

The keys have triple sensors underneath them, for more accurate accents and dynamic expression

The instrument has a good amount of polyphony

The textured keys prevent the finger from slipping

The keyboard is very responsive in soft, quick passages

The music rest on this instrument is very long, so it will hold a lot of music horizontally!

The sound bank is both large, and of a high quality

Not only is there a metronome, but there are also drum patterns, too

The included etudes feature a wide variety of composers, such as those by

Czerny, Chopin, Burgmüller, Beyer, Bach, and Beethoven 
I can't say enough good things about the sound bank on this model. Usually, I wince at the sound of harpsichord simulations, but Kawai even did that tone justice. Not to mention, the addition of the drum patterns since the CN29 is really nice. There are over 100 of them, and it will really help mix up practice sessions, be it with young intermediates, or adults! 
 Another pro I forgot to mention earlier is that the instrument has a pull-out lid, which is not only aesthetically pleasing but also helps to protect the keys. 
Cons
This instrument does not have the heft that comes with wooden keys

The CN-39 does not have as high quality of a sound engine as some of its other siblings in the CN line
My main complaint about the CN line is that it doesn't have solid wood keys like the CA line. Now, obviously, the CN price reflects this, so CN pianos are more economical…But can't a girl dream?
Quick View 
| | |
| --- | --- |
| Keys | 88 ivory-touch keys |
| Touch sensitivity  | This instrument has counterbalanced keys, rather than touch-sensitive keys |
| Sounds | 355 total sounds |
| Recording capabilities  | USB, line out |
| Metronome | Yes, plus drum patterns |
| Polyphony  | 256 total notes |
| Speakers | 4 speaker system |
| Headphones | Two headphone jacks inside the instrument: Headphones not included |
| Accessories | Power cord, built-in pedal unit, and music stand |
| Price point  | $2,699.99-$3,899.99 |
| | |
Comparable Instruments
The most comparable instruments that you are going to find include other members of the Kawai CN line, as well as some of the models from Kawai's CA line. 
When it comes to choosing which Kawai line is better, it really depends on both the model and the player. If you want wooden keys, then perhaps, the CA line is a better choice for you than the CN line, as the CN instruments only have all-plastic keys.
Kawai CA-99

Also, Kawai CA-59 | $3,799.99 |

This Kawai CA-39

This one Kawai CN-29

Kawai CN-49 
If you want a more expensive instrument with newer technology, try out: The CA-99
For a more affordable Kawai instrument with speakers that pack a punch: Try the CA-59
The CA-59 is the most comparable of all the pianos on this list.
Other close comparisons to the Kawai CN-39 include the CN-29, or 49. These two CN instruments have great acoustic simulations, grand piano samples, and a relatively large amount of polyphony. 
When it comes to other brands, take a peek at the following: 
The Yamaha CLP 735 is the most easily-to-find comparable piano from another brand. The Yamaha CLP 735 is a digital upright with real grand expression, virtual resonance modeling, and a stereo speaker system. It costs just $200 more than the CN39. 
Conclusion
In conclusion, the Kawai CN30 is a high-quality home/console piano that is a real crowd-pleaser. 
We hope you have enjoyed this Kawai CN39 digital piano review!  Come back soon for more things piano, and be sure to take a peek at our curiosities section! 
References
Kawai  https://www.kawai-global.com/product/cn39/ 
https://kawaius.com/product/cn39/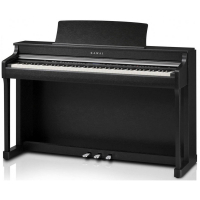 We rated the Kawai CN 39 a 9/10, because this is a beautiful digital/console piano with loads of features. The harmonic imaging and sound bank will blow you away, and so will the powerful speakers! That being said, we did have to take one point away, because we prefer the CA line's wooden keys and action just a bit over the CN line's.
PROS
The sound samples are high quality, and have a warm brilliance to them
The keys have triple sensors underneath them, for more accurate accents and dynamic expression
The instrument has a good amount of polyphony
The textured keys prevent finger slipping
The keyboard is very response in soft, quick passages
The music rest on this instrument is very long, so it will hold a lot of music horizontally!
The sound bank is both large, and of a high quality
Not only is there a metronome, but there are also drum patterns, too
The included etudes feature a wide variety of composers, such as those by Czerny, Chopin, Burgmüller, Beyer, Bach, and Beethoven
CONS
This instrument does not have the heft that comes with wooden keys
The CN-39 does not have as high quality of a sound engine as some of its other siblings in the CN line