Yamaha CP88 Review
We rated the Yamaha CP88 a 9 /10. We really love that it has natural wood graded hammer action, a large number of effects, and 3 great sound pods. The extremely realistic piano sound sampling paired with seamless transitions has us quite impressed. Not to mention the pitch and mod wheels, which are nice additions to an already gorgeous instrument. Because some musicians were unhappy with the action on this model, we had to take off just one point.
We rated the Yamaha CP88 a 9/10. We really love that it has natural wood graded hammer action, a large number of effects, and 3 great sound pods. The extremely realistic piano sound sampling paired with seamless transitions has us quite impressed. Not to mention the pitch and mod wheels, which are nice additions to an already gorgeous instrument. Because some musicians were unhappy with the action on this model, we had to take off just one point.
Overview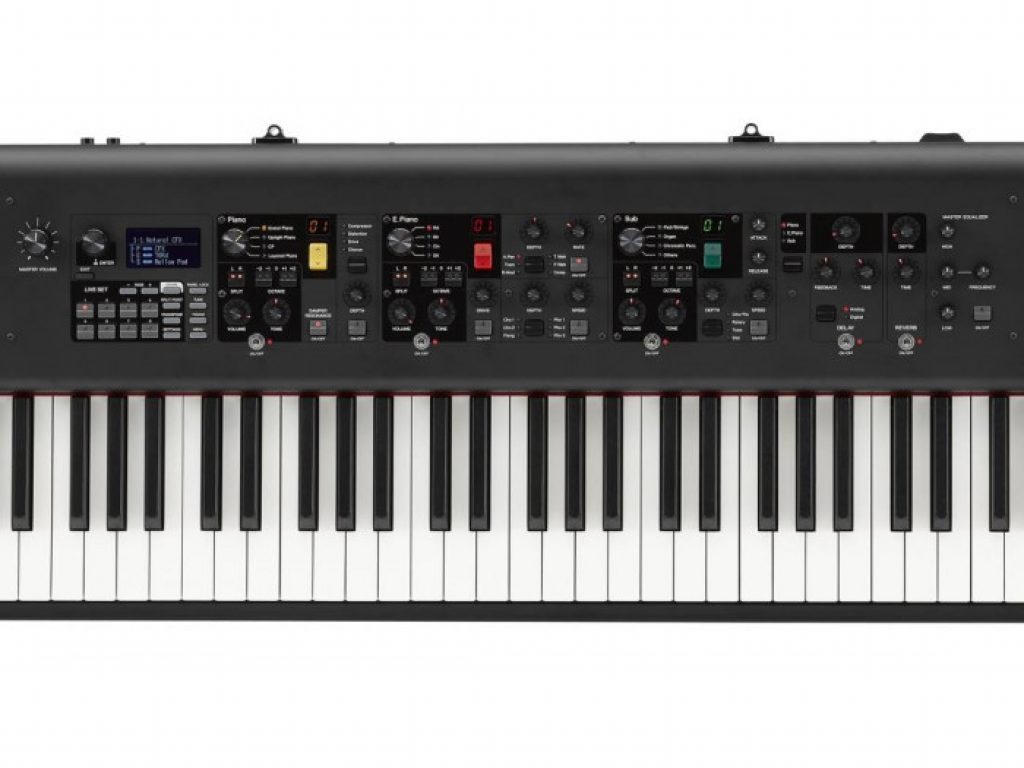 Hello! Come on in. Today, we are (yet again) inviting you into the realm of electronic piano keyboards. We are taking a peek at the CP88. If you are in the market for a professional piano, then keep on reading! This Yamaha CP88 review is for you. 
But First, A Little Background
Did you know that Yamaha has been making pianos for over 100 years now? And, they have 45 years of experience in making synthesizers. So, rest assured, this electric piano was built by a company that knows exactly what they're doing. 
In 2019, Yamaha decided to add some new members to the CP line: The CP73 and the CP88. So let's check it out. 
Features
Keys made of Quality Materials
I love the fact that this piano was made with wooden white keys and synthetic ebony. Wooden keys give it that heavier feel, which is amazing when combined with the graded hammer weight. Plus, Yamaha has that 100-year experience in making acoustic pianos. So, you know that the touch will be very realistic, even in their electronic instruments. Another perk of having wooden and synthetic ebony keys is that it gives the player a much better grip as opposed to keyboards made of smooth plastic. If your hands tend to get a little clammy during performances, or you  play for long periods of time, this is the perfect solution for finger slipping.
NW-GH Action
GH action is a term that I use a lot here at BestPianoKeyboards. You probably already know that it means graded hammer and that the weight of the keys goes up as the piano gets lower. But the Yamaha CP88 has NW-GH action. NW-GH stands for "natural wood graded-hammer (action)". In NW-GH, all  keys on the piano are cut from the same piece of wood. This helps prevent warping and makes the feel very natural for players. Oftentimes, acoustic piano keys are all made from the same piece of wood, as well. The fact that Yamaha is doing NW-GH keys in this model really shows that they are taking the CP line to the next level. 
Four Types of Touch Sensitivity
Are you used to playing on an acoustic piano, but you just don't have the space or funds to get one? Then the Yamaha CP88 is a good second option. A lot of the times I see electric pianos with one to three touch sensitivity options. The CP88, however, has four for you to choose from. Since every player is different, this is a highly valuable feature. It makes the Yamaha CP88 even more ideal for a teaching studio, because of this available adjustment. 
Seamless Sound Switching
I can't say enough good things about how easy it is to complete a seamless sound switch on this instrument. You can check out the seamless sound switch function in the "CP88 In Action" section down below. A pianist named Belle switches through all the piano sounds on this keyboard. There are no pauses or clicks. Brilliant, beautiful. The previous model that the CP88 replaced (the CP4) did not have this feature. It's great to see this practical upgrade. 
Realistic Piano Sampling
If you have taken a peek at our other reviews you know that the company Yamaha is a pro at piano sampling technology. This model in particular has a range of piano sounds, that include electric pianos, grand pianos, upright pianos, and other keyboard sounds. Speaking of sounds, let's take a closer look into the three subsections, or "pods" of sounds that are on this instrument.
Three Pods of Sound
One really great feature of this instrument is that more sounds are periodically added, and the existing sounds are also available for updates every year or so. The perk with this is that you get new and better sounds, without having to purchase them, or, even worse, having to get an entirely new keyboard. 
Pod 1
Pod 1 sounds include the following:
Acoustic pianos

 electric grands
Pod 2
Pod 2 sounds include the following: 
Electric pianos

Clavichords
Pod 3
Pod 3 sounds include the following:
Organs

Strings

Mallets and vibraphones

Synths

Bass patches

And more
A Bevy of Effects
The Yamaha CP88's effects include:
Reverb 

Analog delay

Digital Delay

The Leslie effect

3 bands of master EQ

And other special effects
This list of effects allows the player, yet again, more adjustment, but this time, for sound. If you find that you like a piano sample, for example, but that it just isn't over-ringing enough for your tastes, you can add reverb, or even a delay. And, the opportunities when it comes to EQ-ing (as you might already know) are near-endless. 
Before we move on, here is a little crash-course in EQ-ing. You can make parts of the sound louder by increasing the amplitude of that range of frequency. With the power of EQ, you can add or subtract bass, mids, and treble, for each individual sound. EQ stands for equalizing. I like to think of it as, you are equaling out the highs, mids, and lows until it sounds balanced to you. 
The Leslie Effect
You'd be missing out if we didn't cover the Leslie effect specifically. So, what is it? It is technically something called a "rotary effect".
The Leslie effect is a combination of three effects into one: tremolo, phasing, and doppler. The original Leslie effect was created by taking speakers and rotating them inside of a room, so that the sound waves would bounce in different directions, causing both tremolo and phasing, as well as doppler. Now, the Leslie effect is produced digitally in this Yamaha model. It's quite unusual to see the Leslie effect as an option on an electric piano, so, this is really nifty. If you'd like to hear more about the Leslie effect and see what a Leslie speaker looks like click this link! JSP does a great job of explaining and showing how the Leslie speaker works with a Hammond organ.
Intuitive LCD Display
The LCD display automatically detects when you are making live adjustments, and displays those adjustments that you are choosing on the screen. In addition to this, the screen is the perfect level of contrast and brightness, making it easy to read both during the day and at in low light.
Well-Organized Menu
While this might sound like a no-brainer, many electric pianos have hard-to-navigate menus. This, luckily, is not one of them. The Yamaha CP88's LCD menu has easy-to-find features, so you can find what you are looking for with no confusion, manual-searching, or fuss. 
Three Sound Engines
This model has three sound engines. Split and layering are both available on this piano, and, let me tell you, it sounds great when you combine sounds on this instrument. 
It Can Transpose
With the transpose feature, if you want to change the key of the song, all you need to do is push the button! Transposing is a wonderful feature to have on a piano if you are planning on playing a song with many different vocalists. 
Included Sustain Pedal
While there aren't many included accessories in this bundle, the Yamaha CP88 comes with a sustain pedal. Sustain pedals are essential, especially if you are planning on playing ballads, or classical rep.
It's Mobile
While 41 pounds might sound like a lot of weight, this piano keyboard is pretty portable for a full-sized electric piano with wood keys. That being said, if you want an even lighter piano, you can look to the CP88's sibling- The CP73.
Pitch and Mod Wheels
Many pianos just come with a pitch wheel, but this one comes with a mod wheel too. Both pitch wheels and mod wheels are traditionally operated with the thumb.  A mod wheel (or, modulation wheel) is a wheel that you can use to make vibrato. In a lot of ways, the CP88 takes inspiration from synthesizers. Adding a mod wheel is one key synth-style addition. 
Easy-to-use Controls
This piano has so much accessibility when it comes to sounds. Unlike many electric pianos that simply have press buttons, this piano has many turning knobs, which makes it much easier to do adjustments at the moment. The controls also have toggle switches, which is a throwback. What are toggle switches, you may ask? 
Toggle switches have two or more positions, so, you don't just click. There are a few options. 
From left to right, here is how the Yamaha CP88 is set up: Live sets, Piano, Electric Piano, Effects like Delay and Reverb, EQ. In this sense, the model is like the Nords in set-up. There seems to be a sort of Nord vs. Yamaha theme going here. I recommend checking out both this review, and the Nord 3 and 4 reviews, that way you can compare and contrast with what features you want. 
So Wait, What is A Stage Piano?
The Yamaha CP88 is technically a stage piano. Stage pianos are often confused with synthesizers but know that they are not synths. For those of you who don't know, a stage piano is an electric piano that is intended to be used in multiple contexts. Stage pianos are specifically designed for use in the following contexts:
Live, casual performances

Professional stage performances

Studio recordings
Stage pianos are used really frequently in the worlds of jazz and popular music. 
Specifications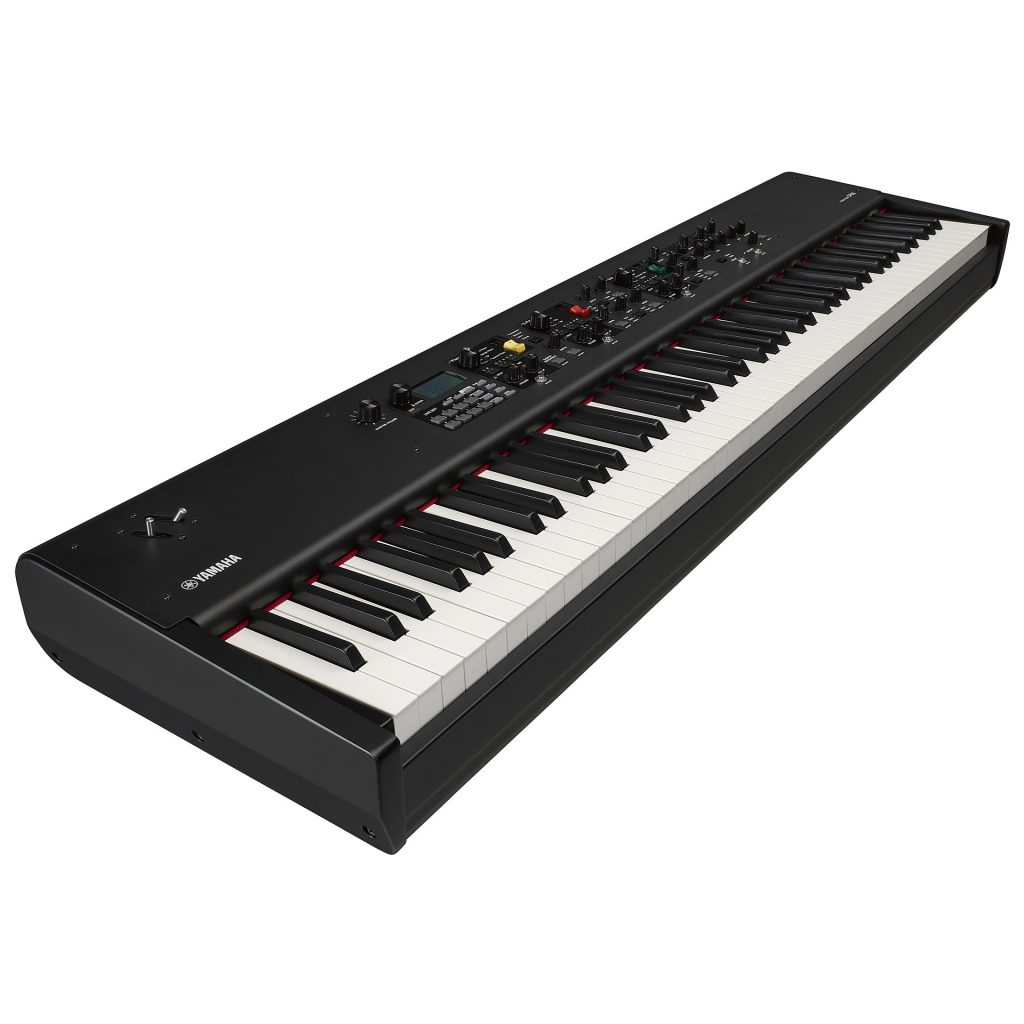 Weight:

41 pounds

Dimensions:

Approximately 51 x 14 x 5.5

Power:

Corded

Effects:

Delay, reverb, EQ
Who Is It Suitable For?
The Yamaha CP88 is suitable for a wide range of folks. The only hindrance here is the high price tag. This instrument is great for anyone, from studio musicians to bedroom producers to classical performers, serious piano students, fusion artists, and much more more. I think this piano is suitable for the widest range of audiences, as compared to the other pianos I have researched and reviewed so far. 
Pros and Cons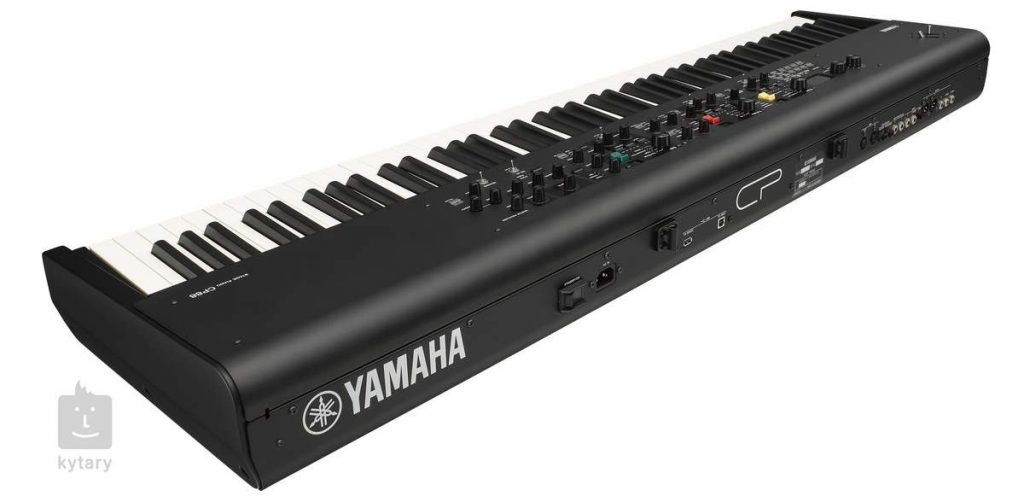 Pros
It is a high-quality instrument

It has state-of-the-art GHS weighted keys

The sound quality is wonderful

The synth sounds are great for layering

It is much more compact than an acoustic piano

It comes with effects and EQ, so you can tailor your sounds

The parameters are very specific, allowing for a lot of control 

It has a full-sized keyboard and a realistic feel

You can plug it in to record MIDI into your computer

It has a lot of polyphony available

It is amazingly versatile

Sound switching is seamless
The Yamaha CP88 is high-quality, all around. Layered sounds on this instrument are rich and blend beautiful. I think the pro's of this piano that hold the most weight are the power to EQ, the versatility, and the sound switching. 
Cons
It is expensive

There are no built-in speakers

There are only 57 voices

It doesn't come with a stand

It is a bit heavy for gigging

Some players say the keys are too springy for their tastes or have too heavy of an action

Some professionals argue that the CP4 had better sounds

Not all effects can be applied to all sounds

The patches aren't as high-quality as the sounds

Organ enthusiasts aren't too satisfied with the sounds

The headphone output is low
Wow, look at that price tag. The Yamaha CP88 is no cheap piano, but I would argue, for good reason. If you are a beginner, I would suggest looking lower down in the Yamaha line. Another thing we often find with more professional pianos is that they lack built-in speakers, and stands. So ultimately, you will end up spending even more. That is not to say that there isn't a benefit to having external speakers. Oftentimes, instruments that must be plugged into external sources are higher-quality, and, not to mention, you get a better sound when you use more powerful external speakers.
Pianists have reported the keys to feel too springy in some cases, so, for this model, I recommend checking it out at a store before ordering it off Amazon. Other pianists argue that this piano's predecessor, the CP4, had better sampling and sounds. While this is a matter of personal preference, I recommend listening to people play each model on Youtube (Or, again, going to a store and trying it), before purchase. 
Another little-known con is that not all effects can be applied to every sound. It depends on which 'sound pod' you are in. So, you can use the phaser on the electric piano sounds because it is in pod 2, but you cannot use it on pod 3 sounds, such as the organ. I'm not a huge fan of this, because it limits the creativity of possible sounds for the player. I, for one, would love to hear a phaser on strings in an experimental music context. 
While I am not an organ pro, some of those who have checked out this piano are. And, they are less than excited around the organ sounds. The con to the piano is, that, if you are a huge fan of playing with organ sounds, well. These organ sounds just aren't the best. I personally don't tend to hang out of the organ sound bank very often on my Yamaha, so, I don't mind at all. 
The headphone output on this model is pretty quiet as well. High-quality, but quiet. Take that as you will.
It's really important to weigh the pros and cons here as a potential buyer. I would suggest grabbing a notebook, and writing down what you want and need in an electronic piano keyboard. Then, compare that list of wants and needs to the instruments we have reviewed here on the site. And, if you'd like to request a review, simply let us know in the comments! We read everything you guys have to say. 
Quick View 
Keys

88  fully-weighted GH3-action keys

Touch sensitivity 

Yes

Sounds

Includes piano sounds, as well as strings, synths, and effects

57 voices total

Recording capabilities 

USB to MIDI

Metronome

Yes

Polyphony 

128-note polyphony

Speakers

No

Headphones

Yes

Accessories

FC3A sustain pedal

Price point 

$2,499.99
What is the CP88 Comparable to?
Some other electronic keyboards in this price range and vein include the Nord 4. (see our review for it here), and the Yamaha CP73. The Yamaha CP73 is a step down from the CP88 because it only has 73 keys. That being said, for those looking for similar features and a lower cost, with more portability, it is a viable option. The Nord 4 is a Swedish-made piano. Many of its parts are made of metal and wood, which make it heavier, yet more high-quality of a build. The perk of this one is that it comes with many more sounds than this Yamaha model. Similar to the CP88 here, it does not come with a stand or internal speakers, so be prepared to shell out a little extra for these, post-purchase.
The Roland RD-2000 is another comparable piano. That being said, I often find that those who love Yamaha pianos are not a fan of the Roland brand.
Yamaha CP88 In Action
Let's head on over to Youtube to see what this instrument really sounds like. In this video, a pianist named Belle is exploring the CP88. She starts off the video by playing us a quick classical piece, so that we can get an idea of the basic piano sound. In the next section, she goes through the sounds.
Thoughts on Keyboard Sounds
The plays what sounds to be Satie, on the Concert Grand. The Concert Grand is a lovely soft yet poignant sound, which is great for impressionistic pieces. She then switches to the Bosendorfer Imperial, which has a much deeper and darker low range. This sample would be really great for playing Beethoven (Anyone else thinking, Moonlight Sonata??). The Yamaha S700 follows, which sounds quite similar to the Bosendorder, but it is a little bit lighter. She then shows off the split feature with a harpsichord and piano split. In my opinion, the harpsichord is a bit tinny.
That being said, any true harpsichordist would go ahead and just buy a harpsichord and not a stage piano, so, this sound is probably just for variety and fun here. The Yamaha CZ Grand Piano sound is up next. It sounds like a full sound horizontally but has a sharp attack. The Yamaha CF3 is more mellow, but has a lot of overlap and sustain in the sound. The Yamaha Upright, by comparison, has a medium-strong attack, but faster delay. Finally, the Yamaha SUV7 Upright is similar to the Yamaha Upright, but is more harmonic, and has a longer decay. 
When Belle layered the strings and piano sound, I was taken aback! So, take notes, composers. This is a powerful sound combination (3:50'). Piano and synth layered are more ethereal and powerful, but I loved the combination equally as much as the last. I'm even more impressed with the sounds that are layered than alone. 
If you'd like to hear here perform another classical piece on the Yamaha CP88, go ahead and skip to 5'. And, around 7' in, she actually goes so far as to explore this Yamaha model against her acoustic piano, which was really helpful. 
At 10 minutes in Belle gets around to the odd sounds and effects. She continues until pretty much every sound is explored, which is much more than most piano reviews do, so, shout out to her for taking the time to show us the instrument so thoroughly!
Yamaha CP88 Conclusion
In conclusion, the Yamaha CP88 is a wonderful instrument in the Yamaha line. While it is a little pricey and doesn't come with many extras, what you do receive is extremely impressive. The realism of both the feel and sound of this instrument is undeniable.
Thanks for stopping by our website. If you like what you see, subscribe and come back for more content soon. Bye!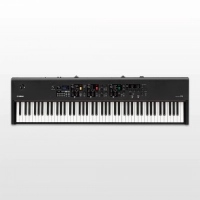 We rated the Yamaha CP88 a 9 /10. We really love that it has natural wood graded hammer action, a large number of effects, and 3 great sound pods. The extremely realistic piano sound sampling paired with seamless transitions has us quite impressed. Not to mention the pitch and mod wheels, which are nice additions to an already gorgeous instrument. Because some musicians were unhappy with the action on this model, we had to take off just one point.
PROS
It is a high-quality instrument
It has state-of-the-art GHS weighted keys
The sound quality is wonderful
The synth sounds are great for layering
It is much more compact than an acoustic piano
It comes with effects and EQ, so you can tailor your sounds
The parameters are very specific, allowing for a lot of control
It has a full-sized keyboard and a realistic feel
You can plug it in to record MIDI into your computer
It has a lot of polyphony available
It is amazingly versatile
Sound switching is seamless
CONS
It is expensive
There are no built-in speakers
There are only 57 voices
It doesn't come with a stand
It is a bit heavy for gigging
Some players say the keys are too springy for their tastes or have too heavy of an action
Some professionals argue that the CP4 had better sounds
Not all effects can be applied to all sounds
The patches aren't as high-quality as the sounds
Organ enthusiasts aren't too satisfied with the sounds
The headphone output is low