Kawai NV5S Review
We rated the Kawai NV5S piano a full 10/10. This hybrid digital arranger is one of the most expressive of its kind that we have yet to review. Not to mention the instrument has a gorgeous sleek cabinet, a sturdy build, heavy wood upright-action keys, and a resonant spruce soundboard. 
We rated the Kawai NV5S piano a full 10/10. This hybrid digital arranger is one of the most expressive of its kind that we have yet to review. Not to mention the instrument has a gorgeous sleek cabinet, a sturdy build, heavy wood upright-action keys, and a resonant spruce soundboard. 
Kawai NV5S Overview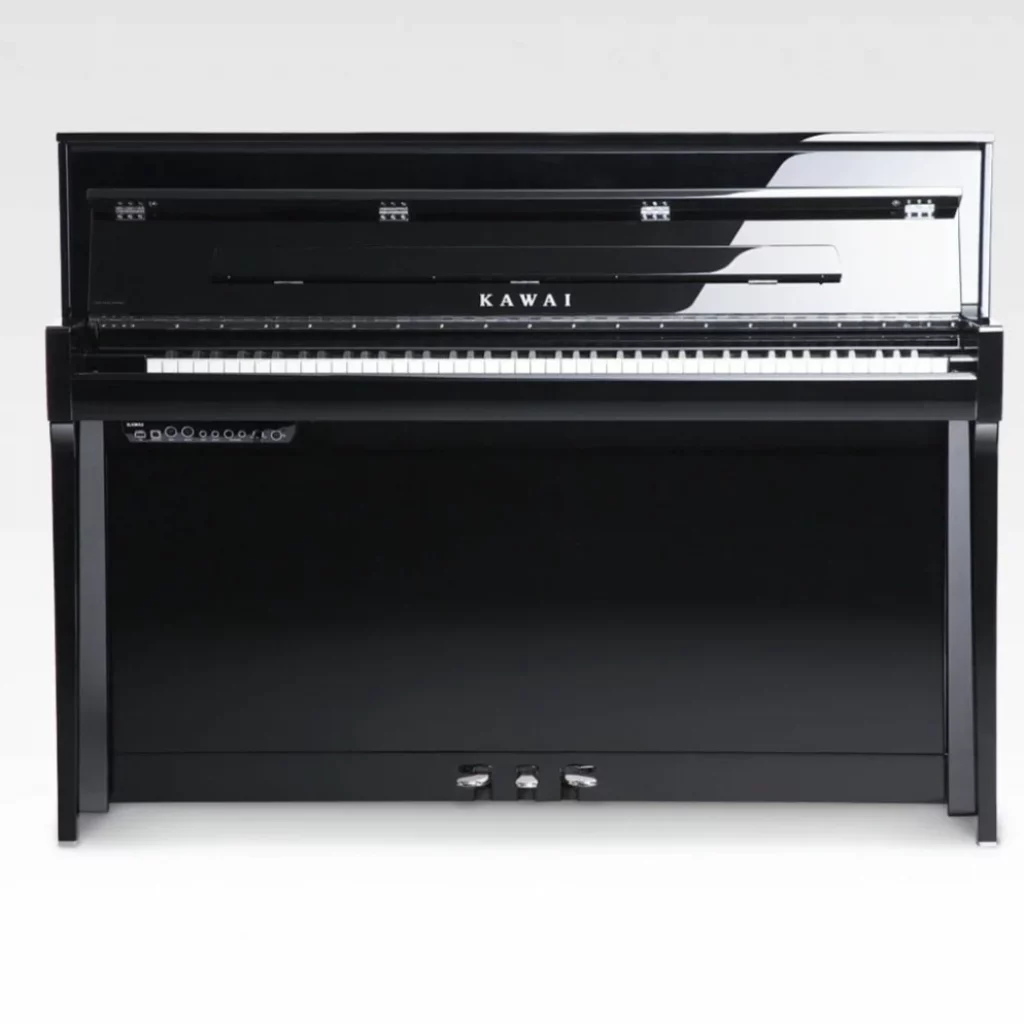 The Kawai Novus NV5S is a slim hybrid digital piano that was first released in October 2019 alongside the NV10S model. While it is marketed as a hybrid upright piano, we feel that it has the sonic depth and feel that rivals many makers' digital grand. According to the maker "The Novus NV5 is the first digital piano to incorporate Kawai's leading acoustic upright piano keyboard action technology". 
This instrument features the top-notch Millennium III Hybrid upright piano action, which has a real damper mechanism inside as well as all-wood keys. Also, the speaker system was created in collaboration with the famed Onkyo, resulting in a breathtaking sonic delivery. Kawaii Global also touts this instrument as being "A hybrid instrument that delivers the true acoustic piano experience". 
Features
Internal Recorder
The Kawai Novus NV5S has a solid internal recorder. You can choose to record in two modes: Pianist mode, and Sound mode. With pianist mode, you can record 1 part, up to 3 songs with 10 minutes per song. With Sound mode, you can record 2 parts, up to 10 songs with a max of 90,000 notes per song, The instrument also has a USB audio recorder, and USB-to-host compatibility. 
TwinDrive Soundboard Speaker System
This instrument's lush, powerful TwinDrive Soundboard Speaker System has a total of 4 speakers, including two top speakers and two dome tweeters. While the low end of the instrument isn't as strong (because it doesn't have subwoofers) it still results in a lovely mellow sound that most will enjoy. 
Rendered Sounds and Regular Tones
The NV5S isn't quite minimalist, but it certainly values quality over quantity when it comes to the sound engine. There are 88 tones in sound mode (which is just the regular sound bank). There are 10 renderings in pianist mode, meaning the instrument is just shy of 100 voices in total. All the voices are good, but the SK-EX-rendered piano tones are the best. They are described by the maker as follows:
SK-EX Rendering Classic: A standard grand piano sound with a broad dynamic range
Classic2: A Lustrous and brilliant grand piano sound
Romantic: A mellow grand piano sound with soft hammers
Full: A big grand piano sound with a strong bass and bright character.
Jazz: A clean grand piano sound that is suitable for jazz. 
Brilliant: A bright grand piano sound with emphasized treble.
Rich: A rich grand piano sound with emphasized resonances.
Ballad: A clear, light grand piano sound that is suitable for ballads. Vintage A soft grand piano sound with a vintage character
Sourced from: Kawai NV5S manual 
Realism from Virtual Sound Technician, VST Modeling Technology
I've always loved all of the options inside Kawai's virtual sound technician and piano adjustment section. And the onboard VST technology goes a long way in making the NV5s more realistic, too. For example, there is a piano resonance feature that offers the following resonance modeling:
 Damper Resonance

 String Resonance

 Undamped String Resonance

 

Aliquot Resonance
If you frequent our page, you've likely heard of the first 3 types of resonances before- But most pianos don't include the 4th on the list. Aliquot resonance is a virtual replication of an acoustic feature. When a piano has aliquot stringing, it has a 4th sympathetic string. This string is not designed to be struck, but rather, rings due to being in close proximity to the other strings. The result is a much richer tone. This piece of technology adds one other 'extra' in order to make the sound of the virtual pianos more full and unique. 
In sound mode, the acoustic rendering includes:
 Damper Resonance

 String Resonance

 Undamped String Resonance

 Cabinet Resonance 
Other Features:
Sliding key cover

A 3-pedal unit which supports half-pedaling

Headphone enhancements

Hardy ABS hammers inside

A large number of internal songs

Basics like Dual, Split, Four Hands, Transpose, Tuning, Favorite, and so on
The fact that this instrument has a sliding key cover and 3 pedal unit isn't exactly surprising. One of the other features I loved included the headphone enhancements which are made up of the following 4 features Discrete SpectraModule™ headphone amplifier, Spatial Headphone Sound, Headphone Type, and Headphone Amplifier. These different aspects go a long way in making the plugged-in experience as good as it is. Most makers are seen to only create something akin to the spatial headphone sound- 4 different features in this section alone are a lot. I was also reassured about the hardiness of the instrument when I learned that the hammers are now made of the strong material ABS rather than the more fragile wood. Read more about ABS hammers on this page.
Specifications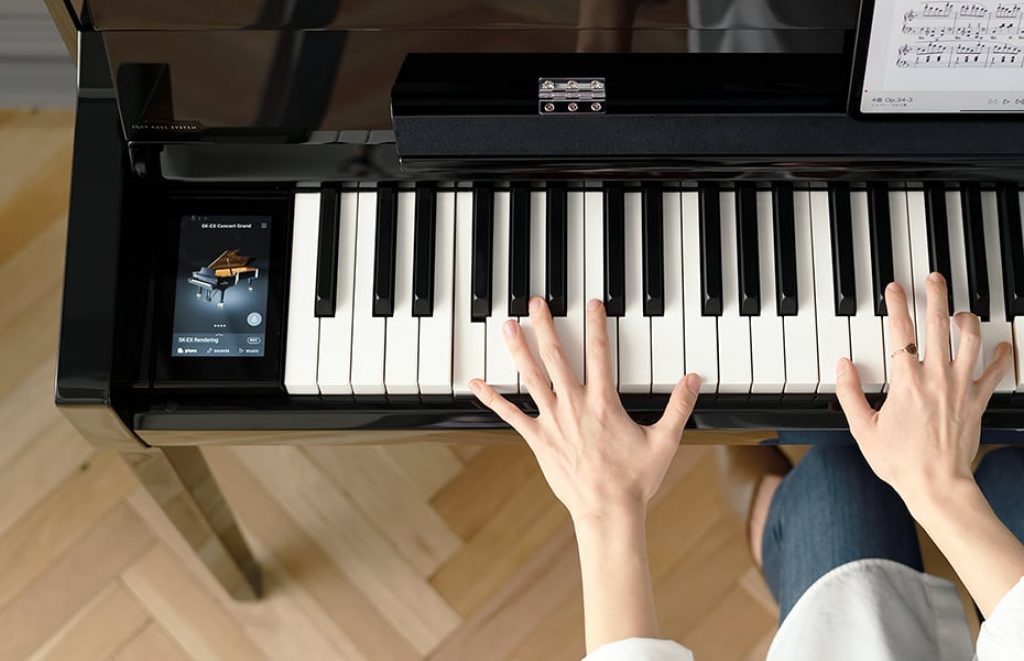 Weight:

249 pounds

Dimensions:

Width: 58 ¾ inches

Depth: 18 ¼ inches

Height: 43 ¼ inches

Number of Effects:

25 including brilliance
Who is it Suitable For?
The Kawai Novus NV5S is best suited for recording artists, and acoustic piano players who are looking to get the best of both worlds. Personally, I believe the NV5S best suits serious pianists who are also recording artists. This is because the instrument looks, sounds, and feels close to an acoustic, but has the onboard technology to create high-quality one-take performance recordings. 
The NV5s in Action
To get a better feel for the instrument, check out this video by the maker and Brian Harvey.
Pros and Cons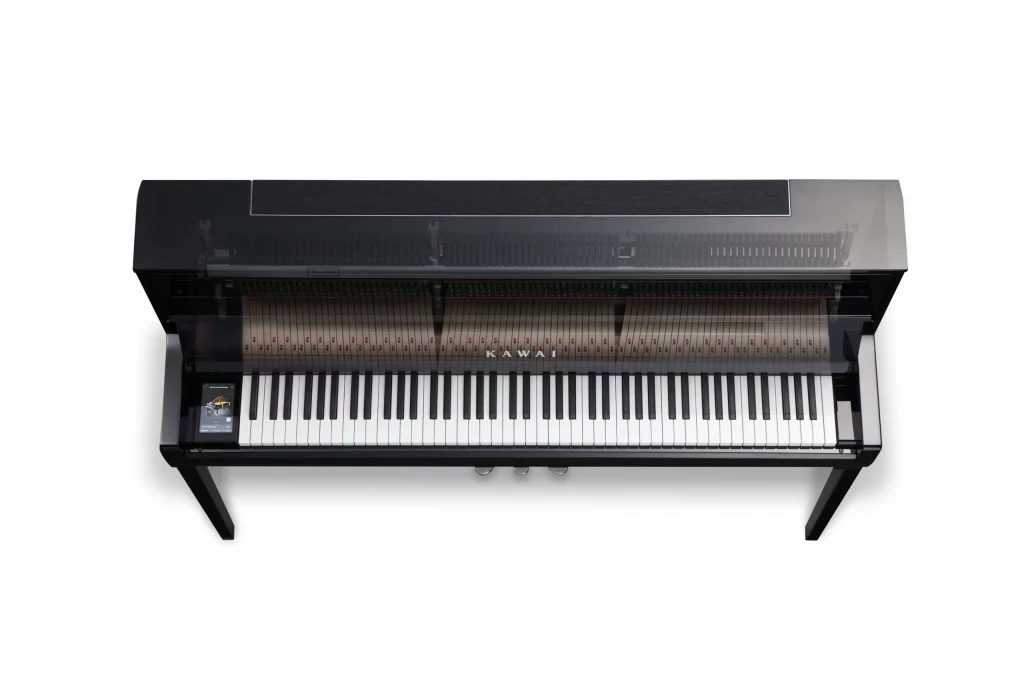 Pros
The instrument houses all our favorite Kawai Effects and onboard features

There are many ways to record on the NV5S- such as MIDI, or in the onboard recorder

Overall the build quality is high

The ABS hammers are very hardy

All of the keys are wooden

The action is the best grand piano action the maker currently has to offer

Similarly, the soundboard is made of spruce

The connectivity is good
The craftsmanship that went into the NV5s is stunning. From the all-wood keys to the spruce soundboard and sturdy ABS hammers, this instrument is built to stand the test of time. I also loved that the onboard recorder was sectioned out into pianist mode and the regular sound mode. The instrument has good connectivity and has both earbud (1/8th inch) inputs and a regular input (¼ inch), as well as all of the basics you might expect. In my opinion, the best selling points here are the wooden keys/wooden soundboard and sound system (of course, combined with the grand piano renderings. 
Cons
Only available in one color

Sounds timbrally 'broad' 

It costs significantly more than comparable instruments like the CA99

It doesn't have gobs and gobs of sounds

like some instruments in this price range (it has less than 100 tones) 
The Kawai Novis NV5S is only available in polished ebony, which is a bit of a con for those who like to choose lighter paints or wood finishes. The other thing I noticed is that the NV5S sounds very rounded, with a broad-feeling sound/harmonics. If you like an instrument that is more sonically narrow or pointed, this might not be the one for you. 
Comparable Instruments
For a more economical hybrid digital try: The Kawai CA99

For a similar instrument with longer keys try: The Kawai Novus NV10S

For a comparable instrument by a different maker try: The Yamaha NU1X

For a comparable acoustic piano: Try the Kawai K-300 (This is a regular upright- not a digital!)
Like the NV model, Kawai's CA99 is a high-quality hybrid digital piano. It can cost anywhere from $5,000 to about $8,000 and was designed to replace the popular CA98. The instrument offers a newer cabinet design, LCD touchscreen, wooden keys, and a solid spruce soundboard. Despite the large price difference between the NV5S and CA99, both instruments have the same output, very similar speaker systems, and the same soundboard. While they sound different (as well as feel a bit different due to the upright vs. grand piano actions…), they are both instruments of a very high quality. At nearly half the price, the CA99 is still putting up some stiff competition with the NV line.
The Kawai Novus NV10S was released at the same time as the NV5S. The NV10S is marketed as high as $19,000 and as low as about $15,000 making it significantly more pricey. So what's the difference? First off, the NV10S is 8 or 9 inches longer than the NV5S because it has a larger action (larger key length). However, both instruments have comparable action, Onkyo speakers, great realistic touch, and rendered piano samples. If you value having longer keys, though, the 10S model may be worth it. 
The NV10 has a very different sounding low register when compared to this model. This is because the instrument has woofers- The sound systems are not the exact same. While I like the sound on both, the difference is quite noticeable. Merriam Music described the NV10's bass sound as being 'punchy' and I would agree. The NV10 has more umph, whereas the NV5s has a more mellowed-out low end. Take this into consideration when deciding which Kawai to purchase. 
If we switch brands, the most comparable instrument is the NU1X by Yamaha. You can expect to find these instruments in the $6,900-$8,000 price range: but it seems that the NV5s are more loved by musicians. The NU1X does have some reports of issues with firmware and loud noises (supposedly it is pretty serious for some buyers but then again there was an update to the instrument…). While the NV5 costs a lot more, it also has more to offer onboard(regardless of whether the tech issues are true or not). I've also read that the NU1X feels and sounds more like an upright and that the NV5 is more similar to a grand… This is worth taking into consideration! 
And while we do specialize in digital pianos here at BestPianoKeyboards it is worth noting that the NV models really feel like instruments that are in-between digitals and acoustics. This makes the Kawai K-3000 acoustic upright another great option for those who enjoy playing on the NVs. 
Quick View 
Keys

88 wooden keys with Millennium III Hybrid upright piano action

Touch sensitivity 

Yes: Touch curve with 6 presets

Sounds

88 tones in sound mode

10 renderings in pianist mode

Recording capabilities 

USB to host, Internal recorder  

Metronome

Yes

100 drum patterns

1/4, 2/4, 3/4, 4/4, 5/4, 3/8, 6/8, 7/8, 9/8, 12/8 time signatures

Polyphony 

256 notes

Speakers

Two 8 cm x 4 top speakers 

Two 2 cm x 2 dome speakers

Headphones

Headphone hook 

One ¼ and one 1/8th inch jacks

Accessories

Warranty Card (depending on where you purchase it)

Owner's Manual

Power supply

Price point 

$10,000-12,500
Kawai Novus NV5: Conclusion
Thank you so much for reading our Kawai Novus NV5S until the very end! In conclusion, if you are looking for an instrument that combines the best of an acoustics sound, and touch with the adjustability and recording capabilities of a top-tier digital, then this model just might be for you. 
Music quote of the week: 
"When I'm writing (music), I separate from everyone. Even my band. I push myself, and I'm alone with my thoughts. Separating from friends and comforts and family lets you think a lot deeper about subject matter. Working alone drives me a little crazy, but it makes the writing as honest as possible." 
-Vic Fuentes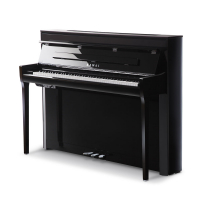 We rated the Kawai NV5S piano a full 10/10. This hybrid digital arranger is one of the most expressive of its kind that we have yet to review. Not to mention the instrument has a gorgeous sleek cabinet, a sturdy build, heavy wood upright-action keys, and a resonant spruce soundboard.
PROS
The instrument houses all our favorite Kawai Effects and onboard features
There are many ways to record on the NV5S- such as MIDI, or in the onboard recorder
Overall the build quality is high
The ABS hammers are very hardy
All of the keys are wooden
The action is the best grand piano action the maker currently has to offer
Similarly, the soundboard is made of spruce
The connectivity is good
CONS
Only available in one color
Sounds timbrally 'broad'
It costs significantly more than comparable instruments like the CA99
It doesn't have gobs and gobs of sounds like some instruments in this price range (it has less than 100 tones)