Kawai KDP75 Review
We rated the Kawai KDP75 an 8.5/10. While this model isn't the newest, it satisfies the needs of its target audience: Piano learners! We love the internal lessons that it has, as well as the stunning grand piano sampling. But because the keyboard only has double sensors (instead of triple sensors) as well as a relatively small sound bank, we had to take a point and a half off.
We rated the Kawai KDP75 an 8.5/10. While this model isn't the newest, it satisfies the needs of its target audience: Piano learners! We love the internal lessons that it has, as well as the stunning grand piano sampling. But because the keyboard only has double sensors (instead of triple sensors) as well as a relatively small sound bank, we had to take a point and a half off.
Overview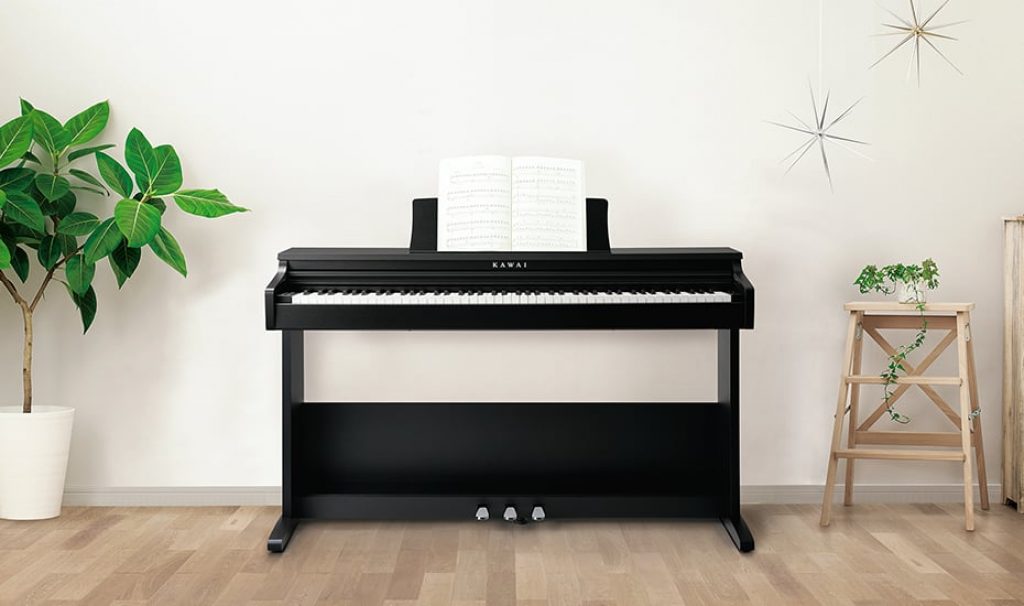 The Kawai KDP75 is an affordable digital home piano with responsive hammer compact action and harmonic imaging. This keyboard was first released in June 2021, and is one of the newer additions Kawai KDP line. 
A note on KDP pianos: If you keep up with our blog, you probably already know that KDP stands for Kawai Digital Pianos. The KDP line aims to be affordable yet realistic, and serves a wide range of audiences well. 
Kawai KDP75 Features 
RCH Keyboard Action
RCH (responsive hammer compact) action was created by Kawai in order to recreate the feel of a grand piano. For comparison, higher-end Kawai instruments have one of the following wooden hammer actions: GF (grand feel) and GFII (grand feel II). While the more expensive keyboards do have a heavier feel, RCH is still quite good. According to the maker, 
"The new Responsive Hammer Compact (RHC) keyboard action has been developed to reproduce the distinctive touch of an acoustic grand piano. Its spring-less technology and sturdy construction delivers consistent upward and downward motion for a smooth, natural, and highly authentic piano-playing experience. Designed along the principles of the RHIII action, the RHC action delivers superb touch in a more compact and lightweight package, making it ideal for instruments such as the ES110 portable digital piano." Quote from Kawai.com
2 Headphone Jacks 
I really like how the KDP75 comes with two headphone jacks- One for regular ¼ inch/production headphones, and one for earbuds. A lot of the time I lose my gold ¼ inch adapter, which means I can't use my earbuds until I order more pieces, or find the tiny piece (Which is who knows where!). 
Recording and Playback 
This model allows you to record up to 3 songs, and store and play them back onboard. Having recording and playback on an entry-level keyboard is more valuable than one might think- It allows you to listen to what you sound like when you're not playing, which can help you make adjustments to dynamics, articulations, and more without having to ask someone else! Taking advantage of playback features is one of my favorite ways to improve my playing. 
Shigeru Kawai Sound
Like the other two Kawai's we've just reviewed, the Kawai KDP75 has a top-notch sampling of the Shigeru Kawai Grand piano inside. You can check out the SK sound here on Soundcloud.
The Shigeru Kawai Grand sound is one of the biggest reasons why pianists invest in an instrument from the KDP piano line. If you take a listen, you'll soon know why- The sampling technology is state-of-the-art. 
Built-In Lessons with Excellent Curriculum 
The KDP75 is equipped with Burgmüller and Czerny etudes, as well as Alfred lessons. Alfred is one of the industry standards when it comes to method books. And, for those of you who are intermediate players, the  Burgmüller and Czerny pieces will provide you with hours of learning. So, if you need a bit of time to save up for a private teacher, the KDP75 has a lot to teach you in the meantime! 
Included Bench
While an included piano bench might seem like a small feature, it will actually save you quite a bit of money. Most digital keyboard companies capitalize by making you buy accessories separately, especially including benches. This is just one less piece of the puzzle you'll have to deal with!
5 Headphone EQ settings 
Are you an audiophile? Then you'll be glad to hear that this instrument has not one, not two, but five total headphone EQ settings. This is also known as spatial headphone sound. This feature also allows you to choose from 3 acoustic presets, which changes the feeling of where the sound is coming from. I find that switching up the acoustic presets helps me stop being so "tired of my own sound". 
Low Volume Balance
Have you ever played the piano and noticed that, when you play quietly, the overtones don't sound quite as rich? Well, Kawai has come up with a solution for that: Enter, low volume balance. Low volume balance helps to readjust the harmonics you're hearing when you're playing quietly. Now, every volume will sound full and, well…balanced!
Other Notable Aspects: 
Included virtual technician to help you customize your sound
260 built-in lesson songs

Matte key surfaces for better grip
Specifications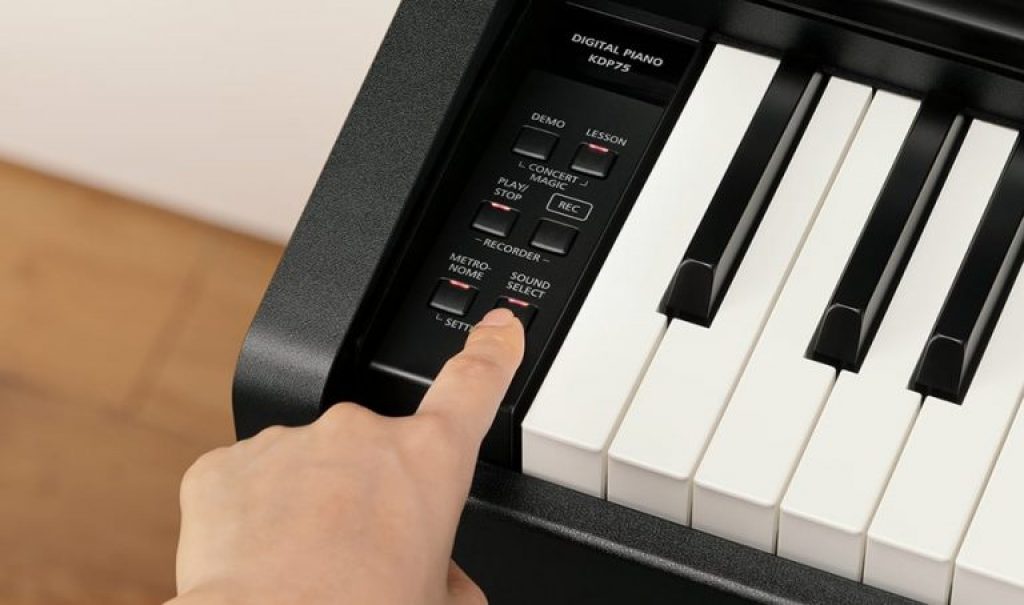 Weight:

79.5 pounds

Dimensions: 

Width: 55.3"

Depth: 16 "

Height: 33.5"

Piano Type:

Home digital piano

Color Options:

Black or white
Who is the Kawai KDP75 suitable for?
The Kawai KDP75 is an entry-level digital piano that is best suited for those who are just getting started, and, more specifically, classical piano learners. The grand piano sampling that is within the KDP75 is lovely, and will inspire beginner to intermediate instrumentalists to get to the next level. 
And while the recording/playback features and soundbank are solid, I feel that composers and pro musicians will want a little bit more in these areas. 
Kawai KDP75 In Action
To get a better feel for this digital pianos response and sound bank, check out this demo video by Kraft Music.
Amazon Reviews
This instrument received a 4.1 out of 5 stars from those who tried it on from Amazon.com. Let's see what the customers had to say!
Positive customer reviews: 
"It's the perfect hobby piano"

It's heavy and sturdy

It's wonderful

It's a good instrument to learn on
Constructive customer reviews:
One particular customer was very unhappy with the KDP75's touch, stating that it was "terrible". Be sure to try out the instrument for the touch, and if you don't care for it, consider trying the newer Kawai KDP120. 
Pros and Cons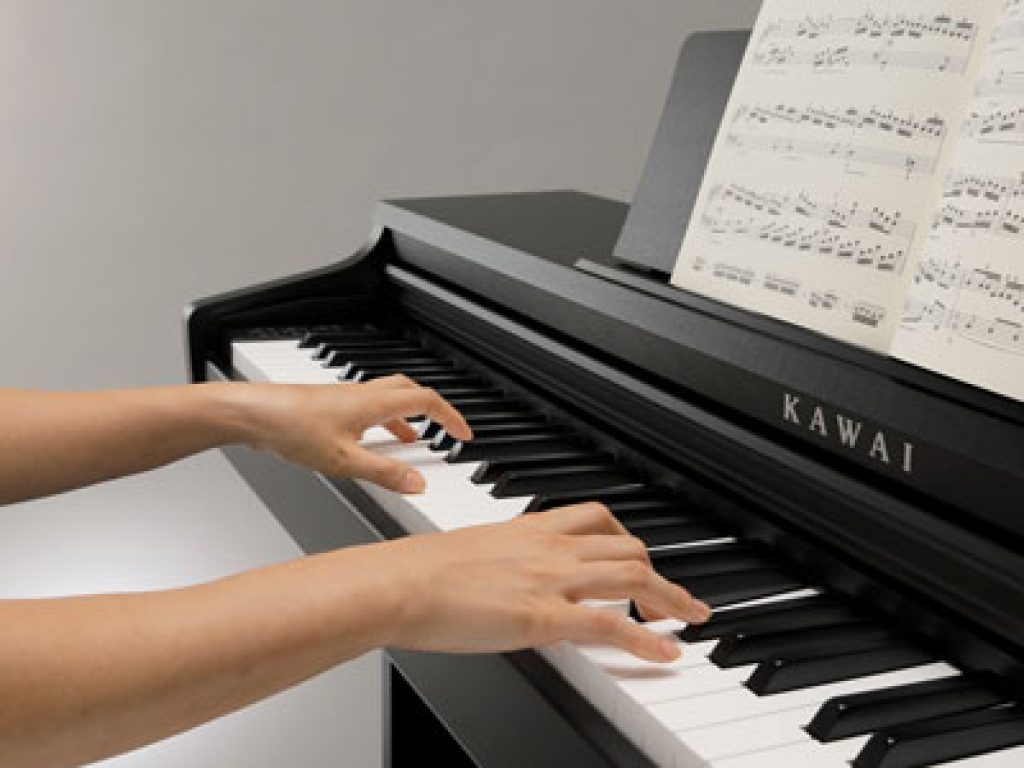 Pros
The KDP75 is economical 
It has the touch of an acoustic grand, the action is very smooth

It has a USB to MIDI port 

The key cover has been improved since the last model 

The low end of this instrument really shines

The different types of pianos in the sound bank offer contrast and a wide range of sonic colors
Who couldn't help but love a $1,000 piano with the feel and sound of a real Shigeru Kawai grand?! The Kawai KDP75 is actually more economical than its predecessor, the Kawai KDP70. And for being an entry-level instrument with plastic action, this feels super smooth and authentic. 
Other "pros" for me are the USB to MIDI port, which allows you to record using an interface, or with your computer. Plus, the key cover has been redesigned since the KDP70. Lastly, I can't get over the sound of this entry-level keyboard. From harmonically-rich low ends to a wide array of pianos in the sound bank, this instrument is a steal!
Cons
The Kawai KDP75 is no longer the flagship model

It has less than 20 total sounds

This keyboard doesn't have very many features 
The KDP75 has double sensors

The connectivity could be better

The "low volume balance" feature can decrease the amount of control you have over your sound
The KDP75 is no longer Kawai flagship digital piano, which means you won't be getting the newest of the new. And, like the other 2 Kawai's I just reviewed, the instrument only has 15 sounds. Composers may feel this isn't enough to work with, but for piano students, the sound bank will be just fine. 
Overall, the KDP75 doesn't have as many features as other $1,000 keyboards. While some pianos can keep you entertained for hours and hours learning the controls, this one is a little bit more bare-bones. 
We wish this keyboard had triple sensors, but it only has double. With one less sensor, the instrument won't pick up as much nuance as other, more expensive keyboards. 
Lastly, some Kawai users have reported that the low volume balance on the instrument also means that the piano doesn't respond as well to the pressure of your fingers. While it sounds nice, Kawai has gotten some more recent criticism regarding this feature. For me, I can definitely notice the drawback of the volume balancing when I'm in front of the instrument.  if I'm trying not to disturb others, I put in headphones instead of turning down the volume super low. I suppose this con has an easy solution. 
Comparable Instruments 
Instruments that have been compared the Kawai's KDP75 include:
First things first, let's start by comparing Kawai to itself. The Kawai KDP120 is the maker's newest home digital piano. It costs about $1,499.99 new, and triple sensors (compared to the KDP75's double sensors). The KDP120 has other color options (rosewood), the same built-in lesson plans, and the harmonic imaging sound engine.  If you are able to invest a bit more into a new instrument, we recommend checking this one out. 
Next up, the Kawai KDP100. The KDP100 is a triple-sensor keyboard with Bluetooth, and updated control panel, an updated RCHII, and a 40-watt speaker system. Because this has triple sensors and RCHII, it plays a little more expressively than the KDP75. 
A comparable instrument that you may be able to find used is the Kawai KDP70. As we mentioned earlier, the KDP70 was replaced by this model, the KDP75. 
Another comparable instrument is the Kawai's model 110 from the ES line. Because of the built-in lessons, weighted keys, and split/duet mode, this keyboard is also ideal for beginners. This one costs only $700, making it significantly more economical than the KDP75. You don't get a bench or stand, though. 
Those looking at other brands may enjoy the entry-level Roland or Casio keyboards, or instruments from Yamaha's "P" line, including the Yamaha P125. This entry-level instrument is also around $700, and includes weighted, graded hammer action and 26 total sounds. But, like the ES110, the package is bare-bones (no stand or bench included).
Kawai KDP75 Quick View 
| | |
| --- | --- |
| Keys | 88 graded, weighted hammer action keys |
| Touch sensitivity  | Yes: adjustable touch |
| Sounds | 15 total sounds in the sound bank (excluding the grand piano sampling) |
| Recording capabilities  | USB to MIDI |
| Metronome | Yes |
| Polyphony  | 192 max. notes |
| Speakers | 2 (12 x 8 cm) speakers |
| Headphones | 2 headphone jacks included: Mini for earbuds and ¼ inch  |
| Accessories | Included bench,  |
| Price point  | $999.99-$1,199.99 |
In conclusion, the KDP75 is a digital piano that has great value for the price. Combine this with the updated action, and a silky smooth touch, and you have a real crowd-pleaser. I think that this instrument is a great choice for beginners who are serious about getting to the intermediate level of playing. 
Kawai KDP75: Conclusion
Whether you are a BestPianoKeyboards regular, or a new reader, welcome! I am still very busy writing new content, so stay tuned for updates to our website, including new reviews of 2023 keyboards! Until next time! 
Music quote of the week: 
"I often think in music. I live my daydreams in music. I see my life in terms of music" 
-Albert Einstein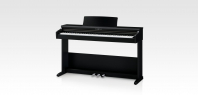 We rated the Kawai KDP75 an 8.5/10. While this model isn't the newest, it satisfies the needs of its target audience: Piano learners! We love the internal lessons that it has, as well as the stunning grand piano sampling. But because the keyboard only has double sensors (instead of triple sensors) as well as a relatively small sound bank, we had to take a point and a half off.
PROS
The KDP75 is economical
It has the touch of an acoustic grand, the action is very smooth
It has a USB to MIDI port
The key cover has been improved since the last model
The low end of this instrument really shines
The different types of pianos in the sound bank offer contrast and a wide range of sonic colors
CONS
The Kawai KDP75 is no longer the flagship model
It has less than 20 total sounds
This keyboard doesn't have very many features
The KDP75 has double sensors
The connectivity could be better
The "low volume balance" feature can decrease the amount of control you have over your sound