Korg LP 380 Review
We rated the Korg LP 380 a 9.5/10. If you like vintage sounds, you'll love this instrument. The amplifier and speaker on this 380 model are stunning, and the keyboard is built extremely sturdily. With 3 included pedals and a lightweight design, it's a great choice for musicians on the go. This model is designed for beginners, but I think it can serve a much wider range than that. Because there's no Bluetooth on this model, we took off just half a point.
We rated the Korg LP 380 a 9.5/10. If you like vintage sounds, you'll love this instrument. The amplifier and speaker on this 380 model are stunning, and the keyboard is built extremely sturdily. With 3 included pedals and a lightweight design, it's a great choice for musicians on the go. This model is designed for beginners, but I think it can serve a much wider range than that. Because there's no Bluetooth on this model, we took off just half a point.
Hi there! Today we are taking a peek at a Korg electric piano. In this Korg LP 380 digital piano review, we will take a look at features, pros, cons, and much more. Let's get started! 
Overview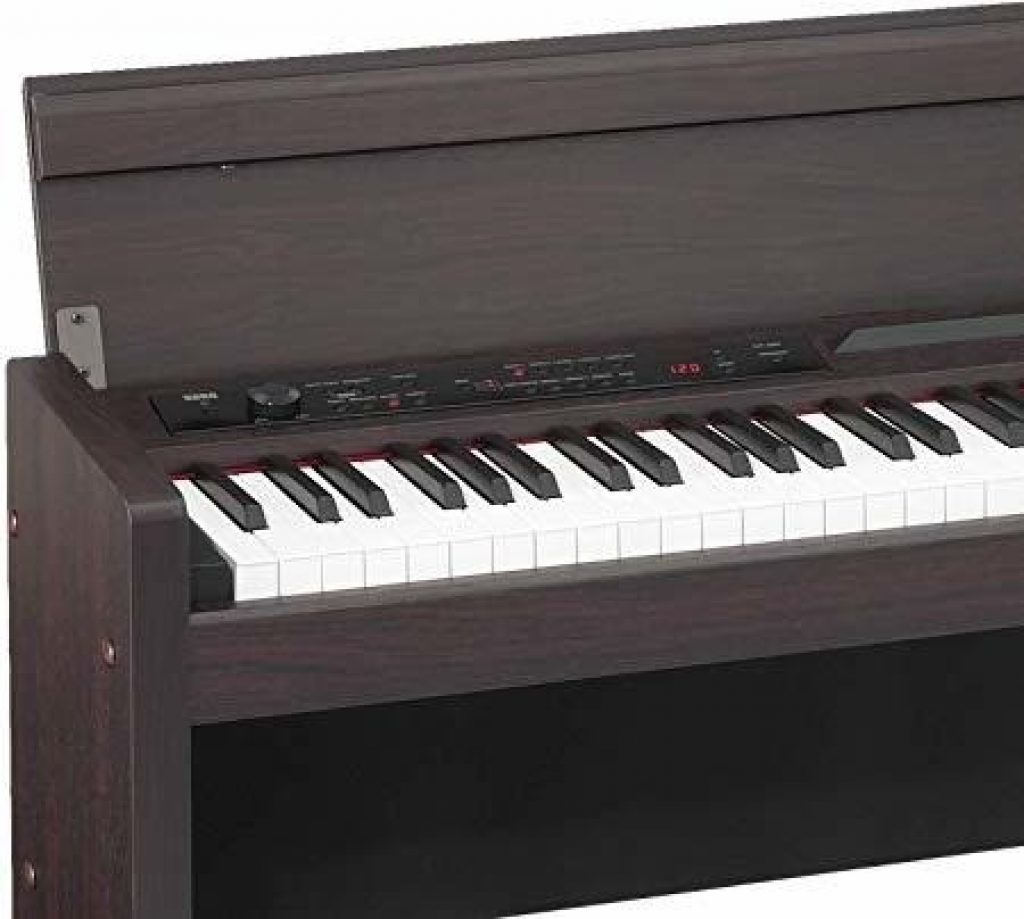 First things first: Price. The Korg 380 price is just over a thousand dollars. It is considered a lifestyle digital piano and has 88 full-sized, weighted hammer keys. Others would call it a flat-top cabinet piano. As they say, "A rose by another name would smell as sweet" so…Let's see what else this flower, er, instrument, has to offer! 
Features
Flagship RH3 Keybed
This keyboard on the Korg LP in particular has an improved response for repeated keystrokes. This is an area where a lot of electronic piano keyboards fall short. Repeated notes tend to stick on these (electronic) instruments when compared to acoustic pianos. It is great to see that Korg has improved the action in their newest RH3 keyboard. 
In addition to this, the LP 380 keyboard also has graded-hammer action, which means that the keys get progressively heavier as the notes go lower. A lot of players are raving about the improved RH3 keyboard. It is said to feel very authentic, similar to playing on a grand piano. So head over to your local music store and try it out! Let us know what you think in the comments. 
It Comes With 3 Pedals
With the three pedals being built-in, you save a lot of money. Many full-sized pianos require you to purchase each pedal separately, or, even worse…Sometimes they only support one pedal (the sustain pedal).   
Korg clearly put a lot of time and effort into their flagship instrument. These built-in pedals support half-pedaling, which is a method that is often used by classical pianists. For example, if you want a little sustain, but not full sustain, you can press down the pedals halfway to get the sound that you want. Usually, this is something you can only do on acoustic pianos, but that is all starting to change! 
A Slim Design
Narrow, full-sized pianos are quickly taking over the electronic piano market, and it seems that Korg is jumping on board. With a slim design, you can fit the 380 in just about any corner of the house (or apartment!).  It is only 26 cm deep. Many amateur pianists are thrilled to have this model in their homes. A lot of people are surprised at just how small it is! And the design is really sleek, to boot. 
Wooden Key Cover
I love the fact that the Korg LP 380 comes with a wooden cover. This protects the keys from dust and spills (Yikes!) when it's not in use. This key cover also comes with built-in protection: The soft landing mechanism. In essence, this mechanism prevents your wooden cover from "Ka-blaming' onto the piano and damaging the instrument. I sure do wish acoustic pianos had that feature…
It is quite rare to find a wooden key cover on an electronic keyboard in this price range. What you usually see is a pull-out, vinyl key cover, or a plastic key cover. The fact that they decided to use real wood on so many parts of this piano screams quality. 
Three Aesthetic Choices
This keyboard comes in black, rosewood stain, and rosewood with a black stain. They have also produced the piano in white, but unfortunately, this option isn't available on Amazon. 
Personally, I've always been partial to the look of rosewood. While typical pianos just come in black or white, it's refreshing to see that they've mixed up the options here, visually speaking. 
A Stellar Amplifier and Speakers
The Korg LP 380 is known for its high-output amplifier. In addition to this, the speakers are large-diameter.  Even though they (the speakers) only measure 10 x 2 centimeters, they pack quite a powerful punch!
Built with Stability
While the chassis is slim, it has a really sturdy design. It might be a small full-sized piano, but it certainly isn't going to be one of those instruments that wobble or are easily knocked over. 
Purposely Light-Weight
Korg created this instrument to be more lightweight so that musicians would have access to a full-sized piano, without a lot of hassle. This instrument is great for gigging because it was designed to be lighter than the average 88-key electronic keyboard. 
I'm not going to sit here and pretend this instrument is light by any means…However,  it is great to see that they were able to fit in so many features and such a great sound system into a comparatively light, compact instrument. 
3 Effects
This instrument comes with the following effects: Brilliance, reverb, and chorus.
The brilliance effect is basically tone. one allows you to adjust how bright or dark your piano is. The more brilliance you add, the 'brighter' the sound is going to be. A honky-tonk piano, for example, has a very bright timbre. If you are looking for more of a mellow or dark Bosendorfer sound, you can try turning down the brilliance a bit. 
While many electric pianos have reverb and chorus, not quite as many have tone/ brilliance! I really appreciate the fact that the Korg LP 380 has this. 
An Emphasis on Vintage Voices
Korg put a lot of work into their sound samples here. They emphasized both realism and vintage sounds. Korg adds samples that aim to mimic the sound of a real key on an acoustic piano, lifting. This increases the authenticity of every piano sound in the bank. Speaking of which…
Many of this model's piano samples were inspired by vintage music, such as that from soul music, and, pianos from the 1960s and 1970s. If you perform in a band that plays this style of music, then this piano will be great for both recording and performing. 
Some of the sounds available on the Korg LP 380 include electric pianos and electric grands, acoustics, choirs, organs, vibraphone, strings, clavichord, harpsichord, guitar, marimba, and more. For most of these sounds that I've listed, there are multiple sound sample options. Some players have compared Korgs' sounds on this model to Roland's "SuperNatural" sounds. 
9 Available Temperaments
Having 9 different temperaments at your fingertips allows you to play with period instruments. An electronic instrument plus a period instrument?! Sign me up. Take my money… (Insert a pun about being happily Bar-oque here). 
Optimized for Duets and Teaching
The Korg LP 380 is optimized for duets and for teaching. One unusual feature is that it has two headphone jacks. That means that two people can practice together while keeping quiet at the same time! Late-night rehearsals in the apartment, anyone? 
It also has something called Partner Mode, which is similar to what was called Lesson Mode on the pianos we have reviewed. Partner mode splits the keyboard in two so that each person can have access to the same range of the instrument. 
Touch-Sensitive, GHS Keys
Having a piano with variable touch sensitivity is something I highly recommend. The Korg LP 380 comes with the following touch sensitivity options: Heavy, light, and normal. Sure, you could get a much lower-priced starting piano without graded hammer action or variable touch sensitivity (or even any touch sensitivity at all).  The problem with getting pianos like this is that your expression is highly limited. If you want to play one note piano, and the next forte? Sorry, you're out of luck! Or, I hope you are really fast at turning the volume button!  See the problem here?
So, while this instrument is over a grand, these two features alone make it really make it worth the extra cash. Oh! And, in addition to the variable touch sensitivity, this instrument also features a key touch control function. This allows even more control over your keyboard and sound. 
Other Features
The Korg LP 380 offers normal tuning as well as fine-tuning. It has a total of 30 demo songs, 20 of which are piano demo songs. The other 10 are sound demo songs.
Like many other keyboards on the market, the Korg LP 380 has what is called a layer mode. Layer mode allows you to stack two sounds from the sound bank on top of one another. 
This instrument is super software-friendly. In fact, it comes with 3 months of Skoove for free. It also is compatible with the "KORG Module" piano keyboard sound module app. You can also use the instrument with a Korg producing app: KORG Gadget 2 Le" DAW music production app with a built-in sound module. You can find more info about Korg software bundles here.
Specifications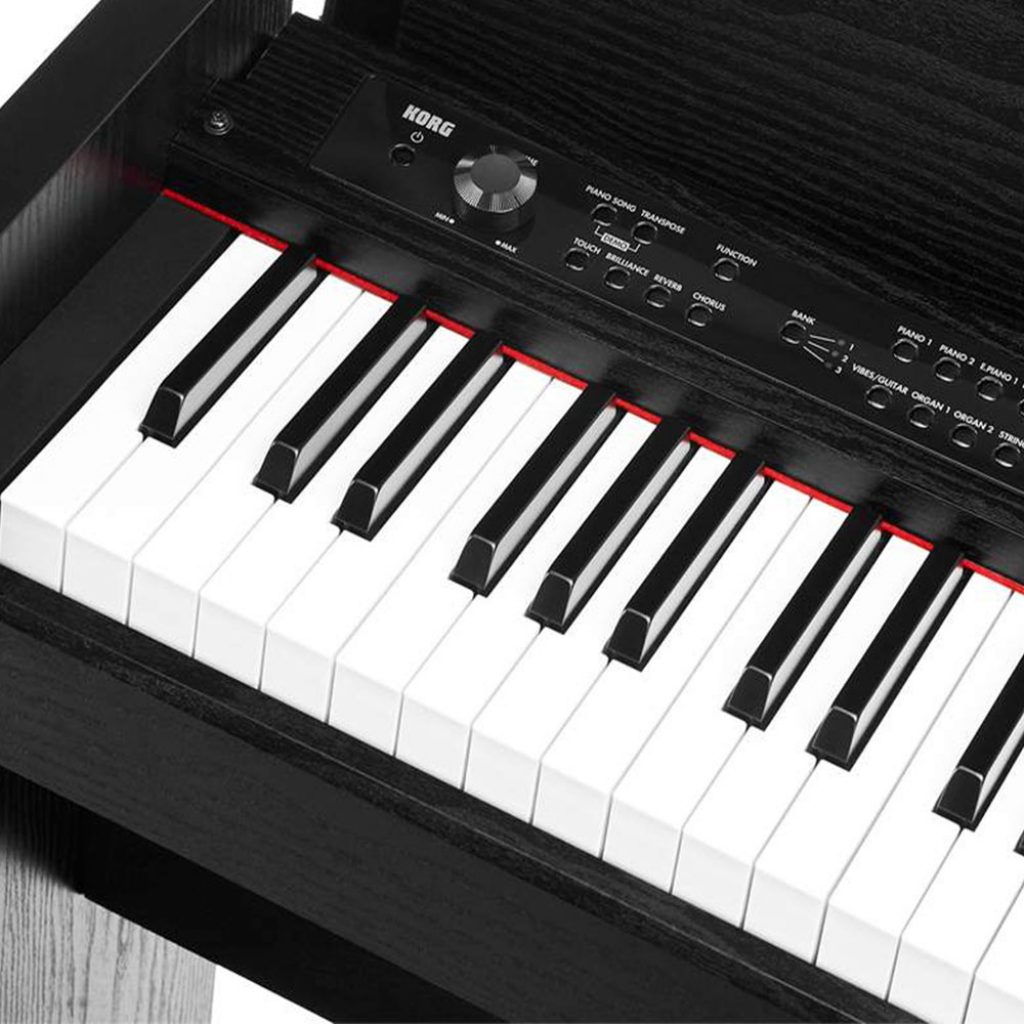 Weight:

About 80 pounds including the stand

Dimensions:

53.35 x 13.82 x 36.85 inches

Effects: 

3

Voices:

30

Sound Banks:

3

Acoustic Piano Sounds:

5

Electric Piano Sounds:

6

Pedals:

3

Power Supply:

DC 19
How Was the Korg LP 380 Made? A Bit About the Brand
Korg was founded in 1960. They make their instruments in Miyama Kyoto, Japan. This city, interestingly enough, is known for its high amounts of tourism as well. 
Korg instruments are actually made in small batches. It takes many teams working by hand to get these instruments to completion.  It is said that people from Miyama really value others, and put their hearts into their jobs. To learn more about Korg and its instrument-finishing process, visit their website.
Who Is It Suitable For?
In my opinion, this piano is suitable for just about anyone. It is especially great for these two categories: the (serious) intermediate classical student, and the gigging pianist. Beginning classical pianists will be thrilled with this instrument as well, but honestly, it is much more than the beginner (who is on Alfred book 1) needs. That being said, if you think the student will persist with lessons and is very serious, the serious beginner would also greatly benefit from the Korg LP 380 model as well.
While this piano admittedly is a bit heavy for gigging, it is relatively compact for a full-sized instrument. In addition to this, the 380 has great vintage sounds. Keyboardists who play for cover bands will find themselves head-over-heels with the samples. That is why I recommend it for those who perform, too. 
For reference, the LP line of Korg pianos is specifically designed with serious students in mind. This piano is a really fast-seller in the world of student-level pianos. 
Korg LP 380 in Action
Korg treats us to a sample of a classical piece in their promotional video. I have to say, it sounds impressive. The sound is so resonant, and the high register sound so dainty. It makes me feel like I'm listening to the score of Pride and Prejudice. Lovely, quazi-British-sitting-room-piano sound. Since this sample was quite short, let's check out another video. 
You can hear all of the sounds on the Korg LP 380 here.
At 2 minutes in, you can hear some of the jazz organ sounds. While most all of the other pianos have fallen short when it comes to organ sound samples, the Korg LP 380 really delivers! I am also usually disappointed in synth sounds, and other bright samples, such as honky-tonk pianos. I am so very impressed with all of the bright and tinny timbre sounds…They are so authentic! If you are looking for an instrument with bright sounds, this is it. The Clavia is wonderful too, as well as the xylophone. Essentially, every sample that you are typically sorely disappointed in, is stellar.  Go take a listen to the video. For me personally, it was five minutes of great sounds. There was not a single one I didn't like. Bravo, Korg, Bravo! 
Pros and Cons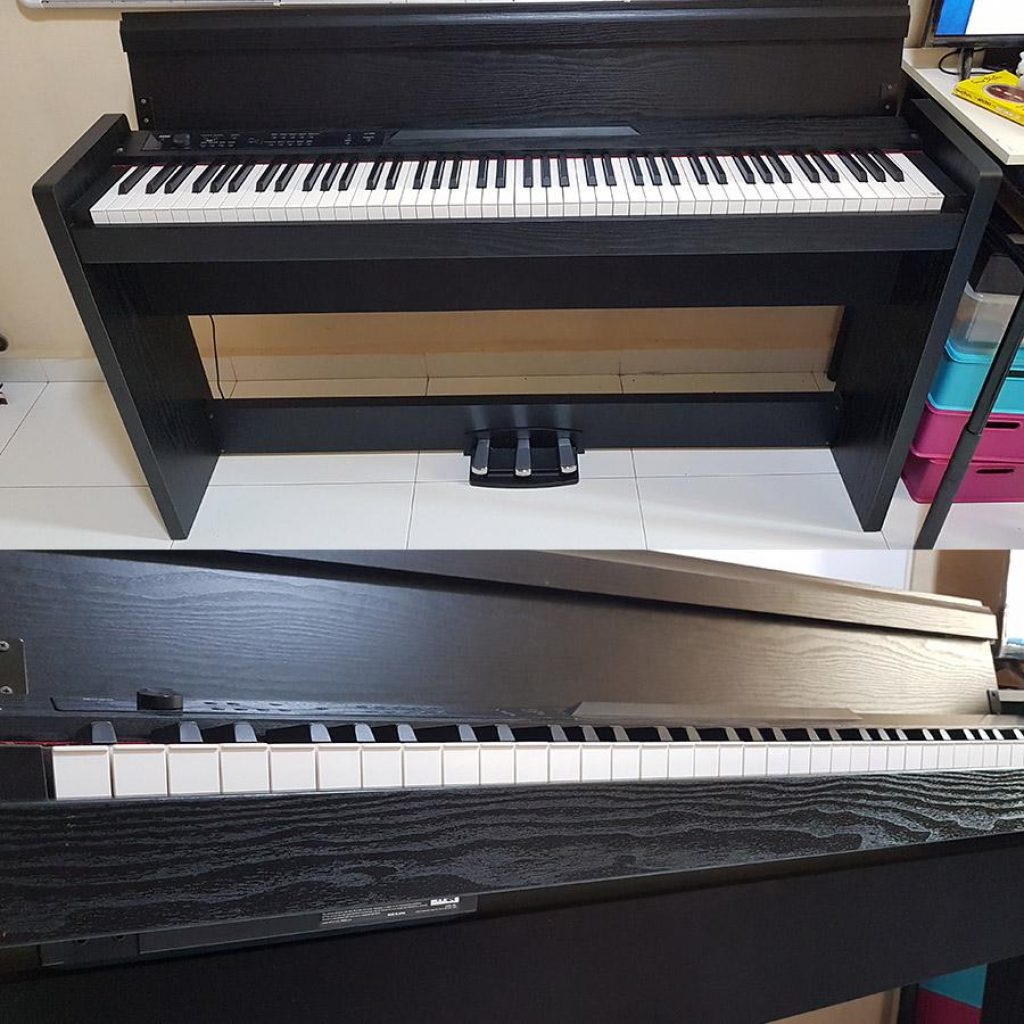 Pros
It is lighter than its predecessor, the Korg LP-350

Has many more advanced features than others in the LP line (especially the LP-180)

It has everything you need

It is a beautiful piano

Easy to put together

It has great vintage sounds

The organ sounds are great

Has two headphone jacks

It is compact

It is sturdy

You save money because the pedals are built-in 

Players can half-pedal on this instrument

It has a metronome with many options on it, like beat accents

It is energy-efficient 
There have been a lot of improvements on the Korg LP 380 when we compare it to the LP-360, and one of them is that it isn't quite as hefty. Really, it has everything you need. It looks and sounds wonderful. 
Another pro that I really want to emphasize is that it is easy to put together. In the past when I reading reviews for both Yamaha and Casio pianos, I noticed how many people said how difficult these electronic instruments were to put together. 
If you are looking to get the most bang for your buck, the Korg LP 380 has included pedals. Many brands sell each pedal separately, but Korg doesn't, at least in this case. Individual pedals tend to start around $20 at the low end, and sets of 3 are around $80 or more. It's really convenient that it comes with the accessories that you need to play classically.
I'd like to add that the metronome isn't just a built in, 4/4/ click. It has tons of options, like time signature changing and beat accents. Beat accents allow you to choose which beat the higher 'click' or 'tick' is based on. So, if you want to work on accenting or feeling beat 2, try using this feature. 
Last but not least, this instrument is energy-efficient. It uses less than half the energy that most pianos this size and power use. (The Korg LP 380 requires only 15 watts, whereas most models like this require 40 watts of power.)
Cons
For the price range, it doesn't have many effects

We can't quite call it portable

It does not have a line-in jack

It only has 30 sounds

The polyphony isn't very high

It doesn't hook up to Bluetooth

It doesn't come with any accessories
Korg doesn't deliver when it comes to sound quantity, but the quality of what we do get is undeniable. It is really much too heavy to call portable, but it still has some wonderful sounds for those vintage cover bands…One undeniable con that many musicians have pointed out is that there is no line-in jack on this model, so, it loses some point in the connectivity department. 
I wish that the Korg LP 380 had a polyphony number that was more comparable to some of the Casio models that are in a similar price range. In addition, it's competitor, Roland, includes Bluetooth connectivity in most all models in this price range. The 380 does not include Bluetooth, which is a large con for the tech-savvy. Bluetooth connectivity is quickly becoming the standard, and Korg missed the boat.  My last complaint here is that this model doesn't come with any accessories, namely, a bench. 
Quick View 
Keys

88 fully-weighted keys

Touch sensitivity 

Yes- three different options

Sounds

30 sounds

Recording capabilities 

USB to MIDI

Metronome

Yes

Polyphony 

120 notes

Speakers

Yes, 2 speakers that measure 10 x 2 cm

It also has a line-out jack, so you can connect it to an amplifier or record this was as well

Headphones

Yes- 2 jacks

Accessories

Built-in pedals, AC adaptor, stand

No other accessories, unless you get the LP 380 BK package with the accessory kit (See link here) 

This different Korg instrument package includes: A bench, headphones, a Frozen music book, and a phone/ music holder

Price point 

$1,149
A New Name: LP-380U
After this year, the Korg LP 380 will be called the LP-380U. So, what's the difference? 
Really, it's mostly the name. All models that are new, after 2021, that include the full USB audio feature will be called 380U instead. If you want an instrument with more connectivity, consider holding out for the LP 380U. Otherwise, save some money by going with this older model! 
Reviews
Don't just take it from me…Let's see what reviewers have to say about the Korg LP 380. 
This instrument has four and a half stars on Amazon.
According to one player, this instrument feels like playing a grand piano. Others rave about the feel too, calling the instrument both 'well-researched' and that it takes up 'next to no space'. One review said that the 380 is 'the closest to the real thing' that you'll get, and even compared the feel of the keys to a Steinway. 
One reviewer said that the Korg LP 380 could improve as far as dynamic range goes. Another person commented saying that the sound begins to get a little distorted if you turn it up really high. But, unless you're planning on playing with the volume all the way up all the time, this is not a huge concern. This distortion is likely the reason why Korg decided to include a line out, so that you can plug the instrument into an external amplifier, so you can perform louder, with less distortion. 
Conclusion
While the Korg LP 380 might not be the best instrument for a piano virtuoso or travling musician, it is a great instrument for the intermediate classical student, or for the gigging keyboard who has a passion for the oldies. This model is aesthetically pleasing, versatile, sturdy, and has both an authentic feel and sound. With it being rumored to feel like a grand, who wouldn't want to give it a chance and try it out? 
Come back for more piano reviews, tips, and tricks soon!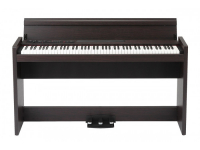 We rated the Korg LP 380 a 9.5/10. If you like vintage sounds, you'll love this instrument. The amplifier and speaker on this 380 model are stunning, and the keyboard is built extremely sturdily. With 3 included pedals and a lightweight design, it's a great choice for musicians on the go. This model is designed for beginners, but I think it can serve a much wider range than that. Because there's no Bluetooth on this model, we took off just half a point.
PROS
It is lighter than its predecessor, the Korg LP-350
It has many more advanced features than others in the LP line (especially the LP-180)
It has everything you need
It is a beautiful piano
It is easy to put together
It has great vintage sounds
The organ sounds are great
It has two headphone jacks
It is compact
It is sturdy
You save money because the pedals are built-in
Players can half-pedal on this instrument
It has a metronome with many options on it, like beat accents
It is energy-efficient
CONS
For the price range, it doesn't have many effects
We can't quite call it portable
It does not have a line-in jack
It only has 30 sounds
The polyphony isn't very high
It doesn't hook up to Bluetooth
It doesn't come with any accessories