Casio PX-770 Review
We rated the Casio PX-770 a 7.5/10. The driverless connection and large sound library are two of this model's best selling points. We also love the adjustable touch sensitivity, and built-in speakers – They serve beginning to intermediate pianists very well. While this is a piano I think most all music educators would approve of, some points were taken off because there is no LCD screen.
We rated the Casio PX-770 a 7.5/10. The driverless connection and large sound library are two of this model's best selling points. We also love the adjustable touch sensitivity, and built-in speakers – They serve beginning to intermediate pianists very well. While this is a piano I think most all music educators would approve of, some points were taken off because there is no LCD screen.
Are you in the market for a new piano? Or maybe, you're a keyboard-research nerd like me. In either case, I'd love it if you joined me for this Casio PX 770 review. 
Casio: A Household Name
The brand Casio was originally founded in 1946 as "Casio Computer Company". It was founded by Tadao Kashio Toshio Kashio, and has headquarters in Tokyo, Japan. While they were originally known for creating electronics such as the first compact calculator, they have since expanded. Casio now makes everything from phones, cameras, and watches to digital instruments. They specialize in electronics. 
This brand is well known for creating electronic keyboards designed for beginners. They have been making budget pianos since the 1980's and 1990's. Now that we know a little bit about the company, let's look at the PX-770 specifically. 
Casio PX-770 Overview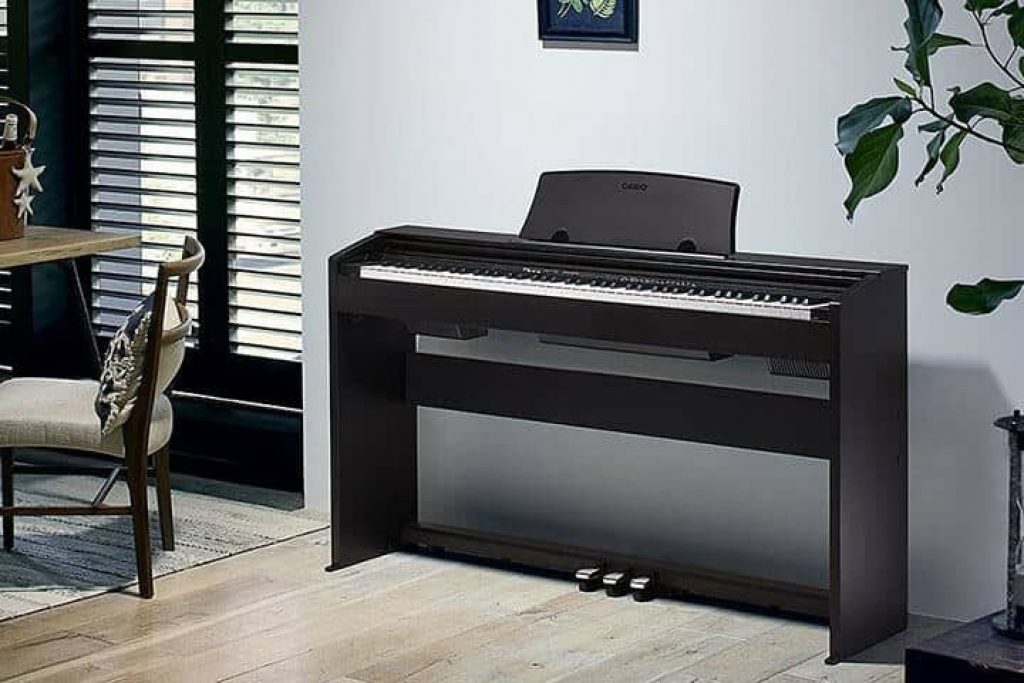 Before I tell you my opinion on the Casio PX-770, let's listen to how Casio self-describes this instrument: 
"The world-renowned Privia family of digital pianos grows with the PX-770, designed to provide a true grand piano experience in a slim, modern design. With authentic piano sound, natural feel and impressive features, the PX-770 is a brilliant instrument for inspiring brilliant performances." (Casio, Amazon)
The Casio PX-770 is a compact, modern piano that is available in both black and white. At first glance, my impression of the digital keyboard was that it looked modern and sleek, in both options. But before we continue with looks and features, let's classify it. 
Casio Privia PX 770 digital piano is a full-sized cabinet-style piano. That means that it is compact, and has the three pedals built-in. It is geared towards beginner to intermediate players, and offers a wide range of technological features. This digital cabinet piano rings in at just under $800. So is a full-sized digital cabinet piano at such a lot cost worth it? Let's see what this budget instrument has to offer. 
The Privia Family Line
The PX-770 belongs to the Casio Privia line of instruments. Casio Privia pianos are digital pianos that have weighted keys. They all feature MIDI control, and full-sized electronic keys that aim to mimick real touch. The Casio PX-770 is the newer model of the PX-760. It is comparable with the PX-870, with a handful less features. 
As far as Casio's cabinet pianos go, the PX-770 is the most economical. 
Features
A No-Hassle, No-Drivers Connection
As much as I love Yamaha DGX-650, one of the struggles I had with it was initially getting it to connect with my computer. Why? The non-techy-musicians' worst nightmare: I couldn't find the driver for it! The driver was so buried in the coves of Yamaha's website that I had to actually contact a representative for the driver download. Ugh, what a hassle! I was anxious to record my newest cover onto my computer, and I had to wait days. So that brings me to my next point. 
The Casio PX-770 can be connected to your computer and phone without a single driver. It sounds simple, but, it's quite rare to find an instrument or piece of software that doesn't need a driver (or 5…). 
Tri-Sensor Scaled Hammer Action
So we've discussed what graded hammer action is already, but this term is new. So what is tri-sensor scaled hammer action?
Tri-sensor scaled hammer action is a part of the keyboard system that aims to better replicate the acoustic piano. The keyboard system in Casio's tri-sensor scaled hammer action has three sensors that recognize the players keystrokes in order. In short, the system recognize small differences in the players strokes, whereas a normal GHS keyboard would not. This tri-sensor system makes the sound of the piano more continuous, and increases realism in the sound, especially when the player is hitting repeated notes. As you may already know, the "scaled hammer" part of the equation means that the lower the notes get, the harder it is to press them down (just like on a real piano). 
Casio's Tri-sensor scale hammer action takes their beginner pianos to the next level, and makes them appropriate for the intermediate player as well. If you would like to check out more about this system and how it works, Casio explains it really fluently on this page under the keyboard system section.
Adjustable Touch Sensitivity
This Casio model offers 3 different touch-sensitivity modes. As far as modern electric piano expectations go, most musicians would anticipate that their new keyboard includes more than one touch sensitivity option. The Casio PX-770 delivered! 
Connectivity
Many pianos in this price range don't feature a large amount of connectivity. The Casio PX-770 is here to surprise us again. So what all can you connect to? Using this instrument, you can connect to: Iphones, Ipads, Android devices, and your computer. You can also connect wirelessly, in some cases. 
Built-In Speakers
The Casio PX-770 has two small yet powerful built-in-speakers. The fact that they are built in means a lot less hassle for you – Once you get the keyboard, you can simply plug-in and play.
Classical Concert Play
Concert Play is a feature on this model that allow you to play along with a recorded orchestra. While there is no true accompaniment feature on this model, classical concert play is a really valuable feature for those who want to study piano classically. Concert Play has 10 songs to choose from. 
Easy Connection with the Chordana Play App
Chordana Play is a free music app that you can connect Casio pianos to. This app is useful for  beginners, because it shows a scrolling score for both traditional notation, as well as lit piano keys (aka. Piano roll notation). You can also practice songs with separate hands. Separate hand practice is integral for the newbie pianist. Chordana scores your playing, so you know how you are doing. 
Other functions in the Chordana Play app include the transpose feature, and the tempo change feature. There are 50 built-in songs on the app. To learn more about Chordana Play and how to connect it to your device, check out this link.
60-Song Music Library
As if we didn't have enough song options between Concert Play, and Chordana…There are even more! The Casio PX-770 has a internal library of 60 songs. On top of this, there is also a 10-song expansion available. If we add all the play-along song options together, we have about 80 songs and pieces available.
AiR Engine
Air Sound Source is Casio's name for their sampling technology. The AiR Engine has samples that are really high-quality, such as those taken from real grand pianos. AiR allows you to play samples from real pianos that range from pianissimo to fortissimo dynamics. The fact that this high-level sampling is available in a piano that is so economical is really wonderful. 
Sound Simulator
This model has a sound simulator for the following:
Hammer response

Damper response

Damper noise
But what is a damper? 
On a traditional acoustic piano, the damper is a pedal. If the damper pedal is pressed down, the keys that are being played don't ring out as much. So, the damper is a pedal, but each key (besides the uppermost ones) have a damper pad. Of course, in the world of digital pianos, if we want to replicate this sound, it needs to be done digitally. That is exactly what Casio did here. Again, it is impressive that this feature is included in such an economical instrument.
Built-In, Included Pedals
Since this is a cabinet piano, the three pedals are built in. In the case of many electronic keyboards, there is only one pedal: the sustain pedal. But here, we get the damper pedal, sustain pedal, and the soft pedal. 
Slim Design for Small Spaces
Another perk of the cabinet piano is that it is slim enough to fit in most places. If your place is limited as far as real estate goes, consider a cabinet-style digital piano. 
Duet Mode
This mode is similar to the "Teaching mode" which is available on the other pianos that we have reviewed. Duet mode allows you to split the keyboard in two, so that each mirrored side sounds the exact same pitch and octave. Teaching mode is great for the piano studio, as well as for the students home.
Two-Track MIDI Recorder
When it comes to recording with this model, you can either plug it in to a computer via a USB to MIDI, or you can use the internal two-track MIDI recorder. I really like that there are two options when it comes to recording here. 
Sliding Cover
The Casio PX-770 has a sliding dust cover. This feature is quite common in acoustic pianos, but when it comes to electronic pianos? Not so much. Sliding dust covers prevent your piano from getting dirty when its not in use. I'm sure that this feature adds to the 70-pound weight of the instrument. That being said, I think that the sliding cover adds to many perks of the Casio PX-770.
Other Extras
Other extras that this instrument has include:
An octave shifter

Split mode 

Fine tuning

Dual mode (layering)

Digital effects
Some of the digital effects this model has are:
Hall simulator

Reverb

Chorus

Brilliance
These digital effects will allow you to adjust your sound, particularly, the level of 'ringiness' that you will hear in your playing. 
Specifications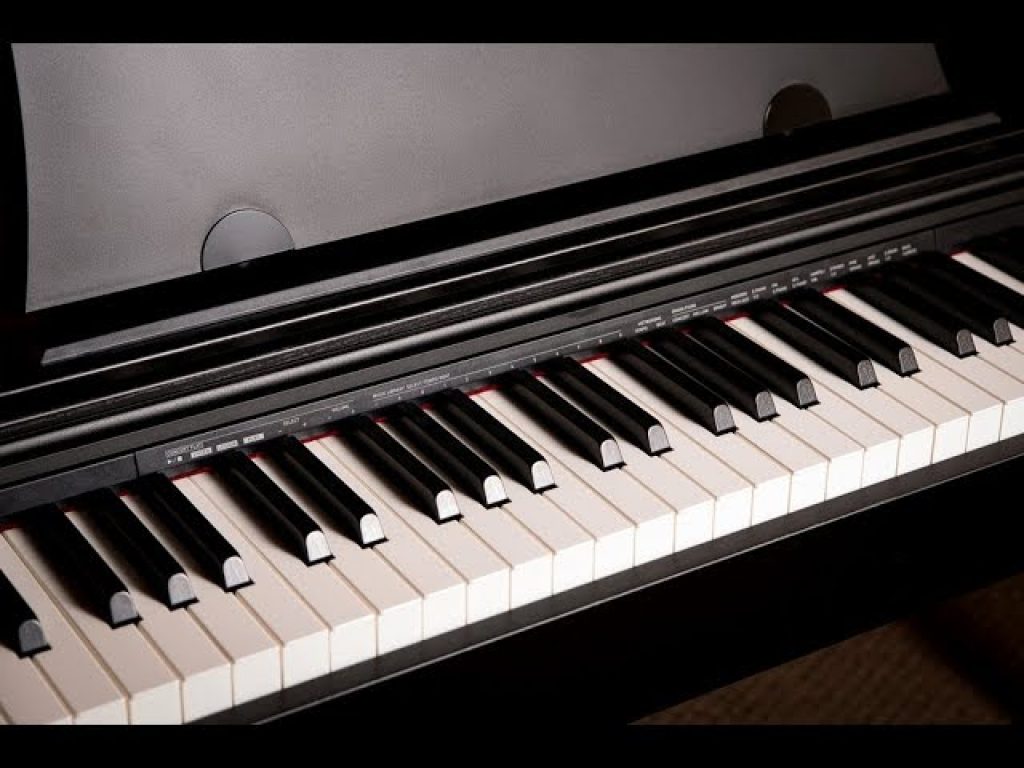 Weight:

69 pounds

Dimensions:

56.7 x 11.7 x 31.4 inches

Number of Speakers:

2

Speaker Dimensions: 

12 x 2 cm
Who Is It Suitable For?
The Casio Privia PX-770 is suitable for people who have never played before, but want to. This digital piano is especially ideal for those of you who want to play classical repertoire. If you want to start taking piano lessons, this instrument is a great starting point. The Privia PX-770 is also a good idea for intermediate players. While, in truth, I don't think this instrument is high quality enough to constitute a purchase from a professional pianist, most music educators would approve of the PX-770 for the advanced beginner or serious classical student. 
Casio PX-770 in Action 
Enough of my opinion on the Casio PX-770 here! Let's listen to the instrument, and here from someone else. Let's head back to Merriam Music with Stew.
Here's what he has to say about it:
It's a beautiful instrument

The fact that it has 3 pedals is more than he would expect

And, overall, there is a lot to like.
If you'd like hear a demo of the instrument, go ahead and skip to :45. I think the resonance in the piano sound he chose was gorgeous. 
According to Stew, the PX-770 is similar to other Casio instruments. I learned that the speaker output is 16-watts, which is pretty good. The speaker location optimizes high sounds and simulates tweeters. The sound quality is quite nice. He is a the fan of the Air sound engine sampling as well.
If you don't have time to listen to the full 20 minute review, I understand! Here's what Stew said about this model, in a nutshell:
It's an easy-to-use instrument

It's enjoyable 
Starting at 3:30, he goes through all of the sounds in the instrument. I enjoyed the sound samples, from vibraphone to grand piano, I think that there is really something high-quality here. The piano sounds are frankly better than the organ sounds, but that is to be expected. Now, onto the good, and bad. Here are the pros and cons of the Casio Privia PX-770. 
Pros and Cons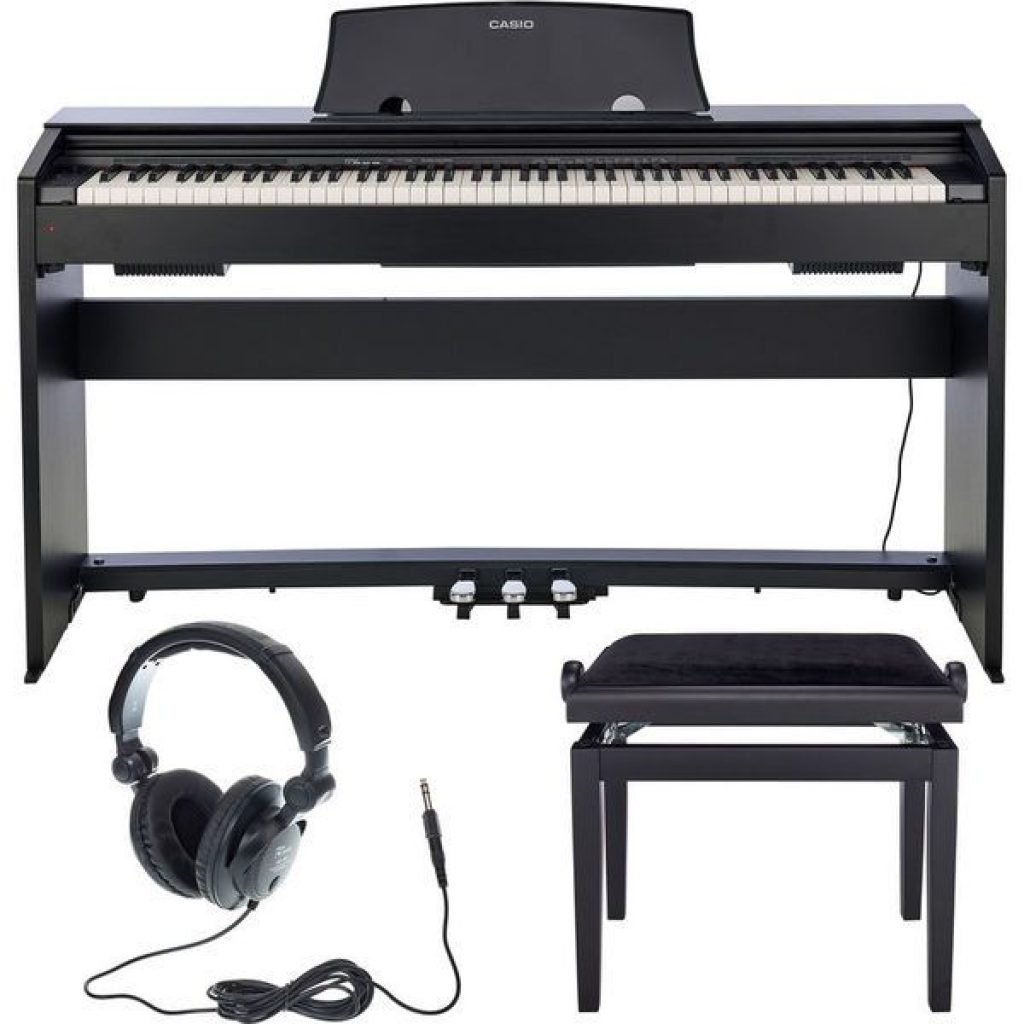 Pros
This is a full-sized keyboard

It is made by a big name brand

It has multiple touch sensitivity options

Includes digital effects

It includes a metronome, duet mode, and many other staple features

It includes a helpful classical learning tool

The music library is relatively large

It has great IOS, computer, and app connectivity options for the modern pianist

No driver are needed to connect this instrument

The resonance and overall sound of the 770 has improved since the last Privia model that this one replaced (the 760)
Ultimately, the fact that this is a full-sized keyboard with great touch sensitivity, made by a large brand, is a large gold star for this model. The amount of connectivity options and learning tools is had to deny. It's convenient and sounds good. In my opinion, this instrument has more than the beginning pianist would need to succeed. 
Cons
There are no included accessories

It's really quite heavy

There are only 19 voices

The internal MIDI recorder only has two tracks available

You have to put it together

There is no LCD screen
If I were to be really picky, I would say that I wish this piano included the seat, and maybe headphones, with no extra charge. It beehoves beginners to be able to get everything they need delivered all in one package. Another con to getting this cabinet piano is that, well, it is a cabinet piano. Aka, it is quite heavy, and won't work very well for those who want to do traveling music gig. 
The 770 only has 19 voices. While the sampling technology is excellent and there are 5 included pianos, when I compare this model's number of voices to say, the (very) inexpensive RockJam pianos, it leaves me wanting a little more when it comes to quantity. In addition to this, the internal recorder is a little limited. So, if you are getting this piano specifically for recording, I recommend using your USB to MIDI cord to plug it in to your DAW. 
While this should go without saying, this cabinet piano doesn't come already put together. So, you best hope that you're handy, or, know someone who is! Many pianists say that this instrument is easy to put together, though, and that the thought of putting it together was much more intimidating than actually completing the process. The last con is that there is no LCD screen. My best guess is that Casio probably did away with the LCD screen because it has so many other connectivity options. Some pianists wish it had one, and others don't miss it at all. The good news is that the Chordana Play app does allow you to control the piano remotely from your Ipad, Iphone, or other smart device. 
Casio PX 770 Manual
You can locate the Casio PX 770 manual at the link here.
In this manual, you will find a general guide, instructions on how to change and use different tones, how to navigate demo songs, record and playback, how to connect the piano to your computer, and more. 
Quick View 
| | |
| --- | --- |
| Keys | 88  |
| Touch sensitivity  | Yes- 3 types of touch sensitivity |
| Sounds | 19 |
| Recording capabilities  | USB to MIDI, internal recording |
| Metronome | Yes |
| Polyphony  | 128 note maximum |
| Speakers | Two built-in speakers (12x 2 cm) |
| Headphones | Headphone connection available |
| Accessories | None- Package with X-style bench can be found here. |
| Price point  | $749 |
| | |
Casio PX-770 Vs. Casio PX-870
Are you having trouble deciding between the PX-770 and PX-870? Here are some key differences that will help you decide which instrument in the Privia line is best for you.
The Casio PX-770 has two speakers, whereas the PX-870 has four. This gives the 870 a much more clear, full, and powerful sound. So, if you are going to be using this piano on a stage, or have a preference for more speakers, I suggest getting the 870. The 40-watt speaker system on the higher-level model is hard to deny. The 870 also has two more features: The key-off simulator, and the lid simulator. 
All of that being said, the PX-770 is over $100 cheaper than the 870.  You can think of this two ways: 
" It is "only: $100 or so extra to get that much more power".
Or…
You can think of it like this "I can get most of the features of the 870, but for a fair bit less, if I go with the step-down model".
As far a similarities go, there are more than a few. These two models, as well as other models in the Privia line have:
Simulated ivory and ebony

Tri-sensor scaled hammer action

Air sampling technology

Adjustable touch sensitivity
The only other large difference between the two is that the PX-770 has 128 notes of polypony, whereas the 870 has a whopping 256. In my opinion, players are, for the most part, not going to need more than 128 notes of polyphony. The only exception to this is if the musician is planning on multitracking using the internal recording mechanism and playback. If you get something like an orchestral score built inside the multi-track, it is possible to max out the 128 notes, and end up needing more. That being said, a simple solution to that issue is simply recording your score onto a computer rather than internally on the piano. 
If you are interested in learning more about the PX-870, you can find it here.
Conclusion
In conclusion, the Casio PX-770 is a perfectly respectable digital cabinet piano for beginners and intermediates. Casio is a household name that many musicians swear by. Some of the more notable features of this piano are great selling points: from tri-sensor hammer action, to modern connectivity. And, as always, if you can't decide which piano you'd like to purchase, I suggest heading over to a music store, and trying it out before you order. Oftentimes, purchasing instruments on the internet is much cheaper than in stores. But being sneaky and using Guitar Center as a musical test kitchen is something I always encourage. 
If there are any specific digital pianos that you'd like us to review, let us know in the comments! Happy practicing!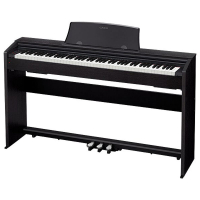 We rated the Casio PX-770 a 7.5/10. The driverless connection and large sound library are two of this model's best selling points. We also love the adjustable touch sensitivity, and built-in speakers - They serve beginning to intermediate pianists very well. While this is a piano I think most all music educators would approve of, some points were taken off because there is no LCD screen.
PROS
This is a full-sized keyboard
It is made by a big name brand
It has multiple touch sensitivity options
It includes digital effects
It includes a metronome, duet mode, and many other staple features
It includes a helpful classical learning tool
The music library is relatively large
It has great IOS, computer, and app connectivity options for the modern pianist
No driver are needed to connect this instrument
The resonance and overall sound of the 770 has improved since the last Privia model that this one replaced (the 760)
CONS
There are no included accessories
It's really quite heavy
There are only 19 voices
The internal MIDI recorder only has two tracks available
You have to put it together
There is no LCD screen