Kawai ES120 Review
The ES120 Kawai instrument is impressive and fresh on the market to boot. This instrument was designed to be portable and serves its market audience (Advanced intermediates and up/ stage performers) extremely well. Because the ES120 has such stellar sampling, connectivity, action, and more, we decided to give it a full 10/10.
The ES120 Kawai instrument is impressive and fresh on the market to boot. This instrument was designed to be portable and serves its market audience (Advanced intermediates and up/ stage performers) extremely well. Because the ES120 has such stellar sampling, connectivity, action, and more, we decided to give it a full 10/10.
In this Kawai ES120 review, we will be taking a look at a keyboard with a powerful and high-quality speaker system, with 25 sounds, and updated technology.
Overview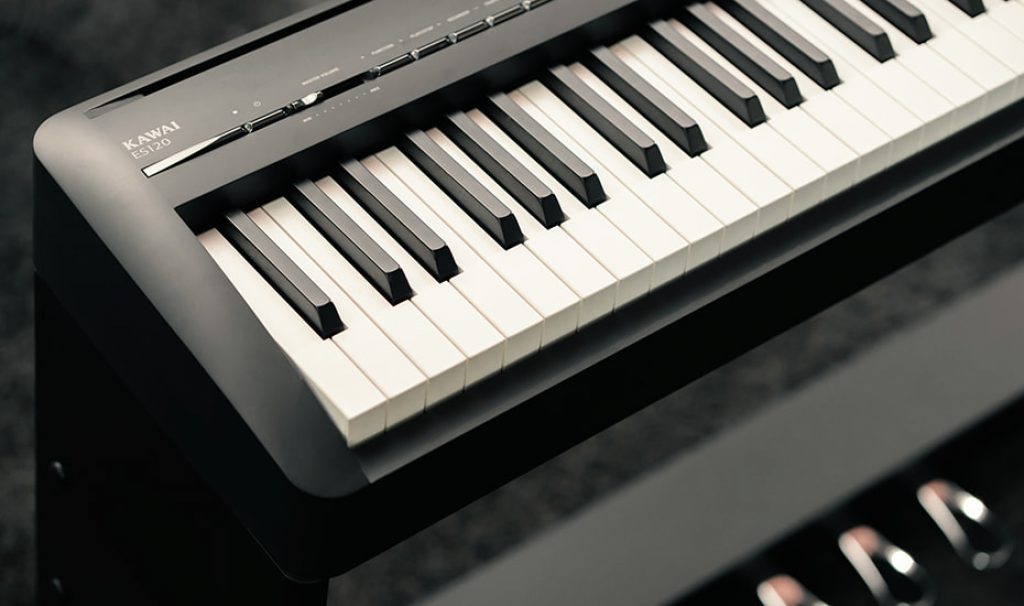 The Kawai ES120 is an economical 88-key keyboard with digital speakers. The Kawai ES120 released date was August of this year and runs about $1,100 new. It boasts significant updates such as improved keyboard action, updated Bluetooth technology, and a stellar sound system. This model is marketed as a high-performance instrument and is one of the most popular Kawai keyboards on the market today. This new keyboard is designed to be the successor to Kawai's ES110, which was released back in 2017.
The ES Series/ A Note About Kawai 
Kawai's ES series features lightweight and portable digital pianos which value quality over quantity, and also realism over quantity. Kawai's ES series is wildly popular, and it's no surprise given the quality of their line. ES pianos use real hammers instead of springs, which makes them feel very authentic. Those who are switching from an acoustic piano to a digital one will find themselves feeling at home with any ES piano. Most of Yamaha's competition comes from Kawai, and it's easy to see why. 
Kawai has been around since 1927, when they developed their Kawai Musical Instruments Research Labaratory. Kawai instruments are known to hold up against wear and tear more than your average piano. To learn more about Kawai and their ES series, check out Kawai Global here. 
(History sourced from Kawai-Global.com)
Features 
Harmonic Imaging Sound Technology 
Kawai's harmonic imagining sound technology greatly improves the tonal quality of the instrument itself. According to Kawai, they use a "Blend of technology and techniques" in order to obtain a sound that is extremely close to that of their 9-foot grands. Most of the ES models also have other grand piano sounds, which were recorded using different methods, making ES pianos both extremely realistic and that much more versatile. 
Compatible with Piano Apps 
The ES120 is compatible with several apps, including their piano remote control app, meaning that you can control your instrument from your IOS or Android device. This app allows you to change sounds at the touch of a button. The ES120 is also compatible with PiaBookPlayer, which is a Kawai-created score reader and display. 
Response Hammer Compact Keyboard Action
Kawai's response hammer keyboard action has been updated since the ES110. According to the manufacturer; 
"The ES120's Responsive Hammer Compact keyboard action has been specially developed to allow portable instruments to reproduce the distinctive touch of an acoustic grand piano.  Based on the highly-regarded RH action design, its spring-less technology and sturdy construction delivers consistent upward and downward motion, while improved cushioning material helps to reduce keyboard noise, resulting in a smooth, natural, and highly authentic piano playing experience." 
(Quote sourced from https://www.kawai-global.com/product/es120/ )
5-Star Audio Connectivity 
The ES120 has new connections that previous ES models like the 110 did not have. For example, the company added a USB/MIDI port, and have updated their Bluetooth technology.
Song Recorder
The 120 model has an internal song recorder which is minimalist in design, and easy to navigate. This recorder function will let you record and store up to 3 songs at a time. While this doesn't sound like much, you can easily use the ports in the back of the piano to transfer the recorded songs to your computer and make room for more. The audio recorder can both record and play backtracks. This basic feature is super nifty to have for recording ideas-No matter where you are! 
Multiple Colors, Understated Modern Design
The ES120 comes in white, light grey, and black, and has a gorgeous yet simple design. The ES120 has minimal buttons and an understated look, and will fit anywhere, be it in a recital hall or a living room.
Stellar Portability 
At only 25 pounds, the new ES piano is super easy to carry. Not to mention, it has an extremely powerful internal speaker system, meaning that you won't have to fret about carrying around external amplification if you are performing solo gigs out on the town. 
World-Class Grand Piano Samples
Like the ES110, the ES120 features a sample of the Shigeru Kawai SK-ES concert grand piano. This piano is Kawai's (acoustic) flagship instrument, and is one of the best concert grands on the market. This keyboard also has other grand piano samples, like the EX concert grand piano, which you can listen to here on Soundcloud.
Other Features Include: 
Split keyboard/dual mode

3 effects 

A new control panel (updated since the ES110)

Volume Balance for low volumes

Higher-power speaker system

New overall instrument design and a lightweight body

Stellar non-keyboard instrument sounds
Specifications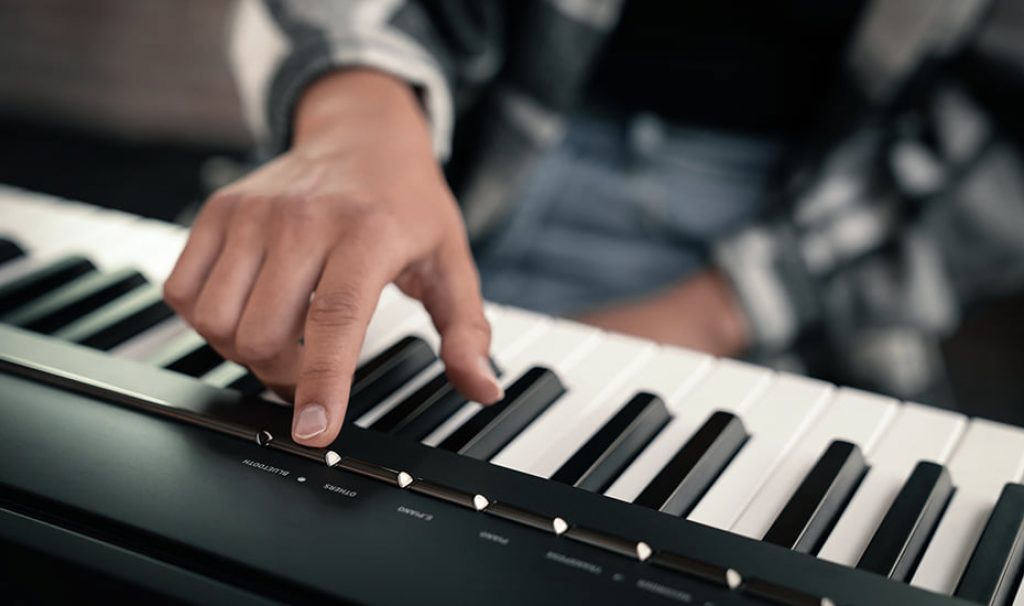 Dimensions: 
Depth" 11" / 13 ¾"

Width: 51 ⅜ "

Height: 6" / 13 ⅓ "

Weight" 26 ½ Pounds / 12 ½ Pounds 
(Dimensions sourced from Kawai Global. All other specs sourced from Sweetwater.com)
Piano type:

Stage piano

Effects:

Reverb, EQ, and brilliance

Outputs

: Two ¼ inch

Apps:

PianoRemote and PiaBookPlayer

Speaker Dimensions:

2 x 4/7 inches

Amplifier:

2 x 10 W
Who is it suitable for?
The Kawai ES120 is best suited for intermediate players and up. This model serves traveling musicians particularly well, since it is portable and powerful enough to be used as a digital stage piano. 
Kawai ES120 In Action
Jake Blake from Kraft Music gives us a taste of what the ES120 can do in this "all playing, no talking" video. Some of my personal favorite sounds on the instrument are the Shigeru Kawai grand piano and the synthy, ambient feeling orchestral strings.
Reviews: 
The Kawai ES120 was recently added on Amazon in November, so there are no reviews on the site. However, we were able to source several reviews on the Kawai site, as well as on Sweetwater.com.
On the manufacturer's website, the three reviews we saw were spectacular. It is clear that this instrument is well-loved, and that there have been folks out there waiting for its release. According to one review from this past summer, the instrument offers "A better legato", and have improved Rhodes samples.
The review on Sweetwater called the Kawai ES120 "The best in its class". 
Pros and Cons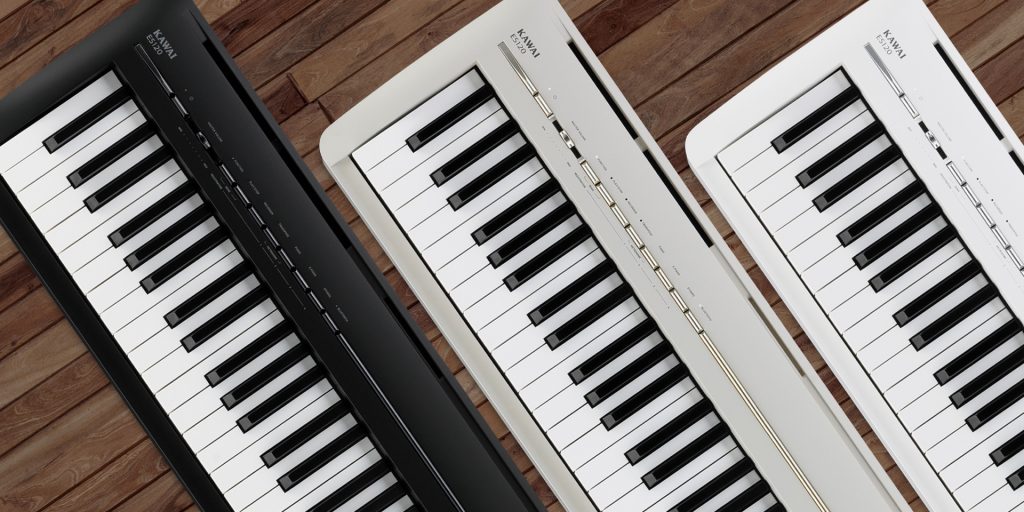 Pros
The instrument supports both internal and external recording

The sound samples are high-quality

The vintage Rhodes were updated

The felt/action was updated

The instrument only weights 25 pounds, making it extremely portable

The updated action is buttery, and a real crowd-pleaser for Kawai fans

The spatial headphone sound improves your experience when using speakers isn't an option?

It is both Bluetooth and MIDI compatible 

It's economical and multi-purpose
The addition of the USB/MIDI port improved the value of this ES immensely, because not you can record internally, and externally on your computer. Pair that with 25 solid sound samples, and the recording possibilities really open up. 
As far as samples go, the vintage Rhodes have been updated. So far this update has been very well received by musicians. Other big updates such as the felt action update and the Bluetooth technology update make this ES the best portable model Kawai has made to date. 
This 25-pound in instrument is built to be light, yet sturdy. It can handle the wear and tear of being on the road frequently, unlike other models within this price range. 
This economical, multi-purpose instrument has a lot going for it. 
Cons
It doesn't have aftertouch
The soundbank is relatively small

The piano remote controller app is rated ⅖ stars, indicating that it may not be the best way to navigate your instrument 

The internal recorder only has one track and holds 3 songs
In my opinion, the cons of the Kawai ES120 are few and far between. 
Many musicians look for aftertouch in their specs, but unfortunately, you won't find it here. If you are a producer and plan to use the MIDI feature a lot, this may not be the best stage piano for you. But for me, I still really liked how the ES120 felt, and wasn't turned off by the fact that it didn't have this feature.
Another con is that it doesn't have gobs and gobs of sounds like Roland pianos. That being said, I can attest that all of the voices that they did includes are solid ones. 
The piano controller app has some low ratings, and could definitely stand to be updated. You may want to consider navigating your instrument via the control panel, rather than through the app. 
Lastly, the internal recorder is functional, but composers may find it doesn't have enough internal storage space to meet their needs. 
Comparable Instruments
If you are looking for a solid portable piano that is also by Kawai, try the ES110. While it won't have as much nuance, it is still an amazing instrument that has many similar functions to the 120. 
The Kawai ES110 is about $700 new, and, like the ES120,  features 25 total sounds, and responsive hammer compact action. 
Other comparable instruments include:
Roland FP 30x

Kawai ES520
The Roland FP 30x is a digital piano with really powerful internal speakers. This aspect makes it comparable to the ES120. The 30x also has great connectivity, A Roland FP30x piano costs about $750, making it less expensive than the ES120. The FP30x also has 56 total voices in the sound bank, which means it has twice as many as the one we are reviewing today! That being said, the ES120's action feels quite different from that of Rolands. I recommend trying out both in a keyboard store and then ordering online. 
Another comparable instrument that comes from the ES line is the Kawai ES250. The Kawai ES250 is marketed as a mid-range piano (Kawai-Global) and was first released in September 2020. This keyboard has fully weighted RCHII action, a super-simple control panel, and touch sensitivity. While it doesn't have all the updated sounds that the ES120 has, it's still a great instrument. You can expect to pay about $1,299.99 for this beauty.
Two other instruments that are also often compared to the ES120 include the Yamaha P125 (see our review here!) and the KDP 120. The P125 is a solid yet portable beginner digital piano with a minimalist setup and runs about $700. The KDP 120 on the other hand, is another Kawai instrument and is technically a digital grand. While I think the P125 and KDP 120 are both good instruments, they aren't as comparable to the ES120 as the two above models are. 
Quick View 
Keys

88 responsive hammer compact action

Touch sensitivity 

Yes

Sounds

25 total sounds

Recording capabilities 

C

USB/MIDI, internal recording

Metronome

Yes

Polyphony 

192 notes

Speakers

Yes: Internal digital speakers, 20W output

Headphones

Dual headphone connectors

Accessories

Music rest, AC adapter/power supply, switch pedal (stand and bench not included on Amazon)

Price point 

$900-$1,099
Kawai ES120: Conclusion
We hope you've enjoyed this Kawai ES120 review. In conclusion, the ES120 is an impressive new model with a lot of 'pros'. If you are looking for a portable instrument that can double as a stage piano, we would highly recommend this keyboard. Come back more for new reviews on new releases, as well as for informative articles on the history of the piano, and more! Until next time!
Music quote of the week: 
"I was born with music inside of me"
-Ray Charles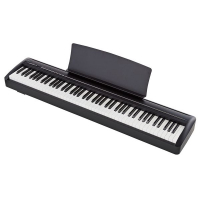 The ES120 Kawai instrument is impressive and fresh on the market to boot. This instrument was designed to be portable and serves its market audience (Advanced intermediates and up/ stage performers) extremely well. Because the ES120 has such stellar sampling, connectivity, action, and more, we decided to give it a full 10/10.
PROS
The instrument supports both internal and external recording
The sound samples are high-quality
The vintage Rhodes were updated
The felt/action was updated
The instrument only weights 25 pounds, making it extremely portable
The updated action is buttery, and a real crowd-pleaser for Kawai fans
The spatial headphone sound improves your experience when using speakers isn't an option?
It is both Bluetooth and MIDI compatible
It's economical and multi-purpose
CONS
It doesn't have aftertouch
The soundbank is relatively small
The piano remote controller app is rated ⅖ stars, indicating that it may not be the best way to navigate your instrument
The internal recorder only has one track and holds 3 songs