Casio Celviano GP-510 Review
We gave the Casio Celviano a 10/10. This advanced digital piano serves professional players really well. It both looks and sounds great. The on-board orchestral recordings are stellar, and so is the speaker system, and sampling quality. We also love the keyfeel of the Celviano. This piano is quite expensive, but it meets it target audience well. That's why we gave it a full 10/10.
We gave the Casio Celviano GP-510 a 10/10. This advanced digital piano serves professional players really well. It both looks and sounds great. The on-board orchestral recordings are stellar, and so is the speaker system, and sampling quality. We also love the keyfeel of the Celviano. This piano is quite expensive, but it meets it target audience well. That's why we gave it a full 10/10.
Overview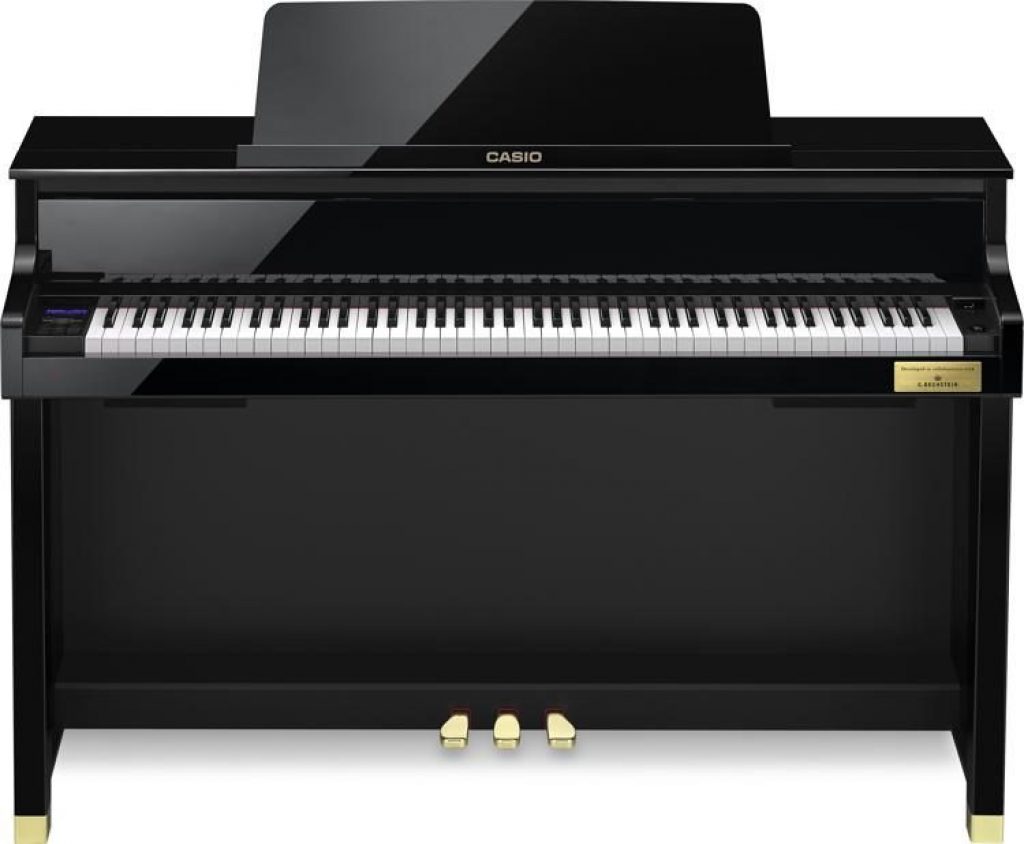 Casio's Celviano GP-510 is a high-end hybrid digital piano with real (actual) hammer action, three different beautiful sounding pianos and a lot of excellent features, as you would expect from this price range. The piano has been made by Casio in collaboration with C. Bechstein, which gives it an edge when it comes to buying with confidence. 
I currently own this piano. I've had it for about six months and I have to say I love it and I've never played more – not even when I had a lovely acoustic grand – and that's because I can play late at night with headphones. I still prefer an acoustic and no doubt always will. But, this piano has so many benefits, it's hard not to prefer it from a convenience point of view first, but I genuinely love the feel and the sound. 
First of all, the piano itself is beautiful to look with its high-gloss ebony finish. The keyboard is built right into the case which looks like a sleek modern upright. It has a small footprint for an upright piano, but a really big sound. At 173lbs it's easy to move between two people and can go through doorways fairly effortlessly because it's so slim. It has a built in cover – or "fall board" that folds in half and pops open rather briskly when you lift it. It makes me leap every time I open it. I would prefer a conventional fall board with a soft-close action that many high end digital pianos have. But, it's a small point. 
Note that the piano comes in a box in pieces and needs assembling. It takes two people to do it and, although it shouldn't take too long, it might feel like you've bought a piano from Ikea. I feel that I'm more of a musician than a furniture or piano maker. So, I asked the store to put it together for me and deliver it ready to play, which they were happy to do for a small fee. This made for a much more enjoyable and exciting delivery day for me and was so worth it. Much nicer to simply sit down and play the piano rather than crawl around on my knees wondering which way up a screwdriver goes. 
Keyboard 
The keyboard is an 88-note grand piano hammer action that's extremely touch-sensitive and very responsive as you play. The fact that there is a set of actual piano hammers inside (made of the same spruce wood used by the Bechstein piano manufacturer), mean that it's not just a fake "real piano feel" but it IS an actual real piano feel. The level of touch sensitivity is adjustable with a choice from heavy 1 and 2 to light 1 and 2, with a setting of "normal" in the middle.
This means that if you prefer a heavier touch to your keys you can easily set it that way, or if you prefer a light touch, you can select it at the touch of a couple of buttons. You might even want to change the touch of the keys from one piece to another, depending on your preference. 
Sound 
The Casio Celviano GP-510 comes with three main piano sounds – the main "Berlin" piano sound being sampled from C. Bechstein's flagship D282 Concert Grand which is a generous nine foot piano. The other two piano sounds are the Vienna and the Hamburg. Each piano sound is noticeably different and you're bound to adopt a favorite (mine is the Berlin generally, but I do love the rich bass of the Hamburg for certain pieces of music).
There are two different versions of each piano as well – a "light" version and a standard. There are 35 different voices in total. Aside from the European pianos, there is an electric piano, a harpsichord, a bass and strings.  
For any sound selected, you can select a reverb from a choice of twelve different concert halls as well as choosing your "position" within the hall. Also, there are 15 "preset scenes" which can be tested by pressing the "Play" button. These pre-select brightness, tone and reverb to suit different types of music. You can set up your own as well so once you have played around with the settings to play a certain piece with effects you love, you can save it and recall it easily next time you want to play that piece. 
The sounds were sampled using Casio's AiR technology which layers realistic sounds from the actual acoustic piano, including decay after the notes play, making them extremely realistic. Polyphony is 256 which frees you to play absolutely anything without the notes cutting off during play. 
Casio's Grand Acoustic II Speaker system is powerful and really high quality. The speakers are 30W X 2 plus an additional 20W X 2 – so the output is impressive. (I never put the main volume above half way as any more than half is too loud for the room my piano is in.)
The headphone output in Binaural Surround-sound which is really impressive. You do need a pair of good headphones for it to sound its best of course, but it's well worth it as you can literally forget you're wearing them. 
Features 
Orchestral accompaniment 
The Casio Celviano GP-510 comes with on-board live orchestra recordings that you can learn and play along with (the sheet music is included with the piano). The "Concert Play" sheet music book comes with the piano and the first page is a kind of bullet-point lesson in how to play the piano (which repeats in several languages). Some of the songs include Tchaikovsky's Piano Concerto No. 1 Op 23 Movement 1. The orchestra fairly blasts out of those speakers and sounds fantastic – but make sure the volume is a bit under half way or it'll be too loud.
Chopin's "Raindrop" etude, Mozart's Piano Concerto No. 20 second movement, "Melody in F" by Rubinstein and Borodin's Polovtsian Dance are among with 15 total orchestrated pieces you can play along with. You can slow the recording down while you're learning and also you can have the piano part you're playing sound along with you or silenced, as you choose. This feature is great fun and a real party piece as you can play it as background music or have someone play along.  
There are also 6 "demo songs" on the piano which you can listen to which demonstrate the different piano sounds. 
Solo Piano to Listen and Learn 
Aside from these, you also get 60 piano solo pieces (with sheet music) that you can play for your listening pleasure, or learn and play along with. These consist of standard piano repertoire including several four Chopin etudes, three famous pieces by Schubert, pieces by Bach, Beethoven, Mozart, Grieg, Burgmuller, Satie, Joplin and Debussy. So a really nice selection of well known pieces.  
I must say that the sheet music is a little bit cramped on the page and not the easiest to read, but if you more or less know these pieces it shouldn't be a problem. If you're learning from scratch you might invest in better copies if you have difficulty reading the ones that come with the piano.
Metronome, Transpose and Fine-tune
The piano comes with a built-in metronome, a transpose function as well as a fine-tune option. The metronome is super easy to set and turn on and off as it has a dedicated button. To change the tempo, press and hold the button to bring the data up on the screen. The transpose function changes the pitch of the piano by semitone intervals – useful for accompanying a transposing instrument performer such as a clarinetist, without having to transpose the key in your head. There is also a function to transpose by octaves, up or down, across the keyboard.   
Record Function 
There are two types of record functions. You can record one midi song using two tracks. Or, you can record the audio from the piano to the USB flash drive built into the right hand side of the keyboard. It will store up to 99 files with a maximum length of 25 minutes per file.  
Duet, Layer and Split  
Like many digital pianos and keyboards, this piano has these three functions of splitting or layering the keyboard.  
Duet 
The keyboard can be split in the center so that each half of the keyboard has the exact same pitches. This can be useful for teaching and demonstrating while a student copies. The left hand side of the keyboard can use the left pedal as a damper. And, the right hand side can use the normal damper pedal.  
Layer
You can layer two different voices across the keyboard so you can play piano and strings or acoustic piano mixed with electric piano, or whatever you want. The balance between the two instrument sounds can be adjusted by a range of -24 to +24. This means you can have a beautiful piano sound with just a touch of strings behind it, or any combination you like. 
Split 
The keyboard can be split between two different voices over the keyboard. For instance, you might want piano in the higher part of the keyboard and a bass in the lower, or maybe piano in the treble and strings in the bass. 
Specifications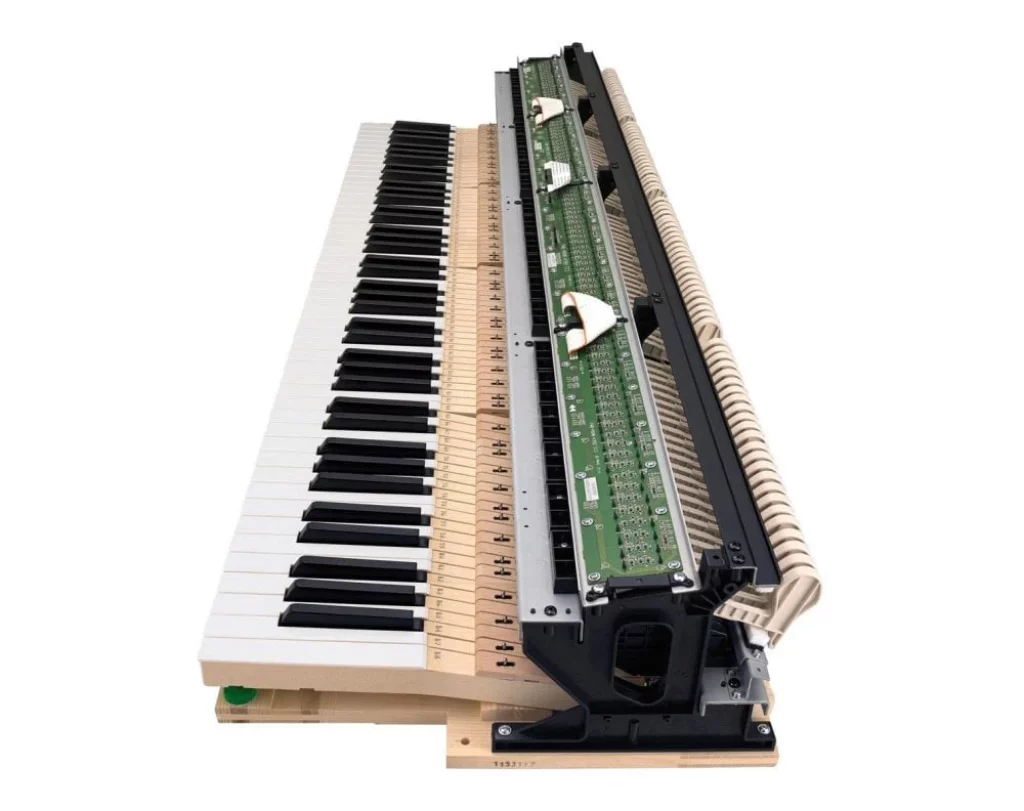 The Casio Celviano GP-510 has an 88 fully weighted graded hammer action keys with a choice of beautiful piano sounds (35 voices in all) and 256 polyphony. It has 6 "demo songs", 15 "Concert Play" songs accompanied by live orchestral recordings and a further 60 piano solo songs.  (Note that the six demo songs are versions of some of the solo piano songs). Effects include "brilliance" (-3 to +3), Hall Simulator (12 types) and four types of chorus.  
This piano comes with a 3-pedal set (Damper/half pedal), Sostenuto and Soft (Una Corda).
Recording can be done by MIDI or audio. Built-in metronome goes from 20 – 255 bpm. There are two headphone jacks (and a hook under the keyboard to hang your headphones on, so they are always to hand).  
Connections includes two headphone jacks, power, MIDI IN/OUT, LINE OUT R/MONO jacks, USB port type B, USB flash drive port, Type A, pedal connector. 
Who Is It Suitable For?
Beginner 
Beginners couldn't go wrong with this instrument. It has such a realistic piano feel and sound that it would be very easy to learn on the Casio Celviano GP-510 and then play an acoustic without too much adjustment. The piano would last years and the small size makes it very desirable for most households. 
Although many parents or adult beginners are reluctant to invest so much in for a student starting out who may not take to the piano, it's worth it because the nicer the piano is to play and the more realistic it is to the ear, the more likely the student is to enjoy playing and practice more. A low-end electronic keyboard is unlikely to inspire practice sessions. 
Experienced and serious pianists 
I'm an experienced – and serious – pianist and I chose this piano because I just loved it when I played it in the store. As I said before, I've never played the piano as much as I do now because of the convenience of headphones or volume down. The binaural surround-sound of the headphone output is so good that you literally forget you're wearing headphones. 
Previously I had an 80 year old baby grand made in Germany. It had a really beautiful tone and it didn't really go out of tune. I got it tuned about every two years, which isn't normally advisable, but it just didn't need it. However, after owning it for 16 years and teaching on it, it was getting decidedly battered. Concern for neighbors and space in my home has always been an issue. 
Lockdown forced all my teaching to go online and some of my students' pianos were a whole half-tone flat. This meant that I had to transpose everything on my acoustic during lessons. However, transposing often changed the fingering. So, when I was demonstrating finger work, it became confusing – did my student hear the correct tone and see me play different notes – or was it better to play the correct notes and the student hear the wrong tones? It was a problem. When it seemed lockdown was going to go on and on, I decided to check out digital pianos and fell in love with the Casio Celviano GP-510. It meant that I could transpose down a half step at the touch of a button and still play the correct notes! 
I think that most serious pianists would begrudgingly admit that this piano is pretty impressive. Perhaps concert pianists wouldn't be fully satisfied with it but it would be a really good spare practice piano. 
Pros and Cons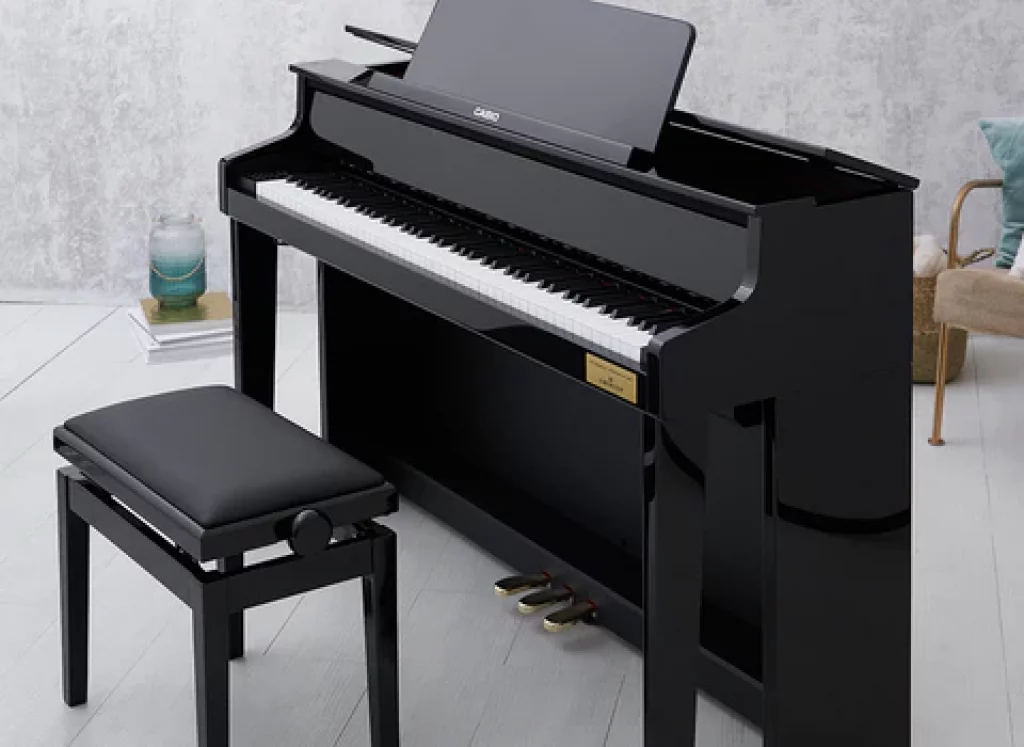 Pros 
This keyboard is one of the best with its weighted hammer action.  

The piano sounds are very realistic and beautiful. 

Play along with real orchestral recordings 

The small footprint means you can have a high-end piano without needing heaps of space. 

It's easy to move with two people. 

Comes with a five year guarantee 
Cons 
The hammers are real and

may

go wrong 
Quick View 
Keys

88 fully weighted graded hammer action (real hammers) 

Touch sensitivity 

Touch sensitive – 5 levels – Light 1, Light 2, Normal, Heavy 1, Heavy 2

Sounds

35 in all including 3 main piano, harpsichord, strings, bass, electric piano 

Recording capabilities 

MIDI recording, 2 tracks 

Audio recording, up to 99 files, each file to a maximum of 25 minutes

Metronome

Built-in metronome 

Polyphony 

256 notes can be played/sustained at once 

Speakers

Built-in speakers are 30W X 2 + 20W X 2 

Headphones

2 headphone jacks and hook to hold one pair of headphones 

Accessories

Power cable, owners manual, two books of sheet music (one piano solo and one for the orchestral backed pieces). 3 pedal set and music rest are integrated into the piano. 

Price point 

$6,000

Weight and Dimensions 

173lbs

56 X 19 X 37 inches 
Conclusion
So far, after six months of owning Casio Celviano GP-510, I can say that it's a good buy. I love the piano sounds, the feel of the keyboard and the look of the piano. In fact, I love that it's small and light enough that it can be moved if necessary. I love that I can play in the middle of the night if I want, using the headphones. 
I have noticed, however, that a couple of the hammers are making a louder than normal thumping sound after I've played a note.  It's quite subtle, but noticeable. I have contacted Casio about it and they are happy to send out a technician to have a look at it. I asked if this is a common problem and they said no. If I put the volume higher it's really not an issue, but when playing quietly I find it distracting. I'm hoping this isn't going to be something that happens across the keyboard but so far, it's only happening on two notes.  
That aside, I think anyone owning this piano would have years of joy from it and not regret the purchase.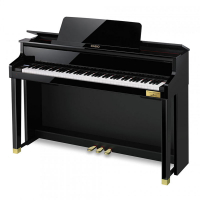 We gave the Casio Celviano a 10/10. This advanced digital piano serves professional players really well. It both looks and sounds great. The on-board orchestral recordings are stellar, and so is the speaker system, and sampling quality. We also love the keyfeel of the Celviano. This piano is quite expensive, but it meets it target audience well. That's why we gave it a full 10/10.
PROS
This keyboard is one of the best with its weighted hammer action.
The piano sounds are very realistic and beautiful.
Play along with real orchestral recordings
The small footprint means you can have a high-end piano without needing heaps of space.
It's easy to move with two people.
Comes with a five year guarantee
CONS
The hammers are real and may go wrong