Roland FP-30 Keyboard Review
We rated the Roland FP-30 a 8/10. The FP30 has 35 sounds, which is more than some of its competitors (read the end of the article for more information on comparable pianos). We took off some points because this instrument is heavier than most in this range, and there aren't that many rhythms. However, we like that it has a full-sized PH4-A keyboard. Many beginner and intermediate pianists will love this instrument.
We rated the Roland FP-30 a 8/10. The FP30 has 35 sounds, which is more than some of its competitors (read the end of the article for more information on comparable pianos). We took off some points because this instrument is heavier than most in this range, and there aren't that many rhythms. However, we like that it has a full-sized PH4-A keyboard. Many beginner and intermediate pianists will love this instrument.
Overview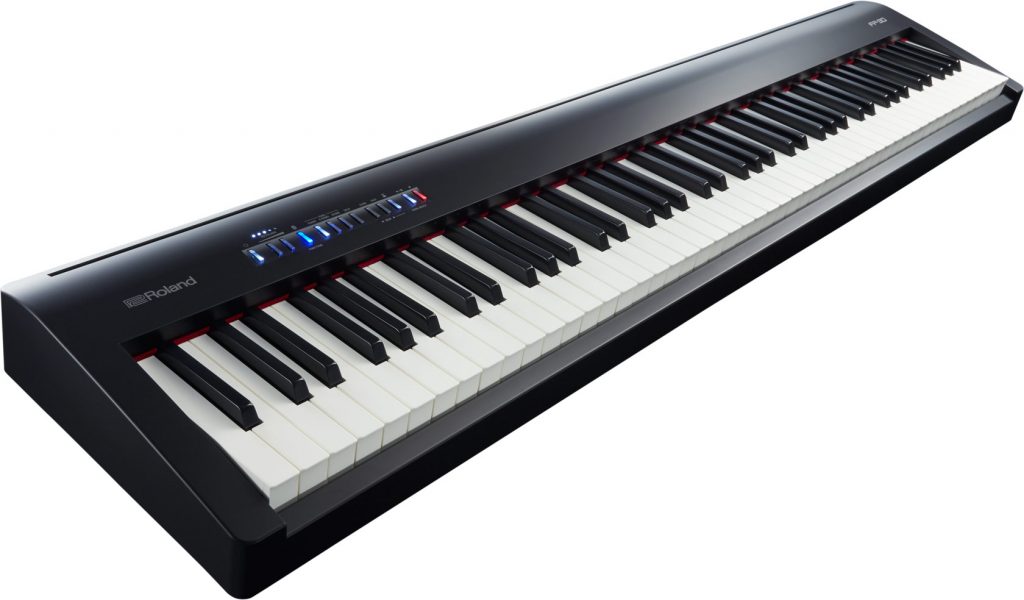 The Roland FP-30 piano is a solidly built, well designed keyboard that fits neatly into this category of keyboards in this price range. The feel of the keys and the piano action is excellent. The piano sounds aren't the best on the market overall, but for beginners and intermediate players, it would probably be a contender. Although it's tempting to say that the level of quality you get in this excellent keyboard is incredible for the price – this is true of all its competitors too. And, you may well prefer the sound quality of one of the other keyboards in this price level.  
This keyboard has an optional stand, sold separately, designed to fit it perfectly and make it look like a contemporary upright piano. The keyboard is available in black or white with matching stands and pedal units available to purchase separately. If you're planning to keep this keyboard in one place, do consider the H stand and pedal set. They are designed to go with it as it makes it look much more stylish and keeps the keyboard more secure. However, if you plan to move it around or travel with it, you might be better off with an X stand. That's especially because it folds up quickly and is easy to pop in a car. In this case, invest in a good carry case to protect the keyboard.  
Like many keyboards of this level, there is no LCD screen. Functions and instruments are selected by holding certain buttons and pressing the appropriate key on the keyboard. This means that you need to keep your User Manual close to hand. That's, of course, until you start to memorize which key selects which instrument. It's a bit of a drag selecting this way.
So, better to download the Roland Piano Partner App. You can connect it to your FP30 using Bluetooth and use it to select your functions and instruments much more intuitively and visually. Apart from that, the app provides quizzes to test your aural ability and flash cards to improve your note reading. You can also view digital sheet music for any of the on board songs.  
One notable feature this keyboard has over others in this price range is that the Bluetooth connection can be used as a page turner with a pedal. However, to set this up, you need to purchase the option pedal set.   
This piano keyboard is powerful enough and has a big enough piano sound that it could make a good piano to use for playing in a small band or for accompanying singers. With a 22W speaker system, you probably wouldn't need external speakers. (Just as well as there are no LINE OUT jacks to attach external speakers, although you can use a headphone jack to make do). 
Keyboard 
The Roland FP-30 keyboard is a fully weighted 88 note keyboard with graded hammer action. The "graded" part means that the lower end of the piano (bass notes) give you more weight resistance than the higher end (treble notes). The change in resistance is gradual, as it would be on an acoustic piano.  
The keyboard uses Roland's PHA-4 action which is fairly realistic when compared to an acoustic piano. The keys are touch-sensitive and that sensitivity can be set to your preference. There are five settings, plus "FIX" which is turned off. The settings are Super Heavy, Heavy, Medium, Light, Super Light. Advanced pianists, especially classical pianists, would likely be happy with the Heavy or Super Heavy setting.  Beginners and children would do best with the Light or Super Light setting. The medium setting is the default. 
Sound 
Roland's SuperNATURAL sound engine produces the piano sound. One of the things this technology does best is create a smooth transition between one note and the next so there's no unnatural decay or audible notice between notes when the player plays smoothly. It also interprets how the player's touch and velocity and replicates what that would sound like on an acoustic.  
The sound comes from two 11W speakers, which is a big output for this level of keyboard (with others in this range having 2 X 7W speakers). The speakers are placed underneath the keyboard which sounds slightly strange at first, but you adjust to it. Other keyboards in this price range have speakers facing upwards which seems to make more sense. But, if you try the keyboards in this range, you can decide which sound you prefer.  
Features 
Voices 
The Roland FP-30 piano keyboard has 35 onboard sounds. These include Grand Piano 1, 2 and 3, Ragtime Piano and two Harpsichords. There are also three electric pianos, Clavichord, Vibraphone, Celesta and Synth Bell.  It also has two church organs, two jazz organs, two guitars, two types of choirs, fingered bass and a few strings to choose from.  
Songs
There are 30 onboard songs with the Roland FP-30 keyboard.  It has an unusual compilation of songs. That's because it includes arrangements of famous classical songs as well as original music by composer John Maul. Some of the songs you can enjoy listening to include a jazz arrangement "Waltz of the Flowers" by Tchaikovsky, 
Speakers 
The two 11W speakers are placed under the keyboard, but the EQ setting provides the best sound for the player based on that. This is a powerful output and you're unlikely to ever use the keyboard at full volume. The scope of sound allows for more nuance when it comes to dynamics in your playing. Given that, it's quite likely that this would be a better choice for a classical pianist over the competitors in this price range, as long as they like the actual piano sound.  
Reverb 
By holding down the Function button and then playing a specific key on the keyboard, you can set the reverb to your liking. There are five levels to choose from. 
Transpose 
The FP-30 has the ability to transpose down 6 semitones or up 5 semitones (-6 – +5) which is an odd range. Normally you will find -12 – +12 or -6 – +6. However, it's probably enough for most needs.  
Octave Shift
This function allows you to transpose the entire keyboard up or down by octaves.  
Fine Tuning 
The Fine Tuning function allows you to detune the piano by tiny increments. This can be useful if you're playing along with a recording that doesn't quite fit the tuning of your piano, or if you're playing with a friend playing a different instrument that's difficult to get precisely in tune. 
Recording 
The Record function allows you to record up to 3 songs, each one track. You can transfer your recorded song onto the flash drive.  
Twin Piano Mode
This function splits the piano keyboard into two halves and gives each half the exact same pitches. This is most useful for teacher-student situations so that the student hears the notes at the exact pitch that the teacher plays them. Good for beginners. It could also be used for two people playing the exact same song. Without this function, one half would sound one or more octaves different in pitch which can be a bit confusing for young beginners. 
Dual Mode 
Selecting Dual mode enables you to play two of the voices (instruments) at once, for instance you might want to combine a string sound with a piano sound to play an emotional piano piece, or to play a ballad. Once you've selected your two instrument sounds you can alter the volume of each one to balance them the way you prefer. 
Split Mode 
Split Mode allows you to assign different voices to the lower and upper halves of the keyboard. You might want to try playing Fingered Bass with the left hand while playing Electric Piano with the right hand, making your own jazz band. You can also change where the split point is at the touch of a button. 
Metronome 
The Metronome can be set by holding down a button and pressing the "Slow" or "Fast" button until you get to the speed you require. You can set the strong beat to 2, 3, 4, 5 or 6 beats or you can choose 0 for no strong beat. In order to change the speed of the metronome, you hold down a button and use specific keys as a "key pad" to type in the number you want. As there is no LCD screen, you have to start the metronome to see if it's the speed you want. 
Rhythms 
The FP30 come with eight different drum patterns that you can select to play along to instead of using a metronome click. 
Memory Backup 
When you turn off the Roland FP-30 keyboard, all your settings disappear. If you want to reinstate settings you've selected from a session of playing, you can save them to memory and then easily restore them next time you switch on. The settings it will save include Key Touch (Touch Sensitivity), Brilliance (Brightness), Ambiance (reverb), Master Tuning and Bluetooth selections.  
Speakers off 
When you plug in headphones, the keyboard automatically shuts off the speakers. But there might be other times you want to shut off the speakers, so this quick function allows you to do so even if you're not using headphones. 
Panel Lock 
Enabling this function locks all the buttons so that settings can't be changed by inquisitive little fingers who might randomly press every button in sight. Great if you have small children.  
Auto Off function 
The Auto Off function turns the keyboard off if there has been no action for a set period of time. The default is 30 minutes, but you can alternatively select 10 or 240 minutes.
Connectivity 
Connecting additional speakers
There are no LINE OUT jacks on the this keyboard but you can connect external speakers by using the ¼" headphone jack.
Connecting a device and computer 
The USB to Host port can be used to connect a device or a computer. It's a USB type B and you'll need and A to B USB cable in order to do this. Alternatively, and easier, you can use Bluetooth to connect a device. 
USB flash drive
The USB flash drive allows you to attach a memory stick and play MIDI or WAV files through the keyboard's speakers. Plus, you can save recorded songs to the memory stick. 
Bluetooth 
The Bluetooth connectivity on the Roland FP-30 piano allows you to send and receive MIDI data to and from the keyboard from any compatible smart device or computer. 
Bluetooth Page Turner Function 
If you have the pedal set that's made for this keyboard (the KPD-70) it also easily allows you to page-turn sheet music you're reading on a phone or tablet using a pedal. 
Pedals 
The foot pedal that comes with the keyboard can be plugged into the "Pedal 1" jack. This will work as a "damper" or "sustain" pedal. These plastic square "foot switches" are normally pretty bad. They are so lightweight that they move around a lot under your foot. They also tend to be noisy. However, the pedal that comes with this keyboard is a couple of steps up from the norm and has a rubber bottom that helps keep it in place. If you purchase the pedal set that's available (KPD-70) that connects to the stand (KSC-70) you plug it into the "Pedal 2" jack. As these pedals are attached to the bottom board of the stand, they don't move at all.  
The pedal set will give you the full set of three pedals. The one on the right, like the pedal that comes with the keyboard, is the sustain pedal. As you play a note or chord, you press the pedal with your right foot. And those notes – and any you play after – will be sustained until you release the pedal.  
The left pedal is the "soft" or "Una Corda" pedal which will make the whole keyboard play quieter as long as you keep the pedal down. There isn't a great deal of call for this pedal  except in advanced piano music, but it can be good to have it as an option.  
The middle pedal is the "Sostenuto" which is another sustain pedal except it sustains any notes you play as you press the pedal, but – (unlike the right pedal) – none you play afterwards. This can give you a sustained chord or bass note while you play detached notes in the treble, for instance. This pedal generally gets very little use and is certainly not needed for early or intermediate players. 
Specifications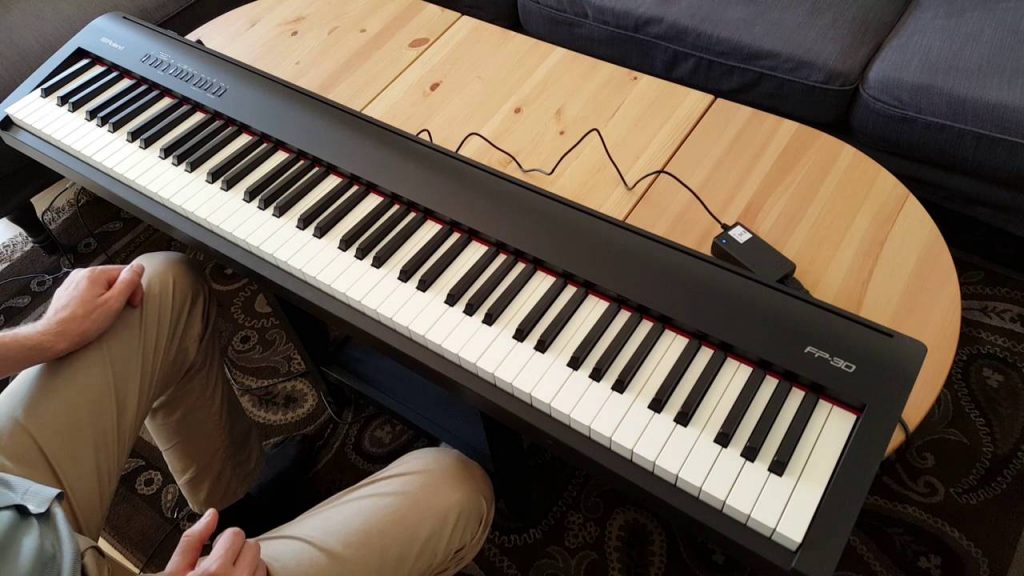 88 weighted keys with PHA-4 with escapement and ivory feel key tops

Five levels of touch sensitivity

35 instruments: 6 pianos, 7 electric pianos, 22 other instruments.  

30 built in songs

Record capability = 3 songs, 1 track each 

Metronome with click or drum patterns 

128 polyphony 

Speakers = 22W (11W X 11W)

USB flash drive 
Who Is It Suitable For?
Beginner and intermediate players 
The Roland FP-30 piano keyboard would be an excellent keyboard for any beginner to start their piano journey. It has a realistic piano feel and the adjustable touch sensitivity means it can be set to light for children and heavier for adults who need a bit more of a workout for their fingers.  
There are no built-in lessons on this keyboard. However, there are plenty of apps and even private tutors available.  
This would also be a good choice for an intermediate player. The only thing I will say is that, to my ears, the piano sound is very "pop", so someone who is learning classical piano might look around for a keyboard with a more "classical" sound. But that is a subjective element of choosing a piano. In fact, someone else might not agree, or might not even notice such a thing. 
Experienced and serious pianists 
Most experienced pianists would probably be quite happy playing the Roland FP-30 although they may not choose it as their main personal piano. Experienced pianists are likely to require a keyboard that's a couple of steps up. Except it's for traveling with, accompanying or playing in a band.  
Serious pianists are usually very dedicated to playing acoustic instruments. It's quite hard to persuade them that a digital piano is as good, but if they do require a digital keyboard  for late night playing, they might be quite happy with this one. Classical pianists are likely to want to go up a few levels though.  
Like other similar keyboards, this would make an adequate MIDI controller if you're writing music using a DAW (Digital Audio Workstation). But, remember you won't have a mod wheel. It's a trade off between a MIDI controller that's designed as a MIDI controller and a weighted keyboard that can be used as an actual piano without using a VST.  
Similar Keyboard Comparison 
The Roland FP-30 is often compared to the Yamaha 125 and the Kawai ES110. These three keyboards all have similar features and are all in the same price range. They are all really good keyboards made by very reliable brands and all three come in black or white and have optional H stands and pedal sets.  
While one might outdo another in a certain area – for instance the Roland FP-30 has 35 instrument sounds, the Yamaha 125 has 24 and the Kawai ES110 has 19. The Roland has 30 onboard songs, the Yamaha has over 70 while the Kawai ES110 has over 100 songs. Plus, you can buy the sheet music so you can play along with them.   
The biggest difference between the three is that the Roland FP-30 has a speaker output of 22W (11 X 11) while the Yamaha 125 and the Kawai ES110 each have 14W output (7 X 7). That's quite a big difference. And, the main benefit is that the Roland is more responsive to the player's dynamic range.  
Which of these keyboards is best depends on the needs of the user. It also depends on which keyboard feels the best to them and which sounds they prefer. This is all very subjective and a matter of personal preference. The best way to find out which is best for your needs is to visit your local music store and try them out. Call ahead to make sure they have the brands and models you want to try set up in the store before you go. 
Pros and Cons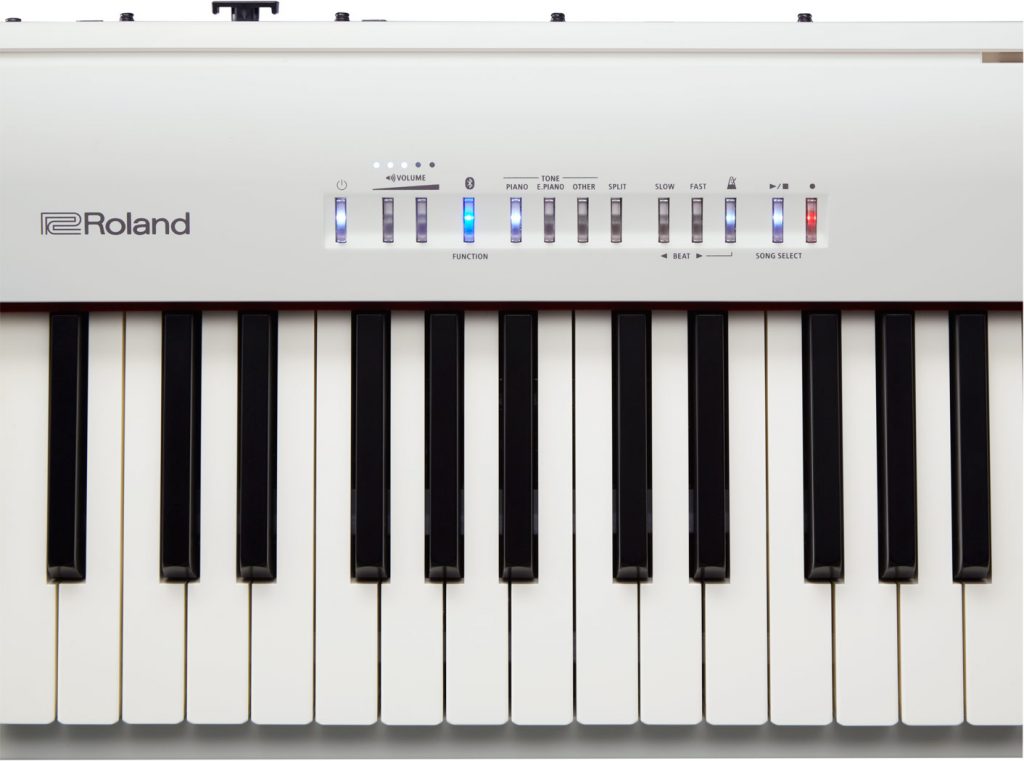 Pros  
Good piano action and dynamic response 

Excellent speaker output at 22W 
Cons 
No onboard lessons 

No LINE OUT jacks 

Only 30 onboard songs 

Only 8 drum patterns to play with 

Heavier than comparable keyboards in this price range 

Transposes only -6 – +5 which is a consideration if you need this function 
Quick View 
Keys

88 weighted keys with PHA-4 with escapement and ivory feel key tops

Touch sensitivity 

Five levels of touch sensitivity or off 

Sounds

35 instruments SuperNatural technology produces the piano sounds 6 pianos, 7 electric pianos, 22 other instruments. 30 built in songs. 

Recording capabilities 

Records 3 songs, 1 track each 

Metronome

Built-in metronome 

Polyphony 

128 notes can be played/sustained at once 

Speakers

Built-in speakers 11W X 11W = 22W total 

Headphones

2 headphone jacks, 1 X ¼" and 1 X ⅛"  

Accessories

Music rest, footswitch and power cable. 

Price point 

$700

Weight and Dimensions 

31lbs

51 X 11 X 5 inches 
Conclusion
The Roland FP-30 piano keyboard is a very good choice for beginner to intermediate players, particularly for pop, singer/songwriter and maybe even jazz players. The piano sounds are reasonable and the action of the keyboard is excellent considering the price range. 
For advanced and classical players, this might not be the piano you want as your main practice or performance piano, however it would certainly make a reasonable practice piano, especially if you want to use headphones and play into the night.  
The fact that there's no LCD screen makes selecting functions and setting values quite cumbersome, but many keyboards in this price range are designed this way. In any case, if you download Roland's piano app and connect a phone or tablet, you can get around much easier. If you don't download the app you'll have to look up which button/key combination you need in the user manual for each selection until you start to remember them. 
Like many other keyboards in this price range, the Roland FP-30 is light enough to move around the house or travel with. However, it is yet heavy enough to place on a stand and know it's safe. Some less expensive keyboards are so light they are easily pushed off the stand, especially by children. Although its larger than average speaker output is good for gigging, the sounds are probably not high quality enough for most professionals. And for classical pianists the piano sound might not be "classical" sounding enough – and maybe not quite good enough.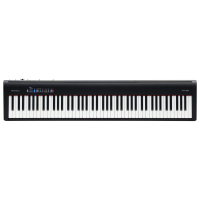 We rated the Roland FP-30 a 8/10. The FP30 has 35 sounds, which is more than some of its competitors (read the end of the article for more information on comparable pianos). We took off some points because this instrument is heavier than most in this range, and there aren't that many rhythms. However, we like that it has a full-sized PH4-A keyboard. Many beginner and intermediate pianists will love this instrument.
PROS
Good piano action and dynamic response
Excellent speaker output at 22W
CONS
No onboard lessons
No LINE OUT jacks
Only 30 onboard songs
Only 8 drum patterns to play with
Heavier than comparable keyboards in this price range
Transposes only -6 - +5 which is a consideration if you need this function