Casio PX-870 Review
We rated the Casio PX-870 a 9/10. Some of the best selling points of this Casio model include the powerful speaker system, slim design, driverless connection, and volume sync EQ. We gave it a high rating because we think it will serve a lot of people really well. It doesn't have a lot of bells and whistles, but that makes it accessible to a wide range of audiences. Overall, this is a simple yet high-quality instrument.
We rated the Casio PX-870 a 9/10. Some of the best selling points of this Casio model include the powerful speaker system, slim design, driverless connection, and volume sync EQ. We gave it a high rating because we think it will serve a lot of people really well. It doesn't have a lot of bells and whistles, but that makes it accessible to a wide range of audiences. Overall, this is a simple yet high-quality instrument.
Hello! This is Aleah with BestPianoKeyboards. Are you looking into getting your first piano, or are in the market for an upgrade? Get comfortable; today, we are drumming up a Casio PX-870 review for you. 
Overview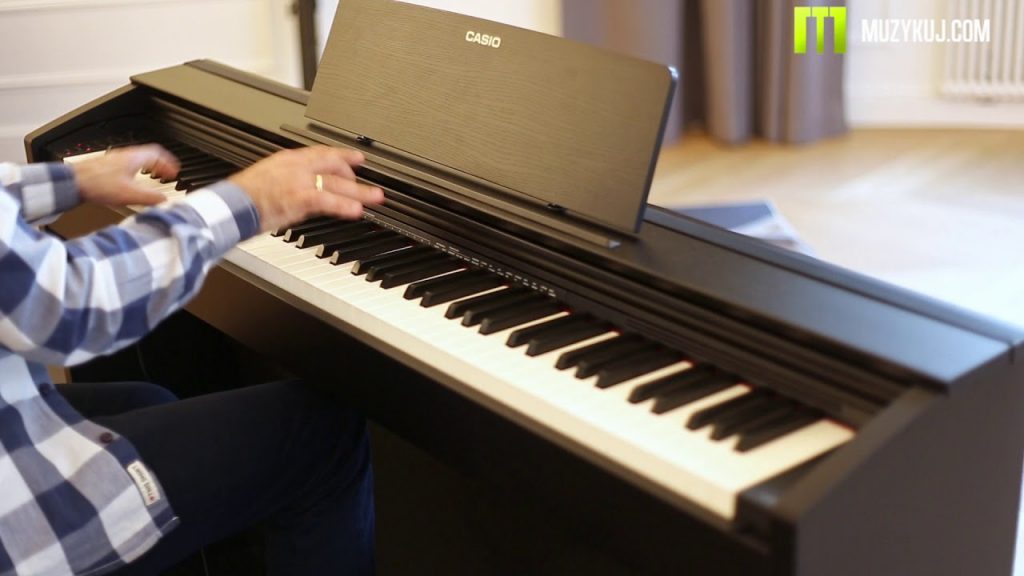 First made available in 2017, the Casio Privia PX-870 is a piano marketed for all players. In addition to this, the Casio PX-870 boasts itself as having an 'unprecedented reproduction of rich power'. That is quite the claim! Here's the piano's description, according to Amazon:
"The new flagship of the world-renowned Privia line of digital pianos is designed to give you a true piano experience. With a revolutionary piano sound, a stylish slimline design, and a dynamic new Sound Projection speaker system, the PX-870 redefines what a compact digital piano can do." (Amazon)
This piano is full-sized, with 88 touch-sensitive, weighted keys. It was originally designed to replace the PX-860. This instrument is still being produced today.
So, let's see what else the Casio PX-870 has to offer. 
Features
Headphone Mode
Headphone mode is a new mode that was introduced with this piano. In Headphone mode, your piano tone will be remixed for a better quality sound. When you switch to headphones, you switch to binaural. Oftentimes, headphone sound is not as good as speaker sound when it comes to pianos…but Casio is really changing all of that with their new feature. Headphone mode is one of the most valuable features in the Privia line, in my personal opinion. This is one of the many reasons why, of the Privia pianos, the flagship Casio PX-870 is my favorite. 
SlimLine Design
Like many others before it, this instrument was designed to help fit a full-sized piano into the modern home. With the new SlimLine Design, it's easy to squeeze this 88-key  instrument inside the smallest of apartments, or even a bedroom. In fact, it is less than 12 inches in depth. This makes the Casio PX-870 SO accessible to people in small living quarters. Speaking of design…
Redesigned Cabinet and Controls
Casio's redesigned cabinet has fewer seams in it. Admittedly, there's not a ton of difference, but, then again, it is worth noting. They swapped out the piano lid for a grated space that holds the 4 speakers. 
In addition to this, the controls have been moved to the other side since the previous model. Many players have commented saying that this looks better, aesthetically speaking. 
Multiple Touch Responses
This instrument features 3 touch response options, as I had hoped! Midgrade to professional pianos typically have 3 or more touch response options, and this Privia delivers. You can also turn the touch response off if you don't want to use it all of the time. 
The touch responses featured are hard, medium, and soft. Most players prefer either the hard or medium touch responses on this piano. Some have remarked that the 'soft' is too soft, and doesn't give enough dynamic contrast in the sound. Luckily, you can change it according to your own preferences, and decide for yourself! I always recommend playing the piano before you buy it, so…Why not head over to Guitar Center this weekend? (Pro tip: To save the most money, try it in-store, and buy it on Amazon ). 
Volume Sync EQ
If you're one of our regular readers, surprisingly, this is a feature that you probably haven't seen before. So, what does volume sync equalization do? 
Volume sync means that this particular model knows when you are playing at low volumes. 
Here's a common scenario: Say, for example, you live in an apartment with other residents. You're trying to be mindful of your volume, but, at the same time, you're just not satisfied with the low end of the register when your instrument is on a quieter setting. What volume sync does is notice when you turn down your piano. It automatically adjusts the EQ depending on the volume you are playing at. I love this feature on the PX-870. Before researching this piano in particular, I hadn't heard of volume sync EQ. I rarely turn my piano down on low because it seems to make everything fuzzier. This feature is definitely something I have my eye on when it comes to upgrading. 
A Powerful Speaker System 
This instrument has some serious power. It comes with 4, 40-watt speakers. Most digital pianos around a grand have two speakers, and sometimes, no speakers at all! Casio did pianists a huge favor here. It is far more than I would expect in this price range. 
Sound Projection
Speaking of…the Casio PX-870 has more than just a powerful speaker system. The four speakers are strategically placed to better simulate the sound of a grand piano. Take a look at the diagram above. You can see that two speakers are directed downward and that the other two are directed up. While a typical electric piano only has two speakers that point up, the Casio PX-870 has these four speakers, directed both up and down. Casio's 870 is an absolute steal at under-a-grand, because of this feature alone. It creates a sense of fullness and realism that is largely unmatched. 
No Drivers Needed 
Just like the last instrument in the Privia line that we reviewed, the PX-870 can be plugged into both Windows and Mac computers with no drivers. In the past, installing piano drivers for my Yamaha from the DGX line has been a total headache. Casio saves musicians time and frustration by making all of their 'Privia' instruments driverless. I have to say…what technological magic is this, Casio?!
Air Engine Sounds 
If you've read our other Casio reviews, you already know about the Air Engine. Air Engine is Casio's name for their specific sound sampling system. It's quite unique though, because, apart from the 19 voices, the Air Engine also includes the damper and action noise.
Damper Noise simulates the dampers that are on the strings in acoustic pianos
Action Noise – The action on a piano is when you press down the key. This feature allows you to turn on a simulation of a real ivory key 'clicking' action sound. 
Some of the other notable features in the Air Sound Engine include the high-quality compression and 4-layer piano sound. Here is the official list of all the sounds the Casio PX-870 has:
Concert Piano

Mellow Piano

Bright Piano

Rock Piano 

Jazz Piano 

Modern Piano

Bass

Vibraphone

Harpsichord 

Strings (2)

Pipe organ

Electric organs (2)

Jazz organ
Tri-Sensor Hammer Action II
This adjustable hammer response setting allows you to decide when the note sounds from the time you hit the key. It's kind of like latency in recording. Hammer response means that the keys get harder to press as you go lower down in the register. 
Key-Off Simulator
The key off simulator recreates the sound of when a real, weighted key from a strung piano is pressed and or released. Key-off simulators, along with the (many) other simulators on this piano, help to make the Casio PX-870 sound far more realistic than other electric pianos in this price range. 
Three Color Options
This sleek piano is available in both black and white, as well as oak tone. Because who doesn't love options?
Simulated Ebony and Ivory
Simulated ebony and ivory help give the player more grip. Quite a few pianos have these simulated textures: it is quickly becoming the industry standard, and Casio has yet again checked the box. 
Three Modes
The Casio PX-870 comes with the following three modes: duo, dual, split. Duo mode splits the keyboard evenly in two, so both teacher and student can play and mimic in the same range. Dual-mode lets you layer two sound samples on top of one another. Split mode lets you put one sound sample on one side of the keyboard, and another on the other. 
Concert Play
Like we mentioned in the last Privia-piano review, concert play allows you to play along with songs with the sound of a real orchestra. Concert play comes with ten songs. (I know, I know, you're probably thinking, "Only 10?" But remember, there are 60 built-in songs, not pieces, that also come with the Casio PX-870.)
17 Temperament Options:
Hey! Let the music geek in me talk for just a moment here about temperament. 
"Wait, what is temperament and why is it such a big deal?!"
Temperament is a tuning system. Yep, if you get a Casio PX-870, you'll get 17 slightly different tunings on your piano. 
One example of temperament is equal temperament. This is the standard on most electric pianos. In equal temperament, the distance between all of the notes is exactly the same. This model of electric piano in particular has 16 other temperaments besides equal. So, if you want to perform with a Baroque ensemble in a unique tuning…Now, you can!
Internal Recording
This model allows you to record up to 25 minute long tracks. The internal recording saves as a WAV file. This feature is especially handy for when you get a musical idea, but don't want to run over to the bedroom to grab (and plugin) your laptop, or dig around to find the voice recorder app on your phone. 
Other Unique Features
Other unique features that this instrument offers are the lid simulator and string resonance. 
Lid Simulator:

Comes in closed, removed, opened, and half-opened (simulating the physical lid on top of a piano)

String Resonance:

This helps to simulate how the real strings on a piano would resonate. I love the fact that you can decide how much string resonance is given to the sound. 
These two unique features give players more control over their sound. And who doesn't want that? 
Specifications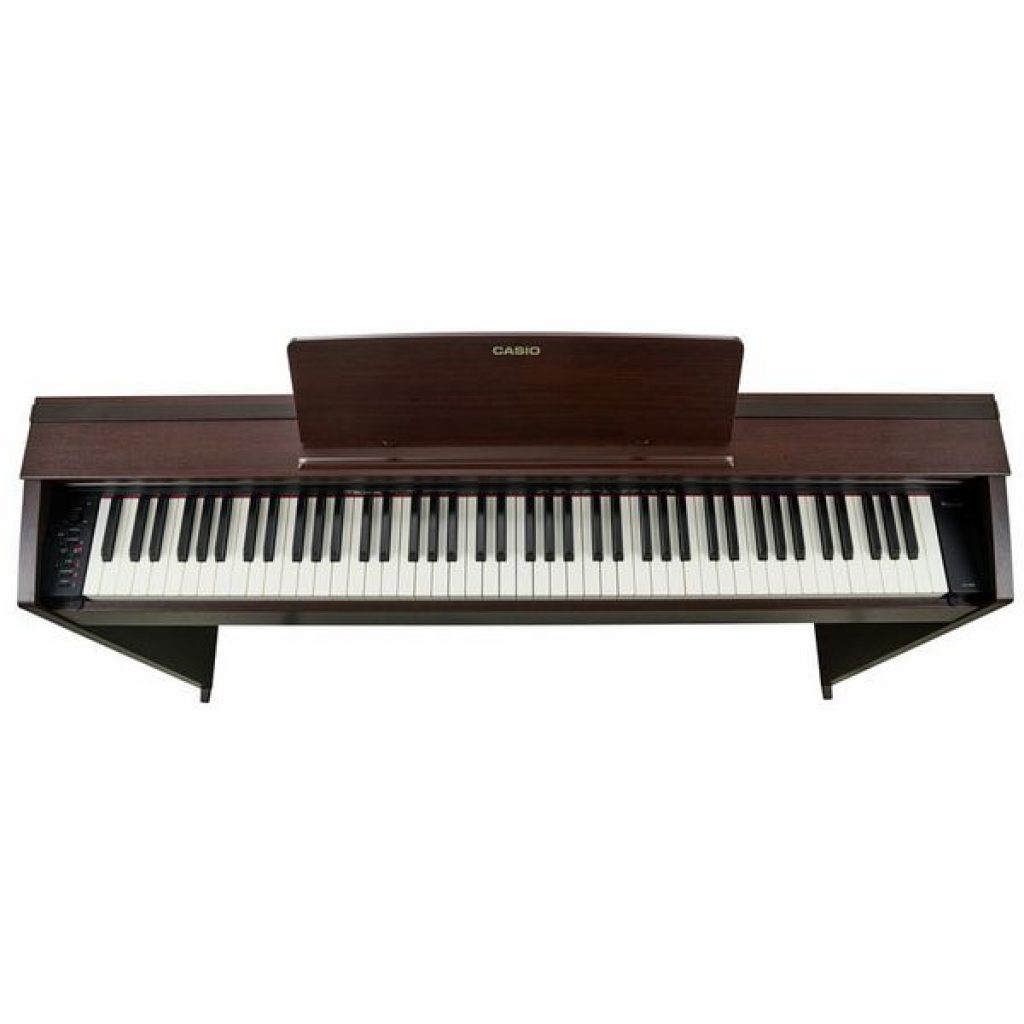 Weight:

74 lbs

Dimensions:

31 x 54 x 31

Speakers:

4 

Preset Songs:

60

Number of Piano Tones:

5

Tones:

19

Modes:

Duo, Dual, Split

MIDI Recorder

: Yes, has 2 tracks
Who Is It Suitable For?
While Casio states that this instrument is a great piano for everyone, I think that the Casio PX-870 is suitable for the serious intermediate player. It has everything you need in order to learn classically, as well as to record tracks. While it doesn't have many voices, bells, or whistles, it's still a great quality instrument for pianists. 
Classical players will especially enjoy this model, as they don't need the odd synth sounds anyways. The PX-870 was made with serious classical players in mind. 
Casio PX-870 In Action
Let's head over to Youtube with Stu Harrison and Merriam Music to check out this instrument in action.
According to this review, the Casio PX-870 boasts a redesigned 4-speaker system. At about 1 minute in, Stu gives us a little sample of the instrument. The thing that struck me was the high-quality low-end. 
Pros and Cons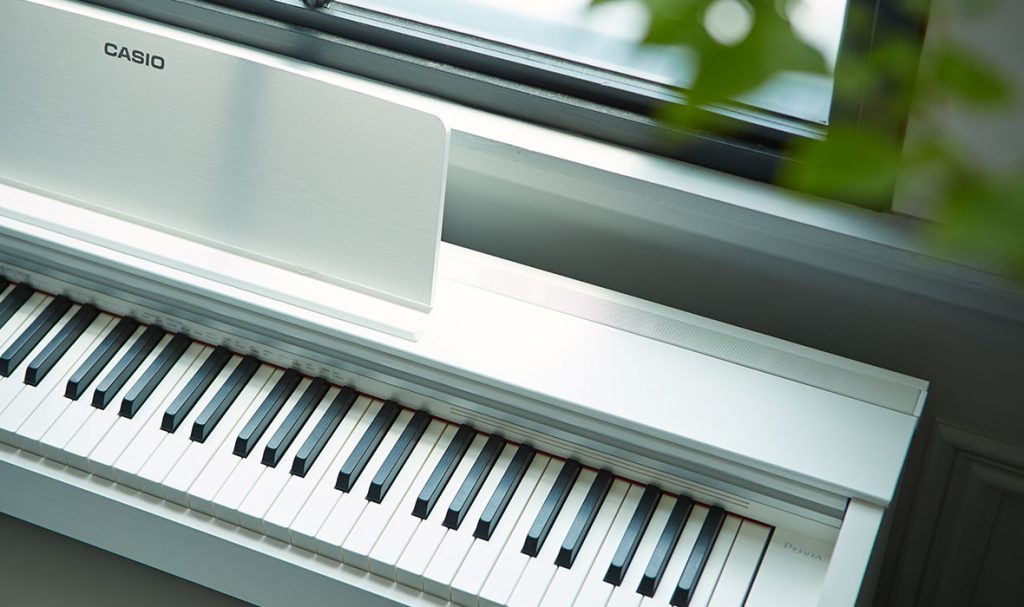 Pros
It has a full-sized keyboard

It has four speakers instead of two

The speakers are strategically placed for a bigger and better sound

It has a great-quality low end

Touch-sensitive

It has USB to MIDI recording capacities

It has a built-in recorder too

USB flash port

It has a built-in metronome

It can be plugged into an amp

Several digital effects

You can connect it to the app Chordana so that you can play along

It has a really user-friendly lessons feature

It has an auto-power off in case you forget to turn off your instrument

You can adjust the touch sensitivity

The available polyphony is very large, at a whopping 256 notes

The volume sync EQ helps you get a better sound, even when you're playing in low-volume settings

It has several features that other instruments in the Privia line don't have
I think that the best thing about this instrument is that it is a full-sized keyboard with an updated speaker system. The built-in recording capabilities and metronome are to be expected. The other two most notable 'pros' to this piano are the volume sync EQ that we mentioned earlier, as well as specific features like string resonance. That all being said, it's really great to see all of the industry standards like multiple ways of recording, app connectivity, and a large polyphony, all showing up in this model. 
Cons
It only has 19 tones

No extra accessories come in this package

This piano is not the ideal gigging piano

It's quite heavy – The delivered box weighs about 100 pounds

You'll have to put it together

The updated cabinet has no dust lid (but it still has the keyboard cover that you can pull out)

The cabinet is made of fiberboard instead of solid wood
Just like the last Privia we checked out, this model has a very limited number of tones. That being said, they are really good samples. If you are a classical pianist, I still recommend this piano. If you are more of an experimental keys player, I'd suggest looking into a different line. Overall, it is far too heavy and limited sample-wise to be a gigging piano. 
Another con that comes as no surprise is that you have to put it together. That being said, most handy reviewers said it only takes about 45 minutes to an hour and a singular screwdriver. 
The cabinet has been updated since the last Privia model. I don't really care for the fact that they did away with the pull-down lid, however, there is still a pull-out dust cover. 
The last con that many musicians gripe about is that this piano is made of fiberboard instead of solid wood. After drooling over solid-wood build pianos like the Nord, of course, we all want a little bit more. That also being said, the difference between this model and most Nords is around $3000. You get what you pay for… But with the Casio PX-870, all in all, you are still getting a lot of quality features for a relatively low price. 
Quick View 
| | |
| --- | --- |
| Keys | 88 full-sized keys |
| Touch sensitivity  | Yes- This is touch-sensitive |
| Sounds | 19 tones |
| Recording capabilities  | USB to MIDI |
| Metronome | Yes |
| Polyphony  | 256-note polyphony |
| Speakers | Yes- 2-ways, 4-speakers |
| Headphones | Headphone jack available |
| Accessories | No accessories come with this product |
| Price point  | $999 |
| | |
PX-770 Vs. PX-870 
Let's take a minute to talk about the PX-770, the younger sibling of the Privia line. The PX-770 is pretty similar to the 870. They both are slim-style, full-sized home pianos. 
The 770 has 128 notes of polyphony, whereas the 870 has 256. Unfortunately, the P-770 does not include the new headphone mode, sound projection, or improved speaker system, either. What it does have is driverless app connectivity.
I find that when I compare the Casio 770 to the Casio 870, I miss the new features. Casio put a lot of time and effort into improving the Casio PX-870. For the small amount it is to upgrade from the 770 to 870, it's clearly worth it, at least for me. The Casio PX-870 has amazing simulations, and the 4-speaker system simply cannot be ignored. 
The Casio PX-870 is what we like to call the Flagship model. This means that it is the most up-to-date, newest-in-the-line when it comes to Privia. A lot of the time, flagship models are overpriced and include just one or two new features. Think of it like the iPhone… The iPhone adds one new feature and calls it a new number, puts it in a new shade, and asks for hundreds more. However, I want to clearly state that Casio is not "pulling an iPhone here". The 870 is worth every penny, in my opinion.
A Valid Competitor: The AP-270
Yep, Casio is competing with itself here. Meet the AP-270.
This cabinet-style piano runs about $1200. So, a little more than the 870. Amazon is currently out of stock (unfortunately). However, if you are considering the Casio PX-870, consider also looking into the Casio AP-270. It is a full-sized piano said to have a much sturdier build than the fiberboard Casio PX-870. With 22 Air-Engine sound, when it comes to samples, it's a fairly even swap. This model is technically a console piano. It weighs 116 pounds, so, it is definitely sturdy. 
Then again, this piano is not from the Privia line. So, if you are looking for a Privia, I recommend going with the 870 model. 
Reviews
According to Amazon reviews, this piano is reported to have great quality samples. Reviews also report that the piano's build is somewhat lacking, especially when it comes to the bench. Luckily, benches can be replaced. For me, sound and piano quality itself is much more important than the bench. That also being said, we don't want to be practicing on a wobbly bench. Another complaint was that the pedal bar is plastic whereas the piano base is made of wood. As I was reading, I noticed that most of the complaints were about the pedalboard. 
Many people have made the switch from Yamaha lovers to Casio lovers specifically because of this piano. While it doesn't have many sounds, it's clear to see that there are a lot of players out there who have fallen in love with Casio's new Air Engine technology. 
One other con that I picked up from Amazon reviews is that the piano can be noisier than its competitors. By that I mean, the key clicks tend to be louder than other similar pianos. Key clicks really tend to bother me when I'm playing, so, be sure to try it before you buy it. 
Casio PX-870: Conclusion
In conclusion, it's clear to see that the Casio PX-870 is a great digital piano overall. For all that it has to offer, the Casio Privia PX 870 Digital Piano is quite affordable! If you are in the market for a high-quality piano and Casio is your preferred brand, give the Casio PX-870 a chance.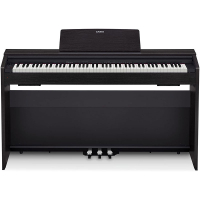 We rated the Casio PX-870 a 9/10. Some of the best selling points of this Casio model include the powerful speaker system, slim design, driverless connection, and volume sync EQ. We gave it a high rating because we think it will serve a lot of people really well. It doesn't have a lot of bells and whistles, but that makes it accessible to a wide range of audiences. Overall, this is a simple yet high-quality instrument.
PROS
It has a full-sized keyboard
It has four speakers instead of two
The speakers are strategically placed for a bigger and better sound
It has a great-quality low end
It is touch-sensitive
It has USB to MIDI recording capacities
It has a built-in recorder too
It also has a USB flash port
It has a built-in metronome
It can be plugged into an amp
It has several digital effects
You can connect it to the app Chordana so that you can play along
It has a really user-friendly lessons feature
It has an auto-power off in case you forget to turn off your instrument
You can adjust the touch sensitivity
The available polyphony is very large, at a whopping 256 notes
The volume sync EQ helps you get a better sound, even when you're playing in low-volume settings
It has several features that other instruments in the Privia line don't have
CONS
It only has 19 tones
No extra accessories come in this package
This piano is not the ideal gigging piano
It's quite heavy - The delivered box weighs about 100 pounds
You'll have to put it together
The updated cabinet has no dust lid (but it still has the keyboard cover that you can pull out)
The cabinet is made of fiberboard instead of solid wood