Casio CTK-3500 Review
We rated the Casio CTK-3500 an 8/10. The CTK-3500 is a touch-sensitive portable keyboard. This affordable instrument has over 400 tones. This model is clearly geared towards a young or less experienced audience- And it serves them well. The Dance Music Mode function, along with  step-up lessons, and built-in rhythms will entertain just about anyone. While the speakers could be louder, this one is still a great find for beginners.
We rated the Casio CTK-3500 an 8/10. The CTK-3500 is a touch-sensitive portable keyboard. This affordable instrument has over 400 tones. This model is clearly geared towards a young or less experienced audience- And it serves them well. The Dance Music Mode function, along with  step-up lessons, and built-in rhythms will entertain just about anyone. While the speakers could be louder, this one is still a great find for beginners.
Casio CTK 3500 Overview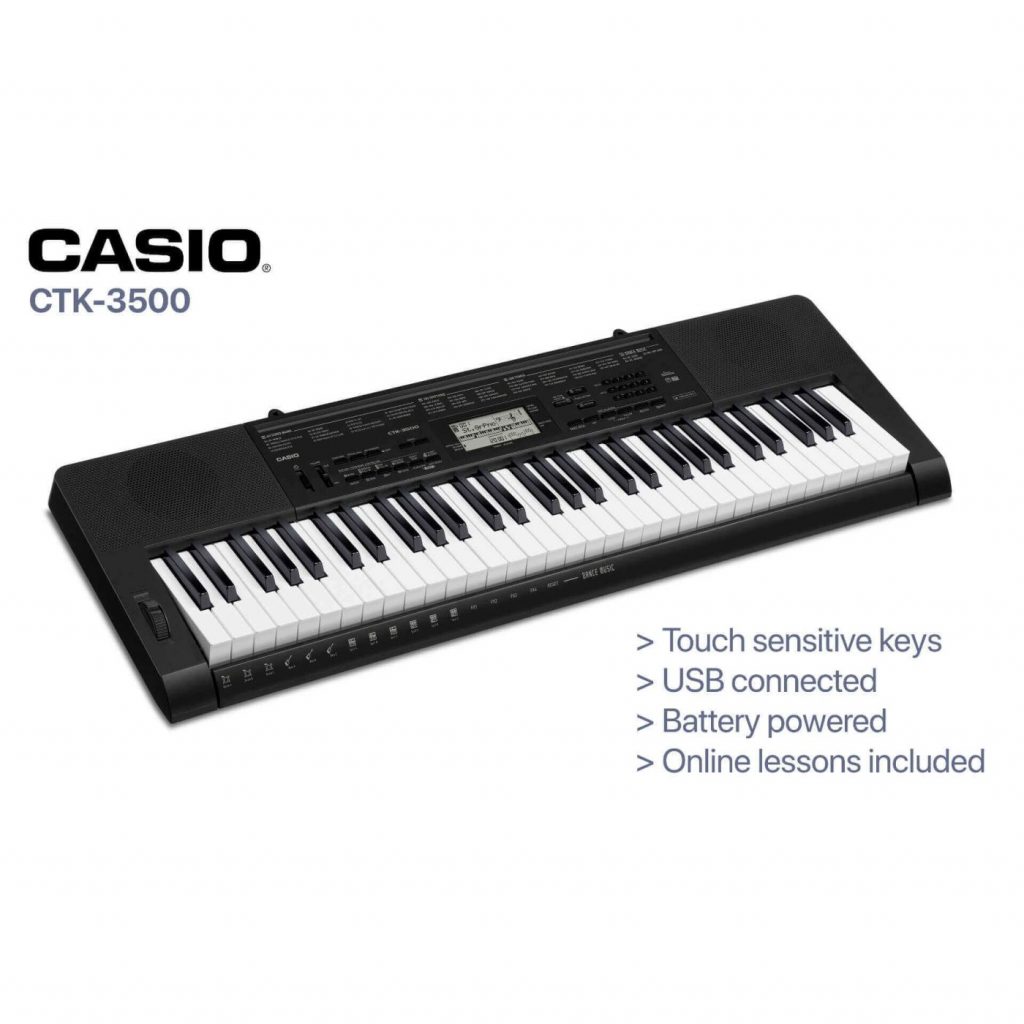 The Casio CTK 3500 is a portable keyboard with several hundred tones. It is a favorite amongst piano beginners who are just getting started on their musical journey. Let's see what the sellers have to say about this model.
Product Description
The Casio CTK-3500 is an affordable instrument with a 61 key piano-style touch-sensitive keyboard, 400 total onboard tones, 150 rhythms, and digital effects. Its newest features include Dance Music Mode, so you can be your own Dejay and create dance music and will as Chordata play app integration. Connect your tablet, launch the app and learn how to play your favorite songs using MIDI files. Packed with great features such as Casio's famous step-up lesson system and audio inputs for an MP3 player. All this makes CTK-3500 more realistic and expressive than ever before at this price range. (Amazon.com)
From the Manufacturer
Casio: Creativity and Contribution. Breaking free from preconceptions and exceeding the world's expectations – Casio leverages superior technologies and innovation to create products that deliver new value by meeting the latent needs of customers. The Casio 61 Key Touch Sensitive Full-Size Portable Keyboard opens up a whole world of music with 400 high-quality Tones and 150 built-in Rhythms including the all-new Dance Music Mode. (Casio.com)
Features
150 Built-In Rhythms 
This Casio CTK has a whopping 150 built-in rhythms. This feature also includes a brand new dance music mode, which we will take a look at later in this article. This video will give you a taste of the many rhythm styles that this digital piano has to offer.
More specifically, the built-in rhythm soundbank includes the following sections and styles of beats:
8 beat

16 beat

Ballad beat

Dance

Pops

Rock

Jazz

European

Latin

World

Various

Piano rhythms 
400 Tones 
On top of all of the preset rhythms, this $200 keyboard offers a ton of tones as well. The soundbank includes the following instrumentation: 
Pianos 

Electronic pianos

Chromatic Percussion

Organs

Guitars

Bass

Strings and Orchestra

Ensembles

Brass

Reeds and Pipes

Synth Leads

Synth Pads

Ethnic sounds

GM tones

Drum Set
In all honesty, I think that some of the sounds lack fullness, and sound a pinch tinny. That being said, it is still pretty impressive that Casio could put so many sounds inside of an under-$300 digital keyboard. The sounds that I am fond of include: 
Several of the piano tones

Synth pads 

GM tones
The sounds that I think could stand some improvement in their sampling include: 
Guitar sounds

Chromatic percussion 

Ethnic sounds

Drum Sounds
Ethnic sounds are hard to do right, because of the need for different overtones. The same goes for drum sounds. Many of the percussion sounds remind me of the tiny keyboard I had in the early 2000s, and not in a good way. 
All in all, the basic sounds are just fine but don't expect stage quality when it comes to the ethnic and percussive sounds. To listen to the entire Casio CTK-3500 sound bank, check out these two videos: 
All tones, part 1
All tones, part 2
Built to be Portable 
At only 17.5 pounds, it is clear that the CTK-3500 is made for portability. Because this keyboard is only 61 keys horizontally, just about anyone can make space for it. 
Optional Battery Powered Playing 
Whether you are at home or on the go, you can find a way to play the 3500. This model runs on both batteries and a plug-in AC adaptor. 
Connect it to a Tablet 
While this 61-key instrument is lightweight and small, its connections are mighty. It is pairable with all IOS and Android devices, making connecting to a smartphone or tablet easy. 
Record to Your Computer
You can connect this model to your computer using a USB 2, or A-B USB connectors. This makes it simple to plugin, play, and quantize. 
Touch Sensitive Keyboard
Many keyboards that are this small horizontally are touch-sensitive and built for more of a pop style of playing. The 3500 is no different. Having touch sensitivity is an essential element, even for beginners, because it allows you to practice and learn articulations like slurs, accents, and dynamic variation. 
Dance Music Mode
Dance music mode is one of the newer elements when it comes to CTK keyboards. You can check out this feature in the video here.
With just a few key clicks, you can make some seriously rockin' EDM and other dance music. According to Casio, this feature offers 50 preset styles, as well as popular dance music effects, like filter and stutter. 
Four Package Options
One of my favorite things about the CTK line is that they offer several different packages with each model.
You can choose from the following CTK packages:
Casio-3500 (Basic Pack)

Casio-3500 Premium Pack

CTK-3500 Educational Pack

CTK-3500 Quincy Jones Pack
The Basic Pack includes just the keyboard and the power supply. The Premium Pack has the stand and headphones included. The Educational Pack has the headphones and stand, as well as an extra USB cable and learning software. Lastly, the Quincy Jones Pack has all of the above, except it has a higher-quality learning software called Playground Sessions. 
Side note: The included Samson HP30 headphones in the deluxe packs are actually quite nice: The size is adjustable, and they have a closed-back design (Amazon.com).
Lesson Function 
Lesson Function is a multi-faceted learning section on the CTK-3500 keyboard. It includes: 
Lesson Lite

Scoring System

Voice Fingering Guide
Lesson Lite is a learning tool that helps piano newbies work on songs with a phrase by phrase method.
The Scoring System is a feature that helps you better track your progress as you learn. 
The Voice Fingering Guide is honestly one of my least favorite aspects of the lesson function. It feels a little clunky. That being said, some people really enjoy it. Voice Fingering is something that can be turned on when you are in the early stages of learning a single-hand part. This smart tool calls out the fingers you should be using in a (simulated) human voice. To me personally, it is a little jarring. When I am practicing, I prefer to say the fingerings out loud with my own voice. It seems to help me make a better connection to the fingering and music than a robot calling out a finger number does. In addition to this, fingerings often need to be adjusted according to the hand-span of the individual player/ student. Luckily, this feature can be turned off!
Chordana App Integration 
Chordana Specs Chart, Copyright belongs to Casio.com/news/detail
Many of Casio's learning tools are through something called Chordana. If you've read our reviews before here on BestPianoKeyboards, you'll know that Chordana is an app that connects to many Casio keyboards. 
With the Casio CTK-3500 connected to Chordana, you can access 50 built-in songs (on top of the 60 preset songsthat are already in the internal memory). 
According to web.casio.com, here's what their app does, in a nutshell:
"Chordana Play can generate a music score from the MIDI file and detect chords, too, making it easy to learn to play two-handed piano pieces. You can search for and download MIDI files using the browser on your smartphone or tablet, then import them directly into Chordana Play. Also, you can also import MIDI files from your computer to Chordana Play." 
You can check out a bit more about Chordana here.
Step-Up Lessons 
Step-Up lessons are one other aspect of the Casio-created Chordana app. This feature is so helpful that it deserves its own section! Steps lessons help you learn a song piece by piece, with a lesson that is broken down into steps as easy as 1, 2, and 3. If you are a piano whiz, this feature can also be turned off so you can learn all parts at once.
Auto Power Off
This auto power off is a pretty standard feature in digital pianos. So, auto power off saves you electricity if you are one of those people who is always getting up from their piano to make a cup of tea or get on a Zoom call (cough, me!) 
Other Features
The Casio CTK 3500 keyboard also features the following: 
60-song soundbank

Speakers that are relatively loud for their size

Two touch-sensitivity options

Durable build

Lo-fi and roll effects, as well as other creative filters and add-ons
Specifications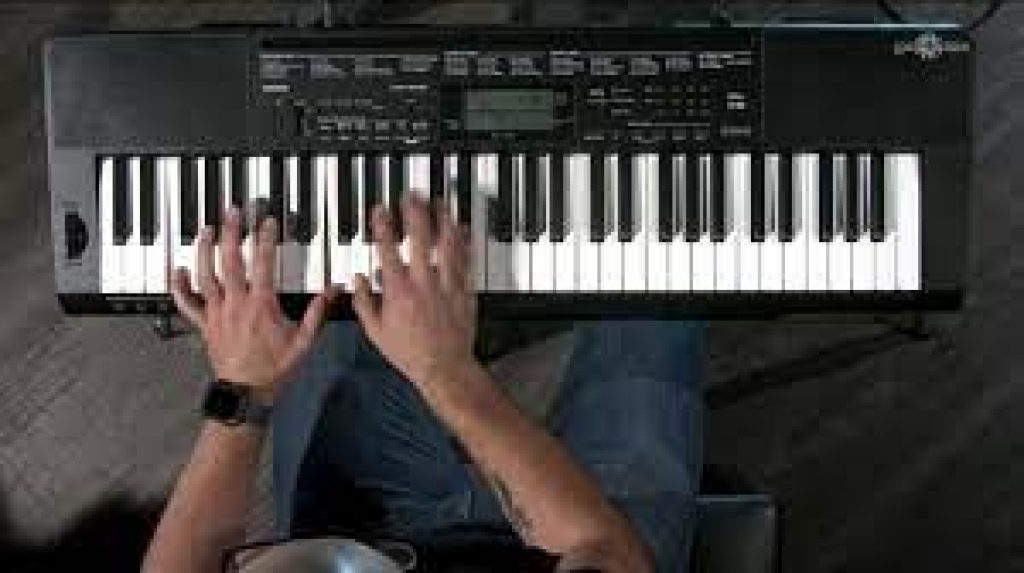 Weight:

7.5 pounds

Dimensions:

12 x 37 x 3.6 inches approximately 

Keyboard Type:

Portable arranger

Screen Display:

4 inches

Speaker Output:

4 watts
Who Is It Suitable For?
The Casio CTK 3500 is suitable for beginners who aren't too terribly serious about their music. This keyboard has the perfect amount of features, songs, and sounds for the beginner who wants to play pop and rock songs. This piano is also great for those who want to teach themselves to play, especially if they get the educational pack. Essentially, this is a beginner piano made by a really reputable company. If you want something durable and medium-quality without having to break the bank, consider the CTK-3500.
Casio CTK-3500 in Action 
This Casio CTK-3500 tutorial will help you better understand what this model has to offer.
Here's what I learned from this review by KeyboardKrazy49:
Navigate the function menu and how the Dance Music Mode, and pitch bend works

Use the accompaniment feature and change the fingered chords

How to do key shifting/ transposition, how to add effects, and more
Amazon Customer Reviews
The Casio CTK-3500 was rated 4.6 stars out of 5 on Amazon. 
What They Liked:
A great option for a beginner

It is beautifully simple

It is a great price for what you get
What They Didn't: 
It felt a little more like a toy than they anticipated

The volume was lower than they would like
Pros and Cons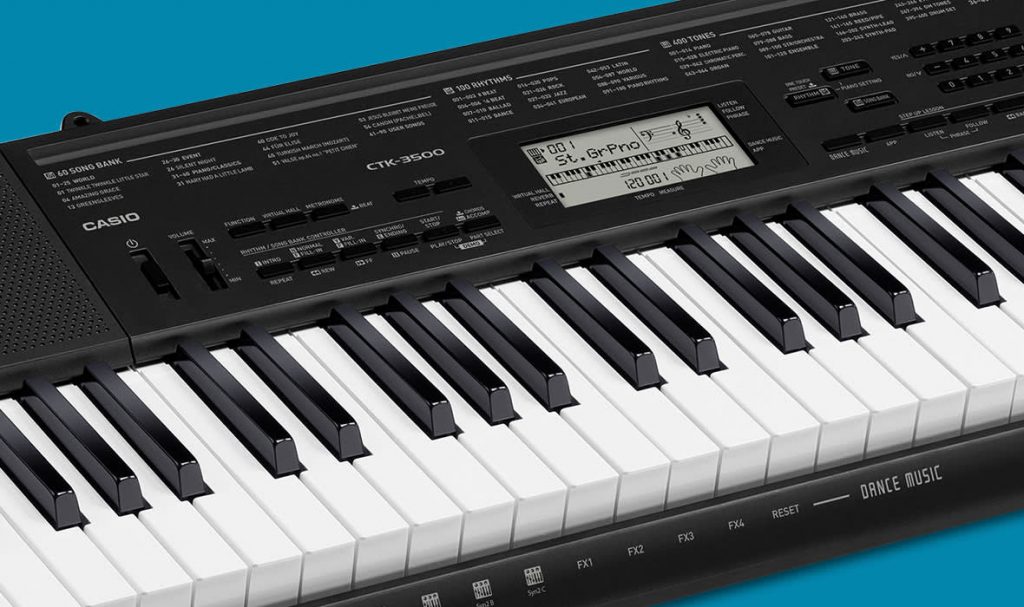 Pros
It is cost-efficient

It's touch-sensitive, with multiple options

It has a lot of tones

Similarly, it has tons of rhythms and 60 built-in play-along songs

It was built with recording and modern connectivity in mind

It makes it easy to learn piano 

There are several packages available 

You can make electronic music on it with the new dance mode

Auto power off turns off your piano for you in case you forget
Cons
The keys are touch-sensitive, but not weighted

It has very little polyphony

The speaker output is relatively thin when compared to more expensive models

It's has a very small range when compared to an 88-key arranger keyboard 
Casio CTK 3500 Quick View 
Keys

61-key touch-sensitive keys

Touch sensitivity 

2 options, off

Sounds

400 tones 

Recording capabilities 

Inputs to tablet, and computer 

Metronome

Yes: 20-255 BMP

Polyphony 

48 notes

Speakers

2 internal speakers

Headphones

Input jack available 

Headphones with all packages besides the basic one

Accessories

Regular Pack: No accessories 

Premium Pack: Headphones, cord, stand

Educational Pack: Headphones, cord, stand, cable and more

Quincy Jones Pack: Headphones, cord, stand, cable, Playground sessions trial

Price point 

$153.00
Comparable Instruments
The following keyboards are often compared to the Casio CTK 3500 keyboard.
Casio CTK-3500 Conclusion
I hope you've enjoyed this Casio CTK 3500 review. If you are looking for a great practice keyboard without having to worry about too much commitment, be sure to consider this Casio model