Casio CTX 700 Review
We rated the Casio CTX 700 a 10/10. The CTX 700 is a 61-key portable keyboard with over 600 sounds. We were really impressed with this economical yet solidly built portable keyboard. The backing rhythms make other portable keyboards pale in comparison. In addition, the new AiX Sound source is superb. This piano is an excellent choice for those looking for a smaller digital keyboard.
We rated the Casio CTX 700 a 10/10. The CTX 700 is a 61-key portable keyboard with over 600 sounds. We were really impressed with this economical yet solidly built portable keyboard. The backing rhythms make other portable keyboards pale in comparison. In addition, the new AiX Sound source is superb. This piano is an excellent choice for those looking for a smaller digital keyboard.
Casio CTX 700 Overview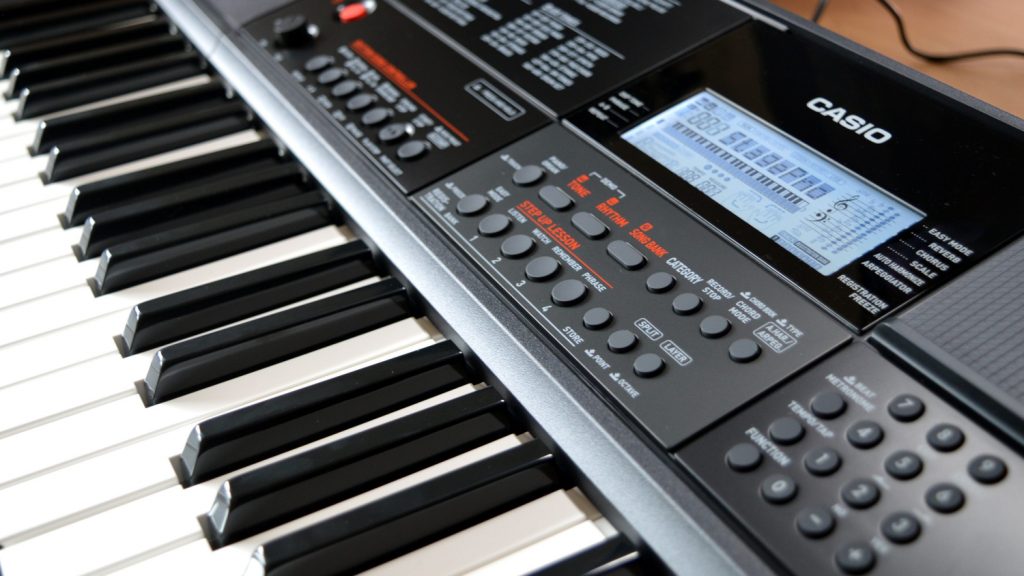 In this Casio CTX 700 review, we will be looking into the in-depth details of this uber-economical portable keyboard. 
According to Amazon and the manufacturer, this is a money-saver with superbly high quality: 
"Wherever you are on your musical journey, and no matter your budget, you shouldn't have to compromise on sound quality. Meet the CT-X700. Its modest price makes it the right choice for casual or beginning players & its stunning sound makes it a must-have for keyboardists of any level who need a portable instrument. The powerful AiX Sound Source technology makes the CT-X700 sound like a keyboard costing hundreds, if not thousands of dollars more"  (Amazon.com) 
Features
600 Tones 
The Casio CTX 700 boasts a wide variety in its soundbank. From piano tones to world tones, they seem to have all their bases covered. While no economical keyboard is without its 'cons' when it comes to the soundbank, overall, I'd rate the voices as pretty good. An under-200 keyboard with over 600 tones is nothing short of impressive. Here are some of the specific tones the CTX-700 has to offer: 
Grand pianos

Electric pianos

Harpsichords

Vibraphones

Guitars 

Basses

Ensemble and Synthwave sounds

GM/ Various Tones
The GM/ Various Tones section offers the most variety, from odd metallic synth pads to the sound of a raindrop, to world instruments. 
If I'm being entirely transparent, I think that the Yamaha PSR-373's soundbank feels more ringy, resonant, and realistic. But the Casio CTX-700's is still quite nice. That being said, don't just take my word for it- Check it out for yourself! If you'd like to see this instrument in action, check out PianoManChuck's review, overview, and demo.
195 Rhythms 
Honestly, I think that the rhythm presents are even more boast-worthy than the tones. The bank includes jazz and swing beats, as well as ballad beats, and funk and pop backings. 
LJ Madrigal Music has created a digital piano Vlog. In one of their videos, they demo an improvisation on the Casio CTX 700's rhythms. Let's check it out here! 
He uses one of the jazz rhythms to create a version of White Christmas, and, later on, explores a swing beat. Usually, I am quite picky about jazz rhythm presets. I have to admit, the present rhythms on this model are superior when compared to some of the ones I have heard more recently. The drums were recorded with a laid-back feel, and it just sits oh-so-nicely in the context of jazz piano soloing. 
The ballad beats are another favorite of mine from this section. A handful of the funk and pop beats sound a bit corny, but I may getting ahead of myself here. There is a lot to be had from this under-200 portable piano. 
A Decent Number of DSP Effects
This Casio has a nice handful of DSP effects, such as reverbs, and choruses. Again, this DSP unit can be compared to the Yamaha model we recently reviewed: The Yamaha PSR-E373. Here's a little bit more of an in-depth look:
There are 20 reverbs

There are 10 choruses

The Delay on-off switch allows you to add delay to any of the 600 available tones

The CTX's delay options include Virtual Hall and Ultra Wide

There are 10 master EQ's
It seems that DSP units keep getting better and better on new and economical keyboards. Casio is right with the times and state-of-the-art sound technology here, especially when it comes to their digital signal processing units. 
A Familiar Song Bank
This model's soundbank has dozen of popular folk songs, classical pieces, and holiday songs that you probably know. Here are a few you may recognize: 
Fur Elise

Sakura, Sakura

Auld Lang Syne

Je Te Veux

The Entertainer

American Patrol

Danny Boy
Internal Drum Kits
The Casio CTX-700 also has sounds for drum kits. These are actually the same drum samples that are on the CTX-800 as well. The internal kits are AiX driven, like the other voices in the soundbank. 
Here are my thoughts on the keyboard:
Holy overtones! The first few kits are wonderful

The high hat and snare are gorgeous

The electronic beats and groovy and high-quality, too

Even the hand drums and other world percussion is done well
You can hear a short sample of all of these sounds in action with this video from Gearfacts. 
In my opinion, much like the rhythm presets, the drum kit samples outdo the regular voices. If you are planning on doing gigs out on the town and don't have a drummer, this keyboard takes the cake. 
Runs on Batteries or AC Adapter 
Want to take your 700 out on the town, or over to a friend's house? With the AC adaptor and battery-powered options, anything is possible. 
3 Different Packages
Just like the last two keyboards we reviewed, the Casio CTX 700 also has several packages to choose from. For those who are looking for the lowest cost, check out the standalone pack. 
Standalone Keyboard
The standalone pack is exactly what it sounds like- just the keyboard! For the keyboard alone, it is just $174. 
Standalone keyboard Amazon link.
Educational Pack with eMedia
If you are looking to start learning the piano (and haven't taken lessons before) try the educational pack. At $210, it's just barely over $20 bucks more. The Casio educational pack includes a power supply, stand, USB cable, headphones, and eMedia instructional software. While the standalone pack may sound cheaper, the educational pack is the most bang for your buck. You usually can't buy the stand, power supply, and cable for the extra cost, let alone the additional headphones and software. 
As far as the software goes, eMedia is great for fresh beginners. This critically acclaimed learning tool has been around for quite some time now. Here are some notable features about this popular learning system: 
Gives you instant feedback on your playing

It has hundreds of lessons, including ear training exercises so you can hone your skills

Has a finger tracker, which shows you the note both in traditional notation and on the keyboard 
To learn more about eMedia, check out their site here.
Educational pack Amazon link.
Premium Pack
Surprisingly enough, the premium pack is actually priced lower than the educational pack (at just $197.99).
Premium Pack Amazon link.
It is great to see just how many brands are offering different packs lately. It is all too common to see standalone digital pianos for sale, with no additional supplements. Letting customers choose how many add-ons they want is a surefire way to satisfaction. 
High-Quality LCD Screen 
A lot of cheap keyboards leave out the LCD screen, but the 700 doesn't. Having a backlit LCD screen opens up the world of learning tools because it allows you to read sheet music from the screen itself. In my opinion, having an LCD screen is essential for a digital piano today, be it priced at $200, or $2,000.
AiX Sound Source 
AiX Sound Source boasts a totally redesigned set out voices. But not only have the sounds been redone- The AiX system itself has been revamped. Instead of running AiX like a traditional processor, they did this: 
All rights reserved: Casio.com/ products 
Running each separate item through a different DSP truly changes the game. 
Sturdy Molded Case 
The Casio CTX-700 boasts a sturdy molded plastic case, which prevents the keys and internal mechanisms from getting damaged. It was made to be sturdy because it was built for travel.
Built to Travel 
This piano may have a lot of features, but it's relatively (and surprisingly!) small. At only 9.5 pounds, you can take it with you just about anywhere. 
Three Types of Touch Response
When a model doesn't have weighted keys, touch-sensitive keys are a must-have. This model offers three types of touch response, which is really helpful for players who prefer a setting other than what the manufacturer has set up. 
Included Smartphone and Tablet Shelf 
The built-in smartphone and tablet shelves are two of the handiest features on the Casio CTX 700, in my opinion. 
Device Savvy
The CTX can pair with any smart device, be it an Ipad, iPhone, Mac, or Android phone. Because it has a class-compliant port, any device will connect! 
Built-In Lessons and App Learning
All of the members of the Casio family do an excellent job at providing learning tools. Learn from the internal lessons or pair with Chordana for even more materials. 
Synth Sounds, Beats, and Arpeggios Galore 
If you're looking for a piano that doubles as an arpeggiator, this keyboard is for you! Hear it in action here.
Six-Track Recorder
One of my bigger complaints about the Yamaha PSR-E373 (see piano review here) is that it only had a two-track internal recorder. I have to admit that Casio is out-doing Yamaha in the portable keyboard department when it comes to internal recording. You can do a lot more with a six-track internal recorder than a two-track. Composers may enjoy the CTX-700 over the PRS-E373 for this feature alone. 
Other Features
Other features the Casio CTX 700 boasts include:
301 music presets

100 arpeggiators 

A chord book

Tuning and octave shifting

40,000 note internal recording capacity
Specifications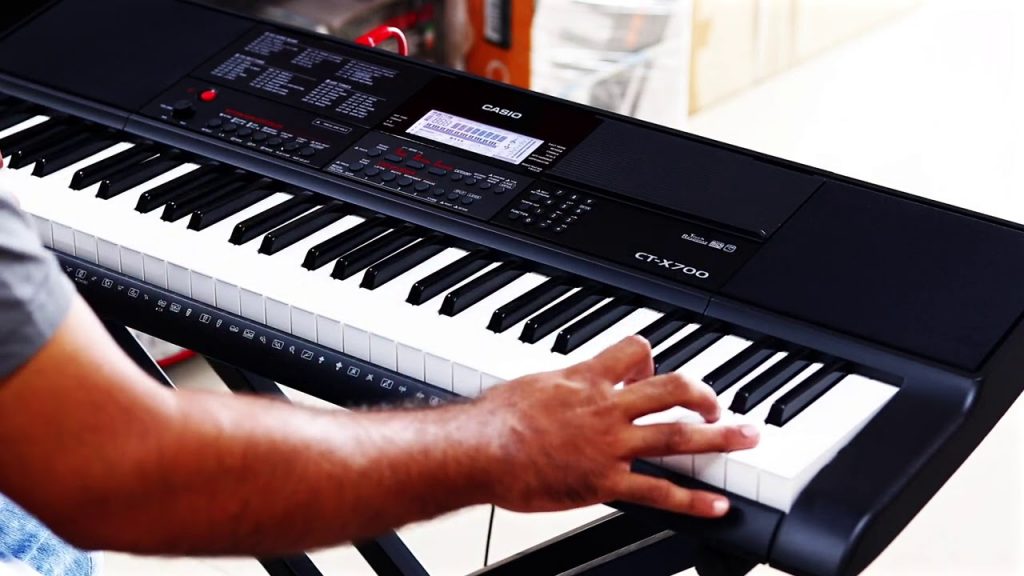 Weight:

9.5 pounds

Dimensions:

37.3 x 13.8 x 4.3 inches

Keyboard Type:

Portable arranger keyboard 

Screen Display:

Yes: 4.3 x 1.5 inches

Speakers:

4.7 x 2 inches

Amplifiers

: 5W
Who Is It Suitable For?
This instrument is suitable for a really wide range of players. I would recommend the Casio CTX-700 to anyone who wants to nab a learning keyboard, cheap travel gig keyboard, or an arpeggiating keyboard. Essentially, it's great for learners, producers, and performers. While it's no Nord 2, there is a lot it can do!  If drum kits and synth sounds weigh heavily in your consideration, I'd highly recommend this keyboard for you. 
Pros and Cons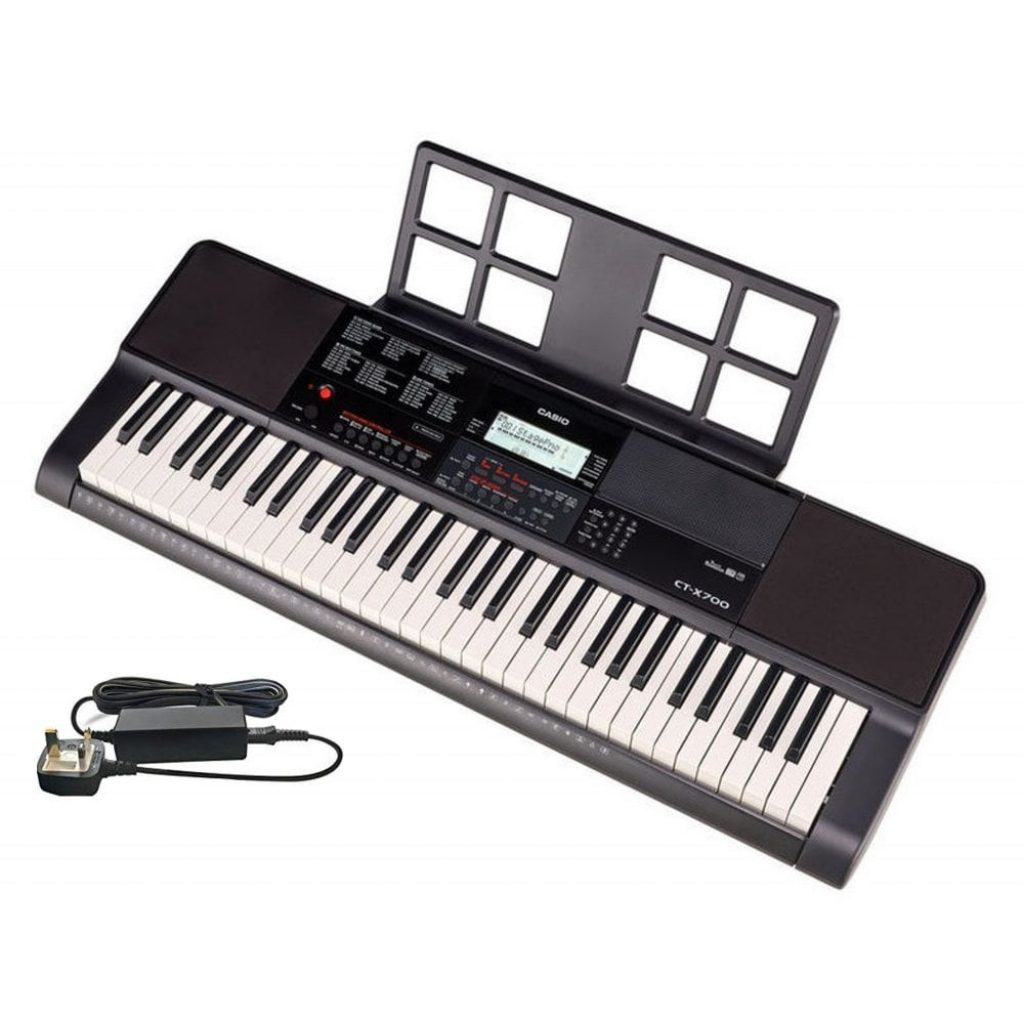 Pros
It's economical

It pairs with any smart device

It has tons of features

It's a favorite among musicians right now

It has gorgeous drum and synth sounds

It has an updated DSP unit with multiple effects 

It's lightweight and sturdy

It has great presets
Cons
At 48 notes, the Casio CTX 700 frankly doesn't have very much polyphony

The drum sounds are higher quality than some of the regular voices in the sound bank 

It isn't weighted 

It isn't full-sized, so your rep will be somewhat limited 

This isn't the ideal keyboard for classical playing 
Casio CTX 700 Quick View 
Keys

61 full-sized (unweighted) keys

Touch sensitivity 

Touch-responsive

Sounds

600 tones, 195 rhythms

Recording capabilities 

Line output, Internal (real-time) recording, USB type B

Metronome

Yes

Polyphony 

48 notes maximum polyphony (24 on some special tones)

Speakers

Two 12 x 2 speakers with amplifiers

Headphones

Headphone jack: Yes

Headphones included with some packages

Accessories

Accessories depend on the pack. Packs available include:

The keyboard alone

The Educational Pack

The Premium Pack

Price point 

174.99
Instruments Comparable to Casio's CTX 700 
Is the CTK not exactly what you are looking for? Then check out these comparable models below. 
Yamaha PSR-E363

Casio CTX-3000

This Casio CTX-800

Casio CTX-870in

This one Casio CTK-3500

Casio CTS 300
Conclusion
In conclusion, the Casio CTX 700 is a steal for the price. Some of its best features includes: the updated AiX, a huge set of voices, and its stellar drum sets. So, next time you're in a music store, try one out!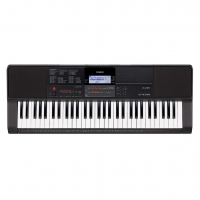 We rated the Casio CTX 700 a 10/10. The CTX 700 is a 61-key portable keyboard with over 600 sounds. We were really impressed with this economical yet solidly built portable keyboard. The backing rhythms make other portable keyboards pale in comparison. In addition, the new AiX Sound source is superb. This piano is an excellent choice for those looking for a smaller digital keyboard.
PROS
It's economical
It pairs with any smart device
It has tons of features
It's a favorite among musicians right now
It has gorgeous drum and synth sounds
It has an updated DSP unit with multiple effects
It's lightweight and sturdy
It has great presets
CONS
At 48 notes, the Casio CTX 700 frankly doesn't have very much polyphony
The drum sounds are higher quality than some of the regular voices in the sound bank
It isn't weighted
It isn't full-sized, so your rep will be somewhat limited
This isn't the ideal keyboard for classical playing