Roland FP 60 Review
We rated the Roland FP 60 an 8/10. This cabinet keyboard has a beautiful PH4 keybed with escapement. Many of its non-piano tones are impressive for the price, and the speakers are small but mighty. While we do wish this instrument had a full set of pedals, it will still please a wide range of musicians, from adult hobbyists to semi-pro performers.
We rated the Roland FP 60 an 8/10. This cabinet keyboard has a beautiful PH4 keybed with escapement. Many of its non-piano tones are impressive for the price, and the speakers are small but mighty. While we do wish this instrument had a full set of pedals, it will still please a wide range of musicians, from adult hobbyists to semi-pro performers.
Overview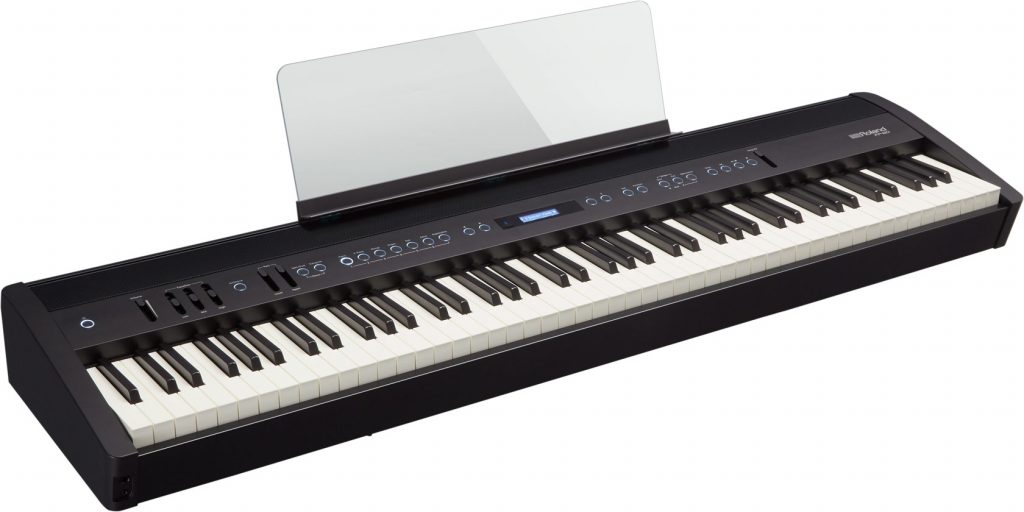 The FP 60 is a cabinet piano from Roland's affordable line of pianos called FP. The FP 60 was first released in 2018 and replaced the Roland FP 50. That being said, The FP 60 isn't very similar at all to the 50. It has been redesigned, both in appearance and in internal mechanisms. 
According to Amazon, the Roland FP 60 is an excellent choice for the home, classroom, or gig out on the town. 
"If you need a quality piano for home, classroom, or live performance, the FP-60 is a fantastic choice. This portable digital piano offers exceptional sound and touch housed in a sleek, stylish cabinet that looks great and is easy to transport. The specially designed onboard speaker system produces rich, impressive sound with ample projection for performing at small venues, while a range of non-piano sounds allows you to cover a variety of musical styles. And with modern Bluetooth wireless connectivity built-in, you can connect a smartphone or tablet and enhance your playing and practice sessions with Roland's Piano Partner 2 and other music apps. The FP-60 offers truly outstanding value, delivering premium piano quality in a streamlined instrument that travels anywhere." (Quote from Amazon.com)
Features
PH 4 Keyboard with Escapement 
The PH-4 is a fully graded and weighted keyboard with synthetic ebony and ivory keys. According to Roland, it is made with the 'latest touch detection technology'. Every movement you make on this keyboard, no matter how slight, will be detected. While this feature may sound intimidating to beginners, intermediate and advanced players will greatly appreciate how sensitive the Roland FP 60 is. 
A 3D Experience
Like the FP 90, the Roland FP 60 has 3D headphone ambiance. This technology allows players to immerse themselves in sound. It is much more than a binaural experience. 
Bluetooth
This model includes both Bluetooth 3 and Bluetooth 4. Bluetooth is quickly becoming essential in both speakers and electronic instruments alike. It is clear to see that Roland is on the technology boat! 
SuperNATURAL Sounds: The Overtones
While I have mentioned Roland's renowned SuperNATURAL sound engine several times now, there is one facet that I haven't covered yet: Overtones. Overtones are the parts of the harmonic series that ring out above the fundamental (the note that you are playing). Different overtones lead to a different timbre and feeling. The SuperNATURAL sound engines were built with overtones in mind, and it shows. 
Great Non-Piano Sounds 
The Roland FP 60 has some of the most realistic non-piano sounds that I have ever heard. The soundbank includes the following: 
15 pads

Organs

Synths

Orchestral strings

Bells and vibraphones

Ukelele

Basses

Brass

Winds like blown bottles, flutes, clarinets, and bassoon
You can see the full list of sounds in the bank at this site.
Unfortuntely, I couldn't find an 'all playing, no talking' video for this model, since it is one of the older models from the FP line. I recommend that you head over to your nearest music store and try one out for yourself! 
Many Registrations
With 30 registrations to choose from, you have a fair bit of recall. Registration is a way to digitally save a sound that you were using before. 30 slots is pretty impressive in the world of digital pianos, especially for one as economical as the FP 60. This piano is able to recall both the sound and settings you were using. One example of a saved registration would be a grand piano and orchestral cello together in split mode. Registrations are essential for composers who find themselves using the unique same instrumental settings again and again in order to write a longer piece. 
You can learn more about how registrations are navigated here.
An Accessible 3-Band Equalizer 
If the idea of a 3-band equalizer sounds familiar, you'd be right! This is another feature that the Roland FP 60 shares with the Roland FP 90. The 3-band equalizier is intuitively placed on the FP 60 so that it is easy to make quick adjustments to the EQ of your sounds. 
Volume Sliders
Once again, this is another one of those shared FP features. Like the equalizer, the volume sliders are placed in a very accessible spot on the front of the keyboard. Having sliders in place of buttons for both EQ and volume offers a unique advantage: More precision in your sound. 
Apps 
You can connect the Roland FP 60 with
Piano Partner 2

Garage Band

Piano Designer
Almost all Rolands can now be paired with these three apps. Piano Partner 2 is both a controller and interactive learning tool, whereas Garage Band is a free DAW. With Piano Designer, you can make your own unique piano voices. If you'd like to learn more about these apps, check out our other Roland reviews here: (Insert links once published) 
Small But Mighty Speakers 
The FP 60 is built with powerful speakers. While there are only two of them, they really pack a punch. This is partially because of the high-quality amplifiers that are inside. These speakers are loud enough for small to medium-sized performances, so you won't have to plug your digital piano into anything extra. More playing, less hassling. 
⅛ and ¼ Headphone Jacks
In one of the more recent reviews I wrote, one Amazon customer was unhappy that their piano didn't include a 1/8th inch headphone jack, and that they would have to purchase expensive headphones so that they could play on their piano without disturbing their neighbors. The Roland FP 60 has a ⅛ and a ¼ headphone jack. It is quite rare to find a ⅛ jack on an instrument, but it is a lot more convenient, especially if you have many pairs of earbuds. 
USB Flash Memory
USB Flash memory is something that is only usually found in pianos geared towards intermediate or advanced players. This memory option makes the Roland FP 60 really convenient. Instead of revving up your studio and waiting for your DAW to load, just plug in a flash drive and play. I love this feature because it allows me to get down my music ideas before they fade away! In addition to this, the instrument can playback in MP3 and WAV. 
Multiple Color Options
Like the FP 90, the Roland FP 60 comes in multiple colors. Choose from black, or white. It is sleek, compact, and will match any space. 
Specifications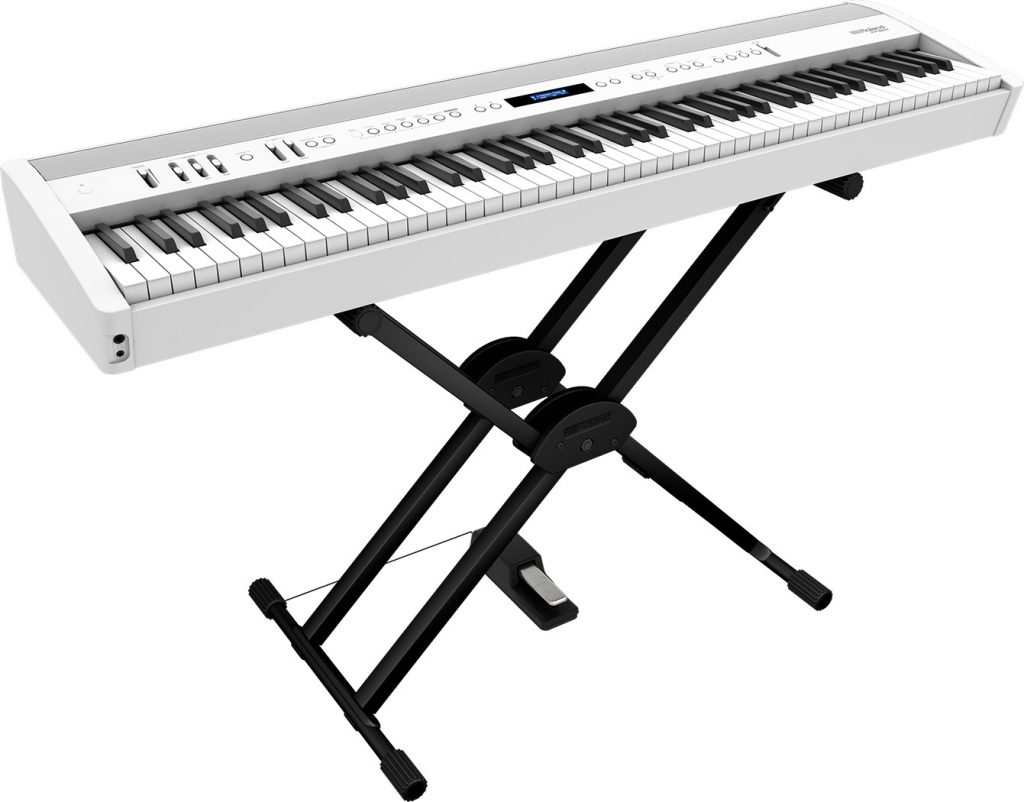 Dimensions:

51 x 14 x 5 inches 

Weight:

42 pounds

Power:

5 W 

Bluetooth:

3 and 4
Who Is the Roland Fp 60 Suitable For?
The Roland FP 60 is suitable for the serious pianist who intends to practice from home or for the performing artist who frequently takes their instruments out to gigs. This instrument is not very suitable for children. There are so many sounds that they could get easily distracted, and not practice properly. In additon to this, it has a lot of front-board controls that may confuse young students. Functions like EQ bands and and flashdrive memory aren't necessary for younger pupils, and may end up confusing or distracting them in the long run. 
Another demographic that is well-suited to this piano is the professional) (performing musician. While the Roland FP 60 isn't top-of-the-line, it isn't at the bottom, either. The sound and speaker quality is great, not to mention, that SuperNATURAL sounds will fit in with just about any genre. 
The Final Verdict: The Roland FP 60 is best for serious adult students to use as a home piano, or for professional performers of any genre. 
Roland FP 60 in Action
If you'd like to see this instrument in action, check out BetterMusic's video here. You'll get a chance to listen to the resonance of this model's piano sounds, and can see how sensitive this instrument is to subtle difference in touch. The musician also shows how useful the compatibility with Garage Band can be. All backing tracks were run through this app. 
Pros and Cons

Pros
Looks beautiful and modern

It has great connectivity, including both Bluetooth 3 and 4

It has a lot of outputs

The sounds have gorgeous overtone balance 

It is simple to record or perform with

Comes with a much larger sound bank than its predecessor, the FP 50

It is extremely touch sensitive

Compact and easy to carry
Cons
It doesn't include a stand 

It only comes with one pedal

$1500 is a large investment for adult beginners 
Everyone wants to get started right away when they get a new piano (or, their first piano). However, the Roland FP 60 does not come with a stand. This seems to be the trend for the FP line, as the FP 90 that we recently reviewed doesn't come with one, either. The same goes for the pedals. Many digital pianos come with a three-pedal base. The 60, however, just comes with the damper. If you want to get into some fancy footwork or hear the notes sustained, you will need to invest in more pedals. These investments, along with the initial cost of the piano, may prove a little much for the adult beginner. 
Quick View 
Keys

88 PHS keys

Touch sensitivity 

Adjustable and fixed

Sounds

72 piano and strings tones

279 other voices

Recording capabilities 

USB type A and B, internal recording

Metronome

Yes

Polyphony 

288 voices

Speakers

Two speakers,  8 x 12 amplifiers

Headphones

¼ inch and 1/8th inch inputs

Accessories

D-10 Damper Pedal

Price point 

$1,549.99
Comparable Models 
Do you like the idea of the Roland FP 60, but it isn't exactly what you had in mind? Here is a list of comparable models to check out. 
Roland FP 60X
The Roland FP 60 is technically a little outdated. By that, I mean that the newest model that has replaced it in stores is the FP 60X.  There are a lot more presets on the newer Roland FP 60X than there are on the one in this review. 
Roland FP 90
The FP 90 is the more sophisticated sibling of the FP line. It boasts a bigger sound engine and has several extra features. Check out our last review to learn more about the FP 90. 
RD 88
This Roland keyboard is similar to the FP 60, because of its pedals and midi capabilities. However, it is significantly less costly. 
RP 501
The RP 501 is a beginner-friendly instrument. Like the FP 60, it has a PH4 keyboard. This instrument, however, is designed to be a home piano and is not meant to travel. If you are looking for a cabinet piano, the RP might be the one!
Yamaha P515, Yamaha P125
If you like the FP line, the Yamaha P line is worth looking into. This is a line of affordable, portable pianos designed by Yamaha, They are in the $1200-$1600 range, which makes them comparable price-wise as well. 
Kawai ES8
The Kawai ES8 is a piano we recommended in the FP 90 review as well. If you don't enjoy the 'Roland feel' or supernatural sounds, try Kawai. The ES8 is another great portable digital piano. 
Conclusion
In conclusion, the Roland FP 60 makes an excellent piano for at-home practice and the occasional performance. Because of its extended polyphony, PHS keyboard, and powerful speakers, this instrument is definitely a few notches up from many of the beginner models that you will find on the market. I hope you have enjoyed this Roland FP 60 review. Come back for more in-depth piano research soon!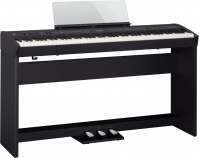 We rated the Roland FP 60 an 8/10. This cabinet keyboard has a beautiful PH4 keybed with escapement. Many of its non-piano tones are impressive for the price, and the speakers are small but mighty. While we do wish this instrument had a full set of pedals, it will still please a wide range of musicians, from adult hobbyists to semi-pro performers.
PROS
It looks beautiful and modern
It has great connectivity, including both Bluetooth 3 and 4
It has a lot of outputs
The sounds have gorgeous overtone balance
It is simple to record or perform with
It comes with a much larger sound bank than its predecessor, the FP 50
It is extremely touch sensitive
It is compact and easy to carry
CONS
It doesn't include a stand
It only comes with one pedal
$1500 is a large investment for adult beginners