Nord Wave 2 Review
We rated the Nord Wave 2 a 10/10. We love Nords here at Best Piano Keyboards. There's so much to like! (Well, except for the high price…). The Nord Wave 2 has over 4000 slots, and the keyboard can be split up to 4 times with 4 different sounds. With just 61 keys, you can play up to 5 octaves. This extremely versatile synth is a keeper through and through.
We rated the Nord Wave 2 a 10/10. We love Nords here at Best Piano Keyboards. There's so much to like! (Well, except for the high price…). The Nord Wave 2 has over 4000 slots, and the keyboard can be split up to 4 times with 4 different sounds. With just 61 keys, you can play up to 5 octaves. This extremely versatile synth is a keeper through and through.
Overview
Last time, we reviewed Nord's A 1. Now, we're here with yet another Nord Synth. This time, we're back at it with the Nord Wave 2. Today we will take a peek at its features and specs, as well as Amazon reviews, pros and cons, and comparative instruments. But first, check out this intro video created by Nord, introducing the instrument! 
Nord Wave 2 Features
Amazon describes the Nord as:
'A powerful 4-part performance synthesizer combining virtual analog synthesis, samples, FM, and wavetable with an intuitive layer-focused interface. With 48 voice polyphony, innovative performance features, and hands-on controls, the Nord Wave 2 offers outstanding sonic possibilities with advanced layering and tweaking on the fly. ' 
Sounds promising. Let's get into the nitty-gritty details!
It Has 5 Octaves 
First things first, this instrument has five octaves. So, if you thought that you were impressed with the Nord A1's four-octave range, get ready to rumba (compositionally, that is. ) The octave shift buttons make it super simple to switch back and forth between ranges.  In addition to this, the Nord Wave 2 has 61 touch-sensitive keys.
Virtual Analog Synthesis
If you have read our other Nord reviews, you already know what this is. In essence, a virtual analog synth is a digital synth that replicates old analog instruments. So no, it isn't technically a real analog. But there are pros to that! 
Analog synths didn't really have any slots for internal storage. But this one does!
If you're still interested in the analog synthesizers of old, check out these instruments here. This video gives you a taste of how they work.
Another pro to having a visual analog synth, as you can see, is that you don't need to warm them up in order to have them be in tune. Hah! 
The Interface is Layer-Focused 
The Nord Wave's layer-focused interface allows you to add or remove layers with ease. There's little to no hassle when it comes to editing and deleting when you have a piece of music in progress. This tutorial better explains how layering and groups works.
Nord's Signature Build 
This should go without saying, but, when you buy a Nord, you get an extremely high-quality instrument. All Nords are built with metal and wood components. All of their models are also bright red, which guarantees that you'll stand out from the gigging crowd. 
Keyboard Split, Times Four
You have four synthesizers at your fingertips, essentially. At least, this is one way that you can use this instrument (you can also use it as a four-oscillator synth, but we will get more into that later). When we compare the Nord Wave 2 to the Nord Lead A1, we noticed that Wave 2 has more splitting power. A lot of keyboards have the split function, but not very many have the option to split the keyboard 4 times. Most of them are just 2, or maybe 3 on a good day. I'm impressed!
A Whopping 400 Slots 
400 slots is a lot of room. This makes the Nord Wave 2 ideal for all those performing composers out there. There is also something called 'flexible hold' which allows you to choose and hold these slots independently from one another. 
Many Possibilities
With 400 slots and Nords 3.0 sampling engine, you are in for a treat. I know that we mostly have focused on classical articles and weighted-key pianos, so I'm going to keep using you in about synths as we go. 
This synth is multi-timbral and has an oscillator with great modulation. That means that you don't only get the Nord 3.0 samples…You can make your own unique sounds on synthesizers too. The thing about synths is that they offer you fewer keys (a con) than pianos, but much more freedom in the realm of sound waves, samples, patches, and storage. 
Smooth Oscillator Modulation 
The Oscillator modulation on the Nord Wave 2 is out of this world. Basically, in the music world, modulation means that you are changing something. A chord can modulate, but so can a timbre or a waveform, or an oscillator. With oscillator modulation, you can switch from one type of sound wave to another, seamlessly. 
Ergonomic Design
The design of the Nord Wave 2 feels buttery it is so ergonomic. And it's really convenient that you can access the following features with your left hand:
Change-Dial

Octave Shift

Keyboard Focus

Panel
Clavia-Patented Pitch Stick
Using this, you can add really obvious, or very subtle vibratos. Wait, many of you probably don't know what a pitch stick is! Hang on here just a moment…
A pitch stick is a mechanism on a synthesizer that is sort of like the modulation of a pitch wheel. It has been really popular with Roland instruments since the '80s. Basically, moving it one way affects the pitch, and moving it the other way affects the modulation. It's super convenient that this one mechanism can affect both pitch and modulation. 
Since this is a patented pitch stick, you won't find this specific feature on other instruments besides the Nord/Clavia. 
A Great Sound Resonance Filters
The sound resonance filters have a slope of 24 decibels, which gets applied to the sound you are sampling. This feature is a favorite among those who have purchased the Nord Wave 2. But if you are a noobie and aren't quite on the synth boat yet? You can learn more about sound resonance here.
You Get the Best Parts of Analog
While, again, this is a digital synth, you still get the best of analog, like:
Modulation and amplifier envelopes

Effects

Filters

LFOs
These modulation envelopes mentioned above can be set to either AD or AR. For reference, AD and AR are popular in modulation envelopes within newer synths, like the Nord Wave 2. Envelopes can be used to change just about anything about a sound. AD stands for Attack Delay, which means that it makes the sound go up to the maximum, and then (sharply) back down again. AR, on the other hand, stands for Attack Release. It does something similar to AD when it comes to the sound wave, but it adds sustain into the mix, before the release. 
You can learn more about envelopes here.
I won't go too much into depth with effects and filters right now, so stay tuned for other synth reviews, where I will spread out nuggets of music education into the mix! 
61 Waterfall Keys
Waterfall keys are the same type of key that you would find on an organ. This is something that wasn't really invented until the 21st century. The lip doesn't protrude. While, for many musicians, this isn't a big deal, it does help you create special effects easier, such as the palm smearing effect. 
Stellar Software Tools
Nords tools, the Nord Sound Manager, and the Nord Sample Editor work with the Wave 2 flawlessly. 
Nord Sound Manager 
This tool lets you rename just about everything on your instrument- Such as sounds, and programs. You can also back up everything inside this program. I love that this feature keeps your music both safe, and organized. You can learn more about it here.
Nord Sample Editor 
This tool lets you make custom samples for your instrument. While this is already possible on your instrument, it makes it far easier. Here's the down-low on the Nord Sample Editor 4.
You Can Combine Analog and FM Synthesis
Because the Nord WAve 2 has both a virtual analog and FM synth engine, you can split the keyboard and mix and match your sounds, for a more unique compositional experience. 
Wavetable
Wavetable allows you to make something called 'periodic waveforms'. Wait, what in the world is a periodic waveform? Well, I'm so glad you asked! 
According to EEweb.com:
"A periodic wave is a wave with a repeating continuous pattern which determines its wavelength and frequency. It is characterized by the amplitude, a period, and a frequency." 
You have probably already heard of some types of periodic waveform. Here are the most common ones:
Sine

Triangle

Sawtooth

Square
And if you want to check out how these waveforms sound before you get a synth, head on over to Google. No, I'm not kidding. While Chrome Music Labs look like it's for kids, it's actually taught me a fair bit about how sound waves sound! You can check out the oscillator here.
Noise and Misc Waveforms 
You can randomize your waveforms, as well as get more unusual sounds, such as noise waveforms. This makes adding effects and intriguing sounds easy!
The Morphing Section
Many musicians say that the morphing section of the Nord Wave 2 is drool-worthy. I have to agree. With this, you can even crossfade your sound. Here's a tutorial on this instrument's morph section.
The Slot Function
Nope, I'm not repeating myself here. While there are 400 slots, this instrument also has a function called 'slot'. This allows you to toggle between two sounds without cutting anything off abruptly. You can also use the slot function to layer sounds together to make a whole new color palette of sound. 
Divine Presets 
Take a listen to the first 25 preset patches here.
They sound crisp and full, and there is a ton of variety. Need I say more?!
It has the Nord Sample Library 3.0
The Nord Sample Library 3.0 is a sound engine with a load of variety as well. Here are some of the types of sounds it includes: 
Accordion / Harmonium

Brass

Bass

Ukelele, Guitar, and Plucked Strings

Organ

Orchestral

Pianos

Tuned Percussion

Analog Strings

Strings

Woodwinds

Synths

And Voice 
Some of the more popular and unusual samples include the:
These are from a tape sampler. They're really cool! Check them out on the Nord site here.
Any Audio File Can Be a Sound Source 
You can use any standard file to be the source for your oscillator. This is a feature that is new to Nord synthesizers.
It's Built to be User Friendly 
Once again, need I say more?! The layout is great here. You absolutely have to try this one out in stores, even if you aren't planning on buying it. 
Other Features and Effects
Other features and effects include: 
True unison mode

Both harmonic and inharmonic algorithms

A reverb section with five sizes

A gate feature

3 delay modes

Sample slots that can be replaced

Volume and pan faders
Specifications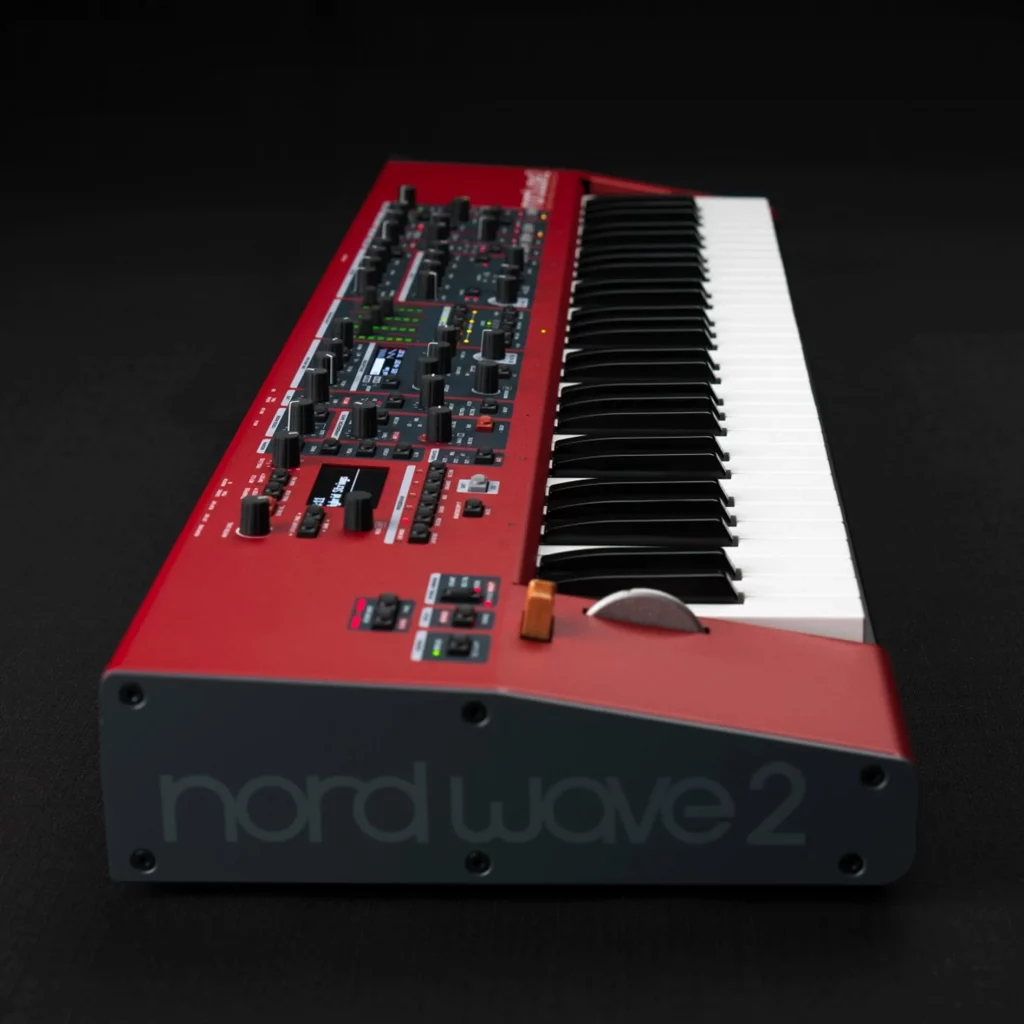 Weight:

20 pounds

Approximate dimensions:

39 x 12 x 4

Type of keys:

Waterfall

Reverb sizes:

5

Synths

: 4

Memory:

1 Gigabyte 
Who Is It Suitable For?
Because this instrument is so expensive, I wouldn't recommend it for beginners. This instrument is clearly one that is built for the performer. I would highly recommend the Nord Wave 2 to performing artists and composers alike.
Nord Wave 2 In Action 
Here we go! All playing, no talking. Just you, me, and the Nord Wave 2. 
Here are some of my reflections on it after watching the video:
The first synth sound is mild and warm. It almost gave me goosebumps!

The way the instrument and the artist fades sounds in and out is seamless 

The master clock ability really makes the rhythmic crispness shine through

I honestly can't get over how versatile this is when it comes to genres. You could use this instrument for

anything

. EDM shows? Yes. Pop music festivals? Yes, and yes again. 
Musicians Who Play the Nord Wave 2
There are quite a few musicians who have taken on this brilliant gigging synth. So, let's check out who plays on them! The following musicians are certified Nord Artists who play on Wave 2.
Mark Baron 

Bigyuki

Parris Bowens 
Mark Baron has played for everyone from The Beach Boys to Kelly Clarkson. Bigyuki is a keyboardist and songwriter from Japan, who is known for his fusion work. Bowens has played for Timbaland, Justin Timberlake, and Israel and the New Breed. It's clear to see that the Nord Wave 2 has made it big. 
Amazon Reviews
Before we get into my pros and cons, I wanted to take a peek at what other musicians/ customers had to say about the Nord Wave 2. 
This instrument is rated five out of five stars on Amazon! But wait a minute, it only has one review! I guess this section is going to be biased this week. Oh well. The customer who left said a five-star rating didn't give an explanation as to why it was so good, so, I suppose I am going to go extra heavy on the pros and cons list today. 
Pros and Cons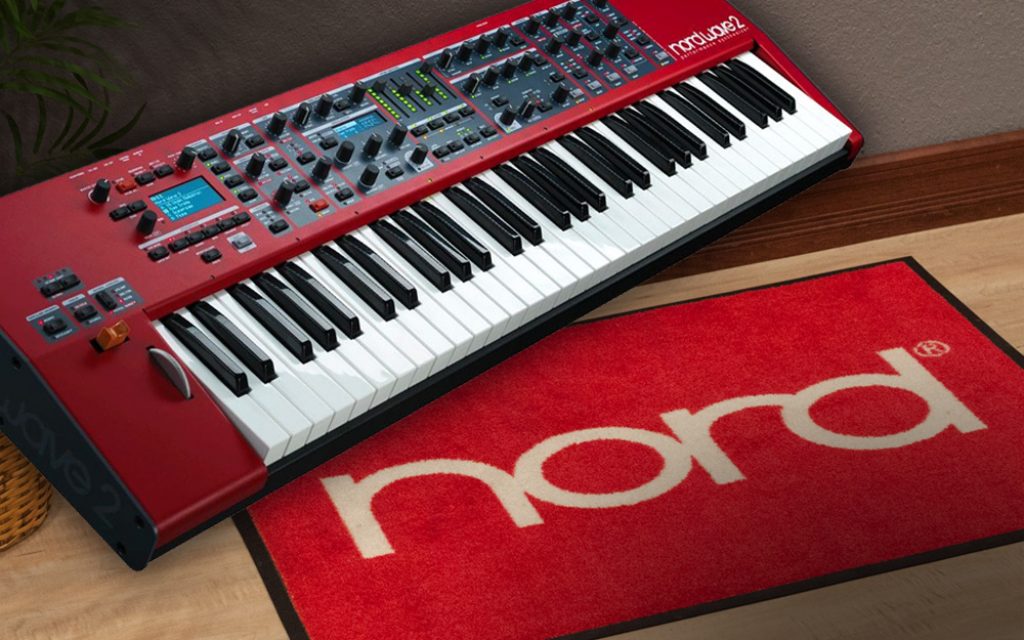 Pros
Because it only has one modular, this thing is really quite easy to use 

It is lightweight and easy to carry 

The keys have a professional feel

The style of the keys makes it easy to create special effects

It lets you mix sound engines, leading to the seriously big audio

The reverb button makes it really easy to give it that extra pizzaz

There are plenty of effects and sounds

It is versatile 

You can edit and play with the audio as you go 

The Master Clock helps you sync and edit

It has 1 gigabyte of space total, which is really all you need 

It has a place for a sustain pedal, even 

Has two screens

It is built really sturdy

It looks sleek, bright, and modern to boot 
Cons
Only has one LFO

It only has two envelope filters

It isn't technically a sampler 

It's really expensive

It doesn't have any speakers

It doesn't come with accessories
There is only technically one LFO and two envelope filters. And, speaking of technology, this instrument isn't really a sampler, but in my opinion, it pretty much works as such. If you know Nord, then you know not to expect any speakers or extra accessories. And all of that leads up to the most common complaint…It is expensive.
Nord Wave 2 Quick View 
Keys

61 keys

Touch sensitivity 

Aftertouch sensitivity

Sounds

Nord Sample Library 3.0, and more (Since this is a 4-part, multi-timbral synth, many sounds can be made from it)

Recording capabilities 

C

MIDI, USB type B port 

Metronome

Master Clock

Polyphony 

48 notes

Speakers

No

Headphones

Yes, 1 headphone jack 

Accessories

There are no accessories with this package

Price point 

$2,699
Nord Wave 2 Vs Stage 3
The biggest difference is that the Nord Stage 3 is a piano, whereas the Nord Wave 2 is a synthesizer. If you've been sticking around and reading our reviews, you probably already know a bit about Stage 3! But I'll cue you guys in again, in case some of you are new. 
Nord Stage 3
It's pretty clear to see that the Nord Wave 2 is quite different from the Nord Stage 3. So, take a hard look at them both, but first and foremost? Think about what you want. The Nord Stage 3 is a full-sized, GHS weighted piano. It's a lot larger (and heavier) than the Wave 2, and focuses much more on traditional piano sounds. It is almost $5000, so the price difference is huge. You can check it out here.
Comparable Synthesizers
Here are the synths that musicians out there are most often comparing the Nord Wave 2 to:
Stage 3

Lead 4

Prophet 6

Novation Summitt
Yep, you saw it. The Nord Wave 2's biggest competition is…The Nord Stage 3 and the Nord Lead 4. Nord is so high quality, that really, it only ever competes with itself. If you are a Nord person, you know. That all being said, if you aren't a huge fan of 'The Red Brand', you can check out the following instruments:
Prophet 6
Sequential's Prophet 6 has been around for a few years now. So, how does it compare to the Nord Wave 2? 
So, the Prophet doesn't have a screen or much of anything in the modulation department. If you like simplicity? Great! If you want complex? Look elsewhere. 
This synthesizer definitely has a different flavor than the Nord. If you like the Prophet, you probably won't care for the Nord, or vice versa. After taking a listen, it is clear that these would be used for very different things. It gives me more of a soundscape artist vibe than the Nord does.
This instrument adds up to a whopping $2,999. That's just a dollar short of 3k! Oh, and don't forget the tax… Honestly, I'm not a huge fan of how this instrument doesn't have modulation or a screen but costs more than the Nord! 
Novation Summit
Unfortunately, the Nord Wave 2 only has the capacity of one LFO per layer. So, if you are looking for a little bit more in the LFO department, consider the Summit. In addition to this, the FM engine is rumored to be excellent at the Novation Summit. That being said, while there are 16 voices, it is ultimately a two-part synth. Would you rather take a four-part synth or a two-part? Personally? The Nord Wave 2 is still my favorite of the two.  At $2,199 it is a little less expensive, but it's not really my cup of tea. 
Daniel Fisher plays a demo of the instrument here.
Conclusion 
Thanks for sticking around for this Nord Wave 2 review. This model is yet another great synthesizer. Personally, I prefer it over the Nord Lead A 1. But try it out for yourself, and let us know what you think in the comments!
Be sure to come back soon on Best Piano Keyboards for more reviews. See ya! 

We rated the Nord Wave 2 a 10/10. We love Nords here at Best Piano Keyboards. There's so much to like! (Well, except for the high price…). The Nord Wave 2 has over 4000 slots, and the keyboard can be split up to 4 times with 4 different sounds. With just 61 keys, you can play up to 5 octaves. This extremely versatile synth is a keeper through and through.
PROS
Because it only has one modular, this thing is really quite easy to use
It is lightweight and easy to carry
The keys have a professional feel
The style of the keys makes it easy to create special effects
It lets you mix sound engines, leading to the seriously big audio
The reverb button makes it really easy to give it that extra pizzaz
There are plenty of effects and sounds
It is versatile
You can edit and play with the audio as you go
The Master Clock helps you sync and edit
It has 1 gigabyte of space total, which is really all you need
It has a place for a sustain pedal, even
It has two screens
It is built really sturdy
It looks sleek, bright, and modern to boot
CONS
It only has one LFO
It only has two envelope filters
It isn't technically a sampler
It's really expensive
It doesn't have any speakers
It doesn't come with accessories