Roland RD-88 Review
We rated the Roland RD-88 a 9.5/10. This keyboard features Roland's signature SuperNATURAL sounds and was designed with playability in mind. The effects and built-in audio interface make it one of the best choices on the market for performers and producers. The reassigning capabilities and synths will definitely please those who are into electronic genres. Also, the speakers are very powerful even have tweeters! We do wish the polyphony were a bit higher, so we took off just a half-point.
We rated the Roland RD-88 a 9.5/10. This keyboard features Roland's signature SuperNATURAL sounds and was designed with playability in mind. The effects and built-in audio interface make it one of the best choices on the market for performers and producers. The reassigning capabilities and synths will definitely please those who are into electronic genres. Also, the speakers are very powerful even have tweeters! We do wish the polyphony were a bit higher, so we took off just a half-point.
Hello! Are you in the market for a piano keyboard? Or, maybe you're looking to increase your knowledge about different brands of pianos so that you can recommend models to your students. Either way, we are here to help. This instrument is a great one for both advanced students, and professionals. Today, we are looking into an economical, full-sized piano in this Roland RD-88 review. 
Overview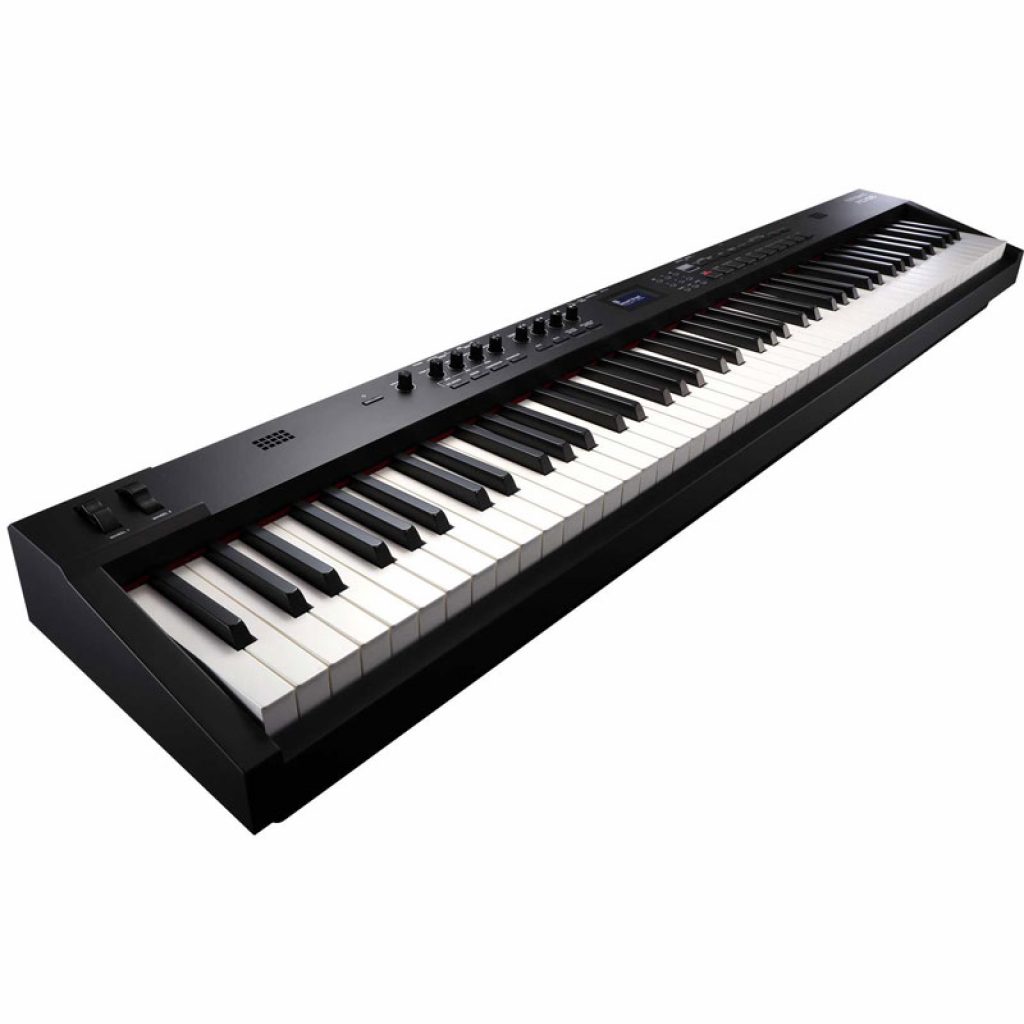 The Roland RD-88 electric piano is a professional stage piano. It's easy to carry and is built to be compact so that you can travel with it. At first glance, it has a lot of high-quality sounds, including many synthesizer samples, which were borrowed from some of Roland's other electronic instrument soundbanks. It is rated over 4 stars on Amazon, which is a promising sign…But is it as good as they say? 
We are about to find out! 
Before we get into the features, let's learn a little bit about Roland itself.
Roland
Roland touts itself as being "the choice of professional keyboardists" for over 30 years. So let's dive into the brand.
Roland is a household name, just like Casio and Yamaha. These instruments are made by the Roland Corporation, which is an electronic instrument manufacturer from Japan. They were first founded in 1972 (Wikipedia). Roland produces electronic pianos, synths, and music software. Roland produces a ton of music equipment. For example, Boss looper pedals have gained quite a bit of traction in the music industry, especially after Ed Sheeran popularized them. Boss is actually owned by Roland. I don't personally own a Roland piano, but I do own a Boss loop pedal. Its electronics are buttery, so, I can attest to the quality of Roland's electronics as a while. I simply adore my pedal. 
Brand Sidenote: Interestingly enough, I recently learned that the brand Korg purchased both Yamaha's electronic instruments division, as well as Roland in its entirety, in 2011. 
Features
The Roland RD 88 digital piano is worthy of more than four stars, given these features. Let's check them out in detail! 
Great Synth Sounds
The Roland RD-88 has wonderful synth sounds. This is because Roland took their Zen Core sound engine from their flagship synthesizer, and popped it into this model. Really, when you get the Roland RD-88, you are essentially purchasing both a synthesizer and a stage piano. 
The Zen CORE synthesizer sound engine system has over three thousand sounds inside the engine. In my most recent reviews, I have been complaining that there are not enough sounds in some of these newer pianos. People are often paying over a thousand dollars for a piano with only thirty basic sounds. Great sampling or not, thirty sounds is simply not enough for that price tag. Roland is blowing us out of the water with all of these options here. 
According to Roland, the Zen CORE system was built based on over thirty years of synthesizer research. It works really well with just about any DAW, to boot! In addition to all this, they make it really easy to share your sounds with a producer or fellow collaborator. Gone are the days of sound-sampling hindrances. You can share these sounds with both hardware and software. Hello, Roland! 
To learn more about Zen CORE itself, check out the link here.
Three Zones
The Amazon product listing of the RD-88 mentions that, oftentimes, we musicians want to include a sound sample library that is not currently on our electronic instrument. The Roland RD-88 has three sound zones. Basically, sound zones allow you to add and control sounds. This is all done through something called Apple Mainstage. This model makes it easy to mix and match sounds in a way that wasn't possible before. 
Apple Mainstage
According to Apple, Apple Mainstage turns your MAC computer into an instrument. Now, a con to this would be if you a PC person… Anyways, besides the brand issue, Apple Mainstage looks really cool. It is normally $29.99 on the Apple store, which is pretty economical considering all it has to offer. 
Apple Mainstage's motto is "Sound as great on stage as you do in the studio". This software is specifically for gigging. According to Apple, with Mainstage, you can "Turn your MAC into a live rig". (Not to mention, it is super compatible with Logic Pro). It has tons of sounds and plug-ins. That's right, you can have even more sounds for your piano. I think I've lost count of how many sound options there are on the Roland RD-88…have you? Anyways. 
It also features something called multimapping, which means that you can program multiple changes in the sound, but only have to push one button to activate them. It also has a feature that allows a more seamless transition between patches. Mainstage's arpeggiator makes it really easy to get creative and fill out the sound. I could go on and on, but I will stop for now. To learn more about Apple Mainstage itself, check out this site.
Made For for Playability
The Roland RD-88 has been described as buttery, just like I said about my Boss pedal. The company claims that the instrument feels smooth and 'never spongy', something that many other pianists have attested to. This instrument is not quite as hard to press down weight-wise when we compare it to Yamaha's weighted keyboards. All of this is about personal preference, of course. Some people are Yamaha people, other people are Roland people. Find your brand, by trying out a bunch of instruments at your local store! Then, save money by purchasing them through Amazon. 
SuperNATURAL Pianos
The Roland RD-88 has much more than just synthesizer sounds. It also has a piano sound engine, titled SuperNATURAL pianos. But just how fantastical is it? Let's see…
SuperNATURAL is the technology Roland uses for all of its electronic instruments. In this technology, they attribute a separate sound engine for each instrument. So, the flute sound engine is different than the guitar sample sound engine, which is different from the piano sound engine…
This is wonderful. Roland's mentality here was that articulations are all very different between instruments (flutes tongue to achieve their sound, violins use a bow, etc…). Then, they considered all of the different types of accents and articulations those individual instruments would use. They decided that the old way everyone was sampling was one-dimensional, so, they reinvented the wheel. I'm a huge fan of this technology and how it sounds in action, and so are many other professionals. 
This is section just skimming the surface on what Roland's new sound engines can do. In order to learn more about SuperNATURAL technology, click here.
A Wonderful On-Board Speaker System
The Roland RD-88's speaker system is self-described as 'room-filling. I did a little bit of research and discovered why. 
This model has Roland's normal speakers, as well as tweeters. So, it has four speakers in total. In case you don't already know, tweeters are treble speakers. This inclusion of tweeters is relatively unusual, but as a lover of high-end sounds, I am here for it! 
Easy-To-Use
The piano keyboard set-up is extremely user-friendly on this instrument model in particular. The knobs and controls are all intuitively placed and clearly labeled. This makes it an ideal piano for the serious classical beginner. 
It has a Built-In Audio Interface
What is the perk of having a built-in audio interface, you might ask? Well, you can plug it directly into your computer. With many instruments, you first need to plug them into your interface (such as an M-Audio 8-track), and then plug your computer in to that interface via a USB. With the Roland RD-88, all you need to do is have a USB to MIDI cable. Your computer can plug directly into your piano, because of this internal interface. 
This means that you can also take sounds from say, Reason or Logic, and have them come back through the USB, and have it come through the output of the keyboard. It's like a mini-studio, with just two parts! 
Reassigning Capabilities
There are 8 main knobs on the user interface itself. The really cool thing is, if you don't happen to like how the setup is, you can reassign the knobs yourself (with a little help from the manual).
Full of Effects
As if we didn't have enough in the sound department already. The Roland RD-88 also has a plethora of effects. It has a whopping ninety zone multi-effects. It also has EQ-ing, reverbs, choruses, delays, and more. 
As far as Zone multi-effects go, there are 90 types split into 3 systems. There are also 3 systems for tone color and EQ. You can add in regular reverb (there are 6 types), or use input reverb. Roland blows us out of the water here by also including sympathetic resonance and a compressor.
PHA-4 Standard Action
The PHA-4 action on the Roland RD-88 has wonderful touch sensitivity. The PHA-4 includes something called ivory touch, which simulates the feel of acoustic pianos of old. 
DAW Control 
This instrument has wonderful connectivity, which allows you to enter DAW control mode. This makes it a great keyboard for producers. 
Impressive Layer and Split Features
This instruments has impressive layer and split features. I normally insist that pianos over one thousand dollars should have both a split and layer function. That is the bare minimum. And most brands give us just that. But this piano, however, gives us a little bit more. The Roland RD-88's layer function allows you to layer three sounds instead of the usual two. The same goes for split- You can split your keyboard into three, not just two. This allows the player to have a plethora more sound options at their fingertips. 
Specifications

Weight:

About 30 pounds / 13.5 Kilograms

Instrument Dimensions:

Roughly 50" by 10 " by 6.5" 

LCD Screen Dimensions:

128 x 64 (dots) 

Audio Quality:

6W x 2
Who Is the Roland RD-88 Suitable For?
The Roland RD 88 Stage Piano is suitable for a surprisingly wide variety of players. The first group that comes to mind when I think of the Roland RD-88 is the professional pianist on-the-go. If you play keys for a cover band, jazz, or even the occasional classical piece, this piano would be a great choice for you. This is because it is both full-sized and lightweight. It is also compact. What does this all say about the Roland? It is meant for moving. The company intentionally made it easy to put together and take apart, for super easy transport in small vehicles. 
This model is also great for the advanced beginner, who may someday take their piano on the road. With all of the new technology this instrument has to offer, you won't be needing an upgrade anytime soon.
Electronic music producers will find themselves equally as happy with the Roland RD-88, for both live shows, and for recording. With its remote DAW control, and Apple Mainstream subscription (for live performances), it's easy to see why producers and performers are going to nuts for this electronic keyboard. Musicians who air on the experimental side will especially enjoy the RD-88 model. And the great thing is, you don't necessarily have to be a pro to use it. Because the RD line was designed for user accessibility, anyone can navigate it. It is very rare that I would say that an electric keyboard is for everyone, but…The Roland RD-88 is for (just about) everyone. 
Roland RD-88 In Action / Video Review
Bonners Music has created a full demo and review on this keyboard. Let's head on over to Youtube and see what some more professionals have to say!
The first impression I got of the introduction music on this instrument was one word: Svelte. The piano sounds (especially in the high range) are authentic and clear. The tweeters make the upper register absolutely sing. That's it, I am in love with tweeters on pianos. If you get the chance, at least check out the first thirty seconds or so of the video. 
Tony begins chatting about the buyer's guide tour he's about to take us on. In case you don't have time to watch the whole thing, you can read a few of the key points from the video here: 
It has pretty small monitor speakers, but external outputs

Ideal for both stage and studio

It fits really nicely on a desk due to its compact nature

He mentions more about how Mainstage integrates with your computer and keyboard. 
The sound he plays, in the beginning, is a sample called Concert Grand, which is quite lovely for classical pieces. Earlier in this review, I said that this piano would be great for 'the occasional classical piece' but I am starting to change my mind here. Roland has pulled a magic trick on us and created an instrument that has both professional synthesizers for electronic musicians, as much as it has created professional grand piano sounds for pianists…I am impressed! If you would like to hear Tony play it more, skip to 7 minutes in. 
Amazon Reviews
The Roland RD-88 has been rated 4.3 stars. 
One common complaint is that this product is low volume. Minus a few incidents of pianists being sent the wrong model or something faulty, all of the other reviews are good. There are a lot of people out there that really love the action on this model in particular. It is easier to press down than a lot of the other models out there (namely, Yamaha). Overall, those who have bought this keyboard seem to be charmed! 
Pros and Cons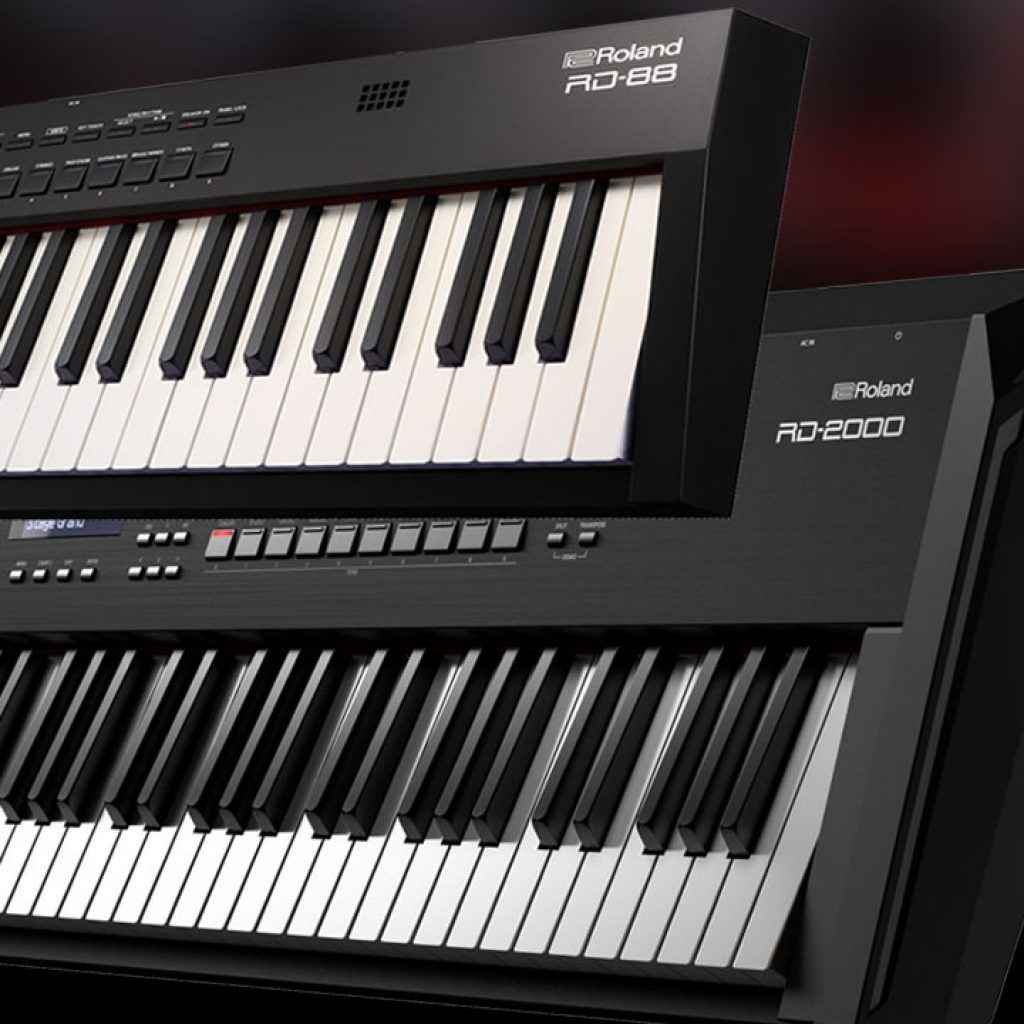 Photo Credit: Amazon 
Pros
It is lightweight

Compact

It has a MIDI control option

Over 3000 synth sounds

It has both pitch bend and modulation wheels

It includes state-of-the-art sampling technology

Includes more than 90 effects

It is full-sized yet portable

It is quick to pack up and tear down

The PHA-4 makes it feel like an authentic, acoustic piano

It has touch sensitivity

The keys are made from high-quality, simulated ivory

It is playable

It makes the piano accessible and simple for beginners

Has a plethora of sound engines, not just one

It has a powerful speaker system, including tweeters

It comes with a damper pedal

Very compatible with MAC products/ the DAW program Logic

With the three sound zones, you can add in samples from other libraries to your keyboard

Roland makes it really easy to share sounds from this instrument

Overall, it appeals to a wide range of pianists and producers alike
The RD line of Roland pianos has been around since the 1980s, and it is clear to see why. Roland's aim in this line is to create great-sounding, easy-to-use instruments. In my opinion, the RD-88 is a success! The best pros to this instrument are: its sound samples, the sound engine, and its lightweight, compact portability. 
Cons
The instrument does not come with a sustain pedal 

It doesn't come with a bench or headphones

Some newbies struggle to find a specific sound sample

It is a big investment for a beginner

There is no aftertouch

The polyphony could stand to be higher

The soft synth/ Apple Mainstage perks are only relevant if you have a MAC computer
While I am all about constructive criticism, it's clear to see that there isn't much to complain about when it comes to the Roland RD-88. 
Apart from not including a sustain pedal, bench or headphones, and having so many sounds that it can be hard to find what you're looking for without getting distracted, I've got nothing. A lot of people are saying "Where is the aftertouch on this model?" but frankly, with the PHA-4 and Roland's touch sensitivity, it doesn't really need it. The last con is that starving artists may struggle to pool together the money for this beautiful keyboard, but it really is worth it. 
Quick View 
Keys

88 weighted piano keys (made from simulated ivory)

Touch sensitivity 

Yes

Sounds

Over 3000 synth and piano sounds

Recording capabilities 

C I

USB to MIDI, DAW Control 

Metronome

Yes

Polyphony 

128 note polyphony

Speakers

Yes-  Two sets of speakers (full range, and tweeters)

Measurements

Full range: 12cm x 2

Tweeters 2cm x 2

Headphones

One headphone jack

Accessories

Pedal Switch, Damper Pedal, Leaflet on safety, owners manual, AC apartor and power cord

Price point 

$1,299
Another Piano Recommendation
If it doesn't look like the RD-88 is exactly the piano for you, try the FP-30. The FP-30 is similar to the RD-88 in both its design and appearance, but it is designed more for beginners. It has great audio, and a comparable action to the 88. So, if you like the idea of the Roland RD-88, but are looking for something a little more economical with less sounds, try the FP. It runs about $800-$900 and you can find it on Amazon here. 
Conclusion
In conclusion, the Roland RD-88 is beautiful instrument that will suit many musicians, from the keyboard player in a cover band to the beginning classical pianist, to the music school graduate. Some of the RD-88's best features include: new sound technology, tons of sound engines, full-sounding speakers, and an easy-to-use piano interface. I would highly recommend this instrument to just about anybody who is a Roland fan, and in the market for the piano. If you want both a synthesizer and a stage piano but can only afford one, this instrument is a no-brainer. 
Do you want us to review a specific keyboard? Let us know in the comments! And, if you have tried the Roland RD-88, we'd love to know what you think about it. Until next time!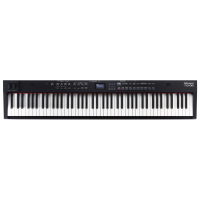 We rated the Roland RD-88 a 9.5/10. This keyboard features Roland's signature SuperNATURAL sounds and was designed with playability in mind. The effects and built-in audio interface make it one of the best choices on the market for performers and producers. The reassigning capabilities and synths will definitely please those who are into electronic genres. Also, the speakers are very powerful even have tweeters! We do wish the polyphony were a bit higher, so we took off just a half-point.
PROS
It is lightweight
It is compact
It has a MIDI control option
It has over 3000 synth sounds
It has both pitch bend and modulation wheels
It includes state-of-the-art sampling technology
It includes more than 90 effects
It is full-sized yet portable
It is quick to pack up and tear down
The PHA-4 makes it feel like an authentic, acoustic piano
It has touch sensitivity
The keys are made from high-quality, simulated ivory
It is playable
It makes the piano accessible and simple for beginners
It has a plethora of sound engines, not just one
It has a powerful speaker system, including tweeters
It comes with a damper pedal
It is very compatible with MAC products/ the DAW program Logic
With the three sound zones, you can add in samples from other libraries to your keyboard
Roland makes it really easy to share sounds from this instrument
Overall, it appeals to a wide range of pianists and producers alike
CONS
The instrument does not come with a sustain pedal
It doesn't come with a bench or headphones
Some newbies struggle to find a specific sound sample
It is a big investment for a beginner
There is no aftertouch
The polyphony could stand to be higher
The soft synth/ Apple Mainstage perks are only relevant if you have a MAC computer