Kawai VPC-1 Review
We rated the Kawai VPC-1 a rating 10/10. This piano controller is a wonderful tool to have at your disposal if you are interested in music production. From its wooden key action to its no-nonsense interface, and plug-and-play, we believe that it's hard to go wrong with this model! While it is one of the most expensive controllers on the market, it's worth it
We rated the Kawai VPC-1 a rating 10/10. This piano controller is a wonderful tool to have at your disposal if you are interested in music production. From its wooden key action to its no-nonsense interface, and plug-and-play, we believe that it's hard to go wrong with this model! While it is one of the most expensive controllers on the market, it's worth it.
Kawai VPC-1: Overview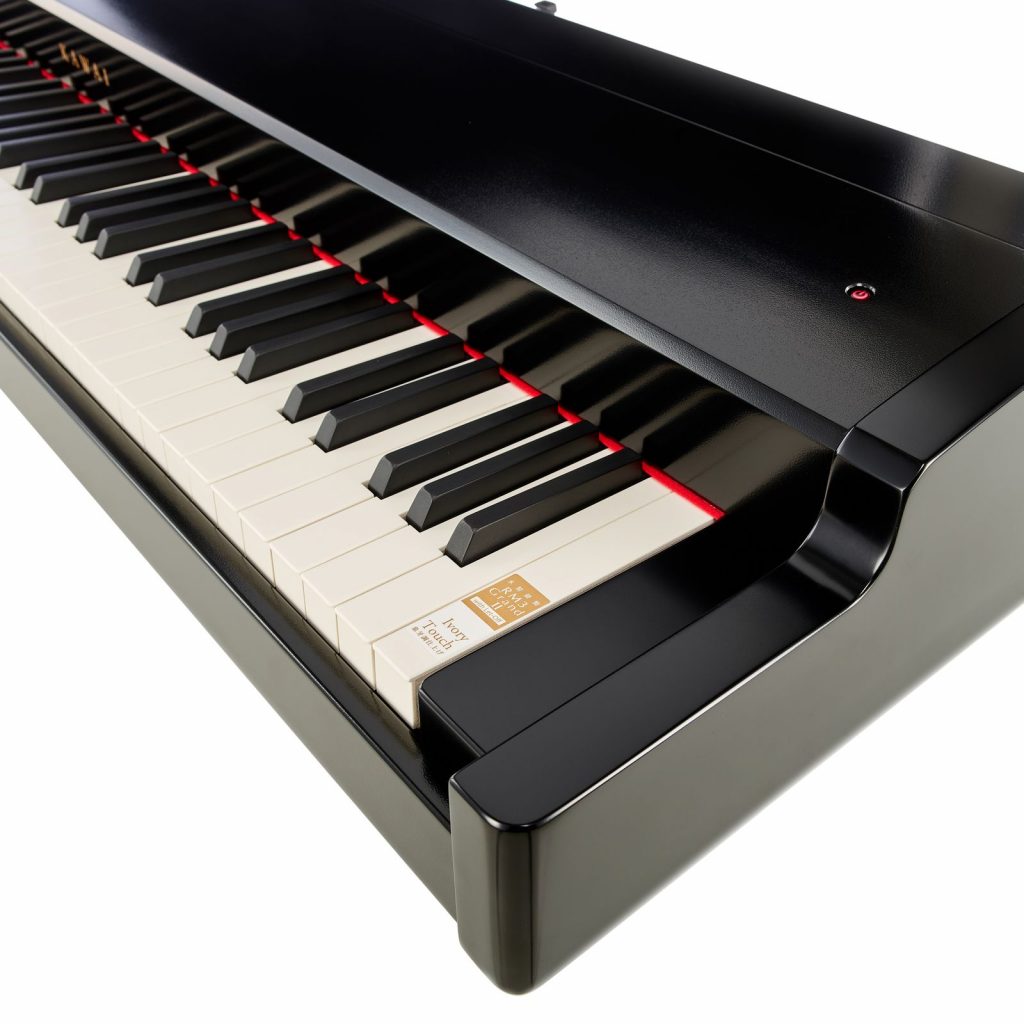 VPC stands for virtual piano controller: The Kawai VPC-1 is a pro-grade piano controller with wooden keys and a sturdy frame. Because the controller is so basic in its setup, it's accessible to a wide range of audiences, from beginners to pros! The renowned German Pianist Herbert Grönemeyer uses this VPC, as well as other top-tier Kawai instruments. When he's using it, you know it's worth checking out. 
The VPC-1 is the only piano controller to be made by Kawai so far and was first released around 2013. Many musicians have been asking about the potential for a VPC-2 on various music production forums, but there is no information on a new model quite yet. But, given this piece of equipment's popularity and long life on the market, I wouldn't be surprised to see a VPC-2 release at NAMM in the next few years. 
Features
Easy Setup, Great Connectivity
In terms of connectivity, the VPC-1 is super simple to set up and use. Its connectivity is great. And, since it has both USB and MIDI ports, you can connect it to pretty much any DAW (digital audio workstation) and music software. There are no drivers for the VPC-1, it's just plug-and-play. I love plug-and-play MIDI controllers- They save us music makers a ton of headaches. 
Custom Touch Curves 
Touch curve is a parameter that is sometimes adjustable on digital instruments, and sometimes not. The higher-end an instrument, the more options you typically get. The Kawai VPC-1 has this adjustable touch curve, which allows you to change the velocity setting. 
Stunner of a Keybed
The VPC-1 has a stunning keyboard with all the goodies. According to Kawai, this keybed includes RM3 Grand Action II with:
88 wooden keys

Grade-weighted hammers

Ivory Touch white key surfaces

Let-off simulation

Triple sensor key detection

Counterweights
RM3 keyboard technology accurately reproduces the feel and touch of a real grand piano. These wooden weighted, graded keys are a must-have for those recording with MIDI instruments professionally. This model is really cool because it combines the feel of a grand piano with a MIDI controller. I've never seen anything else like it! 
Versatility is the VPC-1's Strong Suit
The VPC-1 is also incredibly versatile, in several senses. It has a bevy of programmable features and lends well to customization. It also has four pedal inputs, which is one more than you usually get! Speaking of pedals…
Impressive Pedal Capabilities, Included Unit
The Kawai VPC-1 actually comes with an included 3-pedal unit, so you get more for your money.  It supports half-pedaling too, a feature that can be quite hard to find in this type of keyboard. 
Included Controller Editing Software
This piano controller comes with Kawai's VPC editor for Windows and MAC. Within this, you can adjust the velocity offset, touch the curve, and monitor the controller in real-time. I wish it came with an extra besides this, but it's pretty clear at this point that Kawai is going for minimalism. 
Specifications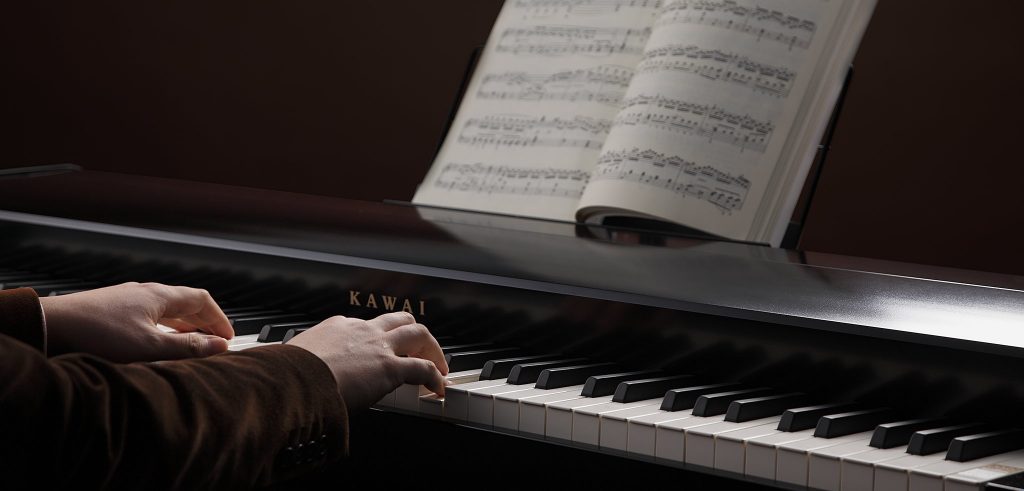 (Sourced from Sweetwater.com) 
Weight

: 65 pounds

Dimensions:

Height: 7.33 inches

Width: 54.33 inches

Depth: 16.75 inches

Power Supply:

Bus or power supply

Instrument Type:

Piano, Virtual Piano Controller
Who is this Piano Controller Suitable For?
The Kawai VPC-1 is considered a pro-grade piece of equipment, so it is best suited for pro-producers (Hah, that's a lot of 'pros'!). That being said, if you're a hobbyist with a bigger budget, this is one virtual piano controller I'd recommend to everyone, because of how easy it is to use. 
VPC-1 In Action 
Check out this video by John Mike to hear the instrument in action (And to get another pro's opinion!) Note that one of the first things he says is… "Wow!" 
Kawai VPC-1: Pros and Cons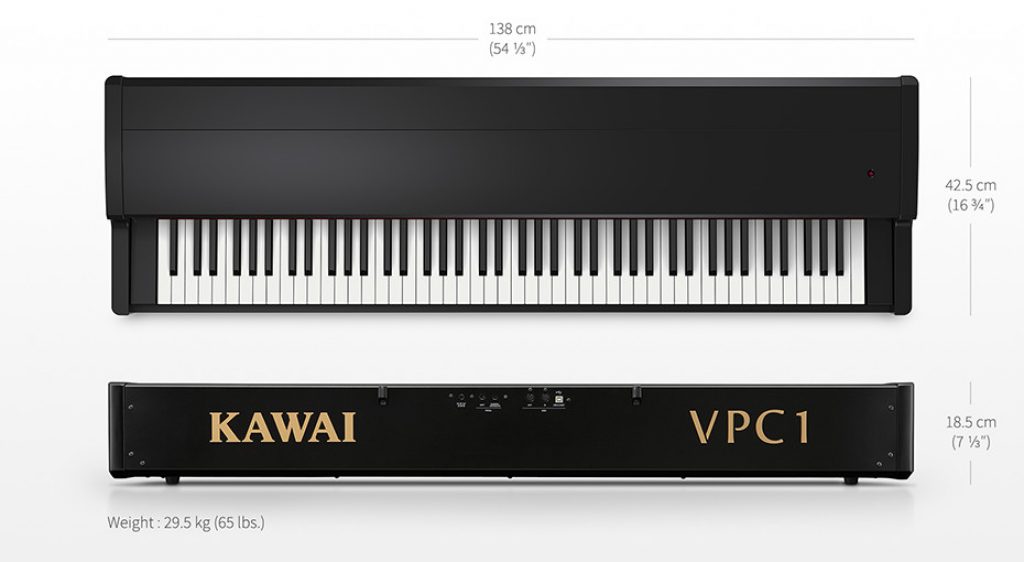 Pros
It feels very close to a real piano
The understated interface makes it easy to use

The build is extremely sturdy 

It's plug-n-play

The connectivity is great, and even offers simultaneous USB and MIDI use

It's highly editable 
If you've shopped around, you've probably noticed that digital pianos either try and imitate acoustic pianos to a 't', or, are unweighted, and more geared for music production. With the VPC-1, you get the best of both worlds. The understated interface makes it easy for anyone to use, on any DAW. Plus the instrument is highly editable. If you're looking to do music production on the go, at 65 pounds, the VPC-1 isn't too heavy to go on a road trip. Plus, it's super durable. 
Cons
(Subjective con)

It's simple

, aka

there are no controls (No buttons, mod wheels, etc)

It's pricey

It doesn't come with any plug-ins
Some musicians may feel that this minimalist-style interface isn't for them. If you like your buttons, sliders, and other doohickies, you might see the Kawai VPC-1's simplicity as a bad thing. But I quite enjoy how easy it is to use- There's certainly no getting lost or confused with this model.
If you are looking for a cheap piano controller to get you started, this isn't it. However, for pianist-producers who want the best touch with their MIDI controller, the VPC-1 is definitely worth the investment.
Another con is that there aren't any plug-ins or extras that come with the instrument (that you could use with your DAW). 
None of these cons were huge for me, though. The VPC-1 is simply geared toward producers who want a simple yet authentic keyboard to record with. 
Comparable Models
Since the Kawai VPC-1 is one of the most expensive and authentic piano controllers you can get, it can be difficult to find instruments to compare it to. That being said, other popular piano controllers with a good reputation include the Arturia Keylab and the Novation Launchkey MK3. Both of these piano controllers offer full-sized keyboards as well. 
If you aren't set on a piano controller, Kawai's MP11SE is a great stage piano with the same wooden key action as the VPC-1 here.  
Kawai VPC-1: Quick View 
Keys

88 keys with RM3II wooden-key action

Touch sensitivity 

Customizable touch curve

Sounds

N/A

Recording capabilities 

MIDI out

Metronome

Unknown (Not listen in stats. This instrument is made to be connected to another device/DAW with a click-track/ metronome)

Polyphony 

Unlimited

Speakers

No

Headphones

No

Accessories

Power supply,

Kawai F-30 triple-pedal unit, Music rack, Editing Software

Price point 

$2,000-2,399 
Kawai VPC-1: Conclusion
In conclusion, the Kawai VPC-1 is a wonderful MIDI controller. Thanks for stopping by and reading our Kawai VPC-1 review! In conclusion, this is a hardy piano controller with much going for it. If you are a music producer in need of a VPC, this one is definitely worth checking out! 
Music quote of the week: 
"Music is the arithmetic of sounds as optics is the geometry of light." -Claude Debussy 
We rated the Kawai VPC-1 a rating 10/10. This piano controller is a wonderful tool to have at your disposal if you are interested in music production. From its wooden key action to its no-nonsense interface, and plug-and-play, we believe that it's hard to go wrong with this model! While it is one of the most expensive controllers on the market, it's worth it
PROS
It feels very close to a real piano
The understated interface makes it easy to use
The build is extremely sturdy
It's plug-n-play
The connectivity is great, and even offers simultaneous USB and MIDI use
It's highly editable
CONS
(Subjective con) It's simple, aka there are no controls (No buttons, mod wheels, etc)
It's pricey
It doesn't come with any plug-ins