Kawai ES110 Keyboard Review
We rated the Kawai ES100 9/10. This minimalist keyboard has stellar sounds, and comes with a sustain pedal. We love that this keyboard often comes in a package. Other great selling points on this one include damper resonance, reverb effects, and optional temperament adjustments. Because there's USB port or LCD screen, we took off a few points.
We rated the Kawai ES110 a 9/10. This minimalist keyboard has stellar sounds, and comes with a sustain pedal. We love that this keyboard often comes in a package. Other great selling points on this one include damper resonance, reverb effects, and optional temperament adjustments. Because there's USB port or LCD screen, we took off a few points.
Overview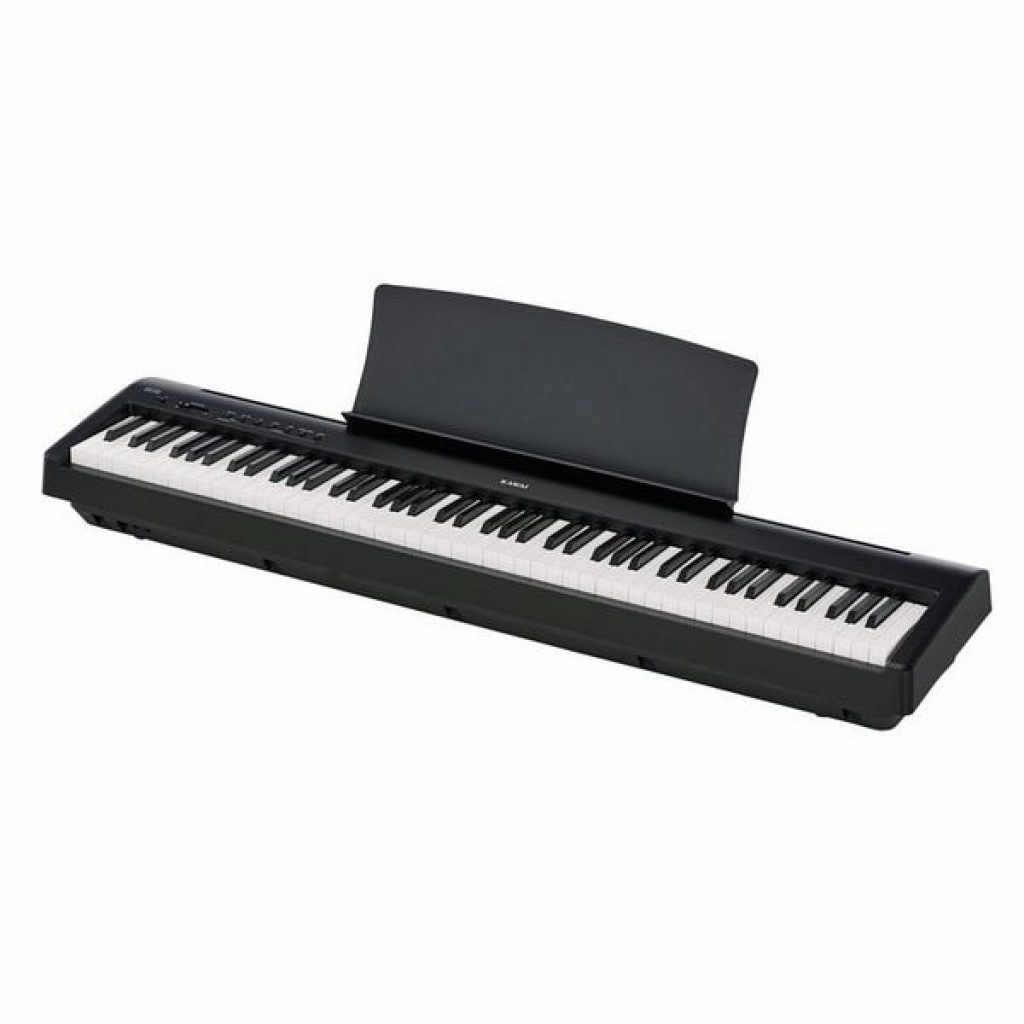 The Kawai ES110 is an excellent keyboard with minimalist design elements. The sound is top quality for this price point and although the keyboard has only 19 different instrument sounds on it, they're all useful.  
Like other keyboards in this price range, the Kawai ES110 doesn't come with a stand, but there is an H shape stand made for it (the HML-1). This is the choice if you're not planning to take your keyboard out of the house. But then again, even if you do need to travel with it, it pops right out of the stand very easily. If you are going to be taking it places, it might be easier to have an X stand that folds up and goes with you. Invest in a good, sturdy one that doesn't tip over easily. Music stores often do a "bundle" deal so you can get a break on price if you buy the keyboard, stand (H or X) and headphones in one shot. Note that this keyboard comes with a footswitch pedal that is reasonable quality. 
There are some very nice functions on this keyboard that give you that little bit more for your money than similar keyboards in this price range. 
Keyboard 
The smooth, minimalist design of the Kawai ES110 comes in black or white. It has 88 weighted keys with Responsive Hammer Compact Action (RHCA) giving adjustable touch sensitivity. There is a non-slip finish on the keys which makes for enjoyable playing. At 26.5lbs it's light enough to travel with but heavy enough to stay put when you're using it.  
The few buttons and knobs there are are almost flush with the keyboard front panel which gives it a sleek, uncluttered look. Sounds and functions are selected by using the buttons or a combination of button and specific key on the keyboard.
The H stand made for this keyboard makes it look like a contemporary upright piano. If you're setting the keyboard up in your living room this will give your room a much more styled look than if you use an X-type stand. As stated before, if you're planning to take this keyboard with you – maybe gigging – then you'll need an X stand anyway. Consider having both types of stand.    
Touch sensitivity can be changed between Off, Light, Normal and Heavy. Classical pianists are likely to prefer the heavy setting. Beginner to intermediate players might prefer the 'normal' or 'light' setting.  
Sound 
The Kawai ES110 uses Harmonic Imaging™ (HI) sound technology. This means that each key has been sampled from the handmade Kawai Concert Grand, layering the different volume levels and then applying reverb to replicate the space surrounding the piano.  
The main piano sound is amazingly good for this price range, helped by the high quality 7W X 7W speaker system. The EQ is adjustable so you can have the best sound depending on where you place your keyboard.  For instance, there is a setting to maximize the sound quality if you place the keyboard on a table top. 
There are two headphone jacks so two can listen at once. Plugging in the headphones disables the speakers, but you can also turn off the speakers independently without plugging in the headphones – a feature that you rarely find on a keyboard in this price point. 
With 192 note polyphony, you should have no problem playing anything on this keyboard, with pedal, without the notes cutting out.  
Features 
Voices 
Kawai ES110 comes with 19 different instruments – eight acoustic pianos, three electric pianos, a jazz organ, a church organ, two types of strings, two types of bass, harpsichord and vibraphone. Many of these sounds are really impressive.  The harpsichord may not be the greatest, but it's probably one of the least used instruments anyway.  
Speakers
The two speakers are 4.7 inches in size and 7 watts a piece giving a total output of 14W which is more than enough for the average setting in a living room. In fact, you would rarely put the volume at max with these speakers. The speakers are clear and warm even at high volume.  
Headphones
Plugging in the headphones cuts off the main speakers and gives the player an immersive effect, with the sound spaced in such a way that you'll probably forget you're wearing headphones. Invest in some good quality, light-weight headphones if you plan to spend a lot of time playing whilst wearing them. Be careful not to have the volume too high, to protect your ears. 
Effects 
Voicing 
The ES110 has different "voicing" settings allowing you to change the brightness of the sound of the piano. Acoustic pianos sound different depending on the type of materials used to "voice" piano hammers. On this keyboard you can change the settings from Normal to Mellow, to Dynamic and Bright.  The Dynamic setting gives you a more nuanced sound depending on how hard or softly you play a key. There's an additional "Brilliance" setting independent of the Voicing setting as well in case you want to quickly change your sound. 
Fallback 
When you strike a key on an acoustic piano, you can sometimes hear the hammer fall back into position after it's struck the string. This hasn't always been a welcome sound, especially in classical music. But in recent years there have been many piano pieces recorded using a pronounced fallback noise from the piano. This may have stemmed from a need to protest all the fantastic software pianos that were becoming closer and closer to sounding like the real thing. So, Kawai has given you the chance to select how much fallback noise you'd like at any given time with settings from Off (no fallback noise) to Small, Medium and Large (with a pronounced fallback noise).  
Damper pedal noise 
Likewise, pedaling produces a subtle noise, particularly on older upright pianos. The Kawai ES110 digital piano lets you decide how much pedal noise you'd like with Off, Small, Normal and Large settings. 
Damper Resonance 
Depressing the damper pedal on an acoustic piano makes not only the notes you play, but all of the strings reverberate as it lifts the felts ("dampers"") off the strings, allowing them to vibrate. This gives the ES110 a more realistic sound and aims the keyboard at higher level players. The damper resonance can be set off, Small, Medium (default setting) or Large.  
Reverb 
Reverb gives your piano sound more realism depending on what kind of room you want to be in. There are three types of reverb available to choose from: Room, Small Hall and Concert Hall. Reverb can also be turned off.  
Transpose 
The ES110 can transpose by 12 semitones which is useful if you want to play for a singer who wants a song lower or higher. You can change the key within the piano and continue to play in the same key but hear it differently. 
Fine tuning 
Fine tuning can be useful when you're playing with another musician whose instrument isn't quite in tune with yours. This keyboard can be detuned by 0.5 Hz intervals and your setting can be saved to memory for fast recall at another time. 
Temperament setting 
The Kawai ES110 gives you the option to tune the whole piano keyboard the way it was tuned in the Baroque period with the choices: Equal Temperament (this is our normal piano sound), Pure temperament, Pythagorean, Meantone, Werckmeister III and Kirnberger III. These would only be useful for pianists who like to play music from the Baroque period with the true tunings that they would have used in those days. For these other temperaments, it's necessary to tell the keyboard what key you're playing in and there is an option to do this.  Furthermore, these settings can be stored in memory for fast retrieval. To most people this wouldn't be useful – however, it might be fun to play around with!
Duo mode
This allows you to layer two sounds across the keyboard. The most popular layered sounds are piano and strings as this is a beautiful sound for a piano piece or backing for a ballad. You can layer any two sounds on this keyboard and have the option to save your layered sound in memory so you can quickly return to it another time. 
Split mode
This mode allows you to play one instrument with the lower half of the keyboard and a different instrument on the top half. For instance, bass which you can play with the left hand and piano with the right.  
Recording
It's possible to record up to three songs on the ES110. However, you can connect an external recorder with multiple channels if you want to record a multi-channel song. 
Metronome
There is an onboard metronome. The default time signature (how many beats per measure) is set at 4/4 which is the most used time signature, especially for beginners. However, to change the time signature is cumbersome. You have to hold down two buttons on the front panel and then choose one of the seven lowest keys on the keyboard. Each of the seven keys sets a different key signature – for instance, 1/4, 2/4, 3/4, 4/4, 5/4, 3/8 and 6/8 so you'll need to remember which is which, or refer to the manual if you can't remember.
As there is no LCD screen, the only way to know that you've set the correct time signature is to start the metronome and listen to where the strong downbeat falls. For a beginner who might not yet understand time signatures, this might be difficult. 1/4 is not a common time signature so I'm not sure why they included that. 7/8 might have been a more useful choice. 
If you want to have a bit more fun whilst practicing, you can select one of the 100 built in drum tracks to play along with. This also involves holding down two buttons and using the lower keys as a kind of number pad to select the drum track you want. 
The metronome tempo can of course be altered and the volume changed. 
Built-in lesson songs 
There are over 80 built in songs on this keyboard. They come in two books called "Alfred's Basic Piano Library" part one and part two. If you want the sheet music, you have to buy the physical books separately. Some of the songs include Oh When the Saints, Happy Birthday, Old MacDonald and some Christmas songs. In addition, there are 25 Burgmuller Etudes. (Bergmuller was a German composer from the 1800's who wrote a lot of educational music). Working with the Burgmuller Etudes is a great way to improve piano technique and speed on the keys.  
The built in lessons allow you to practice each hand separately at your own pace by selecting your preferred speed. The required song book and song number within the book are selected by holding down the "Lesson" button and selecting appropriate keys on the keyboard.  
Demo songs
There are 12 demo songs you can listen to for enjoyment. Each one is played on a different instrument on the ES110 keyboard. There are songs by Bach, Beethoven and several original songs written especially for Kawai.  
Rhythms 
There are 100 different rhythms to play with on this keyboard including hip hop, techno and Latin rhythms. These can be used to play along with instead of the metronome tick to make practicing more fun.  
Registration memories 
Certain settings can be saved by pressing the Registration button. If you have selected a certain instrument and applied reverb for instance, you can save this setting for future use. You can also save a Lesson this way as well as a Duo or Split mode setting.    
Auto off function 
Most keyboards have this function, but it's good to know that if you've left your keyboard on overnight, it will switch itself off after a period of not being used. You can set it to your preference of 30, 60 or 120 minutes.  
Connectivity 
Connecting additional speakers 
You can connect external speakers if you want a bigger sound by plugging into the R/L(MONO) jacks. You can also connect an amplifier, a mixer or an external recording device. 
Connecting a smart device device or a computer 
The MIDI jacks connect your keyboard to your computer (a MIDI interface – or USB to MIDI cable – is required, unless your computer is already equipped with a MIDI interface).  Also connects to your other MIDI devices such as recorders and other keyboards. Note that if you connect a device using Bluetooth, these jacks will be disabled.  
Pedal
The ES110 comes with a footswitch pedal that will work well with this keyboard. You connect it to the "damper" jack at the back of the keyboard.  If it slides around, try some double-sided tape to keep it in place.  
If you invest in the H stand designed to take this keyboard (the HML-1 stand), you might decide to go for the 3-pedal set (the Kawai F-350 pedal set) that builds into the stand. This gives you the option to use all three pedals. The right pedal is the sustain – or "damper" (like the footswitch that comes with the ES110) and sustains the notes you play as you depress the pedal. Any notes you play after are sustained as long as you have the pedal down. As soon as you release the pedal, the notes will stop. 
The middle pedal is the "Sostenuto" pedal and sustains the notes you play as you depress it, but not any notes you play afterwards. Unless you're a classical pianist playing a lot of French music, there isn't a great deal of call to use this pedal. (On acoustic uprights the middle pedal is usually a "quiet" pedal which locks into position for practice sessions).
The pedal on the left is the "quiet" pedal or "Una Corda" (meaning "one string"). Holding this down will make the piano play quieter. This is another pedal that isn't used terribly much except in advanced music. As the digital piano has a volume control and headphones, you don't particularly need this for practice.  
Specifications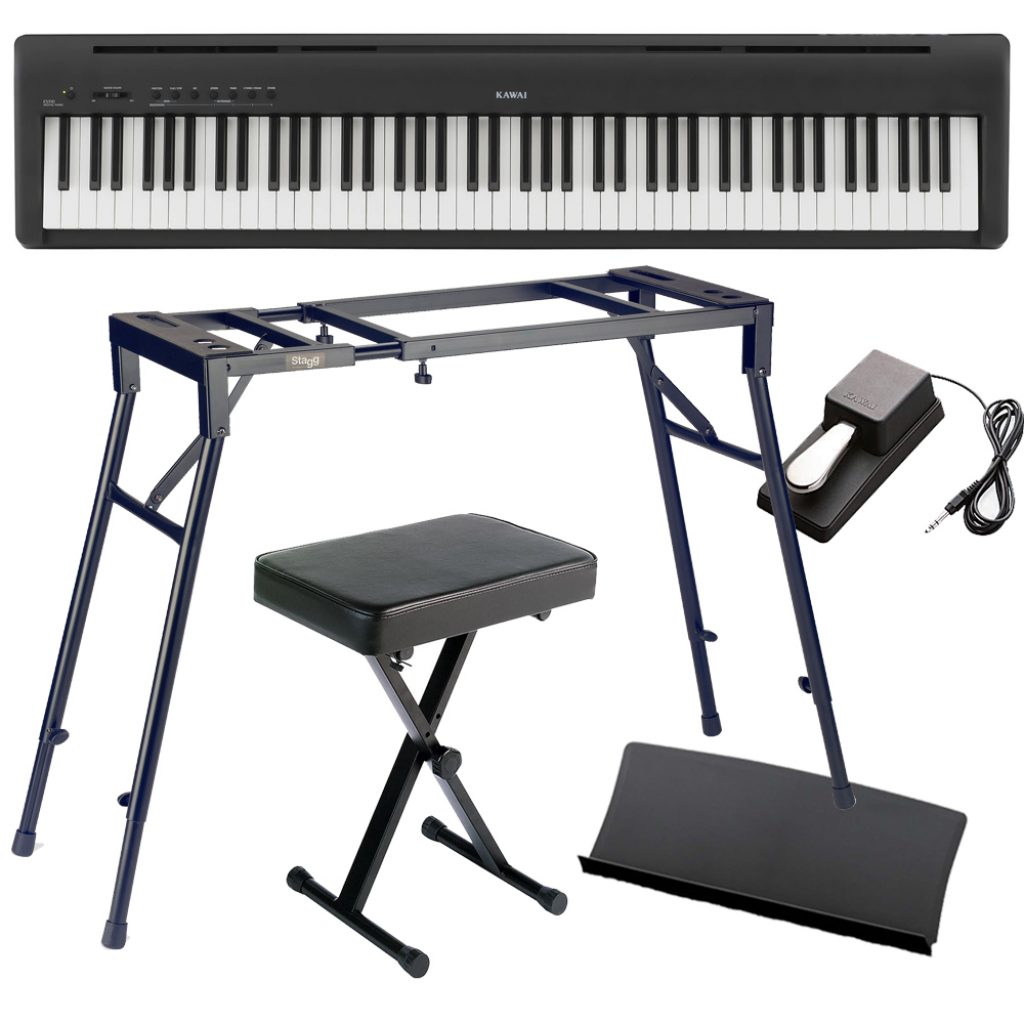 88 weighted keys with touch sensitivity and graded hammer action. 

7W X 7W speakers 

MIDI (IN/OUT)

LINE OUT, (L/MONO, R)

Damper pedal jack, 

2 headphone jacks 

Bluetooth connectivity 

19 voices, 100 rhythms, 12 demo songs 

26.5lbs 
Who Is It Suitable For?
Beginner and intermediate pianists 
A beginner could do very well with this keyboard. It has everything needed, including adjustable touch sensitivity. If a young child is just starting out, the touch sensitivity could be set to either Off or Low so that their little fingers don't have to work too hard. The headphone option makes it good for practicing privately. Intermediate players would probably prefer to set a heavier resistance from the keys. The dual headphone option would be nice for two siblings practicing together or one teaching the other.  
Experienced and serious pianists 
A lot of advanced pianists would find this keyboard useful for practicing, maybe for songwriting and even for gigging. The action and sound of the keyboard is good enough for most, other than perhaps really serious classical pianists who would probably want to go up a few steps for an even more realistic experience. 
Similar Keyboard Comparison 
The Kawai ES110, the Yamaha 125 and the Roland F30 are all in the same approximate price range and quality. Choosing between them can be tricky as the differences are really minimal. Personally, I think the Kawai has the best sound overall, but it's subjective and depends on what type of music you're going to be playing.  
Both the Kawai ES110 and the Roland F30 are able to record up to three songs (1 track each), while the Yamaha 125 only records one. If you're looking to do a lot of recording this could be a factor, but in any case you can use an external recording device to record on. Also, if you're into recording the chances are you're going to use a DAW (Digital Audio Workstation) which gives you so much more scope. In this case you might use any of these keyboards as a MIDI controller.  
Of the three keyboards, the Roland FP-30 has the most sounds at 36 and more speaker wattage than the others at 22W (11W X 11W), but it has a lower a polyphony of 128. (The Yamaha 125 has polyphony of 192). So when you keep comparing specs, you'll see that one con is outweighed by one pro and at some point you just need to make a choice. The piano sound that you prefer and the feel of the keys under your fingers should be your main deciding factors between these three keyboards. 
Pros and Cons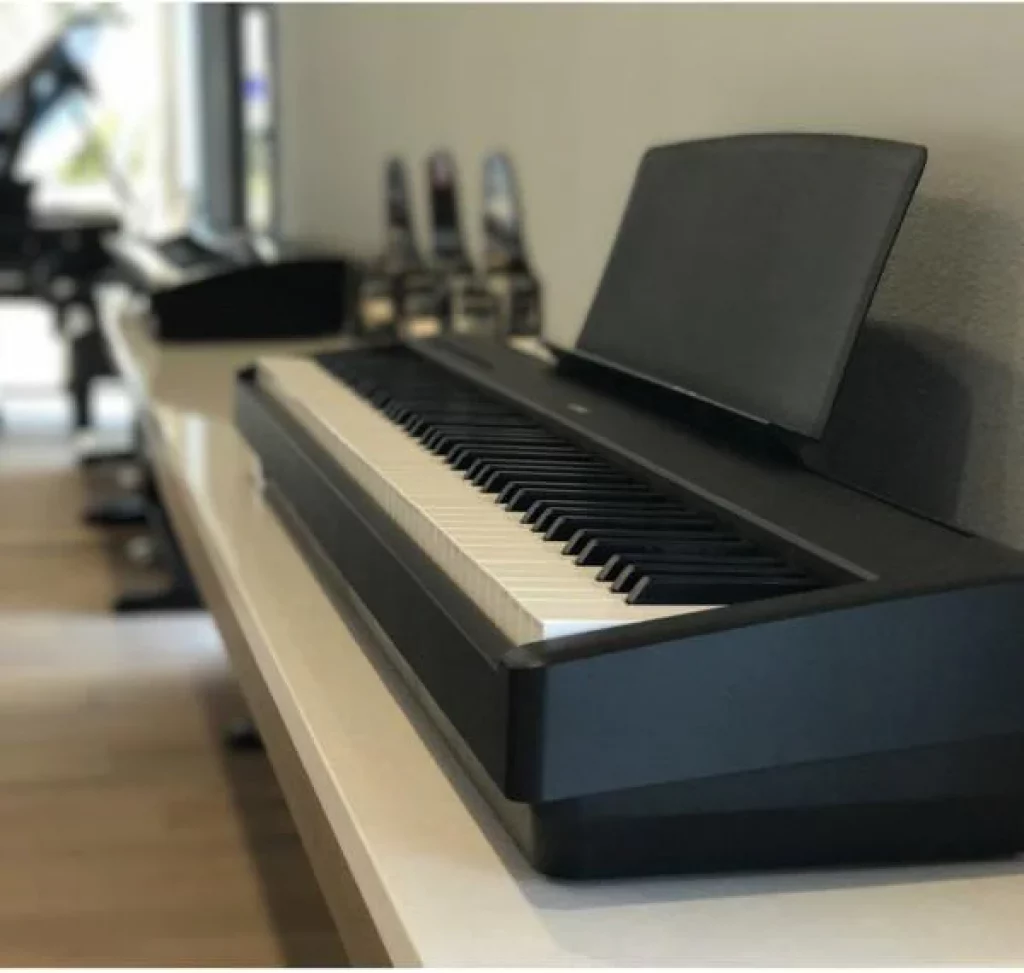 Pros 
88 fully weighted graded hammer action keys (with Responsive Hammer Compact Action)

Very high quality realistic piano sound 

Good weight for portability, but heavy enough to stay put 

192 polyphony 
Cons 
No LCD screen which means selecting lesson songs and settings cannot be confirmed by sight.  

No Duo mode which allows two people to play the exact same notes, useful for lessons 

Lack of USB connection 
Quick View 
Keys

88 keys with Responsive Hammer Compact (RHC) weighted-key keyboard action

Touch sensitivity 

Touch sensitivity with settings of Off, Light, Normal (default setting), heavy 

Sounds

19 voices, 100 rhythms, 12 demo songs 

Recording capabilities 

3 songs, 15,000 notes maximum 

Metronome

Built-in metronome – use with click or drum tracks 

Polyphony 

192 notes can be played/sustained at once 

Speakers

Built-in speakers 7W X 7W = 14W

Headphones + connectors

MIDI (IN/OUT), LINE OUT (L/MONO, R), DAMPER (for F-10H), 2 headphone jacks + Bluetooth connectivity 

Accessories

Music rest, footswitch  and power cable. 

Price point 

$700

Weight and Dimensions 

26 ½ lbs

51 X 11 X 6 inches 
Conclusion
The Kawai ES110 piano keyboard is a really good instrument for this price range. You get quite a lot for your money and this would likely serve for several years for beginners and intermediate players particularly. 
The piano sounds on this keyboard are really impressive for this price range and the fact that you can make the sounds more mellow or brighter as you choose is almost like getting an infinite array of piano sound choices which you can change with the type of music you're playing. The keyboard action is also really good for a keyboard of this level with adjustable touch sensitivity to suit any pianist.  
Kawai is a long-standing company with a really good reputation. Their pianos are thoughtfully designed and well-built. You can say the same for Yamaha and Roland. Even Casio has joined the ranks as a piano manufacturer with a good reputation.  
The bottom line is that if you decide to buy the Kawai ES110 keyboard you're unlikely to be disappointed, whatever your playing level.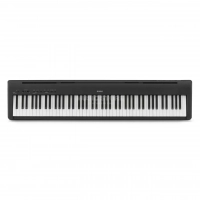 We rated the Kawai ES100 9/10. This minimalist keyboard has stellar sounds, and comes with a sustain pedal. We love that this keyboard often comes in a package. Other great selling points on this one include damper resonance, reverb effects, and optional temperament adjustments. Because there's USB port or LCD screen, we took off a few points.
PROS
88 fully weighted graded hammer action keys (with Responsive Hammer Compact Action)
Very high quality realistic piano sound
Good weight for portability, but heavy enough to stay put
192 polyphony
CONS
No LCD screen which means selecting lesson songs and settings cannot be confirmed by sight.
No Duo mode which allows two people to play the exact same notes, useful for lessons
No USB connection