Nord Stage 3 Review
We rated the Nord Stage 3 a 10/10. For years, Nord has been known for their superior quality- And the Stage 3 is no different. This 88-key weighted digital piano has beautiful organ sounds that are nearly unmatched by other piano makers. The Nord Stage 3 is the 5th series of Nord, and much has been improved, including the polyphony, and memory. If you are an experimental pianist who also wants a synthesizer, consider the Stage 3.
We rated the Nord Stage 3 a 10/10. For years, Nord has been known for their superior quality- And the Stage 3 is no different. This 88-key weighted digital piano has beautiful organ sounds that are nearly unmatched by other piano makers. The Nord Stage 3 is the 5th series of Nord, and much has been improved, including the polyphony, and memory. If you are an experimental pianist who also wants a synthesizer, consider the Stage 3.
Overview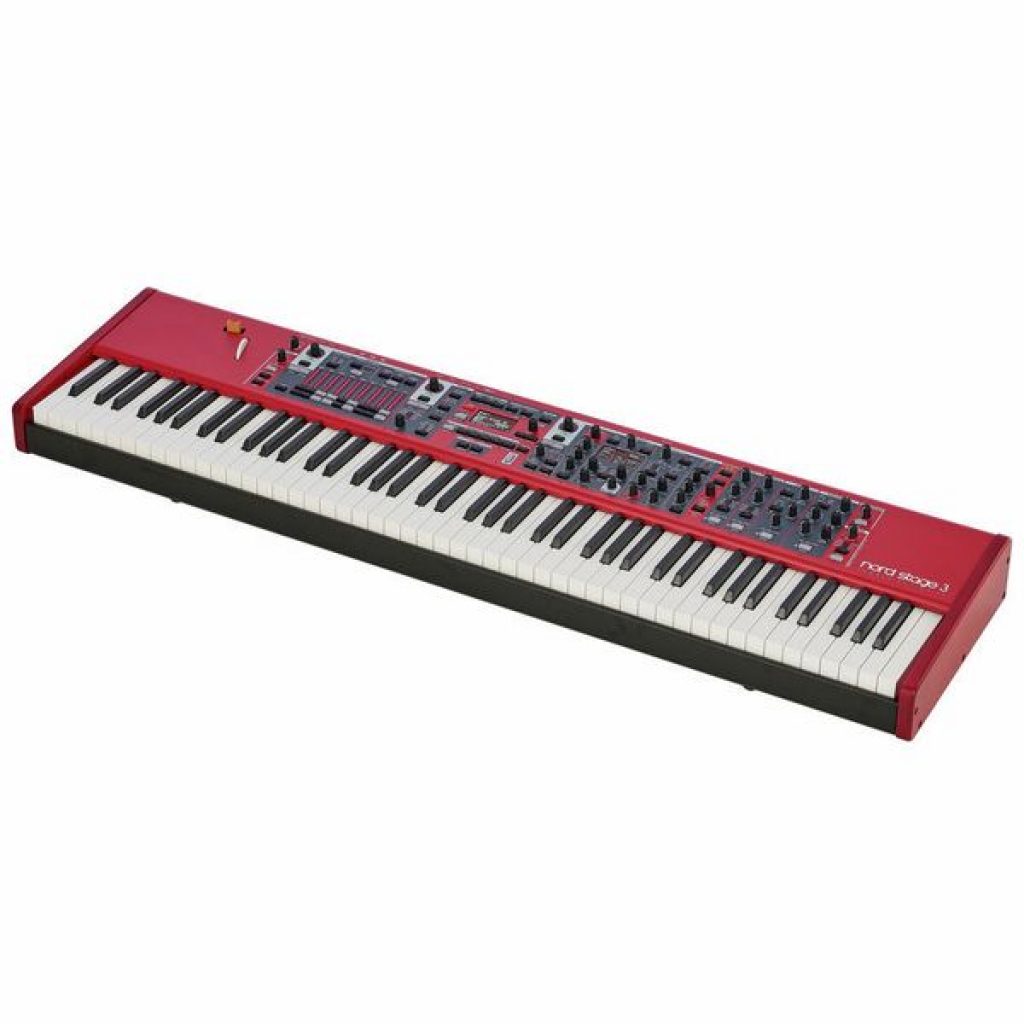 Hey there! We already took a deeper look into the Nord Piano 3, but today, we are going to check out the other big 'Three' piano in this Nord Stage 3 review. But first, here's an overview:
The Nord Stage 3 was first released in 2017. The 3's price is considerably higher than the Nord Piano 3's. That is, almost $2000, putting it just over $4,500. Shew. So what's so great about it?
Essentially, the Nord Stage 3 is the most advanced and new Nord model on the market. This is what they consider a 'flagship' instrument. It has the buttery feel of a grand piano like the Nord Piano 3 does, but more functions and options as a whole. Here is Amazon's take on the best of what this instrument has to offer:
"The Nord Stage 3 is the fifth generation of our successful Stage series continuing our vision of the ultimate instrument for the performing musician. Our outstanding new flagship instrument features our latest award-winning technologies including the Nord Lead A1 Synth Engine with sample playback, our acclaimed Nord C2D organ, a greatly enhanced Piano Section, and extensive hands-on Effects – all in one exceptional performance keyboard. Two super-clear OLED displays for on-stage clarity, Seamless Transitions when changing programs/sounds, extended Split functionality with optional crossfade, and the addition of the new Song List Mode makes the Nord Stage 3 more intuitive and flexible than ever before for the live performer. The greatly enhanced Piano section features doubled memory (2 GB) for the exclusive Nord Piano Library, 120 voice polyphony, and creative new Piano Filters. 
The Nord Stage 3 features our latest award-winning C2D Organ simulations of B3 Tonewheel and Vintage Transistor Organs plus two brand new Principal Pipe Organs. Two different Organ models can be used simultaneously and the updated vintage 122 Rotary Speaker simulation is also available for each slot independently. The Nord Stage 3 Synth section features the acclaimed Nord Lead A1 Synth Engine combined with Sample Playback and a brilliant OLED display for all Oscillator functions.
The Oscillator Configuration concept allows for extremely quick and flexible programming, suitable for both advanced synth nerds and less experienced sound creators. The Nord Stage 3 Effect section features a brand new Filter Effect, extended morphable parameters, an enhanced Delay effect and a separate Reverb and Compressor for each slot. The Nord Stage 3 88 keybed uses Nord's top-of-the-line fully weighted hammer action piano keys. Perfect for electric and acoustic piano sounds, but also works great for organ playing. Key range A-C. " (Amazon)
Shewee is that a large block of text for one overview! Let's break it down:
Features
The Nord Stage 3 Keyboard boasts a lot more features than most other full-sized keyboards. And for the price range? It should! So let's see just how much bang you get for your buck. 
No More Menu Diving
Are you tired of searching through your old keyboard settings for minutes on end without finding what you want? With the Nord Stage 3, menu diving is a thing of the past. Their setup is absolutely beautiful here. All of the controls are on the players front panel, making finding access to musical functions much easier. 
HP76 Keybed 
There are a lot of people raving about the HP76 keybed from one of the Nord Stage 3's packages. This basically just stands for Hammer Action Portable Keybed, and relates to the model with 76 keys. That being said, traveling performers seem to really love the HP76 keybed option.
Three Nord Stage 3 Package Options 
Speaking of options, there are actually three different types of packages when it comes to the Nord Stage 3. All three are available on Amazon. Here are the choices:
The 73-key semi-weighted keybed

The 76-key hammer action keybed

The 88-key fully weighted keybed
The first option feels the least realistic and is priced at approximately $3799. The second option feels pretty natural and is priced at $4,399. The last and most professionally weighted model is $4,699. 
Like other Nord packages, these models do not come with accessories such as external speakers, dust covers, or the pedal unit. 
Two OLED Displays 
Two displays are better than one! Many Nord models have two screens, and this one is no different. So what is the difference between LED and OLED? This article on televisions can actually help us understand the Nord Stage 3's display a little better.
OLED stands for 'organic light-emitting diode'. Regular LED's stand for the same, minus the 'O', so, 'light emitting diode'. But that isn't the important part. What you need to know is that OLED's are better at producing absolute black. This makes OLED screens much better for reading black notes and text off than LED's, because LED screens can't produce true black the same way OLED's can. Nord really goes the extra mile here when it comes to screen quality. 
Master Clock
If you have read our other reviews, you probably already know about the master clock. If you don't know what the master clock is, the best way to describe it is this: It is the fanciest metronome you've ever seen. 
Firstly, it provides a normal metronome function that allows you to either choose or tap in a tempo. But here is the really cool part: it helps you sync your layers together to those tempos. It is kind of like a quantizer from a DAW and a metronome had a baby! 
This video shows you exactly how players can sync their music using the master clock.
Great External Device Control
On the Nord Stage 3, there is an entire section on the piano dedicated to external device control. Any MIDI instrument that you own will connect really easily to the Nord Stage 3. The program saves all of the settings that you adjusted, so nothing is lost! You can also send messages to your devices using the 'Extern' panel. It might take a little getting used to, but this feature is a big upgrade. 
Double the Memory 
The Nord Stage 3's predecessor was the Nord Stage 2. The 3 actually has twice the memory of the 2, so you have twice the amount of working memory to play with (quite literally!) 
Improved Polyphony
This model has 120 notes of polyphony, which is also an improvement from the other models. Remember, polyphony controls how many notes you can play at once. 120 is quite a lot! 
New Piano Filters 
Let's check out James Harrison's video on the new piano filters that are on the Stage 3.
These filters can be found in the piano section on the keyboard. Here is a list of some of the new ones:
Royal Grand 3D (XL)

Mellow Upright (LRG)

Grand Lady D (LRG)

Concert Grand Ambient (LRG)

Saloon Upright (LRG)

Honky Tonk Upright (LRG)

Black Upright (LRG)

Italian Grand (LRG)
The Royal Grand filter isn't quite as full as I would have liked it to be, but the Mellow Upright filter was downright impressive. Grand Lady was bright and jazz, although he did also have the bright/ brilliance button on as well. Of all of the piano filters, the Concert Grand Ambient (LG) was my absolute favorite.
It made me feel like I was sitting in a concert hall with a solo pianist on a grand. The Saloon Upright honestly made me laugh, it is dopey, but not in a bad way! Nord clearly isn't taking themselves too seriously here. You can hear this silly sound, as well as all of the others on my list, in the video above.
Excellent Organ Simulations
The Nord Team put a lot of work into their organ simulations in this model. In fact, it has an entire organ section. The Nord C2D has actually won awards for being such a good sound. It also has a vintage rotary speaker and a tonewheel, which pair perfectly with the large soundbank of organ voices. 
Extended Parameters 
As far as morphable parameters go, much has been improved. The Nord Delay has gotten better, and you can now separate out your reverb from other parameters. Separated reverb can be surprisingly hard to find in electronic instruments.
Slot Organization 
The slot organization on this model is beautiful. Because there are two slots, you can have two of everything (pianos, organs, and synths).
Fancy Footwork
The Nord Stage 3 now allows you to change programs with your feet, so that your hands are free to keep playing. This new addition helps live performers make more seamless transitions.
Nord Lead A1's Synth Engine
Two for one, anybody? The Nord Stage 3 not only has a regular sound engine: it also has the sound engine of one of Nord's best-sounding synths. 
A Smart Oscillator
The Nord Stage 3 also has the Nord Lead A1's 'Smart Oscillator' inside of it. It's easy to use and doesn't require too much programming. The five oscillator modes included are:
Classic

Wave

Formant

Sample

S-WAve
In addition to all of this, it also has:
3 unison modes

Dual Oscillator

A Pitch and Shape mode
With the Nord Stage 3, it is as if there is a mini synthesizer inside of a grand piano. This model blows my mind the more I check it out and learn.
Specifications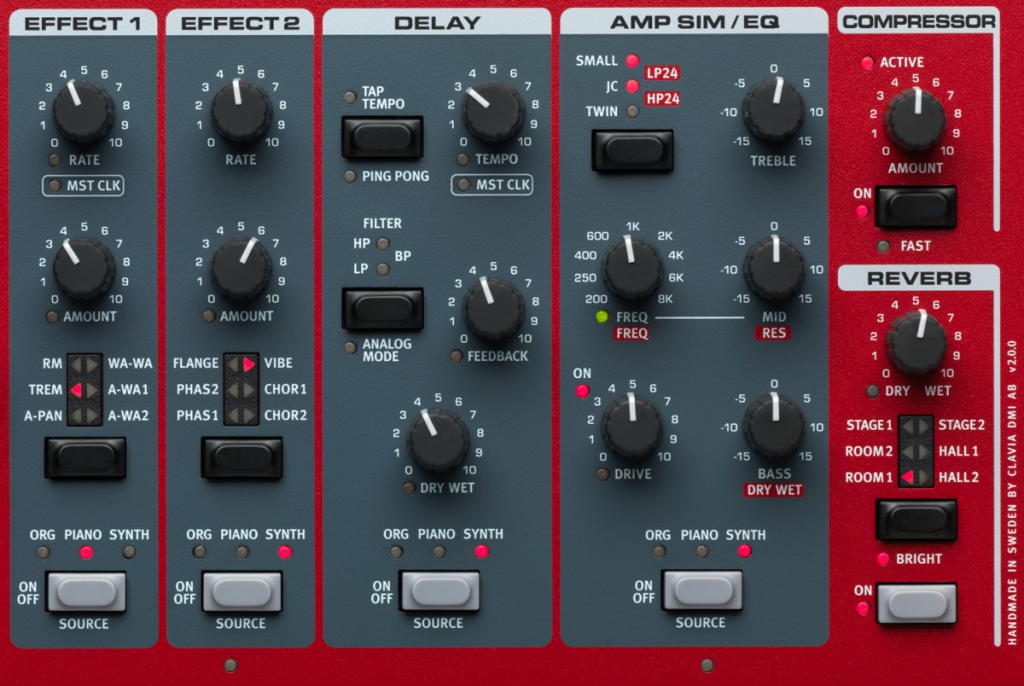 Weight:

41 pounds

Dimensions:

51 x 5 x 13

Memory:

2 gigabytes 

Number of Screens:

2

Type of Screen:

OLED

Metronome Type

: Master Clock
Who Is It Suitable For?
The Nord Stage 3 88 Stage Keyboard is the ideal keyboard for a professional player. It will suit musicians who are always on the go, as well as producers who prefer to stay in their studio.
If you don't consider yourself an experimental pianist, then I wouldn't recommend this particular Nord. The company took great care to provide a wide array of EQ, morphing, and synth sound options. So if noodling, nells, whistles, and electronic music isn't your gig? Save yourself some money and look at a simpler model. But personally, of all of the Nords, I am particularly sold on the Stage 3.
Nord Stage 3 in Action
If you would like to see this piano in action, check out this 'all playing, no talking' video by Kraft music.
If you don't have a chance to play the instrument before purchasing it, these kinds of videos can be a really great tool. I always love to see artists in action, especially when it comes to watching them navigate the many sounds, memory banks, and looping features.
Amazon Reviews 
This Nord model is rated 4.2 stars out of 5 on Amazon. Let's see what people liked, and what they didn't. 
What They Liked: 
The keyboard is very programmable 

How professional it feels

How easy it is to manipulate the piano's tones 

The piano and synth sounds

The different key package options
What They Didn't
They need external speakers

Some customers said that the organ sounds weren't quite as high-quality as what they had anticipated

It takes some time to learn the keyboard

You have to dial around a lot in order to get that brilliance of sound that some other brands have right 'out of the box.
It's pretty clear to see that some musicians love to noodle with their instruments, whereas others want all of the presets to be polished right out of the box. This is a matter of personal preferences. All in all, the Nord Stage 3 had some raving Amazon reviews. 
Pros and Cons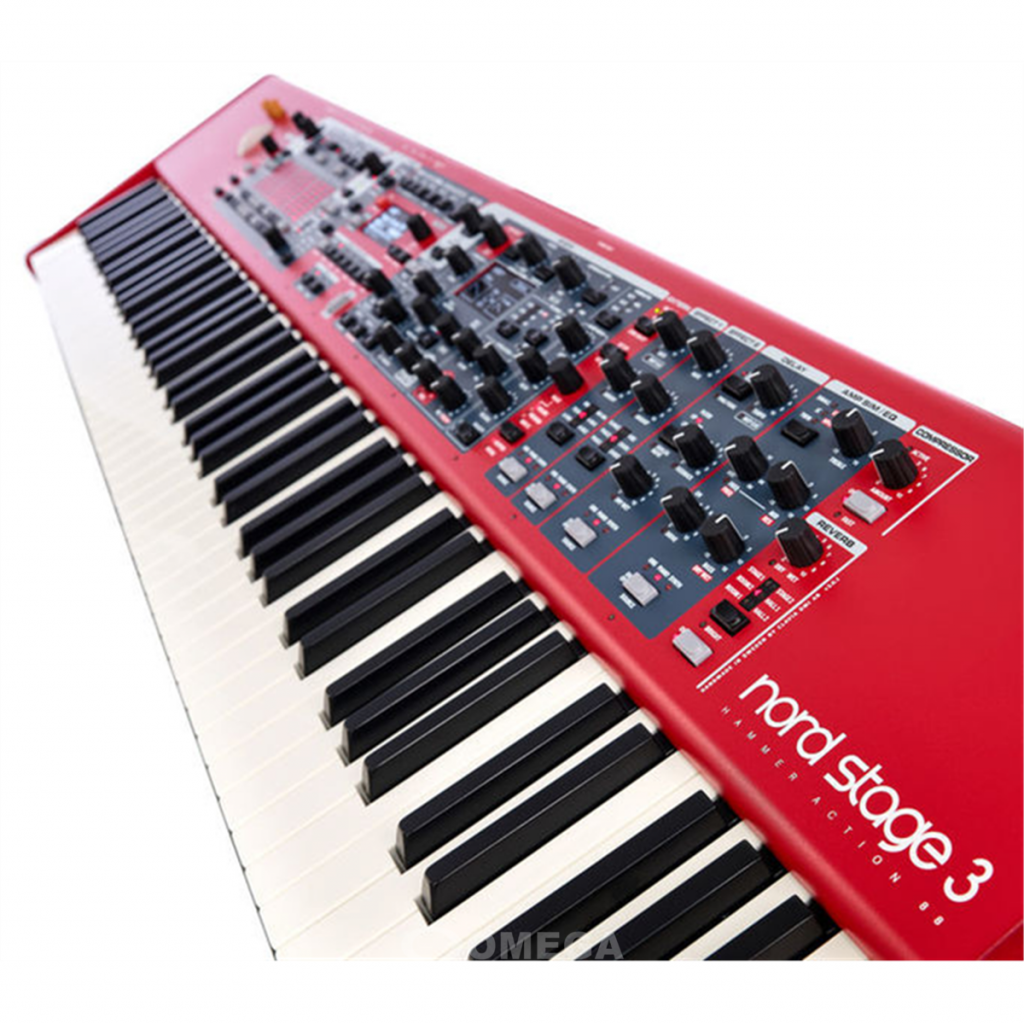 Pros
You get two instruments in one

The metronome is very advanced

It has quality built

You will be buying a reputable name brand

There are a plethora of sounds

It has improved greatly since the last model

You can choose how many keys/ the weight and the length of the keyboard due to the three package options

There is a lot of working memory

This model is great when it comes to connectivity with external devices

The panels are clearly labeled and easy to access 

This instrument works seamlessly in a live performance setting

It comes with new filters and sounds

This keyboard separates parameters out better than most

You can have many instruments in the slots at once

The company went the extra mile on the organ sounds, which is an aspect that is typically not found in electronic pianos (piano makers are notorious for creating one clunky organ sound and calling it a day)

It can be used in many genres

Both producers and live performers as well as living room keyboardists will have a blast with the instrument
Cons
There are no internal practice speakers

It does not come with the pedal unit

The model is very expensive since it is a flagship model

There are so many options on the keyboard that it can be hard to navigate at first before you know your way around
Ah, the same Nord cons as usual: They are pricey, don't come with any accessories and are all really, really expensive. The only other con that I read about was that some musicians thought that the instrument was difficult to navigate at first because there were so very many panels and options, as well as (not one), but two screens, Personally, the cons are relatively negligible (at least to me) because of how many other things the Stage 3 has going for it. 
Quick View 
| | |
| --- | --- |
| Keys | 88 fully-weighted keys |
| Touch sensitivity  | Yes, velocity-sensitive keys |
| Sounds | This piano has three main sound engines (see above) |
| Recording capabilities  | You can record using two TS cables, or a USB  |
| Metronome | Yes- Visual Metronome (LED Indicator) |
| Polyphony  | 120 notes |
| Speakers | No |
| Headphones | Yes, the headphone jack included |
| Accessories | This product does not come with accessories |
| Price point  | $4,699 |
| | |
Comparative Nord Models
I'm going to say it again and again: Nord mostly just competes with itself. If the Nord Stage 3 is a little out of your price range, consider these more economical, comparable models:
Nord Stage 3 Compact

Nord Stage 2

Nord Electro 6
Nord Stage 3 Versus Nord Stage 3 Compact
The Nord Stage 3 Compact is a little bit different from the Nord Stage 3. While the Stage 3 has a full-sized keyboard, the Nord Stage Compact has just 76 keys. 
If you are a gigging professional, the compact model will be easier to fit in your car and lug around, as long as you are willing to sacrifice a little bit of range. 
You can find the Nord Stage 3 Compact on Amazon here.
How has the Nord Stage 3 Changed Since the Stage 2?
The Nord Stage 3 and Nord Stage 2 are pretty similar. The Stage 2 runs around $1000 less since it is an older model, and not the current flagship. This makes it an ideal model for those who want the 3 but can't afford it.  The Stage 3 has more memory (2 gigs) than the Stage 2 (1 gig). The other main difference is that the Nord Stage 3 has 4 zones, whereas the Nord Stage 2 has just 3 zones. In the Stage 3, the effects are not inside of the panels, which makes the instrument more options. 
Key differences:
Price point

Memory

Zones

Number of preset options 
Nord Electro 6 
This model is a 73-note, semi-weighted keyboard. You might be wondering, "Why would anyone choose a semi-weighted keyboard over a fully weighted one? You could easily get fully weighted for this price!"  And I mean, you are right. You could get a fully weighted one within this price range. 
The cool thing about the Nord Electro 6 is that it has four live slots, a wide polyphony, a great selection of sounds, synths, and new filters. It also has a rotary speaker simulator. And while you can pay the extra $700 or so for fully weighted keys, it's clear to see that this instrument is geared toward live performers and producers who are looking for versatile and vintage-sounding gear.
Comparable Models from Other Brands
If you aren't a Nord person, the above models are ones that are often compared to the Stage 3 when it comes to specs and functions. The Korg Kronos is more of a workstation. The Yamaha CP88 is considered a stage piano, and the Roland RD 2000 is considered a stage as well. The big selling point of the Roland is that it has two sound engines, like a lot of Nords do.
Conclusion
There sure is a lot to consider when it comes to comparing the Nord Stage 3 with the Nord Piano 4. As I said in another Nord review, this brand is so high-quality that it only really ever competes with itself. The Stage 3 is one of my personal favorites, not just within the Nord brand, but when I compare it to all brands electronic pianos as a whole.  I hope you enjoyed learning more about this piano. Be sure to check out more Nord 3 Stage reviews on Best Piano Keyboards before making the final purchase. Bye for now!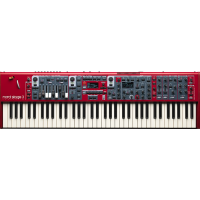 We rated the Nord Stage 3 a 10/10. For years, Nord has been known for their superior quality- And the Stage 3 is no different. This 88-key weighted digital piano has beautiful organ sounds that are nearly unmatched by other piano makers. The Nord Stage 3 is the 5th series of Nord, and much has been improved, including the polyphony, and memory. If you are an experimental pianist who also wants a synthesizer, consider the Stage 3.
PROS
You get two instruments in one
The metronome is very advanced
It has quality built
You will be buying a reputable name brand
There are a plethora of sounds
It has improved greatly since the last model
You can choose how many keys/ the weight and the length of the keyboard due to the three package options
There is a lot of working memory
This model is great when it comes to connectivity with external devices
The panels are clearly labeled and easy to access
This instrument works seamlessly in a live performance setting
It comes with new filters and sounds
This keyboard separates parameters out better than most
You can have many instruments in the slots at once
The company went the extra mile on the organ sounds, which is an aspect that is typically not found in electronic pianos (piano makers are notorious for creating one clunky organ sound and calling it a day)
It can be used in many genres
Both producers and live performers as well as living room keyboardists will have a blast with the instrument
CONS
There are no internal practice speakers
It does not come with the pedal unit
The model is very expensive since it is a flagship model
There are so many options on the keyboard that it can be hard to navigate at first before you know your way around