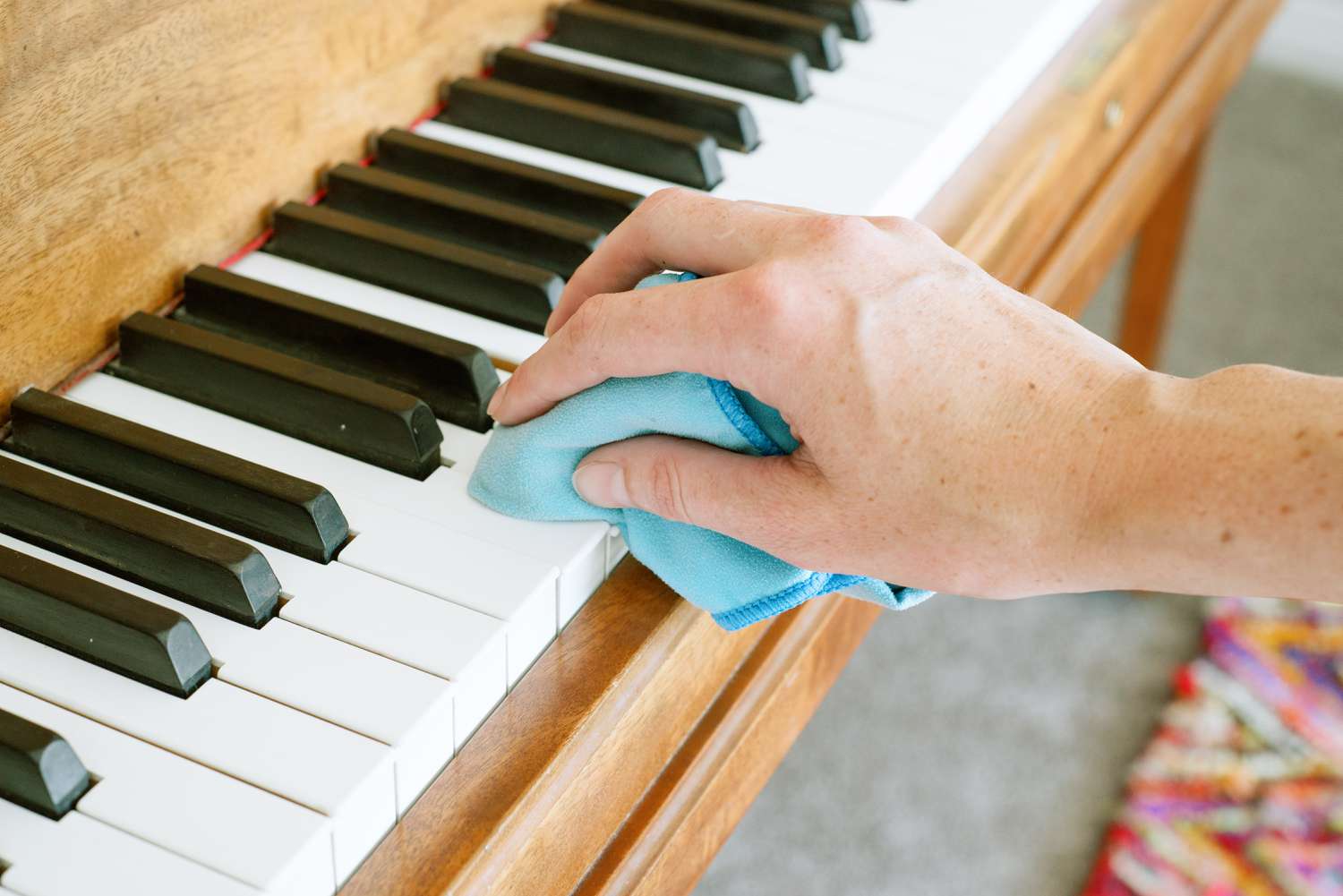 So, you're an aspiring musician who has purchased a new piano or keyboard—Congratulations! Now, although you might have accomplished your dreams, I believe one disturbing question that will keep ringing in your mind is how to clean piano keys and keyboards.
To enjoy the beauty of music, a piano should be left looking beautiful and authentic, just like the first day it arrived. You see, just like other home appliances, a piano or a keyboard needs to be dusted thoroughly to get rid of dust, dirt, debris, and oils that might accumulate over time.
Now, if I may ask, which part of your piano needs a thorough cleaning? If your answer is the keyboard, then you're right.
The keys are what we touch most of the time when playing the piano. Due to this reason, dust and dirt emanating from sweaty hands can diminish their authenticity, causing the polished surfaces to wear out in a short while.
Luckily, after conducting comprehensive research, we've gathered some surefire tips on how you can clean your piano or keyboard to restore it to its former brilliance. Esthetics is in bond with music and always looks astonishing together in symbiosis. The habit of maintenance is one valuable skill that you might want to reconsider.
How to Clean Piano Keys and Keyboards
Most of us enjoy playing the piano, especially when aspiring to become a composer. But, did you know that piano keys can easily be damaged with sweaty, oily hands? If you are new to this world of keys, then you will have a little insight into the benefits of a flawlessly cleansed keyboard or piano.
You see, as you frequently play the piano, the polished surfaces of the keys tend to wear out, allowing dirt and debris to penetrate the pores. Many players left their instruments in serious need of cleaning piano keys.
Washing your hands before playing the piano may sound cliche, but it is quite a smart thing to do before touching keys. Be assured that it is not a regular thing that everybody does, so it should start right now. You may also often give your piano or keyboard a quick dusting here and there to remove dust that might have settled at the top. But will this help and show you how to clean piano keys or how to clean ivory piano keys of your instrument entirely? Is this instrument simple just like that, and will it remain beautiful forever?
The answer is NO.
Now, to give you a head start on how to maintain the quality of your piano or keyboard, this section will highlight some surefire tips on how to effectively clean your keyboard to avoid lackluster keys.
Items needed
Soft cloth
Gentle cleaning solution
Spray bottle
Water
Step-by-step procedure
Start with a soft cloth: a soft cloth is highly essential here. You can consider using a flannel cloth, microfiber cloth, cheesecloth, or chamois, depending on your personal preference. Paper towels should be avoided at all costs.
Cleaning solution: add warm water into the spray bottle and add a mild soap drop (most preferably dishing soapy liquid). Shake the content gently and get ready to clean! Just a word of caution, avoid using harsh solvents or furniture polish as they're too abrasive and can easily cause discoloration.
Dampen the soft cloth: don't spray soapy water directly into the piano keys. Instead, spray the soapy mixture on the soft cloth to make it slightly damp.
Start with the white keys: though not a recommendation, start by cleaning the white keys a few at a time, starting from the back to the front with gentle pressure.
Avoid brushing the keys from side to side as this can transfer dirt particles or even moisture in the passes leading to damage or sticky keys. This evasion is also substantial for cleaning ivory piano keys.
Also, avoid using colored clothes when cleaning white keys as some of them might bleed when moistened, causing colors to transfer to the white keys. Cleaning this discoloration can be challenging and lead to double work. Ivory is a biological matter, and mistakes with discoloration can damage them severely. If ivory absorbs colors of chemicals from colorful cloth, pay attention to this article. Don't worry; we have solutions.
Clean the black keys: using the same procedure, pick a new soft cloth and spray it with the soapy solution. Clean yellow piano keys from back to front gently enough to avoid touching the already cleaned white keys. Note that touching the white keys can cause you to transfer black color to the white keys, which again can cause discoloration. Use the mentioned guidance to know how to whiten ivory piano keys for the same segment of cleaning.
Wipe off contaminants: when you're done cleaning, pick a dry cotton cloth and use it to wipe off any soapy residue that might have gotten stuck in-between the keys. Later on, soap remainings dry out and leave a sturdy surface on the keys and discreetly damage the key. Many chemical agents contain an abrasive influence on the keys, while constant carelessness can lay painful and retroactive damage to the ivory keys. To dodge these occasions, use natural solutions mentioned up and down in this article.
Disinfect the piano keys: disinfecting a piano is very important, especially during the flu or cold seasons. To do this, make a solution comprising of 4 parts water and one part vinegar. Dip a clean cloth into the mixture and wring it well to make it damp. Clean each key thoroughly without leaving any moisture behind. Remember that vinegar can damage the keys if it's left to stay on the surface for too long.
How to clean ivory piano keys
If you're the kind of person who enjoys music's beauty, a piano is one musical instrument that will guarantee you the best music experience. Pianos are coming in all sizes and shapes. There is a significant diversity, but also there is diversity in keys. For professionals and well-experienced players, touch feeling under fingers is sensitive, and they can feel the slightest disbalance. Keys play a significant role in maxing out the skills of the player. When you have useful weighted keys in good condition, you have all that it takes to express yourself, especially for piano patch playing. Unlike most other musical instruments, a piano requires proper maintenance to keep it up and to run.
Give your instruments nice treatment, and it will repay you every time you sit and place look upon them. It will affect your will and passion even more.
Now, before I get to the nitty-gritty of cleaning ivory piano keys, I think it's wise to mention a thing or two about these rare keys. Why rare? You see, most pianists today are used to keyboards with plastic keys. But, there are rare cases where a piano may contain precious materials such as ivory and ebony.
Unlike plastic keys, replacing keys made of ivory or ebony can be very expensive, complicated, and time-consuming, so extra care must be conducted when dealing with such materials.
For the sake of ivory, this material is very porous, and cleaning will involve using a light-colored cloth to avoid discoloration. Also, the immediate drying of ivory keys is crucial as excess moisture can cause the keys to be malformed.
What's the difference between plastic and ivory keys?
As I mentioned earlier, ivory keys are rare and can easily be confused with plastic keys as they somewhat look the same. Although most pianos today use plastic keys rather than ivory keys like they used to be back in the days. Plastic keys are always lacking in weight, and even the highest quality of plastic cannot replace ivory. There are some key differences you need to be aware of.
Ivory keys are purely white.
Ivory keys may become yellowish with time.
Every key made of ivory has two parts joined together. This is visible if you look closely.
Ivory keys are not as smooth as plastic keys.
Unlike plastic, ivory keys cannot be penetrated with a red hot needle tip.
Also, ivory is very rare to find.
Tips on cleaning ivory piano keys
Since ivory is so porous, keys made out of it can be delicate to clean. Therefore, you need to take your time to clean every octave thoroughly and make sure you dry them entirely.
Don't use lemon juice to clean the keys but instead use milk. Since ivory is much like a dental bone, lemon juice's acid properties can wear the keys' surface over time. On the other hand, milk is rich in calcium and fatty acids. These properties are of paramount importance as they will enhance the longevity of the keys.
For the sake of stubborn stains, you can purchase a scraper. However, to avoid damaging the keys, you need to consult a licensed technician or a professional.
Step-by-step procedure
Dust the keys: the first step is to dust the keys with a soft-bristled paintbrush to remove dust and dirt particles.
Dampen a clean cloth: take a clean cloth and dampen it with warm water. Squeeze any excess water and clean each key individually to remove any stains, marks, or dust particles. Don't drench the keys into the water, as this can cause them to swell, making it hard to play.
Apply the milk: although some people might opt to use a little soap, it's better to use milk as most soapy detergents contain harsh chemicals which can damage the highly porous ivory surface. Simply dampen a light, clean cloth with a small amount of milk to clean stains and fingerprints from the keys.
Wipe the keys from the back to the front, and don't scrub them too hard as this can damage the surface. Since ivory is a kind of dental bone, the calcium and fatty acids in the milk will help extend the keys' longevity.
How to care for your piano keys
Please wash your hands often: always keep the piano clean by washing your hands before playing it. Don't let yourself be inert and unenlightened about how to disinfect piano keys and adequately know how to clean a piano keyboard. It's also wise to wipe the keys after you're done playing to keep dust and dirt particles off the ivory keys.
Direct sunlight: if the keys are made of pure ivory, you may opt to expose them in direct sunlight. Direct sunlight bleaches the ivory keys allowing them to brighten up. Also, to protect the keys from dust and dirt, consider covering the top with an extended cover and only open it when you're playing the piano.
Avoid using sprays around the piano: Air fresheners and other aerosol products should not be sprayed anywhere near the piano. They can easily damage the ivory keys and cause them to yellow over time.
How to clean yellowed ivory piano keys
Pianos made from genuine ivory are hard to come by these days. Natural ivory in some countries is totally under embargo and can come at extraordinary prices and with difficulties to find. Grand pianos and some upright pianos come with ivory, and with them comes special extra care. quite rare, we can say, but those are most wanted. This is due to strict rules that have prohibited such pianos' manufacture, thanks to the recent wildlife conservation act. So, if you have a piano or a decoration made of ivory, that means it's merely an antique.
Why was ivory so common back in the days?
First, ivory was preferred because of its value and esthetic properties.
Secondly, ivory has the advantage of absorbing perspiration which prevented the pianist's fingers from slipping.
We mentioned earlier that most piano keys made from ivory are antiques. Ivory has many remarkable properties and demands dedication. Due to this reason, their keys tend to yellow with time due to age and use. To restore them to their natural whiteness, you, of course, need to clean them but with a different approach.
Unlike cleaning plastic piano keys, ivory keys cannot be resurrected to their original color using household cleaners and bleaches as they can damage the keys beyond repair. So, having done enough research across the web, here's a step-by-step procedure on how to clean yellowed ivory piano keys.
Things you'll need
White soft cloth
Small container
Warm water
Salt
Lemon
Step-by-step procedure
Step one: cut some cardboard pieces and fit them between the keys to preventing excess liquid from penetrating.
Step two: using a clean container, make a thin paste of lemon and salt. You can also cut the lemons in halves and add salt to the already cut sides. Some people may also opt to use plain yogurt or toothpaste instead.
Step three: moisten the soft white cloth with the lemon solution and clean the yellowed ivory keys. In case you've cut the lemons in halves, gently squeeze the salted exposed side on the ivory keys to remove stains.
Step four: when you're done, leave the piano to self-dry for some time. Do not wipe the lemon juice immediately.
Step five: soak a clean white cloth in clean water and wipe the keys gently one at a time. Wipe everything, including tight corners and crevices, to remove all lemon juice. When you're finished, leave the piano to self-dry naturally.
Conclusion
Compared to the rest of your indoor furniture, a piano stands out as an indestructible beast. But, quite the opposite is true. You see, cleaning your piano—regardless of its wood construction—is different from cleaning the rest of your household furniture. This is because a piano is very delicate, and a little mistake can damage the entire unit, both in the interior and exterior.
Not only piano has such a nature. Guitars come with even more complexity, and also some of them come with ivory parts. These remarkable instruments are both alive, and specific impacts and bad maneuvers can damage them irreversibly. The piano's wood demands correct treatment and should not be treated like the rest of the home's furniture. For all of the piano players of upright and grand pianos, remember to put your cover down after playing because it has a significant influence in protecting from all sorts of dirt that can come in between keys. The cover is crucial for that, and also it brings in the esthetic and mysterious look of covered keys.
Thankfully, having done comprehensive research in the arena, this guide has offered ingenious hacks on how to clean piano keys and keyboards.
Like I mentioned earlier, a piano is a meticulous musical instrument that needs to be handled with extreme care to avoid damage. When it comes to safety, it's wise to wash your hands before playing the piano and cover the piano top if it's not being used, as we said.
Other than that, I believe this guide was informative enough. If there's something you'd like to add to what we've already mentioned, please don't hesitate to share your thoughts in the comments section below.